Battle for White House: Missing issues from US 2016 presidential debates
Americans will vote on 8 November to decide who will be the country's next president to lead the nation to a peaceful path without wars and bloodbaths. Hillary Clinton and Donald Trump have presented a crude irony to the poll that American people have been provided with a choice between not only the two most unpopular candidates, but also the two most reactionary candidates in modern history.
The usual battle for the White House by two-party system is nearing the end point. World is damn sure that irrespective of who win the battle would continue the Bushdom agenda of permanent war on Islam by using many Muslim rulers like Syrian leader Assad.
With capitalism facing serious crakes globally, (notwithstanding the strenuous efforts by World bank and IMF to promote capitalism), imperialism could face obstructions and so US president would strive hard to promote both capitalism and imperialism to phase out the "enemies" and stabilize the "world order" to benefit these anti-humanity features on a permanent basis.
Ritualistic performance?
"They came, performed and disappeared"- this description fits well for the US presidential candidates -Democrat Hillary Clinton and Republican Donald Trump – who joined the three "joint" debates on the worthiness of their candidature.
Neither the Republican nor the Democratic person has any real vision about USA but in public mudslinging they have outsmarted the third world leaders. When the elected presidents are not duty bound to fulfill all their promises, pledges and programs, now the empty debates make the life easy for the next President too as he or she can be assured of space in NATO permanent war project on Islam for securing energy resources and for reducing Islamic populations. Pentagon led Nato terror wars can be a perfect tool for the president to justify all their illegal actions at home.
Clearly, Donald Trump and Hillary Clinton, the only two presidential candidates of the permitted parties, viz Republican and Democratic, debated only those useless issues without any substance, without any values for the society and governance, leaving out important issues.
They're the only candidates that stand a real chance of winning the race, but there are other third-party and independent candidates in the running. The rules around getting on the ballot differ state to state, but most voters will have two main alternatives to Hillary Clinton and Donald Trump.
Clearly, there is no clarity in their debates as to how and where exactly these two candidates would differ as the one to replace the incumbent president Obama who is heavily burned with several wars abroad.
The third and final of the Trump- Clinton presidential debates was just as false and intellectually degraded as the first two, characterized by lies by both candidates and mutual mudslinging. Trump and Clinton replied with mutual hatred, first about the allegations of sexual harassment by Trump which have been the focus of a week-long media barrage, then the charges of "pay to play" at the Clinton State Department, with donors to the Clinton Foundation receiving special access.
Both candidates gave themselves the widest possible latitude for escalating the US military aggression throughout the Middle East in the name of fighting "terrorism." Clinton went on to advocate a wider war in the Middle East while concealing her plans after taking office, claiming she would "not support putting American troops back into Iraq as an occupying force."
Trump: "Our inner cities are a disaster… I will do more for the African Americans than she will do in 10 lifetimes." Perhaps most remarkable, however, was when moderator Chris Wallace asked Trump to support the election results. He refused to do so. Trump accused the media of poisoning people's minds. He said Clinton shouldn't have been allowed to run for president. It was Trump in a bunker, settling scores and lashing out at enemies real and perceived.
During the debate, Trump called Clinton a liar and hit back that she was a Russian puppet, not him. By the time the topic turned to "fitness to be president", the stage was set for a total meltdown. He said the woman who has accused him of sexual harassment were in it for the fame and were Clinton campaign stooges.
Consensual candidate?
The final 2016 presidential debate took place on October 19 night, and expectations were not high either. Apparently, both leaders debated only those issues that seemed agreed upon in advance. That has been the practice of US politics cutting across the two-party system. The presidential candidates, therefore, have not been asked questions on some of the critical issues facing the nation that is fighting illegal wars abroad in Middle East on fake pretexts.
US establishment which generally decides who should be the next president and also work for that, is still seen busy with a Hillary win and Trump defeat. Clinton has become the consensus candidate of Wall Street and the military-intelligence apparatus, and, increasingly, of the Republican as well as the Democratic wing of the political establishment. It is significant that Trump never identified himself as a Republican or made any reference to the Republican Party during the debate, while Clinton repeatedly invoked the names of Republican presidents, including Ronald Reagan and George W. Bush, and contrasted them to Trump. Hillary is ready to claim to be the next president in January 2017.
Far more rapidly than most people are aware, the quarter-century of war waged by the US since the dissolution of the Soviet Union, and the fifteen years of the "war on terror," are metastasizing into a direct confrontation with the larger geopolitical rivals of the United States.
This immense war danger has been virtually excluded from the presidential election campaign and all but ignored by what presents itself as the political "left" in the United States. After a quarter-century of unending war, including eight years under Obama–the first president to serve two full terms with the country continuously at war–there is no functioning antiwar movement.
Donald Trump disgorged more of his predictable and already tiresome tirades. Words poured out in randomly shuffled stacks, like cards dealt by a drunken croupier. One imagines him under the hot lights, reeking of narcissism, Trump "Success" aftershave, and flop sweat. If Trump manages to bring up jobs and trade, he may reprise his only strong moment from the first two debates.
Once again, Hillary Clinton spends far too much time belaboring the rather obvious fact that Donald Trump is a "horrible" human being. Recent Clinton ads attacking Trump have featured everyone from military veterans to obnoxious movie characters.
The Clinton campaign calculates that its candidate is likelier to prevail by 'disqualifying' Trump — using ads to make the idea of voting for him socially unacceptable in professional suburbs — among additional well-educated voters … than by holding on to working-class voters tempted by Trump's populism …" In one sense, it's hard to blame them for devoting so much effort to dissing the Donald. An old political cliché says, "Don't interrupt your enemy when he's in the process of destroying himself." It must be tempting to take that one step further and offer a helping hand.
Many voters can be persuaded to despise a privileged, bigoted, misogynistic, bullying, lying, pompous, self-regarding jackass. But Trump has undoubtedly convinced most of those voters already.
Clinton could choose to "go high" instead, using the debate platform to offer uplifting proposals around the issues that matter most to voters – issues like jobs, wages, growth, student debt, and criminal justice. When it comes to uplift, moderator Chris Wallace won't be much help. Wallace made it clear that he plans to abdicate his journalistic responsibility on Wednesday night. He likened the moderator's job to "being a referee in a heavyweight championship fight," a statement that trivializes the democratic process.
The phrase "debt and entitlements" reflects a misguided, inside-the-Beltway financial mindset. This is not the first time Social Security has been badly served in this year's debates. The third most popular question submitted for October 9's so-called "town hall" debate was, "Do you support expanding, and not cutting, Social Security's modest benefits?" It became even timelier after this week's announcement that Social Security's next cost of living adjustment will be a "measly" 0.3 percent, an average monthly increase of only $5 per month, despite the fact that drug prices and other medical costs have soared.
Issues
Both have very cleverly avoided foreign policy even in the final debate. They have no explanation for the continuation of terror wars even after their "objectives' have been sufficiently achieved. Nor did they touch upon serious problems affecting domestic policy, they ignored the basic human rights in the most advanced nation on earth.
On every issue of domestic policy raised in the course of the 90-minute debate—democratic rights, immigration, economic policy, social spending—Clinton employed liberal rhetoric, claiming to defend abortion rights, the legalization of most undocumented workers, government-funded job-creation, a rise in the minimum wage, equal pay for women workers, and an increase in Social Security benefits. Clinton aides openly discuss the need to make such bogus promises in order to fool the American people, and Clinton herself reassures her Wall Street paymasters that they should take her campaign promises with a very large grain of salt.
On national security issues she gave a glimpse of the "genuine" hawkish Clinton, the arch militarist who sought to close the deal with the US ruling elite by demonstrating her hard-line defense of imperialist interests around the world.
Speaking for the first time in his entire campaign with some seriousness, Trump touched a number of ultra-right talking points calling for the appointment of Supreme Court justices, for a wall along the US-Mexico border and to deport millions of undocumented workers, and pointing out, correctly, that President Obama has deported many millions already. Trump appealed to the economic grievances of working people, declaring that expelling immigrant workers, renegotiating trade agreements to bar foreign imports and slashing taxes on the wealthy and the corporations would generate an unprecedented economic boom, with annual GDP growth of six or seven percent. He declared that "millions of people are registered to vote that should not be allowed to vote," then added that Clinton herself "should never have been allowed to run for president because of what she did with emails and so many other things."
For the first time in any of the debates, the question of a US-Russian conflict in Syria was broached when Wallace asked Clinton directly about her support for a no-fly zone over Aleppo and other contested Syrian cities. A no-fly zone meant war with Syria and Russia, and if a Russian plane violates the no-fly zone, does President Clinton shoot it down? Clinton simply ducked the question, claiming that the no-fly zone, an act of war against Syria and its allies, Russia and Iran, would be the subject of "negotiation."
Capitalist funds and spending
Immoral act of fund raising from the rich and corporate lords by the party candidates makes the presidential poll a total farce. Those who "offer huge sums" to the candidates obviously expect "return favors" from the next president. The candidates thus spend huge resources on the campaign.
New poll finance reports filed with the Federal Election Commission outlined their dramatically different approaches to the quest for the White House. Trump, while putting more money than ever into advertising, spent a fraction of the roughly USD 66 million Clinton poured into media buys.
Defying his notorious stinginess, Donald Trump more than doubled his campaign spending last month compared to August. He burned through roughly USD 70 million as his standing in polls and among fellow Republicans dropped. His Democratic opponent, Hillary Clinton, spent even more, almost USD 83 million. Clinton's payroll topped 800 people, coming in as her second-highest expense of the month, about USD 5.5 million.
Trump paid roughly 350 employees and consultants. He has outsourced most of his on-the-ground voter contact to the Republican Party. The New York real estate mogul has bragged until recently about his low-cost campaign and dismissed the need for television ads and polling services. But in September, he paid USD 23 million for commercials. In August he paid Conway's The Polling Company 130,000. Last month, he almost tripled his payment to her company, part of USD 1.7 million in September expenditures to five different polling firms.
Another big expense: Long-ago ousted Trump campaign manager Corey Lewandowski received a total of USD 100,000. Lewandowski was fired in June and quickly became a paid contributor to CNN. That hasn't stopped him from collecting Trump campaign checks thanks to a contract. In September, his Green Monster Consulting firm collected what the campaign said was its final payout to him. His firm took in about USD 540,000 over the course of the campaign. As a comparison, Clinton's campaign manager, Robby Mook, has been paid about USD 153,000 so far. One of Clinton's expenditures causes a double-take. Her campaign reimbursed employees who purchased USD 260 worth of products from Trump International Hotel in New York.
Poll rigged and hijacked?
Commentators point out the US election administration is highly de-centralized, with each state setting its own rules and local officials administering them. In most states, observers keep tabs on poll workers too. Voter ID requirements and voting machines also have huge variations, so widespread rigging would be hard to co-ordinate. "It's bipartisan, it's transparent, and there's just no justification for concern about widespread voter fraud." Former House Speaker and Republican Newt Gingrich harked all the way back to the Richard Nixon versus JFK 1960 election this weekend, saying no "serious historian doubts that Illinois and Texas were stolen". His comments refer to allegations that JFK's operatives – allegedly with the collusion of public officials – fixed tallies in Texas and Illinois, giving him 51 electoral votes, and ultimately winning him the closely contested election.
In 2014, when Obama was reelected to White House, 31 known cases of impersonation fraud were found in one billion votes cast in all US elections between 2000 and 2014. And in 2012, News21 analysis of 2,068 alleged election-fraud cases since 2000 turned up some 10 cases of voter impersonation. The idea that the US election will be rigged is "ludicrous", and "certainly not stolen in the way that Trump has alleged," according to Professor Richard Hasen, an expert in election law.
The Trump campaign has made claims of "election rigging" for months, blaming the "dishonest and distorted media" and the "Clinton machine" for the Republican's slide in battleground states in the polls. But now the rhetoric has reached new heights, with Trump launching a twitterstorm to hammer home his allegations. A third of Republicans say they have a great deal or quite a bit of confidence that votes will be counted fairly, according to the Associated Press-NORC Center for Public Affairs Research.
Donald Trump has alleged that "large scale voter fraud" is occurring in the US, but is it possible to rig the US election? However, studies suggest voter fraud isn't really a widespread problem in the USA.
In the third debate, Republican presidential candidate Donald Trump tried to be restrained, cool and matured- rather ready to assume presidency. He really did calling his previous version as mere gimmicks. During the first section of the third presidential debate, when the topic was the Supreme Court, if you squinted you could almost imagine that this was just another presidential race, with two candidates squaring off and vigorously discussing their public policy positions on abortion and gun control. Even the immigration discussion started reasonably civilly, until Clinton pivoted to turn a question about Wikileaks into an attack on Trump's relationship with Russia and Vladimir Putin.
Donald Trump and Hillary Clinton sparred at debate over gun rights, with the Republican nominee charging that the Second Amendment is "under absolute siege" and would be eroded if his opponent wins. Trump, in the final three weeks, is thought to be zeroing in on several key battlegrounds including Florida, Ohio and North Carolina – but the polls suggest his path to the presidency remains narrow, as even once-reliably red states like Texas are being contested by the Clinton campaign.
Trump, slipping in the polls amid various campaign controversies, said at the last debate that Clinton should be in jail – while moderating a press conference for women who have accused Bill Clinton of sexual assault. Clinton has blasted Trump all along as temperamentally unfit for office.
Trump accused the media of poisoning people's minds. He said Mrs Clinton shouldn't have been allowed to run for president. It was Trump in a bunker, settling scores and lashing out at enemies real and perceived.
For a commentator, the irony with the Trump campaign's remarks about election rigging is most of them suggest there will be in-person voter impersonation on election day, which studies show is the rarest form of voter fraud. He says the most common forms of voter fraud are election official fraud – either in the form of stuffing ballot boxes, or "losing" ballots – and absentee ballot fraud.
Observations
The American political system, in which two right-wing corporate-controlled parties have long enjoyed a monopoly, is staggering toward the finish line under conditions of a global crisis so deep that no one can be certain what the world will look like when the votes are counted on November 8.
With just 20 days to the election, millennials suggest they'd rather die than vote for the two main parties while Canadians try to keep their neighbors' spirits up.
The candidates' third and final debate sets the tone for the homestretch of the 2016 presidential campaign – a race that already stands out as arguably the most personal, caustic and unpredictable White House battle in modern politics.
WikiLeaks has embarrassed the Clinton campaign by releasing thousands of hacked emails purportedly from her campaign chairman's account. FBI files alleging a State Department official sought a "quid pro quo" to alter the classification on a Clinton server email added to the campaign's – and Obama government's – woes.
Media promote imperialism being represented by Hillary. Since the establishment hawks in USA have already decided to make Hillary the successor of Obama, it would be extremely difficult for Trump to win presidency, but nothing is impossible.
The routine US presidential poll campaign formality is over. The third and final debate is finished! The candidates go their separate ways without a handshake. Clinton walks off stage first. Of course, no love lost there, that's for sure. What would be the fate of Americans?
To date, the controversies have appeared to hurt Trump more than Clinton, who has gradually expanded her lead over the GOP nominee in recent polls.
Media lords want the terror wars to continue and so the Bushdom agenda being pursued vigorously by Obama. Trump's vulgarity and demagoguery, together with the media's insatiable appetite for ratings, have made this campaign a race to the bottom. The night's biggest question won't be asked by the moderator. The question is: How low can this race go before it's over?
With media projecting Hillary as the best choice to promote terror wars and Islamophobia, Hillary Clinton and Donald Trump have clashed in Las Vegas in final debate. Mrs Hillary Clinton vows to uphold women's and LGBT rights, while Trump pledges to protect gun rights; Trump said he expects a key ruling that made abortion legal in the US to be overturned if president; She says Russian President Vladimir Putin wants Trump elected because he is his puppet;
Polls suggest Clinton is ahead nationally and in key battleground states.
However, Donald Trump gained on Hillary Clinton among American voters off late, cutting her lead nearly in half despite a string of women accusing him of unwanted sexual advances and the furor over his disputed claims that the election process is rigged, according to a Reuters/Ipsos poll released on Friday. Clinton, the Democratic former secretary of state, led Trump 44 percent to 40 percent, according to the Oct. 14-20 poll, a 4-point lead, with the Nov. 8 election fast approaching. That compared with 44 percent for Clinton and 37 percent for Trump in the Oct. 7-13 poll released last week.
If the upward swings and shifts continue Trump would land in White House to control the world. USA would wait for some more years to have their first ever woman president who is honest and sincere, unlike hawkish warmongering Hillary who over exposed as a terror inspired US leader.
The poll was a conspiracy and hence questions on Trump's unwanted sexual advances scandal were asked of 1,915 American adults, including 546 likely Republican voters. It had a credibility interval of 3 percentage points for all adults and 5 points for Republican voters. Trump's deficit narrowed to what it was before a video surfaced on Oct. 7 featuring him bragging about groping and kissing women. Several women, supporting Hillary, have since accused him of making unwanted sexual advances in separate incidents from the early 1980s to 2007. Trump has denied the allegations, calling them "totally and absolutely false."
Hillary Clinton has long been the frontrunner in this contest but there have been times where she has looked far from comfortable. The most recent examples came back-to-back in early September. First, she made headlines by labeling half of Donald Trump's supporters a "basket of deplorable", allowing her rival to conclude it was evidence of her disdain for "hardworking people".
Mrs. Clinton had been suffering from pneumonia fuelling further rumours about her health – rumours that some of her critics have been pushing for months. The news about her "sudden illness" helps Hillary in poll rating. Her poll numbers took a noticeable hit in the days that followed, but they appeared to recover towards the end of September.
While both candidates are unfit to be the US president, now Americans have no choice but to vote for one of them. If by mistake they prefer Hillary that would be their hilarious fate. One still hopes something good emerging out of Trump's mind that would benefit USA and world at large. Polls suggest Clinton is ahead nationally and in key battleground states.
In order to overcome the high level expectations and manipulations, Trump and his advisers should be prudent enough to understand the under current in the campaigns trying to wean away the votes from Trump camp.
The high light of the final debate is that it has witnessed a reformed Trump performing.
In Praise of the Lioness of Law: Ruth Bader Ginsburg and her Jurisprudence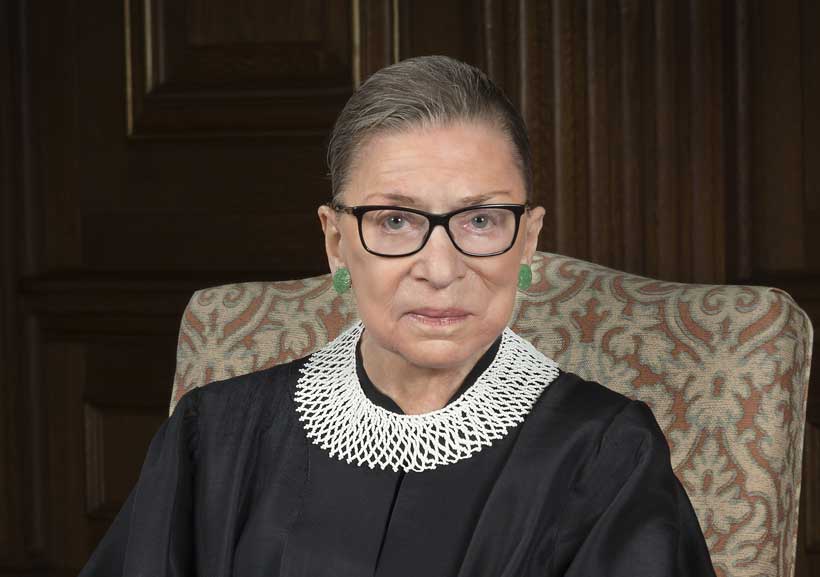 The death of the US Supreme Court Judge Ruth Bader Ginsburg has created an abyss in the court for the liberal voice where justice Ginsburg was seen as the linchpin of the liberal block of the Supreme Court at a time when that block was shrinking. Especially late judge had vociferously advocated for women 'rights, environmental issues and often came up with unique dissents in delivering her judgements which were propelled by her jurisprudence which embodied the solemn ideal in American legal system "Equal Protection under the Law ". She was on a quest to defend the delicate balance between honoring the timelessness of American Constitution and recognizing the depth of its enduring principles in new centuries and under new circumstances.
She grew up in an era where men held the helm in every aspect of social life and especially the legal profession was utterly dominated by men. Recalling her legal studies at Harvard law school in the 50's judge Ginsburg had stated later how she was once asked by the Dean of Harvard law school to justify her position as a law student that otherwise would have gone to a man. Yet she had the spunk to overcome all the obstacles stood on her way and excelled as a scholar becoming the first female member of the Harvard Law Review.
In tracing her legal career that it becomes a salient fact, Judge Ginsburg marked her name in American legal history even decades before she joined the bench. While at the American Civil Liberties Union in the early seventies she made an upheaval in American in legal system in famous Supreme Court Case Reed Vs Reed. In Reed Vs Reed the brief drafted by Ginsburg provided an astute analysis on the 14th Amendment to the US Constitution, the Equal Protection Clause. Ginsburg's brief changed the aged long practice existed in the State of Idaho on favoring men over women in estate battles by paving the path for a discourse on gender equality rights in the USA.
Judge Ginsburg's appointment to the Supreme Court in 1994 during Clinton administration marked the dawn of new jurisprudential chapter in the US Supreme Court. Two terms later, in the United States v. Virginia (VMI), Justice Ginsburg applied her lucid perspective to a sharply disputed constitutional claim. The United States challenged Virginia's practice of admitting only men to its prestigious military college, the Virginia Military Institute. Writing for six Justices, Ginsburg held this policy unconstitutional under the Equal Protection Clause. In reaching this result, Ginsburg adroitly cut away potentially confounding issues about women's participation in the military or the advantages of single-sex education.
Her robust activism in securing gender equality often attracted the admirations of the feminist scholars and activists, but it should be noted that her contribution was not only confined to the protection of gender equality. She was a robust critique of racial dissemination which still pervades in American society and she frequently pointed out how racial discrimination has marred the constitutional protections guaranteed to every citizen. Especially in the case of Gratz Vs Bollitnger, she stressed on the commitment that the state ought to fulfil by eliminating the racial biases existing employment and education. Moreover, disabled citizens. In Olmstead v. Zimring, she held that "unjustified institutional isolation of persons with disabilities is a form of discrimination" violating the Americans with Disabilities Act.45 She elaborated a two-fold concept of discrimination, noting that unneeded institutionalization both "perpetuates unwarranted assumptions that persons so isolated are incapable or unworthy of participating in community life".
In remembering the mortal departure of this prudent judge that one cannot forget her keenness in incorporating international law into her judgements regardless of the disinclination shown by conservative judges like Antony Scalia. Going beyond the mere textualism approach to the law, Ginsburg's jurisprudence was much more akin to using international law to make substantive decisions. For instance, in her concurring verdict in Grutter Vs Bollinger, Justice Ginsburg relied upon international human rights law, and in particular upon two United Nations conventions, to support her conclusions.
Indeed, the demise of Ruth Ginsburg is a major blow for the liberalists in the USA, especially in an era where liberalist values are at stake under the fervent rise of populist waves propounded by Donald Trump. Especially late judge had been one of the harsh critics of Trump even before ascendency to the Oval office. The void created by the demise of judge Ginsburg might change the role the US Supreme Court if the successor to her position would take a more conservative approach and it will fortify the conservative bloc in the US Supreme Court. Trump has already placed Justices Neil Gorsuch and Brett Kavanaugh and the third pick would more deeply entrench the conservative views in the US Supreme Court, which would inevitably undermine the progressive policies taken during Obama's administration towards issues such as the environment. The political storm appeared after the death of the late judge has already created a tense situation in US politics as president Trump is determined to appoint a judge to fill before the presidential election in November.
The Politics of (In)security in Mexico: Between Narcissism and Political Failure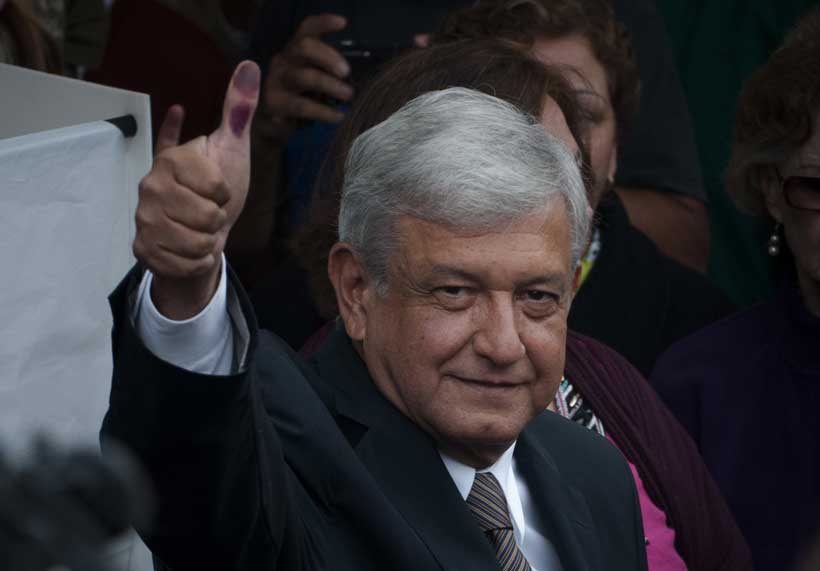 Security cannot be that easily separated from the political realm. The need for security is the prime reason why people come together to collectively form a state. Providing security is, therefore, one of the most basic functions of the state as a political and collective entity.
Last Friday, the Mexican president, Andrés Manuel López Obrador (AMLO) laughed during his daily morning press briefings over a national newspaper headline about 45 massacres during his presidency. This attitude summarises in a macabre way his approach to insecurity: it is not his top priority. This is not the first time that AMLO has showed some serious and deeply disturbing lack of empathy for victims of crimes. Before taking office, he knew that insecurity was one of Mexico's biggest challenges, and he has come to realise that curbing it down will not be as simple as he predicted during his presidential campaign.
Since the start of the War on Drugs in 2006, Mexico has sunk into a deep and ever-growing spiral of violence and vigilantism as a result of the erosion of the capacity of the state to provide safety to citizens. Vigilantism is when citizens decide to take the law into their own hands in order to fill the vacuum left by the state, or to pursue their own very particular interests. Guerrero, Michoacán, Morelos, Tabasco, Tamaulipas and Veracruz have over 50 vigilante organisations that pose substantial danger to the power of the state.
Vigilantism is not the only factor exacerbating the security crisis in Mexico: since 2006, young people have also started to join drug cartels and other criminal organisations. There are important sectors of the population who feel that the state has failed to represent them. They also feel betrayed because the state has not been able to provide them with the necessary means to better themselves. These frustrations make them vulnerable to the indoctrination of organised crime gangs who promise to give them some sort of ideological direction and solution to their problems.
As a result, it is not enough to carry out a kingpin arrest strategy and to preach on the moral duties we have as citizens as well as on human dignity. People need to be given enough means to find alternative livelihoods that are attractive enough to take them out of organised crime, Mexico can draw some important lessons from Sierra Leone who successfully demobilised and resettled ex-combatants after the armed conflict. Vigilantism, recruitment by organised crime, and insecurity have also flourished because of a lack of deterrence. The judicial system is weak and highly ineffective. A large proportion of the population does not trust the police, or the institutions in charge of the rule of law.
A long-term strategy requires linking security with politics. It needs to address not only the consequences but also the roots of unemployment and deep inequality. However, doing so requires decisive actions to root out widespread and vicious corruption. Corruption allows concentration of wealth and also prevents people from being held accountable. This perpetuates the circle of insecurity. Mexico has been slowly moving towards a borderline failed state. The current government is starting to lose legitimacy and the fragility of the state is further perpetuated by the undemocratic, and predatory governance of the current administration.
Creating a safer Mexico requires a strong, coherent, and stable leadership, AMLO's administration is far from it. His popularity has consistently fallen as a result of his ineffective policies to tackle the pandemic, worsening insecurity, and the economic crisis. Mexico has reached over 72,000 Covid-19 deaths; during his initial 20 months as incumbent president, there has been 53,628 murders, among them 1800 children or teenagers, and 5888 women (11 women killed per day) This criminality rate is double than what it was during the same period in the presidency of Felipe Calderón (2006-2012); and 55% higher than with the last president, Enrique Peña Nieto (2012-2018). Mexico is also experiencing its worst economic recession in 90 years.
Insecurity remains as the issue of most concern among Mexicans, seeing the president laughing about it, can only fill citizens with yet more despair and lack of trusts in the government and its institutions. AMLO's catastrophic performance is not surprising, though. Much of his failures and shortcomings can be explained by both ideology and a narcissistic personality. Having someone with both of those traits ruling a country under normal, peaceful times is already dangerous enough, add an economic crisis and a pandemic to the mix and the result is utter chaos.
AMLO embodies the prototypical narcissist: he has a grandiose self-image; an inflated ego; a constant need for admiration; and intolerance to criticism. He, like many other narcissists, thinks about himself too much and too often, making him incapable of considering the wellbeing of other and unable to pursue the public interest. He has a scapegoat ready to blame for his failures and mistakes: previous administrations, conservatives, neoliberalism, academics, writers, intellectuals, reporters, scientists, you name it, the list is long and keeps getting longer.
AMLO keeps contradicting himself and he does not realise it. He has been claiming for months that the pandemic is under control: it is not. He declares Mexico is ready to face the pandemic and we have enough tests and medical equipment: we do not. He says Mexico is on its way to economic recovery: it is not. He states corruption is a thing of the past: it is not. He says Mexico is now safer than ever before: it is not. When told the opposite he shrugs criticism off and laughs, the behaviour of a typical narcissist.
AMLO, alike narcissists, due to his inability to face criticism, has never cared about surrounding himself by the best and brightest. He chose a bunch of flunkies as members of his cabinet who try to please and not humiliate their leader. A further trait of narcissistic personalities is that they love conflict and division as this keeps them under control. The more destabilisation and antagonism, the better. AMLO since the start of his presidency has been setting states against states for resources and for pandemic responses, instead of coordinating a national response. He is also vindictive: playing favourites with those governors who follow him and punishing those that oppose him.
Deep down, narcissistic leaders are weak. AMLO is genuinely afraid to lead. He simply cannot bring himself to make decisions that are solely his. This is why he has relied on public referendums and consultations to cancel projects or advance legislation. He will not take any responsibility if something goes wrong: It was not him who decided, it was the people, blame them. He inherited a broken system that cannot be fixed during his term, blame the previous administrations, not him.
AMLO is a prime example of a textbook narcissist, unfortunately he is not the only one: Donald Trump, Boris Johnson, Recep Erdogan, Rodrigo Duterte are only a few more examples of what seems to be a normalised behaviour in contemporary politics. Every aspect of AMLO's and other leaders presidencies have been heavily marked by their psychopathology. Narcissism, however, does not allow proper and realistic self-assessment, self-criticism, and self-appreciation therefore such leaders will simply ignore the red flags in their administration and have no clue how despicably and disgracefully they will be remembered.
Minor Successes And The Coronavirus Disaster: Is Trump A Dead Duck?
That reminder from the Bible, 'He who is without sin, let him cast the first stone' may give us pause — but not journalists who by all appearances assume exemption. And the stones certainly bruise.
Evidence for the bruises lies in the latest poll numbers. Overall, Joe Biden leads Donald Trump 50 to 43 percent, a margin that has continued to increase since January. It is also considerably wider than the few points lead Hillary Clinton had over Trump four years ago. It gets worse for Trump.
In the industrial states of Michigan and Pennsylvania, which Trump in 2016 won by razor thin margins, he is losing by over 4 percent. Also key to his victory was Wisconsin where, despite his success in getting dairy products into Canada, he is behind by a substantial 7 percent. Key states Ohio and Florida are also going for the Democrats.
Trump was not doing so badly until the coronavirus struck and during the course of his news conferences he displayed an uncaring persona larded with incompetence. Dr. Anthony Fauci, the man he fired for correcting Trumpian exaggerations became a hero and Trump the bully.
If that bullying nature won him small rewards with allies, he hit an impasse with China and Iran … while bringing the two closer to each other. Then there is the border wall, a sore point for our southern neighbor Mexico. President Lopez Obrador made sure the subject never came up at the July meeting with Trump, Thus Mexico is not paying for it so far and will not be in the foreseeable future.
The United Arab Emirates, a conglomeration of what used to be the Trucial States under British hegemony. have agreed to formalize its already fairly close relations with Israel. In return, Israel has postponed plans to annex the West Bank. Whether or not it is in Israel's long term interest to do so is a debatable question because it provides much more powerful ammunition to its critics who already accuse it of becoming an apartheid regime. However, it had become Prime Minister Netanyahu's sop to the right wing who will have to wait. Of course, the reality is that Israel is already the de facto ruler.
If Mr. Trump was crowing about the agreement signed on September 15, although it is akin to someone signing an agreement with Puerto Rico while the United States remains aloof. As a postscript, the little island of Bahrain also signed a peace deal with Israel. Bahrain has had its own problems in that a Sunni sheikh rules a Shia populace. When the Shia had had enough, Saudi and UAE troops were used to end the rebellion. Bahrain is thus indebted to the UAE.
How many among voters will know the real value of these historic (according to Trump) deals particularly when he starts twittering his accomplishments as the election nears?
There things stand. As they say, there is nothing worse than peaking too early. Bettors are still favoring Trump with their money. The longer anyone has been in politics the more there is to mine, and for an opponent to use to his/her advantage. Time it seems is on Trump's side.