Russia self-trapped in Abkhazia and South Ossetia?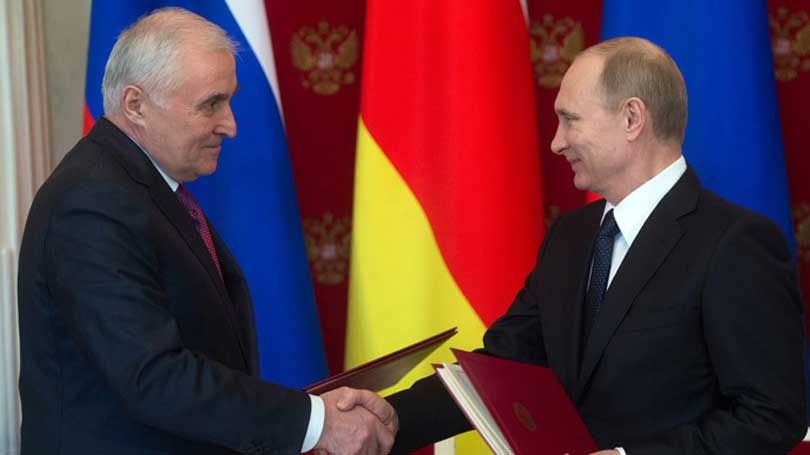 Abkhazia and South Ossetia, the two Russia-backed breakaway regions of Georgia were recognized by Russia as independent states following the Russia-Georgia war of August, 2008 in a hasty and emotional rather than rational move. The recognition must be reviewed in the light of the annexation of Crimea and the two brutal and bloody wars Russia had waged against its own breakaway region Chechnya.
Considering the implications of the Crimean annexation, the Chechen conflict and the recent Russian behavior in Syria what the Russian perspective on Abkhazia and South Ossetia is? I argue that the Russia perspective is awkward while the implications of the Crimean annexation and the Chechen conflict are that Abkhazia and South Ossetia have appeared to be in a humble position. Yet due to Russia's behavior on the Syrian crisis, the international community is likely to regard the independence of Russia-backed Abkhazia and South Ossetia more adversely.
To justify its annexation of the Crimea and recognition of Abkhazia and South Ossetia, Russian leaders have repeatedly and publicly stated that Kosovo declared independence and was recognized by western nations, why not Crimea, why not Abkhazia, why not South Ossetia. With Russia's own advocating and recognition of secessionist regimes in the post-soviet space like Abkhazia and South Ossetia based on the Russian elite's "why not" logic may well retrigger a wave of national movements like the past Chechen movement by the force of the same logic: Crimea seceded from Ukraine, Abkhazia and South Ossetia seceded from Georgia and were recognized by Russia, why not Chechnya?!
Russia doesn't seem to have a valid answer to that question. Although Crimea's secession from Ukraine may be regarded as encouragement for Chechens, who advocate Chechnya's secession from the Russian Federation, Crimea's annexation by Russia sends a crystal-clear and strong message: one may secede from others but Russia and may be annexed to none but Russia.
Then, what about Abkhazia and South Ossetia? It is 8 years on that Georgia's Abkhazia and South Ossetia have been recognized by Russia as independent states. The question of secession and independence may be raised not only by Chechnya but also other Muslim regions of 'multi-national and multi-faith' Russia. Such scenario may end up in fatal effects on Russia's national security and territorial integrity because the independence of a Russian autonomous republic could represent a precedent for other Russian regions to follow. Therefore, it could have been logical to expect Russia to favour Georgia's territorial integrity and national sovereignty because Russia has quite a few autonomous republics that are prone to secessionism. But it did act contrary to expectation.
A vital nuance here is that Georgia had taken orientation towards the Euro-Atlantic integration, which may mean the US or NATO military presence on Russia's borders in future. During the Chechen wars, Russia has repeatedly blamed Georgia for being used by Chechen rebels. Any 'third-party' military presence in Georgia is perceived by Moscow as a direct threat to the national security. This perception is amplified by assumptions that such presence could result in more opportunities for secessionists in Russia's North Caucasus. Secessionist conflicts in Abkhazia and South Ossetia are like a sky-fallen 'gift' for Russia to prevent such scenarios from happening.
So, Russia looks at the future of Abkhazia and South Ossetia through this prism of its national security. Therefore, it is very likely scenario that Russia will aim at annexation of Abkhazia and South Ossetia at some point in future in a way similar to the Crimean annexation.
What that scenario means for Abkhazia and South Ossetia? These breakaway regions seceded from Georgia to become independent not part or dependent of Russia. They could have been better-off within Georgia rather than within Russia though. Abkhazia and South Ossetia could have better and stronger position in relation to small Georgia rather than to giant Russia where being just one of numerous autonomous republics they could find themselves in a humble position.
Apart from political aspects, even practicalities of the Abkhazian or South Ossetian independence looks troubled. Yet there is North Ossetia within Russia. Probably, one day North Ossetia and South Ossetia would like to be united. No doubt that Russia will not afford for them to unite as a nation independent of Russia. So, in the best case scenario they would be able to unite within Russia.
The populations of Abkhazia and South Ossetia fluctuates around 240,000 and 60,000 accordingly. These tiny populations are not homogenously Abkhazian or Ossetian. The demographic compositions are ethnically and religiously very diverse. Abkhazians and South Ossetians sound furious about the Georgian nationalism and obsessed with promoting their ethnic, linguistic and cultural identity. That is good undertaking. But it is not unambiguous, is it? Abkhazia and South Ossetia are both inhabited by other ethnicities like Russians, Ukrainians, Georgians, Armenians, Jews, Turks, etc. if that identity is so vital, why they are not appealed to other ethnicities as well?!
Furthermore, there is domestic opposition to unification with Russia in particular in Abkhazia. Russia doesn't seem to be attractive to Abkhazia. As a result of the Russian military campaign in Chechnya, the number of Chechen civilian casualties is estimated around 200,000-300,000, which roughly equals to total populations of Abkhazia and South Ossetia. Yet the Russia's record of democracy, rule of law, human rights, freedom of speech, and in particular the rights and powers of autonomous republics is much troubled. All these factors help to explain why ordinary populations as well as arrays of elites in both Abkhazia and South Ossetia would oppose to unification with Russia or at least would be much divided on unification with Russia. Yet, these regions are heavily dependent on subsidies from Moscow. And they have become more isolated from the international community after the Russian-Georgian war of August, 2008. And nowadays those breakaway regions even more than ever would feel the consequences of the negative attitude from the western world in response to the annexation of Crimea and Russian behavior on the Syrian crisis. The western response to Russia's behavior and role in the separatist conflicts on the post-soviet space is much late though.
By recognizing Abkhazia and South Ossetia, Moscow put itself in an awkward position while 'helped' Tbilisi get the rid of the Sword of Damocles hanging over Georgia, which was the fear that Russia could recognize the independence of the breakaway regions. And the proper way to follow for Tbilisi is to continue on its democratic path towards the European integration based on unifying values like democracy, rule of law, human rights, etc. Only in this way Georgia may achieve two important objectives – ensuring the well-being of its citizens and generating power of attraction to mingle with its breakaway regions. Meanwhile Abkhazia and South Ossetia must be ready for political, economic and other turbulences to come. They have become heavily dependent on Russia, which goes through hard times due to plummeting energy prices, international sanctions, and political troubles due to its interventions in Ukraine, Georgia, Syria, and elsewhere.
As Robert Strausz-Hupe famously said "a nation must think before it acts". Russia should have thought before acting with regard to the recognition of the breakaway regions of Georgia. A consequence of that hasty and emotional decision is that Russia is confronted by a terrible dilemma either to let Abkhazia and South Ossetia go on as independent states or to annex them. Neither way works for the Russian perspective. Independent Abkhazia and South Ossetia represent an undesired precedent for Chechnya and other Russian regions. The annexation could have also bitter consequences: on one hand, it could trigger opposition from Abkhazia and South Ossetia, and on the other hand, could cause another wave of international sanctions against Russia, aggravate Russia's already damaged international reputation, and even more importantly, contribute to depicting Russia as aggressive and hostile on the neighboring post-soviet nations, who has been suffering from or prone to Russian-backed separatist conflicts. To put it differently, Russia looks like self-trapped in Abkhazia and South Ossetia.
The conclusion is that the Russian perspective on Abkhazia and South Ossetia appears to be awkward and humble despite the defiant rhetoric of the Kremlin. And the phrase that best describes the situation with Abkhazia and South Ossetia is 'poor present, uncertain future'.
Russian interview with Putin (and others) discusses geopolitics, nationhood, and America
No Russia, no world discusses and presents a new feature-length, interview-laced, documentary, about the way that Russians, and also Putin, view America, and view the future of Russia. Here are, for me, the highlights from the included video (and I shall link to previous commentaries from me at relevant points, so as to clarify some of the references that are spoken about):
7:34- Carla Del Ponte, UN prosecutor on Syrian war crimes: "The important thing is for peace to prevail, so that civilians can return to their homes, so that refugees return to Syria. I think only Russia can achieve peace in Syria."
17:15- A Russian soldier says "And all of a sudden, the symphony of the power structures and the Russian people, they joined into one melody. In Spring of 2014 [right after the U.S. coup in Ukraine, Crimea broke away from Ukraine and resumed being a Russian province], we understood that we are one people, this is our president, our forefathers are behind us, this is our history — and all of this combined is our whole." His eloquent expression of nationhood moved me. Though I am not Russian, nor have even visited there, and feel no particular personal identification to any of its many cultures, Russia under Putin might now be occupying much the same significance in world affairs today that my own country, America, did under FDR, as the moral leader of an emerging new international order. We all live in FDR's shadow. Future generations could find themselves living in Putin's. (That's if the American aristocracy won't so crave war, so that there soon won't be any future at all.) The threat in FDR's time was the German aristocracy; the threat in ours is the American aristocracy. Perhaps Russia, during Putin's leadership, is up to that challenge, as America was during FDR's. I hope so.
23:20- Putin: "[In 2012,] They introduced the Magnitsky Act under absolutely imaginary pretexts. … 50 new sanctions, I think. I'd like to draw your attention to the fact that this is 2012 — before any events in Ukraine, before the reunification with Crimea — but sanctions are in full swing! … They have always attempted to 'contain' the development of our country — so, I think the answer is simple. It's just a method against competition. It's illegitimate, it's unjust, but that's how it is. And, of course, it's an attempt to contain the defense capability of our country."
27:00- "[In 1991,] we expected that with the end of the Warsaw Pact, NATO would cease to exist too. Or, at least, as we were told at the time, this organization would not expand. We assumed some kind of tectonic changes in international relations to take place, but they did not. It turned out that under the guise of this ideological war, there was also a geopolitical war. For geopolitical interests ['The Great Game' as aristocracies call it]. Secondly, they thought that they no longer had to consider anyone else in their decisions. [As Obama often expressed this, the United States is "the one indispensable nation", which means that all others are dispensable.] … They started to support separatism and radicalism in our Caucasus region. They bombed Yugoslavia in 1999 without a resolution from the UNSC [U.N. Security Council]. They just spat on everything — they bombed it, destroyed the country. … If the people of Yugoslavia strove for independence, maybe it's good. But did you have to do it by that method? … I doubt it. I am assured it should not have been done. … Then Afghanistan. Then Iraq. Then two waves of NATO expansion."
33:40- "In 1992 or 1993, the then Mayor [of St. Petersburg, Anatoly] Sobchak took me with him to Bonn, where he met with Chancellor Kohl. At some point, Kohl asked all the attendees to leave [but] I was left to translate between the two. … And that was the first time I heard the Chancellor say, 'I don't see a future for Europe without Russia.' For me, as a former KGB officer, it was completely unexpected." (Putin continued by making clear that he views Russia as being part of Europe, "culturally and spiritually, its science, its defense potential.")
39:00- The documentary announcer criticizes Merkel's immigration-policy: "As admitted by German experts, … 4 out of 5 migrants don't wish to study [to learn German and to learn skills to become productive in the economy]. They want to receive benefits." If this is true, then perhaps America's billionaires are aiming to destroy the social-welfare states in Europe, so as to spread America's sink-or-swim economy, make the public as desperate as possible. Perhaps that's one reason why Europe's role is to take in the people who have lost their homes and their life's savings in the countries that we've bombed and that we've aided the jihadists to decimate and destroy — that it's in order to flood Europe with culturally alien 'third-world' immigrants, who (with those difficulties) will drain, instead of grow, Europe's economy.
41:25- Putin: "In some places, liberalism is giving up its positions. … The multicultural model they tried to build in Europe, not only did it not work, but my [European] colleagues who wanted it, today say themselves that it failed." Q: "Will we lose our national identity?" A: "Us? No. It's too dear to us. … [Some] Russians convert to Russian Orthodox, other Russians convert to Islam, but, still, together, this is 'us' [regardless of religion]."
56:45- Putin, referring to Ukraine's violations of the Minsk agreements it had signed that established a pathway by which Donbass would democratically re-enter being part of Ukraine: "The law on amnesty is not [even] being signed [by Ukraine]. The law on special status of Donbass [within Ukraine] is not signed. Practically [on Ukraine's side] nothing is signed. To the contrary, they signed a law on 'de-occupation', which doesn't mention the Minsk agreements at all. They do this to themselves, with their own hands."
1:07- Putin is presented with Western media characterizations of him as an evil man and "Putin's War on The West," and is asked "What's it like to be the main global villain?" He answers: "I have some very good anchors. Those anchors are the interests of the Russian Federation and its people."
1:14- Q: "We see the targeted approach to distance our allies from us. They're working Belarus, Kazakhstan, working Armenia very actively. We see the way they drip poison into their ears. How can we counteract this?" A: "Whoever drips poison anywhere will end up drinking it themselves, at the end of the day. We have a good saying about it: 'Don't spit into the well [from which we all drink]'."
1:27- Putin: "What we have to do in the near future is to ensure that it is technological innovation that is the main driver behind Russia's development. If we can achieve this — which includes all of its components: digital technology, biology, fundamental sciences — then without a doubt, Russia will preserve the status of a great superpower."
On 3 June 2014, I headlined "How and Why the U.S. Has Re-Started the Cold War (The Backstory that Precipitated Ukraine's Civil War)" and, with a number of graphs, showed the drastic improvement in Russia's economy under Putin, and in the lifespans and other welfare-indicators of the Russian people, and I explained why the U.S. aristocracy want to get rid of him. But, given that America's anti-Russian war (which has thus far included Serbia, Iraq, Georgia, Syria, Ukraine, and other Russia-friendly governments, and is now moving on to Russia itself) was established on 24 February 1990, before Putin was even in the picture, there's no reason for him to take The West's insults personally. This has been the U.S. Government's plan even before there was any President Putin.
New American-Russian Conflict: A Confrontation beyond Cold War
The conflict between the White House and Grand Kremlin Palace, which by far is more dangerous and intense than that of the Cold War era, seems to have reached its peak.
The 2008 Russo-Georgian War was a clear instance of Russian military confrontation with one of the allies of the United States.
The Russo-Georgian War was a war between Georgia, Russia and the Russian-backed self-proclaimed republics of South Ossetia and Abkhazia.  Russia and Georgia were both formerly constituent republics of the Soviet Union.
During the battle, Russians troops drew very close to Tbilisi, Georgia's capital, forcing Mikheil Saakashvili, former president of Georgia who was a US ally to surrender. Then, the dialogue between Georgia (US) and Russia began at two levels. On the surface, were the North Atlantic Treaty Organization's (NATO) special moves for expansion to the East and the adoption of military configurations in the Baltics. However, the underlying agenda for the US was to bring down Russia's political system through its neighbors like Ukraine.
Today, we are witnessing the power struggle between Russia and the US that has certain properties.
The tension between Moscow and Washington, as mentioned, is rising, and both states more than ever before have been boasting their power to the extent of elimination of the other. Failed plans such as "Anti-Proliferation: to limit the expansion of nuclear weapons technology" and Nuclear Disarmament: to reduce the total number nuclear devices in existence, ideally down to zero," are clear examples of the conflict.
NATO plays a pivotal role in the recent dispute between the two states. In the summer of 2017, NATO troops held a large scale defensive drill, "Iron Wolf 2017", on the border separating Poland and Lithuania, to deter Russian aggression.
In response, Russia conducted Zapad 2017 military drills with Belarus in September of the same year in Baltic enclave of Kaliningrad bordering Poland and Lithuania. It was Russia's largest exercise since the Cold War with 12,700 troops in the drills.
In 2017, Russia tested its new hypersonic missile, 3M22 Zircon, an anti-ship missile with five times the speed of sound.
Clearly, Moscow's objective is to challenge NATO and the US naval and military capabilities. However, on a larger scale, Russia intends to frighten the US and the EU and create a sense of fear and insecurity through boast of power, a sense of "warning that a war is on the way." Obviously, here NATO will change the balance of power to the benefit of Russia.
On the other hand, the recent decision by the US and NATO members in the establishment of two command centers in America and Germany against Russia, and enhancement of NATO and US nuclear weapons in German's territory, reveal Washington's long-term military strategy against Moscow.
The concerns have put Washington's and NATO's at an alert level for a possible military attack on Moscow.
Despite recent warnings from influential political figures like former Soviet Union President Mikhail Gorbachev, the late and ongoing conflicts between the US and Russia can lead to a condition far more grim than the Cold War era.
In this mayhem, factors such as "multiplicity of actors," "increasing the rate of international actors' vulnerability," "modernizing nuclear weapons," will enhance the cost of the new confrontation between Washington and Moscow.
Europe turns into battleground between US, Russia
As the conflict between Washington and Moscow is on the rise, many analysts believe the world will be going through a repeat of tensions of the Cold War era or even worse.
NATO's (the North Atlantic Treaty Organization) and Russia's new type of military drills both represent a radicalization of the climate between the two sides and a shift from "political" dispute to "military" conflict.
Although the real conflict is between Washington and Moscow, NATO's European member states will inevitably get affected by the dispute, the result of which can severely threaten the European Union's (EU) security.
European countries were hit the worst post-World War II andCold War and were the main victim of the wars devastating effects due to their geopolitical position.
Today, given the deployment of American's nuclear missiles in Europe and Russian's on Western European borders, Europe can once again become the "main battlefield" between the White House and the Kremlin.
Even if no war breaks out between the United States and Russia, European countries will experience the aftermath of the conflict on their economy, which is pretty much dependent on imports and exports, and will be hit by a tsunami of immigration.
Nowadays, the likelihood of the European Union collapse, due to internal and external threats, has increased more than ever before which is a matter of concern for many EU leaders.
In a wrap, European states don't hold certain theoretical and practical framework or policy in regulating relations with Moscow and Washington, thus many of them have become involved in the conflict between the two powers, a process that can be very dangerous for the European Union.
What can salvage the European continent which is stuck in the middle of the US and Russia's tug of war is the formation of a coalition of EU member states that are also part of NATO to mediate in the growing crises between the United States and Russia.
US, Europe meddle in Russian elections
Tensions have escalated between the United States and Russia. These tensions have also appeared in various parts of the world, including Syria, the Mediterranean, the Baltics, and the Crimean Peninsula. As time passes, the battlefield between the United States and Russia becomes wider. European countries, too, have directly gotten involved in the complex situation. On the one hand, without the support of the US and the North Atlantic Treaty Organization (NATO), they have the power to form an independent and unified army to counter Russia's threats. On the other hand, their commitments to the United States and NATO have led to a sharp decline in their maneuverability in the peaceful settlement of existing conflicts between the United States and Russia.
What is certain is that European countries, as effective actors in the international arena, see their security as a precondition for avoiding a persistent controversy (especially in the military dimension) between the US and Russia. European countries know well that in the event of any conflict between Washington and Moscow, Europe will be the main venue for it. But will the European countries have mediation power between the White House and the Kremlin? Will they be able to resist engagement in case of chronic tensions between Russia and the US? The answer to this question is definitely no.
The fact is that the membership of many EU member states in NATO as well as the specific geo-strategic and even geo-economic status of the European Union has made these countries part of the conflict between the United States and Russia. While, according to the best-known mediation rules in the international system, if the independence of an actor is less, mediating power also declines. Europe can not only play a mediating role between the United States and Russia, but will directly influence the conflict. The European Union is now faced with Russia in various geographic and strategic areas.
Undoubtedly, in the near future, we will see more serious political conflicts regarding Europe's relationship with the United States and NATO. These disagreements will augment conflict between the United States and Russia. Since 2014, as a result of the crisis in Ukraine and the intensification of tensions between Russia and NATO in Syria, Europe has directly entered the conflict between the United States and Russia. In 2017, the trend was intensifying. In the NATO military maneuvers in the summer of 2017 in Poland and Lithuania, NATO members presented a controversial military confrontation with Russia. By contrast, Russia also responded sharply to NATO's military maneuvers in the Kaliningrad area. Undoubtedly, in 2018, the tensions between Russia and the United States will increase further. However, the main question is, what will be the future of Europe?  No one can answer this question.
The United States and the European Union are making a joint and complementary effort to change the political fabric of Russia. Washington and NATO members are well aware that one of the major ways in which the Russians rethink foreign policy and the retreat of the Kremlin against NATO threats is to deflect Russia's internal structure through the emergence of some political conflicts and chronic disagreements.
The next point is that the United States and the European Union consider the "election" as the most sensitive political event in Russia which can strengthen the pro-NATO currents within Russia and weaken Putin's power. In other words, the United States and Europe see Russia as an opportunity to inject some of the deterrent factors in Moscow's domestic and foreign policy towards the 2018 presidential election. Washington and Europe know that according to polls Putin will be reelected. Nonetheless, NATO members are struggling to strengthen the internal divide between Russian parties and the Russian people. The West does not pay much attention to the outcome of the Russian presidential elections, but seeks to curb Russia's power by creating a turbulent political atmosphere inside the country.
Putin Explains Why Russia's New Weapons Can't Be Stopped by ABMs
In a "Russia Insight" TV interview of Russian President Vladimir Putin that was uploaded to youtube with English subtitles on March 10th, NBC's Megyn Kelly asked him why America's ABMs wouldn't be able to knock out Russia's new missiles. He answered (16:40): "We have created a set of new strategic weapons that do not follow ballistic trajectories, and the anti-missile defence systems are powerless against them. This means that the U.S. taxpayers' money has been wasted."
A ballistic missile — the types of missiles at which an ABM or anti-ballistic missile is directed — is not just any type of missile, but instead is a missile with a certain type of trajectory, which goes above the Earth's atmosphere and then comes down largely using the force of gravity instead of continuously under propulsion and strict control. Putin is saying that Russia's new missiles, which are designed so as not to be adhering to the flight-paths that ballistic missiles do, can't be hit by anti-ballistic missiles.
Putin referred to Russia's largest new missile as "Voyevoda." The missile's manufacturer posts online about it, "33 launches in all were conducted, 97.4% of them successful."
She then asked him whether these weapons will be used only if Russia comes under a nuclear attack, or against any attack; he answered it would be either a nuclear attack "or a conventional attack on the Russian Federation, given that it jeopardizes the state's existence." He implied that if an ally of Russia gets attacked, Russia will respond only with non-nuclear forces.
Then, he volunteered to say, in response to a question about what the issues would be that Russia would want formal negotiations with the U.S., that, "today, when we are acquiring weapons that can easily breach all anti-ballistic missile systems, we no longer consider the reduction of ballistic missiles and warheads to be important."
She asked whether the new weapons he was referring to could be "part of the discussion," and he said they "should, of course, be included in the grand total."
This interview continued with non-nuclear matters, such as the accusations that he had interfered in America's 2016 Presidential contest, or tried to. His answers were very direct, but viewers who support the ongoing Russiagate investigations will probably not believe his answers.
As regards the weapons-issues, there is posted online a brilliant technical description of the types of engineering issues that the Russians have been developing for decades, in which they've led the world and in which their lead has been widening, and which were behind what Putin was speaking about in his March 1st speech. Though that technical description was a reader-comment, instead of an article, it was article-length, and makes the issues clear; and the article that it was commenting upon was itself brilliant: and it links to an earlier brilliant article by Andrei Martyanov; so, all three of those together enable a pretty clear understanding of what's involved in Russia's biggest strategic-weapons breakthroughs.