Tools and tactics to engage Africa
Despite conflicts and instability in parts, Africa's fast growth and development, at least during the past decade, has attracted external countries mainly from Asian region, European Union (EU) and the United States. In this special interview, David Shinn, an Adjunct Professor in the Elliott School of International Affairs, a former U.S. Ambassador to Ethiopia and Burkina Faso, and previously served as a Director of the Office of East African Affairs in Washington, explains some ways to engage Africa.
He further discusses the important institutional differences in each BRICS member countries that impact on the implementation of policies in Africa, whether to compete or cooperate jointly on development infrastructure projects, and finally identifies the tools and tactics some countries use to achieve their respective goals on the continent.
How unique is East Africa and the Horn for foreign investors and who are the proactive countries there?
This region, especially the Horn of Africa, has more than its share of conflict, which poses a special challenge for foreign investors. The three East African countries—Kenya, Tanzania, and Uganda–have been more successful in attracting foreign investment because they have experienced less conflict in recent years and made a special effort to reach out to foreign investors. The investment has come from a variety of countries including the United Kingdom, Netherlands, India, Canada, South Africa, China, United States, Germany, and France. The Horn of Africa is witnessing a growing amount of investment from the Gulf States, but political instability is limiting investor interest. Before the independence of South Sudan, there was considerable investment in Sudan's oil sector by China, India, and Malaysia.
While that investment remains, it is now shared between Sudan and South Sudan. Conflict in South Sudan has stopped new investment. Somalia and Somaliland attract investment from the Somali diaspora but foreign countries have been reluctant to go into both entities for different reasons. Somalia is not sufficiently stable and Somaliland is not recognized internationally and, therefore, poses legal challenges for potential investors.
While Djibouti and Eritrea are politically stable, their markets are too small to attract significant foreign investment. Of all the countries in the Horn, Ethiopia has in recent years been the recipient of most foreign investment from countries such as China, Turkey, Bangladesh and the Netherlands. Political protests that began last summer are beginning, however, to impact foreign investment. A number of foreign investments were destroyed during the most recent protests concerning a range of grievances. This will discourage others from coming.
China is still leading with investment in infrastructure, but are the United States and European Union competing or cooperating with China?
China is the largest builder of infrastructure in Africa today, but this is not foreign direct investment. These are contracts with Chinese state-owned companies financed by loans from Chinese government institutions, the African Development Bank, World Bank, etc. In some cases, the African governments finance the projects. Once the infrastructure project is completed, China almost never has any ownership involvement. Hence, it is not foreign direct investment, but a commercial deal financed by loans that have to be paid back by the African government. Private US and European companies are in a much weaker position to win these contracts because they have less access to financing from their own governments and tend to submit higher bids than Chinese companies. There are exceptions such as the Italian company that is building the Grand Ethiopian Renaissance Dam on the Blue Nile. In any event, this is an area where the US and European Union compete with China.
There are areas where China, the US, and EU cooperate. All three seek political stability in Africa and cooperate on UN peacekeeping operations, African Union efforts to achieve peace such as in South Sudan, and the anti-piracy campaign in the Gulf of Aden. There is occasional collaboration on aid projects, but there is room for much more, especially in the areas of health and agriculture. All three parties have partnered with Africa to achieve development and they all want to see Africa succeed economically. There is one area of major difference. The US and EU, to varying degrees, encourage open political systems, the rule of law, and free and fair elections in Africa. China is satisfied with whatever form of government exists in a particular African country and has no desire to be critical of any governmental system. African governments prefer the Chinese approach; many African civil society organizations prefer the US and EU approach.
In your view, can Russia (a member of BRICS) make any headway into the region?
The short answer is yes and, to some extent, it has. Following the end of the Cold War, Russia pulled back sharply from Africa, although it maintained most of its diplomatic missions there. Serious economic problems in Russia prevented it from reengaging in Africa until relatively recently. There has been an increase in Russian investment in Africa, especially North Africa and several countries in Sub-Saharan Africa. There are prospects for greater Russian investment in Africa. Russian trade with Africa has been especially disappointing. In 2014, it exported $9.3 billion to Africa, most to North Africa, and imported $2.8 billion from Africa. This is less trade than Turkey has with Africa. Russia is energy self-sufficient; Africa just does not have much that Russia wants to buy. This situation is not likely to change any time soon. At the political level, Russia has demonstrated minimal high-level interest in Africa. Until it makes a decision to pay more high-level attention to Africa, it is difficult to see greater engagement at the political level. For the time being, Russia is preoccupied with Syria, Ukraine, and relations with China and the US. I doubt that it will be in a position in the foreseeable future to devote much attention to Africa.
What's the best way for foreign countries to engage Africa?
I assume your question about the best way to engage Africa refers to engagement by governments outside Africa. If so, I think the process should be as follows. First, foreign governments should determine what kind of engagement individual African governments prefer. The foreign government must then decide if it is prepared to engage in that manner. If not, it should explain frankly to the African government why not.
If the engagement sought by the African government is the kind of interaction that the foreign government is prepared to do, then both sides should discuss the details. At this point, it is essential that the foreign government not mislead the African government that it can do more than is, in fact, the case. Western governments, compared to statist driven governments, have a handicap because so much Western engagement comes from the private sector, which Western governments do not control. This handicap also applies to a number of non-Western governments.
Now, looking at BRICS (Brazil, Russia, India, China, and South Africa), are there institutional differences in implementing business policies in Africa?
There are institutional differences among the BRICS. The private sector is proportionally much more important in India, Brazil, and South Africa than is the case in China and Russia. The state-owned sector of the economy is especially important in the case of China. BRICS' business practices and the degree to which their governments control business practices vary widely from one member to another.
Unlike many Western countries, however, none of the BRICS attaches political strings to their business engagements although they all, to varying degrees, impose economic conditions. These conditions include, for example, infrastructure loans tied to construction companies from the offering country and contractual arrangements for a percentage of labor from the offering country.
Can BRICS members, say for example Brazil, China or India, compete or cooperate with Russia on development projects in Africa?
I believe there are cases where BRICS' members have already competed for winning contracts in Africa. This has especially been the case between India and China in the petroleum sector. While I don't know of specific examples involving Russia, I would be surprised if Russia has not competed against another BRICS' country for winning a contract in Africa. By its very nature, business interaction usually involves competition. At the same time, companies from two different BRICS' member countries can team up in their effort to win a contract or start a business in Africa.
The area where there is more likely to be cooperation is foreign aid. China and Brazil have been cooperating on agricultural research in Africa. Theoretically, all BRICS' members, including Russia, could cooperate on a development project financed by two or more BRICS' members. The BRICS' New Development Bank has approved its first package of four loans to Brazil, China, South Africa, and India worth some US$811 million. They are all in the field of renewable energy; South Africa received a loan for US$180 million. This is an example of cooperation but, so far, only to the benefit of BRICS' members.
Do they have strategic differences that make it difficult for a unified approach in Africa?
I believe the BRICS have strategic differences that will complicate a unified approach in Africa. Each BRICS' member country has its own interests in Africa. Each one has a different development model and political system. The size of their respective economies varies enormously from China's nominal GDP of US$11.4 trillion to Russia's US$1.1 trillion and South Africa's US$266 billion. These countries have more differences than they have commonalities. I don't believe this will result often in unity of action.
SADC, Zimbabwe and Sanctions
Reports suggest the South Africa Development Community (SADC) is growing increasingly impatient with President Mnangagwa's willingness to impose repressive measures. The speculation emerged in part because President Chakwera, the incoming SADC chair had left Zimbabwe after two days, even though he was meant to spend three days in the country. The suggestions were that SADC was considering sanctions on Zimbabwe. Conversely, there are reports that the SADC countries are pushing for the easing of Western sanctions. In 2001, the US and the EU have imposed sanctions on 141 individuals and around 60 companies. The sanctions relate to allegations of gross human rights abuses.
The Zimbabwean government claims the sanctions are hurting Zimbabwe and ordinary people, limiting its ability to gain lines of credit from international monetary institutions or attract foreign investments. The US-Zimbabwe Democracy and Economic Recovery Act (ZDERA), for example, prohibits American companies from working with companies and individuals on the sanction list. Failure to abide by the legislation has led to financial penalties as seen with the US government's decision in April 2019 to fine Standard Chartered bank $18 million for dealing with a sanctioned country.
The SADC and the Zimbabwean government assert that removing the sanctions would allow Zimbabwe to revamp its economy, as the country could attract foreign direct investment, which in turn would help the region by reducing the number of Zimbabweans searching for work but also encouraging greater economic development. One should not forget that for decades, Zimbabwe served as the region's breadbasket, something the Mnangagwa administration is keen to resurrect.
Political Outlook
The push to remove the sanctions comes despite growing authoritarianism in Zimbabwe. The government has introduced a host of policies to limit protests and demonstrations and punish those opposing it. It has also adopted measures aimed at countering increasing tensions within ZANU-PF.
In September, the government introduced the Patriot Act. The measure is meant to respond to a ZANU-PF claim that groups within Zimbabwe, primarily the MDC-Alliance, are not only reaching out to foreign governments but are concocting stories about factionalism within ZANU-PF. State Security Minister Owen Ncube has also spoken of attempts to smuggle guns into the country and establish violent militia groups aimed at destabilising the country and bring forth foreign intervention.
The Act speaks of "conduct aimed at undermining the country" under which Zimbabweans speaking to foreign governments without the express permission of the regime itself will face criminal sanctions. Conduct includes private correspondence and making false statements influencing foreign governments. The Act is likely to impact the opposition and human rights groups who often look to get support from a foreign government.
More of a concern to President Mnangagwa is internal tensions with ZANU-PF. For example, following the chaos in the Kwekwe Central constituency during primary elections on October 3, President Mnangagwa convened a special meeting with provincial executive members. There were youths, women, and war veterans' representatives. The President warned leaders against manipulating the ZANU-PF constitution by imposing preferred candidates through vote-buying. He also warned against attempts to use the Zimbabwe Electoral Commission voters' roll in conducting primary and district coordinating committees' elections. Important leaders in ZANU-PF have been expelled Cleveria Chizema and Tendai Savanhu, claiming they were causing divisions and factionalism in the party and province. The party also expelledKiller Zivhu because he called for a dialogue between First Lady Auxillia Mnangagwa and MDC-Alliance leader Nelson Chamisa's wife Sithokozile. It seems President Mnangagwa favours this method of asserting his will on the party, like those that show contrition are allowed to rejoin.
An additional concern for President Mnangagwa is unhappiness from the veterans regarding his plan to compensate white farmers for the 2000-2001 land reform program. President Mnangagwa's overture towards the white farmers involves either revoking the offer letters given to black farmers, resettled on the land formerly belonging to white farmers and if restitution proves impractical, the intention is to white farmers land elsewhere. Included in the package is $3.5bn in compensation "for infrastructure on the farms they lost". In September, a group of former fighters filed an application with the High Court against the measure.
The MDC-Alliance is facing several key challenges. First, since the death of Morgan Tsvangirai in 2018 from colon cancer, the group has been unable to challenge the ZANU-PF. Second, the opposition must be circumspect in criticising what is taking place in Zimbabwe as such action would sustain the sanction regime thus harming ordinary Zimbabwean. Consequently, the opposition must balance its actions: encourage demonstrations and opposition to the government while making sure ordinary Zimbabweans are not too affected further by the sanctions.
Economic Outlook
In 2018, the Zimbabwean government introduced the Transitional Stabilisation Programme, which included the re-introduction and stabilisation of the Zimbabwe dollar, rationalisation of the civil service to contain wages, and the foreign currency auction system. Interfuse within this program was controlling Zimbabwe's runaway inflation.
In September, the Securities and Exchange Commission of Zimbabwe (SECZ) issued a licence for the Victoria Falls Stock Exchange Limited. VFEX is a wholly-owned subsidiary of the Zimbabwe Stock Exchange. The purpose behind VFEX is to facilitate the inflow of hard currency to Zimbabwe. VFEX is currently finalising the listing and membership requirements, setting up of the trading and depository systems, modalities on the clearing and settlement of transactions. There are also discussions as to the listing bitcoin and other cryptocurrencies, depending on the digital asset issuers getting "regulatory approval." The SCEZ has yet to determine what are cryptocurrencies; they may follow the Nigerian example and classify cryptocurrencies as securities. Notably, over the last two years, the Zimbabwean Central Bank has shifted its position on cryptocurrencies. For example, in 2018 it banned Golix, Zimbabwe's largest cryptocurrency exchange to noting the value of digital currencies. The Bank may be seeing the potential for bitcoin mining in Zimbabwe, an endeavour that demands a tremendous amount of energy as seen in Ghana which opened Africa's first mining facility Ghana Dot Com.
The US/EU Aspect
Brian A. Nichols, the U.S. ambassador to Zimbabwe, who has had an interesting relationship with the Mnangagwa administration who at one point labelled him a thug, has spoken on how to improve US-Zimbabwean relations. This change could be related to rumours that the United States is hoping that Zimbabwe could help Mozambique deal with the Islamist insurgency raging in Cabo Delgado. The US Agency for International Development (USAid) will provide approximately US$60 million to the World Food Programme's Lean Season Food Assistance programme in Zimbabwe. The US Centres for Disease Control and Prevention currently has several experts working with the Zimbabwean authorities on healthcare issues.
The EU is less likely to publicly change its position on the sanctions, however, due to the persistent humanitarian crisis, the EU is unlikely to weaken its support for the country. The EU is in the midst of devising a new humanitarian budget as the 2014-2020 budget needs revision (the next budget is due in 2021). The EU would like to see more engagement from regional actors such as the SADC. Nevertheless, despite the imposition of sanctions, the EU's European Development Fund has continued to support Zimbabweans in three main areas: health, agriculture, and institution-building. This type of support is likely to do continue especially as the EU is showing greater interest in Mozambique due to the huge liquid gas field find and the insurgence in Cabo Delgado.
Summary
Zimbabwe is on the precipice of major changes, some of which are in its hands whereas others depend on the region and the world.
President Mnangagwa has introduced some structural reforms aimed at improving the state of the economy, which have slowed down the economic collapse, although the country is affected by the Covid-19 pandemic and the sanction regime.
It is presumptuous to assume President Mnangagwa is politically safe. He is facing pressure from within ZANU-PF. There is opposition within ZZANU-PF to some of his policies. He is also contending with pressure from a disorganised opposition, which is why he has introduced several new measures all aimed to secure his reign. These measures include weeding out potential threats from within the party and further weaken the opposition.
President Mnangagwa does enjoy some support from his neighbours whose priority is a stable Zimbabwe. There are concerns across the region about growing authoritarianism (including unhappiness with gross human rights violations) in Zimbabwe and a return to Mugabe-style rule. However, the key to many in the region is economics. In other words, there is a belief that by ending Zimbabwe's economic woes, stability and democracy would take hold. This is why there seems to be regional support for the easing, ideally lifting of sanctions. It is likely the SADC is likely to explore. The SADC may find receptive ears in Washington and Brussels who see great value in Zimbabwe, as both are concerned with the increased Chinese presence in Southern Africa.
#EndSARSProtests: A Chronicle of Nigeria's #BlackLivesMatter
The chilling murder of African-American, George Floyd, back in May, by a couple of 'white' police officers in Minneapolis, the United States, would go down as one of the defining moments of 2020. Not only did the unnerving incident further expose the century-old racial cleavages among Americans, it also resulted in weeks of a universal eruption of riots and protests to demand racial equality in America and beyond.
Watching Nigerian youth take to the streets to force an end to police misdemeanours reminds one of the events – which are still ongoing in some cities – in the US after Floyd's murder. So far, close to a dozen lives have been lost, some fallen to police bullets, since the outbreak of the protests.
Throughout the organic settings of human existence, how to secure lives and maintain social decorum formed a major strand of communal concerns. It is for this reason that, at different stages of mankind's evolution, the task of security remains atop of other considerations.
According to history, the term 'police' is derived from the Latin word 'polis' which loosely translates into the 'public'. Its popularity is traced to the era of the Greek dominance of world affairs, although the act of policing was first introduced by Egyptian Pharaohs, around 3000BC, to guarantee peace amongst their subjects.
Except for a brief age during the reigns of the Roman Empire when ex-convicts and men of unsound morals were given the policing responsibility, societies the world over always reserve the job of police to untainted individuals simply because they carry an extended authority of a State. In other words, the legitimacy of the political authority in a given society is reflected in the police as an institution.
A Test of Political Legitimacy
Talking of political legitimacy, the echelon of Nigeria's leadership appears to be in complete disarray these past days. It has been a period of an unexpected and ceaseless gush of rage by young adults who, for once, surmount the courage to brace the socio-political odds. For far too long, governments across Africa's Sahara region seemed insulated from mass angst.
While popular citizens' protests landed like a hurricane and swept away long-standing dictators in North Africa: Egypt, Tunisia, and Libya in the so-called Arab Spring of 2011, political leaders in other regions of Africa escaped the wrath, but only for another day. For the Nigerian youth, the discontent being expressed through the viral #EndSARSProtests is an exhibition of their accumulated frustration against the social inequality and economic deprivations which successive administrations have visited on them.
As usual of leadership from whose grasp power is drifting, the Nigerian government has yielded its hitherto uncompromising posture to assuage the angry youth, but only to be confronted with increased resistance on the streets, daily.
Police as Colonial Construct
For the protesting youth, while their civic role in fixing a particular malady has drawn worldwide applause, it would be more appreciable for all to realize that the Special Anti-Robbery Squad (SARS) unit was(is) a mirror through which the larger tumult within the Nigeria Police Force can be viewed. And to extend that elucidation, it is equally pertinent to be told that the problem with the police in Nigeria is as old as the existence of the country.
The western-styled police system as introduced to Nigeria in 1930 by British colonialists was meant – as a protective force – to safeguard the interests of Britain in an alien land. This instrument of colonial construct was established when the Britons stole power and relegated traditional rulers after their conquest of the colony, hence only the stern, unyielding, and unsympathetic are allowed a lapel as police recruits in those days.
With 12,000-men in 1960, the already maligned status of the police became more stunted post-independence, especially when the military took charged of Nigerian affairs in 1966. The police were denied access to adequate funding, basic professional equipment, commensurate remuneration, timely training of personnel, and so forth. Over time, being called a police officer became unappealing to the best brains academically and morally, thus the floodgates were opened largely to unpolished, uneducated, poorly trained persons who see the force as the last route to survival while living in squalors in the name of barracks.
It is, therefore, unsurprising that the police have over the years maintained the unenviable status of the 'most corrupt' public institution in Nigeria. In November 2005, a former boss of the police, Tafa Balogun, escaped with a slap on the wrist in the form of six-month imprisonment upon conviction for stealing $100million because – according to the trial judge – the guilty had "shown remorse". Apparently embarrassed by the brazen degeneration of security across the country, some State Executives in Nigeria recently resorted to launching sub-national security outfits with a mandate similar to that of the ineffective federal government-controlled police force.
Whilst that decision is contested as provincial insubordination to the national government which may eventually spell doom for the county considering its fragility, many see it – nonetheless – as the most fitting response to a social haemorrhage which Abuja lacks the capacity to fix.
Litany of Rights Violations
Earlier in the year, Amnesty International had documented 82 cases of violations of human rights by officers of the dreaded SARS unit between January 2017 and May 2020 hammering on the urgency for reforms and calling for justice to victims of the assaults which include extortion, torture, rape, and killing. In the same vein, the World Internal Security and Police Index (WISPI) ranked Nigeria "the worst performing country" globally in terms of policing in its 2016 report in which concerns were raised that: "There are 219 police officers to 100,000 Nigerians".
Although the Nigerian government had in 2017 signed the Anti-Torture Act into law, yet the reality on the ground contradicts the letters of the law. Many of the abuses recorded by Amnesty's investigation into the operations of SARS revealed a similar pattern of excruciating body and mental torture of victims in the hands of the security agents. A 2020 documentary by the British Broadcasting Corporation (BBC) entitled "The Torture Virus" detailed how Nigerian security operatives, including members of the defunct SARS, regularly employ a painful torture technique called 'tabay' on suspects in their custody.
Unconfirmed reports indicate that as many as 150,000 of the current 400,000 personnel in the Nigeria Police serve as personal guards to Very Important Personalities (VIPs), mostly politicians, musicians, moguls, expatriates etc; basically to anyone and everyone who can personally afford to service the personnel financially. This leaves the policing obligations of the majority of the estimated 200million population to an insignificant 250,000 police officers, representing a ratio of 1 police officer to 668 persons, a far cry from the United Nations' standard of one police to 400 persons.
It remains to be seen how the faltering political authority in Nigeria is able to turn the table in the face of a popular resentment by the youth. However, it is safe to presume that, judging by the latest happenings, the younger mass of Nigeria's population would henceforth refuse to be pacified with the superficial lullabies of the past.
'We want justice for these girls': The Kenyan helpline for victims of gender violence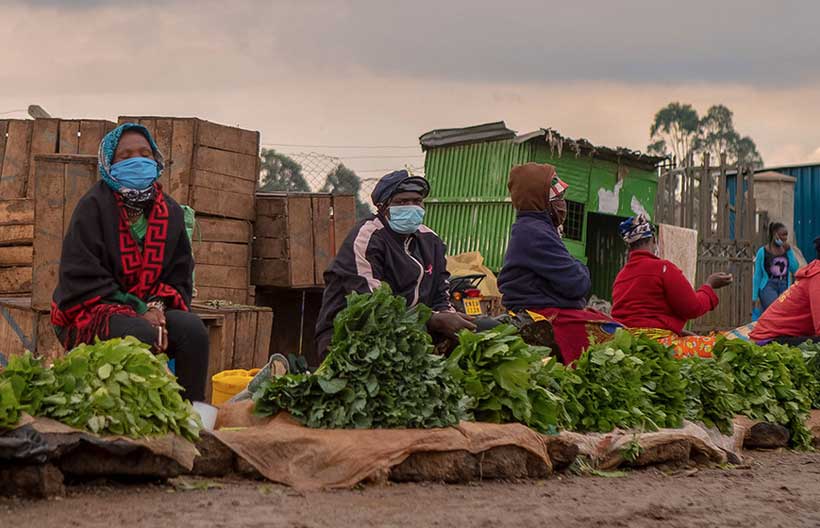 Around four million girls worldwide suffer female genital mutilation every year. Although it is forbidden in Kenya, COVID-19 has led some families to revive itthe traditional practice, and a UN-supported phone helpline for victims of gender-based violence in the country has seen a big rise in calls since the pandemic hit.
Somewhere in Kenya, an early morning in July: A woman organizes a once-in-a-lifetime "ceremony" for her 11-year-old niece: The girl's genitals will be cut off as part of her cultural transition into adulthood.
All schools in the country have been closed for months. No classmate will notice the girl's absence, no teacher will be aware and report the case to the police. The school community cannot protect the girl now.
During the ceremony, the fresh wound starts bleeding heavily. The procedure was performed by a local "cutter," and there is no anaesthesia and no painkillers. The bleeding doesn't stop, and, eventually, the family has no choice but to take the girl to the nearest hospital.
'I don't want to see people suffering'
A few hours later, a telephone rings in an office in Nairobi. The phone is connected to the number 1195, the national helpline for gender-based violence. One of the girl's relatives has called in to report the incident anonymously — she does not want to be considered as a family troublemaker.
"What we want is justice for these girls," says "Steve," one of 31 staff in the call centre. (Counsellors interviewed for this article use pseudonyms to protect their anonymity.) After receiving the call, Steve and his colleagues respond immediately. The police are dispatched to search for the mother and aunt, and a safe home is arranged for the girl once she is released from the hospital.
The helpline is staffed 24 hours a day by trained counsellors who stay on the line with callers until help arrives, whether in the form of the police, an ambulance, a village elder, a child protection officer. Counsellors arrange for health care, security, and legal aid. They also spend long hours on the phone, giving psychosocial support to callers in need.
Female genital mutilation or FGM is just one of the reasons people call the hotline. Others include assault, rape, child neglect and defilement, child marriage. The list goes on. "So many cases go unreported," Steve says. Asked why he works at the call centre, he says simply, "I don't want to see people suffering".
Some calls will break your heart
COVID-19 has aggravated the situation: "Women have been violated like never before," says Fanis Lisiagali, who heads the 1195 helpline. "We've seen women committing suicide, we have heard of women being killed. Both men and women are seriously depressed."
Indeed, the number of cases handled by the hotline rose from 86 in February to over 1,100 in June of this year. Cases dropped in July, but the total number of calls is four times higher than during the same period last year. Not all of the callers are women. Around one third of the callers who report psychological violence from their spouses and families are men, saying they have been harassed or abused for failing to provide for the family.
Sitting at their desks, a half-dozen tele-counsellors are equipped with masks and gloves and are separated by acrylic glass walls. Aside from Swahili and English, they speak other local languages, from Kikuyu to Luhya to Kalenjin; the aim is for callers from everywhere in Kenya to have someone to talk to.
"You find that psychological problems come up during things people go through every day," says another counsellor, "June." In 2009 she became a caregiver with another organization for sexually abused girls and, five years later, she joined the helpline staff.
Some calls will break the heart of even the most experienced counsellor, says June. Earlier this year, she took a call from an 18-year-old woman who had been cast out by her father and then endured an abusive marriage. When she became pregnant and gave birth, her husband rejected her, claiming the baby was crying too much and that it couldn't possibly be his. Having been disowned for a second time, the woman's desperation became unbearable. She threw the baby into a pit latrine and ran away. The girl walked into a rescue centre and called the GBV helpline.
"At first the girl was too shocked to speak. When she finally opened up, what I heard made me completely numb," says June. She sent the caller to a psychiatrist and his attestation prevented her from being imprisoned. June is still in contact with the young woman, and is helping her build a future. "My job gives me an opportunity to give back to society," she says. "I cannot always help, but sometimes I have a chance to help in a little way."
A beacon of hope
The helpline is a beacon especially now during the pandemic. Many rescue centres have to turn away survivors of gender-based violence, as they do not have the resources necessary to quarantine new arrivals for COVID-19.
The helpline was established in 2010 by an organization called Healthcare Assistance Kenya, with the support of UN Women, which is still the NGO's main partner. It is now also supported by UNFPA, the UN Population Fund.
"COVID-19 exacerbates the already horrifying levels of sexual and gender-based violence in Kenya," says Anna Mutavati, UN Women Country Representative. "But the helpline is saving lives. While services like 1195 are fundamental, we need to tackle society's underlying causes that perpetuate these gross human rights violations and wider gender inequality."
During the COVID-19 crisis, the helpline has proven its worth and needs to be strengthened, says Healthcare Assistance Kenya director Fanis Lisiagali. "In the coming years," she says, "I would like to see the helpline known to all communities in all counties throughout Kenya, so that anybody who needs it has a place to turn to".