Historicism and Cultural Identity in the EU
I have repeatedly stated that one of the acutest cultural problems in the EU nowadays is that of a lack of cultural identity rooted in Christianity; this is largely due philosophically to a poor appreciation of historicism. To my mind, the philosopher who first alerted us to this problem was Giambattista Vico, widely considered the father of modern historicism. I'd like to offer a brief outline of his theory of history, trusting that interested readers will then pick up and read his masterpiece The New Science.
In 1976 A. Robert Caponigri of Notre Dame University published an essay in honor of the great Yale Dante and Vico scholar Thomas Bergin (in Italian Literature: Roots and Branches, Yale University Press) in which he stated that "In the 'Scienza Nuova' Vico anticipates by two centuries contemporary man's most profound discovery concerning himself: the fact that he has a history, because by creating history man discovers and actualizes his own humanity." That statement alerts us to the fact that Vico is well within the Italian humanistic tradition. He is, in fact, nothing short of its culmination. A tradition this which is interrupted by Descartes' anti-humanistic stance and now waiting, like ambers under the ashes of a technocratic rationalistic society, for a new rebirth.
I am not suggesting that the concept of history is a special privilege of Western Man. Non Westerns too have a history. However, it is only in 18th century Europe that Man becomes aware of the far reaching implications of that fact. While Greeks, Romans, Chinese, Muslims had chronicles and archives, they were not intellectually conscious of the astonishing fact peculiar to Western Man, that the history that man makes expresses his freedom vis à vis events, nature and social life; which is to say, that when Man creates history out of nothing (as a sort of creation ex nihilo), he creates an eminently human factum, a sort of artifact, which is then knowable to the human mind that created it. In short, the awareness that Man has, is, and makes history is a paradigm, or a myth of reality if you will, which is unique to Western thinking and is intimately related to the idea of freedom.
Carl Marx for one utilized this paradigm of Man as his own history, but he was not its discoverer as some surmise. Its discoverer was Giambattista Vico who first proposed it to his contemporaries as a sort of antidote to the then rampant abstract, rationalistic philosophy of Renè Descartes. In fact, I suggest that to perceive Vico's originality one needs to explore this peculiar Cartesian rationalistic background of our culture. Only in contrast to the thought of Descartes, which has shaped the modern mind-set, can we grasp the relevancy of Vico's thought.
In the first place, it should be noted that a-historical thinking, a tendency to emphasize and privilege the universal and abstract aspects of thought, at the expense of the particular and the contingent, has been around in the West since Plato. But Descartes believed that he had reached the end of his epistemological ventures with what he considered the final solution to the problem of human knowledge. He accomplishes it by deemphasizing the humanities and claiming that the main criterion of truth for man is that the judgments asserting it must consist of "clear and distinct ideas."
In his Principles of Philosophy Descartes states that "I term that clear which is present and apparent to an attentive mind, in the same way as we assert that we see objects clearly when, being present to the regarding eye, they operate upon it with sufficient strength. But the distinct is that which is so precise and different from all other objects that it contains within itself nothing but what is clear." Obviously, within this kind of epistemology symbols related to seeing predominate over those related to hearing. The insistence throughout is on clarity and mathematical knowledge. Mathematics is in fact specifically mentioned in Descartes' Discourse on Method where he states that "Most of all I was delighted with Mathematics because of the certainty of its demonstrations and the evidence of its reasoning."
And what exactly is Descartes' true foundation for his theory of knowledge? His renowned "Cogito, ergo sum," that is, thought in the act of thinking or reflecting upon itself. In other words, if I think, I exist or at least perceive myself as existing. This first certitude of one's existence is characterized by the evidence thought has of itself with no other unclear elements. Therefore, Descartes concludes, the criterion of truth must be evidence accompanied by clarity and distinctness. What is dismissed out of hand are all "unclear" ideas upon which history rests: memories, inner psychic states, motives, images, symbols, myths, imaginative fairy tales, works of art with their ambiguous possibilities of meaning. In fact, the vast realm of personal and inter-personal knowledge, defined by Martin Buber as the realm of the "I-Thou," is summarily rejected.
Now, it does not take much intellectual acumen to realize that since Descartes Western thought has been dominated by a rampant rationalism which, with the possible exception of Nietzschean romantic anti-rationalism culminating with existentialism, has a peculiar view of the relationship existing between a knowing experiencing subject (the self) and the objects and events around it (the observable world) which it perceives and knows. Since the seventeenth century this has been the almost exclusive domain within which the nature of reality has been considered in the West. It is a mode of thought wherein all of reality consists of "external" objects and events which are responsible for the perceptual experience of an observing subject. This is the realm of "I-it" as also defined by Buber; a realm concerned with the world of things and objectified events. It reaches its most restrictive form with modern science which, by its very nature, is exclusively concerned with observable objects and events.
Vico's peculiar genius lies in the fact that he was the first thinker within Western culture to clearly perceive that Descartes left no room for history; that on this road Man would end up dehumanizing himself. In contrast, he proposed a theory of knowledge which emphasizes and demonstrates the importance and validity of historical thinking. His opus spanned fifteen years (1710-1725) and culminated with the publication of his New Science (the first edition appeared in 1725, the second in 1730 and the third in 1744).
Vico's initial attack on the Cartesian paradigm begins with his inaugural lecture at the University of Naples in 1710 titled De Antiquissima Italorum Sapientia. There he inquires as to what it is that makes mathematical ideas, the prime example of Descartes' "clear and distinct ideas," so irrefutable? His answer is that such clarity and irrefutability derive from the fact that we ourselves have made them. In geometry we are able to demonstrate truth because we ourselves have created it. Vico employs a Latin formula to explain this idea: Verum et Factum convertuntur, which basically means that we can only fully create, and hence fully know, the things that we design and make out of nothing. In other words, the privileged position of mathematical propositions, as regards clarity and persuasiveness, rests upon the fact that they are arbitrary creations.
Vico then proceeds to qualify Descartes' position before setting out the theoretical basis for historical knowledge proper. His basic insight is that truth is a dimension of the subject and it is a fallacy to think with Descartes that it can be conceived as a property of objects themselves. In other words, truth is the mode of presence of the subject to itself as mediated by the objects it observes. This circularity establishes the integrity of the mind as total presence to itself. Within it the dualism subject/object is mediated. To say it in even more simple terms Vico, as the consummate humanist that he is, proposes that besides metaphysics (rational intuition), mathematics (deductive knowledge), and natural science (empirical knowledge), there is a fourth, very important kind of knowledge: self-knowledge.
Within self-knowledge we are more than mere passive onlookers. We are the protagonists of situations which we understand from the inside. In its broadest sense Vico is equating this kind of necessary knowledge, well known to the ancient Greeks, with historical knowledge proper. Moreover, he alerts us to the fact that since nobody has made himself, this self-knowledge will not have the "clear and distinct" quality of mathematics. On the other hand, neither will it have the game quality, the fictitiousness and arbitrariness of mathematics. It will be a superior kind of knowledge because it is not an observing of phenomena exterior to us, and therefore ultimately unknowable to us. In fact, it will be even superior to the empirical knowledge of the natural world. In this respect, Vico is the precursor of Martin Buber's basic insight that it is only in the world of I-Thou that true reality is to be found. The world of I-it is there to be analyzed, categorized, organized but it is not the total world. Vico had intuited that the world of Descartes' cogito may be indubitable, but it also essentially limited and sterile. It cannot yield the essence of either thought or existence. From it we will never derive the causes and the nature of our being.
Vico has thus established that the Cartesian cogito, i.e., thinking thought, cannot be science but mere consciousness. In searching for a principle of truth one must begin from an absolute reality, namely that of God who has created all things and therefore knows them all. He is the Primus Factor, therefore in Him there is the first truth. In as much as all elements of things (both exterior and interior) are present in Him, complete truth resides in Him. This is so because verum factum convertuntur, he who causes a thing knows it.
This concept of causation in Vico shows the relative character of human knowledge. In as much as God contains all things, He can "read" all the elements of things. His mind is characterized by intelligentia. The human mind, on the other hand, is foreign to all, is foreign to all things that are different from itself and is therefore characterized by cogitatio by which it gathers elements external to itself. In other words, Vico is saying that we reason because we are imperfect. God does not reason, He intuits.
From this relative character of human thought issues a sort of metaphysics of humility, a new paradigm for perceiving reality; and it is this: the more external the object to the knowing mind, the more generic will be its knowledge. For example, nature had long been in existence when man arrives on the scene. The human mind, therefore, can never fully participate in its origins. Sciences are better or less knowable depending on how much human thought operates in building them: mathematics is surer than mechanics, mechanics surer than physics, physics surer than morality. Vico wisely suggests that the more congenial thing for man is to limit himself to the examination of what has been produced in history: the customs, the deeds, and above all, the language of Man. He refers to this as the certum, the cultural residue constituting the subject matter of the historian.
It is crucial that this certum, these records of history, be understood as that which man has made, the factum. Here again Vico's insight is that the certum and the factum are convertible; which is to say, history leads to knowledge; more specifically it leads to self-knowledge when it approaches its own documents (the certum) with the understanding that these are what other selves have created in history. We are then within Vico's hermeneutical circle: whenever Man creates in history, and above all when he creates language, he creates a structure that constitutes an interpretation of his experience. In turn that interpretation organizes the world around him. The study of history turns out to be an ongoing understanding and evaluation, in effect a constant reinterpretation, of these interpretative structures which men have created. There is no such thing as "objective" history, once, once and for all as some historians, in their eagerness to declare their discipline a "science" would contend.
A scientist with positivistic tendencies in describing the history of science, will reveal to the perceptive reader the Cartesian paradigm under which he labors. Inevitably, there is a tendency to see religion not at the very origins of science but as magic and superstition hostile to it; while science per se and its rational method of perceiving reality will be assigned preeminence over and above myth-making, poetry and poetic wisdom.
This rather cavalier intellectual stance would not be so repugnant were it stated as a premise at the outset. The sheer hubris of the Cartesian mind-set (what Vico calls "the barbarism of the intellect" and I call "hard-wired rationalism") is exhibited by its insistence that it is the only valid and "objective" view of what constitutes reality, while other views or paradigms can only proceed out of ignorance and have therefore little, if any, intellectual value. A. Robert Caponigri puts it best when he writes that "The concrete processes of culture alone provide the context for the idea of man because only in that context are the conditions of total presence realized…In culture, the alienation latent in nature is overcome because all cultural structures are modes of the presence of man to himself as defined against nature." ("The Timelessness of the Scienza Nuova of Giambattista Vico." In Italian Literature: Roots and Branches, Ed. Jose Rimanelli, Yale University Press, New Haven, CT, 1976, p. 310).
One of the most important Vichian principles is this: "The nature of institutions is nothing but their coming into being (nascimento) at certain times and in certain guises" (SN, 147). Vico's stress upon the ongoing development of history is one in which the legacy of the past is taken with complete seriousness, but without obscuring the necessity of reprehending the past in ways appropriate to the present, or the necessity of leaving the future free to apprehend the past in ways which are perhaps as yet unthinkable. Indeed, the Columbus of 1992 is a differently perceived Columbus than the one of 1892.
With the above examined understanding of history Vico attempts to oppose Descartes' claim that "clear and distinct ideas" constitute the highest form of knowledge. He perceived that Descartes' claim inevitably leads to a concept of history as a clearly and distinctly apprehended "hard core of historical facts" known once and for all. Indeed, that "hard core" may have the simplicity of mathematical ideas but it is similar to them in the sense that it is an abstraction arbitrarily created out of the complex flow of history; an abstraction which can then be used as a counter in a game that we ourselves have invented. This appeal to thinking of history in terms of "hard core" facts can be better understood if we keep in mind that the moving of abstract counters in freely invented games gives one a great sense of control while calling for little commitment on the part of the player. For example, let the reader imagine, if you will, the computerized video games routinely played by generals in the Pentagon and other nations' War Departments. In a few seconds these powerful Caesars are able to obliterate millions of enemy soldiers, not unlike the original Caesar who claimed more than a million lives in his Gallic War. In the video game, it happens from time to time that millions of one's own soldiers are nuked by mistake. One general's comment to this "friendly fire" mistake supposedly was "Holy cow!" The reader may retort that there is nothing wrong in playing a virtual war game if it ultimately prevents a real war. Fair enough. The problem however arises when those "hard core" facts are fallaciously assumed to exist objectively "out there" and made to constitute the substance of history. When millions of soldiers and whole cities come to be seen as mere counters in a dangerous chess game of "realpolitik," then we end up with the "Evil Empire" engaging the world in an arms race costing the world a couple of million dollars a minute. Some already envision a new start of those games, called Cold War, in the 21st century, and they may be right.
E.F.Schumacher in his A Guide to the Perplexed (Perennial Library, Harper and Row Publishers, New York, 1977) puts the matter thus: "The change of Western man's interest from 'the slenderest knowledge that may be obtained of the highest things' (Thomas Aquinas) to mathematically precise knowledge of lesser things—'there being nothing in the world the knowledge of which would be more desirable or more useful' (Christian Huygens, 1629-1695—marks a shift from what we might call 'science for understanding' to 'science for manipulation.' The purpose of the former was the enlightenment of the person and his 'liberation;' the purpose of the latter is power. 'Knowledge itself is power,' said Francis Bacon, and Descartes promised men they would become 'masters and possessors of nature.' In its more sophisticated development, 'science for manipulation' tends almost inevitably to advance from the manipulation of nature to that of people" (pp. 53-54).
Vico clearly perceives this fallacy more than two hundred years ahead of his times and insists on the conversion of the certum with the factum, i.e., that the study of history is a reinterpretation of those interpretative structures which Man has created. He shows that the formula he initially applied to mathematics, the true and the made are convertible, is applicable to history as well. However, when applied to history, a different kind of knowledge arises. While in mathematics the resulting knowledge is "clear and distinct," albeit fictitious and arbitrary, in history it cannot be so since we have neither created ourselves nor the world of nature out of nothing.
History cannot yield clear and distinct ideas because it deals with tangled non fictitious matters of purposes, goals, motives, acts of the will, fears, hopes in effort to reach self-knowledge. Even more simply put, history deals with the heritage of the past, understanding for the present and hope for the future. This truth of self-knowledge is convertible with what Man has accomplished in history because as Vico explains it: "…the world of civil society has certainly been made by men, and its principles are therefore to be found within the modifications of our own human mind" (SN, 331).
We are not accustomed of speaking of this matter in terms of verum and factum. And yet all we need to do is transpose "content" for verum, and "form" for factum, to understand that Vico is basically saying that the content of anything is but the form it assumed at the point in history at which it came into being. In other words, content comes into existence with or within form. Contrary to what Descartes thought he could do, content and form can be distinguished but cannot be separated from one another. To fully know one at its origins is to know the other. They are convertible because they arise together. There is no such thing as "the inner meaning of myths" or of fact separate from interpretation in the study of history. Once that is granted, then one has to also grant that history is equally knowable as mathematics. This is so because history is the result of the development of the human mind and of the universal principles it contains and by which it judges things and to which it tries to conform.
And here is how Vico himself expresses the unity of content and form: "Our science therefore comes to describe at the same time and ideal eternal history traversed in time by the history of every nation in its rise, development, maturity, decline, and fall. Indeed, we made bold to affirm that he who meditates this Science narrates to himself this ideal eternal history so far as he himself makes it for himself by that proof 'it had, has, and will have to be.' For the first indubitable principle posited above is that this world of nations has certainly been made by men, and its guise must therefore be found within the modifications of our human mind. And history cannot be more certain when he who creates the things also narrates them. Now, as geometry, when it constructs the world of quantity out of its elements, or contemplates the world, is creating it for itself, just so does our Science create for itself the world of nations, but with a reality greater by just so much as the institutions having to do with human affairs are more real than points, lines, surfaces, and figures are. And this very fact is an argument, o reader, that these proofs are of a kind divine and should give thee a divine pleasure, since in God knowledge and creation are one and the same thing (SN, 349)."
The above quote makes it quite clear that the starting point of this unique approach to history cannot be the Cartesian thinking subject. Vico demonstrates that Descartes, whole intention was that of overcoming doubt and founding a sure system of reaching truth, ironically ends up with the position of Protagoras: "Man is the measure of all things." However, given that Man is a partial being and not his own creator, given too that he doubts and his thought is a relative truth, the Cartesian criterion of truth proves to be inadequate. It is in effect a reduction of truth to the private, what Vico aptly calls "la boria dei dotti," the arrogance of the learned, i.e., the production of truth in a closet independent of the real world out there. To the contrary, Vico insists that the above mentioned common ideal notions have become present in the human mind through the life of nations as "common sense of the people." For him "common sense" is a consensus reached by a whole people without reflection and expressing itself in spontaneous wisdom or poetic wisdom. Homer's poetry in the Iliad and the Odyssey was reached that way for those epics could not have been written by the same man. It sprang from the common sense and the poetic wisdom of the ancient Greeks before the onset of philosophical reflection. Such a notion is fundamental to a critical approach to problems of history, be they in religion, law, art, language, for truth is not something private to be pondered in a closet or an ivory tower for that matter. It is rather a public patrimony finding its natural dimension in the social life of man.
To briefly summarize Vico's theory of knowledge we can say that history becomes science when Man orders and understands his deeds according to those eternal notions that Man (through the mediating operation of the intellect) finds in himself. The truth of history does not consist in mere facts produced by men, but also in the possibility that men have to recover the facts of history to the structure of their mind and to the eternal order that God reveals to the mind of men. As we shall see more thoroughly further down, in Vico philosophy and philology are completely integrated. While the human mind generates institutions such as language, laws, religions, poetry, myths, the civil world of tribes and nations, this production is not wholly autonomous. It operates under what Vico terms "the force of truth" immanent in the eternal notions present in the mind of man. This is providence at work. Of everything that Man may know, this is most authentically scientific.
Unfortunately the modern Cartesian positivistic mind-set has not yet fully come to terms with this Vichian new paradigm. The delusion persists that questions of meaning in history and civilization can be adequately answered with the technological know-how. Until that fallacy can be overcome, the danger of dehumanization and loss of freedom will continue to persist.
EU: The stalemate in negotiations brings Serbia ever closer to Russia and China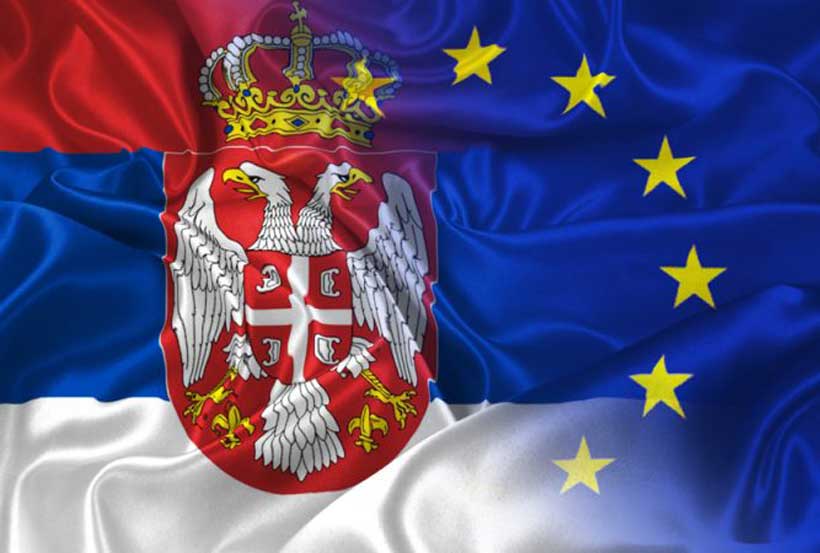 Serbia has been waiting since 2012 for the European Union to respond to its application to become a full member of the EU.
In spite of exhausting negotiations, this response is slow in coming and the main cause of the stalemate has a clear name: Kosovo. Before accepting Serbia's application for membership, the EU requires a definitive solution to the relations between Serbia and that region that broke away from it after the 1999 conflict – when NATO came to the aid of the Kosovo Albanians – and proclaimed its independence in February 2008.
Serbia has never recognised the birth of the Kosovo Republic, just as many other important countries have not: out of 193 UN members, only 110 have formally accepted the birth of the new republic, while the rest, including Russia, China, Spain, Greece and Romania – to name just the most important ones – refuse to recognise the independence of the Albanians of what was once a region of Serbia.
The European Union cannot accept that one of its members is in fact unable to guarantee control over its borders, as would be the case for Serbia if its membership were accepted.
In fact, since the end of the war between Kosovo and Serbia, there is no clear and controlled border between the two countries. In order to avoid continuous clashes, Kosovo and Serbia have actually left the border open, turning a blind eye to the 'smuggling economy' that thrives on both sides of the border.
In this situation, if Serbia were to become a full member of the European Union, it would create a gap in the borders of the entire Schengen area, as anyone passing through Kosovo could then move into all EU countries.This is not the only obstacle to Serbia's accession to the European
Union: many European chancelleries are wary of Serbian foreign policy which, since the dissolution of the Yugoslav Federation, has maintained a privileged relationship with Russia, refusing to adhere to the sanctions decided by Europe against Russia after the annexation of Crimea to the detriment of Ukraine.
During the Covid-19 pandemic, Serbia even agreed to produce the Russian vaccine 'Sputnik V' directly in its own laboratories, blatantly snubbing EU's vaccine offer.
For the United States and some important European countries, Serbia's formal accession to the European Union could shift the centre of gravity of Europe's geopolitics towards the East, opening a preferential channel for dialogue between Russia and the European Union through Serbia.
This possibility, however, is not viewed unfavourably by Germany which, in the intentions of the CDU President, Armin Laschet, the next candidate to succeed Angela Merkel as Chancellor, has recently declared he is in favour of a foreign policy that "develops in multiple directions", warning his Western partners of the danger resulting from "the interruption of the dialogue with Russia and China". In this regard, Laschet has publicly stated that 'foreign policy must always focus on finding ways to interact, including cooperation with countries that have different social models from ours, such as Russia, China and the nations of the Arab world'.
Today we do not know whether in autumn Laschet will take over the leadership of the most powerful country in the European Union, but what is certain is that Serbia's possible formal membership of the European Union could force Europe to revise some of its foreign policy stances, under the pressure of a new Serbian-German axis.
Currently, however, Serbia's membership of the European Union still seems a long way off, precisely because of the stalemate in the Serbia-Kosovo negotiations.
In 2013 Kosovo and Serbia signed the so-called 'Brussels Pact', an agreement optimistically considered by European diplomats to be capable of rapidly normalising relations between Serbia and Kosovo, in view of mutual political and diplomatic recognition.
An integral part of the agreement was, on the one hand, the commitment of Kosovo's authorities to recognise a high degree of administrative autonomy to the Kosovo municipalities inhabited by a Serb majority and, on the other hand, the collaboration of the Serbs in the search for the remains of the thousands of Kosovar Albanians presumably eliminated by Milosevic's troops during the repression that preceded the 1999 war.
Neither of the two commitments has so far been fulfilled and, during the meeting held in Brussels on July 21 between Serbian President Alexander Vucic and Kosovo's Prime Minister Albin Kurti, harsh words and reciprocal accusations were reportedly exchanged concerning the failure to implement the 'Pact', to the extent that the Head of European foreign policy, Josep Borrel, publicly asked the two parties to 'close the chapter of a painful past through a legally binding agreement on the normalisation of mutual relations, with a view to building a European future for its citizens'. This future seems nebulous, to say the least, if we consider that Serbia, in fact, refuses to recognise the legal value of degrees and diplomas awarded by the Kosovo academic authorities also to members of the Kosovo Serb minority.
Currently, however, both contenders are securing support and alliances in Europe and overseas.
Serbia is viewed favourably by the current President of the European Union, Slovenian Janez Jansa, who is a supporter of its membership because "this would definitively mark the dissolution of the Yugoslav Federation". The vast majority of European right-wing parties, ranging from the French 'Rassemblement National' to the Hungarian 'Fydesz', also approve of Serbia's membership application and openly court the Serbian minorities living in their respective countries while, after the years of US disengagement from the Balkans under Presidents Bush, Obama and Trump, the Biden administration has decided to put the region back on the list of priority foreign policy commitments, entrusting the 'Serbia dossier' to the undersecretary for European and Eurasian Affairs, Matthew Palmer, an authoritative and experienced diplomat.
With a view to supporting its application for European membership, Serbia has also deployed official lobbyists.
Last June, Natasha Dragojilovic Ciric's lobbying firm ND Consulting officially registered in the so-called EU 'transparency register' to promote support for Serbia's membership. ND is financed by a group of international donors and is advised by Igor Bandovic, former researcher at the American Gallup and Head of the Belgrade Centre for Security Policy, by lawyer Katarina Golubovic of the 'Committee of Human Rights Lawyers' and Jovana Spremo, former OSCE consultant.
These are the legal experts deployed by Serbia in Brussels to support its application for formal European integration, but in the meantime Serbia is not neglecting its "eastern" alliances.
Earlier this month, the Head of the SVR, the Russian Foreign Intelligence Service, Sergey Naryshkin, paid an official visit to Belgrade, a few weeks after the conclusion of a joint military exercise between Russian special forces (the "Spetznaz") and Serbian special forces.
In the Serbian capital, Naryshkin not only met his Serbian counterpart Bratislav Gasic, Head of the 'Bezbednosno Informativna Agencija', the small but powerful Serbian secret service, but was also received by the President of the Republic Alexander Vucic with the aim of publicising the closeness between Serbia and Russia.
The timing of the visit coincides with the resumption of talks in Brussels on Serbia's accession to the European Union and can clearly be considered as instrumental in exerting subtle diplomatic pressure aimed at convincing the European Union of the possibility that, in the event of a refusal, Serbia may decide to definitely turn its back on the West and ally with an East that is evidently more willing to treat the Serbs with the dignity and attention that a proud and tenacious people believes it deserves.
A piece of news confirming that Serbia is ready to turn its back on the West, should Europe continue to postpone the decision on its accession to the European Union is the fact that China has recently signed a partnership agreement with Serbia in the field of pharmaceutical research, an agreement that makes Serbia one of China's current largest commercial partners on the European continent.
When the Soviet Union collapsed and the Warsaw Pact died, there was much speculation that NATO would consider itself redundant and either disappear or at least transmogrify into a less aggressive body.
Failing that, Moscow at least felt assured that NATO would not include Germany, let alone expand eastwards. Even the NATO Review, NATO's PR organ, wrote self-apologetically twenty-five years after the fall of the Berlin wall: "Thus, the debate about the enlargement of NATO evolved solely in the context of German reunification. In these negotiations Bonn and Washington managed to allay Soviet reservations about a reunited Germany remaining in NATO. This was achieved by generous financial aid, and by the '2+4 Treaty' ruling out the stationing of foreign NATO forces on the territory of the former East Germany. However, it was also achieved through countless personal conversations in which Gorbachev and other Soviet leaders were assured that the West would not take advantage of the Soviet Union's weakness and willingness to withdraw militarily from Central and Eastern Europe."
Whatever the polemics about Russia's claim that NATO broke its promises, the facts of what happened following the fall of the Berlin wall and the negotiations about German re-unification strongly demonstrate that Moscow felt cheated and that the NATO business and military machine, driven by a jingoistic Cold War Britain, a selfish U.S. military-industrial-congressional complex and an atavistic Russia-hating Poland, saw an opportunity to become a world policeman.
This helps to explain why, in contrast to Berlin, NATO decided to keep Nicosia as the world's last divided city. For Cyprus is in fact NATO's southernmost point, de facto. And to have resolved Cyprus' problem by heeding UN resolutions and getting rid of all foreign forces and re-unifying the country would have meant that NATO would have 'lost' Cyprus: hardly helpful to the idea of making NATO the world policeman. Let us look a little more closely at the history behind this.
Following the Suez debacle in 1956, Britain had already moved its Middle East Headquarters from Aden to Cyprus, while the U.S. was taking over from the UK and France in the Middle East. Although, to some extent under U.S. pressure, Britain was forced to bring Makarios out of exile and begin negotiating with Greece and Turkey to give up its colony, the U.S. opted for a NATO solution. It would not do to have a truly sovereign Cyprus, but only one which accepted the existence of the Sovereign Base Areas (SBAs) as part and parcel of any settlement; and so it has remained, whatever the sophistic semantics about a bizonal settlement and a double-headed government. The set of twisted and oft-contradictory treaties that have bedevilled the island since 1960 are still afflicting the part-occupied island which has been a de facto NATO base since 1949. Let us look at some more history.
When Cyprus obtained its qualified independence in 1960, Greece and Turkey had already signed, on 11 February 1959, a so called 'Gentlemen's Agreement', agreeing that they would support Cyprus' entry into NATO.1 This was, however, mere posture diplomacy, since Britain—and the U.S. for that matter—did not trust Cyprus, given the strength of the Progressive Party of Working People (AKEL) and the latter's links to Moscow. The Ministry of Defence (MOD) wrote: 'Membership of NATO might make it easier for the Republic of Cyprus and possibly for the Greeks and Turks to cause political embarrassment should the United Kingdom wish to use the bases […] for national ends outside Cyprus […] The access of the Cypriot Government to NATO plans and documents would present a serious security risk, particularly in view of the strength of the Cypriot Communist Party. […] The Chiefs of Staff, therefore, feel most strongly that, from the military point of view, it would be a grave disadvantage to admit Cyprus to NATO.'2 In short, Cyprus was considered unreliable.
As is well known, the unworkable constitution (described as such by the Foreign Office and even by David Hannay, the Annan reunification plan's PR man), resulted in chaos and civil strife: in January 1964, during the chaos caused by the Foreign Office's help and encouragement to President Makarios to introduce a 'thirteen point plan' to solve Cyprus' problems, British Prime Minister Douglas-Home told the Cabinet: 'If the Turks invade or if we are seriously prevented from fulfilling our political role, we have made it quite clear that we will retire into base.'3 Put more simply, Britain had never had any intention of upholding the Treaty of Guarantee.
In July of the same year, the Foreign Office wrote: 'The Americans have made it quite clear that there would be no question of using the 6th Fleet to prevent any possible Turkish invasion […] We have all along made it clear to the United Nations that we could not agree to UNFICYP's being used for the purpose of repelling external intervention, and the standing orders to our troops outside UNFYCYP are to withdraw to the sovereign base areas immediately any such intervention takes place.'4
It was mainly thanks to Moscow and President Makarios that in 1964 a Turkish invasion and/or the island being divided between Greece and Turkey was prevented. Such a solution would have strengthened NATO, since Cyprus would no longer exist other than as a part of NATO members Greece and Turkey. Moscow had issued the following statement: 'The Soviet Government hereby states that if there is an armed foreign invasion of Cypriot territory, the Soviet Union will help the Republic of Cyprus to defend its freedom and independence against foreign intervention.'5
Privately, Britain, realising the unworkability of the 1960 treaties, was embarrassed, and wished to relieve itself of the whole problem. The following gives us the backstage truth: 'The bases and retained sites, and their usefulness to us, depend in large measure on Greek Cypriot co-operation and at least acquiescence. A 'Guantanamo'6 position is out of the question. Their future therefore must depend on the extent to which we can retain Greek and/or Cypriot goodwill and counter USSR and UAR pressures. There seems little doubt, however, that in the long term, our sovereign rights in the SBA's will be considered increasingly irksome by the Greek Cypriots and will be regarded as increasingly anachronistic by world public opinion.7
Following the Turkish invasion ten years later, Britain tried to give up its bases: 'British strategic interests in Cyprus are now minimal. Cyprus has never figured in NATO strategy and our bases there have no direct NATO role. The strategic value of Cyprus to us has declined sharply since our virtual withdrawal from east of Suez. This will remain the case when the Suez Canal has reopened.8
A Cabinet paper concluded: 'Our policy should continue to be one of complete withdrawal of our military presence on Cyprus as soon as feasible. […] In the circumstances I think that we should make the Americans aware of our growing difficulty in continuing to provide a military presence in Cyprus while sustaining our main contribution to NATO. […]9
Britain kept trying to give up the bases, but the enabler of the Turkish invasion, Henry Kissinger, did not allow Britain to give up its bases and listening posts, since that would have weakened NATO, and since Kissinger needed the bases because of the Arab-Israel dispute.10
Thus, by the end of 1980, in a private about-turn, Britain had completely succumbed to American pressure: 'The benefits which we derive from the SBAs are of major significance and virtually irreplaceable. They are an essential contribution to the Anglo-American relationship. The Department have regularly considered with those concerned which circumstances in Cyprus are most conducive to our retaining unfettered use of our SBA facilities. On balance, the conclusion is that an early 'solution' might not help (since pressures against the SBAs might then build up), just as breakdown and return to strife would not, and that our interests are best served by continuing movement towards a solution – without the early prospect of arrival [author's italics]11.
And so it is today: Cyprus is a de facto NATO territory. A truly independent, sovereign and united Cyprus is an anathema to the U.S. and Britain, since such a scenario would afford Russia the hypothetical opportunity to increase its influence in the Eastern Mediterranean.
From our partner RIAC
[1] Ministry of Defence paper JP (59) 163, I January 1960, BNA DEFE 13/99/MO/5/1/5, in Mallinson, William, Cyprus, a Modern History, I.B. Tauris (now Bloomsbury), London and New York, 2005, 2009, 2012, p.49.
[2] Ibid.
[3] Memorandum by Prime Minister, 2 January 1964, BNA CAB/129/116, in ibid, Mallinson, William, p.37.
[4] British Embassy, Washington, to Foreign Office, 7 July 1964, telegram 8541, BNA FO 371/174766, file C1205/2/G, in ibid.', Mallinson, William, p. 37.
[5] Joseph, Joseph S., Cyprus, Ethnic Conflict and International Politics, St Martin's Press, London and New York, 1997, p. 66.
[6] In 1964, Cuba cut off supplies to the American base at Guantanamo Bay, since the US refused to return it to Cuba, as a result of which the US took measures to make it self-sufficient.
[7] Briefing paper, 18 June 1964, BNA-DO/220/170, file MED 193/105/2, part A. Mallinson,William, Kissinger and the Invasion of Cyprus, p. 127.
[8] 'British Interests in the Eastern Mediterranean', draft paper, 11 April 1975, BNA-FCO 46/1248, file DPI/515/1.
[9] Cabinet paper, 29 September 1976, in op. cit. Mallinson, William, Kissinger and the Invasion of Cyprus, p.134.
[10] Mallinson, William, Britain and Cyprus: Key Themes and Documents, I.B. Tauris, London and New York, 2011, and Bloomsbury, London and New York, 2020, pp. 87-121.
[11] Fergusson to Foreign Minister's Private Secretary, minute, 8 December 1980, BNA-FCO 9/2949, file WSC/023/1, part C.
Belarus divorces from the Eastern Partnership: A new challenge for the EU Neighborhood Policy
The Eastern Partnership (EaP) is the Eastern dimension of the EU Neighborhood Policy adopted back in 2009 aimed at deepening relations between Brussels and six Eastern European partners – Armenia, Azerbaijan, Belarus, Georgia, Moldova and Ukraine. The EaP has been regarded as a strategic initiative based on mutual interests and common values with a goal of strengthening political and economic relations with those countries, helping them enhance their institutional capacity through sustainable reforms. While increasing stability and paving the way for the sustainable development of those societies, the EU's overall goal has been to secure its Eastern borders.
Since the very beginning the EaP has been suspiciously viewed by Russia as an attempt of expansion of the sphere of influence and as a first step of EU membership of these countries. Russians point to the EU and NATO ambitious expansion eastward as the main reason for complicated relations and in this context the EaP has been regarded with traditional fears and paranoic perceptions. The Russian hard power approach causes serious problems for the EaP which fails to mitigate security concerns of partner countries and to come up with serious initiatives for conflict settlement. Being a laggard in terms of soft power, the Russian ruling elite has continuously used all hard power foreign policy instruments at its disposal trying to undermine the coherence of the initiative. And the very recent démarche of Belarus to withdraw from the EaP should be seen in this context of confrontation.
On 28th of June, the ministry of foreign affairs of Belarus announced a decision to halt its membership in the EaP as a response to the EU sanctions imposed on Minsk accompanied by the recalling ambassadors from both sides. Actually, this isn't the first case of the EaP walkout blackmailed by Lukashenko. The first escape was attempted in September-October 2011, but the difficulties were soon resolved and Lukashenko revised his decision. This time situation seems very complicated and these far-reaching tensions may have tough consequences for Lukashenko's regime. This new group of sectoral sanctions which target banking, oil, telecommunication spheres and also ban the export of potash, is a harsh response from the EU against Lukashneko's scandalous hijacking activity in May to detain a Belarusian opposition journalist and blogger Roman Protasevich.
Lukashenko's administration not only challenges the EU Neighborhood Policy and shows no retreat, but also goes forward escalating the situation. Minsk takes high risks freezing the Readmission Agreement signed by the EU. This document is a legal basis for bilateral cooperation aimed at struggling against irregular migration flows. It's not a secret that the territory of Belarus has been used for illegal migration for the groups from the Middle East to penetrate into neighboring EU member states such as Poland, Lithuania and Latvia. Moreover, Belarus territory has served as a transit route for smuggling circles going from East to West and vice versa. And now closing eyes on all these channels, Minsk hopes to increase the bargaining power vis-à-vis Brussels. However, given the Western reactions, it seems that this time the EU is resolute.
Despite the fact that Charles Michel, the President of the EU Council, described this withdrawal as "another step backwards" and even threatened that "this will escalate tensions having clear negative impacts", the EU wants to continue working with the Belarusian society as Josep Borrel stated. The EU's determination to keep the bridges alive with the Belarusian people, in spite of Lukashneko's radical stance, is aimed at preventing further isolationism of Minsk which would benefit only Russia.
In contrast to the increasing level of tensions with the EU, the Russian authorities continue to support Lukasheno's administration, thus trying to deepen the gap and to bring Belarus under their total influence. Russia uses Belarus in its chessboard with the EU and the USA in Eastern Europe. Last year's fraud elections and brutal crackdown by Lukashenko left him alone with the only source of power stemming from the Kremlin. Thus the withdrawal from the EaP should be understood not only as a convulsion of the Belarusian authorities in response to the sanctions, but also Russia's employment of the Belarus card to respond to the recent joint statement of the EU-US summit in Brussels, when both parties declared their intention to stand with the people of Belarus, supporting their demands for human rights and democracy simultaneously criticising Lukashenko's regime and his reckless political behavior and also criticising Russian's unacceptable behavior.
So, Lukashenko's step to quit the EaP can be seen as a well-calculated adulatory sign towards Moscow sacrificing the last remnants of sovereignty in order to receive financial and political lifebuoy amid the increasing crisis in the result of sanctions. And the recent visit of N. Patrushev, the Secretary of the Security Council of Russia, to Minsk right after the withdrawal decision shows Russian inclination to strike while the iron is hot and to abuse the vulnerable situation of Belarus. Patrushev stated that the ultimate goal of foreign powers is to change the power in Belarus and he suggested instead of focusing on internal issues, to bring their forces together against external threats as their influence affects internal developments. For this reason, deeper integration of security and military services of both countries are on the table.
The reaction of opposition leader S. Tikhanovskaya was very rough, stating that this suspension will cut the opportunities of ordinary citizens who benefit from the political and economic outcomes of the EaP. Moreover, she claims that Lukashenko doesn't have a right to represent Belarus since August 2020 and his decisions don't have legal consequences for Belarus. This kind of approach is shared by the leadership of Lithuania too, whose president and minister of foreign affairs not only refuse to recognize Lukashenko as a legitimate president, but also highlight the role of the Kremlin in supporting the dictatorial power of Lukashenko in exchange for decreasing sovereignty.
The blackmail of Lukashenko to challenge the EU Eastern Neighborhood Policy in order to have the sanctions lifted may bring about such kind of precedents with other partnering countries as well. First of all, this concerns Azerbaijan which continues to face serious problems related with human rights, freedom of expression, the problem of Prisoners of War and other traits of authoritarian power. It's well-known that human rights issues have been the underwater stones in the EU and Azerbaijan relations and they continue to pose new challenges for Aliyev's non-democratice regime. Another weak ring of the EaP chain is Armenia. Even though reelected N. Pashinyan is eager to pursue a balanced foreign policy, post-war Armenia still faces serious limitations given its vulnerable dependence on Russia. Besides, Pashinyan's main rival and the former President R. Kocharyan, whose alliance will be the second largest faction in the newly elected Parliament has recently stated that this new parliament can last up to one and half years and nobody can exclude the possibility of new snap elections. His pro-Russian attitude and anti-Western stance are well-known and in case he becomes a prime-minister, there is no guarantee that he will follow the path of Lukashenko.
Therefore the statement of the Austrian MFA, that "we cannot leave South Caucasus to others" during the recent official visit of the Austrian, Romanian and Latvian MFA under the mandate of the EU High Representative to the South Caucasus, reminds about the EU presence in the region and also the fact that the 'normative power' can be a source of balance and a status quo changer.