How much does Trump love Putin?
Does USA love Russia or Russia love USA? Can an American President love a Russian counterpart any time in future? USA and Russia are strongest foes with largest terror arsenals and their missiles target each other. The only plus point for them is that both are UN veto members, strategically controlling the world.
American media is filled with unbelievable stories about US presidential hopeful Donald Trump's reverence for Russian president Vladimir Putin – former KGB intelligence officer who later in his career worked for KGB in Germany before he was handpicked by the new and first post-Soviet Russian president Boris Yelstsin to succeed him. Russia, Americans say, is frequently at odds with American interests on the world stage.
Is Trump all that committed on his pronouncements on Russian policy? Is there any creditable evidence that he has received Russian money? Are Trump's business interests in Russia really all that significant?
Basically, Trump is an American hawk while Putin is a Russian variety of this character. Trump may have business interests in Russia that Puitn may back. Apart from that, Trump may have liked the boldness, stubbornness and thoroughness of Russian president.
Recently Republican Donald Trump said he is not sure what kind of relationship he would have with Russian President Putin if he is elected US president.
Democrats have consistently mocked Trump's past remarks in praise of the Russian strongman, the latest instance coming from vice presidential nominee Sen. Tim Kaine.
Donald Trump pushed back on Hillary Clinton's accusation that he's cozying up to Putin after the charge put Trump's running mate on the defensive during the vice presidential debate. The billionaire Trump sought to take away an argument that Clinton and her running mate, Tim Kaine, have ramped up in the final weeks of the campaign as they work to portray Trump as dangerous for American interests overseas. While US-Russia relations nosedive over failed diplomacy in Syria, Trump has complimented Putin, calling him a strong leader and even encouraging him to track down Clinton's missing emails, though Trump later said he was being sarcastic.
The celebrity businessman said his relationship with Russia's leader would be determined by how Moscow responds to strong US leadership under a Trump administration. "They say Donald Trump loves Putin. I don't love, I don't hate. We'll see how it works," Trump told a rally outside Las Vegas. Speaking before an estimated crowd of 7,000 in Henderson, Nev., a Las Vegas suburb, Trump said he could not predict the type of relationship he would have with Putin.
Trump was on the campaign trail, making several stops across Nevada. Taking the stage in Henderson, Nev., Trump took his own victory lap for Pence's performance, which he called "phenomenal."
Clinton shrugged that off, saying Trump has weird fascination with dictators. "My opponent seems not to know the difference between an ally and adversary," Clinton said at an evening fundraiser in Washington. "You guys love Russia," Democratic VP candidate Kaine said in Tuesday's debate. In a forceful rebuke, Pence described Putin as a "small and bullying leader" but blamed Clinton and President Barack Obama for a "weak and feckless" foreign policy that had awakened Moscow's aggression in Ukraine and meddling in the Middle East. Pence's cool demeanor contrasted with Trump's bluster during his own, top-of-the-ticket showdown against Clinton. However strong Pence's performance, Trump made clear he considers it a reflection of himself.
During the debate, Trump's running mate Gov. Mike Pence, who has defended Trump's praise of Putin, backed away from Trump's previous praise for Putin, calling the Russian president a "small and bullying" leader.
Trump and Russia
Russia, by whatever yardstick is in vogue, prefers Trump if for no other reason than it hates Hillary Clinton because of her alleged foreign policy interventionist views. But Russian officials are also worried by the disruptive potential of a Trump presidency, specifically about his fulfillment of even some of his chaotic promises.
Vladimir Putin clearly is pleased with Trump's praise of him, such as saying that Putin has been a better leader than Barack Obama. And the Kremlin is thrilled by Trump's statements deriding NATO, applauding the British decision to leave the European Union and suggesting that America might not defend allies threatened by Russia.
Stylistically Trump is Putin's type. Trump seems to Moscow at this point unlikely to put politically correct talk of "Western values" ahead of "our mutual and shared interests." That he may well harm the Western alliance in the process is a most welcome bonus. Trump will smash America as the Russians currently perceive it. There is little doubt (at least as expressed on Radio Moscow) that Trump's use of advisers who are sympathetic to Moscow is welcome.
Trump's views on America's role in the world completely align with the very fervent hopes Russia has. If reports on Radio Moscow are any guide, there is some understanding of Trump's unpredictability — that is, just about everything is unknown. While Hillary Clinton is viewed as fiercely anti-Russian, she is nonetheless a familiar figure, and there is some grudging respect. She if elected would just pursue the Bush-Obama imperialist policies abroad.
Donald Trump shows himself to inhabit a fantastical realm where Barack Obama's birth certificate was faked, the president founded ISIS, the Clintons are killers and the father of a former rival was with Lee Harvey Oswald before he assassinated John F. Kennedy in Dallas.
Americans feel depressed that their president Obama does not enjoy the benefits of hard power like Turkish or Russian presidents do. The deeper worry, therefore, is for Russia and Turkey, where "autocrats" use the techniques of post-truth to silence opposing opinions deemed unacceptable by some. In USA, the Congress itself is a hoax, behaves like a collective autocrat.
The USA and Russia back opposing sides in Syria's civil war but both are fighting the Islamic State group there. The USA cut off talks with Russia about Syria this week after the latest cease-fire collapsed, blaming Russia for failing to fulfill its commitments under the deal. "I can say this: If we get along and Russia went out with us and knocked the hell out of ISIS, that's OK with me folks," Trump said, using an acronym for the extremist group.
Democrat Kaine acknowledged that even his wife gave him a hard time for his constant interruptions during the debate. But Kaine said he was effectively able to block Republican VP candidate Pence from attacking Clinton. "I've never played hockey but I think I'd be a good goalie, based on last night," he said.
Vice-presidential debates don't typically change the course of an election, but this one could be different if Trump heeds its lessons in his next debate. The Republican has slid in the polls since the first debate by getting lost in dead-end issues and self-indulgent Twitter bursts. Pence are a former radio talk show host, and it showed with his cool, articulate delivery. His earnest, low-key demeanor was a notable contrast to Tim Kaine, whose strategy seemed to be to interrupt Pence at every opportunity.
Foreign policy
Foreign policy remains the key area of US interests but it is strange foreign policy maters have not yet entered the debates of the presidential hopefuls. Only Trumps love for Russia has been debated in a vague manner without any perspectives.
Hillary and Trump have not discussed the rationale for the permanent war agenda of USA and NATO. Nor do they say anything in detail about the US aid to third world underdeveloped nations. Disarmament or denuclearization issues have not come up in debates and speeches even by mistake.
The most notable substantive exchanges occurred on foreign policy, with Republican VP candidate Pence offering a ¬detailed critique of Barack Obama's record and growing global disorder. Democrat VP mate Kaine kept saying Clinton was part of the team that killed Osama bin Laden, but that is old anti-terror news. Pence replied that the main terror threat now was Islamic State, which he said grew out of "the vacuum" left when Obama withdrew all US troops from Iraq.
Notable was the debate on Russia, with Kaine claiming that Trump has business ties with "oligarchs" that cause him to apologize for Vladimir Putin. Trump's admiration for Putin is mysterious and worrisome. But Pence pointed out Clinton's hawkishness-come-lately on Russia follows years of weak ¬policy that invited Putin's aggression. Pence reminded the audience what a classic Republican security policy sounds like — if only Trump would adopt it.
For the most part Pence dodged this trap, going back on offence against the Clinton-Obama record rather than ¬defend every Trump statement, many of which are indefensible. This is a useful lesson for Trump to take into the next debate, a town hall in which audience members will ask the questions. People want to like their presidents.
At least henceforth the presidential candidates must discuss the future war plans of USA and when they should end terror wars for fun and resources, declare a credible plan to withdraw all its terror troops from foreign soils.
Observation
The big moment for their running mates behind them, both Democratic Hillary and Republican Trump are shifting focus back to each other — and to Sunday's debate, the second of three showdowns between the nominees. The debate is very critical for Trump. Since last week's debate, Trump has faced a barrage of questions over a leaked tax return showing he lost more than $900 million in 1995. In turn, he's sought to reframe his life story as a comeback tale he hopes to recreate on behalf of a faltering nation. "America needs a turnaround. American needs a comeback. America needs a change. And that's why I'm running," Trump said.
If Republican Trump could make the case for Donald Trump half as well as his ally Mike Pence makes the case for Donald Trump, the New Yorker would be well on his way to the White House.
Also, a latest opinion poll suggests that Republican Trump is ahead of Hillary by 2. 5 points and this trend is likely to go up as poll date approaches. These days, possibly in order to help shoot up the rating of Obama and Clinton Hillary, many TV channels relays Hollywood movies where Black Americans play lead hero role or positive rules to help the White American heroes, among others and naturally the rating of Obama is sound.
Russia gives every appearance of hoping that the presidential run by Republican Donald Trump will prove successful and there is every indication that the Kremlin wants to give him a boost. Russia has made a lukewarm confession of hacking the emails from the Democratic National Committee that appeared on WikiLeaks. Surely this must be a covert Russian operation designed specifically to sow distrust in our elections. Put another way, Trump may well have become an agent of the Russian Federation.
Being cast adrift in ever expanding ocean of American lies spread and "democratize" in order to invade Muslim nations, the American people may well end up with nothing to cling to. This in itself may well end up in old-fashioned oppression in USA. Ukraine's ex-president Vicktor Yanukovych, a Kremlin ally, recently made a speech in which he denounced America's hypocritical focus on democratization in all its forms.
The point Democrats are busy driving to the public is to remind Americans that Trump can be crude, nasty and untutored. This fits the Clinton strategy to delegitimize Trump personally as a ¬potential president. His affirmative case for Clinton and her agenda were ¬almost afterthoughts.
Regardless of who takes the White House come November, Russia's very presence at the center of American electoral politics is celebrated in Moscow. here is wholesale denying of meddling in Moscow; the accusations nonetheless reinforce the sense of Putin's power. The focus in Russia on the presidential campaign in America is construed to be a true and lasting acknowledgement that Russia has returned to the international arena. That surely must be what Putin really craves.
All said and done, if Trump is elected US president the limping US-Russian relations would develop smoothly. Putin and Trump could find a common language.
Decoding Pompeo's words at US senate
The CIA Director Mike Pompeo, who is nominee for Secretary of State, has recently mentioned meaningful words in his hearing at the Senate on Iran and the nuclear deal. In his words, he acknowledged that Iran was not after nuclear weapons even before the nuclear deal, nor will be in the future.
On the other hand, he has announced that he is seeking to fix and correct the nuclear deal with Iran! This is while the US President Donald Trump is scheduled to announce his final decision on Iran's nuclear deal by May 12. "I want to fix this deal," Pompeo said. "That's the objective. I think that's in the best interest of [the United States]."
At his recent Senate hearing, Pompeo has emphasized that as CIA Director, he didn't find any evidences that Iran has violated the nuclear deal. At the same time, he believes that Tehran can't expand its program shortly after the US withdrawal from the nuclear accord. He emphasized that his goal is to correct the nuclear deal with Iran. Pompeo said:
"If there's no chance that we can fix it, I will recommend to the president (Trump) that we do our level best to work with our allies to achieve a better outcome and a better deal," he said. "Even after May 12, there's still much diplomatic work to be done."
A simple decoding of Pompeo's remarks suggests that, despite the opposition to the nuclear accord, he is trying to deal differently with this issue as the future US Secretary of State. Some analysts also believe that Pompeo has adopted such an approach to face the US Senators' relative opposition to the White House's withdrawal from the JCPOA (Joint Comprehensive Plan of Action).
In any case, according to Pompeo, Donald Trump may not make a final decision on the nuclear deal with Iran on May 12, and he will continue to consult with his European allies on what he calls "fixing the flaws of the JCPOA".
Pompeo's remarks indicate that the White House hasn't come to a determined and clear decision on how to deal with the JCPOA yet. On the other hand, numerous consultations by representatives of the four countries, the United States, France, Britain and Germany, continues in silence.
Western sources have argued that these countries are consulting on the three controversial issue, namely "the Sunset clauses", "limiting Iran's missile power" and "extensive inspections of Iran's military sites". These sources claimed that the only remaining disagreement between the four countries is over deletion of the so-called Sunset clauses from the nuclear deal, and thus putting permanent limitations on Iran's nuclear program.
Pompeo is currently the CIA director, and ironically, he was one of the foremost critics of the Iran nuclear deal when he served as a House Republican from Kansas. Trump fired Secretary of State "Rex Tillerson" over the raised disagreements, and picked Pompeo as his successor in March, just two months before the deadline on May 12 to decide whether to bring back sanctions that former President of the United States waived when the JCPOA was first implemented.
Before this, many Western politicians and analysts saw the nomination of Mike Pompeo for secretary of state by Trump as a sign of Washington's withdrawal from the nuclear deal. Beyond that, John Bolton's appointment as US national security advisor also sent a clear message to the international system that Trump is about to pull out of the nuclear deal with Iran.
John Bolton is now silent about the fate of the JCPOA! The silence seems very meaningful at the current time. It's obvious that John Bolton is one of the main opponents of the nuclear deal with Iran, and he doesn't even believe in negotiating with the European Troika on maintaining the JCPOA.
The important question, however, is whether Bolton's silence reflects the continuing paradoxical and vague approach of the US towards the JCPOA? Or did Trump ask him to be silent in this regard and wait for the final results of their talks with Europe?
American senators still don't have a clear picture of Trump's final decision about the JCPOA. Meanwhile, some Republican senators like "Rand Paul" and "Jeff Flake" are worried about the costs and consequences of Trump's decision to refuse joining other members of P5+1.
Most US senators tried not to mention the nuclear deal with Iran in their speeches during recent weeks. This is while some senators such as "Tom Cotton" and "Ted Cruz" strongly encourage Donald Trump's government to pull out of the nuclear deal with Iran.
First published at our partner Mehr News Agency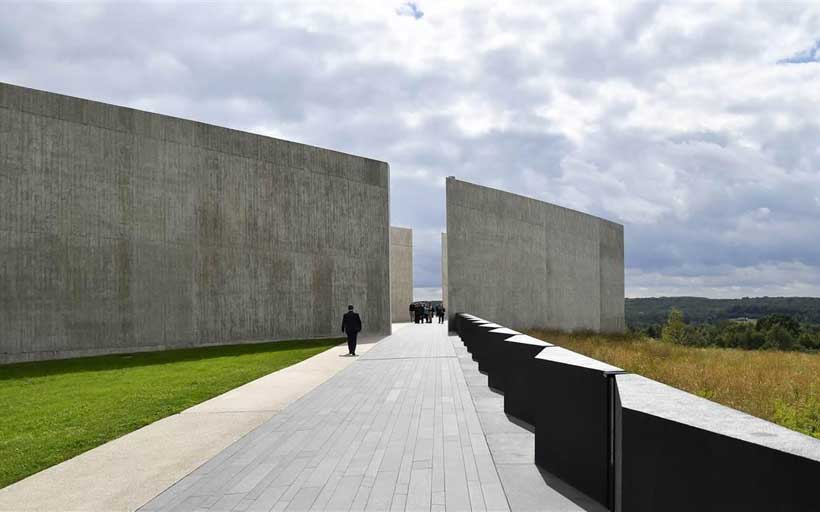 Did you know that Vice President Dick Cheney admitted that on 11 September 2001 he, as President George W. Bush's brief stand-in during the 9/11 attacks that hit the World Trade Center and the Pentagon, issued an order (and it was carried out) to shoot down United Airlines Flight 93 while it was in the air near Pittsburgh? If what he said at the time was true, then the standard 'historical' account of the plane's having been brought down as a result of action by the passengers, would be concocted, not history at all.
Here is the video-clip of V.P. Cheney on 9/11, making this claim and explaining why he gave that order: 

The Wikipedia article on Flight 93 provides the standard account, and fails even so much as just to mention the Vice President'a assertion and explanation that he provided on national TV at the time of the 9/11 events.
So: I edited the Wikipedia article by adding a sentence at the end of its opening paragraph, and by following that sentence with a brief second paragraph, and here is that entire two-sentence addition:
Vice President Dick Cheney alleged that he gave the order to shoot down Flight 93, and explained why when asked about it by Chris Wallace of Fox News as shown in this film-clip
Consequently, the account given below of what brought the plane down — an account inconsistent with what Cheney said — could be entirely false. 
On the web browser that I was using, the addition showed as having been successfully made in the Wikipedia article. However, to be sure, I opened the URL in a different browser, and this time my addition was absent. I then went back to the "Edit" page" and this time to the "View history" page, and clicked there on "(talk)" and found this message, which I saw virtually immediately after I had thought that I had inserted the new information:
Hello, I'm Shellwood. I wanted to let you know that I reverted one of your recent contributions —specifically this edit to United Airlines Flight 93— because it did not appear constructive. 
No other explanation for blocking my addition was provided. "Shellwood" was there saying that mentioning, and linking to the video of Cheney saying, that allegation, which Cheney made on 9/11 about how Flight 93 came down, is not "constructive" to Wikipedia-readers who want information about Flight 93.
Previously, even the BBC published the fact that Wikipedia is edited by the CIA.
Anyone who reads the present article is hereby welcomed to try making the same addition to that Wikipedia article, and I hope that one of the readers here will be able to get it accepted by the editors of that site, so that Wikipedia can be made at least moderately trustworthy, on at least that one article. Perhaps if enough people try, then Wikipedia will come to recognize that Wikipedia's modus operandum isn't merely a very successful system of propaganda, but that it's also something of a PR problem for Wikipedia, which they'll need to do something about, if they're to be able to survive (or at least retain their credibility) at all. Blocking inclusion in an article, of a fact that disproves part of the 'history' (and here the most important part) which is told in that article, is unacceptable in anyone's eyes.
As of today, April 20th, the Wikipedia article on Flight 93 does make one, and only one, mention of Cheney:
Vice President Dick Cheney, in the Presidential Emergency Operations Center deep under the White House, upon learning of the premature crash, is reported to have said, "I think an act of heroism just took place on that plane."[2]
The link there, [2], goes to a CNN article, likewise published on 11 September 2001, which likewise presents Cheney as saying that he ordered the shoot-down of Flight 93:
After the planes struck the twin towers, a third took a chunk out of the Pentagon. Cheney then heard a report that a plane over Pennsylvania was heading for Washington. A military assistant asked Cheney twice for authority to shoot it down.
"The vice president said yes again," remembered Josh Bolton, deputy White House chief of staff. "And the aide then asked a third time. He said, 'Just confirming, sir, authority to engage?' And the vice president — his voice got a little annoyed then — said, 'I said yes.'" 
The phrase that Wikipedia is quoting from Cheney, "I think an act of heroism just took place on that plane," appears later in that CNN article, out of context, when one of Cheney's aides attributes the statement to Cheney, but, since CNN provided no context for it, no reader can intelligently interpret what it had been referring to, if, in fact, the aide did say that Cheney did say it.
Wikipedia grabbed that out-of-context, possibly apocryphal, Cheney-statement, and constructed their 'history' of the plane's crash, upon it, despite the fact that Cheney, on 9/11, clearly stated that he had ordered Flight 93 to be shot down, and that the order was executed — in other words: despite the fact that Wikipedia's account of what brought that plane down is incontrovertibly false, even on the basis of the most reliable evidence that Wikipedia itself links to on that matter. Such a 'history' is fiction.
So: any reader at the Wikipedia article who clicks onto its sources, can easily know that though the Wikipedia article presents a 'history' in which actions by passengers onboard Flight 93 caused the plane to crash there, that 'history' is fake, not at all real (though some allegations in that Wikipedia article might happen to be true).
This means that only readers who click through to sources can even possibly come anywhere near to knowing anything that's at all reliable about the history of our time. And, of course, the longer that any event recedes into history, the more immovably fixed the lies become as being 'history'. We live actually in a world of lies. If modern 'history' is fake, then ancient 'history' is even more so. What about the Bible? What about even recently written 'history' books?
If Wikipedia is the best that 'the market' can come up with for 'a free press' in a 'democracy', then democracy isn't at all possible. Something vastly better than this is definitely needed. What's displayed here isn't democracy at all: it's merely 'democracy'. This means that all of the military invasions by 'democratic' countries (such as America), against other countries, are the actions by dictatorships, not actions against dictatorships (as is always claimed).
So, it's actually rather easy to document that 1984 — the reality, and not merely the novel — has, indeed, arrived, in our time.
However, at least in our time, we possess — for the very first time in all of history — the ability to access, merely a click away, an allegation's actual source, at least in articles such as the present one (since all sources here are linked). The people living in ancient times who were not themselves aristocrats (the people making the key governmental decisions) were unalterably 100% vulnerable to being deceived by aristocrats' and clergies' lies, deceived into doing whatever those decision-makers wanted to manipulate them into doing — such as "fighting for God and country!" Unfortunately, the percentage of today's people who care enough to be skeptical of whatever other people are trying to sell, and to dig deeper than the mere assertions, even just to click onto a link, is too tiny for democracy to be able to function. Unless they become the majority, "democracy" will remain merely a word, not yet even near to being the reality, anywhere.
That, for example, explains why, despite common realities such as this, "74% [of Americans] view Israel favorably, vs. 21% for Palestinian Authority". In order for the national aristocracy to control its mass of voters, it must first deceive its mass of voters; and, in America, they're deceived, and have been so, for decades, at least.
Poll Shows Americans Support the Invasion of Syria – What they Misunderstand About that War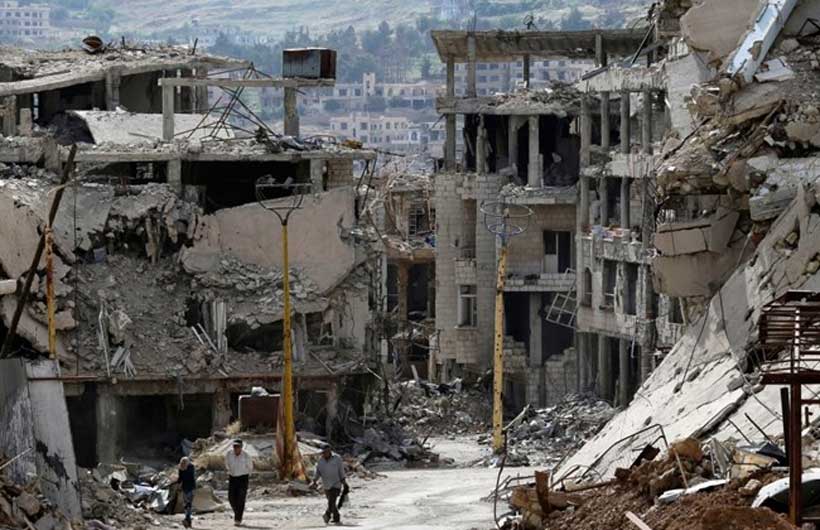 The first even marginally trustworthy poll of American "registered voters" regarding the April 14th U.S.-and-allied missiles-invasion of Syria, shows an overwhelming 66% supporting the invasion (36% "Strongly" and 30% "Somewhat), and only 23% opposing (8% "Strongly" and 11% "Somewhat").
When the 1,995 U.S. registered voters were asked further, in this Morning Consult / Politico poll, "How confident are you that the airstrikes in Syria will prevent the Syrian government from using chemical or biological weapons again?" only 30% are "confident" (8% "Very" and 22% "Somewhat") and 57% are not (21% not "at all" and 35% "not too"). Obviously, all of the 30% who are "confident" on that are also believing that the Syrian government has been "using chemical or biological weapons" and the 57% who aren't "confident" are expecting the Syrian government to continue using such weapons; but the only other option that the pollster offered was "Don't know / No opinion" and perhaps any respondents who disbelieved the U.S. government's allegations that the Syrian government has been using such weapons would have to be among the 12% who said "Don't know / No opinion" (or else such respondents would have quit answering at that point, which was 3 questions into a 7-question poll: the stupid polling organization excluded even the possibility that a respondent believed the Syrian government's denials that it had used such weapons — that's how little consideration was offered regarding even the merest possibility that this invasion had been punishment of a non-guilty nation by guilty invaders: zero).
This invasion, like the one a year earlier, occurred when the U.S. and its allies said that Syria was guilty but didn't provide any evidence of that, and when Syria and its allies said that those charges were lies and that the 'rebels' whom the U.S. and its allies supported had actually set up the incident in order for the U.S. and its allies to invade and overthrow the government. These invasions were lawless — based upon no legal process other than brute accusations, like in any common lynching or other mob-'justice'.
The fact that this poll did not show close to 100% contempt by the American people regarding what the U.S. government and its two allies, UK and France, had just done, indicates not only that the American people are astoundingly ignorant that the U.S. and its allies are international outlaws and warmongers (which makes sense for a nation that invaded and destroyed Iraq 2003, Libya 2011 and has been trying to do it since 2011 in Syria), but that they are also astoundingly misinformed as to which side in this war is guilty, and which side is not. (Hint: It's certainly not Assad, who is simply defending Syrian sovereignty over Syrian territory.) According to the standards that were set in place by the Nuremberg Tribunals following World War II, in which invasions for any other purpose than national self-defense are war-crimes, it's not only the lie-based invasion and destruction of Iraq 2003, and the 2011 invasion and destruction of Libya, that constitute international war-crimes — there's simply no power that's enforcing international law: not policing, not prosecuting, not judging, and not legislating, at all, any such thing. The international outlaw regimes, U.S. and its allies, are simply international gangsters, and the American public overwhelmingly are bored about the whole thing, don't really care whether they are the Nazis of today (and the U.S. government is even proud to be it, not only under Trump, but under Obama before him — all accepted, not resisted in any way, by the American public).
Poll-findings like this implicate the American public, and not only the American government, in such mega-crimes. Even the clear-cut national experience of having been lied into Iraq 2003 hasn't taught the American people that we live in a gangster-regime. And now this regime has destroyed even the last vestiges of the authority that the U.N. once had.
Ironically, the core voter-base for the war-criminal U.S. President Trump seem to have strongly opposed the latest invasion. But, to judge from this latest actual poll in the matter, the American public strongly supports that invasion. Apparently, Americans can't learn from even the most blatant experiences, such as having been lied into destroying Iraq in 2003 — a country that, like Syria, and like Libya, had never attacked, nor even threatened to attack, the U.S.