How much does Trump love Putin?
Does USA love Russia or Russia love USA? Can an American President love a Russian counterpart any time in future? USA and Russia are strongest foes with largest terror arsenals and their missiles target each other. The only plus point for them is that both are UN veto members, strategically controlling the world.
American media is filled with unbelievable stories about US presidential hopeful Donald Trump's reverence for Russian president Vladimir Putin – former KGB intelligence officer who later in his career worked for KGB in Germany before he was handpicked by the new and first post-Soviet Russian president Boris Yelstsin to succeed him. Russia, Americans say, is frequently at odds with American interests on the world stage.
Is Trump all that committed on his pronouncements on Russian policy? Is there any creditable evidence that he has received Russian money? Are Trump's business interests in Russia really all that significant?
Basically, Trump is an American hawk while Putin is a Russian variety of this character. Trump may have business interests in Russia that Puitn may back. Apart from that, Trump may have liked the boldness, stubbornness and thoroughness of Russian president.
Recently Republican Donald Trump said he is not sure what kind of relationship he would have with Russian President Putin if he is elected US president.
Democrats have consistently mocked Trump's past remarks in praise of the Russian strongman, the latest instance coming from vice presidential nominee Sen. Tim Kaine.
Donald Trump pushed back on Hillary Clinton's accusation that he's cozying up to Putin after the charge put Trump's running mate on the defensive during the vice presidential debate. The billionaire Trump sought to take away an argument that Clinton and her running mate, Tim Kaine, have ramped up in the final weeks of the campaign as they work to portray Trump as dangerous for American interests overseas. While US-Russia relations nosedive over failed diplomacy in Syria, Trump has complimented Putin, calling him a strong leader and even encouraging him to track down Clinton's missing emails, though Trump later said he was being sarcastic.
The celebrity businessman said his relationship with Russia's leader would be determined by how Moscow responds to strong US leadership under a Trump administration. "They say Donald Trump loves Putin. I don't love, I don't hate. We'll see how it works," Trump told a rally outside Las Vegas. Speaking before an estimated crowd of 7,000 in Henderson, Nev., a Las Vegas suburb, Trump said he could not predict the type of relationship he would have with Putin.
Trump was on the campaign trail, making several stops across Nevada. Taking the stage in Henderson, Nev., Trump took his own victory lap for Pence's performance, which he called "phenomenal."
Clinton shrugged that off, saying Trump has weird fascination with dictators. "My opponent seems not to know the difference between an ally and adversary," Clinton said at an evening fundraiser in Washington. "You guys love Russia," Democratic VP candidate Kaine said in Tuesday's debate. In a forceful rebuke, Pence described Putin as a "small and bullying leader" but blamed Clinton and President Barack Obama for a "weak and feckless" foreign policy that had awakened Moscow's aggression in Ukraine and meddling in the Middle East. Pence's cool demeanor contrasted with Trump's bluster during his own, top-of-the-ticket showdown against Clinton. However strong Pence's performance, Trump made clear he considers it a reflection of himself.
During the debate, Trump's running mate Gov. Mike Pence, who has defended Trump's praise of Putin, backed away from Trump's previous praise for Putin, calling the Russian president a "small and bullying" leader.
Trump and Russia
Russia, by whatever yardstick is in vogue, prefers Trump if for no other reason than it hates Hillary Clinton because of her alleged foreign policy interventionist views. But Russian officials are also worried by the disruptive potential of a Trump presidency, specifically about his fulfillment of even some of his chaotic promises.
Vladimir Putin clearly is pleased with Trump's praise of him, such as saying that Putin has been a better leader than Barack Obama. And the Kremlin is thrilled by Trump's statements deriding NATO, applauding the British decision to leave the European Union and suggesting that America might not defend allies threatened by Russia.
Stylistically Trump is Putin's type. Trump seems to Moscow at this point unlikely to put politically correct talk of "Western values" ahead of "our mutual and shared interests." That he may well harm the Western alliance in the process is a most welcome bonus. Trump will smash America as the Russians currently perceive it. There is little doubt (at least as expressed on Radio Moscow) that Trump's use of advisers who are sympathetic to Moscow is welcome.
Trump's views on America's role in the world completely align with the very fervent hopes Russia has. If reports on Radio Moscow are any guide, there is some understanding of Trump's unpredictability — that is, just about everything is unknown. While Hillary Clinton is viewed as fiercely anti-Russian, she is nonetheless a familiar figure, and there is some grudging respect. She if elected would just pursue the Bush-Obama imperialist policies abroad.
Donald Trump shows himself to inhabit a fantastical realm where Barack Obama's birth certificate was faked, the president founded ISIS, the Clintons are killers and the father of a former rival was with Lee Harvey Oswald before he assassinated John F. Kennedy in Dallas.
Americans feel depressed that their president Obama does not enjoy the benefits of hard power like Turkish or Russian presidents do. The deeper worry, therefore, is for Russia and Turkey, where "autocrats" use the techniques of post-truth to silence opposing opinions deemed unacceptable by some. In USA, the Congress itself is a hoax, behaves like a collective autocrat.
The USA and Russia back opposing sides in Syria's civil war but both are fighting the Islamic State group there. The USA cut off talks with Russia about Syria this week after the latest cease-fire collapsed, blaming Russia for failing to fulfill its commitments under the deal. "I can say this: If we get along and Russia went out with us and knocked the hell out of ISIS, that's OK with me folks," Trump said, using an acronym for the extremist group.
Democrat Kaine acknowledged that even his wife gave him a hard time for his constant interruptions during the debate. But Kaine said he was effectively able to block Republican VP candidate Pence from attacking Clinton. "I've never played hockey but I think I'd be a good goalie, based on last night," he said.
Vice-presidential debates don't typically change the course of an election, but this one could be different if Trump heeds its lessons in his next debate. The Republican has slid in the polls since the first debate by getting lost in dead-end issues and self-indulgent Twitter bursts. Pence are a former radio talk show host, and it showed with his cool, articulate delivery. His earnest, low-key demeanor was a notable contrast to Tim Kaine, whose strategy seemed to be to interrupt Pence at every opportunity.
Foreign policy
Foreign policy remains the key area of US interests but it is strange foreign policy maters have not yet entered the debates of the presidential hopefuls. Only Trumps love for Russia has been debated in a vague manner without any perspectives.
Hillary and Trump have not discussed the rationale for the permanent war agenda of USA and NATO. Nor do they say anything in detail about the US aid to third world underdeveloped nations. Disarmament or denuclearization issues have not come up in debates and speeches even by mistake.
The most notable substantive exchanges occurred on foreign policy, with Republican VP candidate Pence offering a ¬detailed critique of Barack Obama's record and growing global disorder. Democrat VP mate Kaine kept saying Clinton was part of the team that killed Osama bin Laden, but that is old anti-terror news. Pence replied that the main terror threat now was Islamic State, which he said grew out of "the vacuum" left when Obama withdrew all US troops from Iraq.
Notable was the debate on Russia, with Kaine claiming that Trump has business ties with "oligarchs" that cause him to apologize for Vladimir Putin. Trump's admiration for Putin is mysterious and worrisome. But Pence pointed out Clinton's hawkishness-come-lately on Russia follows years of weak ¬policy that invited Putin's aggression. Pence reminded the audience what a classic Republican security policy sounds like — if only Trump would adopt it.
For the most part Pence dodged this trap, going back on offence against the Clinton-Obama record rather than ¬defend every Trump statement, many of which are indefensible. This is a useful lesson for Trump to take into the next debate, a town hall in which audience members will ask the questions. People want to like their presidents.
At least henceforth the presidential candidates must discuss the future war plans of USA and when they should end terror wars for fun and resources, declare a credible plan to withdraw all its terror troops from foreign soils.
Observation
The big moment for their running mates behind them, both Democratic Hillary and Republican Trump are shifting focus back to each other — and to Sunday's debate, the second of three showdowns between the nominees. The debate is very critical for Trump. Since last week's debate, Trump has faced a barrage of questions over a leaked tax return showing he lost more than $900 million in 1995. In turn, he's sought to reframe his life story as a comeback tale he hopes to recreate on behalf of a faltering nation. "America needs a turnaround. American needs a comeback. America needs a change. And that's why I'm running," Trump said.
If Republican Trump could make the case for Donald Trump half as well as his ally Mike Pence makes the case for Donald Trump, the New Yorker would be well on his way to the White House.
Also, a latest opinion poll suggests that Republican Trump is ahead of Hillary by 2. 5 points and this trend is likely to go up as poll date approaches. These days, possibly in order to help shoot up the rating of Obama and Clinton Hillary, many TV channels relays Hollywood movies where Black Americans play lead hero role or positive rules to help the White American heroes, among others and naturally the rating of Obama is sound.
Russia gives every appearance of hoping that the presidential run by Republican Donald Trump will prove successful and there is every indication that the Kremlin wants to give him a boost. Russia has made a lukewarm confession of hacking the emails from the Democratic National Committee that appeared on WikiLeaks. Surely this must be a covert Russian operation designed specifically to sow distrust in our elections. Put another way, Trump may well have become an agent of the Russian Federation.
Being cast adrift in ever expanding ocean of American lies spread and "democratize" in order to invade Muslim nations, the American people may well end up with nothing to cling to. This in itself may well end up in old-fashioned oppression in USA. Ukraine's ex-president Vicktor Yanukovych, a Kremlin ally, recently made a speech in which he denounced America's hypocritical focus on democratization in all its forms.
The point Democrats are busy driving to the public is to remind Americans that Trump can be crude, nasty and untutored. This fits the Clinton strategy to delegitimize Trump personally as a ¬potential president. His affirmative case for Clinton and her agenda were ¬almost afterthoughts.
Regardless of who takes the White House come November, Russia's very presence at the center of American electoral politics is celebrated in Moscow. here is wholesale denying of meddling in Moscow; the accusations nonetheless reinforce the sense of Putin's power. The focus in Russia on the presidential campaign in America is construed to be a true and lasting acknowledgement that Russia has returned to the international arena. That surely must be what Putin really craves.
All said and done, if Trump is elected US president the limping US-Russian relations would develop smoothly. Putin and Trump could find a common language.
Weather and White House Turmoil as Elections Loom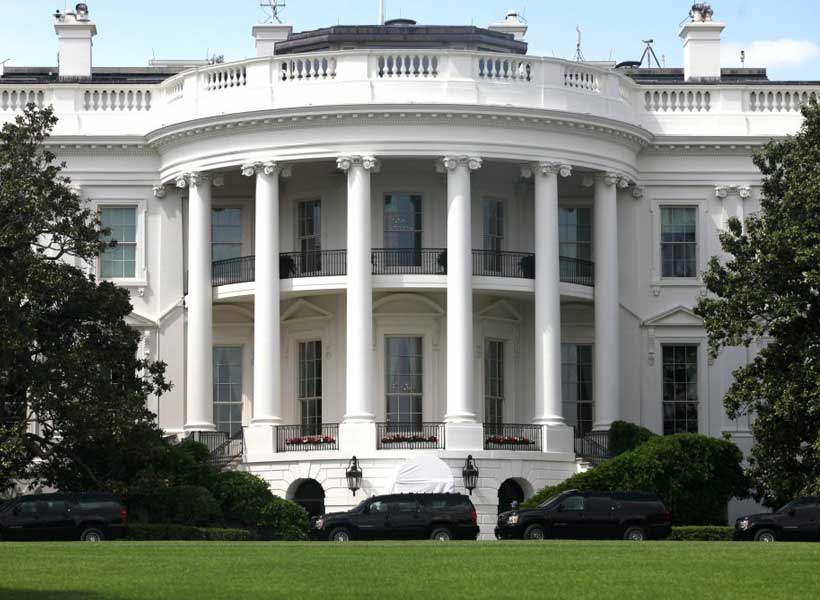 Hurricane Michael wreaked havoc as it traversed the Florida panhandle.  The first Category 5 hurricane to hit the area since 1881 when records began, its 155 mph winds (only 5 mph short of Category 6) felled massive trees, blew away houses, collapsed buildings and left devastation in its wake.  Relatively fast moving at 14 mph, it was soon gone continuing as a Category 3 into neighboring Georgia and then further up its northeasterly path.  It seemed to signify a stamp of approval for the Inter-governmental Panel on Climate Change (IPCC) report on holding earth to a 1.5 degree Celsius warming issued a couple of days earlier.  We are at one degree now so storms can only be expected to get worse.
In northeastern Turkey, a 300-year old stone bridge disappeared overnight.  Villagers convinced it had been stolen called in the police.  Further investigation concluded it had been washed away by a flash flood caused by a sudden summer thunderstorm further upstream — clearly far more intense than in the previous three centuries.
Ever more powerful hurricanes, monsoons and forest fires point to a proliferation of extreme weather events that experts relate to global warming.  Yet President Donald Trump and his administration remain obdurate in climate change denial.
Thins are certainly warming up in the White House.  Nikki Haley announced her resignation in an amicable meeting with the president.  A staunch defender of many of Mr. Trump's most egregious foreign policy changes, the UN Representative will be leaving at the end of the year to pursue opportunities in the private sector.  So said the announcement.  An astute and ambitious politician she has probably reassessed the costs versus benefits of remaining in a Trump administration.  Some tout her as a future presidential candidate.  Should she be successful she will be the first woman president, who also happens to be of Indian and Sikh ancestry.
The rap singer Kanye West visited the president in the Oval office.  A ten-minute rant/rap praising him was followed by a hug for which Mr. West ran round the wide desk that had been seemingly cleared of all paraphernalia for the performance.  He is one of the eight percent of blacks voting Republican.  Sporting the Trump trademark, Make-America-Great-Again red hat, he claimed it made him Superman, his favorite superhero.  And some suggested it was all further proof the place had gone insane.
A little over three weeks remain to the U.S. midterm elections on November 6th.  Their proximity is evidenced not by rallies or debates rather by the barrage of negative TV ads blasting opponents with accusations of shenanigans almost unworthy of a felon.  A couple of months of this and you lose any enthusiasm for voting.  Perhaps it is one reason why nearly half the electorate stays home.  Given such a backdrop, the furor over 'Russian meddling' in elections appears to be a trifle misplaced.  Others call the whole business a 'witch hunt' and state flatly the U.S. does the same.
The old idiom, 'put your own house in order' is particularly apt when we realize the beginning of this affair  was a Democratic National Committee email leak showing 'the party's leadership had worked to sabotage Bernie Sanders' presidential campaign'.  It resulted in the resignation of DNC chair Debbie Wasserman Schultz.
Always fair, aboveboard elections?  Not bloody likely, as the British would say.  Given the rewards, it's against human nature.
The hot November for Trump is arriving
Political turmoil in the United States has become extremely unpredictable. The turn of events became worse with an op-ed at the New York Times on September 5. Former White House strategist Steve Bannon described it as a coup against Donald Trump.
The reality is that the president faces domestic problems in his second year in office. This has rarely happened in the US political history. The issue is of great importance with regard to the approaching mid-term congressional elections in November. Republicans have the majority in the House of Representatives and the Senate, but they feel the risk of losing the majority in both houses due to Trump's record.
Indeed, a feeling has emerged among some American politicians that their country is heading in the wrong direction because of Trump's policies. Even former President Barack Obama has joined the election campaigns by breaking his promise not to get involved in political affairs.
The situation is not also good for Trump internationally. Disagreement with the European Union – a traditional ally of the United States – over trade and political issues, trade war with China, increasing tension with Russia, exit from international treaties such as the Paris climate agreement and the 2015 multilateral nuclear agreement Iran, have all made Trump to look dangerous in the eyes of the world. All these issues have made the situation unfavorable for Trump and his government at home and abroad.
But what is the answer of the president of the United States to these criticisms? The answer to this question is one word: economy. However, Trump is proud of his economic record.
According to statistics, the Labor Department published on September 8, US employment growth in August has beat market expectations, the non-farm payrolls increased by 201,000 from the previous month. Analysts were expecting growth of about 195,000.
The unemployment rate for August remained low at 3.9 percent. The average hourly wage rose 2.9 percent from the year before. That's the highest level since June 2009. The latest figures are increasing speculation that the Federal Reserve will raise its key interest rate this month. The US economy expanded 4.2 percent in the April-to-June quarter, and is expected to grow more than 3 percent in this quarter.
But the economy cannot keep the president of the United States from the edge of criticism. Trump is in a difficult situation and worried about the result of the election and possible control of Congress by Democrats.
Issues such as the confessions of Trump's former lawyer Michael Cohen on bribing women for having affairs with Trump and Russia's possible involvement in the 2016 presidential election could possibly lead to his impeachment and his dismissal from power.
The US constitution says that the impeachment of the president should be endorsed by representatives from both chambers of Congress – the House of Representatives and the Senate. Democrats now have 49 seats in the 100-member Senate, and if they get 51 seats in the November election, they will still need at least 15 Republican senators to impeach Trump.
Still, if Democrats win the November election, even if this victory does not lead to Trump's impeachment, it can put further pressure on him and cripple his government. According to a CNN poll, decrease in Trump's popularity even among his supporters shows that the days following the November election will be hard times for Trump and his government.
First published in our partner MNA
From Obama to Al Gore: Democrats taking stance against Trump
Overcoming the current president of the United States has turned into the main goal of the Democrats in the United States. American Democrats who have been isolated in the last two years, and lost the White House, the House of Representatives, the Senate, and many governorates, are now planning to win the Congress elections.
On the other hand, the public dissatisfaction raised over the performance of the US President has given hope to the Democrats for winning the midterm elections.
The president of the United States, speaking among his proponents, has warned about the Democrats' victory in the US midterm elections. Trump has explicitly stated that if Democrats win the elections, many of his decisions will be destroyed. The US Democrats believe that if they fail in midterm elections, they won't be able to return to power at least until 2024. Therefore, the Democrats will do their best to succeed in the upcoming elections. As we get closer to the Congress elections in November, we will see an increase in the verbal and political attacks of Democrats against Trump and his companions at the White House. Some analysts believe that if the Republicans fail in the mid-term elections, we'll see a broad gap formed between the traditional Republicans and the Trump government. This gap exists at the moment, but the leaders of the Republican Party and its affiliated media avoid from fully disclosing it. However, it seems that if the Republicans lose the US Congress, it will be difficult for the Republican leaders to continue this game! In this case, Trump will be the main accuser of this defeat. The Democrats know well that the Republican defeat in the midterm elections will intensify the disagreement between the party members, and thus will lead to the possible defeat of Trump in the next presidential elections.
In recent days, many of the American Democrats have intensified their verbal and political attacks on President Donald Trump. Former Secretary of State John Kerry implicitly stated that he would not rule out running for president in 2020. Kerry was the Democratic nominee for president in 2004 but ultimately lost the election to former US President George W. Bush. He had also emphasized on the critical situation of the United States following the presence of Trump at the White House. Also Al Gore, the former vice president and Democratic presidential candidate, publicly called for President Donald Trump to resign. Moreover, former US President Barack Obama challenged the existing policies in the United States during John McCain's funeral, without naming Trump. Delivering his eulogy, Obama said: "So much of our politics, our public life, our public discourse can seem small and mean and petty, trafficking in bombast and insult and phony controversies and manufactured outrage."
The fact is that one of the main goals of the American Democratic Party leaders in their recent political attacks on Trump is winning the US mid-term elections and the conquest of the House of Representatives and the Senate. Right now the republicans hold the majority of the Congress, and many members of the party, while opposing Trump's policies, are not willing to confront him and stand up against the White House. But the Democrats, on the other hand, are trying to provide the ground for their victory in the 2020 presidential elections by explicitly criticizing, and even resisting to some of Trump's decisions. Democrats such as John Kerry, believe that if the Republicans fail in the Congress midterm elections and lose their dominance on the House of Representatives and Senate, it will be difficult for Trump to win the 2020 presidential elections. However, if the democrats fail this time against Republicans, just like the way they did in 2016, and lose seats in the House of Representatives and the Senate, Trump will not have a difficult way to win the next presidential election. Many American think-tanks and analysts believe that the mid-term elections this year (2018) will turn into a rigorous opposition between Trump's supporters and opponents.
It should be noted here that Democrat candidates for the presidential election in 2020 are not yet introduced. As John Kerry has announced, this is supposed to be after the Congress elections. Bernie Sanders, Joe Biden and John Kerry are considered as possible candidates for the next US presidential elections. However, some Democrat leaders believe that they should introduce a new figure for this battle.
It is yet not clear that who will be the final nominee of the Democrats, but it seems that many of the party's supporters do not have much confidence in their leaders anymore! In the run-up to the 2016 presidential election, Bernie Sanders became the sacrifice of the secret lobbies of the Democrats' senior figures. Later on, it became clear that Democrat leaders had agreed on Hillary Clinton's presence from the very beginning, and the impartial gesture in the Clinton-Sanders competition was nothing but a lie. This caused many of the American citizens to vote for Trump instead of Sanders. Anyway, this time the Democratic Party has a hard time to persuade the party's supporters, and the Congress elections will, to a great extent, depict the political and social composition in the United States.
First published in our partner MNA