Misguided Perceptions on Nuclear Terrorism
Nuclear terrorism in real is a quite petrifying phenomenon, but there is no tangible study available that this threat is genuine in a world where nuclear technology is heavily regulated and secured. Since there is no terrorist incident have yet been reported which involves nuclear weapons, there is disagreement among the analysts that how serious the threat of nuclear terrorism could be. However, such arguments should not be a source of complacency.
Few states have played this threat up for political purposes as a lever against countries that are not likeminded. For example the same approach was used after 9/11, when terrorism was being used to achieve certain interests. The main aspect of Nuclear Security Summits started from 2010 and beyond was to highlight the nuclear dangers emanating from Iran and other countries were played up. While there was a narrative against these countries, none of the forums allowed them space to appear and give their perspectives on the issue.
The James Martin Center for Nonproliferation Studies annual report of 2015 is a yard stick on the global incidents of nuclear theft or lost. The U.S. tops the rank in the world with 59.4% of negligence, loss or theft incidents followed by France 5.9%, Canada 5.9%, Ukraine 5.3%, and Russia 5.3%. For instance, in 2007, six American nuclear-armed cruise missiles were mistakenly transported from Minot Air Force Base to Barksdale Air Force Base. There are innumerable such reported faux pas in this regard.
Similarly, a truck carrying a radioactive source which could be used in radiological dispersion device i.e., almost a dirty bomb was stolen near Mexico City in 2013. Likewise, Broken Arrow is known term for accidental launching, firing, detonating, theft or loss of the nuclear weapon. Since 1950, there have been 32 accidents of Broken Arrows in the U.S. among which disturbingly six nuclear weapons were never recovered.
In December 2015, Adrian Levy and Jeffrey Smith penned a detailed report on the vulnerability of Indian nuclear weapons program. Previously in 1994, 2003, 2008 and 2013 terrorist groups obtained the uranium from India's state-owned mines. Recently in June 2016, a criminal group was uncovered in India which was involved in smuggling radioactive substances.
While, Israel is said to be in the possession of nuclear weapons and lies in a region where terrorist organizations like ISIS, Al-Qaeda, Hezbollah and Hamas are powerful than the Taliban's in the South Asian region. Even the Israeli nuclear reactors are 'an easy target' of the missiles possessed by such terrorist groups.
However, the Western media completely ignores these incidents and creatively sets alarm bells on to other countries. In July, The Economist, in The World If 2016 edition created a "What if" scenario and wrote that terrorists have intentions to acquire the nuclear material to make a nuke and can kill millions of people. It impeached that Pakistan's short-range battlefield nuclear weapons and authorities in command are constantly accused as "destabilizing at best" factor and the pressure "use them or lose them", respectively.
Critically to some extent Pakistan's development of battlefield nuclear weapons have startled India's gigantic military build-up and doctrinal transformation. Positively there is no proven case study available to assume that in case of crises, how the National command authority (NCA) will move missiles or codes and even if they will be put under control of junior officers.
The Magazine posits without any evidence that "up to 40% of Pakistan's middle-ranking army officers are to some extent radicalised." Contrarily, former CIA contractor Edward Snowden revealed that billions of dollars are spent to spy on Pakistan's nuclear program just because of the anxiety "driven more by uncertainty about how it is run than specific intelligence indicating that its systems are vulnerable."
Pakistan's commanding authorities are well aware of the nuclear terrorism threat and accordingly physical protection measures are improved with several real time training courses. "Nobody knows how they truly do it. Vehicles move in a stealthy manner and move with security. But it's not clear whether the cores are moved to the warheads or the warheads are moved to the core locations".
Unfortunately, nuclear security issue has been hijacked by interests based international politics in which an undue focus has been brought on to the Middle East and South Asia. So in actuality it is not a stern effort to curb the dangers of unseen nuclear terrorism but it is a measured struggle to brand some countries so weak that nuclear technology is not safe in their hands. A rational approach should be taken in churning out reports.
Terrorist Upsurge in Taliban's Afghanistan: Regimes, Attacks and the Concerns of Neighbors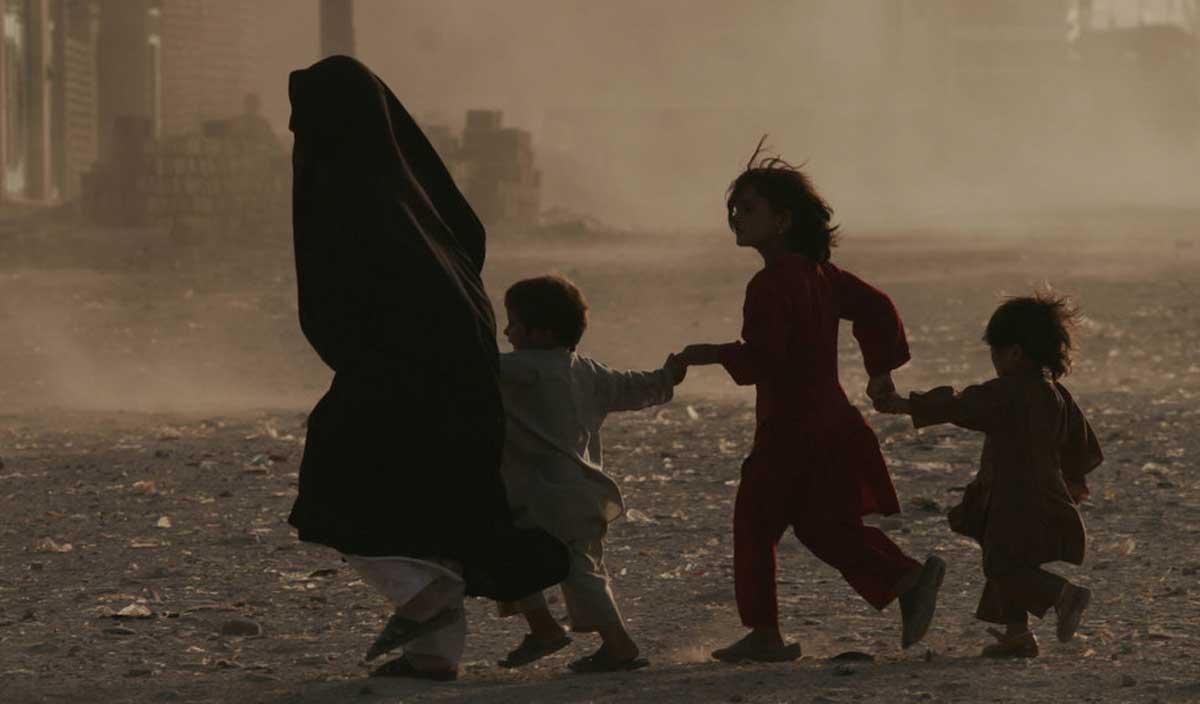 The U.S. undersecretary of defence for policy, Dr. Colin Kahl had wisely predicted in October 2021, that a possible resurgence of international terrorism might emanate from Afghanistan. His assessment regarding Al-Qaeda and ISIS' intent of conducting and augmenting the terrorist activities and networks inside and outside the country is gradually being palpable over time. One year has passed but the Taliban government is still lacking an adequate approach to thwart terrorism. However, under the regime, along with Al-Qaeda and ISIS-K, many more terrorist groups like the East Turkestan Islamic Movement (ETIM, known as the Turkestan Islamic Party), Tehrik-e-Taliban Pakistan (TTP), Khatiba Imam al-Bukha, Islamic Jihad Group, and Islamic Movement of Uzbekistan, Jaish-e-Mohammed and Lashkar-e-Taiba, using the country as a citadel, are now operating in Afghanistan and conducting terrorist attacks in domestic and external arena.
Terrorist Groups in Taliban's Afghanistan: Al-Qaeda, ISIS-K, TTP, ETIM and Others
Despite renouncing overt inclination and connection with the terrorist groups, the Taliban regime is sympathetic to them. Mainstream terrorist groups have been gradually expanding their roots in the country due to the Taliban's rickety policy. There are many terrorist groups and regimes such as Al-Qaeda and IS-K, in the country that are saliently and robustly active in their activities.
To talk about Al-Qaeda firstly, since the Taliban regime's takeover of Afghanistan in August 2021, the core leadership of the group congratulated the regime. With the opportunity of the Taliban's zero concern, by that time, the terrorist group has energized its affiliation with the outer world and reinvigorated its roots in the country by recruiting more members in and outside the country. With the leadership of Ayman al-Zawahiri, the successor of Osama bin Laden, Al-Qaeda had got a new impetus in Taliban's Afghanistan to enlarge its branches. Although Al-Zawahiri has been killed by a drone strike, the activities of Al-Qaeda are not halted yet. Al-Qaeda in Afghanistan, however, is mostly run with an affiliation with al-Qaeda in the Indian Subcontinent (AQIS). Respecting this, however, being the regime and the country as a haven, it still 'remains a central strategic node' for Al-Qaeda.
Likewise, the Islamic State Khorasan branch, widely known as ISIS-K or IS-K, is another notorious terrorist group which is a powerful branch of the worldwide Islamic State. In Afghanistan, while IS highly seems to be an enemy group of Al-Qaeda and Taliban, its objective is analogous to the goal of Al-Qaeda to establish a pan-Islamic caliphate. With other leaders such as Maulawi Rajab Salahudin, Sultan Aziz Azam, Aslam Farooqi and other erstwhile military personnel and intelligence agency members, the group is led by an Afghan national, Sanaullah Ghafari. By the way, after the takeover, in less than a year, the members of the group have doubled in the country and activities have been extremely dilated. Of them, more than half of its operatives are from foreign countries. However, per an estimation, the group has conducted more than seventy-six attacks within 2021 after the retreat of the US forces.
Moreover, Tehrik-e-Taliban Pakistan (TTP), East Turkestan Islamic Movement (ETIM), Khatiba Imam al-Bukha, Islamic Jihad Group, Lashkar-e-Taiba and many other regional and international terrorist networks and groups are staying in the country who are gravely accused of conducting terrorist attacks. Posing a vile threat to other neighbors countries like India, Pakistan and others, these groups are misusing Afghanistan as a conducive hub and the Taliban's sympathetic stance in this regard is highly disquiet. After all the rise of the Taliban as a state actor in the contemporary time, and its victory over mainstream politics have unveiled conducive rooms for terrorist groups. It has been observed that diverse terrorist groups all over the world gleefully celebrated the Taliban's takeover of Afghanistan. Without any doubt, under the Taliban regime, the revitalization of the network of global jihad is gradually becoming stronger in the country.
New Interim Government and Haqqani Network
A new interim government had been named in Afghanistan and controversially, Sirajuddin Haqqani, the leader of the Haqqani Network had been appointed as the interior minister, in charge of security and police. This interim government is mostly led by the hardliners having no inclusion of minorities, women and opposition members. However, Sirajuddin Haqqani is one of the FBI's 'Most Wanted' persons and his Haqqani Network is designated as a terrorist network due to having links to Al-Qaeda. Being established in the 1970s, The Sunni Islamist Haqqani network had fought Soviet-backed Afghanistan and later had been infamous for conducting suicide bombings and killing thousands of Afghans, Americans and Soviets.
This network's high-profile attacks include the suicide bombing at Kabul's Serena Hotel in 2008 and the killing of 16 Afghans in a 20-hour siege of the US Embassy in 2011. However, although the Taliban is bullish about the group and says that "the group will be more conciliatory now than in the past and will abide by certain international norms", it is very unlikely to discern any transformation. While the Taliban is antagonistic towards ISIS-K, according to Sajjan Gohel, the Haqqani network preserves a sound connection with ISIS-K. According to Michael Kugelman,… "several members [and leaders] of the Haqqani network — which has been implicated in some of the most mass casualty horrific terrorist attacks in Afghanistan over the years.. And are going to be occupying the top spots [of interim government]."
Recent Terrorist Attacks in the Taliban-ruled Afghanistan
Without misgivings, the Taliban's takeover of Afghanistan has given an impetus to the upsurge of Terrorism. According to the Statista, the index of terrorism in Afghanistan has heightened to 9.11 in 2021 which was 9.05 in 2020. Statista data also shows that in 2021-22, Afghanistan secures the top position in the list of deaths from terrorism. Accounting for 20% of all deaths, Afghanistan is in the highest position in sharing global terrorism deaths.
However, in recent times, many terrorist attacks and incidents have taken place in the country. In August 2022, a series of bombings occurred in which more than 250 people have been killed & injured. Police reported that during evening prayers, a huge explosion was conducted by bombings killing another 21 and injuring 33 people. Before the incident, Rahimullah Haqqani was assassinated in a suicide bombing led by the Da'esh terrorist network. However, recently, on September 22, 2022, in a catastrophic bomb blast, at least 07 people were killed and 41 were injured near a mosque in Kabul. This bombing was allegedly led by ISIS.
Moreover, on September 30, a serious suicidal terrorist attack was held in the coaching centre of Kabul. In the attack, more than 25 people were killed and according to reports, it was against the local Shia Hazara girls and people led by ISIS-K. Very recently, demanding protection against the militants, thousands of protestors have come out of their homes and rallied against the heinous attack of the TTP on a school van in Swat Valley of Pakistan. In the terrorist attack, the driver of the van was killed and 02 children were injured. According to some reports, they are gradually coming back to their respective areas in Pakistan from Kabul which infers that they are now bolstered to a grave extent. As a result of the activities of the notorious terrorist groups, it has become more palpable that in Taliban-ruled Afghanistan terrorism has expanded to an egregious degree.
Neighbors' Concerns
Since the Taliban government is less likely to pursue any hard policy and follows a 'sympathetic attitude' towards Al-Qaeda, ISIS-K and others, the tension among the neighbors is swelling deliberately. For instance, conducting their activities from Kabul, Afghanistan, the TTP is being stronger day by day in the Swat Valley of Pakistan. The local people are highly concerned with the heinous attacks and mischief activities of the group. However, with the major theme of "security and economic development," a three-day conference was held between July 25 to 26 in Tashkent, Uzbekistan where more than 20 states and organizations partook including China, Pakistan, Iran and other Central Asian countries. In the conference, the neighbor states showed grave concerns regarding the dilly-dallying policy of the Taliban government regarding the terrorist groups. Particularly, they focused on the abrupt and violent upsurge of Al-Qaeda with the sympathy of Taliban. The return of Al-Qaeda is gravely giving rise to a vulnerable region, in which regard, Uzbekistan, Tajikistan, China and other countries are extremely concerned about the resilience in and outside the country.
Apart from all the grim developments, the major and big question is, whether the Taliban government has been competent to uphold its pledge about thwarting terrorism or the regime is pursuing a contrast path giving the groups more sympathy. Data and evidence exhibit that the regime is countenancing the terrorist groups which course is threatening and ominous not only for the region but rather for the whole world. As a result, the neighbors and other countries are highly concerned about the future trajectory of the groups. Therefore, in no time, the Taliban government should break up all the relationships with terrorist groups in order to keep its legitimacy in the international community.
Role of Pak-Military in Combating Terrorism: Post-2017 Analysis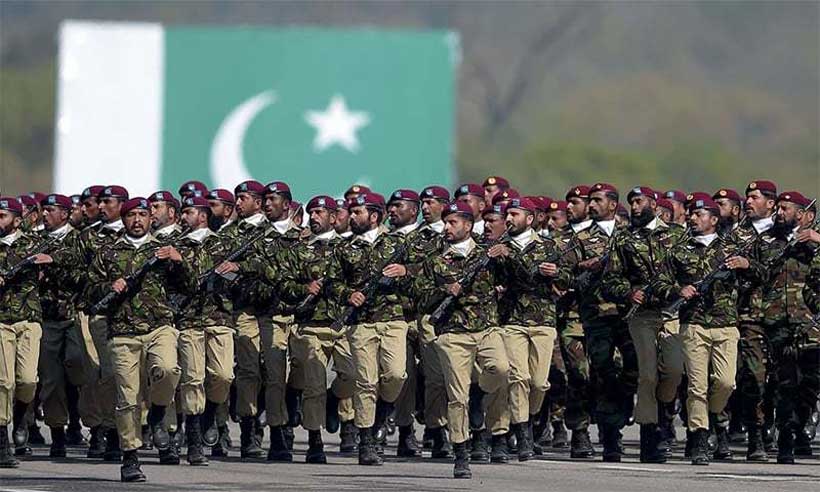 Over the past 20 years, Pakistan has continued to be a target of terrorism. It has endured a great deal of hardship as a frontline nation in the fight against terrorism being led by the United States. In the past 20 years, the bloodstained war against terrorism has claimed thousands of lives, including both civilians and security force members. Pakistan adopted a comprehensive plan and carried various operations to eradicate terrorism from its territory. The importance of Pakistan's military cannot be overstated, especially given how successful that country has been in the last five years in combating terrorism.
In reaction to an increase in "terrorist attacks," The Pakistani government declared a nationwide military operation with the codename Radd-Ul-Fasaad on February 22, 2017. This operation was not restricted to one area, but had been carried out across whole Pakistan and succeeded in driving out terrorist elements from Lahore, Sehwan Sharif, Khyber Pakhtunkhwa, and the former FATA. The operation included the involvement of Pakistan's air force, Pakistan's navy, Pakistan's police and other civil armed forces however, the Rangers performed special tasks 'to operate in Lahore and different parts in the province of Punjab.
Similar to this, the Pakistani army began Operation Khyber-IV in July 2017 to purge the Rajgal Valley of militants in the Khyber tribal district. The primary objective of Khyber-IV was to eliminate the threat of IS in the tribal district of Khyber Pakhtunkhwa. the declared the Operation was concluded On August 21, 2017.
According to sources (PIPS), systematically compile data on militant and anti-state violence in Pakistan claim that 2018 saw an improvement in the overall security situation compared to previous years. The total number of raids and operations carried out against militants in 2018 were 31 as compared to 2017 i.e. 75. In addition to these operational assaults, security forces and militants engaged in 22 armed confrontations in 2018. This represents a 68% drop from 2017 levels.
In accordance with data from the Global Terrorism Index, terrorist attacks have decreased in Pakistan since 2018. The total number of terrorist incidents decreased from 369 in 2018 to 279 in 2019. While the number of terrorist deaths in Pakistan I.e.300, reached its lowest annual total since 2006.
The nature of the violence in 2018 was diverse the figure below presents a breakdown of the nature of violent incidents and the number of casualties' recorded in 2018:
Source: PIPS, Pakistan Security Report 2018, 6 January 2019, p. 20
In comparison to 2018, the security situation was even better in the first half of 2019. Numerous counterterrorism operations captured several top commanders from various militant organisations, including the Tehrik-e Taliban Pakistan (TTP) and the Islamic State Khorasan Province (ISKP). According to the data, the security forces engaged in 23 operations against militants in the first seven months of 2019. In addition to these operational assaults, security forces and militants engaged in 15 armed encounters.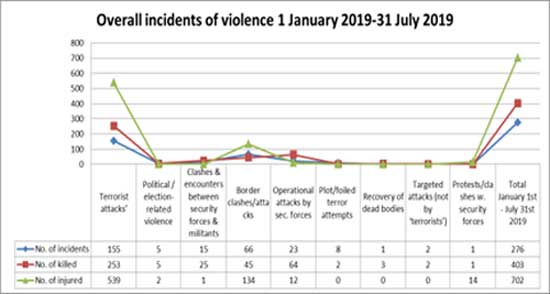 Source: 2019-EASO-Pakistan-Security-Situation-Report.pdf
There were 276 total violent incidents in the first seven months of 2019. As a result, 403 people died and 702 were hurt. A breakdown of the types of violent incidents and the number of fatalities reported in 2019 can be seen in the figure above.
In 2019, the Pakistani government also contributed positively to the US-Taliban negotiations. Moreover, the National Counter Terrorism Authority (NACTA) and the United Nations Office on Drugs and Crime (UNODC) collaborated to develop Pakistan's Action to Counter Terrorism (PACT) with a specific focus on Sindh in order to equip the criminal justice systems with the tools necessary to prevent and combat terrorism in a proactive manner. The goal of PACT Sindh is to improve the capabilities and coordination processes of national and local counterterrorism and criminal justice institutions. PACT Sindh's primary goal is to enhance the criminal justice system's investigation, prosecution, and adjudication procedures. By working with other departments, it will increase the ability of the police, prosecutors, and judiciary. These counter terrorism efforts of the security forces and especially Pakistan Army are significant indeed, considering the ratio that Pakistan faced in the last two decades.
Terrorism intensifying across Africa, exploiting instability and conflict
The growth of terrorism is a major threat to international peace and security, currently felt most keenly in Africa, the deputy UN chief told the Security Council on Thursday. "Terrorists and violent extremists including Da'esh, Al-Qaida and their affiliates have exploited instability and conflict to increase their activities and intensify attacks across the continent", Amina Mohammed said on behalf of Secretary-General António Guterres.
"Their senseless, terror-fuelled violence has killed and wounded thousands and many more continue to suffer from the broader impact of terrorism on their lives and livelihoods".
Spreading terror
With misogyny at the core of many terrorist groups' ideology, women and girls in particular, are bearing the brunt of insecurity and inequality.
And over the last two years, some of the most violent affiliates of Da'esh have expanded, increasing their presence in Mali, Burkina Faso and Niger as well as southward into the Gulf of Guinea.
"Terrorist and violent extremist groups aggravate instability and human suffering. And they can plunge a country emerging from war back into the depths of conflict", reminded the senior UN official.
Threatening States
Meanwhile, terrorists, non-State armed groups and criminal networks often pursue different agendas and strategies, fuelled by smuggling, human trafficking and other methods of illicit financing – sometimes impersonating legitimate armed forces.
And as digital tools spread hate and disinformation, terrorists and other criminal groups are exploiting inter-communal tensions and food insecurity triggered by climate change.
Globalization of terrorism
In today's hyper-connected world, Ms. Mohammed remined that the spread of terrorism in Africa is "not a concern for African Member States alone".
"The challenge belongs to us all. Countering international terrorism requires effective multilateral responses", she flagged.
From the climate emergency to armed conflict and poverty and inequality to lawless cyberspace, and the uneven recovery from COVID-19, she also pointed out that terrorism is converging with other threats.
For a holistic, comprehensive approach, the deputy UN chief cited the New Agenda for Peace – part of the Our Common Agenda report.
Amidst increasing polarization, she maintained that it proposes ways to address risks and revitalize our collective peace and security system.
Pushing back on terror
Outlining five suggestions to advance counter-terrorism efforts in Africa, Ms. Mohammed reminded that "prevention remains our best response".
"We must address the instability and conflict that can lead to terrorism in the first place, as well as the conditions exploited by terrorists in pursuit of their agendas".
Secondly, she called for community-based, gender-sensitive "whole-of-society" approaches.
Noting "complex links between terrorism, patriarchy and gender-based violence", she said counter-terrorism policies needed to be "strengthened by the meaningful participation and leadership of women and girls".
She underscored in her third point that "countering terrorism can never be an excuse for violating human rights or international law" as it would "only set us back".
Fourth, she stressed to importance of regional organisations which can address challenges posed by terrorist and violent extremist groups in the local context.
Finally, Ms. Mohamed called for "sustained and predictable funding" to prevent and counter terrorism.
From economic deprivation to organized crime and governance challenges, "the magnitude of the problem calls for bold investment", she told ambassadors.
In closing, the Deputy Secretary-General welcomed the planned October 2023 Summit on counterterrorism in Africa as an opportunity to consider ways to strengthen the UN's efforts across the continent overall.
She expressed confidence that today's debate would offer insights for the summit, and "help to build peaceful, stable communities and societies across the continent".
Restoring authority: Ghanaian President
Chairing the meeting with his country assuming the presidency of the Council for November, Ghanaian President Nana Addo Dankwa Akufo-Addo, attested to the importance of restoring effective State authority and promoting inclusive governance across the continent. He also urged the Council to support AU-led counter-terror operations, including with predictable funding.
African Union (AU) Commission Chair, Moussa Faki Mahamat, drew attention in his briefing, to the daily physical and psychological damage caused by terrorism and reminded that conventional responses and old models are no longer relevant to counter evolving threats on the ground.
And as terrorism extends to new parts of the continent, Benedikta von Seherr-Thoss, Managing Director for Common Security and Defence Policy and Crisis Response with the European Union's diplomatic wing (European External Action Service) noted the need for security support while underscoring the role of sustainable development for nourishing peace.
Comfort Ero, President and CEO of the International Crisis Group, also briefed the Council, and maintained that technical and military solutions would not end terrorist threats on their own, calling for a new counter-terror toolkit that includes more dialogue with armed groups and can promote local ceasefire arrangements.