SAARC Summit in Islamabad postponed
New Delhi's decision to boycott the 19th Saarc Summit in Islamabad next November followed by Afghanistan, Bangladesh and Bhutan's decision to do the same resulted in the cancellation of the summit. Nepal, the current Saarc chairperson, announced it from Kathmandu.
The South Asian nuclear neighbours India and Pakistan have been at loggerheads since their independence from Great Britain in 1947. Upon obtaining freedom and sovereignty, both India and Pakistan did not waste time in invading and dividing Jammu and Kashmir which lay a sandwich between them. Both conducted 3 deadly wars over the status of alien Kashmir valley.
And both want Kashmir lands to decorate their own territories and in the process over 100,000 Kashmiris (mostly Muslims) lost their lives as Indian forces mercilessly have run over them with guns and traps.
Indian attempt to isolate Pakistan
India does not want to surrender Kashmir to Kashmiris while Pakistan seeks to get Kashmir from India. It is because of Kashmir India got WMD with the help of UN veto remembers, followed by Pakistan doing the same.
India and Pakistan cause tensions in the region by regular crossfire operations essentially to terrorize the besieged Kashmiris. One has no idea if they have some secret understating on Kashmir as well.
One gets the impression that India is indeed angry with Pakistan for internationalizing the Kashmir issue and refusing to accept the joint occupational reality as such. India is annoyed that its regular complaints to Washington against Pakistan has not worked in its favour. It appears New Delhi wants Washington to cooperate with declaring Pakistan a terrorist nation.
Having failed to isolate Pakistan internationally by tactfully drawing USA to its side of story against Kashmir, Now India aims at isolating Pakistan in the region by taking a decision to bypass the South Asian Association for Regional Cooperation (SAARC) meeting to be held in Islamabad.
In what is seen by New Delhi's anti-Pakistan strategists as another snub in the series to Pakistan, Prime Minister Narendra Modi has decided not to attend the SAARC summit to be held in Islamabad in November. Not just that; India has been pressurizing other regional countries also not to attend the summit so that Pakistan stands isolated.
PM Modi feels all efforts to impress the regional leaders during his swearing in ceremony have not made any impact on the regional leaders or internationally. He views Pakistan being the cause of his failure and hence the angry outburst.
Delhi prompted SAARC summit boycott
India announced that it was pulling out of the Islamabad summit after the September 18 cross-border terror attack on an Indian Army base in Uri town of Jammu and Kashmir that claimed the lives of 18 soldiers. The attack came amid large-scale violence in Jammu and Kashmir that left around 90 people dead in the wake of the killing of Hizbul Mujahideen militant Burhan Wani on July 8. India said increasing cross-border terrorist attacks in the region and growing interference in the internal affairs of Saarc member-states "by one country" have created an environment that was not conducive to the successful holding of the 19th Saarc summit.
As usual, India has quickly blamed Pakistan for a deadly assault on an army base in the disputed in Jammu Kashmir's Uri town. Indian foreign ministry's Vikas Swarup said India was pulling out from the SAARC summit scheduled in Islamabad in November due to present conditions. Indian foreign ministry said it understood that some other SAARC members were apprehensive about attending, but it did not name them.
The decision to cancel Prime Minister Modi's visit is the latest attempt by India to try to pressurize Pakistan diplomatically. India has said it will respond to the Kashmir attack but experts say it is short of military options because of the risk of escalation. Indian influence over a couple of its neighbours do work to its advantage Following the diplomatic blitzkrieg launched by New Delhi, India calculates that Pakistan would virtually be getting isolated in the region with Bangladesh and Bhutan joining India in boycotting the annual Saarc Summit scheduled to be hosted by Islamabad in November.
Dhaka joins the bandwagon
"The growing interference in the internal affairs of Bangladesh by 'one country' has created an environment which is not conducive to the successful hosting of the 19th Saarc Summit in Islamabad," sources quoted Bangladesh as saying in a message to current Saarc chair Nepal. "Bangladesh, as the initiator of the Saarc process, remains steadfast in its commitment to regional cooperation, connectivity and contacts but believes that these can only go forward in a more congenial atmosphere," the message said. "In view of the above, Bangladesh is unable to participate in the proposed Summit in Islamabad."
Bangladesh has been critical of Pakistan and said: "The growing interference in the internal affairs of Bangladesh by one country has created an environment which is not conducive to the successful hosting of the 19th Saarc (South Asian Association of Regional Cooperation) Summit in Islamabad in November 2016." It added:
"Bangladesh, as the initiator of the Saarc process, remains steadfast in its commitment to regional cooperation, connectivity and contacts but believes that these can only go forward in a more congenial atmosphere….In view of the above, Bangladesh is unable to participate in the proposed summit in Islamabad."
Bhutan, in its message to Nepal, reaffirmed its strong commitment to the Saarc process and strengthening of regional cooperation, noted that "the concern of the Royal Government of Bhutan on the recent escalation of terrorism in the region, has seriously compromised the environment for the successful holding of the 19th SAARC Summit in Islamabad in November 2016", it is learned. Indian media says, the Royal Government of Bhutan shares the concerns of some of the member countries of Saarc on the deterioration of regional peace and security due to terrorism and joins them in conveying our inability to participate in the Saarc Summit, under the current circumstances.
'No Saarc sans India'
Sri Lanka, it is learned, has said that the event would not be possible without India's participation. Having close economic and military ties with Pakistan, both Nepal and Srilanka are not amenable to Indian demand to abstain from SAARC meet in Pakistan. Sri Lanka, it was learned, has said that the event would not be possible without India's participation.
Ministry of External Affairs spokesperson Vikas Swarup said that India has conveyed to Nepal its decision not to attend the summit, for which Prime Minister Narendra Modi was scheduled to go. "India remains steadfast in its commitment to regional cooperation, connectivity and contacts but believes that these can only go forward in an atmosphere free of terror.
Pakistan, the host of SAARC summit, has termed the Indian boycott decision as "unfortunate". The US has also said that it was pressurizing Pakistan to act against "terror" safe havens within its borders. "Well, I mean, clearly we've talked about that before, while we've seen Pakistan make progress on some of the terrorist groups operating within its own borders and carrying out attacks within Pakistan's borders, that we continue to put pressure on Pakistan to respond to those groups who are, quote/unquote, 'seeking safe haven on Pakistan's borders', that—who are intent on carrying out attacks elsewhere in the region," US State Department deputy spokesperson Mark Toner said in the daily press briefing in Washington on Tuesday.
The USA is one of the nine observer members of Saarc, the others being Australia, China, the European Union, Iran, Japan, Mauritius, Myanmar and South Korea. Toner said: "We want to see closer relations and a normalization of relations, frankly, between India and Pakistan." "It would be the—to the benefit of the region. And we want to see de-escalation in the political discourse between the two countries and greater communication and coordination between them," he said.
Blame game spreads
New Delhi had earlier blamed the Pakistan-based Jaish-e-Mohammed terror outfit for the September 18 as well as the January 2 Pathankot air base attack in Punjab. However, it came out later that attacks were "engineered" locally in order only to blame Pakistan so that it does not demand Kashmir which is under Indian occupation.
Meanwhile, as a routine matter, Foreign Secretary S. Jaishankar summoned Pakistani High Commissioner Abdul Basit and made a demarche that proved Islamabad's links to the attack.
Former Pakistani president general Musharraf (born in Delhi), speaking to Indian TV channels, questioned the rationale of just blaming Pakistan for all terror attacks taking place in India and even in USA.
Concerned about the water dispute between Tamil Nadu and Karnataka over river Cauvery, Modi has said that India would revisit the 1960 Indus Waters Treaty with Pakistan that calls for sharing of the waters of the six rivers of the Indus basin with Pakistan while indicating that the most favoured nation (MFN) trade status granted to the neighbour in 1996 might be revoked.
Following the diplomatic blitzkrieg launched by New Delhi, Pakistan is virtually getting isolated in the region with Afghanistan, which gets regular funds for developmental and perhaps anti-Pakistani operations across the border, joining India in boycotting the annual Saarc Summit scheduled to be hosted by Islamabad in November. "Due to increased level of violence and fighting as a result of imposed terrorism on Afghanistan, President of Afghanistan Mohammad Ashraf Ghani with his responsibilities as the Commander in Chief will be fully engaged, and will not be able to attend the summit," sources quoted Kabul as saying in a message to Saarc chair Nepal.
A double-edged sword: China and Pakistan link up with fibreoptic cable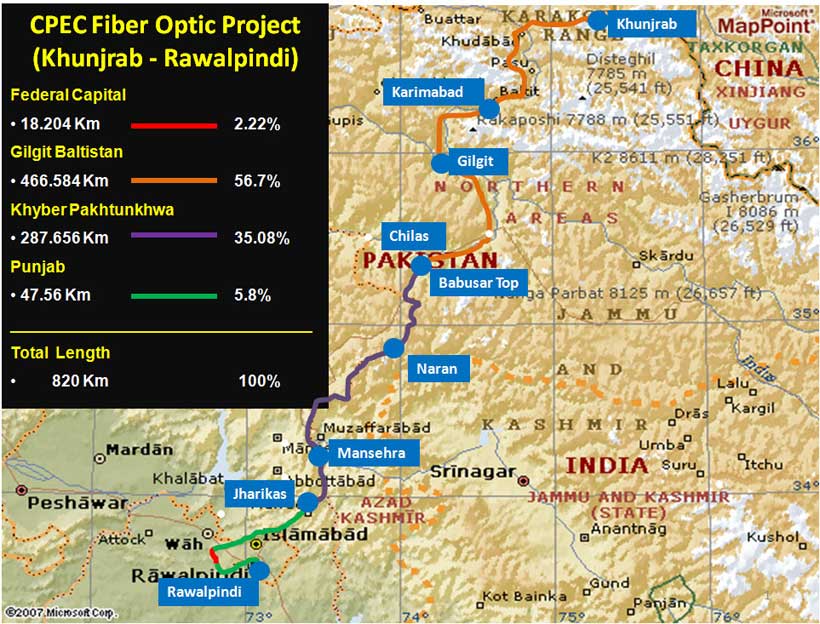 This month's inauguration of a fibreoptic cable linking Pakistan with China could prove to be a double-edged sword. Constructed by Chinese conglomerate Huawei Technologies Co., Ltd, the cable is likely to enhance both Pakistan's information communication technology infrastructure as well as the influence of Chinese authoritarianism at a moment that basic freedoms in Pakistan are on the defensive.
The $44 million, 820-kilometre underground Pak-China Fibre Optic Cable links Rawalpindi with the Chinese border at Khunjerab Pass and is backed up by a 172-kilometre aerial cable. A second phase of the project is likely to connect to the port of Gwadar in Balochistan, a key node in China's US$ 50 billion plus infrastructure-driven investment in the South Asian state, dubbed the China Pakistan Economic Corridor (CPEC).
The cable is expected to provide terrestrial links to Iran and Pakistan and serve as a conduit to the Middle East, Europe and Africa through hook ups with submarine cables.
The inauguration of the cable came days after China launched two satellites for Pakistan from the Jiuquan Space Center in Inner Mongolia, to provide remote sensing data for CPEC.
The satellites are expected to monitor natural resources, environmental protection, disaster management and emergency response, crop yield estimation, urban planning and provide CPEC-related remote sensing information.
The prominence of Pakistani military officers, including General Qamar Bajwa, Pakistan's top military commander and Major General Amir Azeem Bajwa, the head of the Special Communications Organisation (SCO), at the inauguration underlined the cable's strategic and potentially political importance.
Pakistan's military sees the cable as a way of ensuring that the country's in and outbound traffic does not traverse India. Major General Bajwa told lawmakers last year that the current "network which brings internet traffic into Pakistan through submarine cables has been developed by a consortium that has Indian companies either as partners or shareholders, which is a serious security concern."
The key to the cable's potential political significance lies buried in the Chinese-Pakistani vision that underlines CPEC against the backdrop of Chinese concern about the messiness of Pakistani politics and the People's Republic's support of what it sees as the behind-the-scenes stabilizing role of the country's powerful military.
A leaked draft outline of the vision identified as risks to CPEC "Pakistani politics, such as competing parties, religion, tribes, terrorists, and Western intervention" as well as security. "The security situation is the worst in recent years," the outline said.
The vision appears to suggest addressing security primarily through stepped up surveillance  based on the model of a 21st century Orwellian surveillance state in parts, if not all of China, rather than policies targeting root causes and appears to question the vibrancy of a system in which competition between parties and interest groups is the name of the game.
The draft linked the fibreoptic cable to the terrestrial distribution of broadcast media that would cooperate with their Chinese counterparts in the "dissemination of Chinese culture." The plan described the backbone as a "cultural transmission carrier" that would serve to "further enhance mutual understanding between the two peoples and the traditional friendship between the two countries."
Pakistan's Ministry for Planning, Development, and Reform said at the time that the draft "delineates the aspirations of both parties"
The cable's facilitation of aspects of the Chinese surveillance state and soft power strategy occurs in a country in which feudal and patronage politics dominate the countryside and the military has sought to severely curb media coverage in the run-up to elections scheduled for July 25.
"Democracy has become a terrifying business in the villages of Pakistan. Elections might change the federal and state governments, but the feudal and punitive power structures in the countryside don't change. The feudal lords offer allegiance to the new ruler and continue to oppress the poor villagers," said Ali Akbar Natiq, a scholar, poet and novelist who returns every two weeks to his home district of Okara in Punjab, in an article in The New York Times.
The media crackdown involves censorship of TV channels, newspapers and social media, including preventing the distribution of Dawn. An English-language newspaper, Dawn was established by Pakistan's founder Mohammed Ali Jinnah before the 1947 partition of British India, as a way for Muslims to communicate with the colonial power.
Cable operators were advised to take Dawn's TV channel off air, advertisers were warned to shy away from the paper while its journalists were harassed. Other journalists and media personalities have been kidnapped or detained by masked men believed to be linked to military intelligence.
Columnist and scholar S. Akbar Zaid said last month that he was advised by Dawn that the paper could no longer publish his column "because of censorship problems that they are facing with regard to the military and its agencies. They say that the threats are very serious," Mr. Zaid said.
Daily Times journalist Marvi Sirmed reported that her home was burgled and ransacked last month. The intruders took her computers, smartphone, and her passport as well as those of members of her family but left valuables such as jewellery untouched.
Pakistan's military has denied cracking down on the media although it conceded that it was monitoring social media.
Bloggers, including well-known journalist Gul Bukhari, are among those who have been detained and released in some cases only weeks later.
A guard in a detention centre where five bloggers were held last year for three weeks, alongside ultra-conservative militants, told his captives:, according to one of the detainees: "You are more dangerous than these terrorists. They kill 50 or 100 people in a single blast, you kill 600,000 people a day," a reference to the 600,000 clicks on the bloggers' Facebook page on peak days.
In an editorial published after months of harassment Dawn charged that "It appears that elements within or sections of the state do not believe they have a duty to uphold the Constitution and the freedoms it guarantees. Article 19 of the Constitution is explicit: 'Every citizen shall have the right to freedom of speech and expression, and there shall be freedom of the press.' The 'reasonable restrictions' that Article 19 permits are well understood by a free and responsible media and have been consistently interpreted by the superior judiciary."
The paper went on to say that Dawn "considers itself accountable to its readers and fully submits itself to the law and Constitution. It welcomes dialogue with all state institutions. But it cannot be expected to abandon its commitment to practising free and fair journalism. Nor can Dawn accept its staff being exposed to threats of physical harm."
At the bottom line, Pakistan's new fibreoptic cable promises to significantly enhance the country's connectivity. The risk is that visions of Chinese-Pakistani cooperation in the absence of proper democratic checks and balances threaten in Pakistan's current political environment to undermine the conditions that would allow it to properly capitalize on what constitutes a strategic opportunity.
India Ranked at Top as the Most Dangerous Country for Women
Thomson Reuters Foundation in its recent survey released on June 26, 2018 ranked India as the most dangerous country in the world for women.
More than 500 global experts on women's issues took part in a survey covering areas such as healthcare, discrimination, cultural traditions, sexual and non-sexual violence and human trafficking. Not enough was being done to tackle the dangers women faced, they said. India was ranked fourth in a similar study conducted in 2011.
Afghanistan and Syria were ranked second and third in the study, followed by Somalia and Saudi Arabia. The only western nation in the top ten was the USA. The foundation said that this was directly related to the #MeToo movement
According to government data gathered in the study, crimes against women in India rose by more than 80 per cent between 2007 and 2016. Nearly 40,000 rapes were reported in 2016, despite a greater focus on women's safety after the fatal gang rape of a student in Delhi in 2012 that prompted nationwide protests and led to tougher laws against sexual abuse being introduced.
India recorded 539 cases of sexual harassment in the workplace in 2016, 170 per cent from 2006, a report from last year suggested. However, campaigners have said that those figures are only the tip of the iceberg; a 2017 survey by India's National Bar Association found that nearly 70 per cent of victims did not report sexual harassment.
Manjunath Gangadhara, an official at the Karnataka state government, said: "India has shown utter disregard and disrespect for women. Rape, marital rapes, sexual assault and harassment, female infanticide has gone unabated. The fastest-growing ecnomy and leader in space and technology, is shamed for violence committed  against women."
Some observers pointed out that the study, while it took in wider streams of figures, was primarily based on opinion.
Upasana  Mahanta, of Jindal Global University in Delhi, told The Times: "I'm not sure that India is any more dangerous now than it was six years ago. In terms of progress, having only legal provisions  will not make the difference. Most studies show that women in India are mostly victims of violence from their partners or family members. Which shows they are hurt because they are women, regardless of cultural, economic or social factors. Women are basically being put in their place through violence."
In the past year several prominent rape and murder cases involving children have led to the introduction of the death penalty for those convicted and speedier trial process for violence against females.
The Ministry of Women and Child Development declined to comment on the survey results, said the Thomson Reuters Foundation, the news network's philanthropic arm.
Pakistan: A New Space Era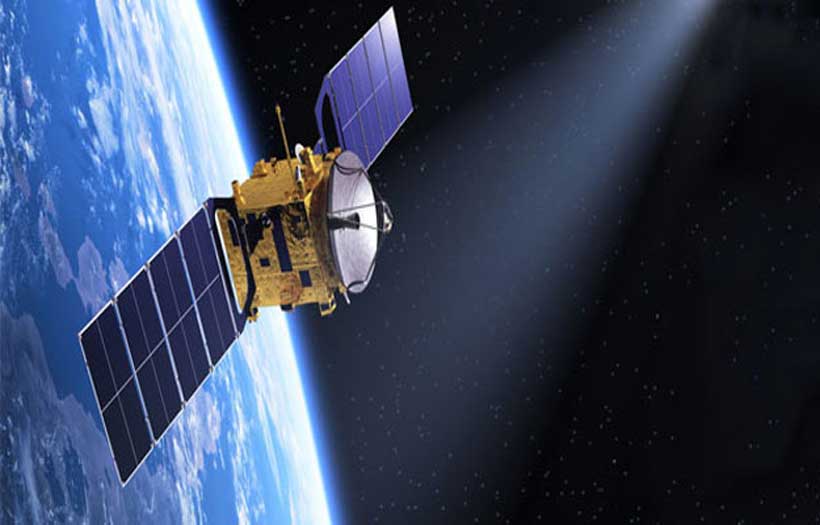 Pakistan's fragile economy and resource restraints are the main hurdles in the way of technological development, especially in space affairs. Therefore, it is so obvious that Pakistan governments' priorities were off the beam in term of emphasis on space technology. Notwithstanding, Pakistan has taken a small step by launching two indigenously manufactured satellites, Remote Sensing Satellite-1 (PRSS-1) and Pakistan Technology Evaluation Satellite-1A (PakTES-1A) into orbit using a Chinese launch vehicle.
PRSS-1 is an earth observational and optical satellite, which will allow SUPARCO to analyze its imagery requirements in terms of land mapping, agriculture classification and assessment, urban and rural planning, environmental monitoring, natural disaster management and water resource management for the socio-economic development of the country. After the launch, Pakistan has joined the elite club to have its own remote sensing satellite in orbit.
Pakistan is an active participant of international cooperation of Asia Pacific Space Cooperation Organization (APSCO). The APSCO is an inter-governmental institute functioned as a non-profit independent body with full international legal status. Its Members include space agencies from Bangladesh, China, Iran, Mongolia, Pakistan, Peru, Thailand, Indonesia and Turkey. The recent launch of satellites by Pakistan is an extension of support given by APSCO. Therefore, it is the conceding fact that after the successful launches of PRSS-1 and PakTES-1A projects, the space collaboration between Pakistan and China with respect to APSCO will be further strengthened.
The launch of two new satellites will facilitate SUPARCO in developing indigenous capabilities in space technology and promote space applications for socio-economic uplift of the country. Recently, an international conference on the Use of Space Technology for Water Management was hosted by the SUPARCO in March 2018. The United Nations Office for Outer Space Affairs (UNOOSA), the Government of the Islamic Republic of Pakistan and the Prince Sultan Bin Abdulaziz International Prize for Water (PSIPW) – were jointly organizing the Conference. The conclusion of the conference was that there mote sensing satellite technology i.e. PRSS-1, have validated established competences in terms of water resource management.
Pakistan is rapidly becoming a water-stressed country and according to some estimates, it could face mass droughts by 2025. In this scenario, a remote sensing satellite will be very beneficial in accumulating the data for future plans to fight against this evolving threat. PRSS-1 will use remote sensing techniques to outline the surface water bodies, assess meteorological variables like temperature and precipitation, estimate hydrological state variables like soil moisture and land surface characteristics, and fluxes such as evapotranspiration will be compiled by scientific methods.
Pakistan along with other South Asian states is the most vulnerable countries to climate change. Satellite remote sensing is a useful scientific tool in understanding the climate system and its changes. The technologies and information related to space contribute a fundamental role in climate knowledge, science, monitoring and early warning. Space-based information can subsidize to calculations of the vulnerability of societies to climate change and can help monitor the efficiency of adaptation strategies.
Agriculture holds a great significance for Pakistan and being an agrarian economy, all institutions should be playing a positive role for consolidation in the agriculture sector. The professions related to agriculture i.e. farmers, agronomists, food manufacturers and agricultural policymakers can concurrently augment production and profitability by using space-based technology. The best apparatus to monitor and enhance agriculture development is a remote sensing satellite, which provides key data for monitoring soil, snow cover, drought and crop development. Remote sensing satellite can assess and record precipitation for farmers to assist them in scheduling the timing and amount of irrigation they will need for their crops. Precise data and examination can also benefit in forecasting a region's agricultural output well in advance and can be critical in anticipating and mitigating the effects of food shortages and famines.
In this era of technological advancement, the Global community today faces a series of non-tradition threats such as climate change and the management of depleting natural resources. In the backdrop of emerging requirements of societal and economic development, geospatial technology is evolving as a top technological domain in the 21st century. The technologies related to earth observation and remote sensing techniques are getting growing interest from the academia, scientists, governments and industries. Pakistan is increasing its efforts in managing natural resources, enhance sustainable urban and territorial development initiatives, facilitate the conservation of forests and valuable biodiversity habitats. Space technologies must benefit all countries; therefore, the international community must support Pakistan to ensure the peaceful application of its space programme.