Meaningless Agendas Given an Intractable Congress – The U.S. Presidential Debate
Imagine a volleyball packed with lies being bounced back and forth across a net by one well-practiced in the art of mendacity and the other blissfully unaware of any truth. Then add a referee correcting the lies of one side but not the other, and you have a picture of the debate. Then post-debate spin masters on both sides get busy pushing their candidate as the winner.
In a culture of competitiveness and winning, who won is the paramount question. Polling organizations might try to conduct a scientific poll. But that requires constructing a random sample representative of the audience and then polling — a process estimated at three days in the least. No one wants to wait that long. So immediately after the debate, supporters of each side and like-minded experts/pundits proclaim their candidate the winner.
Trump also claims victory based on dubious website polls, and the other side cites a pseudo-scientific CNN poll of mostly Democrats.
The debate moderator, ABC's prime time news anchor Lester Holt, did not press Hillary Clinton on her description of the Trans Pacific Partnership (TPP) as the gold standard when she pushed it as Secretary of State. She now claims to be against it. On the other hand, Holt, who is black, really dug into Trump on the 'birther' issue — the assertion he pursued for many years that Obama was not born in the U.S. and thus not a legitimate president (the constitution requires a president to be over 35 years old and native born.) Despite Obama's birth certificate, the issue was pressed repeatedly in the media by Trump for about five years.
Trump's economic plans are to cut the corporate tax rate and the individual marginal rate which helps mostly the wealthy. The former to help repatriate funds held overseas and both to encourage investment. It has been tried before, but how it will help infrastructure which he also cited is not clear. The creaky trains from the fifties, the pot-holed roads, the dangerous bridges, old airports etc., etc., need public investment and thus more taxes not less. Clinton's plan is more traditional, fact checked, and equally unlikely in meaningful impact.
Trump's foreign agenda constitutes better trade deals and having allies pay more for their own defense. With China owning over a trillion dollars of U.S. Treasury debt, the best of luck to Mr. Trump on his trade negotiations. Perhaps the real world might one day intrude on the surreal. And as the Europeans are now keen on developing their own Euro defense force, the Trump plan might provide just the impetus it needs. Drawing out the fangs of a belligerent NATO could be a welcome outcome for those of us who prefer a world of peace.
Hillary's foreign policy is a high-end department store potpourri generating the approved aromas of the establishment. Truth be told, it is only different in accenting one scent over another to a small degree. As Trump pointed out in his most devastating critique of the night — although he failed to press home the advantage — she has been at it for 26 years and the problems have simply magnified.
While the U.S. presidency has subsumed increasing powers on the war front in recent years, it is in fact one of the weakest offices among developed countries' heads of government. A U.S. president cannot offer legislation; he has to rely on the good offices of his party members in Congress.
An example of the power of Congress was evident this week: It passed a bill allowing 9/11 victims' families to sue Saudi Arabia (19 out of 20 hijackers were Saudi). President Obama, opposed to the bill, vetoed it. The Senate overrode the veto by mustering a two-thirds majority in support, and the bill has been enacted into law.
The House is at present Republican and will remain so. It is also fraught with the ire of 'tea party' young Turks chafing at the bit for an extreme right-wing agenda. The Senate is in the hands of Democrats but with a distinct possibility of Republican control after the November election.
The Republican establishment cannot stand Hillary Clinton and does not like Donald Trump. To the extent neither is likely to find a supportive Congress, talk of their respective agendas is just that — meaningless talk … and a lot of hot air.
Officers Exchanged Fire With Troops Near National Palace As Government Announced Carnival
According to reports, Haitian police officers exchanged gunfire for hours on Sunday (February 23th, 2020) with soldiers of the newly reconstituted army outside the National Palace, in a dangerous escalation of protests over police pay and working conditions.
Police officers began protests for weeks from now, and some of the protests being led by Former police officer Madame Yanick Joseph who was fired and other political leaders.
At least three police officers were wounded, fellow officers told AP and other media across the country. The army's high command said in an online statement that a soldier had been wounded by a bullet in the back.
Haiti's raucous three-day Carnival celebration was to have started Sunday afternoon in Port-au-Prince and other major cities but the government announced Sunday night that Carnival was canceled in the capital "to avoid a bloodbath." Police protesters and their backers had burned dozens of Carnival floats and stand at recent protests, saying they did not believe the country should be celebrating during a crisis.
As the afternoon wore on, uniformed officers joined their colleagues in the street outside the palace, firing at the military base with semi-automatic pistols and rifles. Many wore masks along with their uniforms to hide their identities.
Other armed men spotted a drone that appeared to be taking images of the violence and followed it to the offices of Radio Caraibes, then began shooting at the broadcaster's building. There were no immediate reports of casualties in the attack.
"These protests won't stop until the current Haitian Government resigns.", said Mr. Werley Nortreus, a political leader and the founder of Vanyan Sòlda Ayiti and A New Haiti Before 2045 (ANHB 2045).
Police protests began this month after a half-dozen officers were fired over their attempt to unionize. The demonstrations are not directly linked to anti-corruption protests that roiled Haiti for most of last year, but they draw on the same widespread dissatisfaction with Haiti's shrinking economy and President Jovenel Moise's inability to improve the quality of life.
A uniformed police officer in a black-and-white clown mask told reporters outside the palace that officers were demanding the reinstatement of their fired colleagues as well as a pay raise for all officers.
"Until this is done we will not sit and talk," said the officer, who declined to provide his name. "The president has proven that he does not care about our demands."
President Jovenel Moise said at a news conference on Saturday (Feb 22th, 2020) that he recognized the legitimacy of many police complaints and would increase some collateral benefits for officers, but police said Sunday that the concessions were not enough.
According to reports of the shootout between police officers and troops on Feb 23, at least three men were taken to a hospital near the shooting with wounds to the legs and feet that did not appear to be life-threatening. Uniformed police officers told journalists that the wounded men were fellow officers. The uniformed officers spoke on condition of anonymity because they were not authorized to speak to the press.
How Bernie Sanders Will Destroy the Deep State if He Becomes President
Joe Lauria at Consortium News headlined on February 21st, "Apparent US Intel Meddling in US Election With 'Report' Russia is Aiding Sanders", and he noted that,
If the story is true and if intelligence agencies are truly committed to protecting U.S. citizens, the Sanders campaign would have been quietly informed and shown evidence to back up the claims.
Instead the story wound up on the front page of the [Washington] Post, "according to people familiar with the matter." Zero evidence was produced to back up the intelligence agencies' assertion.
"It is not clear what form that Russian assistance has taken," the Post reported. That would tell any traditional news editor that there was no story until it is known.
Instead major U.S. media are again playing the role of laundering totally unverified "information" just because it comes from an intelligence source. Reporting such assertions without proof amounts to an abdication of journalistic responsibility. It shows total trust in U.S. intelligence despite decades of deception and skullduggery from these agencies.
Despite the untrustworthiness of the intelligence agencies that had told President George W. Bush that they would be able to present to the American public a "slam-dunk" case that Saddam Hussein had WMD and was to blame for the 9/11 attacks, and despite their similar serial lying up to the present time, Senator Sanders issued a public statement that "Unlike Donald Trump, I do not consider Vladimir Putin a good friend. He is an autocratic thug who is attempting to destroy democracy and crush dissent in Russia." Regardless of whether he actually believes that Putin is an "autocratic thug," his saying this was necessary in the context of the ceaseless anti-Putin propaganda in America's 'news'-reporting and from America's 'intelligence' agencies, all of which have for decades been effectively controlled by America's billionaires, who are now terrified that Sanders might actually become President. Their agents are consequently smearing him. America's hundreds of billionaires ARE America's Deep State, and those hundreds of individuals are the only people who are actually represented by their media and 'our' Government.
This is the reason why we invaded and occupy and destroyed Iraq, all on the basis of lies.
This is the reason we invaded and destroyed Libya, all on the basis of lies.
This is the reason why we hired Al Qaeda in Syria to lead the hundreds of jihadist groups that have since been trying to overthrow and replace Syria's secular non-sectarian President Bashar al-Assad.
None of the American billionaires' fronts — not the CIA, nor any others — have publicized, but they instead all have hidden, all of these realities and basically all of the really important historical events during the past twenty years which shape the international world in which we all are living. Democracy in America is impossible under such circumstances as this.
Back in 2002, Sanders was able to refuse to authorize George W. Bush to invade Iraq and yet still not have his career in Congress destroyed by that 'unpatriotic' (actually courageously patriotic) act. But in today's environment, any member of Congress who fails to demonize Vladimir Putin is 'unpatriotic' — as if the Cold War which was ended by Russia in 1991 has secretly continued by America ever since — which it HAS.
America's billionaires are even more opposed to ending the Cold War than they are opposed to increasing taxes on the rich up to international standards for industrialized nations. They will accept high taxes — and during the 1950s the super-rich accepted even a 90% marginal rate of taxation — but they will not, under any circumstances, accept ending America's recent quest to replace the U.N as the basis of international law and order; they DEMAND that the U.S. Government, which they control, must control the entire world, including Russia. This is essential to their all-encompassing global empire, the global dictatorship by America's international corporations. That is the core belief of the Deep State, and no Sanders Presidency will be able to succeed unless a President Sanders will strip America's billionaires of the control they enjoy over the American Government through the Deep State. The Deep State is the U.S. billionaires; it is the control they have over the U.S. Government. Only by ending that control will America's Deep State be brought to an end. Sanders is the only viable U.S. Presidential candidate who authentically does threaten the billionaires' control over 'our' government; and the only way that he will be able to succeed is by destroying their Deep State, their control over the Government and over their press or 'news' media. This is an internal U.S. war, right now, between the Deep State and not only Donald Trump on the right (who constantly caves to their demands) but also Bernie Sanders on the left (who has yet to be in a position really to challenge their control over America).
So: how can Sanders do it, if he becomes the President? Fight like hell and be willing to sacrifice even himself, if need be, so as to destroy their control over America. Be what Trump only pretends to be. This is the only way that it might be able to be done. Sincerity. Determination. Mono-focus. And great courage. Never backtracking.
Right now, America accounts for about half of the entire world's military expenditures, and that can't go on if America is to take care of its real problems. Those corporations, such as Lockheed Martin, are not going to yield without there being now a second American revolution, a revolution of control. It will have to be a total revolution of control — not just over Wall Street, and not just over the hedge funds, and not just over the private equity funds, and not just over the healthcare system, and not just over the universities, and not just over the private foundations and other 'non-profits' (which largely privatize to billionaires the decisions as to what 'needs' to be done for the good of the entire country). Why do billionaires get tax-breaks for funding 'nonprofits' which expand their own power not only over commerce but especially over national priorities and the government itself? The corruption is so deep and so pervasive.
Right now, the corruption is focused on getting the Democratic Party's superdelegates, instead of the voters in the primaries and caucuses, to choose whom the Party's nominee for the U.S. Presidency will be.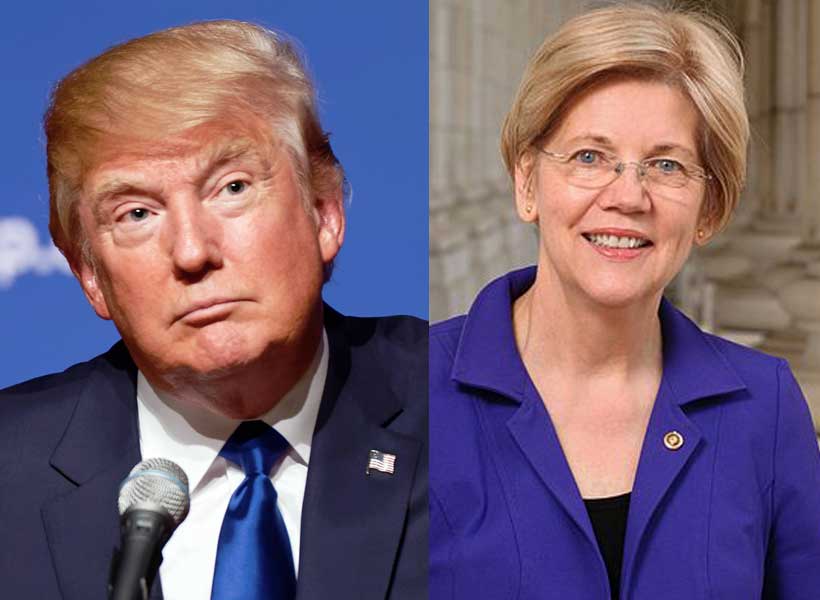 Donald Trump may make fun of Elizabeth Warren and dub her Pocahontas but he better watch it. She may be gunning for him in November.
Mayor Michael Bloomberg, or as he prefers to be called, 'Mike', spent $400 million of his $60 billion fortune on ads, raising himself to third place among candidates as a can-do 'Mighty Mike'. It bought him a place at the Democratic debate last Wednesday. But that $400 million, a colossal fortune for any of us, and in lottery terms what would count as one of the biggest wins ever, was blown away in a few minutes by Warren as she went after him on his racially-charged stop-and-frisk policy to fight crime in New York City. That his efforts worked was made irrelevant by his clearly limited ability to debate. Yet with $59.6 billion still in his kitty, probably growing at several billion a year, who can write him off in this age of TV ads?
Then there were his non-disclosure agreements with numerous women — though asked repeatedly he never gave a number. His lame defense that these were voluntary, seemed to assume the audience were dupes. Everyone knows the persons charging him with unwarranted advances received money as settlements and in exchange signed the agreements.
The Bloomberg charge thwarted, Bernie Sanders could be counted the real winner for leaving the debate unscathed. He leads nationally by double digits with Biden second.
A botoxed Biden with whitewashed teeth tried to put a spring in his step with purchased 'youth'. He talked of present and past presidents of Mexico, and of other countries, he was acquainted with and how personal connections get things done — a mindset reminiscent of the Burisma job in Ukraine son Hunter was given when his father was Vice President with a major policy role in the Ukraine. As board member of Burisma, Hunter Biden was paid up to $50,000 per month. His function was to advise on corporate governance and legal issues yet never found it necessary to attend a board meeting or visit the company in Ukraine. The company's owner has been recently charged with corruption in obtaining licenses and tax fraud over the period of Hunter Biden's tenure at his firm.
It's all in a day's work. Personal connections, that's how things get done. Imagine the labels Trump will attach to him should he win the nomination.
A normally chirpy Pete Buttigieg was skewered by Amy Klobuchar and appeared chastened. Not too well prepared, he ascribed an astronomical $25 trillion cost to Bernie Sanders' health plan. Sanders responded the plan would save $400 billion and had the figures to prove it. Not a successful outing for Pete.
But then Senator Klobuchar appeared to lose her cool when pressed on a case during her job as prosecutor, before she became a senator. Visibly angry, she continued to press her claim as being highly electable but Sanders and Warren are elected senators too, and Sanders for much longer. Senator Klobuchar also has the highest turnover of staff (36 percent) of any senator, and a rumored reputation of being abusive towards them. Not the kind of quickly angered temperament one would choose to have in the White House, or for a person with a finger on the dreaded nuclear button.
Seems the best option we have is Sanders and Warren but political demographics preclude two liberals from the northeast on a ticket. Born in 1941, Sanders will be almost 80 when he takes office, an age when Warren would have left the White House were she to win and serve two terms. Bernie is eminently likeable and a staunch fighter but it seems like Hillary Clinton stole his best shot at the presidency.