Curfew lifted in Kashmir: Will the valley return to normalcy?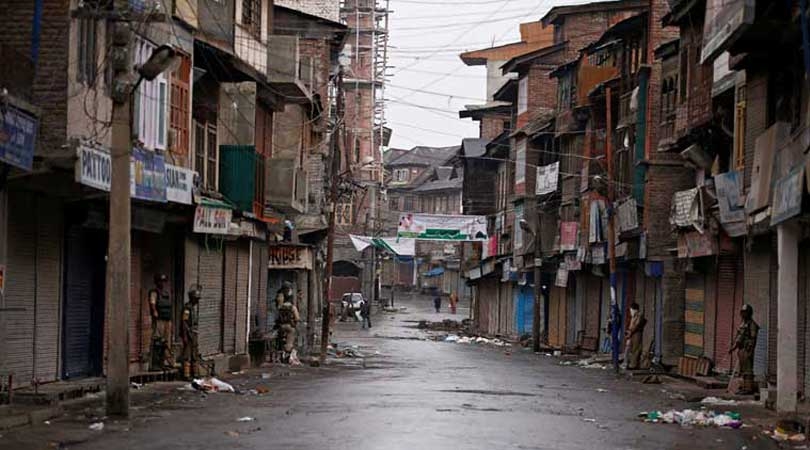 Indian government has been, for quite some time, since the protests began in Kashmir, trying hard to put an end to the crisis and give a message to world that everything is "normal" in Kashmir. Having burnt its fingers India would now feel better that the JK government, now controlled jointly by the strange bed fellows BJP and PDP, has lifted the perpetual curfew in Kashmir at least temporally, letting Kashmiris breathe freely..
The curfew, which was imposed in the Valley for the last 79 days, was lifted from all parts of Kashmir on September 25 but restrictions on an assembly of people remained in force in most areas as a precautionary measure. Yes, busy markets, traffic jams and crowds area back in Kashmir after so many days of unrest. However, off and on curfews re-imposed and relifted in some areas.
Kashmir today is essentially a police and garrison state where military misuses its extra powers to kick the Kashmiris, While Indian media in general dutifully supports all military crimes in Kashmir, media in Kashmir does not function as the vanguard of the democracy but not essentially in Kashmir where everything is decided by the New Delhi. India has always behaved as a military hegemon in Kashmir but presented itself in the image of victim. is one of essential survival tactics in the conflict zone like Kashmir. What has not been vindicated in Kashmir under the camouflage of 'national interests and threat to security of India' by the Indian media be it fake encounters, rapes innocent murders and virtually everything from sky to earth.
Media reporting and analyses make Muslims in Kashmir the problem. Media barons don't dare to show the reality and true picture for it is sure to strike the sympathetic chord with the Kashmiri people. The role of Indian media in Kashmir is to defend the status quo. Indian media is seemingly independent but essentially extended arm of Indian state as it is being bankrolled by the political economy of subsidies of state and huge government advertisements industry. Therefore it is essential to dance on the tunes of government if the media barons wish to survive, as largesse's can be shifted if loyalties are subverted and diverted.
State killing and other forms of atrocities in Muslim dominated Kashmir valley are so common that Kashmiris have taken it their fate to to be ready t get killed by Indian forces. Normal life remained affected in the Valley for the 78th consecutive day before it was finally lifted. Curfews are very regular in Kashmir as Kashmiris refuse to stop demanding sovereignty from India, stop protesting state arrogance.
The JK authorities imposed curfew in Handwara and snapped mobile services across North Kashmir apparently to stop protests aftermath of the killing of a young boy in Forces firing at Nadihal Rafiabad in Baramulla district on Friday evening. Thousands of people, who attended the funeral prayers of Waseem Ahmad Lone killed in forces' firing, were in tears as his body was lowered into a grave at his ancestral village of Bunpora in Nadihal area of north Kashmir's Baramulla district. The prayers were led by his father Nazir Ahmad Lone at a school ground in the locality.
Lone, according to his family and witnesses, was killed after Indian forces may be for satisfying sadistic pleasure, opened "unprovoked" fire on him while he was harvesting crops in his fields at Nadihal area of Rafiabad. Local hospital authorities said a bullet had hit Lone on his back and pierced through his heart, resulting in his death. "The bullet had damaged his heart, causing his instant death," said Dr Masood, Medical Superintendent of District Hospital Baramulla.
Earlier on Saturday thousands of people assembled on Baramulla-Kupwara highway with the body of Lone to take part in a peace march. Amid pro-freedom and anti-India slogans, the body of Lone was then marched to the school ground for last rites. The mourners chanted anti-India and pro-freedom slogans. Curfew was imposed. Due to shutdown, curbs and curfew life was completely disrupted across Kashmir. A police official told CNS that curfew was imposed in Handwara town of Kupwara district, while it remained in force in three police station areas of downtown Srinagar. He said the curbs on the movement of people remained in force in Nowhatta, Khanyar and Mahraj Ganj police station areas of the summer capital of the state. The official said restrictions on the assembly of people under Section 144 CrPc also remained in force in the rest of the Valley.
Freedom fighting Kashmiris spearheading the ongoing uprising had called for marches to various tehsil headquarters across the Valley on Saturday and had announced a 12-hour relaxation during night hours starting from 6 pm. In wake of the fresh killing, cellphone services were suspended by the authorities on Fridaynight in North Kashmir. "Only BSNL phones are working. All private mobile phone services have been barred without any reason or explanation," said a Sopore resident.
People from various localities of North, South and Central Kashmir accused forces of damaging property during nocturnal raids. A private restaurant-cum-guest house was damaged allegedly by police and CRPF men on late Friday night. Muhammad Amin Shaikh, owner of Hotel Blue Spring, Verinag said a forces party raided his restaurant around 10 PM last night and threw stones and damaged the doors, windows and furniture of the hotel. He said that Forces could not enter the hotel as it was locked but they damaged property worth lakhs of rupees. Locals from the same area accused forces of damaging private property. They held protests against the "atrocities" done by forces.
At least four civilians were injured when police and CRPF men fired tear gas canisters and fired pellets to foil a pro-freedom rally in South Kashmir's Islamabad district on Saturday. Reports said that people of Shangus and its adjoining areas had planned a pro-freedom rally in the premises of Markaz-i-Jamia Masjid Shangus. "But forces raided our village around 5:30 AM and sealed all routes leading to the freedom rally venue," locals said. They said that people from, adjoining areas tried to march towards Shangus but forces stopped them. "It was a peaceful march but forces started firing tear gas canisters and pellets resulting in intense clashes," the eye witnesses said. "Clashes intensified in adjacent Bongam in which at least four persons were injured due to pellets," they added. The locals said that three injured civilians were rushed to PHC Nowgam. However, a doctor at the health facility said that they received only one person who was hit by pellets on his back. The locals further said that the forces damaged a 100 KV electricity transformer. "While leaving the village forces damages several residential houses and made a few arrests made," the local said adding that people erupted in protests seeking immediate release of the arrested civilians
Thus, Kashmiris are the target of India for collective punishment for not toeing the Indian line.
Lifting of curfew brought some relief to people of Kashmir who have been suffering from all sorts of negativism of the government. It was for the first time in last over two-and-half months that the Sunday market stayed open at Lal Chowk, Kashmir's main market, which had usually seen deserted roads and closed shops. The footpath vendors had laid out the used clothes, shoes, and handicraft products on the charpoys as people thronged the market. People had lined up outside petrol pumps and heavy movement of vehicles during the day caused traffic jams at many places.
Both the government and the fighting groups are making life in Kashmir intolerable. In the new protest calendar that was issued by the "separatists" in Srinagar, it was for the first time that the relaxation was given from 2 pm to 6 am on Sunday. In the previous week, there was no relaxation in the strike even during Eid. Even during those two days of the Muslim festival, three people were killed as youth clashed with the forces. However, Sunday was unusual as would be the evenings when according to the Hurriyat calendar, shops, and other business establishments stay open between 6 pm to 6 am. The protest calendar has changed the routines of the people who work in Kashmir. The working hours for many have spilled into the night and in a large number of areas of Kashmir normalcy returns in the evening after daylong clashes with the forces and the blockades on the roads are removed.
Nazir Ahmad Mir, the owner of Sonatraders, a gas distribution agency, said that he has turned to a new routine following the strike calendar issued by the separatists after the killing of Burhan Wani, Hizbul Mujahideen militant commander. He wakes up before 4 am to oversee the supply of gas cylinders from his godowns at Bemina and Karanagar in Srinagar city and ensures that the delivery is done before 6 am. In the evening, he brings the staff from different parts of Srinagar to his Karan Nagar office who works late into the night to sell the gas cylinders. Mir has turned to this new routine of working in the evening instead of day, after the strike call given by the Hurriyat Conference.
In a fresh protest calendar, issued by the separatists recently, have asked the people to observe the shutdown till 29 September. Besides marking a new way of life in Kashmir, the ongoing protests have also united the two factions of Hurriyat Conference led by Syed Ali Shah Geelani and Mirwaiz Umer Farooq who are issuing a common calendar now. The people are also following the calendar to observe different modes of protests. Youth and elderly are seen rolling out mats on the roads to offer prayers and even turn to the cleaning of lanes and drains.
Around 6 pm shopkeepers are seen opening the shutters and vendors lay wares on the footpath and roads are cleared of blockades. Barbers shops remain filled with people as they wait for their turn for the haircut while people jostle to fill their vehicles at petrol pumps. On Sunday, after 2 pm almost every shop was open in Chanapora and Jawahar Nagar. Traffic police had a tough time regulating the jams in Srinagar as people had parked the vehicles outside the shops in Lal Chowk due to which the pedestrian movement was also affected. There was a total gridlock in the city and it took hours for people to reach the Lal Chowk.
At a famous handicrafts shop, Amirudin and Sons, salesman Aijaz Ahmad, said that they have been footing losses of between seven to eight thousands on a daily basis. He, however, said that Kashmir issue should be resolved soon so that people can live peacefully. The owner of Sonatraders, Mir, said that he has to also bring the staff to the office due to the protests. "I have adjusted to a new routine of life after the protest calendars were issued by the Hurriyat Conference. The internet services remain suspended here due to which we are not able to make the online bookings for home delivery. It is due to this that I have to ferry the staff to the office during the relaxation in the shutdown announced," he said.
President of the Federation Chamber of Industries Kashmir (FCIK), Mohammad Ashraf Mir, said that the industries have not benefitted from the protest calendar. "Due to the incidents of stone pelting we are not able to carry the truckloads of material to the industrial estates. However, there are only a few industries which are functional like the two medical oxygen supply plants. We are footing a loss of Rs 100 crore daily, but we are continuing with the protests as more than the business' loss it is the loss of daily lives that matters for us. The government should hold dialogue with separatists to end the current unrest." But government does not seem interested in solutions.
Indian government has its message from protestors in Kashmir in red. Unlike the previous protests and shutdowns, this time Indian government and military committed a big crime, targeting a respected Kashmiri youth freedom fighter and people rose to protest against this murder for so long.
The curfew life is not the end of the struggle road and New Delhi needs to find s credible solution in favor of Kashmiris. Their demand for sovereignty is quite legitimate but, however, India should talk to both Pakistan and China to find a permanent solution to the problem that disturbs the regional peace and tranquility.
India, Pakistan and China jointly occupy the nation of Kashmiris. While Pakistan and China have not attacked Kashmiris or killed anyone, India has already killed more than 100,000 Kashmiris as freely as jungle bosses do.
However, UN and USA do not consider murder of Muslims in Kashmir or India is a matter worth mentioning, let alone debating.
Kartarpur Corridor: Sikh Soft Power
Ever since the inauguration of the Kartarpur Corridor, three months ago, in November 2019, it has drawn the attention of media and strategic analysts in South Asia, and outside the region, for different reasons. The Corridor, a long standing demand of the Sikh community, connects Dera Baba Nanak (Punjab, India) with Gurudwara Darbar Sahib, (Narowal Kartarpur in Pakistan) (which are barely 5 kilometres apart). Individuals wanting to pay obeisance at Darbar Sahib, can cross over through the Corridor, without a visa.
The founder of the Sikh faith, Guru Nanak Sahib spent a crucial phase of his life — the last 18 years — at the town of Kartarpur, which he founded (in 2019, along with members of the community, many governmental and non-governmental organisations, in different capacities commemorated the 550th birth anniversary of Guru Nanak Sahib).
While it is true, that in recent years, there has been an increase in the number of Sikh pilgrims visiting Pakistan on important religious occasions, and the Pakistan government had taken steps to encourage more Sikh pilgrims, the opening of the Kartarpur Corridor is significant, given that pilgrims can travel without a visa.
Darbar Sahib, Kartarpur is especially relevant, not just from a symbolic point of view, because Guru Nanak Sahib spent a significant part of his life –18 years. But because it was at Kartarpur, that Guru Nanak Sahib who came up with an alternative paradigm, and sought to challenge the status quo in South Asia, along with some of his close followers from different faiths, propagated the Sikh philosophy (Meditation and remembrance of God, honest and truthful labour, and sharing one's earning with the needy are often referred to as the three important pillars of the Sikh philosophy, which were enunciated, by Guru Nanak Sahib)
Kartarpur Corridor: Current context
If one were to look at the current situation, Kartarpur Corridor and the response so far, while it is true, that there are a number of logistical issues, which have resulted in the number of pilgrims crossing over, being far lesser than estimates. According to official estimates, from the Indian side, the number of individuals who have crossed over through the corridor is a little less than 45,000 ever since the opening of the Corridor.
One of the major causes identified for the Corridor, not receiving the sort of response, which was expected, is the requirement of a Passport for travel to Kartarpur. The Sikh community had been demanding an arrangement where by any ID would suffice.
Yet, there have been a number of positive outcomes. It has resulted in interactions between Sikh Community and locals. Pilgrims have returned with positive stories not just with regard to the Darbar Sahib, but the warmth of the local population.
The opening of the Corridor hasalso opened up vistas in the area of religious tourism not just for Sikhs, but for the Hindu community as well. Pakistan has stated, that not only will it renovate Hindu Temples, but will also permit pilgrims from India access to Gurudwaras and Hindu Temples they were not permitted to visit earlier.
Pakistan itself is likely to benefit not just economically, through religious tourism, but in terms of it's international image.
Impact on South Asia's geopolitics
One aspect, which can not be ignored is the Corridor's impact in the context of South Asia's geopolitics. A number of observers of South Asia, were surprised, that the Religious Corridor actually went ahead in spite of tensions between India and Pakistan (which have consistently deteriorated in 2019) . Similarly, a number of naysayers, in the media as well as strategic community, have been critical of the Corridor, arguing that Pakistan could use it to foment militancy in Punjab (this is a rather simplistic argument, which fails to take into account the sensitivities of Sikh pilgrims, who have no real interest in the politics of deep-states, and looks at the issue from a rather narrow lens)
What is especially interesting is, how the Corridor has drawn global attention. US, China and a number of other countries have welcomed the opening of the corridor, saying that it will pave the way for peace and harmony in South Asia. A number of Sikh activists and commentators have been speaking about the need for 'Sikh Soft Power' which can be effective in blunting narratives of bigotry and narrow mindedness which have gained currency globally in the past few years.
The opening of the Corridor, and its potential role in reducing conflict could be an important component of this Sikh Soft Power. In 2019, a number of other important events have helped in enhancing the stature of Sikhs globally. First, Sikhs in different walks of life have taken an unequivocal stance, against hate both in India and outside. Two prominent Sikh politicians – Tanmanjeet Singh a Labour MP in UK and Gurratan Singh, a New Democratic Party (NDP) legislator from Ontario in Canada were hailed for taking a firm stand against Islamophobia. Second, Khalsa Aid (founded by a British Sikh, Ravi Singh) an international charity while following the Sikh principles of compassion and Nishkam (selfless service)has provided humanitarian aid in conflict zones, and regions struck by calamities like floods and earthquakes. The stellar work of Khalsa Aid, is now recognized not just in South Asia, but globally.
It would be pertinent to point out, that The UN head, Antonio Guterres, also visited the Corridor during his recent visit to Pakistan. He had welcomed the opening of the Corridor in November 2019. "paving way for interfaith harmony and understanding by facilitating visa-free cross border visits by pilgrims to holy shrines."
This visit is important, because it brings to the fore the relevance of the Kartarpur Corridor in a global context. The UN Chief while commenting on his visit to Kartarpur, dubbed it as a symbol of Inter faith harmony. A prominent US based Sikh activist, Harinder Singh in a tweet stated, that the UN Chief's visit was significant. Said Singh:
'Guru Nanak Sahib started langar at Kartarpur Sahib, free & open distribution of Wisdom & Food. United Nation's Secretary-General & Pakistan's Minister for Religious Affairs Dr. Noor Ul Haq Qadri partook rice & lentil. Hope 1-Ness wisdom prevails to realize peace via the Panjab'
Conclusion
In conclusion, Kartarpur Corridor has religious significance for the Sikh community, but it has the potential for reducing tensions in South Asia (by possibly making a beginning, by propelling greater bonhomie and economic integration between both Panjab's) and could pave the way for greater people to people initiatives as well as trade between India and Pakistan. The Corridor will also help in highlighting the role, which the Sikh faith has, not merely as a 'bridge-builder', but an active facilitator of peace in South Asia at a time when the hopes are dim. The Corridor thus is important, as it is an important component of 'Sikh Soft Power' and also reiterates the relevance of what has been dubbed as Faith Based Diplomacy.
Islamic Extremists and Christians in Pakistan
Pakistani Christians played an important role in Pakistan's independence. When they were in dire need of Sikh, Persian, and Christian minorities' support, the Supreme Leader and other Muslim leaders promised them equal freedom and rights in the newly established government.
Thus Christians in Punjab and Sindh were fully active after 1945. Christians also supported the idea of a separate Muslim state.
Since Pakistan's independence in 1947, until the mid-1970s, the Pakistani government was largely secular. But on 26 March 1971, Eastern Pakistan was declared the independent state of Bangladesh, and most of the Pakistani Hindus (who lived in Bangladesh) separated from Pakistan. Meanwhile, Pakistan's transformation into a culturally integrated and increasingly Islamic state has turned Islam to the source of legislation and a cornerstone of national identity. The governments of Zulfiqar Ali Bhutto and Zia al-Haq therefore took greater Islamic law into account.
Pakistani Christians
Most of Pakistan's population are Muslims, but Christians are the largest minority after the Hindus. The south of Karachi has a large number of Christian settlements and there are many Christian villages in central Punjab and the cities of Lahore and Faisalabad.
Most Christians' Ancestors converted to Christianity in order to escape their lower caste during British colonial times. Christians are the poorest part of Pakistani society. But a number of prosperous Christians live in Karachi and their ancestors were of the educated and prosperous class.
Christians and the Islamic Extremists
Prior to separation from India, Pakistan was a diverse religious and cultural community, but later tolerance to other religions and cultures was reduced. Now, Pakistan is a country where Muslim extremist groups and movements do not tolerate religious minorities. As a matter of fact, Christians have repeatedly been subjected to bloody attacks by Islamic extremists. Pakistani Christians, especially Christian Neophytes who have converted from Islam to Christianity, have always been the main target of Islamic hardliners. In this regard, the terrorist attack in Peshawar and the attack on the Christian Center in Lahore were among the most violent terrorist attacks. Along with the bomb blast, suicide attacks, burning Christian homes and churches and increasing ISIL attack on Pakistani Christians at Easter or Easter celebrations are also signs of this.
Reasons behind extremists' attacks on Christians
While Christians and Muslims previously used to live in peace along with each other and were rarely attacked, the following factors increased attacks on them.
First. Indeed, some consider the Pakistan constitution as the root of The radicalization of space for the benefit of extremists.
Since the 1990s, Anti-Blasphemy laws approval has led to the Christians' being accused of Blasphemy and insulting the Prophet of Islam, while some of these allegations are false charges with just personal motivation. These accusations sometimes led to the violence against the Christians and they always have security concerns for religious celebrations.
Second. Before the separation, there was a lot of tolerance in Pakistan, but tolerance has been reduced for several decades.
Pakistani society has become increasingly Islamized and homogenized. As some claim that before the separation, minorities made up 15 percent of the country's population, but it is currently less than 4 percent.
Third. Most of the harassment of Christians in Pakistan by extremist Islamic groups is influenced by political parties. In this regard, some believe that extremist groups that have close relationships with the security and intelligence agencies play an important role in this area. Currently, these radical Islamist groups are managing thousands of Islamic schools and educational centers and provide children and youth with wrong and inappropriate teaching which lead to violence against religious minorities such as Christians. In the meanwhile, churches that engage in social and youth activities experience the worst persecutions.
Fourth. The US-led war in Afghanistan has made Christians more vulnerable to deadly attacks. Indeed, some acts of violence were politically motivated. Attacks on Christian minorities can also be part of a militant message to the West and also a warning to the government to message of Islamic extremists to the government to avoid from being too close to the West.
Fifth. ISIL has supporters in Pakistan, and many extremist militias in the two countries (Pakistan and Afghanistan) follow ISIL's fanatical views of Shia Muslims and theory of putting Christians under pressure and killing them.
Sixth. What is clear is that previous governments have virtually failed to provide adequate space to prevent the migration of Pakistani Christians abroad. In the meantime, the Pakistani opposition has accused the government of "serious violations" of religious freedom by failing to cooperate against terrorist groups.
The future of Pakistani Christians
Many Pakistani Christians believe that they do not have the socio-economic status and equal access to available opportunities, and indeed they are second-class, practically lower-income citizens, and have been denied to become President, Prime Minister, Senate Speaker, or National Assembly Speaker. They also claim that the Christians work in the poorest part of society. In the same vein, some Pakistani think tanks have included Pakistan in the list of a handful of countries that have placed religious minorities under the strongest pressure.
Despite supportive measures adopted by governments in Pakistan (such as allowing guns for Christians) to protect themselves against terrorist attacks, radical Islamists have always viewed Pakistan's Christians as a threat. However, as three-quarters of Iraqi Christians have left the country since the fall of Saddam Hussein's regime and also increasing of the number of migrant Christians in Syria and the region after 2011, This may also happen for Pakistan.
Indeed, there may be numerous reasons such as war, unemployment and convulsions in the region and the increasing attacks by ISIS and other fundamentalists behind the increasing of Pakistani Christians' migration to abroad in the short and long term. This in turn can have many effects on Pakistan and its relations with Europe and the West.
Will the President Trump's India-Visit be fruitful?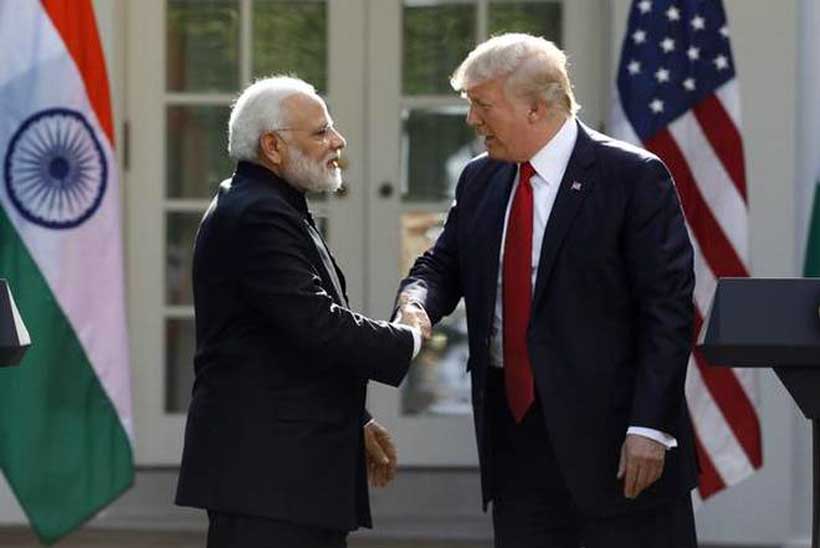 Will President Trump's visit to India on 24-25 February be fruitful? Will the US achieve its goals? Will it be beneficial for India? Will it be merely a personal visit to please Modi or a pleasure trip? There are so many similar questions in many minds.
I think there might be two objectives of this visit: One may be, President Trump has his own agenda on this trip to India, as he is just at a launching stage of his presidential campaign for presidential elections to be held in November this year. He needed political support from his friend Modi, as the Indian-American has a certain vote-bank in the US. He might be seeking his support in Presidential-Elections. The second may be a long term US policy since President George W. Bush administrations and continuing under Barack Obama's tenure, that the US needs India as a strategic partner to help "Counter Russia and Contain China".
Regarding the first objective, Modi is losing his popularity inside India as well as globally. His extremist policies have bounced back already. Kashmir is burning, a civil war in ongoing almost in 20 states against discriminatory Citizenship Act-2019. Law and order situation has drastically deteriorated. Investors are leaving, foreign tourists are advised not to travel to India. The industry is being closed. The routine business has been affected adversely. The economy is almost collapsing, and the country is bleeding. Social unrest and political instability have damaged Modi's popularity in India. Not only the Minorities but moderate Hindus, Intellectuals and neutrals are opposing Modi's policies. His policies are also not welcome by the International Community either. Anti-India protests, agitations, rallies around the world have been witnessed. Human Rights Organizations, International Institutions, and all Peace-Loving nations and individuals are criticizing his policies. India is passing through the worst crisis of its 7 decades-history, under Modi's leadership.
Under this scenario, President Trump's any association with Modi may become counter-productive and Presidential Elections may bring results contrary to his expectations.
Regarding the second objective, the US was seeking strategic cooperation with India to "Counter Russia and Contain China". As the US is losing its influence in this region and facing failure one after another. The US is left with no option except withdrawing its troops from Syria and Afghanistan. The US could not face Iran in the Middle-East and may leave Iraq too. Philippine is out of American Influence. Practically, the US cannot face Russia in the Baltic Ocean, Cannot face China in the Pacific Ocean, and cannot face Iran in Middle-East.
With this background, the US-supported India, projected India, up-lifted India, "to Counter Russia and Contain China". The US has signed with India the "Major Defense Partner" agreement and Indo-Pacific Alliance agreement. The US supplied India with the latest lethal weapons and hi-tech advanced technologies. Extended financial assistance, trade concessions, market access on priority. Extended political and diplomatic support at International platforms like UN, WTO, UNSC, IMF, FATF, EU, World Bank, NSG, etc.
The US has been helping India out of the way, sometimes directly, and sometimes through Israel or through its allies indirectly. As a result, India has become the biggest beneficiary of US assistance after Israel.
Will India meet the expectation of the US? In case of need, do India have a will or capacity to deliver according to American's expectations? While India is collapsing and Modi-Initiated civil war leading India toward disintegration, keeping any expectation from India, maybe just a dream only.
It is worth mentioning that for the last 7 decades, Pakistan was a close ally with the US during the cold war era and front line state during the war on terror. Pakistan's role was vital in achieving the strategic goals for the US in this region and globally. Pakistan's role was appreciated and acknowledged on several occasions. The US leadership knows the capabilities and potential of Pakistan very well, especially the Military leadership is much more aware. Pakistan is a Peace-Loving Nations and well matured. We are a responsible state and understand the consequences of war, especially when the two countries are nuclear states. Pakistan is always willing to be a partner of any peace process anywhere in the world. We are against any armed-conflict or use of force. We wish, all differences around the world, maybe resolved under UN Charter diplomatically, including long pending Kashmir issues.