Curfew lifted in Kashmir: Will the valley return to normalcy?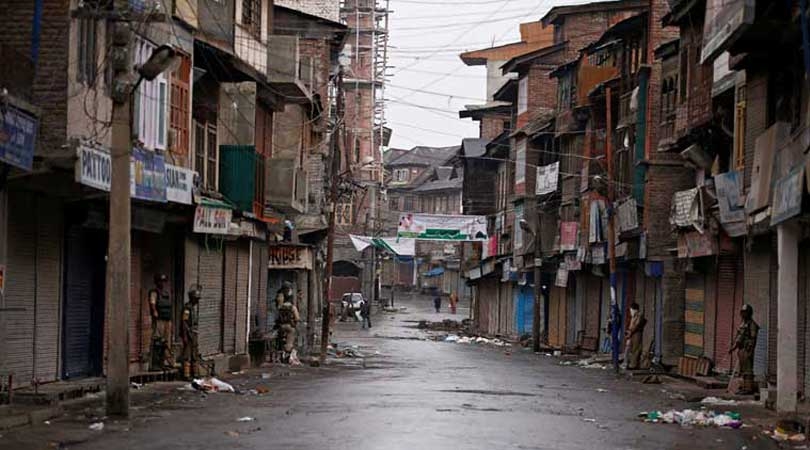 Indian government has been, for quite some time, since the protests began in Kashmir, trying hard to put an end to the crisis and give a message to world that everything is "normal" in Kashmir. Having burnt its fingers India would now feel better that the JK government, now controlled jointly by the strange bed fellows BJP and PDP, has lifted the perpetual curfew in Kashmir at least temporally, letting Kashmiris breathe freely..
The curfew, which was imposed in the Valley for the last 79 days, was lifted from all parts of Kashmir on September 25 but restrictions on an assembly of people remained in force in most areas as a precautionary measure. Yes, busy markets, traffic jams and crowds area back in Kashmir after so many days of unrest. However, off and on curfews re-imposed and relifted in some areas.
Kashmir today is essentially a police and garrison state where military misuses its extra powers to kick the Kashmiris, While Indian media in general dutifully supports all military crimes in Kashmir, media in Kashmir does not function as the vanguard of the democracy but not essentially in Kashmir where everything is decided by the New Delhi. India has always behaved as a military hegemon in Kashmir but presented itself in the image of victim. is one of essential survival tactics in the conflict zone like Kashmir. What has not been vindicated in Kashmir under the camouflage of 'national interests and threat to security of India' by the Indian media be it fake encounters, rapes innocent murders and virtually everything from sky to earth.
Media reporting and analyses make Muslims in Kashmir the problem. Media barons don't dare to show the reality and true picture for it is sure to strike the sympathetic chord with the Kashmiri people. The role of Indian media in Kashmir is to defend the status quo. Indian media is seemingly independent but essentially extended arm of Indian state as it is being bankrolled by the political economy of subsidies of state and huge government advertisements industry. Therefore it is essential to dance on the tunes of government if the media barons wish to survive, as largesse's can be shifted if loyalties are subverted and diverted.
State killing and other forms of atrocities in Muslim dominated Kashmir valley are so common that Kashmiris have taken it their fate to to be ready t get killed by Indian forces. Normal life remained affected in the Valley for the 78th consecutive day before it was finally lifted. Curfews are very regular in Kashmir as Kashmiris refuse to stop demanding sovereignty from India, stop protesting state arrogance.
The JK authorities imposed curfew in Handwara and snapped mobile services across North Kashmir apparently to stop protests aftermath of the killing of a young boy in Forces firing at Nadihal Rafiabad in Baramulla district on Friday evening. Thousands of people, who attended the funeral prayers of Waseem Ahmad Lone killed in forces' firing, were in tears as his body was lowered into a grave at his ancestral village of Bunpora in Nadihal area of north Kashmir's Baramulla district. The prayers were led by his father Nazir Ahmad Lone at a school ground in the locality.
Lone, according to his family and witnesses, was killed after Indian forces may be for satisfying sadistic pleasure, opened "unprovoked" fire on him while he was harvesting crops in his fields at Nadihal area of Rafiabad. Local hospital authorities said a bullet had hit Lone on his back and pierced through his heart, resulting in his death. "The bullet had damaged his heart, causing his instant death," said Dr Masood, Medical Superintendent of District Hospital Baramulla.
Earlier on Saturday thousands of people assembled on Baramulla-Kupwara highway with the body of Lone to take part in a peace march. Amid pro-freedom and anti-India slogans, the body of Lone was then marched to the school ground for last rites. The mourners chanted anti-India and pro-freedom slogans. Curfew was imposed. Due to shutdown, curbs and curfew life was completely disrupted across Kashmir. A police official told CNS that curfew was imposed in Handwara town of Kupwara district, while it remained in force in three police station areas of downtown Srinagar. He said the curbs on the movement of people remained in force in Nowhatta, Khanyar and Mahraj Ganj police station areas of the summer capital of the state. The official said restrictions on the assembly of people under Section 144 CrPc also remained in force in the rest of the Valley.
Freedom fighting Kashmiris spearheading the ongoing uprising had called for marches to various tehsil headquarters across the Valley on Saturday and had announced a 12-hour relaxation during night hours starting from 6 pm. In wake of the fresh killing, cellphone services were suspended by the authorities on Fridaynight in North Kashmir. "Only BSNL phones are working. All private mobile phone services have been barred without any reason or explanation," said a Sopore resident.
People from various localities of North, South and Central Kashmir accused forces of damaging property during nocturnal raids. A private restaurant-cum-guest house was damaged allegedly by police and CRPF men on late Friday night. Muhammad Amin Shaikh, owner of Hotel Blue Spring, Verinag said a forces party raided his restaurant around 10 PM last night and threw stones and damaged the doors, windows and furniture of the hotel. He said that Forces could not enter the hotel as it was locked but they damaged property worth lakhs of rupees. Locals from the same area accused forces of damaging private property. They held protests against the "atrocities" done by forces.
At least four civilians were injured when police and CRPF men fired tear gas canisters and fired pellets to foil a pro-freedom rally in South Kashmir's Islamabad district on Saturday. Reports said that people of Shangus and its adjoining areas had planned a pro-freedom rally in the premises of Markaz-i-Jamia Masjid Shangus. "But forces raided our village around 5:30 AM and sealed all routes leading to the freedom rally venue," locals said. They said that people from, adjoining areas tried to march towards Shangus but forces stopped them. "It was a peaceful march but forces started firing tear gas canisters and pellets resulting in intense clashes," the eye witnesses said. "Clashes intensified in adjacent Bongam in which at least four persons were injured due to pellets," they added. The locals said that three injured civilians were rushed to PHC Nowgam. However, a doctor at the health facility said that they received only one person who was hit by pellets on his back. The locals further said that the forces damaged a 100 KV electricity transformer. "While leaving the village forces damages several residential houses and made a few arrests made," the local said adding that people erupted in protests seeking immediate release of the arrested civilians
Thus, Kashmiris are the target of India for collective punishment for not toeing the Indian line.
Lifting of curfew brought some relief to people of Kashmir who have been suffering from all sorts of negativism of the government. It was for the first time in last over two-and-half months that the Sunday market stayed open at Lal Chowk, Kashmir's main market, which had usually seen deserted roads and closed shops. The footpath vendors had laid out the used clothes, shoes, and handicraft products on the charpoys as people thronged the market. People had lined up outside petrol pumps and heavy movement of vehicles during the day caused traffic jams at many places.
Both the government and the fighting groups are making life in Kashmir intolerable. In the new protest calendar that was issued by the "separatists" in Srinagar, it was for the first time that the relaxation was given from 2 pm to 6 am on Sunday. In the previous week, there was no relaxation in the strike even during Eid. Even during those two days of the Muslim festival, three people were killed as youth clashed with the forces. However, Sunday was unusual as would be the evenings when according to the Hurriyat calendar, shops, and other business establishments stay open between 6 pm to 6 am. The protest calendar has changed the routines of the people who work in Kashmir. The working hours for many have spilled into the night and in a large number of areas of Kashmir normalcy returns in the evening after daylong clashes with the forces and the blockades on the roads are removed.
Nazir Ahmad Mir, the owner of Sonatraders, a gas distribution agency, said that he has turned to a new routine following the strike calendar issued by the separatists after the killing of Burhan Wani, Hizbul Mujahideen militant commander. He wakes up before 4 am to oversee the supply of gas cylinders from his godowns at Bemina and Karanagar in Srinagar city and ensures that the delivery is done before 6 am. In the evening, he brings the staff from different parts of Srinagar to his Karan Nagar office who works late into the night to sell the gas cylinders. Mir has turned to this new routine of working in the evening instead of day, after the strike call given by the Hurriyat Conference.
In a fresh protest calendar, issued by the separatists recently, have asked the people to observe the shutdown till 29 September. Besides marking a new way of life in Kashmir, the ongoing protests have also united the two factions of Hurriyat Conference led by Syed Ali Shah Geelani and Mirwaiz Umer Farooq who are issuing a common calendar now. The people are also following the calendar to observe different modes of protests. Youth and elderly are seen rolling out mats on the roads to offer prayers and even turn to the cleaning of lanes and drains.
Around 6 pm shopkeepers are seen opening the shutters and vendors lay wares on the footpath and roads are cleared of blockades. Barbers shops remain filled with people as they wait for their turn for the haircut while people jostle to fill their vehicles at petrol pumps. On Sunday, after 2 pm almost every shop was open in Chanapora and Jawahar Nagar. Traffic police had a tough time regulating the jams in Srinagar as people had parked the vehicles outside the shops in Lal Chowk due to which the pedestrian movement was also affected. There was a total gridlock in the city and it took hours for people to reach the Lal Chowk.
At a famous handicrafts shop, Amirudin and Sons, salesman Aijaz Ahmad, said that they have been footing losses of between seven to eight thousands on a daily basis. He, however, said that Kashmir issue should be resolved soon so that people can live peacefully. The owner of Sonatraders, Mir, said that he has to also bring the staff to the office due to the protests. "I have adjusted to a new routine of life after the protest calendars were issued by the Hurriyat Conference. The internet services remain suspended here due to which we are not able to make the online bookings for home delivery. It is due to this that I have to ferry the staff to the office during the relaxation in the shutdown announced," he said.
President of the Federation Chamber of Industries Kashmir (FCIK), Mohammad Ashraf Mir, said that the industries have not benefitted from the protest calendar. "Due to the incidents of stone pelting we are not able to carry the truckloads of material to the industrial estates. However, there are only a few industries which are functional like the two medical oxygen supply plants. We are footing a loss of Rs 100 crore daily, but we are continuing with the protests as more than the business' loss it is the loss of daily lives that matters for us. The government should hold dialogue with separatists to end the current unrest." But government does not seem interested in solutions.
Indian government has its message from protestors in Kashmir in red. Unlike the previous protests and shutdowns, this time Indian government and military committed a big crime, targeting a respected Kashmiri youth freedom fighter and people rose to protest against this murder for so long.
The curfew life is not the end of the struggle road and New Delhi needs to find s credible solution in favor of Kashmiris. Their demand for sovereignty is quite legitimate but, however, India should talk to both Pakistan and China to find a permanent solution to the problem that disturbs the regional peace and tranquility.
India, Pakistan and China jointly occupy the nation of Kashmiris. While Pakistan and China have not attacked Kashmiris or killed anyone, India has already killed more than 100,000 Kashmiris as freely as jungle bosses do.
However, UN and USA do not consider murder of Muslims in Kashmir or India is a matter worth mentioning, let alone debating.
Human Development Index 2021–22 and India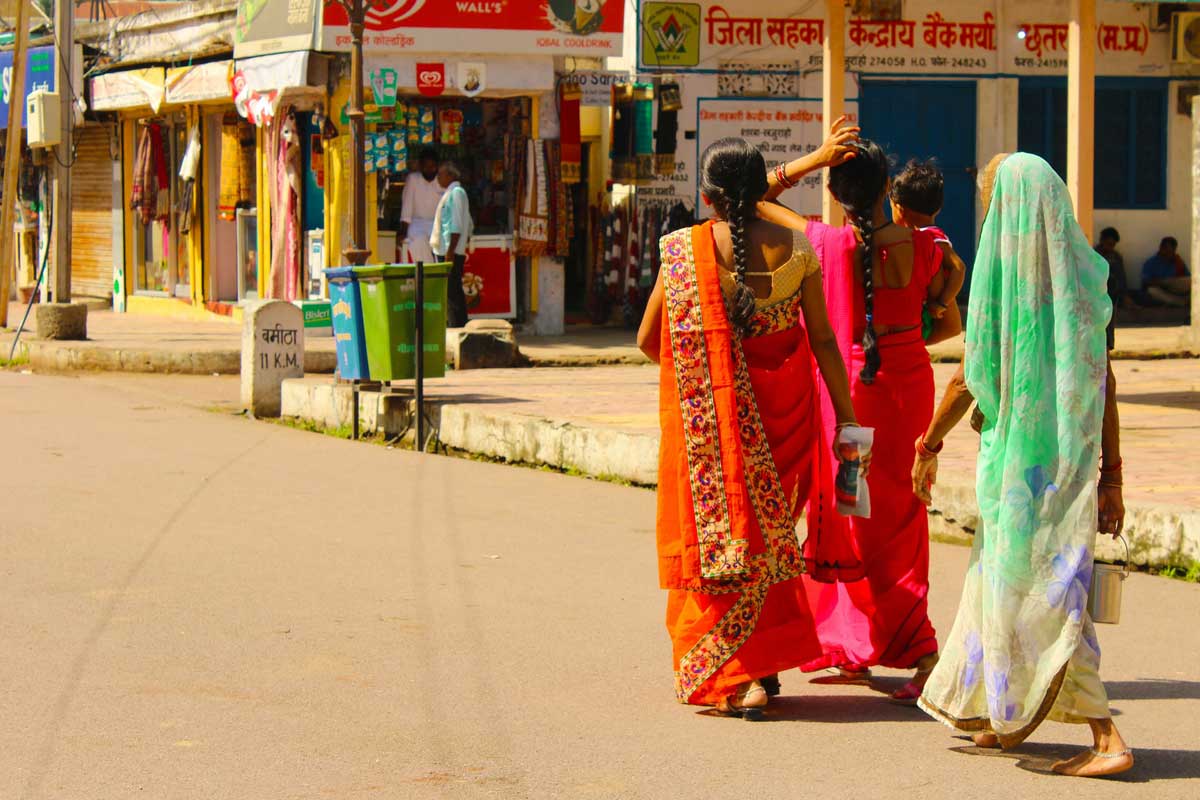 The goal of the HDI is to provide a comprehensive assessment of a country's development based on the individuals and their capabilities. The Human Development Index is a statistical measure that shows the average achievement in various key dimensions of human development. These include a long and healthy life, a good standard of living, and being knowledgeable. The three main dimensions of the HDI are health, education, and standard of living. The health dimension is based on the life expectancy at birth. The education dimension is calculated by the years of schooling that are expected for children entering school. The standard of living is computed by taking into account the country's gross national income. The scores for these three dimensions are then computed and aggregated using a geometric mean.
The HDI can be used to analyze the various policy choices that governments make regarding human development. It can also help stimulate debate about the priorities of the government. Although the HDI provides a comprehensive view of human development, it does not take into account various factors such as poverty, human security, and inequality. The other composite indices that are used to measure human development, such as the Human Development Report, provide a more accurate and broader perspective.
India in HDI
The rapid growth of income, education, and life expectancy has become a major challenge for India. According to the Human Development Report 2021, which was released by the UNDP, the country's global rankings have dropped from 130 in 2020 to 132 in 2021. This is not surprising since the growth in India's Human Development Index has slowed down faster than that of the global index. In 2020, India's HDI values had remained flat, but they fell significantly in 2021. This marked a sharp deterioration from the previous year, and it is expected to have a negative impact on the country's medium and South Asian HDI economies. At the global level, the fall in the index was slightly less than in 2020, but it was still more than in the previous year.
The decline in the Human Development Index values in 2021 was mainly due to India's poor performance. However, other regions such as East Asia and the Pacific and Europe and Central Asia showed some marginal growth. While the HDI values in Arab countries remained stable, they continued to fall in the Caribbean and Latin America.
India and its Trends in HDI
The positive trends in the HDI values were seen in different HDI groups in 2021. For instance, in very high and high human development countries, the trends improved significantly. However, in low human development countries, the trends remained negative. This was mainly due to the sharp decline in the growth of India's HDI values.
Although the pandemic has resulted in a sharp decline in India's HDI values, it is also worrying that the country's global rankings have dropped significantly. In 2015, the previous government of the National Democratic Alliance assumed office, and the country's ranking decreased by one rung. During this period, the HDI rankings for China, Bangladesh, Sri Lanka, and the United Arab Emirates improved significantly. However, India's efforts to improve its human development indicators are still lagging behind. This is because the country's rapid growth has been overshadowed by other countries' achievements.
A closer look at the data shows that the decline in India's Human Development Index (HDI) growth has been continuous for more than a decade. From an annual average rate of 1.2% during the 1990s to 1.6% during the 2000s, the country's growth rate has slowed down to 0.9% during the 2010–21 period. Its neighbors, such as Bangladesh, Bhutan, and China, did better than India. During the period under review, the HDI values of these countries improved by 1.64%, 1.25%, and 0.97%, respectively. The continuous decline in the growth of India's Human Development Index can be considered as a destabilising factor. For instance, the country's life expectancy rate, which had been at an annual rate of 0.7% during the 1990s to the 2000s, has remained flat since 2010.
In the first two years following the outbreak of the pandemic, life expectancy in India fell by 1.1% and 4.2%. However, in neighboring Bangladesh, life expectancy started to recover and reached 0.6% in the second year. The decline in the average annual growth of schooling in the country has also been continuous for more than a decade. From 0.4% in the 1990s to 0.5% in the 2000s, the annual average growth of schooling in India has dropped to 0.4%. Despite the improvement in the mean years of schooling that occurred during the past couple of decades, the growth in this area has stagnated during the pandemic. This is a negative factor for the country's long-term growth.
The decline in the growth rates of the per capita national income and gender development index has also been disappointing. After reaching an annual average of 3.6% during the 1990s, the growth rate of India's per capita gross national income has slowed down to 4.3% during the 2010–21 period, which is considered a contributing factor to the country's current economic slowdown. Even after the various factors that have affected the country's long-term growth, the per capita income of Bangladesh has maintained its steady increase during the past couple of years. It has also been able to prevent the decline in the gender development index from happening much faster than India. This demonstrates Bangladesh's ability to sustain its rapid growth. The continuous decline in the growth of India's Human Development Index and the steady decline in its ranking are two important indicators that should be taken into account. It is clear that the country's economic growth can no longer be sustainable if it does not include higher human development. This is because a critical level of development is required for sustainable growth.
It is no surprise that the decline in India's HDI values has been linked to the country's economic slowdown. As a result, it is important that the government of India takes immediate action to boost the country's Human Development Index and accelerate its growth. This can be done through the establishment of innovative policies and the establishment of a virtuous cycle of accelerated human development.
Conclusion
Although it is not always accurate to compare the rankings of different countries, it is still important to note that the data collected from the Human Development Index can provide more accurate and timely reports. In terms of its human development, India has declined on three different parameters. One of these is its life expectancy, which has decreased from 69.7 to 67.2 years. On the other hand, the country's education system has shown an increase in the number of years that students are expected to complete schooling, though the school closure caused a drop in the expected years of education. Finally, the standard of living has also gone down. Around 90 percent of the countries in the world are currently experiencing this decline due to various crises, such as the pandemic, climate change, and the war. Although the pandemic is a contributing factor to the decline in human development, it is also important to note that other factors such as the displacement of people due to climate change are affecting the country. The ongoing conflict between Ukraine and Russia has shown that the world is constantly experiencing a crisis that is unprecedented. Because of this, it is not possible for humans to effectively resolve these crises. Despite the progress that has been made in narrowing the gender gap, there are still many challenges that remain. One of these is the low number of women participating in the labor force. Although the government has already launched various initiatives aimed at addressing these issues, more needs to be done to improve the situation of women. One of the most important factors that can be considered when it comes to addressing the issue of inequality is the strengthening of the social protection schemes. This will allow the country to include more vulnerable groups in its development. Besides this, other factors such as the availability of healthy populations are also important to improve the country's human development.
Indian External Affairs Minister (EAM) Jaishankar has been a particularly busy man for the last few days. Even by his own standards, the last few days have proved intense and hectic.
A passing glance at his schedule gives us a snapshot of the scope of India's contemporary foreign policy. Tackling a whole host of multilateral, regional, trilateral and bilateral relationships in a span of ten days, he has signaled India's dexterity to engage in diverse relationships and juggle multiple balls at the same time.
The key takeaways of the last few days have been reformed multilateralism at the UN, South-South cooperation within the CELAC, CARICOM and IBSA forum, rebalancing in the Indo-Pacific through the QUAD and regional trilaterals like the India-UAE-France, India-France-Australia and India-Australia-Indonesia.
Seen by some as an ineffective talk shop, the minister also didn't shy away from the BRICS foreign ministers meeting on the sidelines of the UNGA and demonstrated New Delhi's willingness to balance ostensible contradictions with a straight face.
The minister's visit also allowed India to undertake an honest stocktaking of its bilateral partnership with Washington. The press conference with Secretary of State Blinken captures the plethora of domains which have witnessed vigorous cooperation between the two partners over the last few years.
However, like mature states covering for their own interests, some disagreements naturally surfaced between them. Primary disagreements were over New Delhi's oil imports from Russia and Washington's sustenance of F-16s to Pakistan for supposed counter-terrorism purposes.
At a community gathering, Minister Jaishankar, referring to restarting of the maintenance of the F-16S for counter-terrorism, nippily quipped that the US was "not fooling anybody by saying these things" and questioned the merits of the US-Pakistan relationship. When the Americans were asked about it, the US tried to give New Delhi a taste of its own medicine.
Experts believe that if New Delhi wishes to demonstrate "strategic autonomy" by engaging multiple sides and maintain friends in all camps by engaging the QUAD, SCO and Russia at the same time, others might also seek to do the same. After all, whether one likes it or not, interests trump values.
It is no coincidence that Pakistan's Foreign Minister Bilawal Bhutto also happens to be visiting Washington at the same time as his Indian counterpart. An urgent change in US-Pakistan ties is an important prospect from Rawalpindi's point of view. In the short-medium term, Pakistan urgently seeks western assistance for rehabilitation due to the havoc caused by the recent floods. It also seeks to mend its crumbling economy when usual creditors like Beijing seem wary of lending.
Washington, perhaps, still feels that Pakistan's geography doesn't allow it to remain immaterial in its own strategic calculus. Pakistan shares close geographical proximity, and land borders in some cases, with Afghanistan, Iran, China and India. Washington also thinks that Pakistan could provide help in stabilizing Afghanistan while it remains preoccupied with Ukraine and China.
Coming back to US-India relations, some analysts believe that the bilateral relationship, despite all its progress over the last two decades, was witnessing signs of stress. They see minister Jaishankar's visit as primarily aimed for damage control and corrective dialogue.
All said and done, the India-US partnership still remains one of the most consequential relationships of the century and holds immense potential in ensuring stability at a time when the global order is under a tumultuous flux.
BJP's 'Akhand Bharat' Dream is Not Only Problematic, Fascist Also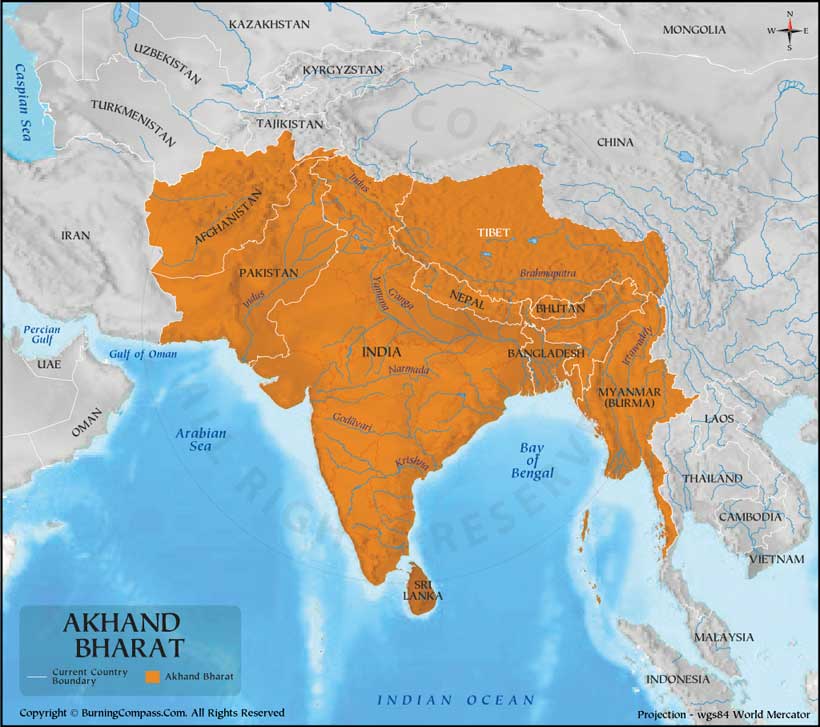 On 7th September, Assam Chief Minister (CM) Himanta Biswa Sarma made a very controversial remark about 'integrating Bangladesh and Pakistan'. Minister Sarma tried to counter Congress's 'Bharat Jodo Yatra' and remarked that "India is united. From Kashmir to Kanyakumari, Silchar to Saurashtra, we are one. Congress partitioned the country into India and Pakistan. Then Bangladesh was created. If Rahul Gandhi feels apologetic that my maternal grandfather [Jawaharlal Nehru] made mistakes, if he regrets it, then no point of 'Bharat Jodo' in Indian territory. Try to integrate Pakistan, Bangladesh and strive to create Akhand Bharat." Minister Sarma made the remark at a time when the Prime Minister of Bangladesh, Sheikh Hasina was officially visiting India, hence present in India.
Though it may seem that the BJP leader was trying to 'tease' Congress, his rhetoric is a part of BJP's controversial 'Akhand Bharat' concept- a concept of unified India that covers whole South Asia and Myanmar. The concept is therefore quite alarming for the sovereignty of all other South Asian states.
'Akhand Bharat' is a concept associated with Hindutva ideology. The concept cherishes for a mythological India that dates back to state formation and pre-partition era. The concept takes 'Hindu hegemony' as granted. Hence, the majoritarian concept is supported by right-wing Hindu nationalist parties of India such as Rashtriya Swayamsevak Sangh (RSS), Vishva Hindu Parishad (VHP), Shiv Sena, and Bharatiya Janata Party (BJP) etc.
In the contemporary world, Akhand Bharat has a contrasting relation with Westphalian order. It tries to override the concept of sovereignty based on 'so-called' historical claim and calls for physical expansion- a fascist method to increase land boundary. Even though the concept was considered as radical in its early days, the prolonging BJP rule in the last decade has made it mainstream through like-minded media coverages.
While many cherishes this united India dream, the concept also faces 'backlash' from the progressive quarter of India. Unfortunately, the growing majoritarian trend since last decade in 'World Largest Democracy' is resulting in wider acceptance of the concept within India as BJP's public support is skyrocketing. The promoters Hindutva is using India's democratic culture and manipulating large population to achieve their dream. Assam CM's latest remark mentioned in the beginning of the article while the PM of the particular country is present, also shows how mainstream the concept has become.
However, this fascist concept and Hindutva ideology is bringing adverse impact for India both internally and externally. Internally, it is contributing in the growth of right-wing politics in India. The radical interpretation of Hindu Supremacy is also dividing the population of India creating a 'Us vs. Them' narrative which is detrimental to India's federation also. For instance, when the BJP government scrapped Article 370 for Kashmir revoking its semi-autonomy, the right-wing parties were quick to acknowledge it as a part of building Akhand Bharat. In the same way, when former Pakistani Cricketer Danish Keneria expressed his desire to visit 'controversial' Ram Mandir(Temple) in Ayoddhya, the temple trust's chief also used the concept saying that "Pakistan is a part of Akhand Bharat and Hindus living there are our brothers. If he (Kaneria) wants to visit Ram Mandir and offer prayers, then he is most welcome,"
As India is a federal union among total 36 states and union entities, the Hindu Majoritarianism poses threat to its social harmony and makes other religions minority. It also poses a threat to its social harmony by fueling hate-speech, Islamophobia and misinformation- popularly known as 'WhatsApp University'.
Externally, the concept creates fear over sovereignty for other states included in Akhand Bharat map. There is always a fear in the back of the mind that India may have a 'Kautilya-like' long-term strategy to annex them. The annexation of Sikkim serves as an example for their fear, even if the case may be different. It is also a disrespect to the idea of sovereignty and self-determination for most small South Asian states. The Spillover effect of growing hate-speech and Islamophobia in India also adversely affects South Asia's communal harmonies.
Again, this fascist concept also keeps a fear of physical expansion alive in South Asia- an overall peaceful region. The concept is also problematic for small South Asian states who tries to maintain a warm and balancing relation with India for their strategic calculation.
However, the fear is also not irrational considering BJP leaders' so-called master-plan. Last year, Tripura's CM and BJP leader Biplab Deb created a controversy by revealing that BJP has plan to expand its footprint by establishing government in Nepal and Sri-Lanka. Such 'expansionist dream' is also contradicting to existing wisdom of international relations and law.
In conclusion, India is not only the world's largest democracy but also has the role of 'Powerhouse' in South Asia. It's ruling party's such expansionist dream is a symptom of fascism and is only comparable to Mussolini's great Roman empire and Hitler's Lebensraum. Hence, the growing fear of physical expansion is rational. Therefore, Akhand Bharat and related speeches by top right-wing leaders are not only problematic, fascist also.