Yemen: A tale of Saudi Folly and Global Silence
A deafening Silence. That is how the world is reacting to the screams and miseries of the Yemeni children. I will not ask why or how are they able to be so silent? By now we are used to the indifference of the world when it comes to the atrocities committed by Imperialism in the name of democracy in the Middle East.
It is no secret that the world has lost all its senses, especially to feel the sufferings of the tormented. We have seen that many times over the course of history and we will continue to see that, however this does not eliminate the fact that a genocide in Yemen is taking place at the hands of a coalition of Arab states led by Saudi Arabia, supported by the United States, the United Kingdom and Israel. Bombardment started on March 25, 2015 and is still going on to this moment. The world stands in silent, turning a blind eye while fighting over who wears what on the beach.
Saudi Arabia appears to have completely lost what was left of its sanity. The Saudis have succeeded in killing more than 10,000 Yemeni lives including newborns, women, elderly and disabled people in the past 17 months. Yes 10,000…let that number sink in for a second. Even people who were hospitalized due to the Saudi bombing rampage were bombarded again inside the hospital itself. During that time, the international community has not even lifted a finger over the situation. Simply because of the petrodollar. Al Saud have enough money to control the mass media and bribe all its political patrons including the United Nations.
Back in June 2016, United Nations Secretary-General Ban Ki-moon made a startling admission, saying he bowed to pressure over a report that blasted Saudi Arabia for child casualties that have resulted from its bombing campaign in Yemen. Ban called it one of the most difficult choices he had to face. Really Mr. Moon? That must have been an agonizing choice for you right? Just as agonizing as losing one's child under the rubble of a shelled house in what was once a peaceful neighborhood in Saada or Sanaa isn't it? Just like the agonizing feeling of one's family members screaming for hours under the debris of a hospital with nothing left to do except wait for them to die isn't it? Exactly so agonizing like the dead bodies of 30 young Yemeni school children stuck under the remains of their school in Saada. How would you feel Mr. Moon if it were your child who went to school in the morning and was brought back to you in a plastic back without limbs for you to burry? Not so calm and composed I suppose.
Despite the fact that the UN report held Saudi Arabia and its coalition partners responsible for the attacks on schools and hospitals and 60 percent of the nearly 5,000 children killed and injured, the report stands, but Ban said he made a "decision to temporarily remove the Saudi-led coalition countries from the report's annex," which lists those who violate children's rights. He made clear that U.N. funding was at stake. "I also had to consider the very real prospect that millions of other children would suffer grievously if, as was suggested to me, countries would de-fund many U.N. programs," he said. In other words, let the Yemeni children die in peace please, can we?
it is no secret that this war waged on Yemen hardly appears balanced when a homegrown resistance movement finds itself facing a mighty military coalition of both Western and Arabian powers, an alliance of some of the richest and militarily most powerful countries in the world against a native Yemeni representative resistance. Strong on its imperial force and petrodollars, the Monarchy of Al Saud flexed every muscle it has – or in this case every muscle it could buy- and invested all its military capabilities in an attempt to humiliate and subjugate the people of Yemen assuming that the country would offer but a timid resistance to its over-powering hegemonic will. And yet Yemen has held true and stood tall. Indeed you might break the bones of a fearless and righteous Yemeni but you'll never see him fall.
The campaign of haphazard murder has now been going on for almost a year and a half, while the United States and the United Kingdom bear a large part of the responsibility. The US government is vigorously selling the Saudis billions of dollars of weaponry. They're re-supplying planes engaged in the bombing rampages and providing "intelligence" for the targets that Saudi Arabia is hitting inside a war control room in Riyadh. The imperial powers on this planet are not only funding a humanitarian catastrophe in Yemen, they are doing so with a straight face and with no shame whatsoever.
The facts are simple. Saudi Arabia is guilty of war crimes and the U.S. and the UK are an outright complicit as they provide airstrike targeting information as part of their support for the Saudi-led coalition.
Mark Toner, deputy U.S. State Department spokesman, would not comment earlier in July 2016 on either allegations of potential U.S. complicity in war crimes in Yemen or whether Saudi Arabia should be removed as a member of the Human Rights Council.
"I'm not going to speak to … that, other than that we work very closely, as I said, to urge all sides to show respect for civilians and to certainly not target civilians, but indeed, to protect civilians and comply with international humanitarian law," he said. Toner however failed to indicate exactly how the US is protecting civilians and complying with international humanitarian law. Maybe they do so by killing Yemenis themselves using unmanned drones by turning weddings into a funerals like that in a village outside the central Yemeni city of Rad'a. Maybe the US missile is a bit lighter than the Saudi one when it falls on the heads of innocent civilians.
The United Kingdom is no better than the US. The fact that British military experts have joined Saudi Arabia's military campaign against the people of Yemen raises a lot of demands for a total review of British policy towards the fundamentalist Monarchy. Now it appears that Britain, already a massive source of weapons and bombs to the Saudi Kingdom, is helping in more direct ways.
The Ministry of Defence (MoD) in London has already confirmed that there are a number of "experts" who are working with the Saudi military on locations for attack, while insisting that they are not part of any direct operations but are training the Saudis to comply with the international rules of war. This hypocritical announcement came at a time when the Saudis and other members of the Gulf coalition are committing multiple violations of the laws of war in Yemen and it is all documented by the Human rights Watch. Oh good, they managed to write it down on papers without getting bribed or intimidated by the Saudis.
The Human Rights Watch claims that it has put out numerous reports about what the Saudis are up to in Yemen. And that the British are working hand in glove with the Saudis, helping them, enhancing their capacity to prosecute this war that has led to the death of thousands of civilians.
Let us also not forget that the presence of the Saudi proxy warriors -known historically as al-Qaeda and most recently as ISIS- has spread in Yemen while much of the country's northern parts has been plunged into calamity and chaos due to the unending Saudi bombing campaign. In other words, the war has turned Yemen into a humanitarian catastrophe, worsened regional security and boosted the presence and power of terror groups, while the horrid Saudi invader has been dragged deeper into the conflict on the frontline by the might and steadfastness of the Yemeni Resistance forces (Ansarullah).
Saudi Arabia is yet to end this war despite the severe military setbacks on the ground and the world yet lingers to allow the continuation of a devastating war with full impunity and ever more weaponry. Remain indifferent as is and just keep going. Nothing to see here. Only thousands more Yemeni children will die until the west dries Yemen of its natural resources. However, Yemenis will remain defiant and adamant to break free from this global enslavement. Proving yet again that Yemenis are fearless people and the toughest fighters on Earth.
Why no global outcry over Saudi war in Yemen?
On Sunday, the US intelligence agency confirmed that the brazen killing of Saudi journalist Jamal Khashoggi was ordered by the Saudi crown prince Mohammad Bin Salman, which must have finally given some comfort to his restless soul. The truth was not hidden from the world, as it was already established by the Turkish authorities, but now we have the word straight from the horse's mouth.
Khashoggi's killing led to unprecedented global outcry against the Saudi regime because of its wanton disregard for human rights. It dominated newspaper headlines and primetime TV discussions for weeks as the mystery surrounding the dissident journalist's killing grew.
To their credit, Turkish government authorities left no stone unturned to unravel the murder mystery and expose the masterminds of the most diabolical crime. The whole world waited with bated breath because suddenly something had stirred people's conscience.
Today everyone knows about Khashoggi and everyone knows his murderer. Everyone is talking about it and tweeting about it. But, hold on, this is not the only crime his murderer has committed. His murderer has the blood of thousands of Yemenis on his hands and he is directly responsible for the starvation of millions of people in Yemen. Does the world know about it? Does it care?
A much-anticipated UN Security Council resolution calling for a cessation of Saudi-led war in Yemen and for the humanitarian aid to be allowed to reach millions of starving people was reportedly "stalled" this week after British Foreign Secretary Jeremy Hunt, who had moved the resolution, met the Saudi crown prince in Riyadh.
The prince, reports say, 'threw a fit' about the resolution. He didn't like the idea of food reaching the starving Yemenis because he wishes to see them killed either through bombardment or with starvation. Hunt surrendered tamely because UK happens to have arms trade with the Saudi regime.
Saudi-led war in Yemen has stretched into its third year now, killing more than 10,000 people and leaving the country completely devastated. The humanitarian situation in the war-ravaged country has been termed 'catastrophic' by aid groups. And the world has chosen to be a mute spectator.
The blockade of the country means around 18 million people don't have access to food, which could eventually and inevitably lead to the worst famine in more than a century. Already 2.2 million children are acutely malnourished and fighting for their lives. The World Food Program warned this week that the country was "marching to the brink of starvation".
Why has the world chosen to be silent even as warnings of famine have assumed alarming proportions? Akshaya Kumar, a senior Human Rights Watch official, says it's because of the "sway" Saudi has over some members of the UN Security Council, which has prevented the UN in naming and shaming the regime in Riyadh. "At this point, vague appeals to 'all parties' to improve their behavior won't work; Any resolution that doesn't specifically mention the Saudi-led coalition by name and call it out for its role in the carnage in Yemen won't have the required effect in Riyadh," he said in an interview.
The patronage of world powers like the United States and United Kingdom has ensured that Saudi rulers escape culpability for their war crimes in Yemen. Their support for the Saudi-led coalition in the form of arms, training, intelligence, and refueling of bombers has compounded the misery of Yemenis. The two countries continue to sell billions of dollars in arms to the Saudi regime, thus are directly complicit in the war crimes being committed against the Yemenis.
While bombings by the Saudi-led coalition have devastated the country, US drones have also been flying in the air. A new report by AP documenting civilian deaths in Yemen reveals that the US drones have contributed to several civilian killings this year, while pretending to be fighting Al-Qaeda's local franchise. What Americans did in Iraq and Afghanistan previously, they are now doing that in Yemen, directly and indirectly.
Today millions of children in Yemen weigh less than an average American's weekend lunch. One of them dies every ten minutes due to acute malnutrition and various diseases. United Nations has already estimated that 10 million people may starve to death, majority of them children, due to the Saudi-led war and blockade. Yet, there is no anger, no outrage, no vigils, no street demonstrations, no primetime TV debates, no editorials. It is a forgotten war.
Human rights have been reduced to a joke by the Saudi-led coalition and its international sponsors involved in Yemen war. The only way to end this war is to stop arms sale to the Saudi regime and to hold all parties – which includes Saudi Arabia, UAE, Kuwait, Bahrain, Qatar, Sudan, Egypt, Jordon, Morocco, US and UK – accountable for their war crimes.
First published in our partner MNA
Gulf countries pivot towards Israel: Can Arab recognition be foresighted?
The visit of Israeli Prime Minister Benjamin Netanyahu to Oman surprised the entire world and delivered a message of smoothening of relations between Oman and Israel. This event has marked the first ever visit by any Israeli leader to Oman in 22 years. The Israeli Prime Minister and the Sultan discussed 'Ways to enhance the peace process in the Middle East' as well as other issues of 'joint interest'. For Netanyahu, a milestone was achieved in the form of Oman recognition of Israel as normalizing relations with fellow regional states is one of the important clause of Netanyahu's policy. Moreover, an Israeli Minister Yisrael Katz attended an International Transport Conference in Oman and proposed a railway link to connect Persian Gulf with the Mediterranean Sea. However, the railway link isn't confirmed yet, it was just proposed in the conference. In parallel, Israeli Culture and Sports Minister Miri Regev attended Abu Dhabi Grand Slam 2018 in United Arab Emirates, where for the first time in history the national anthem of Israel was played. Similar approach was adopted by Israel towards Qatar. These changing dynamics can foresight the future of Gulf politics, that is, gulf countries can align with Israel to counter the influence of Iran in the region and for this purpose gulf countries may recognize Israel.
An important thing to notice is that the countries smoothening their relations with Israel are members of GCC, where Saudi Arabia is at the top of hierarchy- the major decision maker in Middle East- which means without Saudi Arabia's willingness and its interests, GCC countries cannot take such a big decision. Now here a question arises, why would Saudi Arabia allow this approach?
The main reasons are; firstly, the crown prince Mohammad Bin Salman have cordial relations with Israel's top leadership and he(MBS) is seen as a potential ally by Israel in Middle East, the major reason why Israel demanded US to side by Saudi Arabia in Khashoggi murder case. Second, it would be very difficult for Saudi Arabia- the self-proclaimed leader of the Sunni Muslim world- to recognize Israel while other states in the region still oppose the existence of a Jewish state in Middle East. Recognition of Israel by other GCC countries would make it far easier for Saudi Arabia to recognize Israel or at least to melt ice. Lastly, the Khashoggi murder case have already deteriorated the international image of Saudi Arabia, at this point of time the country cannot afford to bear another blame as Muslim countries think it would be injustice to Palestinians if Israel is recognized.
So will Saudi Arabia follow the suit and recognize Israel? The question still remains ambiguous, but since Saudi Arabia haven't opposed these action of GCC countries and a continuous diplomatic support from Israel to Saudi Arabia have been visible although both countries do not have diplomatic relations, it can be predicted that something is going on, between both of these states which they have chosen  not to disclose now. Coming to Qatar, since Qatar is also involved in this process of developing diplomatic relations with Israel, it can prove to be a catalyst in the troubled Saudi/Qatar relations as helping Saudi Arabia to develop relations with Israel while other Arab states are doing the same can lift up the entire blame from Saudi Arabia. Maybe the sanctions over Qatar will be lifted or just become less intensified. Qatar sees it as an opportunity to regain the similar status in the region as well as to reconstruct relations with the other Arab countries.
Turkish Newspaper Implicates UAE's Crown Prince in Covering Up Murder of Khashoggi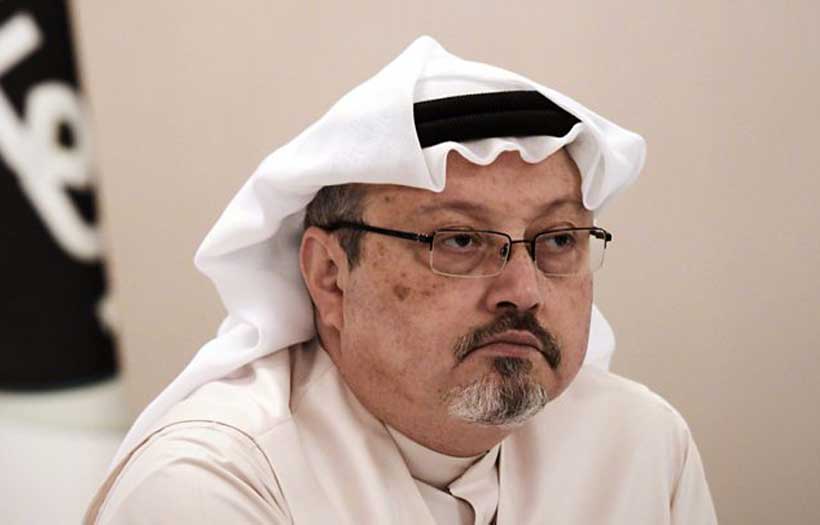 Saudi Crown Prince Mohammed bin Salman al-Saud, and UAE Crown Prince Mohammed bin Zayed al-Nahyan, are close friends and allies, who jointly lead the war against Houthi-led Yemen. On Sunday afternoon, November 18th, a leading Turkish newspaper, Yeni Şafak, reported the two leaders to have also collaborated in hiding the murder on October 2nd in Istanbul of Washington Post columnist Jamal Khashoggi.
Yeni Şafak headlined "Dahlan 'cover-up team' from Lebanon helps hide traces of Khashoggi murder" and reported that on October 2nd, "A second team that arrived in Istanbul to help cover-up the murder of Saudi journalist Jamal Khashoggi was dispatched by Muhammed Dahlan, UAE Crown Prince Muhammed bin Zayed's chief hitman in the region, … according to an informed source who spoke to Yeni Şafak daily on the condition of anonymity."
On November 16th, the Washington Post had headlined "CIA concludes Saudi crown prince ordered Jamal Khashoggi's assassination".
Bin Salman and bin Zayed are U.S. President Donald Trump's closest foreign allies other than, possibly, Israel's Prime Minister Benjamin Netanyahu. All four men are determined that there be regime-change in Shiite Iran. This anti-Shia position bonds them also against the Houthis, who are Shiites, in Yemen, where bin Salman and bin Zayed lead the war, and the United States provides the training, logistics, and weapons. Both bin Salman and bin Zayed are fundamentalist Sunnis who are against Shia Muslims. Israel and the United States are allied with these two princes. Saudi Arabia's royal family have been committed against Shia Muslims ever since 1744 when the Saud family made a pact with the fundamentalist Sunni preacher Mohammed ibn Wahhab, who hated Shia Muslims. Thus, Saudi Arabia is actually Saudi-Wahhabi Arabia, with Sauds running the aristocracy, and Wahhabists running the clergy.
In 2017, in Saudi Arabia's capital of Riyadh, Trump sold, to the Saudi Crown Prince, initially, $350 billion of U.S.-made weapons over a ten-year period (the largest weapons-sale in world history), and $110 billion in just the first year. That deal was soon increased to $404 billion. For Trump publicly to acknowledge that Salman had "ordered Jamal Khashoggi's assassination" would jeopardize this entire deal, and, perhaps, jeopardize the consequent boom in America's economy. It also would jeopardize the U.S. alliance's war against Shiites in Yemen.