Europa Quo Vadis? Emmanuel Levinas' Challenge to the European Ethical Tradition
"I am quite sure that the European crisis has its roots in a mistaken rationalism" –Edmund Husserl, University of Prague, 1935
Modern Western Civilization presents us with a Janus-like face: On one side Renaissance Humanism which begins in Italy in the 14th century with Petrarch, on the other side Enlightenment Rationalism which begins in France in the 17th century with Descartes.
After Descartes, there is a dangerous tendency to separate the two cultural phenomena and consider Humanism either anachronistic, or superseded by 18th century rationalism. The inevitable result has been sheer confusion in the area of cultural identity. Consequently, at the crossroad of a critical juncture of the new polity called European Union, there is a pervasive talk of a "democratic deficit," that very democracy that ought to be integral part of Western Civilization and underpins the very concept of freedom and autonomy.
We are in urgent need of cultural guides to show us how to better harmonize the two above mentioned phenomena. I'd like to suggest that one such guide is Emmanuel Lévinas' humanistic philosophy. In as much as it challenges the Western rationalistic philosophical tradition, it is extremely important for the emergence of a renewed European cultural identity. It explores in depth the threats to the authentic cultural identity of Europe, how modalities of thinking powerfully affect other ideas and shape a whole cultural milieu, sometimes with less than desirable consequences.
A few background biographical details may be useful to better understand Lévinas. He was born in Lithuania in 1906. In 1923 he moves to Strasbourg to study under Husserl and writes a doctoral dissertation on his philosophy. There, he also comes in contact with Heidegger's philosophy. The dissertation on Husserl's phenomenology gets published in France in 1930 and reveals that, even at this early stage, Lévinas is beginning to take his distance from Heidegger. He enlisted in the French army, was captured in 1940 and spent the remaining five years of the war in two prisoner-of-war camps.
Upon being liberated he returns to Lithuania and finds-out that his parents and siblings had been killed by the Nazis, while his wife, whom he had left behind in Paris, had survived thanks to the help of French nuns who hid her. He became a teacher and administrator in an institute for Jewish education in Paris (l'alliance Uneversel Juif); there he begins to study traditional Jewish texts under the directorship of the Talmudic sage Mordechai Shoshani to whom Elie Wiesel (who also studied with him) devotes a chapter in Legends of Our Time.
In 1961 Lévinas defends the first of his two major philosophical works (Totality and Infinity) before the philosophy faculty of the Sorbonne becoming a professor of philosophy. His second major work bears the title of Otherwise than Being or Beyond Essence.
Those are the basic events that dramatically change Lèvinas' thinking. Prior to World War II he had merely criticized elements of 20th century Western thought; afterward he begins to attack the whole European philosophical tradition, especially its culmination in Heidegger's thought, for what he considers its indifference to the ethical and its "totalizing of the other." He begins to indict western philosophers in general for an uncritical reliance on vast concepts, such as Hegel's "Spirit," or Heidegger's "Being," which assimilate countless individuals to rational processes, thus negating their individuality.
To be sure Kierkegaard had also criticized this totalizing Hegelian tendency, countering it with his existentialist philosophy. Those who understood his critique only too well, promptly proceeded to relegate his thought to the theological within a false dichotomy (shown absurd by Thomas Aquinas way back in the 13th century) of philosophy/theology, thus insuring that Kierkegaard would never be as influential as a Hegel or a Heidegger.
In any case, Lévinas too argues that this taken-for-granted totalizing mode of doing philosophy in the West denies the face-to-face reality in which we—philosophers included—interact with persons different from ourselves. He argues that this "face-to-face" realm is not the same thing as the realm of abstract concepts. It possesses its own texture which is primarily an ethical one.
In this domain we are challenged by "the otherness of the other person." It is this "otherness," which is an integral characteristic of human life, but the Western philosophical tradition has overlooked and even negated it, thus contributing to the dehumanization of Man.
Lévinas' life and thinking were deeply affected by the trauma of the Nazi genocide, better known as the Holocaust. But what is unique about his thinking is that it refuses to make those monstrous events its core subject matter. As Derrida, who admired Lévinas' philosophy, aptly expressed it once: the danger of naming our monstrosities is that they become our pets.
Lévinas' writings provide no extensive discussion of the Holocaust itself; therefore, the assumption, on the part of those who were thinking and writing on it, has often been that Lévinas could not be considered a valid source of philosophical insight into this dark period of human history. But that is an erroneous assumption, just as invalid as the assumption that he unreservedly admired Heidegger's philosophy because he happened to have translated it into French. As a matter of fact, Lévinas' thinking is a reaction to the Holocaust by the mere fact that it asks the crucial question: What does it mean to be a human being? This crucial question goes back to Socrates and, more recently, the Italian Humanism of the 14th century.
Were one to encapsulate the whole of Lévinas' philosophy in two succinct words, they would be "being human." This philosophy insists throughout that an extreme, unbalanced rationality devoid of imagination, feelings, senses and spirit, unconcerned with the ethical dimensions of life, is the equivalent to a refusal to be human, it is to allow oneself to become a monster.
Lévinas' attack on what he considers negative elements of the Western philosophical tradition begins with analyses of the philosophical roots from which sprout the extreme individualism of modern times, and the reaction to it, extreme nationalism. Not unlike Vico in the 18th century, he individuates such a root in the Cartesian ego, an autonomous center of consciousness which in modern philosophy has assumed the function of a paradigm for thinking about human beings. Lévinas does not deny this world-constituting ego, rather he leads it to the discovery of an ethical core within itself; which is to say, he uncovers another root growing within the first root which he calls the "self."
The conundrum seems to be this: if it is true that the ego does the conceptual work of philosophy by announcing what there really is in the world, how can this ego then acknowledge the essentially ethical "self" which lives within itself? Somehow a bridge has to be found between this limitless power and freedom of the independent intellect, and the particular concrete ethical obligations to another person. For, this ethical self, unlike the ego, finds itself caught up with the welfare of the other prior to a conscious, rational decision, in a recognition, even when unwilled, of his/her humanity.
Indeed this ethical capacity seems to come from another place than our rational powers of analysis evidenced within the Cartesian ego. Even if we grant that such an ego is adequate in identifying the truths of philosophy, it somehow remains unable to acknowledge a domain where there is no choosing of the connection with the other; in fact the other way around may apply: the other chooses me, one is "already responsible" for the other prior to any rational analysis.
And here is the philosophical paradox: Lévinas' task becomes that of using rationality to take the Cartesian ego beyond rationality, somewhat similar to what Vico does with his concepts of fantasia, which for him precedes rational reason, and the concept of Providence who guides human events and is both immanent within history but also transcendent. Which is to say, the rational ego has to be brought to recognize a sort of enigmatic "ethical" truth which Lévinas calls "pre-originary," i.e., arising outside, prior to the usual time-line of the reflective ego.
In attempting this operation, Lévinas will proffer statements such as: ethics is "older" than philosophy, it is "first philosophy," on the scene before the arrival of rational philosophical thinking; something ingrained in being human. Within purely classical categories, that may be equivalent to the Socratic preoccupation with dying well by living a life of integrity and devotion to truth, as exemplified in Plato's Apology. It is this ancient voice of goodness, which even Vico's pre-historical "bestioni" possess to a degree, a voice often overlooked by rationalist philosophers, but powerfully present in Talmudic texts, that Lévinas finds strangely silent in the modern Western philosophical tradition.
In more mytho-poetic language, it's as if Lévinas were to come face-to-face with the goddess Europa, as she is being abducted by a black bull (Zeus in disguise), to journey to another shore, there to assume a different persona, and he were to ask her, "Europa quo vadis?" after warning her to remember her original identity: "nosce te ipsum"; which is to say, go back to the future and know yourself holistically: know your Greco-Roman origins, yes, but also the Biblical tradition (the foundation for Christianity), the Christian heritage, the Humanistic synthesis of Graeco-Roman and Christian civilizations, Celtic and Germanic cultures with their ideas of freedom, the universalizing Enlightenment rooted in the democratic-scientific tradition born in ancient Greece, the Islamic influences. Voltaire and Descartes yes, but Vico and Novalis too are part of your identity. Your unity will be a chimera if it is only a unity of a bank and neglects its spiritual elements.
Undoubtedly this hermeneutics, or re-interpretation of the Cartesian ego, placing at its core an non-refusable responsibility for the other without granting the ego any time to think it over and choose, so to speak, challenges some of the most basic assumptions of modern, and in some way classical, rationalistic philosophy. Not since the times of Mamonides in the 13th century had a Jew dared such a fundamental challenge from within the Western philosophical tradition. It is the challenge of Paul to Greek culture revisited. For indeed Lévinas is saying nothing short of this: the knowing ego does not exhaust what it means to be human. Some have called his philosophy one of "ethical subjectivity," as a way of dismissing it as the raving of a lunatic, just as the ancient Greeks dismissed Paul as a lunatic in the agora. For the serious reader, however, it is rather a re-definition of subjectivity face to face with a totalizing kind of Cartesian reflection.
While Lévinas does not write directly about the Holocaust, other thinkers, who influenced Lévinas, were nevertheless reflecting upon the philosophical implications of this dark event of human history. One such was Berel Lang who wrote an essay titled "Genocide and Kant's Enlightenment," which appeared in his Act and Idea in the Nazi Genocide. In this essay Lang uncovers certain lines of affinity between some classical aspects of Enlightenment thought, and the Nazi genocide. His conclusion is that there are two important aspects of the Enlightenment that formed the intellectual heritage, which needed to be in place, for genocide to occur in the heart of civilized Europe: namely, the universalization of rational ideals, and the redefinition of the individual human being in terms of its possessing or not such a universal rationality. The genocide, Lang argues, was aimed at those groups who stuck to their own ancient pre-Enlightenment sources of particularistic identity, considered "irrational." Hence the racial laws and racial exclusion were expression of ingrained Enlightenment prejudices. Which is to say, the Enlightenment sheds light on everything except itself; it remains to be enlightened.
This powerful essay leads many cultural anthropologists comparing civilizations, to begin to wonder: which, in the final analysis, is more obscurantist: religious fanaticism and fundamentalism, or a so called "enlightened" era throwing out the window the baby with the bathwater and arrogantly refusing any suggestion that it ought to enlighten itself, and not narcissistically, with its own light?
This conjures up that terrible face to face encounter of Dante with the poet Bertrand Del Bornio in a cave in hell doing "light to himself" with its own decapitated head. There we have reason eating its own tail; internal logical thinking assuming the grammar of lunacy. I dare say that such a question has not been satisfactorily answered yet. In that question lies the challenge of Lévinas' philosophy: in its displacing of the centrality of Cartesian thinking within modernity, in order to re-center it around ethics: the face-to-face encounter with another human being which is always hopeful unless it occurs in hell.
Everything we have discussed above begs this particular question: is Lévinas' challenge to the Western philosophical tradition philosophically tenable? To answer the question adequately we need to be first aware that Emmanuel Lévinas, as well as Hermann Cohen and Franz Rosenweig (the author of Echoes from the Holocaust: Philosophical Reflections in a Dark Time, 1988), are representative of learned European Jews with great familiarity with the texts of both the Jewish and the Western philosophical tradition. They challenge the latter exactly because they are so knowledgeable in both. Lévinas is fully capable of confronting the intellectual traps of those rationalists who would relegate him to the sphere of theology; the same operation some have attempted on Aquinas and Kierkegaard.
To the contrary, he insisted on writing in both spheres and claimed that Jewish religious textuality contains hitherto unexplored philosophical insights. For this is a tradition which puts great emphasis on interpersonal, social and familial relationships; phenomena not contemplated in traditional Western philosophy.
Which is to say, the challenge is to Western philosophy's totalizing pretense, beginning with Plato, that somewhow it can gather everything up in one synchronic whole. It is that challenge that irritates our modern control freaks, bureaucrats, thought policemen, rationalists and mysologists galore. It goes a long way in explaining their attempt to relegate Lévinas' philosophy to the sphere of the merely religious and mystical.
Finally, let us briefly examine how Lévinas develops this fundamental challenge to Western rationalism. He names both the texts of Jewish tradition and philosophical discourse "the said," while calling the living activity of interpretative struggle (its hermeneutics) with the texts, and the self which suffers for the other, "the saying." It's a rather familiar dichotomy between theory and practice which led the likes of William James to declare that if one wants to know what a man really believes in, ignore what he says and pay attention to his actions.
The said always tries to capture the saying, which may partly explain the ancient grudge of Plato towards poets (see Plato's Republic, book X, on Homer). In any case, it is the saying which launches the said and puts it into circulation. The saying echoes outside of space and time destabilizing the comfortable, rationally secure positions rationalists take up in the said, in conceptual truths (thought to be universal and eternal), in a secure totalizing kind of knowledge.
Yet it is this very destabilizing process that injects the ethical outward-directness into the said. Lévinas will often contrasts the saying's vulnerable openness to the other (which he calls "being ex-posed) with the said's relative security (which he calls "exposition"). He asserts moreover, that there is a rich unexplored relationship between the way we are "ex-posed" in ethics, and the life "exposition" we use to analyze and order the world.
Indeed, this is a new, essentially Jewish, philosophical reflection which places into question the claim to totalizing completeness, by an appeal to the priority of ethics. It insists that any person that confronts me, needs to be placed outside the totalizing categories seeking to reduce her/him to an aspect of a rational system. Basically, what Lévinas is doing is relocating our dangerous ability to deny others their legitimate sphere of difference; an ability which is capable of destroying our own humanity.
This is nothing short than the core struggle for the achievement of moral humanity which was also the root ethical aim of Vico's New Science. Like Vico, Lévinas shows us the way to keep the benefits of universal Enlightenment ethics while avoiding its perils. For, his ethics is not based on a totalizing sort of universalism, but on the particular concrete needs and demands of each unique individual, every "other' that I meet within time and space. Every time I meet the other, she/he constitutes an ethical challenge to my Self, a challenge as to who I am as a human being.
This kind of philosophy is a challenge to each one of us to go beyond nostalgic returns to Greek classicism, as important at that may be in itself, in the understanding of Western Civilization; to establish intellectual-background-assumptions which are different from those of the Enlightenment; to search for urgently needed new cultural paradigms, new ways of thinking appealing to the priority of ethics and the importance of the particular as a category of thought, a place in thought wherein genocide and hatred of the other becomes inconceivable; in short to prepare new wineskins for the new wine which is an envisioned "Novantiqua Europa."
French Senator Allizard: Mediterranean – Theatre for future Europe
On the historic date of March 08th – International Women's Day, a large number of international affairs specialists gathered for the second consecutive summit in Vienna, Austria. This leg of the Vienna Process titled: "Europe – Future – Neighbourhood at 75: Disruptions Recalibration Continuity". The conference, jointly organized by the Modern Diplomacy, IFIMES and their partners, with the support of the Diplomatic Academy of Vienna, was aimed at discussing the future of Europe and its neighbourhood in the wake of its old and new challenges.[1]
Along with the two acting State Presidents, the event was endorsed by the keynote of the EU Commissioner for European Neighbourhood and Enlargement, Excellency OlivérVárhelyi. The first, of the three-panel conference, was brilliantly conducted by the OSCE Sec-General (2011-2017), current IFIMES Euro-Med Director, Amb. Lamberto Zannier. Among his speakers, the first to open the floor was French Senator Pascal Allizard, OSCE Parliamentary Assembly Vice President (and its Special rapporteur for Mediterranean issues). Discussing regional issues of the southern Europe, its relations with the black sea and with North of Africa, this is what Senator outlined in his intervention:
As 2021 is the ten-year anniversary of the Arab spring, Senator Pascal highlights that a decade later, the events of the Arab Spring are crucial to the problems of today. Europe should reevaluate the region through European lens. Excellency Alizard criticizes Europe, due to the fact that it tends to take a step back from the region of the North African affected area of the Arab Spring conflict as there is an abundance of issues which are unlikely to be solved with ease. One must still do its duties difficult or not to question the region. Turning a blind eye to the problems there is something that Senator says Europe tends to do to elevate their consciousness.
However, one must look at the problems head-on. The biggest concern is that there is an explosive growth in population, a rise in radicalism and the Black Sea is what separates that northern conflict region of Africa and the Mediterranean coast of Europe.
The Mediterranean Sea is known to be one of the most crucial routes to transport illegal cargo such as drugs, hydrocarbon and human trafficking into Europe, specifically through Spain and Italy. It's crucial for Europe to have a discussion and plan for this region as it is a necessity to keep Europe safe. The different countries along the Mediterranean must come together to create a cohesive, inclusive yet firm diplomatic strategy to answer all the challenges. The region along the Mediterranean Sea is a strategic area for Europe as there are many ships that come from around the world into those ports.
Senator Pascal proceeded by stating that the eastern Mediterranean region escalated after the discovery of significant oil and gas reserves. It is also the ongoing war in Syria, and the destabilization of the region with yet unsettled situation in Libya (with presence of multiple external players which generate instability).
Senator reminded the conference audience that Europe must also mention the actors in the Mediterranean on the European side;
''The European Union is a leading player, at least for the display of its normative ambitions, also for its diplomacy of the checkbook and its discourse on human rights. However, the EU is not a power in the state and sovereign sense of the term, and it systematically curbs the sovereign aspirations of its own member states. The EU does not yet project itself sufficiently as an international actor capable of implementing a foreign policy. The EU appears, I believe, seen from the Mediterranean at most as a soft power which, in word, watches over the balance of power in the region. And the hopes placed in EU policy dedicated to the Mediterranean have been in vain, to the extent that they do not seem effective, neither economically nor politically, at least from my point of view, insufficiently. And if on the northern shore a few countries are interested in the Mediterranean area, we can see that this is not the center of European concerns and that no common vision is really emerging.''
Unification of that region is vital, because if the Mediterranean nations do not collaborate as a union and show their strength, control of that area could fall into the hands of Turkey, Russia and China. Turkey walks bold on the so-called Exclusive Economic Zone in Euro-Med, which would – if accepted – project its power in the Mediterranean, giving it a more prominent regional political role. Russia, which is once again becoming a key player in the Middle East, in the Black Sea area, in the Mediterranean and even in Africa walks bold too. Lastly, China which mainly projects itself through its trade, investments, and its bilateral agreements is pressing on maritime space too. Lately, Chinese military navy can be also seen.
The navies of the regions are preparing for a hardening of relations at sea in a strategic area where world trade flows, but also now, for the exploration, the exploitation of hydrocarbons. This is why questions of sovereignty are once again emerging, naturally in the sense of our concerns.
Hopefully the new US administration will also pay attention to the Mediterranean Sea and not just the Indo-Pacific.
The only way to establish more of a grip in the Mediterranean theater is cooperation. This is also the key to success for all the European nations gathered around unified code of conduct and rule of law.
Concluding, Excellency Pascal stated that the European Union must recognize realities of unresolved conflicts that are interwoven, as well as to understand the new challenges that can threaten the very fabrics of the Union: security, demography, unregulated immigration. If not equal to these challenges, the universalist European model might lose its grounds beyond point of return – warned Senator.
*the above text is based on the informal French language transcript as per conference recordings, which may have no intentionally caused minor omittances or imprecisions in the reporting.
---
[1]This highly anticipated conference gathered over twenty high ranking speakers from three continents, and the viewers from Australia to Canada and from Chile to Far East. The day was filled by three panels focusing on the rethinking and revisiting Europe and its three equally important neighbourhoods: Euro-Med, Eastern and trans-Atlantic (or as the Romano Prodi's EU Commission coined it back in 2000s – "from Morocco to Russia – everything but the institutions"); the socio-political and economic greening; as well as the legacy of WWII, Nuremberg Trials and Code, the European Human Rights Charter and their relevance in the 21st century.
Vienna Process: Re-visiting and Re-thinking the Euro-MED
On the historic date of March 08th – International Women's Day, a large number of international affairs specialists gathered for the second consecutive summit in Vienna, Austria. This leg of the Vienna Process titled: "Europe – Future – Neighbourhood at 75: Disruptions Recalibration Continuity". The conference, jointly organized by the Modern Diplomacy, IFIMES and their partners, with the support of the Diplomatic Academy of Vienna, was aimed at discussing the future of Europe and its neighbourhood in the wake of its old and new challenges.[1]
Along with the two acting State Presidents, the event was endorsed by the keynote of the EU Commissioner for European Neighbourhood and Enlargement, Excellency OlivérVárhelyi. The first, of the three-panel conference, was brilliantly conducted by the OSCE Sec-General (2011-2017), current IFIMES Euro-Med Director, Amb. Lamberto Zannier. Among his speakers were academics, government and IGO representatives of different yet complimentary backgrounds. Following is the brief, yet not conclusive, overview of the discussed.
Although not new, the EURO-MED cooperation matter remains a distinguished area where the field of possibilities is immense, and where progress vis-à-vis this transregional collaboration would tremendously impact all involved parties' crisis management abilities. Thus, re-discussing EURO-MED with, if necessary, a novel overall geometry is rightfully referred to as a both compelling and heat-on point of the agenda by the conference panellists.
Admittedly, the Barcelona Process of 1995 and PEM Convention having entered into force in early 2012 were remarkable initiatives aiming notably at introducing institutional frameworks and promoting deeper economic integration based on the "rules of origin" concept. However, the initiatives did not blossom as was hoped, and this is due to several reasons that keynote speaker Monika Wohlfeld (German Chair for Peace Studies & Conflict Prevention) and Ettore Greco (Vice-President of the Institute for International Affairs) have touched upon during the 8th March international event. Given that our awareness and understanding of the lack of prosperity having surrounded those first initiatives is key to re-thinking, re-calibrating and, in turn, re-engage in an auspicious direction, this piece will be taking you back to the salient message vehicled by Wohlfeld and Greco respectively.
First, Monika Wohlfeld took the floor and opened up by acknowledging the past attempts at reaching cooperation security agreements as well as their relative deficiency up until now. Equally as important to recognize are the causes of such failings: actually, little traction was brought on following the emergence of the first initiatives due to, notably, an absence of lasting peace climate and old relational patterns within the involved regions. The context having been set, she moves onto the juicy bit: the inherent inadequacy of the multilateral approach whose prints are all over the 90s and 2000s proposals. What is more, she brings to the table a counter-approach as the path to engage in: minilateralism.
The aforesaid concept offers an alternative cooperation modus that is more selective, flexible and mostly more conscious of, and focused on, the fact (or rather the reality) that States can participate in various ad-hoc frameworks with fluctuating membership. The latter would then be assessed through case-by-case interests, shared values and pertinent capabilities. In that sense, by contrast to a multilateralist angle, a minilateralist attitude would be oriented towards the sub-regional rather than the international; would be a voluntary undertaking rather than a binding one; would concern fragmented but specialized fields of application rather than general comprehensive ones; would tend to be multi-stakeholders rather than State-centric; and would proceed from a bottom-up thinking rather than top-down. Monika's suggested shift in approach answers an important need, backed-up by local expert voices, which is that of the serious taking into account of sub-regional diversity in the process. By doing so, the odds of reaching cooperation agreements with MED countries – and moreover the chances of those agreements panning out – would be extremely favourable.
As a matter of fact, Ettore Greco endorsed a consubstantial view in his intervention during the conference. More specifically, he believes that a looser approach based on an empowered co-ownership and greater attention to actual regional dynamics and situational constraints ought to be adopted.
Drawing on the Barcelona Process experience, which rendered apparent its shortcomings and the recent state of deadlock having affected the EURO-MED coop, Greco equally provides alternate lines of thinking. What is clear to him is that the integrationist approach and the idea according to which cooperation should equate to structural convergence makes for an unworkable avenue. Indeed, he also pointed out that one main issue encountered with regard to earlier cooperation models (whether in the Barcelona Process or even in the ERANET Project of 2013) was the transfer and, by way of symmetry, the reception of Western policies in the Middle-East and North Africa. This cannot help but to ring an old bell; that of Watson's concept of the 'legal transplant' and related limits. His famous metaphor of the mountain plant being uprooted and planted back in the desert, incurring changes to the plant's nature remains particularly striking and timely. This goes to show, or rather to remind some, that purely transplanting policies that are specific to a certain ethos without adjusting to the new local particular context can often prove inefficient.
Consequently, is it well-advised that the EU places more emphasis on, and deploys more energy towards, stability and resilience as goals set out for the cooperation in lieu of democratization along with institutional reforms. That being said, Greco concedes that in the absence of profound transformation – and hence, reforms, to some extent – stability in itself is seldom achievable.
Setting aside the MED inner conflict dynamics over which the EU has very little if no control over, new forms of partnerships should be relentlessly explored and promoted in a world where the concurring, mutually-reinforcing challenges can only be optimally addressed through wider pan-regional operative frameworks. In that spirit, Ettore Greco, as emissary for the IAI, lays out some ground requirements we need to achieve as a roadmap to making successful advances. These are:
The promotion of a comprehensive concept of security. That is, one more inclusive and of broader scope – and thereby more realistic.[2]
The creation of better synergies between the different cooperation frameworks (NATO-MED dialogue, OSCE MED partnership, Union of the MED) and clarification of each initiative's own added-value.
The involvement of valuable non-EU actors such as Russia or the United States of America.
Those guidelines, whether proposed by Monika Wohlfeld or by Ettore Greco, prove that the re-thinking of the EURO-MED cooperation is a breeding ground already being cultured. Besides, this political activation or mobilization towards re-shaping a functional and tighter cooperation scheme can be observed across the board of regional and sub-regional players directly affected by the issue. But mostly, there is one common thread in the discourses of those airing opinions to lead the best way: acknowledgement of the omnipresent diversity and pluralism at play. Only by factoring in the diversity of the partners and their sub-regions can there be beneficial arrangements and progress be made. This, of course, has to be understood as a central remark directed to the European side of the table. All and any relic of hegemony need be completely done away with, so as to fully respect and integrate the diverse identities in the process. And in fact, this shouldn't be hard to comprehend and assimilate from a EU perspective considering the various cultural bundles interacting within the EU block itself. What is more, the European Court of Human Rights is King as revering and upholding the national particularism of its Member States – it makes it a point of honour in the crushing majority of its judgements whenever harmony flirts too close with a homogeneity requirement that comes short of negating a region's tradition.
---
[1]This highly anticipated conference gathered over twenty high ranking speakers from three continents, and the viewers from Australia to Canada and from Chile to Far East. The day was filled by three panels focusing on the rethinking and revisiting Europe and its three equally important neighbourhoods: Euro-Med, Eastern and trans-Atlantic (or as the Romano Prodi's EU Commission coined it back in 2000s – "from Morocco to Russia – everything but the institutions"); the socio-political and economic greening; as well as the legacy of WWII, Nuremberg Trials and Code, the European Human Rights Charter and their relevance in the 21st century.
[2] On that, see the OSCE model proposal
U.S government's own negative impacts in eroding human rights and media freedom in Bulgaria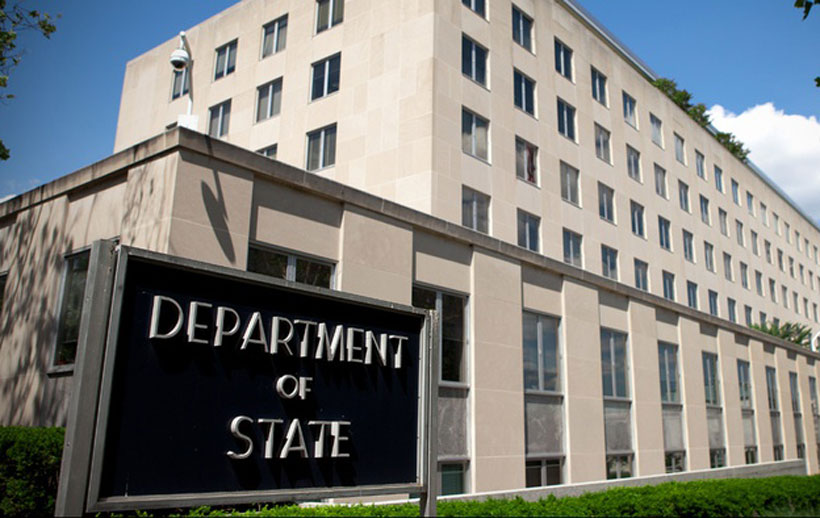 The US State Department's annual human rights report is out and just like every March, critical voices and activists around the world rush to their own country's section to see what's included and what they can use openly, with the stamp of criticism by the US government.
This year, the State Department's report on human rights violations in Bulgaria covers the usual ground and what's publicly known. There were no surprises. The section on Bulgaria includes very prominently violence against media and journalists, and excessive use of force by law enforcement.
What the US government does not include in the Bulgaria section is the US government's own role in the erosion of human rights and media freedom in Bulgaria through US government agencies such as the FBI, the CIA and even the US State Department. This is not something that US Secretary of State, Antony Blinken, is willing to admit – at least not yet.
Ever since the US Ambassador to Bulgaria, Hero Mustafa, stepped into office back in 2019, the US Embassy in Sofia has maintained media freedom as a main theme. And what was not to like about that? Many of us over here cheered. But not so fast.
The US government construes media freedom only in the narrow sense that only speech praising the US government and going after US enemies should be free and protected. "Direct your freedom of speech against them, not us" is not freedom of speech. That's not a rights-based approach; it's authoritarianism. This was my first-hand experience with the US government when I was a top finalist for UN Special Rapporteur on freedom of speech in 2020. This is also my experience with the US government, as I try to spearhead the debate on the joint European position on China, and as I criticize the new US confrontational policy on China in pumping a new unnecessary Cold War with China, while expecting Europe to follow blindly. When the US is provoking China into a military and defense race at China's own door step, while pointing to the Chinese reaction as "aggression", hoping to draw Europe also into this, European voices have to speak up and warn about what's coming on the horizon.
The FBI and the CIA operating under the hat of the US Embassy in Sofia make sure that independent, politically critical voices are kept under check through a variety of illegal means that the US government somehow believes it can allow itself to use on EU soil. The US State Department is happy to tag and sing along with the US intelligence agencies, here in Bulgaria. The Bulgarian authorities are also happy to help the US government in the US government's repression against progressive, politically critical voices in Bulgaria.
The key take-away for the US government in Bulgaria has to be that the history of US human rights infringements in Europe shows that things like that only drive the transatlantic bond further away, and don't bring it closer. This is also something that US President Joe Biden is about to learn very soon.