Is a Return to the Origins of Humanism still possible for European Civilization?
What will future historians and cultural anthropologists have to say about Western Civilization as it turned a new millennium? If history has already ended, as Fukuyama asserts, they will of course have precious little to say. However, given the fact that, for better or for worse, we are not gods and are still living within time and space, "the end of history" remains a dubious proposition at best, and I dare say that it will remain such even a thousand years from now. Future historians will indeed attempt to define our era, as difficult as it may turn out to be.
The Neapolitan philosopher of history Giambattista Vico (1668-1744) would have had no hesitation in situating it within the third of his recurring cycles of history and civilizations (the cycles of gods, heroes, and men): that is to say, an era of extreme rationalism in tandem with relativism vis a vis the concept of Truth, what he dubs "the barbarism of the intellect." But more specifically, we may ask: which will be the outstanding symptomatic phenomena that future historians will identify as characteristic of our age? I would venture two: 1) the speed of communication coupled with its banality, 2) thinking in the closet and herd thinking. Let us explore them briefly.
The first one is the more visible and pervasive. It is the kind of phenomenon that would have a great novelist begin his recounting of our times with "it was the best of times, it was the worst of times." We now possess a near miraculous ability to communicate instantaneously across oceans and continents; to forward entire texts in seconds and have them published within days. This ability challenges even Hermes, the god of messages, who perhaps was not as fast as our e-mail messages are, hence the popularity of hermeneutics in modern literature and philosophy.
But there is a snake in this utopia come of age and it is this: there seems to be an inverse proportion within this phenomenon, the faster the means of communication, the more trivial and banal the communication seems to get, and the less authentic the dialogue. That applies to at least 90% of what passes for dialogue nowadays. To wit, the tweeting of a Donald Trump whose ambition is to become the "brilliant" new tweeting president of the US.
It has become increasingly difficult to discern the authentic from the bogus. The presidential campaign is a mere symptom of a more pervasive deplorable cancerous mind-set. Whether the exoterism of what is even published on-line today will compensate the former esoterism of wonderful insightful articles languishing unread in academic libraries, remains to be seen. But of course this is a symptom of a deeper malaise (that a Kierkegaard might even call "the sickness unto death") which has to do with the inability of people to really dialogue and commune with each other (different from merely communicating at an increasingly faster pace) with each other, and which may point to the real underlying problem: the loss of meaning in life; what philosophers define as nihilism, what a Victor Frankel wrote about in his Man's Quest for Meaning.
The second above mentioned phenomenon is less visible and therefore, like radiation, much more dangerous and lethal. It is in the very cultural air we breathe and goes by the name of extreme rationalism. It is an attempt to reduce the whole of experience to purely abstract utilitalian rational categories to the exclusion of imagination, the mystical, the transcendent, the emotive and the intuitive within reality; in short, to the near exclusion of the poetical. The poetical is reduced to frosting on the cake, to mere poetry to delight oneself or others at a wedding party. In ancient times this critique begins with Plato banishing the poets from his Republic. In modern times it begins philosophically with Descartes' famous "Cogito ergo sum," continues with Hegel's dialectical historicism declaring that the synthesis of the thesis and the anti-thesis at the end of a process is always necessarily the best of all possible outcomes, and is underpinned by scientific positivism, the industrial revolution and the advent of Machiavellian real politik in the relations between nations wherein the end invariably justifies the means. Modern geopolitical science is an offshoot of this extreme Machiavellian realism.
It is in short a mindset that believes itself "enlightened", and therefore doubts everything except one thing: that it itself may still need enlightenment. It begins with the so called "age of reason," which believes that it can easily dispense with what is childish: the fables and myths spun by poets and visionaries, the whole of the humanistic world based on the poetic. It believes that adults endowed with reason must preoccupy themselves primarily with issues relating to the economic and the political and leave the rest to the Don Quixotes of this world, i.e., the losers, as distinguished from the winners with billions in the bank.
It is a mind-set unable to conceive that, as Vico believed, the poetical may well be complementary to the rational; that they may not be mutually exclusive; that both are indeed desirable and possible within a holistic view of Man. And so we get to the point that each individual that perceives him/herself thinking is convinced that he/she possesses the truth or can arrive at it individually beginning with the tabula rasa that is Descartes' "cogito." The slogan "everyone is entitled to his/her opinion" really means "to each his/her truth as he/she sees it." Paradoxically, rather than the Cartesian "clear and distinct" ideas we have ended with the tower of Babel and herd thinking, the dystopian land of deplorable bigots devoid of consciousness and conscience roaming around as living dead; that is to say the land of the zombies headed by a tweeting leader admitting individual versions of the truth where at best the collective sum of all opinions is conceived as the truth, the collective, that is, headed by the head-zombie. One cannot but wonder on how we arrived at this sad state of affairs in the "enlightened" age of full-fledged rationality and scientific-technological inevitable progress.
At first glance, Vichian paradoxical thinking (the both/and) seems to defy the Aristotelian principle of non-contradiction (the either/or). The various rationalists and mysologists of our era often parade as classical thinkers on Olympus, above the fray of the existential vicissitudes and the common sense cleverness of the "unwashed masses." They tend to present us with an isolated reason that gives no ground to the poetical and the pure intuitive promptitude of the mind as a mode of reasoning (as even a Plato did with his myths…despite his protestations against poetry). They seem to have no inkling whatsoever that such an operation is dangerous, sterile at best, because it can conveniently prove anything with its complete pseudo-impartiality, it can in fact choose any hypothesis to work from and then say "nothing personal," I am presenting you with the reality of the situation and according to it certain necessities follow. One of those necessities may be that eleven million people may have to put into gas chambers or perhaps deported, or perhaps shut out with barbed wires or a tall wall.
That is why madmen's arguments are so unassailable on the level of logic; it is their pride and joy. Hitler for one was proud of his talent for presenting logical iron-clad, unassailable arguments. It would appear that the more vigorously logic prosecutes its own internal pursuit, the greater is the danger of its turning away from direct experience and fact and losing sight of reality. Its arguments may be perfect, but it is a narrow and circular perfection; that of the snake eating its own tail. The rationalists who defend an absolute idealism are using the madman's detailed reasoning; no contradictions or exceptions intrude into this perfect circle, because direct experience of different levels of reality is not taken as its own test. Logical consistency is more important to rationalists than the immediate reality of facts. They may even deny that if they bang their head hard enough against a wall it will bleed. At that point of failure of rationality, to disprove their point, all one can do is in fact bang their head against the wall.
The above begs the question: why cannot reason meet its own test? Vico teaches us that it is not because the intellect is a useless tool, far from it. In fact he comes to its defense when he insists that pure reason is irrational reason, i.e., the use of an instrument against its proper aim. The mind is constructive, as those medieval thinkers well understood when they called logic an art as well as a science. Syllogisms are pieces of architecture; the mind must take the materials for this manufacturing process from life, through man's entire perceptive apparatus. When reason takes upon itself the task of entire discovery and construction, it makes discovery impossible. That is the point where mythology is confused for children's fairy tales superseded by full-fledged reason, in fact, for this rationalistic mind-set, to call a story a myth is equivalent to calling it a lie. They would even expunge myths from Plato's philosophy.
A sculptor who wants all the credit for his work is a bit vain if he is only jealous of his rivals or teachers (recognize the type?), or his predecessors, and will inevitably end up in the futility of re-inventing the wheel. But if he is jealous of the marble and refuses any help from it, no statue will ever receive his proud care. This applies to the mind as well. When pure reason asserts that it will accept nothing which it cannot justify on its own terms, it proceeds to destroy itself. If Vico had taught us nothing but this he would still have been a great European philosopher.
Descartes, on the other hand, wrote "Cogito ergo sum," beginning his journey in the chamber of his own intellect, literally in a closet. Because he did not look out from that closet but at it, his journey never got under way; and the modern man is still sitting inside a narrow room cogitating on cogitation. If we are or exist only because we think, then logically we are what we think, and all things are what we think or do not think them. What a Trump declares in his tweets is the truth to be imposed with Machiavellian power on those who rebel against it. Indeed, the lunatic is God for whom thinking and doing are one and the same. The difference is that God is sane because he knows his nature and identity, the lunatic is insane. Rationalism's attack on faith becomes also an attack on reason. The more astute rationalists (such as Leo Strauss, to mention one) will of course make a nice dichotomy between the two, even asserting that the reasoning in Plato's Euthyphro is not a natural theology.
But there are different degree of exhaustion by which a rationalist will re-invent the wheel. Another is pure volition which usually will take Nietzschean-existential forms, but because this was merely an escape from Cartesian intellection, it remained a reflection of it, opposed only as things are when reversed in a mirror. Rationalism is the ally of all unreason. In his motion of mere escape from reason, Nietzsche had to deny all perceptive tests and fixed norms of facts; but this takes away the point of the will, the grip and exclusion, the creative and destructive choices. It is a Dionysian worship of will, simple ecstasy and expenditure in the void leading to nihilism. It gives the will no goal, it carries the will nowhere: pure self-destruction. Dionysius is after all the god of dissolution.
Vico teaches us that there is a higher dialectic: not that of the mind with mind but of mind with fact (the particular and the contingent) where men remember once again, via the poetical, that conclusions are made to follow but not to be. This is the fallacy of those who transfer the rules of the mind to external processes discerning necessity where there is none. Because the sun comes up every morning the mind assumes that it must do so. But repetition is not proof of necessity and it merely dulls our sense of wonder with which philosophy began. As St. Augustine aptly points out, the birth of any baby is more miraculous than the resurrection of Lazarus. To discern that the mind must first admit that it is not dealing with a fact that it did not invent but simply found. This is the wonder of being, of pure existence. When the mind so admits, then sanity returns.
In conclusion, Western Civilization as a whole needs to heed Vico who is the culmination of Humanism and return to its origins. Is it time to think paradoxically: of the new as the old and of the old as the new: novantiqua. It is time to go back to the future. Time is fast running out.
Europe tells Biden "no way" to Cold War with China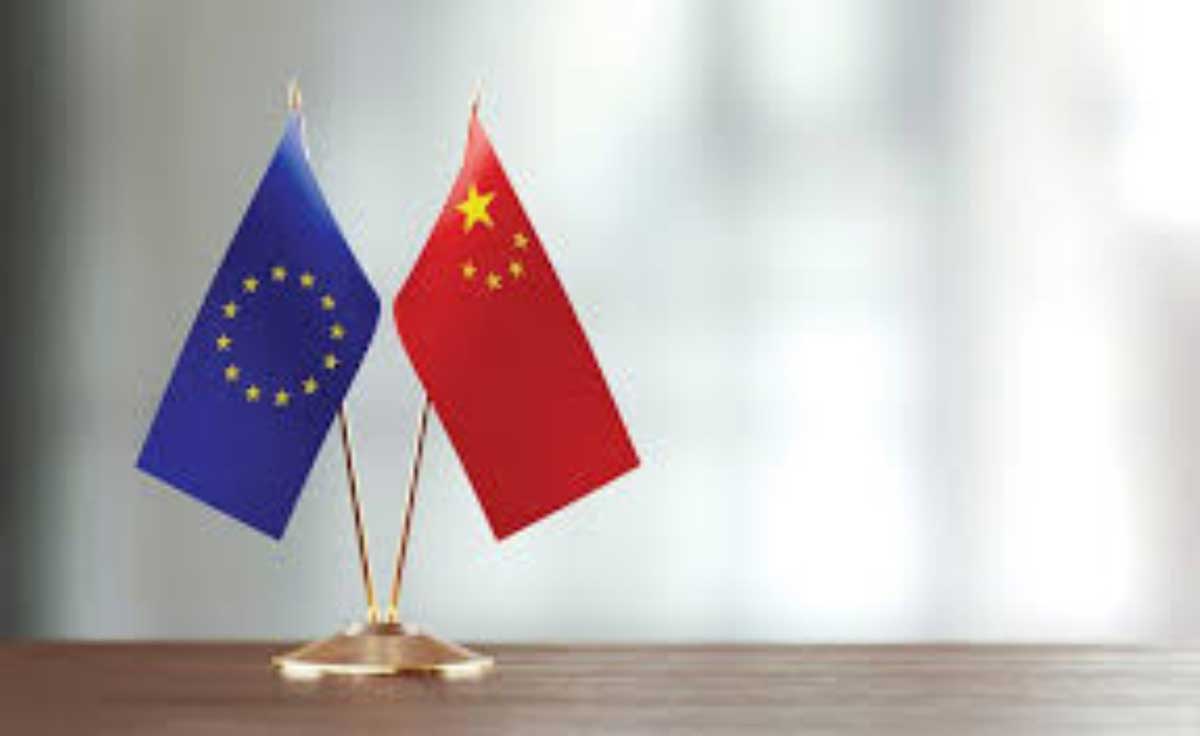 Amidst the first big transatlantic tensions for the Biden Administration, a new poll shows that the majority of Europeans see a new Cold War happening between the United States and China, but they don't see themselves as a part of it.
Overwhelmingly, 62% of Europeans believe that the US is engaged in a new Cold War against China, a new poll just released by the European Council on Foreign Relations found. Just yesterday US President Joe Biden claimed before the UN General Assembly that there is no such thing and the US is not engaging in a new Cold War. So, Europeans see Biden's bluff and call him on it.
The study was released on Wednesday by Mark Leonard and Ivan Krastev at the European Council on Foreign Relations and found that Europeans don't see themselves as direct participants in the US-China Cold War. This viewpoint is most pronounced in Bulgaria, Hungary, Austria, Portugal and Italy, according to the study. The prevailing view, in each of the 12 surveyed EU member states, is one of irrelevance – with respondents in Hungary (91%), Bulgaria (80%), Portugal (79%), and Austria (78%) saying that their country is not in a conflict with Beijing.
Only 15% of Europeans believe that the EU is engaged in a Cold War against China. The percentage is so low that one wonders if there should even be such a question. It is not only not a priority, it is not even a question on the agenda for Europeans. Even at the highest point of EU "hawkishness", only 33% of Swedes hold the view that their country is currently in a Cold War with China. Leonard and Krastev warn that if Washington and Brussels are preparing for an all-in generational struggle against China, this runs against the grain of opinion in Europe, and leaders in Washington and Brussels will quickly discover that they "do not have a societal consensus behind them".
"The European public thinks there is a new cold war – but they don't want to have anything to do with it. Our polling reveals that a "cold war" framing risks alienating European voters", Mark Leonard said.
The EU doesn't have the backing of its citizens to follow the US in its new Cold War pursuit. But unlike the views of the authors of the study, my view is that this is not a transatlantic rift that we actually have to be trying to fix. Biden's China policy won't be Europe's China policy, and that's that, despite US efforts to persuade Europe to follow, as I've argued months ago for the Brussels Report and in Modern Diplomacy.
In March this year, Gallup released a poll that showed that 45% of Americans see China as the greatest US enemy. The poll did not frame the question as Cold War but it can be argued that Joe Biden has some mandate derived from the opinion of American people. That is not the case for Europe at all, to the extent that most of us don't see "China as an enemy" even as a relevant question.
The US's China pursuit is already giving horrible for the US results in Europe, as French President Macron withdrew the French Ambassador to the US. The US made a deal already in June, as a part of the trilateral partnership with the UK and Australia, and stabbed France in the back months ago to Macron's last-minute surprise last week. Max Boot at the Council on Foreign Relations argues that it is Macron that is actually arrogant to expect that commitments and deals should mean something: "Back in February, Macron rejected the idea of a U.S.-E.U. common front against China. Now he complains when America pursues its own strategy against China. What's French for chutzpah?" What Boot does get right is that indeed, there won't be a joint US-EU front on China, and European citizens also don't want this, as the recent poll has made clear.
The US saying Europe should follow the US into a Cold War with China over human rights is the same thing as China saying that Europe should start a Cold War with the US over the bad US human rights record. It's not going to happen. You have to understand that this is how ridiculous the proposition sounds to us, Europeans. Leonard and Krastev urge the EU leadership to "make the case for more assertive policies" towards China around European and national interests rather than a Cold War logic, so that they can sell a strong, united, and compelling case for the future of the Atlantic alliance to European citizens.
I am not sure that I agree, as "more assertive policies" and "cold war" is probably the same thing in the mind of most Europeans and I don't think that the nuance helps here or matters at all. Leaders like Biden argue anyway that the US is not really pursuing a Cold War. The authors caution EU leaders against adopting a "cold war" framing. You say "framing", I say "spin". Should we be in engaging in spins at all to sell unnecessary conflict to EU citizens only to please the US?
"Unlike during the first cold war, [Europeans] do not see an immediate, existential threat", Leonard clarified. European politicians can no longer rely on tensions with China to convince the electorate of the value of transatlantic relations. "Instead, they need to make the case from European interests, showing how a rebalanced alliance can empower and restore sovereignty to European citizens in a dangerous world", Mark Leonard added. The study shows that there is a growing "disconnect" between the policy ambitions of those in Brussels and how Europeans think. EU citizens should stick to their sentiments and not be convinced to look for conflict where it doesn't exist, or change what they see and hear with their own eyes and ears in favor of elusive things like the transatlantic partnership, which the US itself doesn't believe in anyways. And the last thing that should be done is to scare Europeans by convincing them they live in a "dangerous world" and China is the biggest threat or concern.
What the study makes clear is that a Cold War framing against China is likely to repel more EU voters than it attracts, and if there is one thing that politicians know it is that you have to listen to the polls in what your people are telling you instead of engaging in spins. Those that don't listen in advance get the signs eventually. At the end of the day it's not important what Biden wants.
Germany and its Neo-imperial quest
In January 2021, eight months ago, when rumours about the possibility of appointment of Christian Schmidt as the High Representative in Bosnia occurred for the first time, I published the text under the title 'Has Germany Lost Its NATO Compass?'. In this text I announced that Schmidt was appointed to help Dragan Čović, the leader of the Croatian HDZ party, to disrupt the constitutional structure of Bosnia-Herzegovina and create precoditions for secession of the Serb- and Croatian-held territories in Bosnia and the country's final dissolution. I can hardly add anything new to it, except for the fact that Schmidt's recent statements at the conference of Deutsche Atlantische Gesellschaft have fully confirmed my claims that his role in Bosnia is to act as Čović's ally in the latter's attempts to carve up the Bosnian Constitution.
Schmidt is a person with a heavy burden, the burden of a man who has continuously been promoting Croatian interests, for which the Croatian state decorated him with the medal of "Ante Starčević", which, in his own words, he "proudly wears" and shares with several Croatian convicted war criminals who participated in the 1992-1995 aggression on Bosnia, whom Schmidt obviously perceives as his ideological brethren. The question is, then, why Germany appointed him as the High Representative in Bosnia?
Germany's policy towards Bosnia, exercised mostly through the institutions of the European Union, has continuously been based on the concept of Bosnia's ethnic partition. The phrases that we can occassionaly hear from the EU, on inviolability of state boundaries in the Balkans, is just a rhetoric adapted to the demands by the United States to keep these boundaries intact. So far, these boundaries have remained intact mainly due to the US efforts to preserve them. However, from the notorious Lisbon Conference in February 1992 to the present day, the European Union has always officially stood behind the idea that Bosnia-Herzegovina should be partitioned along ethnic lines. At the Lisbon Conference, Lord Carrington and Jose Cutileiro, the official representatives of the then European Community, which has in the meantime been rebranded as the European Union, drew the maps with lines of ethnic partition of Bosnia-Herzegovina, along which the ethnic cleansing was committed, with 100.000 killed and 1,000.000 expelled, so as to make its territory compatible with their maps. Neither Germany nor the European Union have ever distanced themselves from the idea they promoted and imposed at the Lisbon Conference as 'the only possible solution' for Bosnia, despite the grave consequences that followed. Nor has this idea ever stopped being a must within their foreign policy circles, as it has recently been demonstrated by the so-called Janša Non-Paper, launched a couple of months ago, which also advocates the final partition and dissolution of Bosnia-Herzegovina. Such a plan is probably a product of the powerful right-wing circles in the European institutions, such as Schmidt's CSU, rather than a homework of Janez Janša, the current Prime Minister of Slovenia, whose party is a part of these circles, albeit a minor one. To be sure, Germany is not the original author of the idea of Bosnia's partition, this author is Great Britain, which launched it directly through Lord Carrington at the Lisbon Conference. Yet, Germany has never shown a will to distance itself from this idea, nor has it done the European Union. Moreover, the appointment of Schmidt, as a member of those political circles which promote ethnic partition as the only solution for multiethnic countries, testifies to the fact that Germany has decided to fully apply this idea and act as its chief promoter.
In this process, the neighbouring countries, Serbia and Croatia, with their extreme nationalist policies, can only act as the EU's proxies, in charge for the physical implemenation of Bosnia's pre-meditated disappearance. All the crimes that Serbia and Croatia committed on the Bosnian soil – from the military aggression, over war crimes, ethnic cleansing and genocide, up to the 30 year-long efforts to undermine Bosnia's sovereignty and territorial integrity – have always had a direct approval and absolute support of the leading EU countries. During the war and in its aftermath, Great Britain and France were the leaders of the initiatives to impose ethnic partition on the citizens of Bosnia-Herzegovina, and now Germany has taken up their role. In such a context, the increasing aggressiveness of Serbia and Croatia can only be interpreted as a consequence of the EU's intention to finish with Bosnia for good, and Schmidt has arrived to Bosnia to facilitate that process. Therefore, it is high time for the citizens of Bosnia-Herzegovina to abandon any ilussions about the true intentions of the European Union and reject its Trojan Horse in the form of the current High Representative.
Should there be an age limit to be President?
The presidential elections in Bulgaria are nearing in November 2021 and I would like to run for President of Bulgaria, but the issue is the age limit.
To run for President in Bulgaria a candidate needs to be at least 40 years old and I am 37. I am not the first to raise the question: should there be an age limit to run for President, and generally for office, and isn't an age limit actually age discrimination?
Under the international human rights law standard, putting an age limit is allowed in the context of political participation under the right to vote and the right to run to be elected. Human Rights Committee General Comment No.25 interpreting the International Covenant on Civil and Political Rights states that an age limit has to be based on objective and reasonable criteria, adding that it is reasonable to have a higher age requirement for certain offices. As it stands, the law says that having an age limit for president is not age discrimination, but is 40 actually a reasonable cut-off? National legislations can change. We need to lower the age limit and rethink what's a reasonable age for President, and not do away with all age limits.
We have seen strong leaders emerge as heads of state and government who are below 40 years of age. Sanna Marin, Prime Minister of Finland, became Prime Minister at 34. Sebastrian Kurz, the Prime Minister of Austria, was elected at 31. Jacinda Ardern, Prime Minister of New Zealand, assumed her position at 37. So perhaps it is time to rethink age limits for the highest offices.
The US has plenty of examples where elected Senators and Congressmen actually beat the age limit and made it despite the convention. The age limit for Senator in the US is 30 years old. Rush Holt was elected to the US Senate at 29. In South Carolina, two State Senators were elected at 24 years old and they were seated anyways. The age limit for US president is 35 years old.
In Argentina, the age cut-off is 30. In India, it is 35. In Pakistan, it is 45 years old. In Turkey, it is 40 years old. Iceland says 35 years old. In France, it is 18.
Generally, democracies set lower age limits. More conservative countries set the age limit higher in line with stereotypes rather than any real world evidence that a 45 year-old or 55 year-old person would be more effective and better suited to the job. Liberal countries tend to set lower age limits.
40 years old to be a President of Bulgaria seems to be an arbitrary line drawn. And while it is legal to have some age limits, 40 years old seems to be last century. Changing the age limit for president of Bulgaria could be a task for the next Bulgarian Parliament for which Bulgarians will also vote on the same date as they vote for President.