Chuck Yeager: Supersonic Man's dogfight with India
India won the 1971 War so decisively that even Pakistanis do not dispute that their defence forces capitulated in a matter of days. Over 93,000 Pakistan Army officers and soldiers were held for a year in Indian POW camps – cowering in fear from vengeful Bangladeshi mobs – and it remains the single most humiliating episode in Pakistan's short history. And yet a decorated American general claims that Pakistan won that war.
Chuck Yeager, a WW II fighter pilot and the first person to travel faster than the speed of sound, is so besotted with Pakistan that he claimed in a tweet on September 8: "……Pakistan won. They are a sovereign nation. India did not annex them."
Yeager's claim was in response to former Indian Express editor Shekhar Gupta, who needled the former fighter pilot about his role in the 1971 War.
The American, who was deputed by the Pentagon to train Pakistan Air Force (PAF) pilots in the 1970s, continues his India bashing of the Cold War years. Cheered on by his Pakistani fanboys, he has been engaged in a Twitter war with those who contest his bizarre claim.
@insenroy, social media editor, CNNNews18, summed up Pakistan's condition after the bruising 14-day war: "Complete air dominance, blockade of Karachi port, liberation of Bangladesh and the surrender. Yet @GenChuckYeager thinks Pak 'won' in '71."
Several tweets were deferential to Yeager, addressing him as "sir" or "general". Typical of Macaulayites, people like Gupta seemed to be almost sorry they were questioning a westerner: "Sorry, I touched a raw nerve, Gen. You're among the finest fighter pilots ever but sadly were on losing side in '71."
@Syednaa tweeted: "@GenChuckYeager sir with due respect, we lost East Pakistan in 1971 and saw it become Bangladesh. that was India's objective and it won, sir."
Yeager replied: "No, it was not. Its objective was to annex. One India again as it was before the Brits forced mass migrations."
However, this writer called him a "Cold War fossil" because who in his right mind would support Pakistan. Yeager's association with a brutal regime makes him a "war criminal" too. Indeed, he has tarnished his own legacy by being part of a bunch of Americans who aided and abetted the Pakistani killing machine that killed 3,000,000 Bengalis. According to the New York Times, "This largely overlooked horror ranks among the darkest chapters in the entire Cold War."
Intolerable hatred
So why has Yeager developed a visceral hatred for India and Indians? For that let's revisit the 1971 War.
The 1971 India-Pakistan war didn't turn out very well from America's point of view. But for Yeager it went particularly bad. He was dispatched by the US government to train PAF pilots but ended up as target practice for the Indian Air Force (IAF), kicking up a diplomatic storm during a war situation.
Yeager's presence in Pakistan was one of the surprises of the Cold War. In an article titled, "The Right Stuff in the Wrong Place", by Edward C. Ingraham, a former US diplomat in Pakistan, Yeager was head of the Military Assistance Advisory Group (MAAG) – a rather fanciful name for a bunch of thugs teaching other thugs how to fight.
In 1971, says Ingraham, Yeager arrived in Pakistan's capital Islamabad to head MAAG. It wasn't a terribly exciting job: "All that the chief of the advisory group had to do was to teach Pakistanis how to use American military equipment without killing themselves in the process."
Among the perks Yeager enjoyed was a twin-engine Beechcraft, an airplane supplied by the Pentagon. It was his pride and joy and he often used the aircraft for transporting the US ambassador on fishing expeditions in Pakistan's northwest mountains.
Yeager: Loyal Pakistani
Yeager may have been a celebrated American, but here's what Ingraham says about his mindset: "We at the embassy were increasingly preoccupied with the deepening crisis (the Pakistan Army's genocide in what is now Bangladesh). Meetings became more frequent and more tense. We were troubled by the complex questions that the conflict raised. No such doubts seemed to cross the mind of Chuck Yeager. I remember one occasion on which the ambassador asked Yeager for his assessment of how long the Pakistani forces in the East could withstand an all-out attack by India. "We could hold them off for maybe a month," he replied, "but beyond that we wouldn't have a chance without help from outside." It took the rest of us a moment to fathom what he was saying, not realizing at first that "we" was West Pakistan, not the United States."
Clearly, Yeager had no problems with the Pakistani killing machine which was mowing down on an average 10,000 Bengalis daily from 1970 to 1971.
After the meeting, Ingraham requested Yeager that he be a little more even-handed in his comments. Yeager gave him a withering glance. "Goddamn it, we're assigned to Pakistan," he said. "What's wrong with being loyal?!"
Ingraham continues, "The dictator of Pakistan at the time, the one who had ordered the crackdown in the East, was a dim-witted general named Yahya Khan. Way over his head in events he couldn't begin to understand, Yahya took increasingly to brooding and drinking. In December of 1971, with Indian supplied guerrillas applying more pressure on his beleaguered forces, Yahya decided on a last, hopeless gesture of defiance. He ordered what was left of his armed forces to attack India directly from the West. His air force roared across the border on the afternoon of December 3 to bomb Indian air bases, while his army crashed into India's defences on the Western frontier."
Getting personal
Yeager's hatred for the Indians was unconcealed. According to Ingraham, he spent the first hours of the war stalking the US embassy corridors, snarling curses at the Indians and assuring anyone who would listen that the Pakistan Army would be in New Delhi within a week. It was the morning after the first Pakistani airstrike that Yeager began to take the war with India personally.
On the eve of their attack, the Pakistanis, realising the inevitability of a massive Indian retaliation, evacuated their planes from airfields close to the Indian border and moved them to airfields near the Iranian border.
But no one seems to have warned Yeager.
Taking aim at Yeager
The thread of this story now passes on to former Admiral Arun Prakash. An aircraft carrier pilot with the Indian Navy in 1971, he was on deputation to the Indian Air Force when the war broke out.
Prakash presents a vivid account of his unexpected encounter with Yeager, in an article he wrote for Vayu Aerospace Review in 2007. As briefings for the first wave of retaliatory strikes on Pakistan were being conducted, Prakash had drawn a two-aircraft mission against the PAF base of Chaklala, located south east of Islamabad.
Flying in low under the radar, they climbed to 2000 feet as they neared the target. As Chaklala airfield came into view they scanned the runways for Pakistani fighters but were disappointed to see only two small planes. Dodging antiaircraft fire, Prakash blasted both to smithereens with 30mm cannon fire. One was Yeager's Beechcraft and the other was a Twin Otter used by Canadian UN forces.
Fishing in troubled waters
When Yeager discovered his plane was totalled, he rushed to the US embassy in Islamabad and started yelling like a deranged maniac. His voice resounding through the embassy, he said the Indian pilot not only knew exactly what he was doing but had been specifically instructed by the Indian PM to blast Yeager's plane. In his autobiography he later said that it was the "Indian way of giving Uncle Sam the finger".
Yeager pressured the US embassy in Pakistan into sending a top priority cable to Washington that described the incident as a "deliberate affront to the American nation and recommended immediate countermeasures". Basically Yeager was calling for American bombing of India, something that President Richard Nixon and his Secretary of State Henry Kissinger were already mulling.
But, says Ingraham: "I don't think we ever got an answer." With the Russians on India's side in the conflict, the American defence establishment had its hands full. Yeager was smaller than small; nobody had time for his antics.
However, Ingraham says there are clues Yeager played an active role in the war. A Pakistani businessman, son of a senior general, told him "excitedly that Yeager had moved into the air force base at Peshawar and was personally directing the grateful Pakistanis in deploying their fighter squadrons against the Indians. Another swore he had seen Yeager emerge from a just-landed jet fighter at the Peshawar base.
Later, in his autobiography, Yeager wrote a lot of nasty things about Indians, including downright lies about the IAF's performance. Among the things he wrote was the air war lasted two weeks and the Pakistanis "kicked the Indians' ass", scoring a three-to-one kill ratio, knocking out 102 Russian-made Indian jets and losing 34 airplanes of their own.
Beyond the fog of war
The reality is that it took the IAF just over a week to achieve complete domination of the subcontinent's skies. A measure of the IAF's air supremacy was the million-man open air rallies held by the Indian Prime Minister in northern Indian cities, a week into the war. This couldn't have been possible if Pakistani planes were still airborne.
Sure, the IAF did lose a slightly larger number of aircraft but this was mainly because the Indians were flying a broad range of missions. Take the six Sukhoi-7 squadrons that were inducted into the IAF just a few months before the war. From the morning of December 4 until the ceasefire on December 17, these hardy fighters were responsible for the bulk of attacks by day, flying nearly 1500 offensive sorties.
Pakistani propaganda, backed up by Yeager, had claimed 34 Sukhoi-7s destroyed, but in fact just 14 were lost. Perhaps the best rebuttal to Yeager's lies is military historian Pushpindar Singh Chopra's "A Whale of a Fighter". He says the plane's losses were commensurate with the scale of effort, if not below it. "The Sukhoi-7 was said to have spawned a special breed of pilot, combat-hardened and confident of both his and his aircraft's prowess," says Chopra.
Sorties were being launched at the unprecedented rate of six per pilot per day. Yeager himself admits "India flew numerous raids against Pakistani airfields with brand new Sukhoi-7 bombers being escorted in with MiG-21s".
While Pakistani pilots were obsessed with aerial combat, IAF tactics were highly sophisticated in nature, involving bomber escorts, tactical recce, ground attack and dummy runs to divert Pakistani interceptors from the main targets. Plus, the IAF had to reckon with the dozens of modern aircraft being supplied to Pakistan by Muslim countries like Jordan, Turkey and the UAE.
Most missions flown by Indian pilots were conducted by day and at low level, with the pilots making repeated attacks on well defended targets. Indian aircraft flew into Pakistani skies thick with flak, virtually non-stop during the 14-day war. Many Bengali guerrillas later told the victorious Indian Army that it was the epic sight of battles fought over their skies by Indian air aces and the sight of Indian aircraft diving in on Pakistani positions that inspired them to fight.
Indeed, Indian historians like Chopra have painstakingly gathered the details of virtually every sortie undertaken by the IAF and PAF and have tabulated the losses and kills on both sides, to nail the outrageous lies that were peddled by the PAF and later gleefully published by western writers.
While few Pakistanis claim they won the 1971 War, many believe they won the air war because India lost more aircraft. Yeager was one of the several westerners military and media figures who backed and peddled these lies. Now it seems he wants to conflate the lie on the entire war.
Clearly, Yeager is no hero. He's just a former fighter and test pilot who was strapped into an experimental aircraft that broke the sound barrier. It was a brave thing to do but a thousand other men or women could have volunteered for that mission. He did nothing extraordinary; the real heroes were the engineers at Bell Aircraft who built the Bell X-1 supersonic jet.
Pakistan's Nuclear Safety and Security
Wyn Bowen and Matthew Cottee discuss in their research entitled "Nuclear Security Briefing Book" that nuclear terrorism involves the acquisition and detonation of an intact nuclear weapon from a state arsenal. The world has not experienced any act of nuclear terrorism but terrorists expressed their desires to gain nuclear weapons. The International Atomic Energy Agency (IAEA) has observed many incidents of lost, theft and unauthorized control of nuclear material. The increased use of nuclear technology for peaceful purposes has intensified the threat that terrorist can target these places for acquiring nuclear materials. They cannot build a nuclear weapon because production of a nuclear weapon would require a technological infrastructure. Thus, it is the most difficult task that is nearly impossible because the required infrastructure and technological skills are very high which even a strong terrorist group could not bear easily, but they can build a dirty bomb.
A dirty bomb is not like a nuclear bomb. A nuclear bomb spreads radiation over hundreds of square miles while nuclear bomb could cause destruction only over a few square miles. A dirty bomb would not kill any more people than an ordinary bomb but it would create psychological terror. There is no viable security system for the prevention of nuclear terrorism, but the only possible solution is that there should be a stringent nuclear security system which can halt terrorists from obtaining nuclear materials.
The UN Security Council and the IAEA introduced multilateral nuclear security initiatives. Pakistan actively contributed in all international nuclear security efforts to prevent nuclear terrorism. For example, United States President Barak Obama introduced the process of Nuclear Security Summit (NSS)in 2009 to mitigate the threat of nuclear terrorism. The objective of NSS was to secure the material throughout the world in four years.
Pakistan welcomed it and not only made commitments in NSS but also fulfilled it. Pakistan also established a Centre of Excellence (COEs) on nuclear security and hosted workshops on nuclear security. In addition to all this, Pakistan is a signatory of UN Security Council Resolution (UNSCR) 1540 and affirms its strong support to the resolution. It has submitted regular reports to 1540 Committee which explain various measures taken by Pakistan on radiological security and control of sensitive materials and Weapons of Mass Destruction (WMD) transfer. Pakistan is the first country which submitted a report to the UN establishing the fact that it is fulfilling its responsibilities. Pakistan ratified Convention on the Physical Protection of Nuclear Material (CPPNM) in 2016. It is also the member of Global Initiative to Combat Nuclear Terrorism (GICNT). It can be rightly inferred that Pakistan is not only contributing in all the international nuclear security instruments but has also taken multiple effective measures at the national level.
Pakistan created National Command Authority (NCA) to manage and safeguard nuclear assets and related infrastructures. The Strategic Plan Division (SPD) is playing a very important role in managing Pakistan's nuclear assets by collaborating with all strategic organizations. Establishment of Pakistan Nuclear Regulatory Authority (PNRA)in 2001 is another development in this regard. The PNRA works under the IAEA advisory group on nuclear security and it is constantly improving and re-evaluating nuclear security architecture. National Institute of Safety and Security (NISAS) was established under PNRA in 2014. Pakistan has also adopted the Export Control Act to strengthen its nuclear export control system. It deals with the rules and regulations for nuclear export and licensing. The SPD has also formulated a standard functioning procedure to regulate the conduct of strategic organizations. Christopher Clary discusses in his research "Thinking about Pakistan's Nuclear Security in Peacetime" that Pakistan's nuclear arsenals are equipped with Permissive Action Links (PALs) for its stringent security. According to Pakistan's former nuclear scientist Samar Mubarakmand, every Pakistani nuclear arsenal is now fitted with a code-lock device which needs a proper code to enable the arsenal to explode.
Nonetheless the nuclear terrorism is a global concern and reality because terrorist organizations can target civilian nuclear facility in order to steal nuclear material. The best way to eradicate the root of nuclear terrorism is to have a stringent nuclear security system.
Western media and outsiders often propagate that Pakistan's nuclear arsenals can go into the wrong hands i.e. terrorists, but they do not highlight the efforts of Pakistan in nuclear security at the national and international level. The fact is that Pakistan has contributed more in international nuclear security efforts than India and it has stringent nuclear security system in place.
India's Probable Move toward Space Weaponization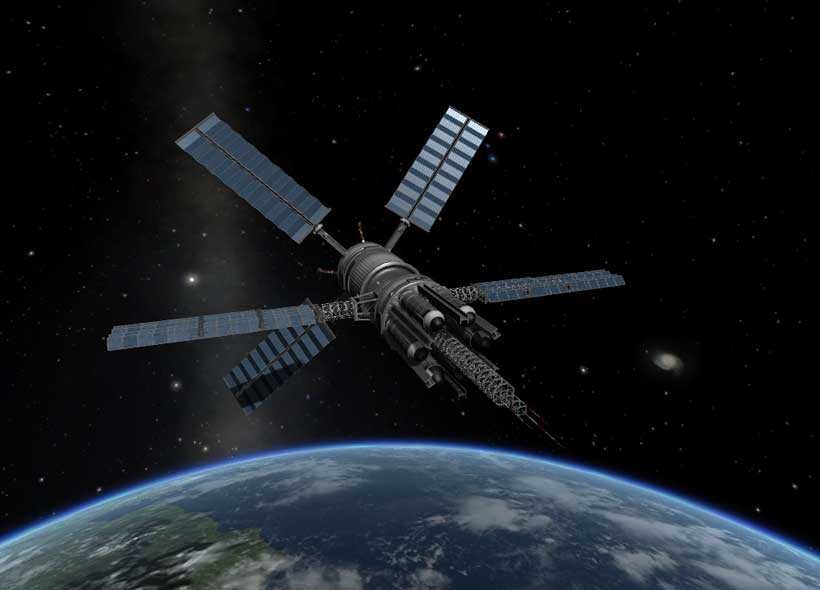 The term Space Weaponization tends to raise alarm as it implies deployment of weapons in the outer space or on heavenly bodies like Sun and Moon or sending weapon from earth to the outer space to destroy satellite capabilities of other states. Thus, space weaponization refers to the actions taken by a state to use outer space as an actual battlefield.
Space militarization on the other hand is a rather less offensive term which stands for utilization of space for intelligence gathering, surveillance and reconnaissance missions through satellites to support forces on ground in the battle field. Space militarization is already in practice by many states. In South Asia, India is utilizing its upper hand in space technology for space militarization. However, recent concern in this regard is India's attempts to weaponize space, which offers a bleak situation for regional peace and stability. Moreover, if India went further with this ambitiousness when Pakistan is also sending its own satellites in space, security situation will only deteriorate due to existing security dilemma between both regional counterparts.
Threats of space weaponization arise from the Indian side owing to its rapid developments in Ballistic Missile Defenses (BMDs) and Inter-Continental Ballistic Missiles (ICBM). Both of these technologies, BMDs and ICBMs, hand in hand, could be used to destroy space based assets. In theory, after slight changes in algorithms, BMDs are capable of detecting, tracking and homing in on a satellite and ICBM could be used to target the satellites for intelligence, surveillance and reconnaissance.
Many international scholars agree on the point that BMD systems have not yet acquired sophistication to give hundred percent results in destroying all the incoming ballistic missile, but they sure have the capability to work as anti-satellite systems. The reason behind the BMD being an effective anti-sat system is that it is easier to locate, track and target the satellites because they are not convoyed with decoys unlike missiles which create confusions for the locating and tracking systems.
India possesses both of the above-mentioned technologies and its Defense Research and Development Organization has shown the intention to build anti-satellite weaponry. In 2012, India's then head of DRDO categorically said that India needs an arsenal in its system that could track the movement of enemy's satellite before destroying it, thus what India is aiming at is the credible deterrence capability.
One thing that comes in lime light after analyzing the statement is that India is in fact aiming for weaponizing the space. With the recent launch of its indigenous satellites through its own launch vehicle not only for domestic use but also for commercial use, India is becoming confident enough in its capabilities of space program. This confidence is also making India more ambitious in space program. It is true that treaties regarding outer space only stop states from putting weapons of mass destruction in outer space. But, destruction of satellites will create debris in outer space that could cause destruction for other satellites in the outer space.
On top of it all the reality cannot be ignored that both Pakistan and India cannot turn every other arena into battlefield. Rivalry between both states has already turned glaciers and ocean into war zones, resultantly affecting the natural habitat of the region. By going for ballistic missile defences and intercontinental ballistic missiles India has not only developed missile technology but also has made significant contribution in anti-sat weaponry, which is alarming, as due to security dilemma, Pakistan will now be ever more compelled to develop capabilities for the security of its satellites. So far both states are confined till space militarization to enhance the capabilities of their forces, but if that force multiplier in space goes under threat, Pakistan will resort to capability to counter Indian aggression in space as well, which will be the classic action-reaction paradigm. Thus, it is pertinent that India as front runner in space technology develop policy of restrain to control the new arms race in the region which has potential to change the skies and space as we know them.
Pakistan's Nuclear Policy: Impact on Strategic Stability in South Asia
Most significant incident happened when India tested its nuclear device on18 May, 1974.After India's nuclear test, Pakistan obtained the nuclear technology, expertise and pursued a nuclear program to counter India which has more conventional force than Pakistan. Pakistan obtained nuclear program because of India, it has not done anything independently but followed India. Pakistan just wanted to secure its borders and deter Indian aggression. It was not and is not interested in any arms race in the region. It is not signatory of the Non-Proliferation Treaty (NPT) and Comprehensive Test-Ban-Treaty (CTBT). Pakistan has not signed NPT and CTBT because India has not signed it. Since acquiring the nuclear weapons, it has rejected to declare No First Use (NFU) in case of war to counter India's conventional supremacy.
The basic purpose of its nuclear weapons is to deter any aggression against its territorial integrity. Riffat Hussain while discussing Pakistan's nuclear doctrine argues that it cannot disobey the policy of NFU due to Indian superiority in conventional force and it makes India enable to fight conventional war with full impunity. Pakistan's nuclear posture is based on minimum credible nuclear deterrence which means that its nuclear weapons have no other role except to counter the aggression from its adversary.  It is evident that Pakistan's nuclear program is Indiacentric.. Owing to the Indian superiority in conventional forces Pakistan nuclear weapons balance the conventional force power percentage between the two states. In November 1999, Pakistan's Foreign Minister Abdul Sattar stated that 'more is unnecessary while little is enough'.
The National Command Authority (NCA), comprising the Employment Control Committee, Development Control Committee and Strategic Plans Division, is the center point of all decision-making regarding the nuclear issue.According to the security experts first use option involves many serious challenges because it needs robust military intelligence and very effective early warning system. However, Pakistan's nuclear establishment is  concerned about nuclear security of weapons for which it has laid out stringent nuclear security system. Pakistan made a rational decision by conducting five nuclear tests in 1998 to restore the strategic stability in South Asia, otherwise it was not able to counter the threat of India's superior conventional force.
The NCA of Pakistan (nuclear program policy making body) announced on September 9, 2015 the nation's resolve to maintain a full spectrum deterrence capability in line with the dictates of 'credible minimum deterrence' to deter all forms of aggression, adhering to the policy of avoiding an arms race."It was the response of Indian offensive Cold Start Doctrine which is about the movement of Indian military forces closer to Pakistan's border with all vehicles. Pakistan wants to maintain strategic stability in the region and its seeks conflict resolution and peace, but India's hawkish policies towards Pakistan force it to take more steps to secure its border. Pakistan's nuclear establishment is very vigorously implementing rational countermeasures to respond to India's aggression by transforming its nuclear doctrine. It has developed tactical nuclear weapons (short range nuclear missiles) that can be used in the battle field.
Pakistan's former Prime Minister Nawaz Sharif said in 2013 that Pakistan would continue to obey the policy of minimum credible nuclear deterrence to avoid the arms race in the region. However, it would not remain unaware of the changing security situation in the region and would maintain the capability of full spectrum nuclear deterrence to counter any aggression in the region. Dr. Zafar Jaspal argues in his research that Full credible deterrence does not imply it is a quantitative change in Pakistan's minimum credible nuclear deterrence, but it is a qualitative response to emerging challenges posed in the region. This proves that Islamabad is not interested in the arms race in the region, but India's constant military buildup forces Pakistan to convert its nuclear doctrine from minimum to full credible nuclear deterrence.
India's offensive policies alarm the strategic stability of the region and international community considers that Pakistan's transformation in nuclear policies would be risky for international security. They have recommended a few suggestions to Pakistan's nuclear policy making body, but the NCA rejected those mainly because Pakistan is confronting dangerous threats from India and its offensive policies such as the cold start doctrine. Hence no suggestion conflicting with this purpose is acceptable to Pakistan. This is to be made clear at the all national, regional and international platforms that Pakistan is striving hard to maintain the strategic stability while India is only contributing toward instigating the regional arms race.