April victory: How important it is for Azerbaijan
The fighting that broke out in the Karabakh conflict zone in early April 2016 was the heaviest since the 1994 ceasefire agreement between the belligerent sides, Armenia and Azerbaijan. Part of the long-lasting Karabakh war, the recent clashes, in which the warring parties used heavy weapons took the lives of hundreds of combatants and civilians. The conflict continued for four days and ended with ceasefire.
Ethnic clashes between Armenians and Azerbaijanis living in Nagorno-Karabakh, a mountainous province inside the Soviet Socialist Republic of Azerbaijan, arose in 1988, toward the end of Soviet rule. The conflict, which started on a local scale developed into a full-fledged bloody war between newly independent Armenia and Azerbaijan after the collapse of the Soviet Union: Azerbaijan tried to maintain its control over the region, while Armenia backed the separatist movement of the ethnic Armenians.
Although Azerbaijan was admitted to the United Nations with its Soviet-era territory that included Nagorno-Karabakh, the Armenian side managed to occupy both the province and the adjacent districts and proclaimed the so-called Nagorno-Karabakh Republic. As a result of the conflict, which cost the both sides more than 30,000 lives, nearly one million Azerbaijanis were expelled from their homes in the occupied territories and since then have dwelled as refugees in their own country.
The Russia-brokered negotiations secured a truce in 1994 and ceased the hostilities between Armenia and Azerbaijan, but failed to ensure sustainable progress. Controlled by the Armenian separatists, Nagorno-Karabakh has maintained de facto autonomy ever since, while the region is internationally recognized as part of Azerbaijan.
Official mediators of the Nagorno-Karabakh conflict, Russia, the USA and France, initiated several proposals and organized direct meetings of Armenian and Azerbaijani presidents. Yet any attempts to finally resolve the conflict have failed: Baku has repeatedly offered a wide autonomy for Nagorno-Karabakh as part of Azerbaijan, while the Armenian side demands independence for the breakaway region.
Although border shootouts and skirmishes were not unusual all along the Armenian-Azerbaijani frontline in Nagorno-Karabakh since 1994 and claimed dozens lives every year, the April clashes labeled as 'Four-Day War' marked a new chapter in the history of the conflict. Along with the tangible results they brought, the clashes and the events around them were accepted as a victory in Azerbaijan for the following outcomes.
The most tangible result of the four-day battles was the liberation of several territories by Azerbaijani armed forces that managed to re-capture a few strategically important heights- the first change in the frontline since the inconclusive ceasefire 22 years ago. Responding to Armenian statements on the loss of 800 hectares of territory, the officials from Baku reported that the Azerbaijani military took control of 2000 hectares of territory. However, strategic positions inside Karabakh, which the Azerbaijani troops seized allow them to control more territories now, are considered the major gains of the Azerbaijani side.
The blitzkrieg also became an opportunity for Azerbaijani military to display its capability and hardware. Azerbaijan's forces have been heavily modernized in the past 10 years since the beginning of the oil boom in the 2000s. Relying on weighty military investments and boasting with their military budget, which was equal to or more than the entire national budget of Armenia, the Azerbaijani authorities would regularly utilize bellicose rhetoric and threaten to unfreeze the conflict. In April, the Azerbaijani troops finally obtained a chance to exhibit the expensive, exclusive and state-of-the-art weaponry they have been affording from various sources.
Furthermore, Azerbaijan finally overcame the syndrome of the defeated: the active phase of Karabakh war (1988-1994) ended with the victory of Armenia that occupied 20 per cent of Azerbaijani territories. The defeat and loss of territories to the neighboring country, which is much smaller in terms of territory, population and natural resources, has been perceived in Azerbaijani society as a disgrace for years, while the local society would always try to explain the failure by different arguments (such as domestic chaos and anarchy, Russia`s military aid to Armenia). The feelings of humiliation that lasted 20 years were finally downplayed and replaced by self-confidence in the aftermath of the April victory.
The Azerbaijani party could also demonstrate that it still considers Karabakh as an integral part and has no plans to abandon the hopes and opportunity to reclaim the territory. That was a message to both domestic and international community that the conflict is not 'frozen' as claimed, and can unravel at any time again. Although a new generation has grown up during the 20 years since Karabakh was occupied, the memory and knowledge of what belongs to Azerbaijan is still strong in society: this was proved by the active participation of young soldiers in the offensive and eagerness of thousands of moreto enlist in the army.
Another important nuance related to the conflict could be the parity Azerbaijan managed to attain in informational conflict. Possessing strong diaspora across the world and actively lobbying in many countries, including France, Russia and the United States, which are the official mediators of the Nagorno-Karabakh conflict, the Armenian organizations, political groups and media organs have been promoting the Armenian viewpoints and propagating against Azerbaijan. Their activities used to be hundred times more effective than Azerbaijan`s. At present, media war could be estimated more or less equal. The access of Azerbaijani politicians and journalists to foreign media and their opportunity to address to wider audience has become greater and greater; these opportunities were utilized maximally throughout the four-day conflict. Moreover, during many international events held during and/or after the conflict Azerbaijan`s position was openly and clearly expressed.
Azerbaijan managed to attain superiority in foreign policy as well. Turkey and Pakistan backed Azerbaijan 'to the end' against Armenia, while Ukrainian and Georgian authorities expressed support Azerbaijan`s territorial integrity. Furthermore, Israeli Minister of Defense Avigdor Lieberman blamed Armenia for provoking the clashes and said 'Azerbaijan's position in the conflict is justified.' Pedro Agramunt, President of the Parliamentary Assembly of the Council of Europe, called for "the withdrawal of all Armenian armed troops from occupied Azerbaijani territories in compliance with UN Security Council resolutions". The Organization of Islamic Cooperation also supported Azerbaijan and made a similar statement on "the withdrawal of Armenian troops."
Meanwhile Armenia found itself abandoned even by its formal allies: Belarus and Kazakhstan- Armenia`s close partners within Eurasian structures (Eurasian Economic Union, Collective Security Treaty Organization)- stated their respect to Azerbaijan`s territorial integrity. The Belarusian ambassador was therefore summoned to Armenia`s Foreign Ministry to be informed that Yerevan was "deeply bewildered" by Minsk`s statement. A planned summit of the Eurasian Economic Union (EEU)in Yerevan got cancelled after Kazakhstan, one of the bloc`s member-states, refused to attend it in an apparent show of support for Azerbaijan. Although the Russian authorities formally called on parties to end hostilities, the Armenian people feel dissatisfied with Russia`s attitude and sales of arms to Azerbaijan. As anti-Kremlin sentiment grew in Armenia, mass rallies were organized in Yerevan against Russia.
Territorial gains, military and moral victory should bring Azerbaijan additional advantages on the negotiation table, experts and ordinary people think, especially on the Azerbaijani side. Baku made it obvious that it would no longer tolerate endless negotiations with no results. Rich military budget, state-of-the-art weaponry and international support put Azerbaijan in a much advantageous situation, which should be taken into account in Yerevan. How the April clash will influence the future Karabakh talks and to what extent Azerbaijani diplomats will be able to utilize its benefits are open questions, which will find their answers in the upcoming months.
Bleak See on the Black Sea
Following the latest events in and around the Black Sea, two old questions are reappearing. Both are inviting us for a repeated elaboration:
If a Monroe doctrine (about the hemispheric security exclusivity) is recognised at one corner of the globe, do we have a moral right or legal ground to negate it at the other corner? This irrespectively from the fact that Gorbachev-Yeltsin Russia unilaterally renounced the similar doctrine – the Brezhnev doctrine about irreversibility of communist gains.
Clearly, the 'might-makes-right' as a conduct in international relations cannot be selectively accepted. Either it is acknowledged to all who can effectively self-prescribe and maintain such a monopoly of coercion, or it is absolutely (revoked and) condemned as contrary to behaviour among the civilised nations.
Next to the first question is a right of pre-emption.
It is apparent that within the Black Sea theatre, Russia acts in an unwilling, pre-emptive and rather defensive mode. That is not a regime change action on the other continent following the rational of extra security demand by exclusive few. Fairly, it is an equalising reactive attempt within the near abroad. For the last 25 years, all the NATO military interventions were outside its membership zone; none of the few Russian interventions over the same period was outside the parameter of former USSR.
Before closing, let us take a closer look on the problem from a larger historical perspective.
Una hysteria Importante
Historically speaking, the process of Christianization of Europe that was used as the justification tool to (either intimidate or corrupt, so to say to) pacify the invading tribes, which demolished the Roman Empire and brought to an end the Antique age, was running parallel on two tracks. The Roman Curia/Vatican conducted one of them by its hammer: the Holy Roman Empire. The second was run by the cluster of Rusophone Slavic Kaganates, who receiving (the orthodox or true/authentic, so-called Eastern version of) Christianity from Byzantium, and past its collapse, have taken over a mission of Christianization, while forming its first state of Kiev Russia (and thereafter, its first historic empire). Thus, to the eastern edge of Europe, Russophones have lived in an intact, nearly a hermetic world of universalism for centuries: one empire, one Tsar, one religion and one language.
Everything in between Central Europe and Russia is Eastern Europe, rather a historic novelty on the political map of Europe. Very formation of the Atlantic Europe's present shape dates back to 14th–15th century, of Central Europe to the mid-late 19th century, while a contemporary Eastern Europe only started emerging between the end of WWI and the collapse of the Soviet Union – meaning, less than 100 years at best, slightly over two decades in the most cases. No wonder that the dominant political culture of the Eastern Europeans resonates residual fears and reflects deeply insecure small nations. Captive and restive, they are short in territorial depth, in demographic projection, in natural resources and in a direct access to open (warm) seas. After all, these are short in historio-cultural verticals, and in the bigger picture-driven long-term policies. Eastern Europeans are exercising the nationhood and sovereignty from quite a recently, thus, too often uncertain over the side and page of history. Therefore, they are often dismissive, hectic and suspectful, nearly neuralgic and xenophobic, with frequent overtones.
Years of Useful Idiot
The latest loss of Russophone Europe in its geopolitical and ideological confrontation with the West meant colossal changes in Eastern Europe. One may look into geopolitical surrounding of at the-time largest eastern European state, Poland, as an illustration of how dramatic was it.  All three land neighbors of Poland; Eastern Germany (as the only country to join the EU without any accession procedure, but by pure act of Anschluss), Czechoslovakia and the Soviet Union have disappeared overnight. At present, Polish border countries are a two-decade-old novelty on the European political map. Further on, if we wish to compare the number of dissolutions of states worldwide over the last 50 years, the Old continent suffered as many as all other continents combined: American continent – none, Asia – one (Indonesia/  East Timor), Africa – two (Sudan/South Sudan and Ethiopia/Eritrea), and Europe – three.
Interestingly, each and every dissolution in Europe was primarily related to Slavs (Slavic peo-ples) living in multiethnic and multi-linguistic (not in the Atlantic Europe's conscripted pure single-nation) state. Additionally, all three European fragmentations – meaning, every second dissolution in the world – were situated exclusively and only in Eastern Europe. That region has witnessed a total dissolution of Czechoslovakia (western Slavs) and Yugoslavia (southern Slavs, in 3 waves), while one state disappeared from Eastern Europe (DDR) as to strengthen and enlarge the front of Central Europe (Western Germany). Finally, countless centripetal turbulences severely affected Eastern Europe following the dissolution of the Soviet Union (eastern Slavs) on its frontiers.
Irredentism in the UK, Spain, Belgium, France and Italy, or Denmark (over Faroe Islands and Greenland) is far elder, stronger and deeper. However, all dissolutions in Eastern Europe took place irreversibly and overnight, while Atlantic Europe remained intact, with Central Europe even enlarging territorially and expanding economically.
Deindustrialized, incapacitated, demoralized, over-indebted, re-feudalized, rarified and de-Slavicized
Finally, East is sharply aged and depopulated –the worst of its kind ever– which in return will make any future prospect of a full and decisive generational interval simply impossible. Honduras-ization of Eastern Europe is full and complete. Hence, is it safe to say that if the post-WWII Soviet occupation of Eastern Europe was overt and brutal, this one is subtle but subversive and deeply corrosive?
The key (nonintentional) consequence of the Soviet occupation was that the Eastern European states –as a sort of their tacit, firm but low-tempered rebellion – preserved their sense of nationhood. However, they had essential means at disposal to do so: the right to work was highly illuminated in and protected by the national constitutions, so were other socio-economic rights such as the right to culture, language, arts and similar segments of collective nation's memory. Today's East, deprived and deceived, silently witnesses the progressive metastasis of its national tissue.
Ergo, euphemisms such as countries in transition or new Europe cannot hide a disconsolate fact that Eastern Europe has been treated for 25 years as defeated belligerent, as spoils of war which the West won in its war against communist Russia.
It concludes that (self-)fragmented, deindustrialized and re-feudalized, rapidly aged rarified and depopulated, (and de-Slavicized) Eastern Europe is probably the least influential region of the world – one of the very few underachievers. Obediently submissive and therefore, rigid in dynamic environment of the promising 21st century, Eastern Europeans are among last remaining passive downloaders and slow-receivers on the otherwise blossoming stage of the world's creativity, politics and economy. Seems, Europe still despises its own victims…
Terra nullius
Admittedly, by the early 1990s, the 'security hole'– Eastern Europe, has been approached in multifold fashion: Besides the (pre-Maastricht EC and post-Maastricht) EU and NATO, there was the Council of Europe, the CSCE (after the 1993 Budapest summit, OSCE), the EBRD and EIB. All of them were sending the political, economic, human dimension, commercial signals, assistance and expertise. These moves were making both sides very nervous; Russia becoming assertive (on its former peripheries) and Eastern Europe defiantly dismissive.  Until this very day, each of them is portraying the NATO enterprise as the central security consideration: One as a must-go, and another as a no-go.
No wonder that the absolute pivot of Eastern Europe, and the second largest of all Slavic states – Ukraine, is a grand hostage of that very dilemma: Between the eastern pan-Slavic hegemony and western 'imperialism of free market'.  Additionally, the country suffers from the consolidated Klepto-corporate takeover as well as the rapid re-Nazification.
For Ukraine, Russia is a geographic, socio-historic, cultural and linguistic reality. Presently, this reality is far less reflected upon than the seducing, but rather distant Euro-Atlantic club. Ukraine for Russia; it represents more than a lame western-flank' geopolitical pivot, or to say, the first collateral in the infamous policy of containment that the West had continuously pursued against Russia ever since the 18th century.
For Moscow, Kiev is an emotional place – an indispensable bond of historio-civilizational attachment – something that makes and sustains Russia both Christian and European. Putin clearly redlined it: Sudden annexation of Crimea (return to its pre-1954 status) was an unpleasant and humiliating surprise that brought a lot of foreign policy hangover for both the NATO and EU.
Nevertheless, for the Atlantist alarmists (incl. the Partition studies participants and those working for the Hate industry), military lobbyists and other cold-war mentality 'deep-state' structures on all sides, this situation offers a perfect raison d'etre.
Thus drifting chopped off and away, a failed state beyond rehabilitation,  Ukraine itself is a prisoner of this domesticated security drama. Yet again, the false dilemma so tragically imploded within this blue state, of a 50:50 polarized and deterritorialized population, over the question where the country belongs – in space, time and side of history. Conclusively, Eastern Europe is further twisting, while gradually combusted between Ukrainization and Pakistanization.  The rest of Europe is already shifting the costs of its own foreign policy journey by 'fracking' its households with a considerably (politically) higher energy bills.
Earlier version of the text was published by the Vision & Global Trends
Russia Responds to Ukraine Kerch Provocation and How Martial Law Affects Minsk II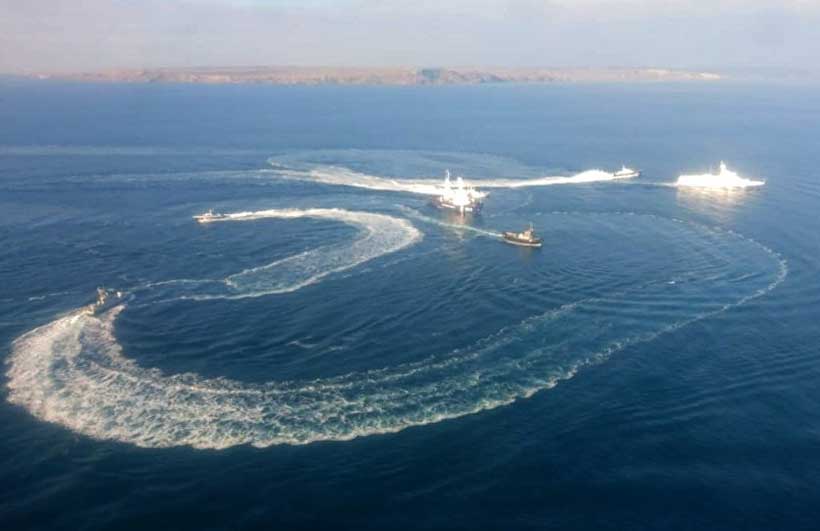 Short Interview with Russian UN Deputy Permanent Rep  Dimitry Polanskiy about the Kerch incident and how Ukraine's declaring Martial Law affects Donbass by George & Olga Eliason.
On November 25, 2018, Russian border patrol intercepted three Ukrainian warships on course for the Kerch bridge. Ignoring previous agreements, Ukraine did not tell Russia or schedule transit through the shallow water strait.
Commercial and state traffic have to schedule traversing the narrow channel because it handles traffic from one direction at a time. This is most important for vessels with a deeper draft because water depth is shallow going through.
A vessel's draft is the distance from the waterline to the bottom of the hull. This determines the minimum depth needed for the vessel to safely navigate shallow water such as the Kerch Strait. The strait can hold a vessel with an eight-meter (26 ft) draft as long as pilot assistance is used.
According to Ukraine's version of the Kerch incident, three warships were going from the port of Odessa to the port of Mariupol and Russia shot at and captured the vessels that were innocently traveling from port to port.
The Daily Signal reported "On Sunday, Europe's two largest standing armies went to the precipice of a major war.
That day, Russian military forces attacked and captured three Ukrainian navy vessels that were transiting through the Russian-controlled Kerch Strait on their way from Ukraine's Black Sea port of Odesa to Mariupol, on the Sea of Azov.
"This attack, of course, is not accidental. This is clearly an element planned by Russians in the escalation of the situation in the waters of the Sea of Azov, which has been lasting for several months. And I'm sure this is still not a culmination," Ukrainian President Petro Poroshenko said Monday in remarks posted to his administration's website."
Reporting for the Daily Signal, Nolan Peterson gets the date and the fact an incident happened right. And with what's become par for Ukrainian outlets since the civil war started, he rushes to get his story out or just ignores the facts and paints what has been shown as Ukraine's attempt to provoke a violent Russian reaction.
The only big story Peterson brings to the table from the Ukrainian side is that Petr Poroshenko agrees there is no state of war between Ukraine and Russia as of November 25, 2018. No war, no armies in Donbass. No armies, just Ukraine's continual lies to help rake in sympathy graft so lawmakers get rich.
The story goes on to say Ukraine notified the proper authorities about their passage, and then in what has become typical fashion the same story states bluntly that Ukraine did not fill out the required paperwork or notify anyone they were coming.
What do Ukraine's captured naval captains have to say? They were there under orders.
"According to Vladimir Lesovoy, a third rank captain of the Ukrainian Navy, who acknowledged that he consciously ignored calls from Russian border guards to stop. Lesovoy also said that the goal of the raid was to stage a provocation."
Ukraine Navy's Lieutenant Alexey stated bluntly they all knew they were violating Russian territorial waters.
The story that is surfacing is the Ukrainian navy vessels had enough fuel onboard to make it to the Kerch strait but if everything was done properly. But with the usual 2-3 hour queue to go through, there was not enough fuel to make it to the other side.
Obviously unless they had prearranged refueling near or at the bridge, they had no plan of going through. They were under orders to travel full throttle to the Kerch Strait and not stop regardless of outcome.
Since the only option for fueling would probably come out of Mariupol and no refueling boats or barges have been seen, the captain was right- This was a provocation.
NATO, the EU, Canada, and the US Ambassador to the UN Haley unequivocally support Ukraine in its weird and unique fabrication of this event. US president Donald Trump isn't following suit.
According to Ukraine, Russia was laying in wait for the opportune moment Ukraine would send warships near its new bridge with Ukraine continually crying about a Ukraine-Russian war. Russia would then capture Ukraine's battle-tested tugboat and Soviet-era artillery ships for a museum piece perhaps?
Now that we've cut through the story and it's clear even when addressed from the Ukrainian perspective, in its best light, it is still a military provocation.
While Ukrainian ships were in international waters no actions were taken.  Warnings were given for Ukraine to follow the routine procedure to go through the Kerch Strait.
The procedures include scheduling the passage 48 hours in advance to going through at the Kerch Port Captain Office. You have to confirm the plan 24 hours ahead of arrival and again 4 hours before you go through.
What is Russia's official reaction? I had a chance to ask Russia's First Deputy Permanent Representative to the UN, Dimitry Polanskiy.
George Eliason- Why is Russia using such a soft approach to Ukraine? The Kerch Strait incident is a key example. Ukraine ignored the agreed-upon format for bringing warships into the strait and Russia came very close to addressing it like a border incident instead of a military provocation. Is there a denoted Red Line Russia is holding Ukraine too?
And I asked how does this or Ukraine's declaration of Martial law affect Russia's view as a guarantor of the Minsk Agreements?
RF Deputy PR to the UN Polanskiy– "Russia is trying to ignore Ukraine provocations to avoid war which will be imminent if we reply as we should. We don't want to give Poroshenko a chance to improve his miserable ratings but if he attacks we will reply. We still stick to Minsk Agreements and there is no other way to solve this issue if Ukraine wishes to keep these regions in one state. Martial law is an internal affair of Ukraine unless it starts an offensive in Donbass."
Why did Poroshenko declare Martial Law right after his tugboat was captured? Why did he wait five years into Ukraine's civil war? Sources all over the Internet are looking at the regions under Martial law since November 26th. If we look at the area not under these restrictions which include voting in elections, it is where Poroshenko got at least 50% of the vote in 2014.
Does the Martial law declaration affect Donbass? I asked Lugansk People's Republic (LNR) Foreign Minister Vladislav Danego and Deputy Foreign Minister Anna Soroka.
George Eliason– Kiev declared martial law. How does this affect Minsk 2?
LNR FM Danego– "We will work through the Europeans to ensure that it does not affect Minsk 2. The initiative from Merkel has already been on this topic – 60 days (for Martial Law) was adjusted to 30."
According to the still surfacing story, Poroshenko wanted to declare Martial law for 60 days. Yulia Tymoshenko and Oleg Lyashko thwarted this in the Rada and pared it back to 30 days as a compromise.
And right on queue from the same article backing up the Foreign Minister's statement- "Ursula von der Leyen, Germany's defence minister, appeared to blame Moscow for breaching a 2003 agreement with Kiev that is supposed to allow for free shipping in the area."
Merkel, not Tymoshenko is the one working overtime to smooth things out and not let Ukraine get out of hand. If Moscow had to agree to free shipping, the Kerch Strait is in Russian territorial waters. Russian land is on either side of the Kerch strait since Crimea held a referendum to rejoin Russia in 2014.
LNR Deputy FM Soroka- We don't think that this (Ukrainian Martial Law) will affect Minsk in any way. All meetings within the framework of the Minsk process are still scheduled. Nobody mentioned any changes. Indeed, we must look at the reaction of Moscow, but again, except for notes and indignation at international venues, nothing will happen.
There are a few good reasons for Poroshenko to declare Martial law that have as much or more merit than him postponing or winning the 2019 Ukrainian presidential election by default.
Poroshenko timed both the Kerch incident and Martial law declarations right ahead of the G-20 summit to drum up support for Ukraine and get the international community in line against Moscow.
This might give him a little room back in Ukraine to complete his political triad of Army-Language-Faith. The Ukrainian Orthodox Church split with the Moscow Patriarchate was supposed to be the crown of his political life. Not every political leader can split Christianity successfully in his own lifetime.
And clearly, Petr Poroshenko is finding that out the hard way. When Poroshenko called a meeting of the bishops who would vote on autocephaly, only two out of more than eighty showed up. He's found out that very few Orthodox leaders favor the idea.
Martial law gives Poroshenko the legal cover to suppress the areas where dissident Orthodox officials are and possibly still pass his Kiev patriarchate breakaway church through some semblance of a Church Sobor (Congress).
And last but never least, there is a new "cold Maidan" forming.  There's no heat and people are freezing. There's no work and people are starving. They can't pay their bills or buy medications. Instead of rebuilding the economic base needed to take the country out of abject poverty, Ukraine prosecutes a war with a former region. Instead of trying to keep agreements it signed which would reintegrate Donbass peacefully.
According to leading Ukrainian political scientist Mikhail Pogrebinsky, 75-80% of the population think Ukraine is going in the wrong direction. If this is the case, how do the Ukrainians have any credibility internationally?
The International community has a responsibility to oversee the tax dollars it gave Ukraine for reform that has been continually wasted. The EU has a responsibility to its own people not to exasperate the humanitarian situation it created in Ukraine that will end up flooding Europe with hopeless west and central Ukrainians.
Ukraine must be held to the same standard of law every other government is held instead of being given a free pass every time Ukraine or its nationalists go on a crime spree.
Just because "It (Ukraine's nationalist government) was intellectually decapitated (according to Zbigniew Brzezinski and Ashton B. Carter),  as a matter of deliberate policy during the Stalin years and beyond so that the most able and energetic Ukrainians were either killed or magnetically attracted to Moscow and Russified" doesn't give Ukraine a free pass to relive their grandparents crimes or start regional wars in a 2018 world.
The LNR Elections Through the Lens of the Russian Federation and the LNR Foreign Ministry
On November 11, 2018, along with people from twenty-two countries, I was in Lugansk People's Republic as an election observer for the national election. The elections in Lugansk and Donetsk People's Republics were necessary because of the assassination of DNR Head of the Administration Alexandr Zakharchenko and the resignation of former Head of the Administration Igor Plotnitsky.
In the run up to the election and following it I was privileged to be able to interview diplomats from the Russian Federation and Lugansk People's Republic. I took statements from the Deputy Foreign Minister in LNR, an OSCE election observer who was on his way to monitor the US mid-terms, and the mayor of Stakhanov which is a city in LNR.
Shattering the republics seem to be the motivation behind Zakharchenko's assassination.
The elections themselves had the power to make or break the new republics. If the turnout was low, it would have meant that people voted no confidence in the young states and would have signaled they were failing.
Instead, the voter turnout is among the highest recorded anywhere in recent memory. Lugansk People's Republic had a 77% voter turnout and DNR came in with 80%.
Instead of the outcome being determined by the results, this election is getting parsed by commas and period placement. While no one is actually arguing whether the election was legal or not, Ukraine is arguing its legitimacy.
Ukraine and LDNR only have one mechanism to negotiate through. This embodies the Minsk agreements. Minsk II makes the only reference to elections agreed to by all parties. Ukraine has the right to regulate local elections in LDNR. This gives the Ukrainian government control over how city and town elections are run. Ukraine decides what determines a legitimate election and what does not according to Ukrainian law.
Notice the parsing between legitimate (authentic) and according to Ukrainian law. This represents the arguments made about the election.
The principle involved is the same as a government assuming a power because it isn't forbidden in the Constitution. This is done all the time and is considered normal.
Since the Minsk Agreements don't specify for Ukraine to regulate the national elections, LDNR rightfully assumes the authority to do so. This is against the backdrop of DNR Head Zakharchenko's assassins admitting they were working for Ukraine.
What does that mean? Well, for international bodies that means different things depending on what their mandate is. I was able to put these questions to an OSCE Election Observer on his way to monitor the US midterm elections. This is what he could say:
"The OSCE can only observe an election if it is invited to do so by an OSCE participating State, so any statements from the OSCE would not comment on any procedural aspects of the elections. The OSCE only observes elections when they are invited by the internationally recognized government, which in this case would be the authorities in Kyiv, and since the Ukrainian government denounces the Donbas elections as illegitimate, it is not inviting the OSCE to observe. Therefore the OSCE will not be monitoring and will not comment on the procedural aspects."
As you can see, it isn't legality that is questioned. It's legitimacy that Kiev questions. It's procedure, which is administrative detail. And lastly, it is the lack of an internationally recognized government invitation.
This is important because the same principals apply when I interviewed Russia's First Deputy Permanent Representative to the UN, Dimitry Polanskiy and LNR's Foreign Minister Vladislav Danego.
Ambassador Polanskiy, I would like to have a statement from you about Russia's official attitude toward what kind of status change this (the election) brings to LDNR?
Second, do you see this as a step to (LDNR) normalizing relations with Russia? IE recognition?
Ambassador Polanskiy- "Hello once again. I will try to explain our position to you. The leaders of some districts of the Donetsk and Lugansk regions were elected on November 11 of this year. The current leaders – Denis Pushilin (Donetsk) and Leonid Pasechnik – were elected to the top positions. The voter turnout was unprecedentedly high – almost 80 percent.
The elections were organized under the universal and equal right to vote as guaranteed by item 7.3 of the 1990 Copenhagen Document of the Conference on Security and Cooperation in Europe (CSCE) and by the basic standards of democracy.
The Kiev authorities do not want to hear this, but we will tell them about the unanimous opinion of the many observers from over 20 countries, including OSCE member states. On the whole, voting took place in a calm atmosphere and without violations. The absence of excesses was reaffirmed by the OSCE Special Monitoring Mission (SMM). Its personnel did not act as observers at these elections but continued monitoring the situation in the unrecognized republics under their mandate.
 Now I would like to say a few words about motives. After the assassination of Alexander Zakharchenko, the potential "vacuum of power" created a real risk of total destabilization in southeastern Ukraine. This could have negatively affected the sustenance of life in Donbass and the process of settlement in general against the backdrop of the Kiev-imposed trade and economic blockade and Kiev's continuous threats to use force.
The elections made it possible to avoid this scenario. Now the people's elected officials have a mandate to address the practical goals of supporting a normal life in these regions and carrying out the social functions that have been stubbornly neglected by the Ukrainian authorities. It is essential to approach the results of the election in Donbass with understanding, respect, and consideration for the totality of all factors.
We assume that it was held outside the context of the Minsk Package of Measures, item 12 of which is exclusively devoted to local elections. We hope the newly elected leaders of Donetsk and Lugansk will continue the dialogue with Kiev in the framework of the Contact Group on settling the crisis in southeastern Ukraine in accordance with the Minsk agreements.
2.And we are open for normalization with Ukraine, all the contrary initiatives come from Kiev, not from us. Ukraine has become an "Anti-Russia" from the point of view of its foreign policy
Instead of looking for alleged Russian aggression and blaming everything on my country Ukraine should better try to find the way to win back the trust of its citizens – those who live in the East and in the South. There is no other way to peace for Kiev but through dialogue with Donbass!
To answer your question about recognition. We do not intend to recognize these two republics, and the elections change nothing in this regard. They create no new status. Previous ones were held 4 yrs ago. According to Minsk agreements someday they will return to Ukraine.
But Kiev needs to implement Minsk agreements for this, create conditions for residents of Donbass to feel at home, speak Russian language and teach their children in it as well as respect their historic figures who fought for the liberation of Ukraine from Nazi Germany. So far it is not being done."
Russia's First Deputy Permanent Representative to the UN Polanskiy makes it clear that Russia's position while supportive, remains within its agreements and international norms regarding LDNR. Ukraine, on the other hand, has been ramping up the rhetoric and bringing in the machinery of war to the front lines as it continues to shell peaceful civilian homes and apartments. Kiev is now threatening a Blitzkrieg war in a region Ukrainian nationalists assisted Germany with its Blitzkrieg war in WWII.
LNR FM Vladislav Danego on what the results mean going forward
The morning after the election I was lucky enough to catch LNR's Foreign Minister Vladislav Danego in the hotel lobby and he graciously agreed to an interview.
George Eliason– I'm with LNR's (Lugansk People's Republic) Foreign Minister Danego. It's the day after the election and they have a mandate, 77% of voters able to vote; voted.
Foreign Minister Danego, how do you see negotiations, peace negotiations going with Ukraine from this point forward?
LNR Foreign Minister Vladislav Danego– "The result that was shown yesterday, that level of political awareness and desire (aspiration) that people showed with 77% participation (in the election) said that the world needs to respect (honor) the people's choice and that would also include Ukraine. 
Donbass clearly said, "We are for the republic." In LNR and DNR it's absolutely unprecedented (electoral) participation. That level of voter participation is rarely seen anywhere.
In this situation, we will force Ukraine to accept the opinion (choice) of Donbass. And in the talks, first of all, and most of all, it will complicate the talks because Ukraine categorically refuses to hear the people of Donbass. But I hope the international community will make Ukraine open their eyes, and open their ears, and hear what Donbass is saying.
Only under those conditions will there be the possibility of at least some progress in dialogue with Ukraine.  If Ukraine will continue pretending they cannot see or hear Donbass, then accordingly, we will make our decision on whether it's feasible to try and negotiate with such a country. Or will we need to wait until the government in Ukraine becomes the kind that is willing to talk and negotiate?
And that's why we had elections because we now have two republics where there are governments acting for the interests of the people who live in Donbass and have to periodically check for the approval of the people.
Right now, first and foremost, people showed their patriotism and responsibility toward their country. The results will be announced shortly. Preliminary results show that interim Head of the Republic Pasichnik is ahead and also results for members of the People's Council.
People showed a high level of trust in the current leadership of the republic. They showed their desire to move forward. They showed they want to build peaceful lives and count on the help of the Russian Federation. They showed this clearly at the end of the day of the election."
Every one of Foreign Minister Danego statements is in line with international law and the agreements Lugansk People's Republic (LNR) has with Kiev.
FM Danego isn't saying Kiev has to deal with LNR in a different way. He made it clear the people have decided who is representing them at the negotiating table and who is leading them into the future today. The one other thing is Kiev has to start respecting the agreements they are party to.
LNR DFM Anna Soroka on reasons why this election is important
We went to the commemoration at the We will not forgive! We will not forget! Memorial with LNR Deputy Foreign Minister Anna Soroka. This is the text of what she had to say.
This place is where the soul of Lugansk People's Republic lays. In this place, some of the citizens of Lugansk were killed during the military actions of the summer of 2014. I am the Deputy Foreign Minister of Lugansk People's Republic. My name is Anna. I, personally was a participant and took part in the events that happened in 2014.
Right now, we're at the memorial for the burial of the victims. It's called "Never forget, Never forgive!" Here lies up to 800 citizens of the republic. One hundred nineteen we know the names of. The rest are unknown to us.
I will explain how / why this happened. Aberonnaya Street divides the city (Lugansk) into two parts and it has importance in two wars, the first and the second world wars. As it happened this street historically divides our city into two parts.
The memorial for victims of nineteen forty-two, nineteen forty-three (behind her in the video) is for up to twenty-five thousand war victims of Voroshelovgrad (Lugansk) tortured by the Nazi army and this place where we stand now, the memorial "We don't forget, we don't forgive!" is for the victims of Ukrainian aggression of 2014 (to her left in the video).
This is the one place that doesn't need (more)proof of the guilt of the Ukrainian army of the Kiev regime that unlawfully came to power in February 2014. It, by itself, is the witness that in peaceful normal conditions this kind of mass grave has no place. It cannot happen.
In the summer of 2014, when Lugansk was without lights and water, from the airport and all sides of the surrounding territory (Lugansk) was occupied by Ukraine, mortars were flying from the territory occupied by Ukraine. Civilians were dying everywhere, all over the city, even in the center of Lugansk.
The city was not able to keep up with all the bodies that were coming in because there was no electricity and not enough generators. All four cemeteries of Lugansk were under fire by the Ukrainian army. The decision was made to bury people here. If you can imagine the situation, this was the frontline (points in the middle distance). The airport which was four kilometers from here was under the control of the Ukrainian army. They attacked from there.
It was very difficult to bury people here as well (because it was also under fire). People dug trenches and as we said before (most of those who died) is unknown. We are now working on Identifying the rest of the people buried here.
I don't want to paint this horrific picture if you could imagine for a minute, no lights, no water, explosions every minute, shells exploding overhead, bodies without heads, legs, or arms. It was very scary, horrific. We didn't know who they were. That's why there are so many unknown.
And we want very much for the world to know about the fact this place exists. This precise place is a direct witness to the crimes of Ukraine against our people. And today, when we stand before the choice that we have to make at our election, we would like to know that the world will hear us and understand us.
And understand we are not just trying to show our willfulness (contrariness). We fight for our lives, for peace. We fight for them (points to the mass grave) because we are responsible before them. I propose a moment of silence for all those who have died.
An interview with Sergey Schevlakov, the Mayor of Stakhanov about why the election is important to Donbass.
"The Ukrainian government started this. None of us, not I, not you wanted to start this war. We didn't go to Lviv or somewhere else in Western Ukraine to tell them how to run things. We were all friendly, all friends. Our families were friends. It's them that came to kill us.
It is them that is tearing the country (Ukraine) apart. So, it's understood the government of Ukraine has different goals. For example, a long time ago in 12th century Great Rus, when it was torn apart into little kingdoms and history is repeating itself.
It happened in the 16th century. It's repeating again today. Everyone wants to be a little king separating into little kingdoms. Instead of uniting, they tried to be great themselves."
George Eliason– Will the Moscow Patriarchate be able to mend the breach in Ukrainian Orthodoxy?
Mayor Sergey Schevlakov -" Let me put it this way, we had one great powerful country. The world had competition. To have someone lose you have to impoverish(bankrupt) them spiritually and economically.
So, the European countries coalition tore apart the Soviet Union and now they are doing it to everything else including Ukraine. The goal is to push away a part of Russiya (greater Russia) that had Ukraine and Belarus together. It used to be one body or one country, they are consciously separating Ukraine and Russiya, pushing them away from each other so they could never unite again.
For a thousand years, Ukraine and Russia were one country and one people. For them not to unite and show that they are different, is why they are consciously forcing the Ukrainian language and won't have Russian. Although we have one language, they are forcing the concept that we are different people and a different country.
And now to separate us spiritually, they are setting up the Ukrainian Prava Slava (Orthodox Church) so they want to be separate from the Russian Orthodox Church.
To divide the church into parts is to separate part of the people that live in Ukraine. On their own, the western countries and institutes created the separation to divide us so that we could never join again so that we could never become strong again.
So that we will always be poor and miserable. So that we crawl on our hands and knees before those that give welfare handouts or that we have to go to their countries to work on their plantations.
To make us the 21st-century slaves.
In other words, instead of building equality between countries, between different nations and peoples there should be respect and equality to build peaceful and good relationships between countries. But today, unfortunately, a different road is chosen. War, destruction, poverty, sorrow, tears, and so on;
We don't want this.
We want peace and normal relationships politically, economically, and spiritually. That is why we are against the separation and division in the Church as well.
So, to summarize; we are former Soviet countries, meaning we are one people really. But in Soviet times the Germanies after WWII were separated in two countries. Russia did not fan the flames of division between the two Germanies. Was there a war between the two Germanies? No.
The Soviet Union left everything in Germany (didn't rob the country) and took the Soviet army out. They allowed the two Germanies to come together without any conflict. But why then is the same Germany that was allowed to unite, the first to interfere in our union?
Instead, they're causing us to divide instead of uniting so that we are left hungry and without work. That's why I have this question. How is this a democratic Europe? Just saying, for example."
Since the election, Ukraine has declared a state of war. They have moved S-300 surface to air missiles into the Donbass conflict zone. Olexandr Turchinov wants to use Blitzkrieg operations which he says will subdue LDNR in one week.
Russia is taking the threat very seriously this time. This is the result of the election on Ukraine's side. Especially since there is a mandate for the newly elected leaders to continue moving in the direction they are going, Ukraine wants to destroy the new republics, not reintegrate them.
The world community needs to take these threats seriously. The people of the region have suffered enough. If the conflict in Donbass widens at all, ie starts to involve Russian military, it will likely engulf the entire region as well.
In the meantime we get a clear window into the democracy Ukraine is proposing, not just for Donbass, but for the rest of Ukraine that is already under Poroshenko's wing. It is penury, perpetual escalation, and war for the sake of a comma and the placement of a period.
*All video by Olga Eliason*