Will China and USA further escalate tension in South China Sea?
South China Sea (SCS) is emerging a hotbed of tension between China, the economic and military power of Asia and its sea neighbors of the Asia Pacific region. Following military activity by China which claims its authority over the zone, tensions between China and its northern maritime neighbours continue to dominate developments in the SCS but further unresolved disputes add to the dangerous atmosphere because no side is ready to back down and seek genuine reconciliation, while US super power opposes Beijing and supports its neighbors.
China has issues with ASEAN as Philippines, Japan and Vietnam are been wooed by USA to fight China as part of President Obama's Asia Pivot agenda. US military role in the region in support of China's neighbors further complicates the tension. July 12, 2016, marked a turning point in the long-standing disputes over the South China Sea. After more than three years of proceedings at the Permanent Court of Arbitration, an international body in The Hague, a tribunal constituted under the UN Convention on the Law of the Sea (UNCLOS) issued a widely anticipated decision in a case the Philippines brought in 2013 to challenge China's maritime claims to most of the contested waterway.
The members of the Association of Southeast Asian Nations (ASEAN)—have become increasingly wary of Beijing in recent years and have clearly supported resolving the region's disputes through the mechanisms of international law. Were China to make aggressive new moves, it would deepen their sense of alienation, encouraging them to strengthen their militaries to further balance against Beijing. The Philippines' new president, Rodrigo Duterte, has signaled that he is interested in pursuing a more conciliatory approach to Beijing and has held out the possibility of resuming negotiations with China over resource sharing in the South China Sea. If Chinese President Xi Jinping accepts Duterte's offer, he might be able to reach a deal with Manila that allows China to continue to claim some rights to resources in the far corners of the South China Sea.
As expected by many, the tribunal ruled in Manila's favor and China rejected the tribunal's decision, since Beijing, a signatory to the convention, has long opposed the proceedings and had warned that it would not abide by the judgment. China believes Washington has played its role in getting the judgment against China's position over the SCS. USA and its local partners can avoid a dangerous escalation, and encourage China to abide by the ruling. China responds with increased belligerence.
China insists that it has sovereignty over the Spratly Islands, and the tribunal did not rule on their rightful ownership. But by declaring all of the Spratlys' features to be reefs or rocks, it significantly limited the claims China can make to the surrounding water and airspace. Under international law, China's outposts in the Spratly Islands should be considered isolated enclaves floating in a part of the ocean that is in the Philippines' exclusive economic zone, since they lie within 200 nautical miles of that country's territory. And Beijing cannot use the Spratlys to justify any claims to the surrounding waters.
The tribunal ruled in favor of the Philippines on almost every count, declaring nearly all of China's maritime claims in the region invalid under international law, bringing a substantial amount of new clarity to a number of contentious legal issues and has set precedents that will affect the law of the sea for years to come. The tribunal held that all the territories in the contested Spratly Islands are reefs or rocks, not islands. That distinction matters, because under UNCLOS, reefs cannot generate a claim to the surrounding waters or airspace, and rocks can serve as the basis for only a small maritime claim of 12 nautical miles. Islands, on the other hand, generate a 200-nautical-mile exclusive economic zone; states can also assert additional rights based on the extent of the continental shelves that underlie them.
The tribunal found that China had conducted illegal activities inside the Philippines' exclusive economic zone and thus completely invalidated China's claim that it holds historic rights to the South China Sea through its "nine-dash line," a sweeping cartographic projection that encompasses as much as 90 percent of the waterway. Chinese vessels, the tribunal ruled, had fished where they shouldn't have, and had prevented others from fishing and extracting petroleum within the zone. The tribunal also censured China's construction of artificial islands in the region, which it determined had caused severe environmental damage and heightened geopolitical tensions.
The tribunal's ruling that the Spratlys do not constitute islands under UNCLOS complicated Chinese position and closed off another opportunity for Beijing to save face and destroyed China's ability to justify its expansive claims to the South China Sea in legal terms. As speculated, China has rejected the legitimacy of the Philippines' case and the tribunal's jurisdiction to hear it since Manila first brought its complaint in January 2013. Beijing has decried the tribunal's decision as illegitimate, and it will certainly not abandon its outposts in the Spratlys or return the sand it used to manufacture them to the seabed. In fact, in the wake of the ruling, China landed civilian aircraft on some of those outposts, presumably to demonstrate that possession is nine-tenths of the law.
Since the tribunal rejected China's claims to historic rights in the waterway entirely, Beijing now must either continue to reject the tribunal's ruling wholesale or offer the Chinese public a fresh explanation of why its rights still stand—a tough approach, since Chinese leaders have long stuck to exactly the narrative that the tribunal rejected. The line was first unveiled by the Republic of China in 1947 and was adopted by China's Communist rulers after they took power in 1949. Chinese officials have never explained the nine-dash line's precise legal meaning, but they have repeatedly claimed that it demarcates an area from which China can extract resources.
China can be stubborn. Beijing knows for sure, as being veto members USA would not think of a war with China. It could also apply new domestic laws to the areas it controls. However, China's actions would be deeply worrisome for neighbors and would demonstrate that Beijing is uninterested in playing by the rules of the international order. China's withdrawal from the UNCLOS convention would suggest not only that Beijing intends to ignore the tribunal's ruling but also that it does not want to be bound by the many other maritime rights and provisions that UNCLOS enshrines and that govern the free use of the global commons. USA is not a party to the convention to observe its provisions.
Although the tribunal dealt a blow to China's maritime claims—its rights to water and airspace and its authority to conduct certain activities there—it did not rule on China's claims to sovereignty over territory in the South China Sea, which are beyond the scope of UNCLOS. For that reason, Beijing can rightly argue that its sovereignty over the contested reefs and rocks it occupies has not been affected. It cannot legally continue to declare military zones in the water or airspace around the reefs it occupies, nor can it do so more than 12 nautical miles from the rocks it controls. But if Beijing emphasizes sovereignty claims instead of maritime ones, it could draw criticism from the West.
China might now choose to flout the decision more explicitly by deepening its de facto control of the area, declaring an air defense identification zone in the South China Sea, as it did in the East China Sea in 2013, unsettling many of its neighbors in Southeast Asia. Chinese forces could attempt to intercept a US ship or plane as it conducts a freedom-of-navigation operation, raising tensions between Beijing and Washington.
China has issues with Japan. There is a continual stream of events that all sides use to test the others' resolution, with a dangerous possibility of the tension turning violent at any moment. The Chinese organised a large fishing fleet to visit islands which the Japanese claim and call the Senkaku. Japan lambasted the Chinese for sending the fishing fleet, and pointed out that they were supported by Chinese government ships. The joint presence of commercial and official Chinese vessels on such a large scale is something new. China is aggravating the situation. China appears to be asserting its right to protect its interests by mobilising fishing vessels during the summer fishing season, escorted by official vessels. Also in a recent development in a gas field in the East China Sea near the midway line between China and Japan, China installed naval vessel surveillance radar on its exploration platform. This, too, is an arbitrary move that cannot be overlooked. Beijing is steadily aiming for de facto control as fait accompli. The same tactic has been employed in the South China Sea.
Chinese sources blamed Japanese intransigence for much of the tension that has arisen with China in recent years over islands in the East China Sea. For years, Japan has refused to acknowledge it has any territorial dispute with China, which has basically shut the door to finding a peaceful solution to their sovereignty dispute over the Diaoyu Islands (Senkaku Islands in Japan) through diplomacy and dialogue." "Japan has tried to blame China for the deteriorating situation in the region, accusing it of unilaterally seeking changes to the 'status quo'. But it was Japan that did that by 'nationalizing' some of the islands in 2012, betraying the acquiescence reached by leaders of the two countries in the 1970s and subsequently maintained that the dispute should be shelved."
A recent cyber attack in July by Chinese sources on computer system of Vietnam Airline has been condemned by Vietnamese leadership. The computer system was hacked. In addition, for a day, the screens displaying flight information at Hanoi's and Ho Chi Minh City's international airports were taken over and displayed derogatory messages about Vietnam and the Philippines regarding their dispute with China over South China Sea.
Although the South China Sea disputes have deep historical roots, they have flared up in recent years because China's growing military capabilities have meaningfully improved Beijing's ability to press its claims. If China goes further by deliberately flouting the ruling or withdrawing from UNCLOS, it could destroy the maritime order it has already damaged.
Satisfying as the tribunal's decision may be for Manila, all parties now have a strong stake in ensuring that the situation doesn't escalate. The judgment sets a significant legal precedent: the principles that guided the tribunal's decision are now part of international law, and countries must embrace and reinforce them if they want others to uphold them in the future. The USA and like-minded countries around the world should continue to declare their support for the legal process, calling on China and the Philippines to abide by it without taking a position on the underlying sovereignty disputes. USA should make clear that it will investigate the implications of the decision for its own island claims.
If China does not begin construction at Scarborough Shoal, there will be ample room for cooperation between China and its neighbors and between Beijing and Washington. The wider world is looking on with some concern and it is putting a lot of the blame on China. The New York Times said that the waterway is too strategically important and the disputes too complex for the competing claims by China and five other countries Yet, provocations continue, raising questions about "China's commitment to the rule of law and heightening fears of a wider conflict".
Observation
World needs and seeks peace even as many top military nation is trying to disturb peace and tranquility by all possible means. US led western military forces are after energy resources and energy routes of Arab nations and Afghanistan; China and USA are complicating SCS normalcy; Israel is bent upon destroying peace and prosperity of Arab nations, especially Palestine, killing them by fake pretexts and denying them sovereignty. Palestinians keep dying just like Kashmiris because the colonialist India and Israel keep killing Muslims as their major policy.
Advanced terror techniques are being employed by fascist, imperialist and colonist nations against weak nations. They have converted may Muslim nations into enslaved peoples without freedom.
USA should be committed to acting responsibly. US officials should work closely with their Chinese counterparts, encouraging them to negotiate with the South China Sea's other claimants, particularly the Philippines, and to make progress on a binding code of conduct with ASEAN, a long-sought multilateral agreement that would create a strict set of guidelines for behavior in the South China Sea. A code of conduct would likely also freeze the waterway's political and territorial status quo, helping China reassure its neighbors that its long-term intentions are not threatening.
USA and China should also press ahead with the confidence-building measures they agreed to at June's US-China Strategic and Economic Dialogue, to reduce the risk of an accidental clash between them. That would help each demonstrate to the other and to the region that neither wants to see a great-power conflict over the South China Sea.
Whether or not China move forward to secure cooperation with its neighbors is difficult to forecast right away; similarly, will USA let the region return to normalcy also remains to be seen.
Of course, resolving the current showdown in SCS peacefully and legally would be in everyone's interests.
Indonesia: Balanced politics amid major powers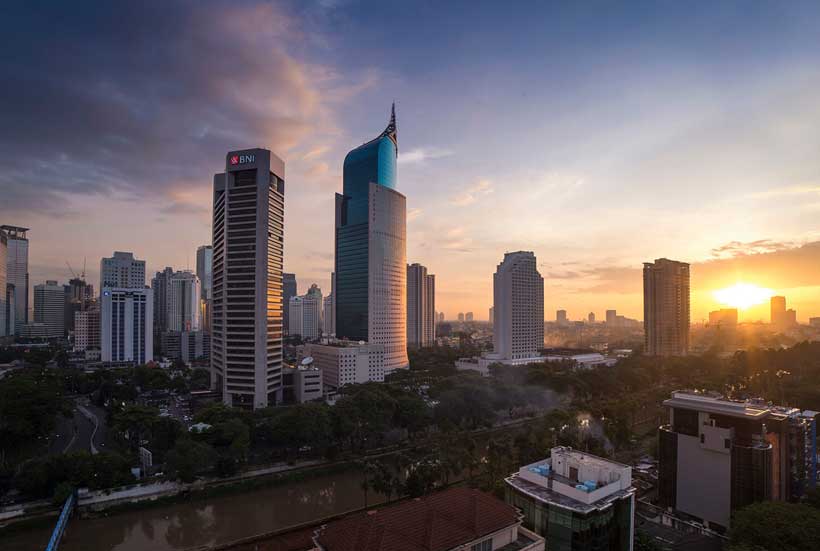 In 2020, Russia and Indonesia will mark 70 years to the establishment of  diplomatic relations between the two countries. Given that the epicenter of the geopolitical activity is currently shifting towards the Asia-Pacific Region (APR), the role of Indonesia as the planet's strategically important location increases.
Along with Russia, there are a number of other countries that are as keen on developing ties with Indonesia. One of them is Australia, which is particularly active due to its geographical location.
Indonesia and Australia boast a comprehensive bilateral strategic partnership agreement, which defines them as "strategic anchors of the Indo-Pacific Region". According to tradition, each newly elected Australian Prime Minister pays his first foreign visit to Indonesia. Prime Minister Scott Morrison, who took office on August 24, 2018, kept the tradition as well.
In Jakarta, Morrison met with Indonesian partners to discuss the details of a strategic cooperation agreement, which envisages economic cooperation, security measures, exploitation of marine resources, ensuring stability in the Indo-Pacific Region and social projects.
According to the Jakarta Maritime Policy Strategy (Global Maritime Fulcrum), Indonesia is regarded as the fulcrum between the Indian and the Pacific. Canberra also sees Jakarta as key to Australia's defense strategy.
Indonesia's territory embraces most of the archipelagoes north of Australia and these make a convenient springboard for a hypothetical threat to the Australian coast. In addition, Indonesia stands at the junction of marine and air routes from Australia to Europe and from Australia to Asia-Pacific countries. Joint naval exercises run by the Indonesian and Australian defense ministries account for 24% of the total, while 33% of the drills are held by the Air Forces, 30% by special services and special task forces, and 2% by the peacekeeping contingents.
Australia became the third country with which Jakarta signed a comprehensive strategic cooperation agreement after the United States (2013) and China (2015). In 2017, the two parties signed the Joint Declaration on Maritime Cooperation, in 2018 – the Maritime Cooperation Action Plan, covering 85 areas with the participation of 17 Australian and 20 Indonesian departments and agencies.
Australia finds Indonesia more important than Indonesia finds Australia. As a single continent, Australia attaches particular importance to foreign policy with a view to ensure its national security. As for Indonesia, it has a more introverted policy. Being the largest island nation on the planet, Jakarta aims to guarantee its security through internal consolidation of the many islands that make up the Indonesian state.
Pursuing the policy of "non-alignment", Indonesia seeks to diversify foreign economic and foreign policy relations. This becomes clear from the previous development of the Indonesian-Australian relations: Jakarta would quickly freeze projects with Canberra once it spotted a disproportionate presence of Australia in Indonesian politics.
That was the case in 1999 when Jakarta withdrew from the Security Agreement, signed in 1995, in 2013 when it suspended defense cooperation and cooperation between special services, and 2016 when it suspended the language training of military personnel.
For Indonesia, a multi-vector foreign policy is crucial for maintaining a healthy balance of power in the region. For this reason, Moscow is an attractive economic partner for Jakarta. That Russian-Indonesian contacts have been developing at fast pace can be concluded from the fact that there have been several meetings between the two countries' presidents, that Russia has been supplying Indonesia with weapons, that the two countries' armed forces have held joint exercises, that Indonesian representatives have participated in business forums in Russia and that the Russian capital has revealed in interest in Indonesia's projects in the mining industry.
Jakarta and Moscow are considering prospects for the introduction of a free trade zone in Indonesia and the EEU. Indonesia is also ready to join the Chinese global infrastructure project "One Belt, One Road."
Under the project, Chinese investments in the Indonesian transport infrastructure amount to $ 6 billion, which is clearly not enough for a rapid growth of transit of commodities and haulages from China and the Asia-Pacific countries through Indonesia. Indonesia's medium-term economic development plan stipulates local financing at 63% (4). The rest should come from foreign investors, which could include Russia.
First published in our partner International Affairs
Improving Vocational Education in Thailand: An interview with Khunying Sumonta Promboon
Bangkok – When robots are advancing and industries are playing catch up to technological advancement, vocational education plays a pivotal role in national development. Instead of arcane theory, vocational education trains students with sophisticated, hands on and practical skills needed to excel in the world of work. Vocational training offers an up to date and cutting edged techniques for students not only comply but push technical boundaries forward. Countries that excel in their industrialization all champion vocational education – Germany, China and Taiwan to name but a few.
Thailand, despite setting its eyes for Thailand 4.0 to transform its economy to digitalization, automation and robotics, is falling behind the race to the top. The World Bank found that 40% of the top tier international firms reported the inadequate skills as the major constraint. While the country is in much needed position for vocational education, there are only 1 million students in vocational school comparing to 2.5 millions in higher education. Although the country has more than 900 vocational colleges, students opt for higher education because better images and prestigious. When news about vocational education in Thailand are filled with images of violent students and gang fights amongst students, there is a dire need to reform this important sector. Rattana Lao, Program Officer in Policy and Research at the Asia Foundation, talked to Associate Professor Khunying Sumonta Promboon, the President of Chitralada Technology College on ways in which Thailand vocational education can reform itself to better respond to national demand: One step at a time.
What role should vocational education play in Thailand?
Vocational education should be the main educational track to educate and encourage young students to partake in the national development of the country. After receiving basic education of grade 1 to 9, the majority of students should enroll in vocational education. However, the case of Thailand is different. The majority of Thai students like to enroll in basic education of grade 10 to 12 and continue to enroll in universities rather than vocational education.
How can one promote vocational education?
Many factors need to be taken into account in order to incentivize more students to enroll in vocational education.
Firstly, students need to have guaranteed employment. Such employment should begin when they are still students, an internship of some sorts. This requires a close collaboration between educational institutes and corporates. A symbiosis between the two stakeholders is necessary. This is not widespread in Thailand. The opportunities are still inadequate and limited to a few top students in colleges rather than available equally to all students.
Secondly, the social attitude must change. In Thailand, parents want their children attend higher education and receive bachelor degrees, master degrees and PhD. To change this attitude, it will take time. It goes back to the first point that students need secure employment.
We incorporated these ideas into the creation of Chitralada Technology College. We want to take lead in enabling students who take vocational education with us being able to transfer into higher education later on– making the opportunities for education and employment aligned.
What are the problems of vocational education in Thailand?
The first problem is the social bias. People prefer basic education because its more prestigious. The second problem is students do not know the diversity of career paths. They know only limited choices of teachers, soldiers and doctors. The educational counselling in Thailand needs an improvement.
What does Chitralada Technology College try to do?
There are two institutes within the same umbrella. The first is Chitralada Vocational School and the second is Chitralada Technology College. There are total number of 800 students in these two institutes. Although we are small in sizes, we would like to lead best practices in term of vocational educational practices. There are many programs that we offer for students.
What is your strategy to promote vocational education in Thailand that is different from others?
We have extensive networks of 67 businesses throughout Thailand as well as partnered with other organizations. In total, we have MOUs with more than 80 institutions. We partnered with Singapore, China and Germany.
Can you give examples?
With China, we partnered with Leshan Vocational Technical College. They accept our students' exchanges for culinary school. There is also Tienjin Sino-German Vocational Technical College that we partner about mechatronics. With Singapore, we work with Singapore Polytechnique. We are beginning to initiate exchanging programs with Temasek and Singapore Polytechnique. Last year, we took Singapore students to Sumutsongkarm to visit local communities who produce shrimp pastes. It's impressive idea they are creating. There is also Senior Expert Project we partner with Germany. Mostly it is about mechanics and mechatronics.
How do these collaborations help Thailand?
These are successful countries who implemented vocational education and we can learn from them.
There are a lot of pictures of Her Royal Highness Princess Maha Chakri Sirindhorn. How does HRH inspire this college?
Her idea is to educate students according to their talents. Those who do not like academic track should have the opportunity to pursue other alternatives. Her Royal Highness plays a monumental role to guide our college's direction and inspires us to excel. When HRH visits other countries, HRH enables the college to expand our collaboration with successful institutions from abroad.
We want to change the images of vocational students in Thailand from being violent students to be responsible students.
Indonesia shaping the South East Asian foreign policy of India and Sri Lanka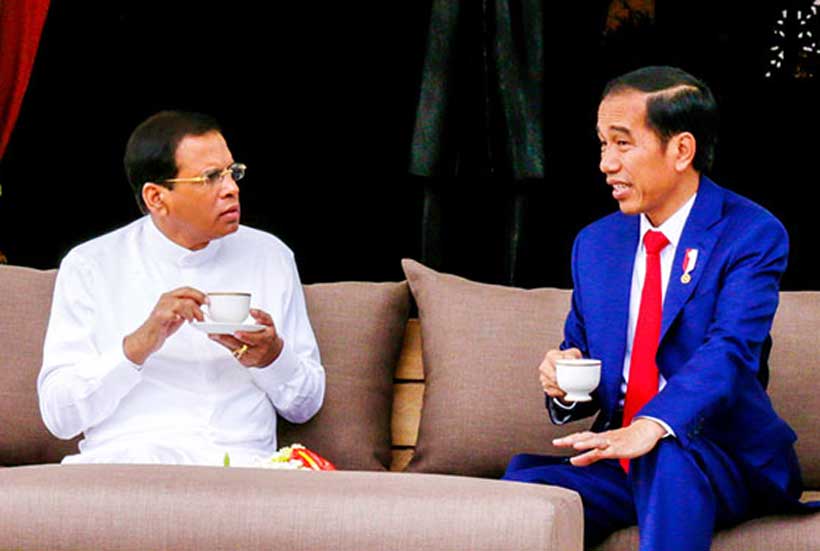 Authors: Srimal Fernando and Megha Gupta*
Indonesia with more than 17,000 islands, occupies a key geopolitical position in the ten-member Association of Southeast Asian Nations (ASEAN) regional bloc. In the recent past Indonesia has been trying to strengthen its foreign policy outlook both diplomatically and economically through bilateral or multilateral means.
Indonesia with its large population, military capabilities, vast territory and rich natural resources in Southeast Asia is trying to align with India possessing similar power potentialities in South Asia. With this strategy in mind Indonesia has been trying to access the 1.3 billion Indian consumer market and also has been trying to cooperate with Sri Lanka due to its vital geographical position in the Indian Ocean. In this regard, there has been a growing bilateral and trilateral interest among these three countries such that they can tap into the consumer and producer market hence generating higher revenue. However, these three financial hotspots have found themselves in the forefront of challenges posed by globalization and this makes it vital for them to revive their cooperation in different areas.
Over the past few decades, Indonesia has made several development landmarks through restructuring its polity and society. The economy and foreign policy goals of this nation have constructively transformed from President Sukarno to Joko. Furthermore, in the 1980's Indonesia also took a large step in establishing the regional body of ASEAN. Since then for more than a quarter century, ASEAN has been the most important reason for bilateral and multilateral engagements between Indonesia and the two South Asian countries.
Currently, the two-way trade between Indonesia and India stands at about $18.13 billion according to the Indonesia's Central Statistics Agency (bps).  With this mutually beneficial relationship, in the coming years Indonesia and India are planning to enhance their bilateral trade to $50 billion. There is also said to be an increased strategic, defense and security partnership between the two which got reiterated with the state visit of the Indonesian President Joko Widodo.
Similarly, the trade between Indonesia and Sri Lanka has doubled from $418 million in 2011 to around a billion dollar in the recent past and the ties between the two is set to improve further with the establishment of a future Free Trade Agreement (FTA). The year 2018 has also marked the 66th Anniversary of the diplomatic relationship between Indonesia and Sri Lanka where the visit of the Indonesian President after 40 years saw the signing of a series of agreements between the two island nations.
Since the Bandung Summit of 1955, the Indonesia's relationship with India and Sri Lanka has been strong. Later ASEAN has played a leading role in making this partnership grow further. However, India's cooperation with Indonesia and ASEAN serves as a test bed for the new ideas to grow between the two regions.
Indonesia positioned between Southeast Asia and Australasia is a crucial gateway for India and Sri Lanka to further their foreign, economic and security endeavors in these two regions.
*Megha Gupta, a scholar of Masters in Diplomacy, Law, Business at Jindal School of International Affairs, India.