Vatican declares Mother Teresa as Saint Teresa
As a historic day for Christianity, Pope Francis on September 04 Sunday declared Mother Teresa of Kolkata, revered for her work among the poor, a Saint of the Catholic Church. "We declare and define Blessed Teresa of Calcutta to be a Saint," the Pope said, to a roar from the thousands gathered at St. Peter's Square here, including many Indians who held or waved the Indian flag. "We enroll her among the Saints, decreeing that she is to be venerated as such by the whole Church. The Pope invoked the trinity: In the name of the Father, and of the Son and of the Holy Spirit!"
In 2002, the Vatican ruled that an Indian woman's stomach tumor had been miraculously cured after prayers to Mother Teresa. Pope Francis cleared the way for sainthood last year when he recognised a second miracle attributed to her. She died in 1997 – aged 87 – and was beatified in 2003, the first step to sainthood. She founded the Missionaries of Charity in 1950. The sisterhood now has 4,500 nuns worldwide.
A mass of pilgrims flooded the Vatican on Sunday to celebrate the highly anticipated canonization of Mother Teresa, an event that Catholics and non-Catholics alike had looked forward to since the nun's death in 1997. Saint Teresa, known as Mother, has been an inspiration for millions of humans who seek spiritual guidance for better religious selfless living, serving the cause of humanity. Mother Teresa was famed for her foundation of the Order of the Missionaries of Charity, a group of Roman Catholic women dedicated to the destitute, particularly in India.
The Vatican granted her permission to leave the Sisters of Loreto and to live her new call under the guidance of the Archbishop of Calcutta. Catholic News Agency said Mother Teresa's canonization was significant not only because it took place during the Jubilee of Mercy but also because it fell during a special September 2-4 Jubilee celebration for workers and volunteers of mercy, of whom Mother Teresa is widely considered one of the greatest.
Mother Teresa founded the Missionaries of Charity in 1950. After doing iconic work in the slums of Calcutta (now Kolkata) that won universal acclaim, she died in 1997 at the age of 87. She was beatified in 2003, the first step to sainthood. Two miraculous cures of the sick after Mother Teresa's death have been attributed to her intercession. The youngest of three children, she attended a youth group run by a Jesuit priest called Sodality, which eventually led her to becoming a nun. She joined the Sisters of Loreto at age 17 and was sent to Calcutta, where she taught at a high school. After contracting tuberculosis, she was sent to rest in Darjeeling. It was on the way that she felt what she called "an order" from God to leave the convent and live among the poor.
At the time of her passing in 1997, Mother Teresa's order consisted of hundreds of centers in more than 90 countries, with 4,000 nuns and hundreds of thousands of lay workers, and in her lifetime she was awarded numerous awards, none more famous than the Nobel Peace Prize, in 1979.
Agnes Gonxha Bojaxhia, better known as Mother Teresa, was born on August 26, 1910, in Skopje in Macedonia. She was the youngest of three children of an Albanian family. As she was pink and plump, her brothers and sisters fondly called her `Gonxha` (flower bud). From childhood, the children were taught lessons of charity. Agnes liked to be in church and spend most of her free time reading, praying and singing.
About 1,500 homeless people from across Italy were brought to Rome in buses to attend the celebration and then a pizza lunch served by 250 nuns and priests of the Sisters of Charity order, media reports said. Tens of thousands of people flocked to Vatican City's St Peter's Square on Sunday to watch Pope Francis declare Mother Teresa a saint. Pope Francis will celebrate a Mass and Canonization on Sunday on the eve of Mother Teresa's 19th death anniversary. She died on September 5, 1997, the BBC reported. Many pilgrims arrived at the Vatican before dawn on Sunday to get a good spot for the Mass, BBC reported. Some 1,500 homeless people across Italy were also brought to Rome in buses to be given seats of honour at the celebration – and then a pizza lunch served by 250 nuns and priests of the Sisters of Charity order.
Kolkata will take a century to recover from Mother Teresa Cardinal Angelo Amato read a brief biography of the work of the Nobel Peace Prize winner Mother Teresa and then asked the Pope to canonize her in the name of the Church. In his speech, the Pope also said: "For the honour of the Blessed Trinity, the exaltation of the Catholic faith and the increase of the Christian life, by the authority of our Lord Jesus Christ, and of the Holy Apostles Peter and Paul, and our own, after due deliberation and frequent prayer for divine assistance, and having sought the counsel of many of our brother Bishops, we declare and define Blessed Teresa of Calcutta to be a Saint." Hundreds of Missionaries of Charity Sisters attended the event, along with several heads of state or government.
At the Vatican in front of large crowds, Francis praised Mother Teresa, an "emblematic figure of womanhood and of consecrated life," for her life's work, which came to an end much more recently than that of most other saints, when she passed away in 1997. Speaking on Sunday, Francis admitted that it would be difficult for him and other admirers of the Albanian-born nun to make the switch from "Mother Teresa" to "St. Teresa," as her saintliness is "so close to us."
The decision to canonize Mother Teresa was a controversial one, especially so soon after her death. Some argued that, with the canonization so closely following her passing, the nun's human flaws and weaknesses were too fresh in people's minds. But others, such as Ines Angeli Murzaku, a professor of church history at Seton Hall University in New Jersey, say the fact that St. Teresa may still feel more like a person than a saint in public memory is a good thing. "Critics who regard her as having been inflexible and fanatical don't realize how human she really was," writes Tim Stanley for The Telegraph. "She was not a relic of the Medieval hospice. She was every bit a 21st century saint: a woman from a poor country, tortured by doubt, whose spirituality was focused on care for the disadvantaged.
One question remains: why has the Church Pope taken so much of time in recognizing the Mother as Saint Teresa for her services to Christianity and humanity? She should have been given this spiritual status while she was still alive and at least soon after her death. Typically, saints are canonized decades or even centuries after their death.
The inordinate delay in Saint Teresa's due recognition by the Church puzzles everyone – both Christians and others.
Ukrainian Church Autocephaly: A Web of Intrigue
It is for long that the non-recognized Ukrainian Orthodox Church of Kiev Patriarchate (UOC –KP) tries to get autocephaly and sever the link with the canonical Russian Orthodox Church. To get it the UOC-KP appealed to Patriarch Bartholomew of the Constantinople.
At the meeting with His Holiness Patriarch Bartholomew of the Constantinople Patriarchate His Holiness Patriarch Kirill of Moscow warned him about the disastrous consequences the provision of autocephaly to the Ukrainian Orthodox Church of the so called Kiev Patriarchate (UOC-KP) could have for the religious life and the believers in the Ukraine.
According to some sources Patriarch Kirill tried to get across to the Ecumenical Patriarch Bartholomew  the idea that the political forces behind the idea of an independent status for the UOC-KP  "do not represent the people. Those who came to power as a result of the Maidan coup in Kiev want autocephaly in order to consolidate their illegally seized power". Fearing ouster by the disgruntled people and exile these people, who represent a mere 8 percent of Ukraine's population, hope that the authority of and assistance from the Ecumenical Patriarchate will help them stay in power. The arrival of the two envoys dispatched to Ukraine by the Constantinople Patriarchate was followed by weeks of hectic and tense activity by local political and religious leaders.
In the wake of a series of meetings recently held by the Synod of the Ukrainian Orthodox Church of the Moscow Patriarchate (UOC-MP) at the Kiev-Pechersk Monastery news feeds and social networks continue to report on a flurry of consultations, meetings and statements made by bishops, clergy and laity of the canonical UOC-MP, the schismatic UOC-KP and the Ukrainian Autocephalous Orthodox Church (UAOC). Meanwhile, it is becoming increasingly clear that in the Client – Executor – Statists (also Beneficiaries) – Victim scheme, Ukrainian President Petro Poroshenko, who is acting as Executor, is using the Constantinople Patriarchate and the unrecognized Kiev Patriarchate as Statists in a bid to boost his chances for re-election with this "final step to independence."
In turn, the Ecumenical Constantinople Patriarchate is trying to improve its image and financial status by foraying into foreign canonical territory and granting the self-proclaimed and self-styled KP and UAOC the status of "Churches" as part of the overall scam. Much to our regret, the canonical Ukrainian Orthodox Church (UOK-MP)  is already falling victim to all this with separation lines already being drawn between the clergy and laity [6], dioceses and parishes being isolated and fragmented, conflicts flaring up, the faithful unaware of what is going on, temples and monasteries being expropriated with the help of the powers-that-be and "conscious" militants, and the UOC-MP  being branded as the "aggressor's church."
All this is already a sad reality. Just as Metropolitan Hilarion of the Russian Orthodox Church noted: "Renaming the Ukrainian Orthodox Church of Moscow Patriarchate amid an ongoing conflict between Ukraine and Russia is like forcing a Jew living in Nazi Germany to wear a yellow star."
The main benefactor, behind all this, is the United States, as the proclamation of Tomos  to the non-recognized Ukrainian church will inevitably set off a series of new conflicts, all of which will immediately be blamed on canonical priests and the Russian Federation. The Americans' hand in these efforts, both in the form of advisers and ongoing consultations with the main actors of this process, aimed at the establishment of the new – United Ukrainian Local Orthodox Church (UCLOC), is impossible to miss.
The most recent consultations by three personalities, all of them, in one way or another, connected with the issue of granting autocephaly to the Ukrainian Orthodox Church (Kiev Patriarchate), was not lost on the editors of SPZ-website.
"On Monday, September 24, Petro Poroshenko arrived in the United States," – the online publication wrote. "The official purpose of his visit is to attend a regular session of the UN General Assembly". By a mere chance "the Metropolitan" (he names himself – Patriarch) of Kiev – Filaret (Denisenko) and the Metropolitan of Vinnitsa and Barsky – Simeon (Shostatsky), both of whom are playing key roles in the ongoing process and vying for the head of the United Ukrainian Local Orthodox Church happened to be in the US.
Metropolitan Simeon went to the United States on September 20 at the invitation of the American clergy.
The self-proclaimed "Metropolitan" Filaret has been in US since September 14.
On September 18, he met with former US Vice President Joseph Biden, who calls himself an advocate of LGBT rights, and awarded him the ecclesiastical order of Prince Vladimir the Great, Second Degree.
A little later, Filaret thanked Ohio Senator Robert Portman, another defender of LGBT rights, for his "continued support of Ukraine" bestowing on him the same award.
In his September 19 speech at the Atlatnic Council think tank, which looked more like one made by a job seeker to his would-be employers than by a church leader, Filaret said that "we are grateful to the United States of America for supporting the Ecumenical Patriarch and his intention to give us Tomos on autocephaly."
"We hope that the United States of America will help us complete our church effort," he added.
Like we already mentioned before, Denisenko, who is absolutely disrespected by Orthodox Church primates, including (surprisingly as it may seem) the Ecumenical Patriarch himself, is the main stumbling block on the way to Tomos. However, this fact is completely ignored by Filaret who still hopes…
Simeon, Metropolitan of Vinnitsa and Barsky, stayed in the shadows until the very last moment. His godbrother in the UOC-MP, Metropolitan Jonathan (Yeletskih), the head of the Tulchin and Bratslav eparchy, spoke openly about Simeon's  participation in the creation of the UCLOS. Presiding over an emergency meeting on autocephaly on September 14, he issued a decree forbidding any contacts with representatives of the Constantinople Patriarchate, and also named Metropolitan Simeon as the likely candidate for the head of the UCLOS.
Adding to Metropolitan Simeon's chances of winning US support is the fact that, unlike Filaret, he is a canonical bishop of the canonical church. And, according to an analysis of recently obtained information, this fact is very important not only to the world Orthodox Churches, but above all, to Patriarch Bartholomew himself.
An article carried by the newspaper Kommersant  sheds light on how the Ecumenical Patriarch wants to conduct and complete the procedure of granting autocephaly to the UOC-KP. An unnamed member of the Constantinople Patriarchate told the newspaper that "… Ukrainian hierarchs make a mistake hoping that Tomos will be granted to one of the non-recognized churches here. This will be a new structure: the hierarchs will be appointed by the Patriarch of Constantinople, and the parishioners of the Ukrainian churches, as well as the clergy, will have the opportunity to join the new Ukrainian Orthodox Church in unity with the Patriarchate of the Constantinople. "
In other words, the Ecumenical Patriarchate has been insisting that the Ukrainian Church cannot be in canonical subordination to the Russian Orthodox Church, since, allegedly, it is the Kiev Metropolis of the Constantinople Patriarchate. It also faults the UOC-MP for "shamelessly forgetting" the Mother Church of Constantinople, and is going to undo this "historical injustice that has developed over the centuries."
The second step will apparently be bringing together under Constantinople's hand the "lost" bishops and priests from all jurisdictions – both the canonical Church (here Metropolitan Simeon comes in just right!), and factious entities. Everyone will have to repent, both canonicals and impostors. Both are guilty of one terrible, yet forgivable, sin – they did not bow to the Ecumenical Patriarch of the Constantinople. Other sins just don't matter.
The "repentant" convene a Council, which is named the winner and awarded with Tomos.  Filaret is not among the winners because there is no place for the "patriarch" and the "Kiev patriarchy" in the new plans and no one cares about its future.
The remaining prize-winners, helped by the state, the "national battalions" and conscious citizens, start snapping up the churches, parishes and monasteries that remain loyal to the UOC_MP. Goodbye, Filaret, your mission is over. Long live the new Constantinople metropolis. The game is over.
Unfortunately, we have to admit that those who ordered the drama unfolding before our eyes firmly believe in the omnipotence of the "human factor". It seems that, being pragmatists excluding the existence of the Heavenly Power, they don't take into account the main factor – the existence of the Creator.
"The Lord cannot be mocked".  Therefore, the miserable end of this project is imminent even though if it may take some time coming.
First published in our partner International Affairs
The Swedish Church of Plaka
There were many clouds in the sky. The temperature was still hot enough for early October and I was walking hurriedly across the narrow streets of Plaka. Shortly before 15.00 pm I would ring the bell in the building of 18, Daidalou street. Looking up I would notice a Swedish and Finnish flag fluttering on the balcony of the first floor while at the door of the entrance I would see only a small inscription with the emblem of the official Church of Sweden — Svenska Kyrkan.
Going to the first floor, Rev'd' Björn Kling would open the door. Coming in, I heard a mixture of Scandinavian languages while Björn is offering me a tea to start our conversation. Brigitta, who is responsible for the cafe of the Swedish Church, is giving me my brown sugar, smiling, while she is speaking her mother tongue on the phone.
Founding the Swedish Church
"The Swedish church has been established about 45 years ago and not even in Athens where we are now but in Piraeus. Originally, it was a branch of the Seamen's Churches, part of a huge network. The thought behind it, was that all Scandinavian countries had a large number of men working in shipping, at sea. When they got to the harbor, they were all in a bad situation due to the harsh working conditions and there was no one to take care of them as their own people would do. Well, this role has come to be covered by the Swedish Church." says Björn, sitting on the white couch.
But the time when the Swedish sailors were at sea was over and the Swedish Church had to change its role and mission. It was now there to help the Swedish truck drivers who were waiting to load and unload goods from the port of Piraeus. Due to time-consuming customs procedures, drivers waited in Piraeus for several days or weeks and the Church was there to help them and facilitate their stay."
"Then we entered the era of the European Union and there were no customs and therefore no truck drivers. Our Church had to think very seriously about its raison d'être, its reason of existence. Why do we exist? Whom should we help?
From Piraeus to Athens
The needs were now shifted from Piraeus to the center of Athens. "There were quite a few Swedes and Scandinavians in Athens. Mainly women who married Greeks 30–40 years ago and settled here permanently. The need to find a common bond with their homeland again, to speak their language again and to pray in a church with memories from their childhood was more intense than ever."
Based on this reasoning, the Church settled in this building 8–10 years ago. Access now is pretty easy and everyone can come. But who are they all?
"The truth is that we are a very small parish, and indeed a "poor" parish. At Easter, 60 people were in the mass, while in Sunday's services we did not exceed 20 people. "
The average age of Swedes who are members of the Church is growing while younger generations do not come to the church.
"Our people here are growing up. Mobility impairs and diseases do not allow them to come to the church regularly. Also, many choose to return to Sweden because of the economic crisis. An even more important problem is that the descendants of these people, children and grandchildren, have nothing to do with Swedish culture and identity. Because of their daily life in Greece, they did not learn to speak Swedish and they have no contact with this country culturally, let alone religiously. "
While we are talking, I am hearing people arrive and coffee cups take their place in front of the coffee maker. Fika is called the habit of Swedes to take a break from everyday life to have coffee with friends while enjoying the cinnamon buns. Coincidentally, on the same day of the interview, October 4th in Sweden, they celebrate the National Day of Cinnamon Buns.
"As I told you, our parish here is quite poor. Of course, the Church supports us back to Sweden, but we have to face several challenges. That's why I chose tbeing and serving abroad. Parishes abroad do not enjoy the advantages of parishes in Sweden such as huge, clean buildings, bureaucratic organization, several employees, etc. "
In my question about their activities as a parish, I would be happy to learn that there have been several things in the last two years. There is a children-youth choir and a youth club where it meets Wednesdays or Saturdays. "We study and discuss. We study mainly religious books, but we love the ancient Greek philosophers and ancient Greek mythology. Despite the odds, the Swedish church will celebrate with all the glory the Christian feasts as well as the Swedish traditions such as the tradition of Lucia — Lucia. The custom of Lucius is celebrated every year in St. Paul's Anglican Church. We have an excellent collaboration with both the Anglican and all other Lutheran churches here."
"Unfortunately, we would love to help even more actively to tackle social problems. We are not running our own programs to alleviate vulnerable social groups. Instead, we provide some sponsorship for some who know very well how to do it. First, we give an amount to the Non-Profit Organization APOSTOLI belonging to the Greek Orthodox Archbishopric. Then we give a support to a very worthwhile effort, ANASA. It is a school — circus where pupils either Greeks or refugees or immigrants learn acrobatics. It supports young people so that they can come out of the margin or do not get to the margin. They learn how to work together and how to acquire skills. We are interested in souls. Everyone will give a dish of food or do a medical examination. But who will care for these so tormented souls? "
Volunteers play a very important role in the parish's actions. "Generally, we have quite a few volunteers. Mostly young volunteers from the Finnish church."
A few months earlier, I would have noticed a new Finnish in Greece. She had just begun to work in the refugee on behalf of the Finn Church Aid, official organization of the Finnish church.
"But we also have paid staff for a few hours a week. Brigitta, Eva or Mari but also other women. They are employed for the cafe or the administrative part while there are two musicians. "
Björn Kling
"Are you optimistic about the future of the parish in Greece?" I will ask with naivety. He has traveled with the church as a volunteer but also as a priest in places like Tanzania and Eritrea, Paris, Spain. His experiences marked him and shaped him.
"I grew up in a small town in northern Sweden. My parents were not particularly observant, but my friends and I were going to the church. It was a little normal for me to become a priest … "
"At first I went to a very small place of Sweden. I had awesome dreams and innovative ideas for a priest. I dreamt to create a football team, a volleyball team, etc. The people there taught me to make close relationships and learn each other."
While we share our experiences from Sweden, I would tell him that I believe that the Swedes are not at all religious. "I think the Swedes are very Christian," Bjorn told me. "And when I say Christians I mean they have, they maintain and they share Christian values. The negative is that it is now a polarized society where everyone is afraid of religion. Is he a Muslim? He is a terrorist. "
We close the interview and the last question I want to ask is about memories. A memory he will keep with him when he leaves Greece.
"I will never forget a feeling. How people feel when they speak their mother tongue again, when they pray and sing hymns that remind them of their childhood, when they find shelter and themselves in their memories.
You next cofee meeting can take place at the cafe of the Swedish Church: https://www.svenskakyrkan.se/grekland/cafe-paulusgarden (with Google translation you will also see the days and hours of operation). If you are interested in seeing a typical Sunday service in Swedish, you can be on Sunday at 18.00 at the Anglican Church of St. Paul in Filellinon. But where you will meet the original Swedish and Scandinavian culture will be in the annual Christmas Bazaar and the tradition of Lucia. To keep up with their news, follow them: https://www.svenskakyrkan.se/grekland & Facebook.
Achieving religious harmony in a world of fear and populism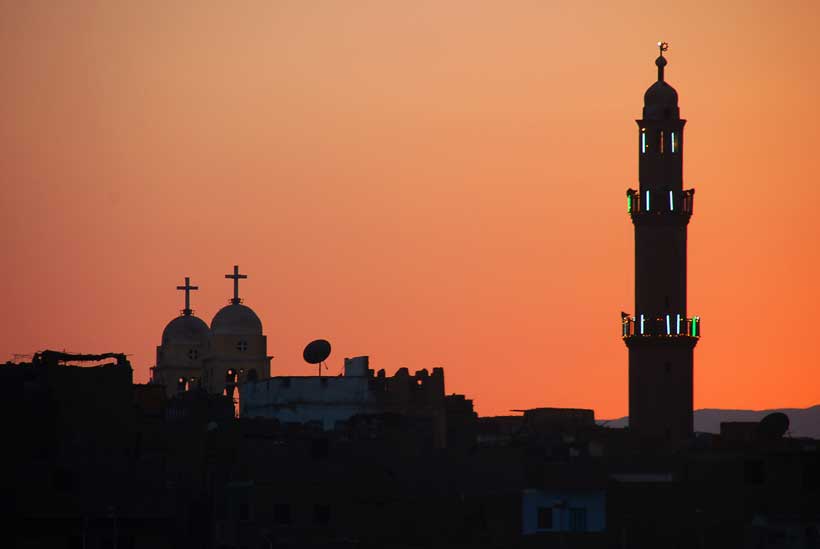 This is a tough time for men and women of the cloth, at least those whose message is one of peace, tolerance, mutual respect, equality and inter-faith dialogue.
Underlying the rise of populism, nationalism, protectionism, fear of the other, anti-migrant and anti-foreigner sentiment, and hate speech is an erosion of the norms of debate. Articulation of hate speech has become permissible, if not fashionable. Often blunt and crude language employed by leaders, politicians and some people of the cloth help shape an environment in which civility has been lost.
Intolerant, racist and supremacist have risen in significance even in democratic societies that project themselves as open, tolerant guarantors of equal rights irrespective of nationality, ethnicity, religion, colour or sexuality. Suppressing those voices through laws and bans drives hate speech and racism underground, it doesn't erase or eradicate it. Countering it with a message of tolerance and mutual respect won't erase it either but can help shape an environment in which those principles become dominant again.
Let's face it, prejudice is a fact of life. Its inbred in whatever culture each of us adheres to and whatever education at home and in schools that we have enjoyed, irrespective of how conservative or liberal our family and societal backgrounds are. We all were raised on implicit or more explicit notions that our culture is best or by implication other cultures are not as good.
In other words, prejudice is not the issue, its how we deal with it, how we manage it. The problem arises when we lose our sense of relativity, when we adopt an absolutist approach, the high way or no way. It arises when pluralism is thrown out the window and we abandon the notion that our world is populated by a multitude of equally valid faiths, worldviews and belief systems.
To quote Mahatma Gandhi, a deeply religious Hindu, who said in 1942: "I believe with my soul that the God of the Qur'an is also the God of Gita and that we are all, no matter by what name designated, children of the same God. My whole soul rebels against the idea that Hinduism and Islam represent two antagonistic cultures… To ascent to such a doctrine is for me a denial of God."
In the battles in the late 1940s and 1950s over a proposed national ban in India on the slaughter of cows, Gandhi declared himself a worshipper of cows whom he regarded with the same veneration as he viewed his mother. Yet, Gandhi, went on to say that "the Hindu religion prohibits cow slaughter for the Hindus, not for the world. The religious prohibition comes from within. Any imposition from without means compulsion. Such compulsion is repugnant to religion."
On a visit in 1942 to a German camp populated by Indian prisoners of war captured from the British during fighting in North Africa, Subhas Chandra Bose, a deeply religious leader of the Indian independence movement, reportedly warned inmates that "if you use religion to unite yourself today, you leave the door open for someone to divide you later using the same sentiments."
Recent history validates Bose's warning, not only in India and Pakistan, but across the globe expressed in Islamophobia, anti-Semitism, and anti-Shiism, just to name a few, as well as in conflicts, wars and brutal repression in places like Syria, Yemen and the north-western Chinese province of Xinjiang.
Many of you represent faiths with multiple sects, legal schools and interpretations – proof that your belief system in the narrow context of that system is open to multiple interpretation. Some of those interpretations may be intolerant, anti-pluralistic, supremacist. They too are a fact of life, like it or not. Countering them depends on the social environment one creates, a sphere within which men and women of the cloth have an important role to play as well. It is also a function of the social and economic policies implemented by governments.
Indeed, the key is not suppression, what is suppressed doesn't go away, at best it goes into hibernation, only to re-emerge at some point in the future. The key is containment, communities and societies that make discriminatory, racist, supremacist expressions socially taboo. That key is not enforcement by force of law but by social custom and an environment in which those expressions are continuously challenged in public debate, social settings and individual encounters. I am not talking about political correctness that stifles debate.
Leaving aside those whose beliefs are absolute and intolerant of any other view, a majority of people gravitate towards the middle. It's what some call moral shock or what former trader Nassim Nicholas Taleb dubbed black swans coupled with economic, social and societal uncertainty and political manipulation that drives people towards more literal, absolutist, intolerant beliefs.
It is those circumstances in which normally tolerant communities and societies become more amenable to those beliefs. It's what allows men like Slobodan Milosevic or Bashar al-Assad to turn societies where inter-communal relations and inter-marriage were the norm into wastelands in which one community tries to exterminate the other.
Think of Bosnia Herzegovina in the 1990s that seemingly transformed overnight from a beacon of harmony into a hell or the tensions in multiple countries ranging from Bahrain to Nigeria or the tenth parallel that journalist Elizabeth Rush aptly described as the fault line cutting across Africa and Asia between more strident forms of Islam and Christianity.
The last two decades have witnessed a renewed hardening of fault lines, not just ones between strands of Islam and Christianity, but across the board. This latest round started in 2001 with the moral shock of the September 11 attacks in New York and Washington and subsequent attacks across Europe as well as in Asia and Africa that continue until today. 9/11 was the death knell of multi-culturalism and the cradle of the latest wave of Islamophobia and rising anti-Semitism.
The economic financial crisis of 2008/2009 with its decimating effect on the lower and middle classes, the flourishing of jihadism, the impact of heinous attacks close to home and the fear, a human being's most irrational emotion, that generated the breeding ground for populism, nationalism, protectionism and the return to primordial, absolutist beliefs propagated by multiple sources, including men and women of the cloth.
To be sure, the groundwork for this pre-date 9/11, fuelled by some strands of Christianity, massive Saudi funding across the globe of ultra-conservative strains of Islam, and the use of religious intolerance by leaders and governments because it served a political purpose.
Pakistan illustrates what this can produce. The tolerant and live-let-live types live in a bubble, primarily in Pakistan's three foremost cities, Karachi, Lahore and Islamabad. The gravity of society has shifted towards intolerance, anti-pluralism and supremacism. Ultra-conservatism has been woven into the texture of segments of society and the culture of some institutions of the state. It is a world in which absolute truth rules supreme, discrimination based on an absolute truth is anchored into law, competence is determined not exclusively on the basis of merit but on what faith one adheres to, democratic freedoms are curtailed. Mob lynching becomes acceptable, violence against minorities the norm, and anti-blasphemy the tool.
It's a trend that is not unique to Pakistan and not unique to the Muslim world. It is a trend that is nurtured by the rise of populism, nationalism, authoritarianism and autocracy visible across Western societies, the Muslim world and Israel, in other words irrespective of cultural-religious roots.
In most, if not all of these countries, significant segments of the population have no real stake in society. Intolerance, anti-pluralism, racism and supremacism fuel the perception of disenfranchisement and marginalization that often produces a sense of not having anything to lose. It is some combination of religious ultra-conservatism, exclusivist ethnic and nationalist sentiment, and lack of a stake that creates breeding grounds for militancy and extremism.
Men and women of the cloth working in Singapore are in many ways privileged. While Singapore regulates hate speech or expressions it believes would undermine harmony, it has been successful in ensuring that all segments of the population have a stake in society – perhaps the most important factor in combatting discrimination, racism and supremacism as well as militancy and extremism.
Singapore demonstrates messages of tolerance and inter-ethnic and inter-faith harmony can and will be heard in a political and social environment that fosters mutual respect and dialogue.
There is however one caveat. Peace and harmony in society requires peace and harmony at home. The divisions and animosity between different religions and ethnicities at large are reflected in divisions and animosity within faith groups.
Tolerance, mutual respect and dialogue starts in one's own community and its message is as credible as one practices it without exception. That probably requires a redefinition of the concept of absolute truth. That's a tough order, but no one claims that ensuring that a peaceful and harmonious existence and future would be easy. It also is a litmus test of one's sincerity.
Edited version of remarks made at the Inter-Religious Organization Singapore, 1 October 2018