China, US formally join Paris climate agreement
"Now, by formally joining the Paris Agreement, you have added powerful momentum to the drive for the Agreement to enter into force this year," United Nations Secretary-General Ban Ki-moon said in a ceremony, in which he received the legal instruments for joining the Paris Agreement from the world's two largest greenhouse gas emitters.
"With China and the United States making this historic step, we now have 26 countries who have ratified and 39 per cent of global emissions accounted for, to be exact," he added. China and the US together account for nearly 38 per cent.
The Paris Agreement, adopted by 195 parties to the UN Framework Convention on Climate Change (UNFCCC) last December in Paris, calls on countries to combat climate change and to accelerate and intensify the actions and investments needed for a sustainable low carbon future.
The agreement will enter into force 30 days after at least 55 countries, accounting for 55 per cent of global greenhouse gas emissions, deposit their instruments of ratification or acceptance with the Secretary-General.
In today's ceremony, which was also attended by China's President Xi Jinping and US President Barack Obama, Mr. Ban noted that "we need another 29 countries representing 16 per cent of global emissions to bring this Paris Agreement into force."
"I am hopeful and optimistic that we can do it before the end of this year and before my term as Secretary-General of the United Nations ends," he added.
The UN chief will convene a special event on 21 September at the UN Headquarters in New York for the deposit of instruments of ratification, acceptance, approval or accession to the Paris Agreement on climate change. The event will also provide an opportunity to other countries to publicly commit to the agreement before the end of 2016.
"I urge all leaders, particularly G20 countries, to accelerate their domestic ratification processes so we can turn the aspirations of Paris into the transformative climate action the world so urgently needs," Mr. Ban said. He is scheduled to attend the G20 summit in China tomorrow.
With the Paris Agreement, the world has an equitable, durable yet flexible global framework for reducing emissions, strengthening climate resilience and providing support to developing countries to build low-carbon economies and adapt to inevitable climate impacts, the Secretary-General said.
This global climate agreement will accelerate the growth of clean energy and help us achieve the Sustainable Development Goals and will strengthen international stability and security, save lives and improve human well-being, he added.
"And now, with these two big countries joining the Paris Agreement, I am sure that we can really set a very ambitious dynamic step forward," he concluded. In a statement, Mogens Lykketoft, the President of the UN General Assembly, said that he was "pleased to hear this very good news coming out of Hangzhou just before the opening of the G20 meeting."
China's own ambitious action plan is now rolling with announcement of guidelines for establishing a Green Financial System and a goal for green projects of $600 billion each year, he noted. "The China-US ratification and the great Chinese initiatives put useful pressure on those UN-members that have not yet ratified or made their own national action plans," he said.
Healthy planet needs 'ocean action' from Asian and Pacific countries
As the Second Global Ocean Conference opens today in Lisbon, governments in Asia and the Pacific must seize the opportunity to enhance cooperation and solidarity to address a host of challenges that endanger what is a lifeline for millions of people in the region.
If done right ocean action will also be climate action but this will require working in concert on a few fronts.
First, we must invest in and support science and technology to produce key solutions. Strengthening science-policy interfaces to bridge practitioners and policymakers contributes to a sound understanding of ocean-climate synergies, thereby enabling better policy design, an important priority of the Indonesian Presidency of the G20 process. Additionally policy support tools can assist governments in identifying and prioritizing actions through policy and SDG tracking and scenarios development.
We must also make the invisible visible through ocean data: just three of ten targets for the goal on life below water are measurable in Asia and the Pacific. Better data is the foundation of better policies and collective action. The Global Ocean Accounts Partnership (GOAP) is an innovative multi-stakeholder collective established to enable countries and other stakeholders to go beyond GDP and to measure and manage progress towards ocean sustainable development.
Solutions for low-carbon maritime transport are also a key part of the transition to decarbonization by the middle of the century. Countries in Asia and the Pacific recognized this when adopting a new Regional Action Programme last December, putting more emphasis on such concrete steps as innovative shipping technologies, cooperation on green shipping corridors and more efficient use of existing port infrastructure and facilities to make this ambition a reality.
Finally, aligning finance with our ocean, climate and broader SDG aspirations provides a crucial foundation for all of our action. Blue bonds are an attractive instrument both for governments interested in raising funds for ocean conservation and for investors interested in contributing to sustainable development in addition to obtaining a return for their investment.
These actions and others are steps towards ensuring the viability of several of the region's key ocean-based economic sectors, such as seaborne trade, tourism and fisheries. An estimated 50 to 80 per cent of all life on Earth is found under the ocean surface. Seven of every 10 fish caught around the globe comes from Pacific waters. And we know that the oceans and coasts are also vital allies in the fight against climate change, with coastal systems such as mangroves, salt marshes and seagrass meadows at the frontline of climate change, absorbing carbon at rates of up to 50 times those of the same area of tropical forest.
But the health of the oceans in Asia and the Pacific is in serious decline: rampant pollution, destructive and illegal fishing practices, inadequate marine governance and continued urbanization along coastlines have destroyed 40 per cent of the coral reefs and approximately 60 per cent of the coastal mangroves, while fish stocks continue to decline and consumption patterns remain unsustainable.
These and other pressures exacerbate climate-induced ocean acidification and warming and weaken the capacity of oceans to mitigate the impacts of climate change. Global climate change is also contributing to sea-level rise, which affects coastal and island communities severely, resulting in greater disaster risk , internal displacement and international migration.
To promote concerted action, ESCAP, in collaboration with partner UN agencies, provides a regional platform in support of SDG14, aligned within the framework of the UN Decade of Ocean Science for Sustainable Development (2021-2030). Through four editions so far of the Asia-Pacific Day for the Ocean, we also support countries in identifying and putting in place solutions and accelerated actions through regional dialogue and cooperation.
It is abundantly clear there can be no healthy planet without a healthy ocean. Our leaders meeting in Lisbon must step up efforts to protect the ocean and its precious resources and to build sustainable blue economies.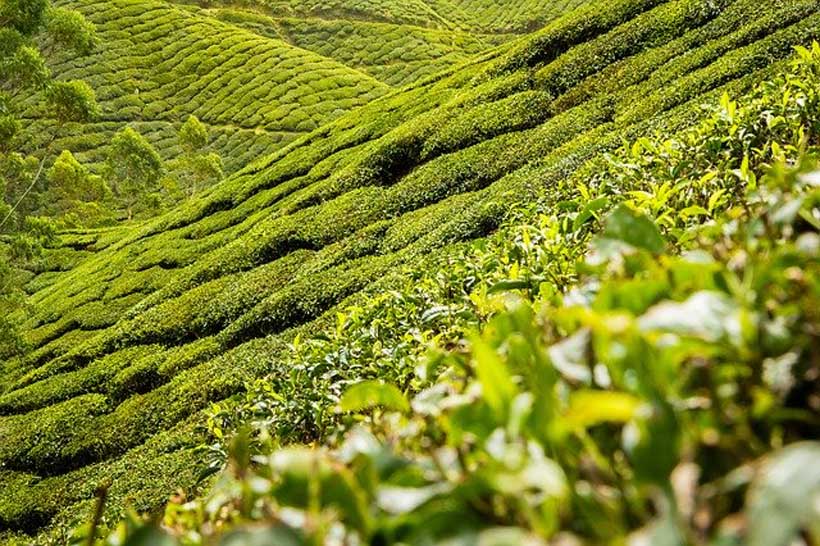 There is nothing quite like that first cup of tea (or coffee) in the morning. The aroma swirls about in the nostrils and a sip of the hot brew, then another, quickly readies body and mind for the day that awaits.
Whoever gives a thought to the long journey of the tea leaf from its birthplace to a kitchen in the West. The tea bush is unusual in that it requires an abundance of water but not in its roots. So it is grown on the windward side on foothills as in Darjeeling and Assam.
The workers picking tea are mostly women because men prefer the harder work in the fields for it pays more. The wages paid to the tea pickers can be illegally low, that is below the minimum wage requirements, and the workers dare not file any complaints because the wealthy landowners and tea merchants are too powerful.
Since they are not earning a living wage, workers usually forage to supplement their diet relying on mushrooms and other edibles. So it was (BBC report, May 20, 2022) that Anjali Kharia sat down with her daughter to a meal of mushrooms — a special treat thanks to her father-in-law Rajesh Kharia, who had found a good-sized lot in a nearby forest. They were enough for his family plus friends and neighbors to share with, as is their custom.
Unfortunately growing among their batch was a particularly tasty — and poisonous — variety indistinguishable from the rest. And Anjali's daughter Sushmita and others soon began to feel sick. Many went to hospital including Anjali's son and father-in-law. Sushmita seemed to improve so everyone assumed she was over the worst.
It was only a temporary respite for she soon started vomiting again, grew steadily worse and died. They have been eating mushrooms for years; it is a treat and fairly regular part of their diet, and no one suspected the cause.
Local officials say warnings are not heeded for they do not reach the illiterate workers. In 2008, more than 20 people died from poisonous mushrooms, the highest numbers recorded. Most were tea workers or their family members. The government set up a panel to study the problem. And there have been campaigns to teach people to distinguish the poisonous types.
As long as Ms. Kharia is paid 130 rupees ($1.67) a day, far below the unenforced minimum wage, it is unlikely such problems will recede. She has to feed a family of six. There are public welfare schemes for the poor but Ms. Kharia says she has never received any free food grain rations. Meanwhile, prices of vegetables and essential commodities continue to rise.
It is not just tea. From the 1906 Upton Sinclair book, "The Jungle," an expose of the meatpacking industry to Eric Schlosser's "Fast Food Nation" published just two decades ago, the problem may be revisited but U.S. meatpacking continues to remain a dangerous place to be. A 2018 Guardian article's headline "Two Amputations a Week" illustrates the point.
And tea pickers will have to forage as long as their government does not enforce minimum wage laws. Fighting against entrenched economic interests is not just India's problem.
The climate crisis is a health crisis
With one in eight people worldwide threatened by a lethal heat wave in South Asia that's already taken close to 100 lives, it's time we recognize that the climate crisis is a health crisis.
This is not an isolated issue. In South Africa, recent floods took over 400 lives, across the Sahel violence and insecurity are on the rise as people struggle with hunger, malnutrition and other factors made exponentially worse by climate change, and in place like Colombia, health and food security are at risk as floods displace communities and trigger disease outbreaks.
This is the most pressing health and humanitarian challenge of the 21st century. A quarter of a million people are expected to die every year from climate change between 2030 and 2050 if we do nothing about it, according to the World Health Organization (WHO).
Climate change affects the social and environmental determinants of health – clean air, safe drinking water, sufficient food, and secure shelter. According to recent IPCC Climate Change Report, climate change has harmful impacts on human health ranging from mortality from extreme events, morbidity from increasing temperatures and heat waves, malnutrition and disease susceptibility.
And for the first time ever, the IPCC Report includes mental health as a key area impacted by the climate crisis, noting that climate change has adversely affected the physical and mental health of people globally.
People are losing their homes and loved ones as conflicts flare over scarce resources in places like the Lake Chad Basin, and they are redlining on stress as we deal with the prolonged impacts of COVID-19 and the spectre of other zoonotic pathogens that will rise as heat and environmental damage push animals out of their traditional zones, according to Harvard.
And even as countries and communities emerge from the COVID-19 crisis, it is evident that the pandemic has reinforced pre-existing structural inequalities, accentuated systemic challenges and risks, and threatens to reverse hard-earned progress across the Sustainable Development Goals (SDGs).
Climate change is expected to further worsen the risks. We are already witnessing "irreversible" damage from climate change. According to the IPCC report, over 3 billion people – nearly half of the world's population – live in "contexts that are highly vulnerable to climate change." And the direct costs of climate change to the health system – not including health determining sectors such as agriculture, water and sanitation – is estimated between US$2 and $4 billion a year by the WHO.
Rethinking climate and health
Climate change adaptation will be one of the key highlights of this year's Climate Talks in Egypt. World leaders have the chance to connect the dots between health, food security, livelihoods, sustainable economic development and climate actions as we come together to accelerate the ambition of Nationally Determined Contributions to the Paris Agreement and sprint to achieve the lofty goals outlined in the 2030 Agenda for Sustainable Development.
Most Nationally Determined Contributions have identified health as a priority concern. At COP-26 over 50 countries committed to build climate resilient and low-carbon health systems. These include 47 countries, representing over a third of global health care emissions. Fourteen countries have also set a target date to reach net zero carbon emissions in their health system before 2050.
There are a number of entry points that can assist countries in reaching these goals. The main opportunities come from adaptation interventions that contribute to food and water security, climate-informed health planning that can be inserted into National Adaptation Plans, early warning systems for climate-sensitive infectious diseases, capacity building for health facilities to build the protocols and prepare for the changing health needs that are arising as a result of the climate crisis, public health education campaigns, and community-level investments in water and sanitation facilities and other infrastructure that prevents the spread of disease.
When you think about it as a whole, the climate-health crisis is amazingly complex. In places like Egypt, people need air-conditioning units just to survive the 120-plus degree days. But more AC means more greenhouse gases. So, we also need to rethink economic development, incentives for renewable energy, and reduction of hydro-chloro-fluorocarbons and other pollutants that are literally poisoning our planet.
We also need to rethink climate resilience in our cities, on the farm, and in the marketplace, redefining how we approach commerce and economic development as we adapt to the new challenges of the 21st century.
Piloting climate-health actions
The good news is that we are making progress.
With funding from the Global Environment Facility Special Climate Change Fund, the United Nations Development Programme (UNDP) and WHO supported local governments to pilot climate change adaptation efforts to protect human health in Barbados, Bhutan, China, Fiji, Jordan, Kenya and Uzbekistan.
In Barbados, community-based public health campaigns supported the safe use of wastewater. In Bhutan, the government has advanced its ability to predict climate-sensitive infectious diseases. And in China, three pilot cities have implemented a heat-health warning system.
With funding from the GEF, UNDP is partnering with the WHO to build resilient health systems in Least Developed Countries in Asia, including Bangladesh, Cambodia, Lao PDR, Myanmar, Nepal, Timor-Leste, and Small Island Developing States such as Kiribati, Solomon Islands, Tuvalu and Vanuatu. Among the various outputs, the programmes will advance climate-informed health planning and early warning systems, build capacity at health facilities, implement public health campaigns, and support localized community actions directed at the climate-health crisis.
There's a bigger picture here. In the end, projects designed to address food and water security, advance ecosystem-based adaptation, or enhance livelihoods, will help us in addressing these interconnected issues. In partnership with governments, donors, the private sector, civil society and other key stakeholders, UNDP's current climate change adaptation portfolio is geared to benefit 126 million people through US$1.6 billion in investments from the vertical funds and bilateral donors, as well as an additional US$3.8 billion leveraged from partners.
This good start, but far shy of the US$20 to US$40 billion in yearly spending for climate change adaptation called for at the Glasgow Climate Talks.
It's critical that we take a systems-wide approach, embrace new technologies and new ways of working, engage with the private sector, and activate locally led climate actions if we are going to address this crisis.
Millions of lives hang in the balance. It's time we step up and make climate action – and climate-health action – a global priority. This is our investment in planet Earth, our investment in future generations, our investment in a better world.