The launch of the North-Korean ballistic missile
A missile was launched from a submarine by the North Korean Navy a few days ago, targeting Japan. The launch of the ballistic missile took place on Wednesday, August 24, just before 6.00 a.m. (local time). According to South Korean sources, the missile was launched from the Northern coast of the country and reached Japan's Air Defence Identification Zone (ADIZ), after flying over 300 nautical miles.
On the contrary, according to some US sources, the submarine-launched ballistic missile (SLBM) is supposed to be a KN-11. The KN-11, Polaris-1 or Nodong-1 – but said missile has also other names – is a weapon system still being studied in Pyongyang, derived from the Soviet R-27 Zyb and from other recent Russian projects called R-29 and R-29RM.
They are astro-inertial-guided missiles, a system which has been designed for launching missiles from moving submarines and correcting the direction with continued stellar observation, as is the case with the missiles housed in the North American TRIDENT class submarines and in the new generations of Russian SLBMs.
Between late October 2014 and August 2016 North Korea has carried out 11 tests with the KN-11, including the latest one of August 24, with some SLBMs launched from fixed offshore platforms (on January 23, 2015) or from undersea rocks (on May 9, 2015) and from submarines – though with an accident (on December 21, 2015).
On April 23, 2016 the KN-11 SBLM fell shortly after having been fired, 30 kilometers away from the launching point. The same problem occurred with the test of July 9, 2016.
Conversely, in this August test, the ballistic missile flew about 500 kilometres and it is worth noting that the test took place on the day when the Chinese, Japanese and South Korean Ministers for Foreign Affairs met in Tokyo.
Two days before said launch, however, the US-South Korean joint military exercise called Ulchi-Freedom Guardian had started on South Korea's territory.
This was the largest computerized command and control exercise in the world, aimed to defend Seoul from a North Korean attack.
Moreover, North Korea always defines the six-monthly joint US-South Korean exercises Foal Eagle and Key Resolve, held every February-April, as real attempts to invade the country.
Foal Eagle consists in a series of military manoeuvres on the ground, still to be considered as the largest in the world and it mostly regards the creation of backward security areas to curb and contain an invasion from North Korea.
The areas are protected by a series of missile positions for facing a North Korean first strike.
However, over and above the technological and operational data, it is even more important to study the strategic significance of North Korea's current technological and military success.
In so doing the country led by Kim Jong Un establishes a credible naval and submarine second strike nuclear force both against South Korea and especially against the US bases in the Pacific and the Japanese ones, which are expected to logistically support any nuclear and missile attack against North Korea.
At doctrinal and operational levels, for Kim Jong Un nuclear weapons and missile arsenals are the last, and perhaps the only, guarantee for the survival of his regime.
For North Korea, its nuclear weapons are "inherently usable", in a strategic doctrine which reminds us of the Warsaw Pact doctrine, when General Shaposhnikov defined nuclear missiles "a weapon as any other one".
Nevertheless, the many recent North Korean statements – some of which even excessive such as the project to bomb New York – along with the huge amount of specific exercises can be the sign of an escalation for de-escalation nuclear doctrine, like the one which was adopted by the USSR (and the Russian Federation) in the framework of the NATO' Yugoslav wars in 1999.
In other words, the idea for Russia at that time and currently for North Korea is to have the possibility of launching a small-scale, limited first strike in specific and defined areas, with a view to countering an enemy showing clear conventional superiority, which cannot be opposed on the ground.
Hence, in a future clash, North Korea may plan to saturate the battlefield with conventional missiles, while some of them, targeted to the ballistic defensive networks, would be equipped with nuclear warheads.
A doctrine discounting the fact that South Korea has a limited ability to respond to a ballistic saturation operation so conceived, which would also require North-American PATRIOT batteries and Terminal High Altitude Area Defense (THAAD) systems, always supplied by the United States.
Hence the United States would be involved directly in a conflict which would make both Russia and China react. It is a fully rational North Korean strategic calculation, considering the military resources available.
In essence, since the North Korean doctrine makes a nuclear strike possible in the presence of the US-South Korean combined and significant threat, the solution can only be the design of a joint reduction of the nuclear arsenals of all the parties concerned.
And, at the same time, the management of a new round of negotiations in the framework of the Six Party Talks between South Korea, North Korea, the United States, Japan, China and the Russian Federation.
It is worth recalling that the negotiations ceased on April 14, 2009, as a result of a North Korean unilateral decision.
In this new context, we should discuss not only the issue of nuclear weapons, which was the only topic discussed in the old talks, but also the issue of a plan to support North Korea's Free Economic Zones and of a related plan to reduce the nuclear positions of all the countries concerned.
A plan always verifiable by the international organizations responsible for dealing with the problem.
Arrogance of force and hostages in US-China trade war
Even before the ink on the comments made by those who (just like the author of these lines) saw the recent meeting between US President Donald Trump and his Chinese counterpart Xi Jinping in Buenos Aires as a sign of a temporary truce in the trade war between the two countries had time to dry, something like a hostage-taking and the opening of a second front happened. The recent arrest in Canada under US pressure of Meng Wanzhou, the chief financial officer of China's telecommunications giant Huawei, is unfolding into a full-blown international scandal with far-reaching consequences.
Meng Wanzhou faces extradition to the United States where she is suspected of violating US sanctions against Iran, namely by making payments to Tehran via the UK branch of the US bank HSBC. The question is, however, how come someone is trying to indict a Chinese citizen according to the norms of American law, and not even on US territory to boot?
China's reaction was extremely tough with Deputy Foreign Minister Le Yucheng summoning the Canadian and US ambassadors in Beijing and demanding the immediate release of the detainee, calling her detention "an extremely bad act." First of all, because this is yet another arrogant attempt at extraterritorial use of American laws.
Other countries, above all Russia, have already experienced this arrogance more than once; suffice it to mention the cases of Viktor Bout and Konstantin Yaroshenko, or of the alleged "Russian hackers," who, by hook or crook, were taken out to the United States to face US "justice".
Enough is enough, as they say. Russia's Foreign Minister Sergei Lavrov, who is usually careful in his choice of words, said that while Russia is not involved in the US-China trade war, it still regards Meng's arrest as "another manifestation of the line that inspires a rejection among the overwhelming majority of normal countries, normal people, the line of extraterritorial application of their [US] national laws."
"This is a very arrogant great-power policy that no one accepts, it already causes rejection even among the closest allies of the US," Lavrov said. "It is necessary to put an end to it," he added.
One couldn't agree with this more. But first, I would like to know who really is behind this provocation, even though China's reaction would have been much anticipated. The arrest of Meng Wanzhou sent US markets into a tailspin and scared investors, who now expect an escalation of the trade war between the United States and China.
The point here, of course, is Washington's displeasure about Huawei's activities, with The Wall Street Journal reporting that the US Justice Department has long been conducting a probe into the Chinese company's alleged violation of US sanctions against Iran.
There is more to this whole story than just sanctions though. The US accuses Huawei (as it earlier did the Chinese ZTE) of the potential threats the company's attempts to use tracking devices could pose to the security of America's telecommunications networks. The United States has demanded that its closest allies (primarily Canada, the UK, Australia and New Zealand, with whom it has set up a system for jointly collecting and using Five Eyes intelligence) exclude 5G Huawei products from their state procurement tenders.
I still believe, however, that the true reason for this is not so much security concerns as it is a desire to beat a competitor. Huawei has become a world-renowned leader in the development and application of 5G communications technology, which looks to the future ("Internet of Things", "Smart Cities", unmanned vehicles and much more.)
Since technology and equipment are supplied along with standards for their use, there is a behind-the-scenes struggle going on to phase out the 5G standard developed by Huawei from global markets.
As for the need "to put an end to this," the big question is how. Formally, detainees are extradited to the United States in line with national legislation, but at Washington's request (which often comes with boorish and humiliating pressure from the US authorities and is usually never mentioned in public).
Add to this the US Congress' longstanding practice of changing, unilaterally and at its own discretion, already signed international treaties and agreements as they are being ratified – another example of "arrogance of power" as mentioned before.
The question could well be raised at the UN Security Council, but its discussion is most likely to be blocked by the US representative. However, there is also a moral side to the assessment of any political practice the work on international legal norms usually starts with.
If China and Russia, as well as other countries equally fed up with the "arrogance of power" submit a draft resolution "On the inadmissibility of attempts at extraterritorial use of national legislation by UN member states" to the UN General Assembly, it would most likely enjoy the overwhelming support by most of the countries of the UNGA, maybe save for just a dozen or so of the most diehard advocates of Washington's policy…
First published in our partner International Affairs
Will China Save the Planet? Book Review
Barbara Finamore has been involved in environmental policy in China for decades.  Her new book, Will China Save the Planet?,is a succinct report (120 pg.) on the short, yet promising history of China's actions to address climate change and pollution.
Chapter 1 is about the recent global leadership role that China has taken in the fight against climate change.  At first, the PRC was hesitant to commit to specific pollution-reduction benchmarks.  After experiencing increasingly devastating bouts of industrial smog in the 1990s however, China began to take its environmental commitments more seriously.  It has set out to become the de facto leader in combatting climate change through ambitious domestic action and sponsoring international conferences.  The Trump Administration's withdrawal from the Paris Climate Agreement has only furthered China's dominance.
Chapters 2-4 give in-depth analysis on China's efforts to wean itself off of coal, develop its renewable energy capacity and become a global leader in electric vehicle production.  China has long used coal to fuel its unprecedented rate of industrialization.  In recent years, it has pledged to wean itself off of coal dependency by enforcing coal plant efficiency standards, enacting a cap-and-trade program, managing grid output, promoting local politicians based on their success in implementing green policies and supporting green energy developments.  China is now home to many of the world's top manufacturers of solar panels, wind turbines and commercial & private electric vehicles.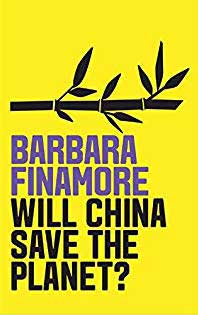 There is much to applaud China for in its efforts.  Finamore writes that, "After growing by an average of 10% annually from 2002-2012, China's coal consumption leveled off in 2013 & decreased in each of the following three years… Largely because of the dip in China's coal consumption, global CO2 emissions growth was basically flat between 2014-2016."  By moving away from coal, China has been able to, "Every hour… erects a new wind turbine & installs enough solar panels to cover a soccer field." As of last year, "Chinese solar manufacturers accounted for about 68% of global solar cell production & more than 70% of the world's production of solar panels."
Chapter 5 focuses on China's mission to export its green initiatives around the world, particularly through its Belt and Road Initiative (BRI).  The BRI is shaping up to be the largest international infrastructure plan in history, investing trillions of dollars in 65 countries in Asia, Europe, Africa and the Middle East.  China thus has a golden chance to help much of the developing world to adopt clean energy goals and foster economic growth.  The Chinese government is encouraging its citizens to invest in renewable energy initiatives in the BRI countries by implementing a "green finance" system.  Through its pivotal role in the G20, China can also help to lead the developed world by spearheading reports and policies among the 20 member nations.
Barbara Finamore has written a highly readable and informative overview of China's role in the global climate change battle.  She lists the Chinese government policies that have led the world's largest nation to meet and exceed many of the green benchmarks that it set for itself.  It would have been helpful if Finamore had written more about China's water instability and how that ties to the Tibetan occupation, as access to drinking water is one of the top environmental issues in the world today.  As a whole, Will China Save the Planet?is a good primer for environmental policy analysts and anyone else interested in studying feasible solutions to climate change, humanity's greatest threat.
Is Strategic Balancing a 'New Normal' in Interlinked World?
The G-20 Summit 2018 will be remembered for extraordinary  large number of bilateral and trilateral meetings, which seem to be even more significant than the main purpose of the meet. There are some high profile bilateral meetings like US – China and US – Russia (Scheduling of which has seen many flip-flops) which are very significant in context of Trade-War or Ukraine crisis. The two trilateral meetings involving US-Japan-India and China-Russia-India are also seen to be very significant because of centrality of Indian position in both the meetings. One of the reasons for this phenomenon is that the world is that the world has got interlinked so much as never before, hence even bilateral relations between global powers impact the world directly or indirectly.
When a large number of countries including US allies, strategic and trade partners joined AIIB, against the wishes of US, it was quite evident that a time has come that many countries will like to have alternate sources of funding other than west dominated IMF or Japan dominated ADB and will follow their own national interest. Similarly when China exhibited aggressive design of converting feature and atolls to artificial islands, with a view to have South China Sea as 'Chinese lake' based on unilateral interpretation of history ignoring international laws, UNCLOS and decision of ICJ, a group of democratic countries huddled together to form QUAD with a potential to counter balance such moves, which have possibility of obstructing global trade and exploitation of global commons. The Russian aggression westwards post Crimea, brought many western countries together resulting heavy sanctions on Russia, (followed by the recent standoff with Ukraine, Martial Law in some parts of Ukraine and the criticality continues. The Western opposition and sanctions was instrumental in pushing Russia nearer to Beijing. The international relationships and strategic interests of most countries in the interlinked world of today are so interwoven, that it is difficult to count countries only in one grouping; hence many new issue based groupings have emerged in last few decades.
Are Global Powers pushing everyone to Strategic Balancing?
In the exuberance of pursuing 'America First' policy, in last few years US has been highly critical of some of its allies, strategic and trade partners, whenever they did not follow a course which was of interest to America. In some cases it used threatening gestures, while some others were put under sanctions. The policy got a major jolt, when they threatened everyone to support their decision of shifting embassy to Jerusalem, but many countries junked the threat and voted as per their own perception. A similar issue came up earlier, when the last US President got all Head of States of ASEAN countries together to discuss South China Sea issue and wanted a joint statement, condemning Chinese actions, but those countries did oblige.  Pulling out of Paris accord for climate change, Iran Nuclear deal, TPP are some more examples when all the 'Friends of US' are not on the same page, and decided to continue with it even without US. Pulling out of nuclear deal with Russia is under global criticism, as it could trigger fresh arms race and a dangerous one, although US has some strategic logic to do so in American interest. The last G-7 Summit was not a pleasant experience for US allies due to alleged self centered economic approach of US. The NATO allies are also relatively lesser confident of US backing and keep waiting for next surprise from US Administration. Under these circumstances, Is US Concept of 'With US' or 'Against US' is outdated in Interlinked World?
On the other hand Chinese after announcing Belt and Road Initiative (BRI) in 2013, with elevation of President Xi Jinping from 'Chairman of everything' to 'Core' and 'Leader for life', exhibited its expeditionary design starting from South China Sea to land grabbing in Indian Ocean. With its fast growth it tried to showcase its methodology of governance better than democratic model. Its 'Incremental Encroachment Strategy' in Doklam as well as South China Sea exhibited its ambitions exceeding beyond peaceful growth to the arena of global strategic dominance; hence it started facing opposition from a group of democratic countries in various forms like formulation of QUAD and other groupings. Interestingly most of Chinese neighbors did not buy its method of governance and some of them went democratic in recent past, while maintaining good relations with it. In case of Russia also, we find Germany, a US ally drawing gas from them. Russia and China helping out North Korea with fuel and essentialities immediately after Singapore Summit between President Trump and Kim. Russia a strategic partner of India supplying military hardware to Pakistan and many other countries. A cross pollination of relations is therefore quite evident.
Analysing the cases of three global powers above, a time has come when most countries want to manage their international relations as per their own national interest, and do not want their strategic choices to be dictated by others. The strategic autonomy is quite dear to every sovereign country. It is also a fact that the world today is much more interlinked; hence issue based relationships is increasing. In context of the above let me analyze few cases justifying the 'Compulsion of Strategic Balancing' in international dynamics.
Japan's Insecurity and Prime Minister Abe's visit to China followed by meeting Indian Counterpart
During Prime Minister Abe's visit to China on the 40th anniversary of the 'Treaty of Peace and Friendship between Japan and China' hardly any issues of divergences was discussed. It was looked as an effort to 'Fostering Mutual Political Trust' and 'Cooperation and Confidence Building in Maritime and Security Affairs'. Beyond good optics, It can be seen as an effort to balance out/reset relations with China, and a messaging to Uncle Sam, about independence in foreign policy formulation of Japan. Immediately after this first visit to Beijing since 2012, Prime Minister Abe hosted Indian Prime Minister Narendra Modi, in a resort near Mount Fuji for a luncheon Sunday, just a day after returning from talks with the leader of China. While the leaders may call India-Japan partnership having been strengthened as a 'special strategic and global partnership,' but beyond the optics, it can be termed as an effort to balance relations between China and India as well.  India would perhaps be looking to move forward in convergences, and need not be concerned of Sino -Japan engagement because India and Japan have hardly any issues of divergences. The balancing/resetting by Japan in international relations was again exhibited, by the fact that Japanese PM seems to be  "determined" to wrap up talks toward peace treaty based on 1956 declaration with Putin, stipulating the return of two of four northern islands by Russia to Japan, while retaining claim on all four. The self confidence of Japan in balancing act between US, China, Russia and India is noticeable.
South Korean bonhomie with North Korea
South Korea despite being apprehensive of dangerous arsenal of North Korea, continues to be an ally of US. Deployment of THAAD, military exercises with US forces, have caused great anxiety not only in North Korea, but in China and Russia as well. Despite heavy sanctions on North Korea, it continued with its nuclear and missile tests. When President Trump started giving confusing signals of 'America First' and asking allies to pay for their security, South Korea was inclined to attempt peace in Korean Peninsula and making it nuclear free. It was successful in seemingly impossible diplomatic exercise of getting together Kim and President Trump together for a summit. As an analyst, I do not count the summit anything beyond optics, as nothing worthwhile has changed in nuclear and long range missiles capabilities of North Korea as well as UN sanctions, but South Korea has improved its relations with North considerably applying the theory of strategic balance. North and South Korea had Summits, exhibiting lot of bonhomie, decided to field one sports team under single flag, started people to people contact, and South Korea started helping North Korea with essential humanitarian needs, where China and Russia joined in to start business as usual with North Korea, immediately after Singapore Summit. The optics of keeping missiles and nukes away from North Korean parade does not mean that it will really destroy the only leverage it has, which is making US talk to him, and condemning Rouhani and Assad, looking for regime change there. Some symbolic destruction of few testing sites by North Korea and destruction of few posts along demilitarized zone does not mean that South has full confidence over North Korea but it clearly indicates that South Korea is balancing/resetting relations between them.
India's Strategic behavior: Is it different than Balancing/Resetting International relations?
Post Wuhan visit of Prime Minister Modi to China it is being alleged by western media that India has perhaps drifted towards China. In my opinion there is hardly any worthwhile change in Indian strategic behavior. India has a set of convergences and divergences of interests with major global players namely China, USA and Russia. India has so far been able to keep these relations exclusive of each other; hence has been able to successfully manage an independent foreign relationship without any bias. In the turbulent complex environment of today, our convergences and divergences have started impacting each other. India's differences with China on certain aspects of Sino-Pak nexus, use of global commons in South China Sea, its adventurism in Indian Ocean, and obstruction to Indian entry in NSG can also be viewed as convergence of interests with US. India's differences with US on trade, tariff, and CAATSA in context of Russia can be seen as convergence of interests with China The silver lining is that US being our strategic partner will like to have well equipped Indian Forces to balance China and Indian connectivity to Afghanistan, in case Pakistan does not serve its strategic interest. The US waiver on Chabahar port and connectivity to Afghanistan, as well import of Iranian oil for next six month is a welcome step by US towards its strategic partner India.
After Indian expression to expand the scope and dimension of QUAD, opening it up to other affected countries, there is a general feeling amongst other QUAD members that India is perhaps getting softer towards China in progressing QUAD agenda. The reality is that India has an independent foreign policy.  In Indo-Pacific, it stands with US, Japan and Australia in checking Chinese encroachment of global common like South China Sea, stands for seamless movement in international water and rule based order. Interestingly none of the QUAD members have common unsettled land borders with China. In land frontier and combating proxy war, India has to fight its own battle with some help from friendly countries including equipment from Russia, Israel, France to name a few, besides Indian friends from QUAD, hence it has to tackle relationship with China in a different manner than other members of QUAD. India therefore has to maintain harmonious relations with all its friends and neighbors to pursue its national interest. Despite such complexities, the silver lining is that the US, as well as China want better relations with India and vice versa. Russia also will not like to give up the largest purchaser of military hardware and a strategic partnership which stood the test of time even in 'Heated Cold War' era, hence, with smart diplomacy, India should be able to manage an independent foreign policy in current global environment. The number of bilateral and trilateral meetings attended by India clearly explains the balancing diplomatic exercises carried out by India, as per its National interest. Indian participation in two significant trilateral meetings namely US-Japan-India and China-Russia-India signifies the centrality of India. It clearly indicates the efforts required to balance out relations with two separate groupings which have wide gap in perceptions.
Unilateralism is Outdated/Impractical Concept
There is a growing opinion that US needs to revise its policy of sanctions and CAATSA. The analysis suggests that President Trump's reintroduction of sanctions on Iran,(with many of its allies still honoring Iran Nuclear Deal), as well as further push on CAATSA (without modification) on countries trading with Russia might edge US towards its own diplomatic/ strategic and economic isolation in the long run . The ICJ decision on 03 October 2018 ordering US to remove any restrictions on the export of humanitarian goods and services to Iran to some extent shows that the world may not always buy US narrative on sanctions. Similarly Chinese aggressive stance in South China Sea will continue to bring resistance in different forms by collective efforts of affected parties, and its purse diplomacy will not work everywhere. Ongoing Trade War, strengthening of Taiwan and military posturing in South China Sea are indicators which will discomfort China.  In interlinked world interactions with all countries wherever their interests converge is the order of the day. Japanese trade with China, visit of Prime Minister Abe to China followed by visit of Prime Minister Modi and Countries pursuing relations with Saudi Arabia despite CIA revelations are some examples of this new normal in future. It is also expected that in a multilateral world of today, no one country will be able to dictate the strategic choices of others or force any country not to act in its national interest in future. It also proves a point that any country, which thinks that it can rule the world all by itself, is sadly mistaken in the future world, which is overly interlinked.