Growing Russia-Iran military relations: An illusion?
Not at all! Not an illusion, at least for time being. Russo-Iran relations are steadily growing and deepening. Moscow and Teheran are changing from the pragmatic business model of "armament supplier-buyer" to military cooperation. The closer cooperation serves both to target opponents of Assad – some of them backed by the USA – while also sending a sharp message to the US as fighting over the divided city of Aleppo reaches a critical point after five years of inconclusive civil war.
Six Russian long-distance Tu-22M3 and four Su-34 frontal bombers went to the Khamadan Airport in Iran on August 16. Arrival of Russian bombers at Hamadan Airbase in Iran – historic development captured headlines around the world – has set the tone for new type military relations between Russia and Iran –both have maintained, since the breakup of US-Iran military relations, strong military tires for a long time now. Further, the long-range Russian bombers armed with full payloads took off from Hamadan Airbase to attack facilities controlled by Daesh (the self-proclaimed Islamic State of Iraq and the Levant) and Jabhat Al Nusra (which recently changed its name to Jabhat Fateh Al Sham) in Aleppo, Deir-ez-Zor and Idlib provinces. On August 16, Ali Shamkhani, Iran's Secretary of Supreme National Security Council (SNSC) stated that Iran had agreed to share its military facilities and capacities with Russia.
Russian strategic bombers launched from Iran struck rebel positions in Syria last week, in a second day of attacks that multiply Russian firepower in the Middle East and underscore unprecedented military cooperation between the Islamic Republic and a foreign power.
Military experts say this move was motivated both by economic reasons and the necessity to change the course of the battle for Aleppo. During combat missions in the Deirez-Zor Province on August 17, the planes destroyed an IS command post, killing over 150 Syrians. The Kremlin says the Tu-22M3 bombers attacked targets of the so-called Islamic State (IS) and other factions in Syria that oppose President Bashar al-Assad, an ally of both Moscow and Tehran.
According to the Russian Defence Ministry, it was necessary to relocate its war planes to the combat zone and increase the effectiveness of the mission flights. The Khmeimim Airbase in Syria, currently being used by the front line aviation of the Russian Aerospace Forces, is not suitable for the Tu-22M3. The runway is too short and there is a lack of necessary infrastructure. Consequently, Russia and Syria asked Iran to let Russia deploy its planes at an Iranian base. Russia has increased the effectiveness of the long-distance flights at least threefold. Now each Tu-22M3 bomber carries about 20 tons of warheads and receives four-five targets for each flight.
The aim of the Russian terror operation in Syria was not only to support the Bashar al-Assad government and to fight terrorism, but also to get out of the political-diplomatic isolation in which the country found itself after the Ukrainian crisis. Iran says it brought Russia into the Syrian civil war due to its need of an air power to coordinate the ground operations, which Iran planned. Iranian parliamentarians raised concerns about the possibility of a foreign country establishing a military base in the country, which would violate the Iranian Constitution. High-ranking officials responded that the use of Hamedan air base was strictly for refueling purposes, while other officials assured the media that Russian planes would remain in Iran temporarily. The Iranian Foreign Ministry announced Aug. 22 that the planes had left Iran "for the time being, after speculation that the departure of the Russian planes was due to outside pressure or internal disagreements.
Last week, a Russian transport helicopter Mi-8 was shot down in opposition rebel territory in northern Syria and all five crew and officers onboard were killed, the Kremlin said, in the deadliest single incident for the Russian military since its involvement in Syria's civil war. The Mi-8 helicopter was shot down in Idlib province while returning to the Russian air base on Syria's coast after delivering humanitarian goods to the city of Aleppo, the Defense Ministry said in a statement. The helicopter had three crew members and two officers deployed with the Russian center at the Hemeimeem air base on the Syrian coast. There was no immediate claim of responsibility for the attack. Idlib province has a strong presence of fighters both for the al-Qaida branch in Syria known as the Nusra Front and other groups fighting against Syrian President Bashar Assad's forces. The Nusra Front announced last week that it was changing its name and relinquishing ties with al-Qaida in an attempt to undermine a potential US and Russian air campaign against its fighters. The group is part of a coalition of insurgent groups called Jaish al-Fateh, or Army of Conquest, which has captured most of Idlib.
In July, two Russian airmen were killed in the central Homs province when their Mi-25 helicopter was shot down by what the Defense Ministry said were Islamic State fighters. A Mi-28N helicopter gunship crashed near Homs in April, killing both crew members, but the Russian military said there was no evidence it came under fire.
A Russian warplane was shot down by a Turkey along the Syrian border in November, and one of the two pilots was shot and killed from the ground after ejecting. Earlier a Syrian military official said that government forces repelled an attack by insurgents that was an attempt to break the siege imposed on rebel-held parts of the northern city of Aleppo. The development came a day after Syrian rebels launched the offensive to break up the government's siege of eastern, rebel-held part of the city.
Basis
The Iran-Russia cooperation results from "the crisis of terrorism that has been created by some destructive countries in West Asia region and America, therefore Russia has found the right treatment for the region. Top Iranian officials often accuse the USA of creating and backing ISIS and other jihadists fighting Assad regime, claiming it is a bid to undermine their own Iran-led axis of resistance against US and Israeli influence in the region.
Indeed, the Iran-Russia cooperation looks temporary, defined by mutual recognition of the threat of ISIS, and "is not a coalition against a third-party state such as the USA, Saudi Arabia, or Turkey. It is true that taking the lead in battling and destroying Daesh ISIS in Syria and Iraq will have broader geopolitical consequences for rival states, but Moscow and Tehran have never wanted to exclude other actors from the Syrian scene. Their military cooperation is only aimed at accelerating the political solution and not winning the war in a zero sum manner. Therefore, Washington and its allies, if determined to defeat ISIS, should not feel concerned about possible long-term strategic consequences.
Russia-Iran relations have varied, often pragmatically but sometimes capriciously, according to broader agendas and with an eye to the US. Russia built Iran's only nuclear power plant at Bushehr, but finished it years late and with frequent disputes over payments that at times seemed to emerge only when Russia was trying to cozy up to the USA.
In the 1990s, Iran refrained from backing Islamist Chechen rebels in their fight against Moscow in the 1990s, even as it supported similar militias elsewhere. Yet Russia repeatedly voted alongside the US to impose UN Security Council sanctions on Iran over its nuclear program.
And earlier this year – as sanctions over Iran's nuclear program eased as part of a July 2015 accord with world powers – Russia agreed to sell Iran its S-300 anti-missile system, among many other arms sales. Iranian media reports that "substantial" parts of the S-300, which is to defend Iran's nuclear sites, have already been delivered.
But while both sides have downplayed any greater regional ambitions, others see a larger strategy at play. "There could be more, and the possibility of spreading the Russian air campaign to Iraq," says Felgenhauer. "The thing is not about Syria per se. Syria is important, but there is more: Russia wants to spread its influence over the entire region, have bases all over, push the Americans out and become the dominant power in the region."
Meanwhile, Syria became an arena where, within a short span of time, Russia, with assistance from Iran and India was able to establish itself as a global power that could rapidly project its might thousands of kilometres away from its borders and at the same time, effectively strike terrorist groups who were also threatening the interests of the West.
UN estimates some 300,000 people are still trapped in the rebel section of Aleppo, with dwindling food and medical supplies. The UN's special envoy to Syria, Staffan de Mistura, warned on Friday that basic supplies in eastern Aleppo could run out in three weeks.
Monday's helicopter downing was the deadliest for the Russians since Moscow began carrying out airstrikes in Syria in support of Assad's forces last September.
Strategic military cooperation
President Vladimir Putin met Iran's Supreme Leader Ayatollah Ali Khamenei in Tehran – "the most important in the history of the Islamic Republic of Iran". Iran's leader, in an unprecedented characterization of any foreign leader, called Putin "a prominent figure in today's world". In January this year, Moscow and Tehran signed a military-cooperation deal that called for wider collaboration around the training of personnel and counter-terrorism activities.
Cooperation between Iran and Russia took a practical turn during the Syrian war. Both countries supported Syrian President Bashar Al Assad in direct opposition to the USA and western interests, as well as the interests of various regional actors. Relations between the two states continued to strengthen over time. In November 2015, in a high-profile meeting, Russian
Iranian and Russian interests coincide in two major areas. Apart from defying US hegemony, both countries seek to halt the expansion of US military bases in Central Asia, the Caspian Sea region, as well as in this part of the world have given rise to a perceived threat to the security of Iran and Russia. These geopolitical sensitivities have formed a natural basis for cooperation between Iran and Russia. In the case of Iran, this has been one of the pillars of its foreign policy since the inception of the Islamic Republic in 1979. The Russians, on the other hand, seek to ameliorate their wounded pride and increase their prestige as they attempt to address what they perceive as a lack of international respect and influence. In 2005, Putin said that the fall of the Soviet Union was "the greatest geopolitical catastrophe" of the 20th century.
The emergence of a pro-West government in Ukraine in 2014 added to Russian anxieties. The Russians were concerned about a possible NATO military presence in their backyard. That exacerbated the confrontation between Russia and the West, led by the US, and sparked a chain of tit-for-tat actions and reactions. The Russians are now under economic pressure due to the sanctions imposed by the West with the US taking a leading role. In this context, Iran was identified as the best candidate for a Russian alliance in order to create a power pole to combat the pressure placed on Moscow by the West/US.
Another common strategic imperative for Iran and Russia emerged as events unfolded in Syria. The rise of terrorists is a serious threat to the security of both countries. Russia has been in a state of war with radical elements from Chechnya and other North Caucasian republics since the 1990s. The country has been targeted by several terrorist attacks and in June 2015, the Chechen terror group pledged allegiance to Daesh.
The USA and its regional allies were against the active involvement of Russia in the Syrian war because the Russians aimed at stabilizing the vulnerable fronts in favour of the unwanted Syrian regime of President Bashar Al Assad. The regime had suffered severe setbacks on the battlefield prior to Russia's intervention. However, on the other hand, Russia's military involvement was in line with US/West strategic goals of uprooting extremist groups. Russia's assumed role as a major player in Syria guarantees its influence in mapping Syria's post-war politics. This will also allow Russians to tackle their conflict with the West over Ukraine from a position of strength. On the Iranian side, as chaos grew in Syria, the rise of Daesh and the expansion of their significant presence in Iraq, which is within close proximity to Iran, became a formidable threat to the country's national security.
Syria is of vital importance to Iran for other reasons beside the urgent threat posed by Daesh. Iran's hostility towards Israel is an entrenched part of its foreign policy since the Iranian Revolution. Iranians took advantage of hostile relations between Syria and Israel for almost 30 years. By strengthening their ties with Syria, they sought to make Syria a de facto shield against a possible military confrontation with Israel.
In addition, with the logistical and economic assistance of the Iranians, Hezbollah of Lebanon emerged in the 1980s as a paramilitary organisation. The move was aimed at countering Israel's hegemony in the region. Meanwhile, in a context of deterrence, Hezbollah could act as an Iranian proxy force that could pose a constant, potential threat to Israel's anti-Palestine strategy. Syria shared the same vision with respect to Hezbollah, and as such, Syria became a vital corridor through which Iran could transport weapons to Hezbollah in Lebanon.
On another front, the rivalry between Iran and Saudi Arabia has added new dimensions to Syria's geopolitical significance for the government of Iran.
Russian military bases?
For Russia's part, its decision to use the Shahid Nojeh military airbase in western Iran underscores its calculation that bolstering its nearly year-long overt military intervention – which began dramatically with Russia airstrikes launched from a base in the Syrian coastal town of Latakia – can help tip the battlefield in Assad's favor. It means that keeping Assad in power is very important for Iran, and for Iranian hardliners too, since they are allowing an infidel military on their sacred territory.
Since last November, Russia's strategic bombers have had to fly from an old Soviet airbase at Mozdok in southern Russia. The 650-mile distance to Aleppo from Mozdok is not much shorter from the western Iranian base near Hamedan, as the crow flies. But Russian planes must skirt Turkey, and targets in eastern Syria – and also anywhere in Iraq, should Russia eventually choose to take on IS targets there – are significantly closer from Iran. Flying out of Iran, therefore, enables Russian jets to carry full payloads of 24 metric tons – more than the maximum for the longer run from Russia. That is of course significant, experts say, because since they are carpet bombing Syria, the more bombs you take, the more land you cover. "Right now at this pivotal point in the battle for Aleppo, it is very important that Russia has drastically increased bomb-carrying capability, to bring the bombs to the Syrian opposition.
A top Iranian official said the new arrangement was Syria-specific but also "strategic," and a "warning to terrorist-supporting countries" – an oblique reference to the US and its allies, which want to see Mr. Assad removed from power. While Iran- and Russia-led cooperation had already made life very tough for Syrians , the new expansion "will continue until they are completely wiped out," said Ali Shamkhani, the head of Iran's Supreme National Security Council.
Russian airstrikes have hit not only ISIS jihadists, US officials say, but many more since last year have struck anti-Assad forces backed openly or clandestinely by the USA and its allies. The US-led air campaign against ISIS in Syria and Iraq has help reduce territory of the self-declared caliphate by 30 percent, according to the Pentagon.US officials would say only that they are in "close contact" with Russia as they push for a negotiated solution to a war that has ravaged Syria, claimed more than 400,000 lives, and produced nearly 5 million refugees.
Russia says it has no hidden agenda of securing a military bases in Iran.
Trust deficit
Russian President Vladimir Putin ordered a Russian withdrawal from Syria last March, and troops were filmed returning home. But that was just a gimmick as there has been little slowdown since, and Russia's defense ministry said it "eliminated" five weapons depots in the first day of new strikes.
Top Iranian lawmaker Alaeddin Boroujerdi noted that Russian planes were only refueling at the base, and that "generally, there is no stationing of Russian forces" in Iran. Washington called the move "unfortunate" and said it "pushes us farther away" from a nationwide cease-fire and the UN-sponsored political process in Geneva that includes Russia. Earlier this week, Russian defense chief Sergei Shoigu was quoted saying the USA and Russia were in "a very active phase" of talks about the surge of fighting in Aleppo, "to start fighting together to bring peace."
The Russian military presence is sensitive in Iran, where revolutionary ideology since 1979 opposed both US and Soviet influence during the cold war, and categorically, in rhetoric at least, rejects foreign meddling. Ali Larijani, Iran's speaker of parliament said that it was "forbidden" by the Constitution to create a foreign military base, and that Iran had not "given the base over to Russia in military terms."
While these determinants have created a strong foundation for a strategic alliance between Russia and Iran, it could be argued that some factors may prevent the alliance from lasting through the long term. First, the Iranians distrust the Russians. They still remember the annexation of a large territory of Iran as a result of several battles with the Russians in the 19th century. The Russians also supported several United Nations sanctions against Iran during Tehran's crisis over its nuclear program.
It can be claimed that Russia and Iran have different motives in Syria. While this assertion is true, the strategic interests of Russia and Iran converge to a high degree. Russia knows only too well that in the absence of a motivated ground force (i.e., Iran's proxies), their military operations will have no chance of succeeding in the Syrian asymmetric war.
They also sold their friendship with Iran when the opportunity arose. In 2010, the Russians suspended the delivery of a number of S-300 missiles that Iran had already paid for. It may never be revealed what sort of deal was made between the US and Russia at the time, but the Foreign Policy article titled, 'How the Obama Team convinced Russia not to sell arms to Iran' said: The Russian decision was a dividend of the Obama government's 'reset' policy with Russia." That said, it is worth noting that alliances between countries are not based on trust. Rather, they are based on the countries' interests. For example, even though the US and Israel are close allies, they do not trust each other. Americans spy on Israelis and vice versa.
Observation
Latest developments once again raise the question as to whether the Tehran-Moscow alliance is tactical or strategic and whether the development is sustainable and long term.
The Iranian and Russian strategic intent in Syria seems much closer than the Russian and American strategic intent in Syria, an earlier agreement by the USA and Russia to seek a negotiated solution having failed. The Russian military tends to be secretive, so that was a political decision to demonstrate to the world that Russia and Iran are militarily together.
The Iranian-Russian conflict with the USA over American hegemony, which has been amplified by the diverging interests of Iran and Russia on the one hand and the US and its regional allies on the other, is not going to be resolved in the near future. In addition, the conflict between Russia and the US-led West over Ukraine has become a Gordian Knot with no solution on the horizon.
Iran's decision to openly allow foreign troops on its soil for the first time since the 1979 Islamic Revolution – and the first Russians since World War II – is testament to its desire to achieve strategic gains and ensure that the high cost of its involvement in the Syrian war, including the loss of more than 400 Revolutionary Guard troops and a number of generals, not be in vain.
Against this backdrop, it is safe to assume that the Iranian-Russian alliance will remain strong for the foreseeable future. Perhaps just as significantly, the high-profile move allows both nations to ease their isolation, imposed by the USA and the West, while spreading their regional influence through the use of hard power.
There is a possibility of USA and Russia jointly fighting for the blood of Syrians and other Arabs in West Asia by not letting Assad to quit and encouraging him to continue posing an adamant "winner" posture.
Washington has no plan or intention of leaving energy rich West Asia and Central Asia and would continue to use its Asia pivot for some more time. Since Arab leaders, Iran, Syria as well as Moscow have shown their "soft" willingness to cooperate with Pentagon-CIA, Arabs would continue to die.
No other alternatives!
Sixty Years and Still Growing Stronger As UN University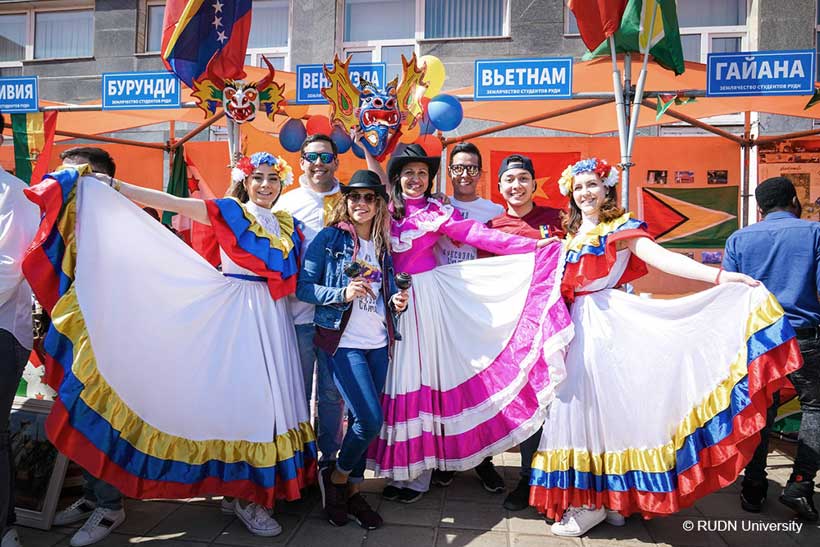 Peoples' Friendship University of Russia, one of Russia's largest internationally oriented, educational and research institutions, has marked 60th year of its establishment with series of activities including an evening of congratulatory speeches, culminating with a grand multinational cultural concert in the Kremlin.
The congratulatory messages came from the Kremlin, Russian government, Federation Council, State Duma, Ministries and Departments, Soviet and Russian Graduates' Associations in Latin America, Asia and Africa, and international organizations such as UNESCO and the United Nations.
From the highest officialdom, Russian President Vladimir Putin sent his greetings to the faculty and staff, postgraduate and undergraduate students and alumni of Peoples' Friendship University of Russia (RUDN) on the academic institution's anniversary.
The message reads: "Exactly 60 years ago, Peoples' Friendship University of Russia opened its doors to young people arriving in Moscow from the newly independent countries of Asia, Africa and Latin America, offering them a second home. I strongly believe that many graduates hold warm memories of the years they spent studying in our country, their teachers and friends.
Over these years, the university has trained tens of thousands of qualified professionals in economics, agriculture, medicine, law, history, philology and other disciplines, making a unique contribution to strengthening friendship and mutual understanding between people of various ethnic and cultural backgrounds.
It is marvellous that the university treasures these traditions and maintains a high standard of education as one of Russia's best higher education institutions. Its noble mission helps attract talented, proactive and dedicated young people from across the world who are receptive to progressive ideas and are ready to undertake advanced programmes and projects."
In a congratulation message, Antonio Guterres, Secretary-General of the United Nations, noted that the university has long been known for fostering understanding between countries and cultures.
Respect for diversity is one of the strengths. This anniversary comes at a time of test for that vital work. Today's global landscape is scared by protracted conflicts, a climate crisis and the spread of hatred and disquiet. In such times, the pursuit of knowledge remains more necessary than ever.
It is encouraging to know that the mission of "uniting people of different cultures by knowledge" echoes the aim of key United Nations initiatives, including UN Academic Impact, of which the university is a valued member.
"As we mark the 75th anniversary of the United Nations and embark on a Decade of Action to deliver the Sustainable Development Goals by 2030, we look forward to continued partnership in shaping a peaceful and prosperous future for all," stressed Secretary-General Antonio Guterres.
Professor Vladimir Filippov, Rector of the Peoples' Friendship University of Russia, traced the history of its establishment emphasizing the fact that the significant decision to establish the university was made 60 years ago. It has worked the way from a higher educational institution, mainly trained staff for developing countries to a comprehensive research university – from Peoples' Friendship University to RUDN University, the scientific and educational centre well-known and recognized in Russian and world rankings.
Today the university brings together students from 158 countries, and the number of RUDN University alumni increases by 5-6 thousand year by year, graduates work in almost all countries.
In 2020, RUDN University alumni are to hold events devoted to the RUDN University anniversary in dozens of countries of the world. RUDN University and its alumni are planting Trees of Friendship in many countries to commemorate its anniversary. Join us!
Professor Filippov concluded: "We are still young, up-and-coming and individual – our university is really the only one. RUDN University is more than just a degree you obtain, more than research, more than collaborations, more than creative environment. RUDN University generation is beyond standards, we create our own history – history of a university of the new type – We are different, we are equal, we are leaders!"
Additional historical notes: The Soviet government founded the university on 5 February 1960. Its stated objective during the height of the Cold War was to help developing nations. Many students from developed countries also attended the university. On 22 February 1961, the university was named Patrice Lumumba University after the Congolese independence leader Patrice Lumumba, who had been killed in a coup that January.
The stated purpose for establishing the university was to give young people from Asia, Africa and Latin America, especially from poor families, an opportunity to be educated and to become qualified specialists. The organizations, as founders of the university, are the All-Union Central Soviet of Trade Unions, the Soviet Afro-Asian Solidarity Committee, and the Soviet Associations Union of Friendship and Intercultural Relationship.
The university's current Russian name is "Российский университет дружбы народов", which could be translated as "Peoples' Friendship University of Russia" or, more directly, as "Russian University of the Friendship of Nations". The English-language version of the university's website, however, uses the name "RUDN University" with the acronym RUDN derived from the Russian name transliterated into English ("Rossiiskii Universitet Druzhby Narodov"). Nonetheless, it remains most common in English to use the name "Peoples' Friendship University of Russia" or the abbreviation "PFUR" used officially in official documents by RUDN.
Putin's Truth in the Era of Post-Truth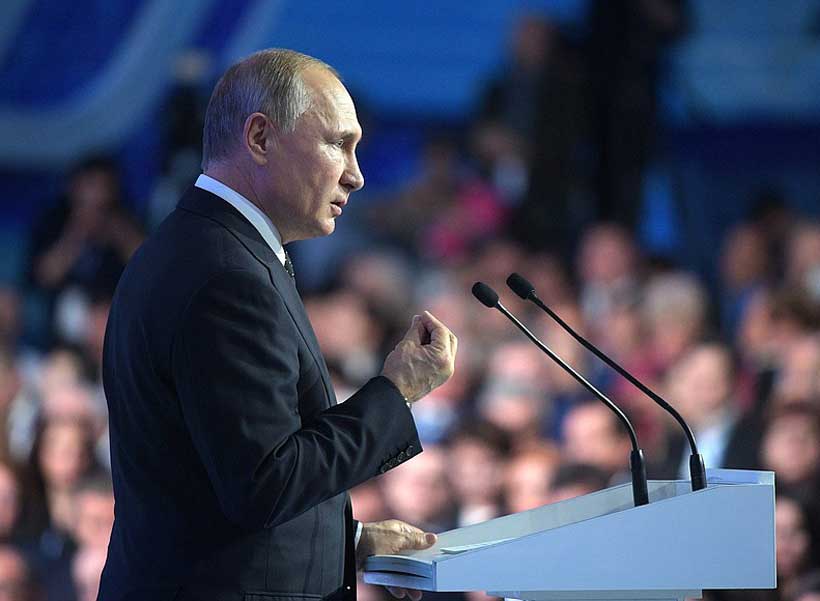 Every day the newsfeed looks increasingly more like a rising tide of provocative articles on the events of World War II, Nazis, concentration camps, the USSR, Putin, Russia's constitutional reform. You'll certainly wonder what the latter two have to do with the rest. And the only way to answer that question is with the well-known mantra:
Information wars have become part of our daily life.
The West is currently fighting at least two of such wars—one against the Chinese dragon, and the other, against the Russian bear. Yet, while the information war against the Far East is mainly fought by the United States, the anti-Russian campaign is conducted mostly in the European media space. Besides pursuing tactical purposes, such as hampering another mutually beneficial Russian-German energy project (like Nord Stream 2, which is 93 percent complete), these battles have a more serious strategic agenda. This is what experts call "cognitive warfare"—war of major meanings and frightening images. In this war, history has become a battlefield.
So, Putin went into the battle to defend the history, the truth, the memory and the meanings—a very Russian, old-fashioned approach. Yet he got a new weapon in his arsenal, having declassified the Soviet archive documents. At a recent meeting with the leaders of post-Soviet states, in St. Petersburg, Putin gave an impressive lecture on how World War II began. In fact, he knew what he was talking about, as Russia's archives feature plenty of Nazi papers seized by the Red Army. Putin presented official telegrams and diplomatic reports dating back to that period, which had been stored by the USSR. They serve as substantial and plentiful evidence showing that it was not the USSR who incited the global fire. Recently, Vladimir Putin also announced that a most extensive archive of historical materials on World War II would be set up and would be openly available to everyone both in Russia and abroad. "It is our duty to defend the truth about the Victory; otherwise, what shall we say to our children if the lies, like a disease, spread all over the world," he said. "We must set facts against outrageous lies and attempts to distort history. This is our duty as a winning country and our responsibility to the future generations."
In contrast, here is a recent tweet by the US Embassy in Denmark which says plainly that it were American soldiers who liberated prisoners of the Auschwitz Nazi death camp in Poland. Meanwhile, even weak school knowledge would suffice to understand why that couldn't be true. Nothing but a little mistake, it appears. In fact, that was exactly what the US replied to criticism.
The long-lasting scandal around the famous Molotov-Ribbentrop pact and the subsequent equation of Communism with Nazism as "misanthropic ideologies" are part of the same set of examples. The main idea of this narrative is as follows: "Hitler and Stalin conspired against the free world, and Poland was their first victim."
Indeed, here we should cite Der Freitag which has made a very good point that nowadays we have a fatal tendency to begin at the ending when we talk about events of the past. Yet speaking earnestly, it should be enough to remember the secret diplomacy of the summer 1939, the obscure dealings between various alliances and the enormous gap between the declarations and real intentions of the world's political actors of that time. In short, things stood much the same way as they stand today. So, instead of habitually laying the blame on the Soviet Union, Polish politicians could for a change rebuke France and the United Kingdom for having failed, despite their obligations to Poland, to actively interfere in hostilities back in 1939. It would also be appropriate to mention the "non-aggression pact" (Hitler-Pilsudski Pact) between Nazi Germany and Poland, concluded as far back as January 1934. Some historians (for example, the famous Rolf-Dieter Müller) believe it to be aimed at involving Poland in a military alliance, possibly with the view to jointly waging war against the Soviet Union, of which both Moscow and the European capitals were well aware at that time.
Yet what's done is done, and history cannot be rewritten. However, one can try to falsify its interpretation and make it fit today's reality. What is more, one can use the distant past as a lens to view the events of today. The tendency to such humanitarian violence has unfortunately become a hallmark of our time.
This is what Austrian Der Standard says, drawing the same parallel—it seems that antagonism to the policy pursued by the Kremlin has become a powerful unifying factor. Andrzej Duda proposed to Volodymyr Zelensky that they commemorate Polish and Ukrainian soldiers killed in the 1920s during the fight "against the bolsheviks", yet he overlooked that back then, 22 thousand Russian prisoners of war died in the Polish Tuchola camp alone. Zelensky, in his turn, urged humanity to join their efforts in countering "destructive ideologies" today as it did 100 years ago. At the same time, in Ukraine, visual rehabilitation of the Third Reich and SS symbols is underway and historical Nazism is glorified. Even the national motto—"Glory to Ukraine! Glory to the heroes!"—quite evidently resembles in structure the well-known National Socialist salute.
Unfortunately, juggling ideas in the field of history is an inherent part of the European politics and media environment. In a number of countries, modern politicians build on "history" to shape an artificial collective unconscious, hoping to manipulate potential voters' decision-making. The "Polish scheme", as it might be called in that case, works as follows:
-First, in the article "Politicians from All Parties Say: Putin Is a Liar and Wants to Hurt Us!", whose title speaks for itself, member of the European Parliament Wlodzimierz Cimoszewicz, who is also a former Polish prime minister and head of the foreign ministry, says: "There are two issues—the first is whether the so-called historical policy makes sense and the second concerns the current situation related to Russia's aggressive and deceitful rhetoric.
-Now, there is a matter of money: in an interview with the German newspaper Bild Jaroslaw Kaczynski, chairman of Poland's ruling party, claims that "Germany should send more troops, especially to the Baltic States. Lessons of the past warn us against stationing more German troops in Poland. Germany must take these concerns into account. One thing is clear, however: we need strong operational and combat readiness in Eastern Europe." He also insists that Russia—like Germany—must pay reparations to Poland, including for destroying the country's economy, roads, factories, historic buildings and cultural values. Noteworthy is that after World War II, thanks to Stalin's effort, Poland expanded its territory by one-third, acquiring economically viable Silesia and the Baltic coast from Germany.
-Then, Polish Prime Minister Mateusz Morawiecki writes that Poland was the first country that fought to defend "free Europe". He forgets to mention, though, that Poland also participated, together with Hitler, in the partition of Czechoslovakia in 1938.
-Against this backdrop, the Internal Security Agency (ISA) of Poland prepares a report about an expected "interference" by the Kremlin in the presidential election in Poland to be held in spring, surely to "undermine the integrity and effectiveness of NATO and weaken the cohesion of the European Union".
-And incidentally, Putin is on his way to becoming "an aggressive red monarch" and he must go, living up to an idealistic formula that "everything was the way we want it to be today"…
So… following that logic, Putin must go. He must do so precisely because he keeps dispelling European illusions about history, which must be the way we want to see it today.
It matters not that Russia's political system has entered a new phase of democratic transformation. Neither does it matter that major historical processes are brought about by preconditions and circumstances, not by shouts or newspaper headlines. All this mosaic nonsense is shaping an information landscape that draws historical myth from the past to the present, generating false analogies.
There are those who still tend to analyze current developments through the magic crystal of perceptions built up by history, to expound on Russia's recent foreign policy through the lens of Stalin's mythical "aggression" and "the Soviet empire" or to transform assessments on Russia's internal processes, such as the initiated constitutional reform, applying notions from Russian 19th century novels. "Russia's civil service could be likened to a pile of iron filings. Just as shavings align themselves with a magnet, so Russia's apparatchiks align themselves with the magnet called power, without the need for instructions. They guess what is expected of them. That creates an illusion of remarkable unity—at least, as long as there is only one magnet. That is neither Dostoevsky nor Gogol—that is Spiegel.
Normally, the human brain is reluctant to take on complex tasks, it rather feeds on content that can calm it down. Such information should be familiar to it and fit perfectly into its inbuilt concepts.
Once calmed down, one can continue to buy natural gas and coal from the wicked Putin at a good price and sell him Polish apples via Belarus, earnestly believing Russia to be a decrepit totalitarian empire, dormant deep beneath the snow, rather than a complex, dynamically evolving state of the 21st century with great scientific capacity, innovative industry and open society. It seems easier this way.
But this will by no means change the reality: Putin is no tsar, but a national leader who initiates work to update the system of power he himself has constructed, while "Stalin's version of history" is nothing but gloomy fantasies of narrow-minded people still clinging to the obsolete clichés like "dispatched to the Gulag, the Soviet Union's archipelago of slave labour camps" and the idea to convene a summit of the permanent members of the UN Security Council is the most intuitive and sensible proposal in the field of international security over the last two decades.
Now, would you like a bit of post-truth? Let's imagine that, like many of us here hope, Putin simply resigned. Just try to hypothesize how it would affect Europe. Don't be deluded though: the best scenario is by no means guaranteed. It is only in academic projections of American geostrategists that a weakened and disintegrated Russia is—for some reason—presented as a blessing. And what if local conflicts, like that in Ukraine, spilled over to Crimea, the Caucasus, the Urals; Islamists and terrorists from Central Asia (their natural habitats) moved to the North, prosperous Europe becoming their final destination? The downfall of the political system, inevitably followed by the coming to power of radical forces, would trigger the collapse of economic pillars, lead to energy supply disruption, losses from interrupted trading transactions for the exports (which already suffer the aftermath of sanction policies) of European goods and services to the Russian market, heighten the growth of shadow economy, create new customs barriers and escalate trade wars. The Chinese Belt and Road Initiative would considerably slow down, which would bury all hopes for accelerating Europe's economic growth using this channel. Migration from Russia, which is currently limited mainly to non-system politicians and businessmen with murky success stories (many of these persons being both at once very often), would become a mass phenomenon, greatly exceeding the number of Poles, Lithuanians and Ukrainians who have moved closer to the Atlantic. Europe will be swept by a new wave of crime, poverty and totally different values that are very far from the dream of a beautiful and unified Europe. How about this post-truth scenario?
Thus, the fight for history is a struggle for a dignified and dynamic future where no short-sighted ideological considerations can draw dividing lines, no matter how paradoxical this might seem.
Putin's Message to African Envoys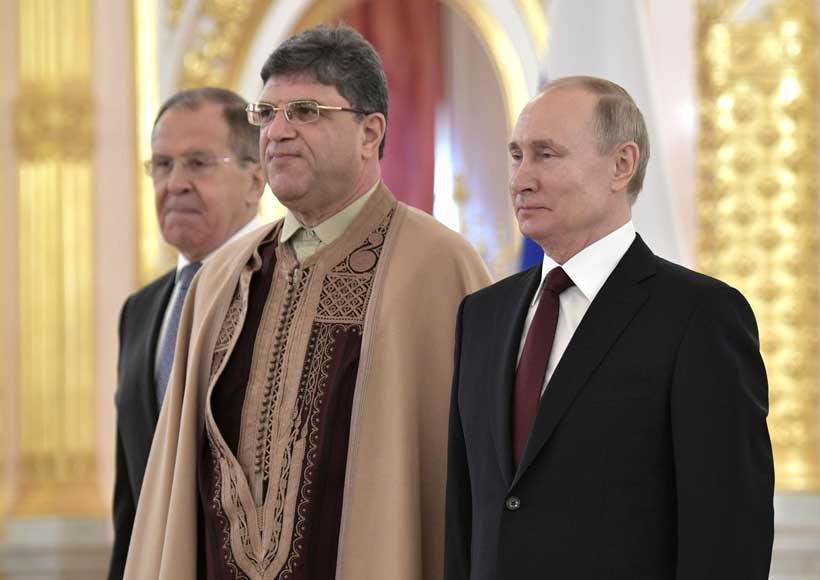 Russian President Vladimir Putin has received, in accordance with the established tradition, letters of credence from 23 new ambassadors in the Alexander Hall of the Grand Kremlin Palace. The ceremony, which officially marks the start of their diplomatic activities in the Russian Federation, attended by the heads of diplomatic missions of 23 countries of Europe, Asia, Africa, America and Australia.
That included three from North Africa: Mohamed Sherif Kourta (People's Democratic Republic of Algeria),Lotfi Bouchaara (Kingdom of Morocco) and Tarak ben Salem (Republic of Tunisia).
In his speech at the ceremony, Putin concisely underlined the key global challenges as follows: threat of terrorism growing, arms control system collapsing and global economy increasingly becoming unstable.
This year marks the 75th anniversary of the end of World War II. Putin took the opportunity, through the diplomatic representatives, to invite foreign leaders and delegations to attend celebrations marking the great event in Moscow. He then proceeded to address specific issues connecting individual countries with Russia.
"Russia has strong and friendly ties with Algeria. The presidential election held there late last year was a big step towards political and social reform in your country. We support Algeria's balanced policy in international and regional affairs. We see good possibilities for building up economic and military-technical cooperation and for coordinating efforts in the interests of stronger stability and security in North Africa and the Sahel-Saharan zone. I recently had a short conversation with your President in Berlin. I hope to see him in Russia soon," he told Algerian Ambassador, Mohamed Sherif Kourta during the ceremony.
Putin further expressed high satisfaction with the present state of collaboration with Morocco, and added "both Russia and Morocco have achieved decent results in mutual trade, agriculture, and deep-sea fisheries, but there are still opportunities for advanced Russian technologies and R&D results to reach the Moroccan market."
With Ambassador Tarak ben Salem (Republic of Tunisia), Putin stressed: "we are resolved to further strengthen bilateral cooperation with Tunis, which is among Russia's traditional partners in the Middle East and North Africa. We are ready to work together on current regional matters, including a settlement in Libya."
The newly arrived ambassadors have important and serious diplomatic tasks: to promote the development of comprehensive relations, responsible for expanding political dialogue, make conscious efforts in strengthening trade and economic ties as well as deepening cultural exchanges and promoting people-to-people contacts, facilitate stronger friendship and mutual understanding between their countries and the Russian Federation.