Sarkozy launches presidential bid depending on anti-Muslim hysteria
Use of themes like Islam and Muslims in a negative sense helps the presidential-PM candidates to campaign cheaply for a popular mandate – not only in third world countries like India where the Hindutva forces have got an advantage over other parties, and Israel where Jewish politicians use Palestinians, Islam and their illegal settlements for fascist Zionist advances but unfortunately also in former democracies like USA, France and Germany as well. The Sept-11 hoax continues to play a destructive role in polls.
Anti-Islamism and anti-Muslims along with Islamophobia rhetoric have become the most important and most rewarding favorite time pass for the greedy politicians across the globe, more in developed nations like USA, Russia and France, etc, than underdeveloped ones
Former right-wing Jewish President Nicolas Sarkozy of the Les Républicains (LR) party, who earlier had served as president from 2007 to 2012, when he lost his re-election bid to current Socialist Party (PS) President François Hollande, declared his candidacy in November's LR primary for next year's presidential election, with calls for unprecedented attacks on Muslims' basic democratic rights in order to woo essentially the Christian and Jewish voters.
Slender Muslim voters do not make much difference in the outcomes of the national polls and hence the anti-Muslim agenda as the key gimmick of Sarkozy.
With France still under a state of emergency, Sarkozy made proposals whose political character is unmistakable: they would convert Muslims to second-class citizens deprived of basic social and democratic rights. Sarkozy had chosen to issue his appeal from the town of Châteaurenard in southern France, where the neo-fascist Front National made significant electoral gains in the last regional elections. He called for trampling Muslim women's right to exercise their religious freedom and their democratic right to dress as they please, with plans to ban the veil and burqa in workplaces and universities. This means placing Muslim women before an intolerable choice: they must either give up their religion, or the right to work and obtain an education. That is the current European and American trend.
Most of Sarkozy's remarks were taken from his new book, espousing artificial and fake patriotism, "Everything for France", which came out recently to coincide with French national poll and he announces his candidacy and calls for suspending the right for immigrants' families abroad to join immigrants in France, drastically reducing the number of migrants, imposing harsh conditions for obtaining French nationality, and eliminating state medical aid for migrants. Sarkozy called for banning the veil including "in the schools, universities, public services, and in the workplaces." He charged that such practices threaten French identity, brazenly declaring: "Our identity is threatened if we allow minorities to force upon us a lifestyle which will never be ours." He added, "I want to be the president that re-establishes the authority of the state on every square centimeter of the Republic." According to him minorities in Europe should not be treated as equals and should be under perpetual surveillance.
Guided by neo-imperialist ideals, Sarkozy's proposals to ban Muslim women from jobs and universities recall several of the initial anti-Semitic laws of the Nazi-collaborationist Vichy regime during World War II, when it barred Jews from key professions, like medicine and the public service, and limited their access to university posts. This paved the way for Vichy to ultimately deprive Jews of French citizenship and carry out mass deportations of Jews from France to death camps across Europe. Then as now, the targeting of entire ethnic and religious groups for persecution by the state was bound up with escalating class tensions and the eruption of imperialist war on a global scale.
France is deeply implicated in NATO's ongoing war preparations against Syria in the Middle East and Russia in Europe, and in Washington's "pivot to Asia" against China. Sarkozy's speech comes as the French capitalism faces explosive opposition to the PS' reactionary labor law, which scraps basic social protections for working people, and a danger of world war unprecedented since World War II.
In this context, Sarkozy pledged to introduce the compulsory military service for youth aged 18 who are unemployed or in full-time education. Accusing Hollande of failing to fight terrorism, Sarkozy declared that he would step up the war against terrorism. Sarkozy himself bears substantial political responsibility for this state of affairs. It was under his presidency that France played a key role in pressing for a NATO war in Libya in 2011, arming and financing Islamist proxy militias to topple Colonel Muammar Qaddafi's popular regime. Hollande also continued this strategy, stoking a war in Syria and supporting Al Qaeda-linked Islamist militias against the Syrian regime of President Bashar al-Assad.
If Sarkozy can re-emerge to launch a presidential bid, after having been one of France's most unpopular presidents in history, it is above all due to the filthy role of the government and its pseudo-left and aimless allies. Their policies of austerity, war, and law-and-order hysteria paved the way for the reassertion of ethnic and religious discrimination as a key aspect of French politics. Hollande seized on the terror attacks to impose a permanent state of emergency in France, scrapping basic democratic rights, and advocated inscribing the principle of deprivation of nationality in the French constitution.
Sarkozy's attack on defenseless Muslims, close on heels of US precedential candidate Trump's assertive ideas about blocking Muslims. Sarkozy's After Sarkozy's speech, Prime Minister Manual Valls postured as an opponent of Sarkozy, denouncing "the brutality of his proposals…He is following the far right, he is taking the democratic right into its camp, and he is dragging the other candidates in the primaries, including Alain Juppé, in this direction, in this path, and it worries me." Valls' comments reek of hypocrisy, as he himself favors anti-democratic policies and the incitement of anti-Muslim sentiment, supporting calls for a veil (burkini) ban. He also played the central role in cracking down in social protests against the PS labor law during the spring and early summer.
Like in USA, cutting across party lines, top greedy politicians harp on anti-Islam themes in an ugly manner to outsmart one another and to win elections. More broadly, the entire French political establishment is implicated in the stoking of anti-Muslim sentiment over more than a decade. The right-wing government of President Jacques Chirac imposed a headscarf ban in public schools in 2004, followed by a burqa ban introduced by Sarkozy and the Stalinist French Communist Party (PCF) in 2010. Pseudo-left groups including Lutte Ouvri è re (Workers Struggle) and the New Anti-capitalist Party (NPA) backed the headscarf and burqa ban, fraudulently claiming it was a "secular" measure aimed to defend women's rights. While supporting anti-Muslim hatreds, they also supported imperialist irrational wars for resources, launched on "humanitarian" grounds, including in Libya and Syria. They bear political responsibility for creating the conditions for Sarkozy to run a far-right campaign calling for unprecedented acts of religious discrimination.
Such essentially racist and anti-democratic remarks from a former head of state Sarkozy testify to a sick mind of European ruling elites and staggering disintegration of French corporatist democracy. Amid an escalating economic and military crisis of the capitalist system, the French ruling class' decades-long strategy of dividing the common masses along ethnic lines with appeals to anti-Muslim sentiment is taking on vast new dimensions.
An entire religious community of millions of people, consisting of racial minorities largely drawn from the most oppressed sections of the common people in France, is effectively being accused of treason. The implication of Sarkozy's remarks is that the simple act of peacefully practicing a religion shared by millions of people in France means defying the authority of the state and committing an act of disloyalty to the identity of the French ethnicity.
The resurgence of racist policies in Europe underscores the deep crisis of capitalist rule in Europe amidst rising class tensions. As made clear by the growth of neo-fascist movements across Europe the European bourgeoisie is moving towards fascistic methods of rule.
When will western leaders get out of the irrational madness they are currently in of depending too much on escalating Islamophobia andante-Islamism and hatred for Islam and Muslims and win elections?
Marine Le Pen's Nationalist Ideology and the Rise of Right-Wing Parties in Europe
"When you decide to stand against injustice, expect that you will be cursed and then betrayed and then atoned, but do not keep quiet about injustice in order to be told that you are a man of peace." Marine Le Pen stood in the face of injustice and said the word of truth without hesitation. As the truth hurts, Le Pen has faced much criticism, insults, and opposition campaigns. Marine Le Pen, the candidate for the 2017 French presidential election, lost to Emmanuel Macron, a moderate centrist young man who believed in economic and political openness to Europe, and her loss was an expression of democracy and freedom.
What will change in France and Europe after Macron takes office? Had Le Pen come to power, what would have happened? Why was this powerful campaign against Le Pen?
Marine Le Pen is the president of the National Front and the daughter of Jean-Marie Le Pen, the extreme right-wing political party in France. Since French society is a mixture of different civilizations, cultures and religions, Le Pen has not won many votes and was not accepted by the society because her project was France first, not Europe first, and the fight against terrorism was one of its priorities, without the support of anyone or the consent of religious and political groups to carry out this process. Le Pen's experience is not new. When her father ran in the past, he called for the reinstatement of the French franc, the restoration of French identity instead of the European one and the implementation of a French national policy without referring to the European Union.
Many political analysts believe that if Le Pen was able to reach the presidency, Europe would enter a phase of wide change, since Germany and France are the two pillars of the European Union, the departure of France will lead to an imbalance in the European Union and to a weakness in its structure. Le Pen's proposed program did not impress many advocates of freedom because it negatively affects the rights of refugees and works on a harsh policy with foreigners coming to France. As an Arab citizen and human rights defender, I will not accept Le Pen's proposals at the beginning, but I meet with her on many things and concerns. The European continent has become a place for the export of large numbers of people who are doing terrorism in the world and the great margin of freedom in Europe has made it a tool for making evil and to strengthen the role of ideologically unclean groups, all due to the issue of human rights and the right of opinion and expression.
The European continent is witnessing a widespread campaign against the EU, the BREXIT in Britain was no accident, as well as the rise of right-wing parties to take power in Denmark and the Netherlands and demand a firmer policy, and it is noticeable that the right-wing European parties are growing in France, Italy, Spain, Hungary and Austria. The project demanded by Le Pen has become necessary on the European continent, especially with the financial crises in the European Union and the many terrorist acts that threaten European security.
From the Treaty of Westphalia to the founding of the European Union to the present Europe, the situation has changed a lot. The idea of a civilian state was necessary to end the 30-year war and the founding of the European Union came to unite the European continent after it was divided during the Cold War. Today, in the era of globalization, openness and freedoms, the economic crises that hit the world in general and Europe in particular, and the incidence of terrorist acts are increasing rapidly, and I am afraid that Europe will become a place of terrorist acts and a center for terrorist group. Therefore, the world today needs leaders such as Le Pen to control human insanity and restore stability to the international community.
The success of the experience of democracy in a certain part of the world does not mean that it is the ideal system and that it can easily be applied to the rest of the world. Many peoples of the world are not suited to democratic regimes, and the failure to implement a democratic system does not mean that the regime that will govern this country is oppressive and unfair, but one that suits the form of the state and the needs of the people. Henry Kissinger acknowledged that the idea of the European Union could not last forever because European countries since ancient times were not based on the doctrine of unity and participation.
I still dream of the beautiful Europe of the 1980s, when it was the center of international economy and trade and when the international political decision was linked to Europe. Europe today is a mass of endless economic crises and a center of attraction for terrorist acts that threaten European and international security, without forgetting the US decision, which often affects European sovereignty. Le Pen's project is to reject American hegemony, return to French roots and adhere to French identity. The idea of a closed door policy and a strict policy with foreign expatriates is an internal French affair.
The situation in France will not be better after the arrival of Macron and terrorism will not stop, Emmanuel Macron is trying to give more economic, social and cultural freedoms and more integration with the European community. Of course, economic and political cooperation will have a positive impact on France and Europe. But in return for this cooperation, what special benefit will France gain, knowing that Macron has put forward the idea of establishing an EU military force, which means that the EU's role will be not only economic and political but also joint military action.
The series of terrorist operations has not ceased after Macron's arrival, and is increasing day by day. From France to Britain, Belgium and Germany, the target is Europe, which is the victim of terrorism. Terrorism wants Europe to become unstable and panic and make it a "New Land of Jihad". Of course, Macron's European policy plays an important role in strengthening the position of terrorist groups and creating fertile ground for them. Terrorism needs freedom and open borders to turn the impossible into reality.
When Le Pen raised the voice and said that we are French and wanted to rearrange the French house, she knew that France was the target and if it was not immunized, Great France would become just an idea in the "Museum of History". Le Pen, an ultra-nationalist, does not scare me as an Arab Lebanese. Why would I be afraid of someone who wants to fight terrorism and oppressive ideology? We all love unity and freedom, but on the other hand there are some emergency circumstances that push the political system in a country to take an unusual path. Today, right-wing approach can make a difference, which some describe as extremism and lack of respect for human freedom.
The world today needs leaders like Marine Le Pen in every corner of the globe. The world today is ruled by force, and is afraid of those who say the word "no" to every stranger and outlaw. Le Pen has lost and the French will regret this option sooner or later because the European future does not bode well!
France: Chaos or a New Social Compact?
At the end of the parade, a few dozen people release yellow balloons into the sky and distribute leaflets saying "The yellow vests are not dead." The police disperse them, quickly and firmly. Moments later, hundreds of "Antifa" anarchists arrive, throw security barriers on the roadway to erect barricades, start fires and smash the storefronts of several shops. The police have a rough time mastering the situation, but early in the evening, after a few hours, they restore the calm.
A few hours later, thousands of young Arabs from the suburbs gather near the Arc de Triomphe. They have apparently come to "celebrate" in their own way the victory of an Algerian soccer team. More storefronts are smashed, more shops looted. Algerian flags are everywhere. Slogans are belted out: "Long live Algeria", "France is ours", "Death to France". Signs bearing street names are replaced by signs bearing the name of Abd el Kader, the religious and military leader who fought against the French army at the time of the colonization of Algeria. The police limit themselves to stemming the violence in the hope that it will not spread.
Around midnight, three leaders of the "yellow vest" movement come out of a police station and tell a TV reporter that they were arrested early that morning and imprisoned for the rest of the day. Their lawyer states that they did nothing wrong and were just "preventively" arrested. He emphasizes that a law passed in February 2019 allows the French police to arrest any person suspected of going to a demonstration; no authorization from a judge is necessary and no appeal possible.
On Friday, July 19, the Algerian soccer team wins again. More young Arabs gather near Arc de Triomphe to "celebrate" again. The damage is even greater than eight days before. More police show up; they do almost nothing.
On July 12, two days before Bastille Day, several hundred self-declared African illegal migrants enter the Pantheon, the monument that houses the graves of heroes who played major roles in the history of France. There, the migrants announce the birth of the "Black Vest movement". They demand the "regularization" of all illegal immigrants on French territory and free housing for each of them. The police show up but decline to intervene. Most of the demonstrators leave peacefully. A few who insult the police are arrested.
France today is a country adrift. Unrest and lawlessness continue to gain ground. Disorder has become part of daily life. Polls show that a large majority reject President Macron. They seem to hate his arrogance and be inclined not to forgive him. They seem to resent his contempt for the poor; the way he crushed the "yellow vest" movement, and for his not having paid even the slightest attention to the protesters' smallest demands, such as the right to hold a citizen's referendum like those in Switzerland. Macron can no longer go anywhere in public without risking displays of anger.
The "yellow vests" seem finally to have stopped demonstrating and given up: too many were maimed or hurt. Their discontent, however, is still there. It seems waiting to explode again.
The French police appear ferocious when dealing with peaceful protesters, but barely able to prevent groups such as 'Antifa' from causing violence. Therefore, now at the end of each demonstration, "Antifa" show up. The French police seem particularly cautious when having to deal with young Arabs and illegal migrants. The police have been given orders. They know that young Arabs and illegal migrants could create large-scale riots. Three months ago, in Grenoble, the police were pursuing some young Arabs on a stolen motorcycle, who were accused of theft. While fleeing, they had an accident. Five days of mayhem began.
Democracy receding
President Macron looks like an authoritarian leader when he faces the disgruntled poor. He never says he is sorry for those who have lost an eye or a hand or suffered irreversible brain damage from extreme police brutality. Instead, he asked the French parliament to pass a law that almost completely abolishes the right to protest, the presumption of innocence and that allows the arrest of anyone, anywhere, even without cause. The law was passed.
In June, the French parliament passed another law, severely punishing anyone who says or writes something that might contain "hate speech". The law is so vague that an American legal scholar, Jonathan Turley, felt compelled to react. "France has now become one of the biggest international threats to freedom of speech", he wrote.
Macron does not appear authoritarian, however, with violent anarchists. When facing young Arabs and illegal migrants, he looks positively weak. He knows what the former interior minister, Gérard Collomb, said in November 2018, while resigning from government:
"Communities in France are engaging in conflict with one another more and more and it is becoming very violent… today we live side by side, I fear that tomorrow it will be face to face".
Macron also knows what former President François Hollande said after serving his term as president: "France is on the verge of partition".
Macron knows that the partition of France already exists. Most Arabs and Africans live in no-go-zones, apart from the rest of the population, where they accept the presence of non-Arabs and non-Africans less and less. They do not define themselves as French, except when they say that France will belong to them. Reports show that most seem filled with a deep rejection of France and Western civilization. An increasing number seem to place their religion above their citizenship; many seem radicalised and ready to fight.
Macron seems not to want to fight. Instead, he has chosen to appease them. He is single-mindedly pursuing his plans to institutionalise Islam in France. Three months ago, the Muslim Association for Islam of France (AMIF) was created. One branch will handle the cultural expansion of Islam and take charge of "the fight against anti-Muslim racism". Another branch will be responsible for programs that train imams and build mosques. This autumn, a "Council of Imams of France" will be established. The main leaders of the AMIF are (or were until recently) members of the Muslim Brotherhood, a movement designated as a terrorist organisation in Egypt, Bahrain, Syria, Russia, Saudi Arabia and the United Arab Emirates — but not in France.
French President is aware of the demographic data. They show that the Muslim population in France will grow significantly in the coming years. (The economist Charles Gave wrote recently that by 2057, France will have a Muslim majority). Macron can see that it will soon be impossible for anyone to be elected President without relying on the Muslim vote, so he acts accordingly.
Macron apparently sees that the discontent that gave birth to the "yellow vest" movement still is there. He appears to think that repression will be enough to prevent any further uprising, and so does nothing to remedy the causes of the discontent.
The "yellow vest" movement was born of a revolt against exorbitantly high taxes on fuel, and harsh government measures against cars and motorists. These measures included reduced speed limits – 90 km/h on most highways — and more speed-detection cameras; a sharp rise in the penalties on tickets, as well as complex and expensive annual motor vehicle controls. French taxes on fuels recently rose again and are now the highest in Europe (70% of the price paid at the pump). Other measures against the use of automobiles and motorists still in force are especially painful for the poor. They were already chased from the suburbs by intolerant newcomers, and now have to live — and drive — even farther from where they work.
Socio-culturally disenfranchised
President has made no decision to remedy the disastrous economic situation in France. When he was elected, taxes, duties and social charges represented almost 50% of GDP. Government spending represented 57% of GDP (the highest among developed countries). The ratio of national debt to GDP was almost 100%.
Taxes, duties, social charges and government spending remain at the same level now as when Macron came in. The debt-to-GDP ratio is 100% and growing. The French economy is not creating jobs. Poverty remains extremely high: 14% of the population earn less than 855 euros ($950) a month.
"How else to explain that the post-WWII come-and-help-our-recovery slogan Gastarbeiter willkommen became an Auslander Raus roar in a matter of only two decades. Suddenly, our national purifiers extensively shout 'stop über fremdung of EU, we need de-ciganization' of our societies, as if it historically does not always end up in one and only possible way– self-barbarization. In response, the socially marginalized and ghettoized 'foreigners' are calling for the creation of gastarbeiter partie. Indeed, the first political parties of foreigners are already created in Austria, with similar calls in Germany, France and the Netherlands. Their natural coalition partner would never be any of the main political parties. We should know by now, how the diverting of the mounting socio-economic discontent and generational disfranchising through ethno engineering will end up, don't we?" – warned prof. Anis H. Bajrektarevic years ago in his brave and farsighted essay 'Denazification urgently needed in Europe'.
Consequently, our top executives pay no attention to the growing cultural disaster also seizing the country. The educational system is crumbling. An increasing percentage of students graduate from high school without knowing how to write a sentence free of errors that make incomprehensible anything they write. Christianity is disappearing. Most non-Muslim French no longer define themselves as Christians. The fire that ravaged the Cathedral of Notre Dame de Paris was officially an 'accident', but it was only one of the many Christian religious buildings in the country that were recently destroyed. Every week, churches are vandalised — to the general indifference of the public. In just the first half of 2019, 22 churches burned down.
The main concern of Macron and the French government seems not to be the risk of riots, the public's discontent, the disappearance of Christianity, the disastrous economic situation, or Islamization and its consequences. Instead, it is climate change. Although the amount of France's carbon dioxide emissions is infinitesimal (less than 1% of the global total), combatting "human-induced climate change" appears Macron's absolute priority.
A Swedish girl, Greta Thunberg, age 16, — nevertheless the guru of the "fight for the climate" in Europe — was recently invited to the French National Assembly by members of parliament who support Macron. She delivered a speech, promising that the "irreversible destruction" of the planet will begin very soon. A Baby-revolutionary added that political leaders "are not mature enough" and need lessons from children. MPs who support Macron applauded warmly. She received a Prize of Freedom, just created, which will be given each year to people "fighting for the values ​​of those who landed in Normandy in 1944 to liberate Europe". It is probably reasonable to assume that not one of those who landed in Normandy in 1944 thought he was fighting to save the climate. Such minor details, however, seem beyond Macron and the parliamentarians who support him.
Macron and the French government also seem unconcerned that Jews — driven by the rise of anti-Semitism, and understandably worried about court decisions infused with the spirit of submission to violent Islam –continue to flee from France.
Kobili Traore, the man who murdered Sarah Halimi in 2017 while chanting suras from the Qur'an and shouting that the Jews are Sheitan (Arabic for "Satan") was found not guilty. Traore had apparently smoked cannabis before the murder, so the judges decided that he was not responsible for his acts. Traore will soon be released from prison; what happens if he smokes cannabis again?
A few weeks after the murder of Halimi, three members of a Jewish family were assaulted, tortured and held hostage in their home by a group of five men who said that "Jews have money" and "Jews must pay". The men were arrested; all were Muslim. The judge who indicated them announced that their actions were "not anti-Semitic".
On July 25, 2019 when the Israeli soccer team Maccabi Haifa was competing in Strasbourg, the French government limited the number of Israeli supporters in the stadium to 600, not one more. A thousand had bought plane tickets to come to France to attend the match. The French government also banned the waving of Israeli flags at the game or anywhere in the city. Nonetheless, in the name of "free speech", the French Department of the Interior permitted anti-Israeli demonstrations in front of the stadium, and Palestinian flags and banners saying "Death to Israel" were there. The day before the match, at a restaurant near the stadium, some Israelis were violently attacked. "The demonstrations against Israel are approved in the name of freedom of expression, but the authorities forbid supporters of Maccabi Haifa to raise the Israeli flag, it is unacceptable," said Aliza Ben Nun, Israel's ambassador to France.
The other day, a plane full of French Jews leaving France arrived in Israel. More French Jews will soon go. The departure of Jews to Israel entails sacrifices: some French real estate agents take advantage of the wish of many Jewish families to leave, so they buy and sell properties owned by Jews at a price far lower than their market value.
Fighting the ghost
Macron will remain as president until May 2022. Several leaders of the parties of the center-left (such as the Socialist Party) and center-right (The Republicans) joined The Republic on the Move, the party he created two years ago. After that, the Socialist Party and The Republicans electorally collapsed. Macron's main opponent in 2022 is likely to be the same as in 2017: Marine Le Pen, the leader of the populist National Rally.
Although Macron is widely unpopular and widely hated, he will probably use the same slogans as in 2017: that he is the last bastion of hope against "chaos" and "fascism." He has a strong chance of being elected again. Anyone who reads the political program of the National Rally can see that Le Pen is not a fascist. Also, anyone who looks at the situation in France may wonder if France has not already begun to sink into chaos.
The sad situation that reigns in France is not all that different from that in many other European countries. A few weeks ago, an African cardinal, Robert Sarah, published a book, Le soir approche et déjà le jour baisse ("The evening comes, and already the light darkens"). "At the root of the collapse of the West", he writes, "there is a cultural and identity crisis. The West no longer knows what it is, because it does not know and does not want to know what shaped it, what constituted it, what it was and what it is. (…) This self-asphyxiation leads naturally to a decadence that opens the way to new barbaric civilizations."
That is exactly what is happening in France — and Europe.
Earlier version published by the Geterstone Institute under the title France Slowly Sinking into Chaos
Serbs disappointed with EU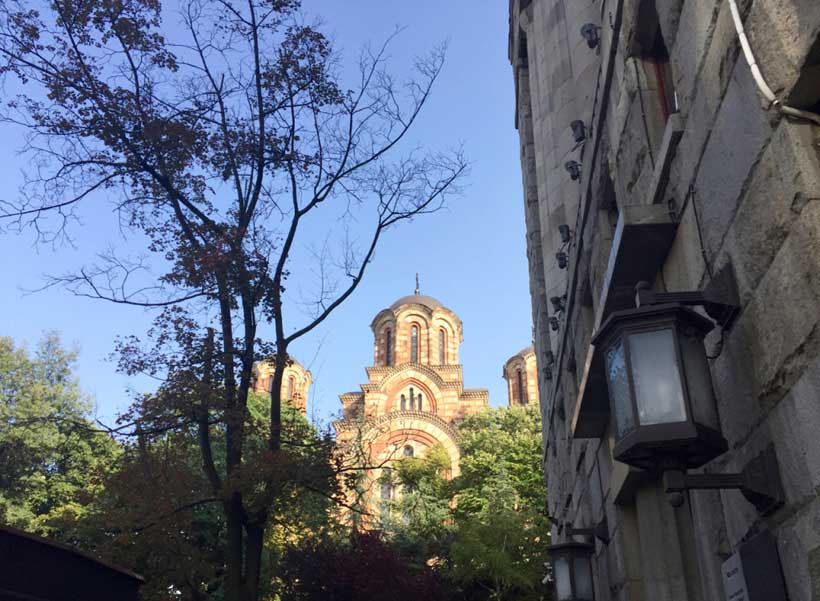 A top-level meeting scheduled to take place in Paris in September with the participation of President of Serbia, Aleksandar Vučić, the head of Kosovo, Hashim Thaci, President of France Emmanuel Macron and German Federal Chancellor Angela Merkel may well be disrupted, which could lead to a new wave of tension in the Balkans. As the summit draws nearer, the differences between the parties involved show no signs of diminishing, while the Serbian leadership is demonstrating ever more opposition to any agreements with Pristina.
A few days ago Chairman of the Serbian People's Party and Minister of Innovation and Technological Development of Serbia Nenad Popovic called for walking out of talks with Kosovo leaders under the patronage of the European Union. He said that the 2013 Brussels agreements on normalization of relations between Belgrade and Pristina was "not working". According to the minister, Serbia ought to "challenge the pseudo-state of Kosovo" at any costs and under any conditions.
"After all the events that took place last week with the participation of Western countries: the simulated summoning of the Prime Minister of Kosovo, Ramush Haradinaj, to the Hague-based Special Court for interrogation in connection with the crimes of the Kosovo Liberation Army, new accusations against Serbia for committing genocide against Kosovo Albanians, arrests of Serbs – all this adds to the fact that we have nothing to gain from European integration, and that the Brussels agreement is dead," – Nenad Popovic emphasized. In his words, the political course of Serbia should follow a balance: "What I mean is that Serbia should develop step by step and strengthen political, economic and military cooperation only with countries that build equal relations with it, revering its sovereignty and territorial integrity in relation to Kosovo".
Nenad Popovic is one of the key figures on the Serbian political landscape in the context of relations between Kosovo and the Albanians. In diferent years, he was responsible for building economic relations with the region, and for Belgrade's policy in the three southern Serb communities of Bujanovac, Medveda and Presevo, adjacent to the Kosovo border. It is these areas that Hashim Thaci proposes to annex to Kosovo in exchange for passing to Belgrade the control over the northern Serb-populated areas as part of a "package agreement" on the exchange of territories. Nenad Popovic used to be one of the closest associates of the former President of Serbia Vojislav Kostunica, who called for more intensive cooperation with Russia, including within the framework of energy and infrastructure projects. It was during his term Russia and Serbia concluded a range of bilateral agreements, which enabled Serbia to become a key partner of Russia in the purchase and processing of energy resources.
The visit to the Hague by the Prime Minister of Kosovo, Ramush Haradinaj, which triggered so much criticism from Nenad Popovic, does look strange. However, according to reports, all this could involve a more complicated political scenario. On learningthat he was summoned to the Hague court, Ramush Haradinaj immediately announced his resignation from the post of head of the Kosovo government. The former chief of staff of the Kosovo Liberation Army (KLA) explained that he had no intention of jeopardizing the honor of the self-proclaimed state and its institutions. He remarked that his government's ministers would continue to fulfill their duties and called on the president of the republic to announce early parliamentary elections.
"I was summoned for questioning to the Special Court in the Hague as a suspect. The honor of the prime minister and the state must be preserved," – he said on his Facebook page.
According to Haradinaj, since he does not want to tarnish the reputation of Kosovo in any way, he will appear before the Hague Court, which was set up to investigate the activitgies of the KLA during the war, as a private person. Simultaneously, he expressed confidence that a new inquiry would not shake his innocence, confirmed by two acquittals of the International Criminal Tribunal for former Yugoslavia in The Hague. His case was run by Chief Prosecutor Carla del Ponte in person. However, in spite of all her efforts, in 2008 the Tribunal acquitted Ramush Haradinaj of charges of committing crimes against the Serbian population of the region. In 2010, the ruling was cancelled, but in 2012 a new acquittal came into effect.
The unexpected summoning of Ramush Haradinaj to the Hague anew is in fact not connected with a sudden desire of the Western powers to finally punish the Kosovo prime minister for bygone anti-Serb crimes. For Brussels and Washington, his fierce opposition to agreements between Belgrade and Pristina is much more relevant. Over the past few months, this politician has been lashing out at Hashim Thaci for his "compromising" stance and for his intention to concede part of Kosovo's territory to Serbia. To this end, he regularly organizes mass protests in Pristina. And given the popularity of the Alliance for the Future of Kosovo, of which he is the leader, there is a real possibility of Ramush Haradinaj assuming the post of Kosovo president, which is de facto could block any mediation efforts on the part of the European Union and which, of course, does not suit the EU leadership.
Such a development is fraught with unpredictable consequences, such as a crisis of European integration plans in Serbia and a reorientation of Belgrade's policy from Brussels to Moscow and Beijing.
The American Wall Street Journal quotes Dan Coats, the outgoing Director of National Intelligence of the USA, as saying that Russia and China, "these two super-giants of Eurasia, are as close to each other as they were in the 1950s. Both Moscow and Beijing have been seeking to undermine the interests of the West, from Venezuela and Syria to Serbia. In addition, they have been stepping up cooperation in Africa south of the Sahara and have already found ways to lessen their rivalry in Central Asia. "
Meanwhile, support from top Western powers continues to be a major factor determining Kosovo's sustainability – both political and economic. Recently, there has appeared a trend towards a gradual rejection of the self-proclaimed independence of Kosovo by states that previously recognized it. According to the Serbian side, a few days ago the Central African Republic (CAR) recalled its recognition of Kosovo, thus becoming the 14th country that has done so. Foreign Minister Ivica Dacic said in a program broadcast by the radio and television of Serbia that the CAR "cannot assume a position that is at odds with international law" and that it "supports the sovereignty of Serbia and the rule of law".
Ivica Dacic also said that unlike in 2015, when 92 states voted in favor of Kosovo joining UNESCO, in 2018 the number of such countries dropped to 73. "Undoubtedly, they cannot become members of any international organization, in which they would vote like they do in the UN", – the head of the Serbian Foreign Ministry pointed out.
Given the situation, a further widening of the gap between Belgrade and Brussels amid the West's inability to make Kosovo authorities more cooperative will naturally lead to the erosion of the pro-European direction of Serbia's foreign policy and will strengthen the positions of forces that advocate more ties with Russia and other "centers of power" outside the Euro-Atlantic space.
From our partner International Affairs