"Quit Kashmir Movement" in Kashmir – is it a mere gimmick and a bit late call?
By very closely following the colonialist traditions, India also has been making strenuous efforts to make Kashmir an "integral" part of Indian territory Indianite Kashmir with Indian military personnel, police, intelligence, officals, Hindus, and others to outnumber Kashmiri Muslims as quickly as possible.
Land grabbing in Kashmir valley has been going on for years officially. By accelerating Hindu religious operations like Amarnath yatra with help from pro-India elements who rule and promote colonialist operations, New Delhi has been very apt in saffronize Kashmir for pure political advantages.
.In carefully pushing the RSS backed BJP into a post poll alliance (only after the elections with a hung assembly) .with major Kashmir political outfits like national Conference or PDP, India has achieved full control over Kashmiri Muslims as well. Now literally the BJP and Indian government decides the political course in Kashmir.
Indian Forces damage property worth millions in North & Central Kashmir
Thus far world looks at Kashmir as a dispute between India and Pakistan where Kashmiris do not play an role at all. Thus far, Kashmiris freedom seekers projected their fight with India only to win Kashmir for Pakistan. In other words, world understands that Kashmiris are not fighting for sovereignty and freedom for reestablishing an independent Jammu Kashmir but only to become a part of a destabilized and weak Pakistan. Maybe Kashmiris want the support of Pakistan to obtain sovereignty but Pakistan has made it clear it has been fighting for Kashmir not to enable Kashmiris to build up their own home but in order only to make Kashmir a part of Pakistan. This impression, for whatever reasons, has only complicated the desire of Kashmiris for freedom as India and Pakistan continue to let the world know that Kashmir belongs to them and are only using Kashmiris to to get Kashmir for themselves as per joint strategy.
For the first time since Jammu Kashmir was invaded and made a part of both India and Pakistan in bits, Kashmiri freedom fighting pro-Pakistani leader Syed Geelani has announced a struggle to oust India from Kashmir. One hears slogans like these ever wherein Kashmir: "STOP VIOLENCE, India GO HOME!! INDIAN SOLDIERS, Please GO HOME!!"
Syed Ali Shah Geelani has launched a Quit Kashmir Movement today asking deployed Indian soldiers in disputed Jammu & Kashmir to go home. An email received by Kashmir Watch here today says that the chairman of All Parties Hurriyat Conference (G), Syed Ali Shah Geelani will march tomorrow (27th August) to 15 corp Hqs of Indian Army at Badami Bagh Srinagar at 2:00 pm and handover the following letter to GOC in-charge asking him to vacate Jammu and Kashmir. People in Jammu and Kashmir and all over the world are urged to mail this letter to Indian Army, Indian Armed Forces, Indian Navy, BSF, CRPF, ITBP and CISF stationed in the UN recognized disputed states of Jammu & Kashmir.
Geelani said: "Even though your actions have killed one lakh people, disappeared ten thousand and orphaned more than sixty thousand children to subdue us collectively and to make us surrender our fundamental right of freedom, yet the emotion of love and reverence that martyrdom of Commander Burhan Wani mobilized across and beyond Kashmir, should open your eyes. The more you strike us down, the more we shall rise with renewed determination and vigor. We are in the process of liberating our minds and the days of freedom are in sight. This is the time for you to see the writing on the wall and think upon what you always intended to do and what it has presented you with always.
You thought your violence would kill our dreams for freedom. They have not. You thought our spirit would break; we would turn against each other. We will not. You have succeeded in murder, but not in the death of our dreams. Before more violence, before more sorrow, before more graves, we ask you to stop.
Ours is a rich and resilient culture. We are proud people whose hospitality has defined our history. We welcome guests, invited or uninvited, not invaders. We understand your deception, your psychological warfare. You will be tired of killing us; some day you might be horrified at what you have done to humanity. We will never tire of struggling for our history, for our future, our freedom. We will not forgive. We will not forget.
Since we believe, there must be some humanity left in your persons as sons, brothers, husbands, fathers and as people; we appeal you to lend solidarity with the people of Jammu and Kashmir for our rightful self-determination, and the right of the people of Jammu and Kashmir to be free. We call on your conscience to end the long chapter of deception, tyranny and death. Therefore, we appeal and urge you to leave our land. Save your individual conscience and help your national soul with healing that only comes from acknowledgement and acceptance of truth, i.e. People of Jammu and Kashmir are not with India and will never be….."
Observation
However, notwithstanding huge loss of Muslim lives in Kashmir, Hurriyet leader Geelani has not clearly mentioned about a soverign Kashmir for Kashmiris. He has not made any effort to link Kashmir freedom struggle with international freedom movements or initiated any steps to coordinate the Kashmiri struggle with other such movements across the globe – that would have got the political mileage it deserves globally.
Geelani should know only "united, they stand" and can force the government in New Delhi to initiate steps for withdrawal from Kashmir. He needs to change his own mind in favor of an independent Kashmir and lead the people to achieve that sacred goal.
In Kashmir military decides everything. A recent report that Kashmiri kids have been thrashed by CRPF in South Kashmir reveals what India has been doing in Kashmir with support from pro-India elements.
While Kashmiris would never forgive Mehbooba led government for atrocities against Muslims in Kashmir, the way India has been preceding with its plan of grabbing lands in Kashmir makes it clear about Indian future agenda in there. As Kashmiri separatists continue to promote Pakistani interests, property worth millions was damaged by Indian forces in Bangdara Kreeri village of North Kashmir's Baramulla district on Saturday when they went on a rampage hitting parked vehicles, entering into houses smashing television sets, electronic gadgets, furniture and other goods. Locals told news agency CNS that government forces went on rampage in the village.
Indian government forces hit people with gun butts and sticks, even didn't spare women and children. Every house was targeted. We are shocked to see the extent of damage caused by these government gunmen. Locals said that a peaceful mild protest was going on in the area when government forces emerged in the village. "They let loose a reign of terror. Every parked vehicle was targeted and windshields were damaged. Motorcycles and scooters were targeted. The TV sets, refrigerators, laptops, and other electronic gadgets were smashed into pieces," said locals.
When contacted a police official said that he will look into the matter. Similar reports from Wusan Kangan said that government forces created mayhem in the area, thrashed people and damaged property. "The unbridles men in uniform were so rude that they didn't even spare teenage girls and little children. They beat up all, damaged our houses, vehicles and electronic gadgets. We will never forgive Mehbooba led government for these atrocities," locals said.
Meanwhile, the family members of three minor kids from South Kashmir's Kulgam district alleged that 'unbriddled' CRPF personnel beat them to pulp while they were on way to their orchards. The minors who have received multiple injuries were identified as Basit Ahmed (12), Muhammad Huzaib (8) and Sahil Ahmed (10) all residents of Gulshan Abad Koimouh. "It were local policemen who saved our kids from CRPF. These kids are unable to walk due to sound thrashing," the family members told CNS. The family members said that neither any protest nor stone-pelting was going on in the area nor yet their kids were targeted. "The incident speaks volumes about the lawlessness prevailing in the district," they said.
While pro-India elements serve the cause of India, the pro-freedom or separatists only help Pakistan. Thus they promote colonialism in South Asia.
Leaders of Kashmir should stop and end betrayal of Kashmiris.
They should also stop confusing the world.
They have to erase the impression that they work and speak for India or Pakistan, thereby promoting colonialism and state terrorism.
Quit Kashmir Movement in Kashmir could remind India of its own "Quit India movement" that eventually won freedom from British government, even though that freedom meant only for the rich and compote lords. Today, both India and Pakistan, backed by both USA and UK, are being looted by the corrupt politicians.
Will Kashmir freedom movement leaders be sincere and honest with people?
That indeed is a trillion dollar question!
Excellency Narendra Modi when will you become Affectionate Neighbour?
Slavery was abolished in Islam 1500 years ago. Against this backdrop the Muslims of Indo-Pak subcontinent revolted against the "British Rule" to get rid of their clutches / slavery. The Muslim political thinkers and Ulemas reached to the conclusion that Muslims cannot live with Britishers and Hindus on the basis of "Two Nation Theory" in line with Allama Muhammad Iqbal (late) and Sir Syed Ahmad Khan (late) political wisdom. The revolt against British was culminated into "War of Independence" in 1857. This laid stone and paved the way for an Islamic state now known as "Pakistan". The Hindus were also benefited with the creation of Pakistan and thereafter a Hindu sate "India" also came on the world globe. After the independence in 1947 Pakistan is maintaining cordial relations with neighbouring and other countries of the world. Unfortunately the Hindu psyche and their Slave Mentality could not be changed even after 70 years and the Indians still owe allegiance from core of their heart to her Majesty the Queen of Great Britain (UK). Even today the Indian Prime Minister HE Narendra Modi pay homage to British Government and submit reports on  daily basis. The classic example is the recent visit of Narendra Modi to London (April 2018) in which he in a question and answers session at Central Hall Westminster (London) revealed before the audience regarding surgical strikes carried out by Indian Army against Pakistani troops deployed along LoC.
Indian PM in a bid to muster support and financial assistance from British Government for his forth coming election's 2019 propagated and boosted his concocted version that Indian authorities kept on calling Pakistani counterparts in Islamabad to collect dead bodies of Pakistani soldiers from LoC. The information disseminated to the Britishers against Pakistan was false and far from truth.
Unfortunately, the Indian Intelligence Agencies, its Army and Foreign office have made it a routine to interfere in the internal matters of the peripheral countries in a bid to accomplish  their hegemonic designs which the Indian leadership has been claiming  from time to time including Narendra Modi false / tall claim of creation of Bangladesh in 1971. The Indian Army is also following the foot prints / aggressive policies of Indian political leadership. General Bipon Rawat (Indian Army Chief) and Lt Gen AK Bhaat, Corps Commander Srinagar in their media briefings have been threatening Pakistan Armed Forces and Kashmiri Muslim freedom fighters / organizations of dire consequences, they committed atrocities / brutalities on the innocent Muslims / minorities by using lethal weapons including Anti-Tank Guided Missiles, Mortar guns and chemical agents.
India to fulfill its hegemonic designs in South Asia and enhance its influence, the Indian Defence Minister Mst Nirmala Subramanian visited various foreign countries to purchase military equipment worth US 5.6 billion including SA-400 missile system F-35 fighter aircraft from Israel and 80 MI-70 helicopter to augment mobilization of Indian troops and LEA's to crush innocent Muslims of IHK and Sikhs of Khalistan movement. Indian government in addition to further enhance the barbaric activities of its  intelligence / security agencies, RAW, Intelligence Bureau, Bureau of Investigation, Special protection group and National Security Guards are allowed to import i arms, / ammunition, telescopic silencer short guns, with night vision capabilities and hand grenades from US / Israel without the scrutiny and permission of Indian parliament and Indian Defence Ministry. These sophisticated arms / ammunition will be smuggled and supplied to various terrorist groups in Pakistan, Afghanistan and Nepal by RAW / MOSAAD / CIA. In Nepal RAW has established a front organization by the name of Islami Sangh Nepal and in Bangladesh Faleh-e-Insaniyat Foundation to impart training to terrorists in fabricating improvised explosive devices. The arms / ammunition are also supplied from RAW establishments to dissident / terrorist groups to carry out violence and instability in the peripheral countries.
Excellency Modi we have tried to highlight the chronological   sequence of events  and nefarious activities being carried out by your Government, Senior Army officers, RAW / Intelligence Bureau and Law Enforcing Agencies. The scrutiny / analysis for the reasons behind aggressive behavior pattern / attitude are the outcome of Hindu mechanism of hereditary, aggression, frustration and anxiety in Indian society. They have fallen prey to psychotic disorder and negative Edipis Complex. To live in the "Global Village" of civilized nations it is high time on the part of Indian Government to change its policies and attitude in order to prove themselves as a civilized mature and affectionate nation towards its neighboring countries.
What to do with Pakistani militant Hafez Saeed? Pakistan and China grope for ambiguity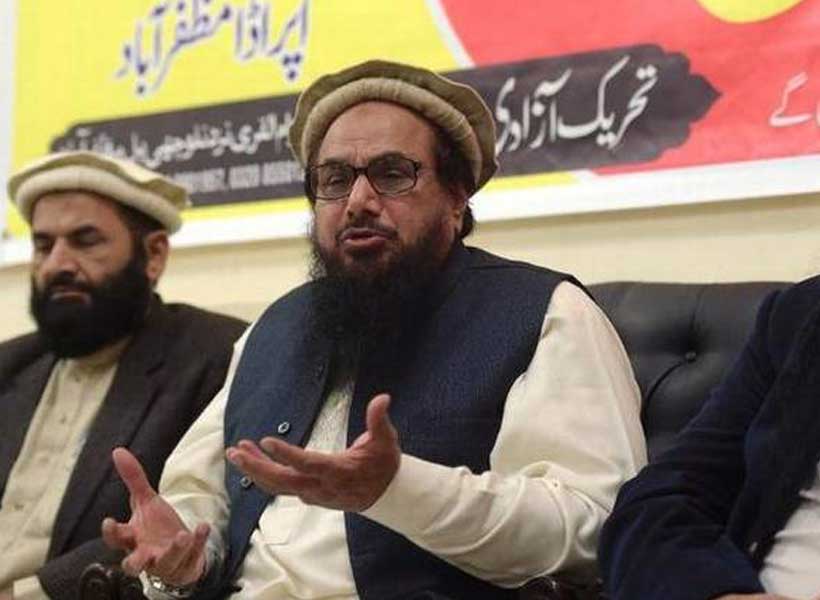 Recent remarks by several senior Pakistani officials suggest that Pakistan and China are groping with how to deal with globally designated Pakistani militant Hafez Saeed as the South Asian nation gears up for elections expected in July and risks being next month put on an international terrorism finance and money laundering watchlist.
The Pakistani-Chinese dilemma stems from a China-backed Pakistani refusal to fully implement designations of Hafez Saeed by the United Nations Security Council and the US Treasury.
The United States has put a $10 million bounty on the head of Mr. Saeed, who is believed to lead the outlawed militant group, Lashkar-e-Taiba (LeT) as well as Jamaat-ud-Dawa, an alleged LeT front, and is suspected of being the mastermind of the 2008 Mumbai attacks in which 166 people were killed.
Pakistan has repeatedly put Mr. Saaed under house arrest, only to release him on court orders that asserted that there was insufficient evidence against him. The government has half-heartedly sought to seize Jamaat-ud-Dawa assets and prevent it from collecting donations through its charity arm, Falah-i-Insaniat Foundation.
Pakistan's election commission has so far refused to register a political party established by Jamaat-ud-Dawa in advance of the elections. The refusal would not prevent party members from running as independents.
To reduce focus on Mr. Saaed, a senior aide to Pakistani Prime Minister Shahid Khaqan Abbasi said that Chinese President Xi Jinping had asked Mr. Abbasi during a meeting on the side lines of last month's Boao Forum to explore relocating Mr. Saaed to a Middle Eastern country.
"At a 35-minute meeting, at least 10 minutes of the discussion dealt with Saeed. The Chinese President was keen on pressing the Prime Minister to find an early solution to keep Saeed away from the limelight," The Hindu quoted the aide as saying.
In separate remarks, Major General Asif Ghafoor, a spokesman for Pakistan's intelligence service, Inter Services Intelligence, told Indian Express that "anything (Mr. Saeed) does, other than violence, is good. There is a process in Pakistan for anyone to participate in politics. The Election Commission of Pakistan (ECP) has its rules and laws. If he (Mr. Saeed) fulfils all those requirements that is for the ECP to decide."
The divergent proposals to either remove Mr. Saeed from the limelight or mainstream him by integrating him into the political process are unlikely to satisfy either the United Nations or the United States.
They are also unlikely to prevent the Financial Action Task Force (FATF), a global financial watchdog that monitors the funding of political violence and money laundering, from next month putting Pakistan on its watchlist.
The FATF action could negatively affect the Pakistan economy. Pakistan risks downgrading by multilateral lenders such as the International Monetary Fund (IMF), World Bank, and the Asian Development Bank (ADB) as well as by international credit rating agencies Moody's, Standard & Poor's and Fitch.
Mr. Xi's suggestion to Mr. Abbasi reflects Chinese ambivalence towards those Pakistani militants that both Islamabad and Beijing see as useful tools to keep India off balance. China protected Mr. Saeed from UN designation prior to the Mumbai attacks and has since prevented another Pakistani militant, Masood Azhar, from being designated by the Security Council.
At the same time, China refrained in February from shielding Pakistan from censorship by FATF.
A Chinese foreign ministry spokesperson nonetheless argued at the time that "in recent years, Pakistan has made important progress in actively strengthening financial regulations to combat terror financing… China highly recognises that and hopes all relevant parties of the international community could arrive at an objective and fair conclusion on that."
Implementing Mr. Xi's proposal to remove Mr. Saeed from the limelight is easier said than done. Its hard to see what Middle Eastern nation would risk international criticism by granting Mr. Saeed asylum without tacit approval by the United States and/or the United Nations. By the same token, its unlikely that either would agree to the scheme.
Similarly, neither the UN nor the United States are likely to be persuaded by a belief within the Pakistani military that the best way of blunting militancy that has over the decades been woven into the fabric of significant segments of the armed forces, intelligence and society is by mainstreaming militants and integrating them into the political process.
Ousted Pakistani prime minister Nawaz Sharif kicked up a storm when he earlier this month appeared to confirm the pervasiveness of militancy by suggesting that the perpetrators of the Mumbai attacks had been supported by Pakistan.
"Militant organisations are active. Call them non-state actors, should we allow them to cross the border and kill 150 people in Mumbai? Explain it to me. Why can't we complete the trial? It's unacceptable. This is exactly what we are struggling for. President Putin has said it. President Xi has said it. We could have already been at seven per cent growth (in GDP), but we are not," Mr. Sharif said.
The remarks by the Pakistani officials suggest that both Pakistan and China are attempting to square circles.
Pakistan needs to be seen as cracking down on militancy while considering the domestic influence of ultra-conservative religious groups as well as seemingly misguided beliefs that support for anti-Indian militants serves its purpose.
For its part, China's justification of its hardhanded crackdown in the north-western province of Xinjiang as a bid to counter jihadism and nationalism among, Uighurs, a Turkic people, is weakened by its reluctance to be equally firm in countering militants in Pakistan.
The problem for both countries is that 1 + 1 = 2, whichever way one looks at it.
How the US withdrawal from the Iran nuclear deal affects India
Authors: Tridivesh Singh Maini & Sandeep Sachdeva*
While India was guarded in it's response to the withdrawal of US from the Iran Nuclear Deal, it surely realizes the implications of the US withdrawal. Iran is India's third largest source of crude oil (after Iraq and Saudi Arabia) . Between April 2017 and January 2018, New Delhi imported well over 18 million tonnes of crude oil.
New Delhi has also invested in the development of the Chabahar Port Project, which will provide India, access to Afghanistan and Central Asia. This project is extremely important for India, since it will help in bypassing Pakistan, which has continuously kept India out of the Afghanistan Pakistan Transit Trade Agreement (APTTA). During Indian Prime Minister, Narendra Modi's Iran visit in May 2016, India had signed an agreement, committing 500 Million USD for the development of Chabahar. During Modi's visit,  a trilateral transport and transit partnership was also signed between India, Afghanistan and Iran.
In February 2018, during Iranian President Rouhani's visit  to India, a lease agreement was signed between India and Iran. The lease agreement gave operational control of Phase 1 of Chabahar Port (Shahid Beheshti port) to India. The Modi, Hassan Rouhani Joint statement mentioned the need for making Chabahar part of INSTC project and PM Modi further emphasised that "We will support the construction of the Chabahar-Zahedan rail link, so that Chabahar gateway's potential could be fully utilised."
Here it would be pertinent to point out, that to enhance connectivity with Afghanistan, India has also set up an India Afghan Air Corridor, two flights are currently operational; one connecting Mumbai with Kabul, and another which connects Delhi with Kabul.
Indian hopes
For the time being, New Delhi has rested its hopes on the fact, that European countries are trying to keep the deal intact, and US will also not impose sanctions on allies, including India, for engaging with Iran. Defence Secretary James Mattis in a Congressional hearing held by the Senate Armed Services Committee, had categorically stated,  that the US should be careful with regard to imposing sanctions against allies, under Countering America's Adversaries Through Sanctions Act (CAATSA).
Mattis said, that allies like India should be provided a national security waiver, against imposition of sanctions for the purchase of S-400 air defence missile system from Russia.
A number of US Congressmen and Senators too have echoed Mattis' views saying that India is valuable ally and should be exempted from sanctions
What India needs to be cautious about
While India does have time to react to the sanctions re-imposed, and the fact that European countries are keen to keep the deal alive are important. Recent statements by the US National Security Advisor, John Bolton saying that Europe will not be immune from sanctions, and would ultimately fall in line needs to be closely watched.
Said Bolton in an interview with ABC'sThis Week:"Europeans are going to face the effective US sanctions — already are, really — because much of what they would like to sell to Iran involves US technology, for which the licenses will not be available."
Bolton also stated, that these countries will ultimately realise that it is in their interest to go along with the US.
Earlier US Ambassador to Germany, Richard Grenell advised Germany to re-consider business ties with Iran:'German companies doing business in Iran should wind down operations immediately".
New Delhi needs to strike a balancing act between Iran and US, but it also needs to have a clear plan of action to deal with US sanctions against Iran. In the past few years, India has successfully managed to balance relations between Iran and US, and Iran and Israel. Given the recent sanctions and the hawkish approach of the Trump Administration, it may be tough.
China factor
In the meanwhile, New Delhi would be well advised to follow closely China's reaction to the withdrawal of US from JCPOA. Iranian foreign minister Mohammad Javad Zarif visited three important countries Russia, China and Europe to save the JCPOA. Chinese Foreign Minister Wang Yi said "it was hard-earned  deal, and China will take an objective, fair and responsible attitude, keep communication and cooperation with all parties concerned, and continue to work to maintain the deal".
The China factor doesn't end here for India. Off late, ties between India and China have witnessed an improvement, during PM Modi's recent China visit, it was decided. that both countries will undertake a joint project in Afghanistan. In recent months, there seem to be some indicators of lowering of tensions between New Delhi and Islamabad as well.  Could, Beijing get New Delhi and Islamabad to discuss the issue of  transit trade to Afghanistan?  An opinion piece, 'Pakistan's military reaches out to India', published in RUSI (Royal United Services Institute) discusses the willingness of Pakistan to discuss this issue, but India had turned down the offer in October 2017. Maybe New Delhi, could explore this option, and Beijing could support such an effort.
Conclusion
In conclusion, New Delhi will need to handle the current situation with great dexterity, while US is an important strategic partner, India has also got an opportunity to send an unequivocal message to Washington, that its own interests are paramount, and it will not blindly follow any one camp. In spite of all the challenges and upheavals likely to result from Trump's decision, this also provides a golden opportunity for re-shaping the narrative within South Asia.
*Sandeep Sachdeva, Independent Foreign Policy Analyst