Youth unemployment set to rise for first time in three years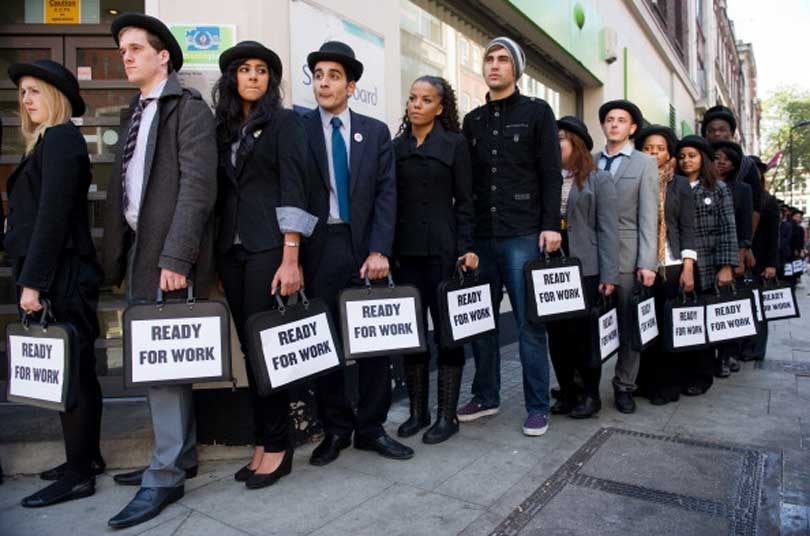 With global youth unemployment expected to rise in 2016 for the first time in three years and the equally disturbing high levels of young people who work but still live in poverty, the United Nations labour agency called for greater efforts to achieve sustainable economic growth and decent work.
Releasing its World Employment and Social Outlook 2016: Trends for Youth, the International Labour Organization (ILO) estimated that the global youth unemployment rate is expected to reach 13.1 per cent in 2016 and remain at that level through to 2017 (up from 12.9 per cent in 2015). As a result, the number of unemployed youth is set to rise by half a million this year to reach 71 million – the first such increase in three years.
Of greater concern, says ILO, is the share and number of young people, often in emerging and developing countries, who live in extreme or moderate poverty despite having a job. In fact, 156 million or 37.7 per cent of working youth are in extreme or moderate poverty (compared to 26 per cent of working adults).
"The alarming rise in youth unemployment and the equally disturbing high levels of young people who work but still live in poverty show how difficult it will be to reach the global goal to end poverty by 2030," said Deborah Greenfield, ILO Deputy Director-General for Policy in a press release on report.
Calling for redoubled efforts to achieve sustainable economic growth and decent work, she also noted that the report highlights wide disparities between young women and men in the labour market that need to be addressed by ILO member States and the social partners urgently.
The ILO goes on to point out that Global economic growth in 2016 is estimated to stand at 3.2 per cent, 0.4 percentage points lower than the figure predicted in late 2015. "This is driven by a deeper than expected recession in some key emerging commodity-exporting countries and stagnating growth in some developed countries," said ILO Senior Economist and lead author of the report Steven Tobin.
"The rise in youth unemployment rates is particularly marked in emerging countries" he adds as the report notes that in such countries, the rate is predicted to rise from 13.3 per cent in 2015 to 13.7 per cent in 2017 – a figure ILO says corresponds to 53.5 million unemployed in 2017 compared to 52.9 million in 2015.
In Latin America and the Caribbean, for example, the unemployment rate is expected to increase from 15.7 per cent in 2015 to 17.1 per cent in 2017; in Central and Western Asia, from 16.6 to 17.5 per cent; in South Eastern Asia and the Pacific, from 12.4 to 13.6 per cent.
The report also finds that globally, the share of young people between 15 and 29 years old who are willing to move permanently to another country stood at 20 per cent in 2015. The highest inclination to move abroad, at 38 per cent, is found in sub-Saharan Africa and Latin America and the Caribbean, followed closely by Eastern Europe at 37 per cent.
The working poor
The poor quality of employment continues to disproportionately affect youth, albeit with considerable regional differences. For example, sub- Saharan Africa continues to suffer the highest youth working poverty rates globally, at almost 70 per cent. Working poverty rates among young people are also elevated in Arab States (39 per cent) and Southern Asia (49 per cent).
At the same time, in developed economies, there is growing evidence of a shift in the age distribution of poverty, with youth taking the place of the elderly as the group at highest risk of poverty, defined for developed economies as earning less than 60 per cent of the median income.
For instance, in 2014, the share of young workers in the European Union-28 categorized as being at a high risk of poverty was 12.9 per cent compared to 9.6 per cent of prime-age workers (aged 25–54). The challenge is particularly acute in some countries where the at-risk-of-poverty for young workers exceeds 20 per cent.
Dubai Chamber Continues Bolstering Economic Ties Between UAE And Africa
United Arab Emirates has launched its 6th edition of Global Business Forum Africa (GBF Africa) that aims at scaling-up and strengthening multifaceted business with Africa. With its first class Emirates airline, the airline network will facilitate the participation in the forum of African leaders and corporate business leaders.
Under the patronage of His Highness Sheikh Mohammed Bin Rashid Al Maktoum, Vice President and Prime Minister of the UAE and Ruler of Dubai, GBF Africa is bringing the trade and investment community back together to explore bilateral trade opportunities between Dubai and Sub-Saharan Africa.
Now in its 6th edition, Global Business Forum Africa facilitates international revenue flows by engaging leading decision-makers on the global investment scene. Influential stakeholders participate in constructive dialogue at the highest level, focusing on key economic developments and investment opportunities emerging across the continent.
This forum among other key objectives aims to build bridges between UAE and African business communities and explore untapped trade and investment potential. It represents an unprecedented opportunity for businesses of all sizes, international organizations and government entities from across the world, to come together to foster a more diversified and resilient global economy, inspire a vibrant business environment and drive sustainable growth.
Besides Africa, it has the Global Business Forum ASEAN established as a platform for insightful dialogue between government and business leaders in the UAE and ASEAN by identifying opportunities for mutual growth. The Regional Comprehensive Economic Partnership is set to re-shape global connectivity and add US$186 billion to global GDP by 2030.
It further launched in 2016, Global Business Forum Latin America that seeks to pave the way for long-lasting partnerships between business communities in the GCC, Latin America and Caribbean (LAC). The forum explores existing trade synergies and bilateral business opportunities, while strengthening Dubai's position as a gateway for Latin American companies.
As expected, Heads of State, more than 30 Ministers, high-ranking Government officials and prominent influential business leaders from Africa have confirmed their participation for the sixth edition of the Global Business Forum Africa (GBF Africa), which takes place on October 13-14, 2021 at Expo 2020 Dubai.
Dubai Chamber is organizing GBF Africa 2021 in partnership with Expo 2020 Dubai under the theme "Transformation Through Trade" and the event will be held under the patronage of H.H. Sheikh Mohammed bin Rashid Al Maktoum, Vice President and Prime Minister of the UAE and Ruler of Dubai.
The organizers have listed top-level participants including H.E. Filipe Nyusi, President of Mozambique; H.E. Felix Tshisekedi, President of Congo; H.E. Dr C.G.D.N. Chiwenga, Vice President of Zimbabwe; the Chief Minister of Jersey; the Secretary General of COMESA; more than 30 ministers and high-ranking African officials, including ministers from Ghana, Angola, Ethiopia, Uganda Zimbabwe and Liberia, Kenya, Botswana, Côte d'Ivoire, Mauritius, Mozambique, Namibia, Niger, Senegal, Seychelles, Congo and the Kingdom of Lesotho, as well as government officials from Rwanda and Kenya.
H.E. Reem Al Hashimy, UAE Minister of State for International Cooperation and Director General of Expo 2020 Dubai, said: "Countries from across the world that are participating in Expo 2020 are eager to widen and deepen their ties with Africa, and GBF Africa will be a crucial forum where the continent can share its plans and achievements, seek investments and solutions to its challenges and forge new relationships across the globe."
H.E. Hamad Buamim, President and CEO of Dubai Chamber, said: "The success that GBF Africa has had in attracting African presidents, ministers and influential leaders to join its high-level talks reflects the forum's position as a leading global platform for exploring investment opportunities in the African continent. It reinforces the crucial role played by Dubai's wise leadership in expanding the emirate's trade links with emerging markets around the world."
According to Buamim, the Dubai Chamber is keen to continue its efforts to promote building strategic partnerships with the key players in the African business ecosystem. The Chamber is also committed to encouraging and supporting local and national companies to invest in African markets and enhance sustainable economic growth and development.
Ambareen Musa, Founder and CEO of Souqual in the UAE said: "As we grow and scale-up in the Middle East, this gives us a lot of exposure for potentially getting into Africa as a region."
Through its network of international representative offices, trade missions and high-profile business forums, Dubai Chamber of Commerce & Industry works to raise Dubai's profile as a global trade and investment hub. The Chamber represents more than 260,000 companies, making it one of the world's largest membership-based Chambers of Commerce.
Better Targeting of Social Protection Programs can Significantly Reduce Poverty in Bangladesh
Social Protection Programs remain central to Bangladesh's sustainable development policy and are progressively benefitting the poorer households. By improving targeting of the social protection programs, the country can further reduce poverty. Reallocating existing transfers to the poorest could reduce poverty from 36 percent to 12 percent, says a new World Bank report launched today.
The report titled 'Bangladesh Social Protection Public Expenditure Review' reflects on Bangladesh's continued investment towards social protection and how it can improve on its existing framework including planning, designing, programming, and delivery of the various social protection programs and projects.
The report finds that the social protection programs are mostly focused in rural areas. But, with almost 1 in 5 of the urban population living in poverty, and half of the households at the risk of falling into poverty, there is a need for rebalancing geographic allocations between rural and urban areas. About 11 percent of people in urban areas are covered by social protection whereas 19 percent of urban population is poor. The coverage in rural areas is higher than the poverty rate, with programs reaching 36 percent of people, while 26 percent live in poverty. Using a social registry, such as the National Household Database can improve targeting of both programs and households at a reduced cost.
"Over the last decades, Bangladesh expanded its coverage of social protection programs that now reach three in every 10 households in the country," said Dandan Chen, World Bank Operations Manager for Bangladesh and Bhutan. "The COVID-19 pandemic has accentuated the need for a more robust, efficient, and adaptive social protection system. Going forward, well-targeted and less fragmented social protection programs that consider the demographic change, unplanned urbanization, labor market vulnerability, and frequent shocks will help the country continue with its success of poverty reduction."
In FY 20, Bangladesh spent about 2.6 percent of GDP in social protection, which is in line with countries with similar income levels. However, some risk groups remain underserved, in particular there are gaps in programing for early years and for the economic inclusion of poor and vulnerable youth and adults. For example, in every eight poor persons, one is a young child. Yet, the poor young children receive only 1.6 percent of social protection expenditures. Spending will be more effective if the allocations are aligned with the share of the poor in different categories, and with the different functions played by programs.
"Investing in early childhood helps a child grow healthier and be more productive in adult life and thus break the cycle of poverty across generations," said Aline Coudouel, World Bank Lead Economist and a co-author of the report. "The country has taken innovative programs, reflecting the life-cycle approach. As patterns of risk change in different phases of life, the life-cycle approach needs to encompass support from pregnant mothers to old age, persons with disabilities, as well as from households facing shocks to those in chronic poverty."
To boost the quality and efficiency of service delivery, Government to Person (G2P) and mobile financial services should be scaled up. It takes about two months to transfer the funds from treasury to the beneficiary. The G2P scheme can cut processing time to 10 days.
This also needs to be paired with increased allocations for staffing, capacity-building training including digital literacy, and improved equipment, which will facilitate enhanced implementation of programs at the local level.
Eritrea: Release journalists and politicians arrested 20 years ago
The Eritrean authorities must immediately and unconditionally release 21 journalists and politicians who were arrested in a sweeping crackdown on dissent 20 years ago, said Amnesty International as it launched a new campaign #WhereAreEritreasDissidents
The arrests of the journalists between 21 and 23 September 2001 followed the arrest on 18 September 2001 of politicians popularly known as G-15 and the banning of independent media after they had published an open letter urging reforms.
"It is unconscionable that these brave prisoners of conscience are still languishing in jail 20 years since they were arrested for exercising their human rights, with no word from the authorities on their current circumstances, and that the ban on independent media remains in place," said Deprose Muchena, Amnesty International's Regional Director for East and Southern Africa.
"Days have turned into months, months into years and now years have turned into decades of unending anguish for these detainees, their families and loved ones. We call on President Isaias Afewerki to take meaningful steps to bring an end to this travesty of justice."
The journalists arrested between 21 and 23 September 2001 are Dawit Isaak, Seyoum Tsehaye, Dawit Habtemichael, Mattewos Habteab, Fesseaye "Joshua" Yohannes, Amanuel Asrat and Temesegn Gebreyesus, Said Abdelkader, Yosuf Muhamed Ali and Medhanie Haile. The politicians – all members of Isaias' ruling People's Front for Democracy and Justice (PFDJ) – include former Vice-President Mahmoud Ahmed Sheriffo and his wife and independence war heroine Aster Fissehatsion, and former foreign ministers Haile Woldetensae and Petros Solomon. Nine of the politicians and journalists have previously been reported to have died in detention, a claim the Eritrean authorities refuse to confirm.
"There are also many other politicians, journalists and activists that were arrested and detained without charge before September 2001 and since then and they must be released too," said Deprose Muchena
Some of the high-profile detainees in Eritrea include former Finance Minister Berhane Abraha, who was arrested in September 2018 following his publication of a book considered critical of President Isaias, and Ciham Ali, the daughter of the defected former Minister of Information Ali Abdu, who was arrested in 2012 aged 15, as she tried to flee the country.
Amnesty International has documented extremely poor prison conditions in Eritrea, in some cases amounting to cruel, inhuman or degrading treatment. Prisons in Eritrea are generally overcrowded, with inadequate water and sanitation facilities and providing poor-quality food and drinking water.