Reimagining Modern Economic Life via Franciscan Ecosophy
"Then God said, 'Let us make mankind in our image…so that they may rule…' And God blessed them. And God said to them, 'Be fruitful and multiply and fill the earth and subdue it and have dominion over the fish of the sea and over the birds of the heavens and over every living thing that moves on the earth.'…And God saw everything that He had made, and behold, it was very good." –Genesis 1:26-31
"I believe in the cosmos. All of us are linked to the cosmos. Look at the sun. If there is no sun, then we cannot exist. So nature is my god. To me, nature is sacred. Trees are my temples and forests are my cathedrals."— Mikhail Gorbachev
These reflections on ecosophy are a follow-up to my previous piece on the subject. Here I wish to explore the compatibility, or lack thereof, of ecosophy to Christianity. A rather common view is that deeo ecology , otherwise known as ecosophy in academic circles is a mere return to ancient nature worship pre-dating Christianity. We are all familiar with the term "nature religion" and "earth-centered religion" defined by its relationship to the natural environment. When we encounter those similar nature religions in our time, we immediately think of pre-Christian or pagan times, concerned primarily with nature, animism, shamanism viewing humans as a non-privileged part of a more-than-human community of beings; a sort of "dark green religion." Then the question naturally arises: are we merely re-inventing the wheel?
Some contemporary scholars look upon pagan nature religions as a protest against the modern separation of nature and the sacred, against the separation of matter from spirit, sometimes called "gnostic" religion. In nature religions, by contrast, nature is neither fallen nor a prison from which one needs to escape; it is perceived as both sacred and interconnected; it has intrinsic value apart from its utility as a resource for human beings. By interconnected they mean that our being is determined by our ecology, by the cultural environment shared with all other living beings. We are immersed in a web of life which is our true community. In politics this is the ideology of the so called Green Parties. It is alleged that this awareness existed in ancient times, but has been all but forgotten within modernity.
The protest by ecosophists or nature religionists, supposedly has to do with the perceived disconnect of man from nature, with the desacralization of nature in thought and deed. Healing the rift, so the argument goes, will require a profound shift in our collective consciousness. This is the work of the priests of the religion. Some deep ecologists call it "the chthonic imperative" and some call it "the re-enhancement of the world," and some call it "the realization of one's ecological Self" as distinguished from one's "ego-self." This reconnection with nature may take place through education, even academic education, or ritual worship of Mother Earth, and other practices.
Some of the common attributes shared by most ancient and modern nature religions are: immanence or focus on this world and its embodied physical existence, focus on the immanent dimension of the sacred, its accessibility to all humans, the emphasis of experience over belief, on living in harmony in the natural world, on the teaching of spiritual truths found in natural cycles and nature processes, on the treatment of birth, death and sexuality as sacraments (the worship of Pan, the god of nature is another throwback), on relationship over mastery, on the tendency to ignore sacred texts and institutionalized religious hierarchies, on pantheism, on the affirmation of life in its totality, on Mother Earth as a goddess (Gaia), on deep ecology, on neo-animism and bio-regionalism, on eco-feminism, eco-psychology, eco-philosophy and eco-theology.
In any case, modern science continues to reorient humanity's understanding of and relation to earth and the larger universe. Its discoveries and inventions have fundamentally altered our conception of how the universe evolved thus far and how it will evolve in the future. Left unasked by the scientific perspective is the age old question of why the universe was created and why it continues to unfold creatively. Some assume that the universe is eternal and that in itself settles the matter. The very question asked by Heidegger in Being and Time (why is there something rather than nothing) is meaningless. To be sure, the issue of the eternity of the universe preoccupied the likes of Aristotle and his medieval admirers Averroes and Aquinas, and is far from resolved philosophically. Be that as it may, the ancients of Athens and Jerusalem and later Meso-America, perceived an eternal intelligence or Wisdom to be at work shaping the course of the visible cosmos. They believed her fruit was better than the choicest gold or silver. They sought a way of life in concert with this universal cosmic intelligence (nous) responsible for creating and sustaining all temporal things. Further, they assumed that their portrayal of an ordered cosmos helped to create one, and their liturgies somehow maintained it.
Moderns, in contrast, have become alienated from their origin in and forgetful of their responsibility toward the Wisdom of creation. Science, in the modern age, has lost sight of Wisdom and the moral vision she provides. There has been an attempt to replace philosophy, which literally means love of wisdom, with positivism or the idolization of the pre-eminence of science. Science has wed itself to the instrumentalism of market-driven technology, with an ever-accumulating body of specialized knowledge and the earthshaking power it makes possible. Even when mistakes are acknowledged, they are imputed to lack of precision, not lack of wisdom. Man-made models of nature have come to obscure modern humanity's vision of the glory of creation.
For example, following the financial crisis of 2008, the thought of Ayn Rand, perhaps the world's most popular purveyor of the myth of the market, saw something of a resurgence. There are influential political leaders, speaker of the House Paul Ryan is one of them, who brag about the fact that they grew up on a steady diet of Ayn Rand. In fact, sales of her novel Atlas Shrugged (1957) went through the roof as American business leaders struggled to hang on to their vanishing dream. The dystopian story's mysterious protagonist, John Galt, along with other captains of American industry, decide to go on strike to protest government regulation, bringing the country to a standstill. The core of the novel is Galt's 70-page speech, wherein Rand's entire philosophy is laid out. In it, she denounces the Christian morality of love of one's neighbor, calling it a "morality of sacrifice," (similar to the "slave morality" of Nietzsche) while championing a "morality of life" based upon egoism and the sovereignty of the individual rational mind over the human community and the raw materials of nature.
"We will open the gates of our city to those who deserve to enter," she has Galt say, "a city of smokestacks, pipe lines, orchards, markets and inviolate homes. With the sign of the dollar as our symbol, the sign of free trade and free minds, we will move to reclaim this country once more from the impotent savages who never discovered its nature, its meaning, its splendor." Can one get any closer to John's vision of Babylon in the book of Revelation, where all wear the mark of the beast?
Former chair of the Federal Reserve, Alan Greenspan, who joined Rand's circle in the early fifties, helped her do research for Atlas Shrugged. In early 2010, Greenspan was asked if the financial crisis signaled an indictment of Rand's free-market ideology. His answer is instructive: "Not at all…There is no alternative to competitive markets if you want to have economic growth and higher standards of living in a democratic society…If you merely look at history since the Enlightenment…when all of those ideas surfaced and became applicable in public policy, we've had an explosion of economic growth, especially in developing countries, where hundreds of millions of people have been pulled out of extreme poverty and starvation…"
Greenspan and Ryan, and Rand are of course right about the explosion of economic growth resulting from global capitalism, but they appear blind to the eco-social costs of this growth. Half of the world's 2.2 billion children currently live in poverty, almost a billion people lack access to safe water supplies, about 25 million acres of crop land are lost every year due to soil erosion, and 50% of the world's non-human species may be extinct by the end of the 21st century. Further, global climate change resulting from "free market" industrial capitalism is threatening to make all these injustices far worse, in addition to other consequences.
As for past injustices, Rand's celebration of the genocide of the native population (she calls them "impotent savages") that once called Turtle Island home is a telling reminder that capitalism has always been wed to colonialism. In order to achieve perpetual growth, capitalist markets had to continually expand into untapped territories, there exploiting the labor and land of conquered peoples to turn a profit back at home. Today, what is exported, for profits, are not only the goods but the labor force. No wonder there are so many unhappy campers in the labor class who are now following a billionaire madman called Trump who has promised theme the moon in the well. From Rand's and Ryan's perspective, such exploitation was perfectly justified, since indigenous populations are not made up of free individuals, having no concept of rights or property ownership. Nor does Gaia or any of Her non-human creatures deserve the respect of properly rational individuals, since, following Lockean theories of property ownership, their value is inferior until produced for consumption in the human marketplace. The laws of the market are opposed to the Laws of the Creator.
In short, the accumulation of wealth has come to replace Wisdom as the most important aspiration in human life. Money has become the source of all value and meaning. "No one can serve two masters…You cannot serve both God and money" says the wisdom of the Christian gospel. Not the beautification and celebration of Gaia and Her creatures in the Name of God, but the production and consumption of Her resources in the name of the dollar is now the normal, "the good" way of life. There is an ontological chasm separating questions of meaning and morality from those of mechanism and motion.
Economics, now considered a positive science and therefore beyond the pay grade of philosophers and theologians, was once defined as the science of morality. It stands today, rather awkwardly, at the helm of our techno-capitalist civilization. We now have, not philosopher-priests, but capital- engineers who rule over the contemporary geopolitical arena. The question arises here: is economic "science" just the purveyor of an oppressive upper class ideology? The answer may be yes, given that ecology, is widely dismissed by many conservatives as a front for socialism. Many dismiss global warming as socialist propaganda. The sense of the purpose of life has been banished from reasoned political discourse and has been replaced by tweeting and texting. We may soon have a tweeter, incapable of rational discourse, as president of the US. Next we will see democracy going down the toilet and good old fascism returning together with racism and xenophobia. The founding fathers, children of the Enlightenment, must surely be turning in their graves.
Ecology, and consequently ecosophy, is another fundamental scientific reorientation, a revolution in self- and cultural understanding that matches, if not exceeds, in importance the sixteenth-century Copernican astronomical revolution. Unfortunately, the influence of ecological science on public policy has been superficial, leading only to slightly more efficient light bulbs and hybrid gas-electric automobiles. So long as ecology remains narrowly scientific in the secular sense, concerned with how and not why, it can penetrate no deeper into humanity's dysfunctional cosmo-political orientation. "Home," in the individualized techno-capitalist context, means now my home or your home; Gaia–our home–has receded into the neglected background of human life.
To be sure, this eco-social crisis of our age has its roots in the rupture between religion and science, especially the science of economics. In order to reunite the how with the why, humanity must remember its proper relation to creation and its Creator. Ecosophy, I would suggest, is the fruit of such memory, the wisdom of home that, when watered, grows as a great tree from the soil of every earthly soul. Ecosophy brings economics back to its roots in moral science and theology, and enchants ecological science so as to renew humanity's connection to a living creation. But it must not be just a resurgence of the paganism of old. The Christian religion is an especially important well to explore in relation to the contemporary eco-social crisis, since modern Western science and technology were born out of its cultural matrix. Secularity, in other words, can itself be understood by a Christian as an inevitable moment in the historical unfolding of Christ's incarnation. Without historically situating modern Western civilization in the context of Christianity, secularity is all too easily misunderstood and identified with being modern and progressive, which eventually become inevitable and whose denial puts one at risk of being branded a medieval obscurantist.
As radical a break with the past as it may appear to be, Enlightenment secularism is evidently not best characterized as the rise of individual rationality above commonly held myths, nor as the firm grasp of scientific truths and technological powers that can replace religious delusions and magical incantations. The evidence of the inadequacy of such a triumphant characterization of modernity is legion: the isolated modern consumer is ruled over by perhaps the most deceitful, destructive, and oppressive myth of all, the myth of the market as above examined via Ayn Rand and Greenspan.
Secular philosophy's failure to engage the market-driven metaphysics of techno-capitalism for fear of trespassing into theology has allowed the "science" of capitalist economics to upstage the Wisdom of creation. Any hope of finding orientation in these chaotic times depends upon a renaissance of the poetic science of God's Wisdom. The human, as the imago dei, is tasked with the renewal and maintenance of the creation covenant. Genesis 1:28 calls us not so much to "subdue" and to "dominate," but "to harness or to bind" heaven and earth, to "maintain the bonds of creation." As the children of Wisdom, we are called upon by our Creator to be co-creators with Her in all our deeds and all our speech. To be made in the image of God is to be God's poet, the namer and storyteller of creation.
So there are definitely two competing visions, that of the life of the market versus that of the miracle of life. The life of the market is that of ruthless competition, the struggle for existence between selfish animals, who come from dust and to dust return. The miracle of life is that of spiritual communion, the joy of co-creation amongst loving angels. The former is a morality rooted in the shallow pleasures of private accumulation, while the latter calls humanity to participate with Christ in the renewal of all creation.
The miracle of life can be understood through an ecosophic perception of the sacramentality of creation as a Theilard de Chardin or Thomas Berry understood it. Consider Gaia's relationship with the Sun, that most generous of celestial beings. The Sun sacrifices its own body to give away vast quantities of energy to Gaia without any expectation of return. Not a single quantum of energy could be transacted between living beings upon the surface of earth without the Sun's primordial generosity. This is what the quote by Gorbachev at the head of this article refers to. This is as true of the monetary transactions of the human economy as it is of the ecological transactions of soil and plants. Life is a gift, not an earning, a celebration of divine surplus, not a competition amidst material scarcity.
Contrary to Rand's racist ideology, the native populations of pre-conquest America understood the meaning of the Sun's splendor deeply enough to ritually organize their lives on earth to reflect the same patterns it was performing in heaven. Extravagant potlatch celebrations were held in honor of births, weddings, funerals, and other rites of passage. Natives would gather together for great feasts gifted by wealthy families, and to sing and dance in honor of their divine ancestors. These ceremonies provide evidence that not barter, as classical economists assume, but gifting was the earliest form of exchange. Potlatch celebrations were outlawed by both Canadian and US governments in the late 19th century, and remained so until 1951. As modernity unfolded, traditional sacraments were increasingly considered to be culturally constructed symbolic performances, rather than theurgic events opening an economy between creature and Creator. Skepticism of inherited norms and revealed truths steadily increased as individuals turned to their own reason and values for guidance concerning ultimate matters.
Weber famously argued that it was the downplaying of communal ritual among the Protestant laity that first made possible the disenchantment of the world, the formation of the private modern subject, and the subsequent rise of techno-scientific capitalism. God, even if not quite dead, had all but fled the realms of space and time. Free of the sacred places and liturgical calendars of traditional sacramental religion, the modern individual no longer mirrored the celestial economy of angels, but remade the earth in his own fallen image.
Potlatch was practiced by native communities as a form of ritual participation in the divine effulgence of creation. Sharing in Gaia's bounty, they lived like the Sun, for glory rather than for greed. The Great Economy is "reflected in God's Sabbath delight, a celebration of all life, an affirmation of the right of all to be and to thrive." The profane economy of the market, on the other hand, reflects the sinful nature of an alienated humanity, more interested in its own shortsighted pursuits than the flourishing of all creation. Reintroducing theologically grounded and ecologically sensitive morality into the norms of the marketplace will require an initially painful reorientation of modern human life, the crucifixion of the old to make way for the new. In order to come into alignment with the Wisdom of creation so as to participate in God's ongoing artistry, everything from our scientific understanding of life and energy to the time-anxiety underlying our socio-economic commitment to work must be re-imagined.
Ritual practices like potlatch break down the dichotomy that normally exists between work and play. The Jubilee year and Sabbath commandment provide Biblical parallels to potlatch. On the 7th day of creation, God rested. Our human "holy days" call us to rebalance creation by making time for rest and re-creation. In Jesus' time, Genesis was understood as the pattern of world history: the 6th day was considered the human age, the time when Adam is called to work with the Wisdom of the Creator to bring about the completion of the creation, so that all may rest on the 7th day. The completion of creation on the 7th day is the coming of the Kingdom wherein God becomes "all in all," bound up in relational joy with creation.
In order to imagine, and to co-create, the Great Economy of the Kingdom, it is first necessary to free ourselves from the anxieties of the world of working. This, I submit, is best outlined in Franciscan spirituality which advocates enjoying and praising nature rather than the exploitation and the rape of nature. Anxiety makes the problems of the market apparent to us, but uncovering their solution requires that we release ourselves from its world-distorting grip. Unlike the anti-religion of the market ruling over the world of working, wherein "time is money" as Ben Franklin famously quipped, Christianity calls us to observe the birds of the air and the lilies of the field living without toil: "And who of you by being worried can add a single hour to his life?" Time needs to be found to smell the roses.
Play, like the perception of Wisdom, opens up a non-ordinary reality, allowing us to transcend the everyday world of work. The idea is not to transcend work entirely, but to recognize its relativity in regard to all the other experiential realities that are engaged with during a full 24-hour cycle of earth's rotation (sleep, dreams, etc.), or the full span of a mortal life (birth, love, near death, death, spiritual vision, etc.). Work will always be necessary for survival, but the question remains: why survive? If not to play, then for what? We are back to the question of the purpose of the universe.
Ritual performance, and the creative efflorescence it encourages, is at the existential core of our lives, and indeed is the beating heart at the center of creation. We might sometimes reflect and recall that the purpose of all our science, technology, industry, manufacturing, commerce, and finance is celebration, planetary celebration. That is what moves the stars through the heavens and the earth through its seasons, as Dante intuits at the end of his journey in the Divine Comedy. The final norm of judgment concerning the success or failure of our technologies is the extent to which they enable us to participate more fully in this grand festival.
The meaning of the world and the order of the cosmos must be enacted, or imaginally bodied forth. The human imagination, the Seal of creation, does not receive the world's meaning ready-made, but must participate in its making: The meaning of earthly life soon dissolves unless we are willing to play, to make imaginally present what would not otherwise be so. Imagination is the soul's temple, the holy of holies within which immanence and transcendence meet and give birth to worlds worth living in. In this way, everyday is made holy, and all our work becomes a form of worship. Religion, science, art, and indeed, culture in general, are all born out of playfulness. Humans may not be the only creatures who play, but surely only we take play seriously enough to die for it. Perhaps Socrates had something like that in mind when he said that "the unexamined life is not worth living."
Contrary to this vision of creation rooted in play, biologists since Darwin have tended to understand evolution primarily as a vicious competitive "struggle for existence" amidst scarcity, where only the fittest survive. More recently, the work of James Lovelock and Lynn Margulis has entirely transformed Darwin's picture of the biosphere, a picture that perhaps reflects the economic conditions holding sway in 19th century England more so than the natural conditions of earthly life. Lovelock's Gaia theory has shown that life is necessarily a planetary affair, constituted by a massively interconnected web of biotic and abiotic feedback loops. Margulis' research on the bacterial basis of all life and her theory of the origin of species via symbiogenesis reveal that lateral gene transfer (gene gifting) and cooperative symbiosis are the primary engine of evolution.
Energy is not compulsive work, but "Eternal Delight." Nor is God's ongoing creative artistry tyrannic or compulsive, but Genesis' acts of creation must be read in concert with the wisdom of Proverbs and the passion of the Gospels. God did not create the world out of nothing, but beget it and suffered it with Wisdom. Lacking such an ecosophic perception of the true nature of reality has left modern humanity ignorant of why Gaia is the way She is ever hearing, but never understanding…ever seeing, but never perceiving. This ignorance hardly stopped us from learning how many of Her seemingly isolated parts worked, and how we might manipulate them for our own profit. Cunning power became our knowledge.
As a St. Francis clearly perceived the Great Economy is in our midst and it does not reside in accumulated wealth. Wisdom, too, is all around and he who has ears, let him hear. If the heart be reached, not through reason, but through imagination, then healing humanity's eco-social wound must begin there. Enlightenment conceptions of the "state of nature" must be entirely re-envisioned, such that Gaia's values become the soil out of which the human soul imagines its own. To be made in the image of God is not merely to be capable of thinking His plan after Him, but to be co-creator with Christ of the Kingdom, on earth, as it is in heaven.
In conclusion, I wish to suggest that ecosophy should not be a mere throw-back to pagan "nature worship" as a way to reconnect to the sacred (all well and good in itself), but it should be more; it should be the culmination of a genuine Christian Franciscan spirituality which remembers God's creation and through nature finds the way to a new imaginative journey such as the one begun by Dante "in the middle of the journey of our lives" which ends, in the last line of the Divine Comedy, with "the love that moves the sun and the other stars." Let those who have ears, let them hear.
Dying Wildlife on a Warming Planet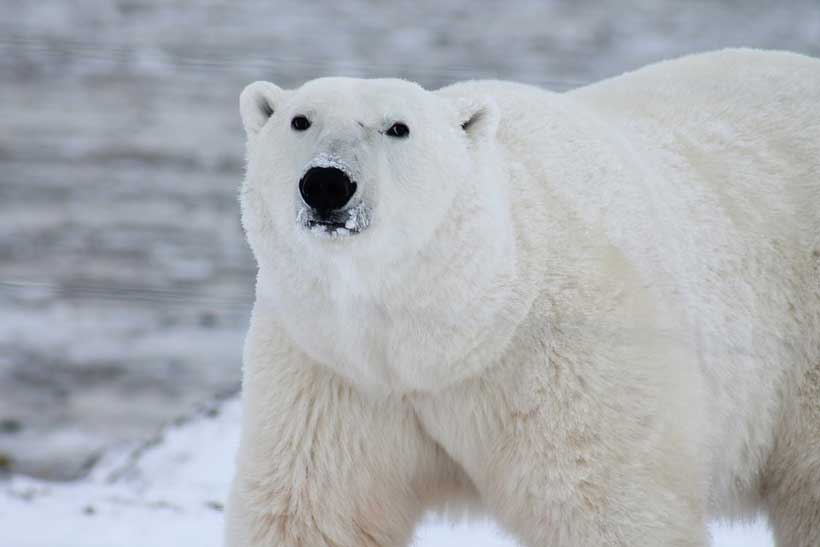 Authors: Meena Miriam Yust and Arshad M. Khan
The emaciated polar bear, a sorry remnant of magnificence, raiding garbage cans in an iconic, even infamous photo, is one consequence of global warming. As the September (2019) National Geographic cover story displays depressingly, Arctic ice collected over winter is sparser, thinner, and now disappears completely during summer in parts of Canada. If the effects of global warming are staring us in the face, then only the woefully or willfully ignorant – like Trump – can ignore them.
One more aspect of warming on Arctic ice has been reported recently. As we know, two-thirds of an iceberg lies under water. As sea water warms, melt increases and scientists have made measurements to discover that submerged parts of icebergs and glaciers entering the sea are melting significantly more than was previously believed, contributing to rising sea levels.
Researchers are warning that permafrost collapse in the Arctic is releasing nitrous oxide, methane, and carbon dioxide. The store is vast: nearly 1,600 billion tonnes of carbon lies trapped in the frozen soils of the permafrost region as a result of decaying organic matter over millennia. That is almost double the quantity in the atmosphere.
The environmental costs of global warming appear in yet other unexpected ways. A new paper in Science reports the threat to coral reef reproduction. Free-spawning marine species synchronize spawning as a way to ensure reproduction. In this way the gametes developed are so numerous that some escape their predators, ensuring species survival. Global warming is now affecting this reproductive synchrony, threatening coral reef recovery.
Rising ocean temperatures impact fish, plankton and crustaceans, in turn affecting the creatures that feed on them. So now sea birds, like the puffin, are struggling to stay alive. These are striking birds with black and white plumage, bright orange legs and feet, and, during the mating season, orange beaks. This past May, it was estimated that between 3,150 and 8,500 puffins starved to death in the Bering Sea, their emaciated bodies washing ashore on the Pribilof Islands, some 300 miles west of mainland Alaska. Prior to the mass deaths, there was a documented period of elevated sea surface temperatures in the eastern Bering Sea according to scientists. The unfortunate result was a shift in zooplankton composition and in forage fish distribution, both food sources for the puffin.
In Iceland, too, puffins are in trouble. Researchers discovered that thousands of puffin chicks had died from starvation in the summer of 2018. It turns out rising ocean temperatures have pushed cold-water fish farther north leaving the baby pufflings with little to eat. The International Union for the Conservation of Nature (IUCN) has categorized the Atlantic puffin (Fratercula arctica) as vulnerable on its red list.
Rising ocean temperatures are also affecting food availability and the habitat of many Arctic creatures, including the walrus, polar bear, gray whale, arctic fox, and ice seal. Some are starving to death, some wandering long and far in search of food. Polar bears rely on sea ice to hunt seals at their breathing holes. When the sea is not covered in ice, breathing holes become unnecessary as the seals can come up anywhere for air, and are no longer easy for polar bears to snatch up. The World Wildlife Fund has reported a 40% drop in number of the southern Beaufort Sea polar bears between 2001 and 2010. Worse still, scientists forecasting global polar bear populations estimate a high probability that 30% of polar bears worldwide will be gone by 2050.
Declining sea ice is also harming seals. Baby harp seals lie on the ice during their fragile first few weeks of life. Without a thick and stable span of ice, seal pups may drown or be crushed by broken ice. In 2007, a then surprising 75 percent plus of pups died due to thin ice conditions; in 2010, nearly all. "Some years, when there's poor ice in a given pupping ground, essentially all of the pups don't make it," says Duke marine biologist David Johnston. As temperatures continue to rise, seal survival becomes precarious.
The Pacific walrus population is in decline with only 129,000 animals left. Due to climate change, the floating summer ice that walruses used to haul themselves upon to rest is now way up north. Consequently the animals are swimming ashore and taking to land in huge numbers. Unfortunately their feeding grounds are far away from shore, forcing a 250 mile round trip. In addition to exhaustion from traveling long distances and food scarcity, walruses also face threats from being on the beach in vast crowds. In 2014, 35,000 walruses were seen together on the shore near Point Lay, Alaska. The animals, which can weigh as much as 1.5 tons, can be frightened easily by loud noises like airplanes, causing stampedes and mass deaths by trampling, especially of young calves – as many as 500 in one incident. If ice continues to diminish, their future looks bleak.
Then there are the gray whales. Their favorite crustacean is the amphipod – a small flat morsel with segments and antennae resembling a grasshopper. These lipid-rich crustaceans are devoured by whales in bulk. Over the past 30 years, as currents have warmed and sea ice has melted, amphipod populations have declined in the Bering Sea whale feeding area. As a result, gray whale mothers and babies have had no choice but to swim north through the Bering Strait and far into the Arctic Ocean in search of an alternate food supply. They are so hungry they are eating krill and mysid shrimp, but as it takes an enormous quantity to match the calories of lipid-rich amphipods, the whales remain hungry.
The North Atlantic right whale, a species federally classified as endangered, is also affected by the rising ocean temperatures. The Smithsonian reports that right whales eat more than 2,000 pounds each day, mostly copepods. Their favorite copepod, the Calanus finmarchicus, has dramatically declined because some of the deep waters of the north Atlantic have warmed almost 9 degrees Fahrenheit since 2004, forcing right whales to migrate elsewhere in search of food. Several right whales have been found dead in Canadian waters in recent months, and a sixth dead whale was found in the Gulf of St. Lawrence in July of this year. The steep rise since 2010 in the deaths of these whales from shipping vessel strikes as well as entanglement with fishing gear is attributed to the animals moving into new and unexpected areas where speed restrictions for vessels are not in place. With some 400 right whales left (out of 500 in the early 2000s) and about 100 breeding females, the species may face extinction if these trends continue. Researchers are hoping to use satellite technology to detect whales in new territory, allowing for faster responses in moving fishing nets and large vessels.
Creatures large and small face threats from melting ice. Lemmings are like hamsters of the tundra – small, furry rodents with faces and whiskers as adorable as the childhood pet. In winter, northern Norway lemmings burrow under the snow for insulation and protection from prey. During good snow seasons, they reach population peaks and their young prosper. But in Norway in recent years, rising temperatures are causing repeated thawing and icing periods resulting in poor snow conditions for the lemmings. The resulting altered and reduced population cycles mean lemmings are no longer reaching population peaks.
The arctic fox relies on lemmings as a primary food source, and scientists believe lemming decline has contributed to sharp declines and breeding failures in the arctic fox population of Norway. Arctic foxes also face threats from the red fox, a larger more aggressive animal, which historically lived south of the arctic fox habitat. Due to climate change and warming of the Arctic, however, the red fox is encroaching on arctic fox areas. Warming is also converting the tundra to shrublands, a habitat the red fox desires. The poor arctic fox faces loss of habitat, decreased food availability, increased competition for food, and possible displacement by the red fox. And with the Arctic continuing to warm, these changes will only become more extensive. Small wonder then that the arctic fox often has to travel long and hard to find food. One female captured all our hearts as it traveled 3,500 km from Norway to Canada in 76 days, its remarkable journey including 1,512 km on sea ice.
These few examples demonstrate the impact of global warming on diverse forms of life — from coral reefs and lemmings to the right whale. We learn that changes in plankton and tiny crustaceans can starve a giant whale and diminishing ice cover can cause polar bears to lose their primary food source, and we begin to register the intimate interconnectedness in the web of life. Human well-being too is tied to this chain of life. If fish decline, so does a food source for humans and the water birds that feed on fish, and as insect pollinators decline, so do our crops and the plants around us. A study suggests that 40% of insect species are in decline. And the U.S. and Canada have lost three billion birds since 1970. In this anthropocene age, humans are not rapacious owners but stewards of our planet, holding it in trust for succeeding generations. It is what the young led by Greta Thunberg are forcefully making clear to their elders.
Author's note: This piece first appeared in CommonDreams.org.
The Climate Action Summit Fiasco
No one could fail to be touched by the fear (for the future) and urgency in Greta Thunberg's young voice as she broke down while addressing world leaders on the last day of the UN Climate Summit. The IPCC (Intergovernmental Panel on Climate Change) Special Report on the oceans showed a worse prognosis, the patient is clearly worse.
Sad to say, despite all Greta's efforts, nothing happened — no commitment by any of the major polluters. Trump sauntered by before going on to mock her in his address — a grown man bullying a 16-year old girl!
UN Secretary General Antonio Guterres wanted a commitment to the higher ambition of limiting global warming to 1.5C instead of 2C. He got excuses, and of course no promise of net zero by 2050 from any major polluter. Net zero implies balancing carbon emissions with carbon removal. He also wanted a commitment to no new coal plants beyond 2020. Instead China, India and Turkey will be shamelessly expanding coal power well beyond that date.
China wanted the developed nations to take the lead due to their long history of emissions and consequent responsibility. It refused to make concrete commitments unless the US and EU did so. The EU blames Poland, a coal exporter; the US has Mr. Trump. In the end none of the major polluters (China, India, EU, US) did although 80 other countries pledged to reach net zero by 2050.
Included in the 80 who pledged were 47 least developed countries (LDCs) although they are the least responsible for the emissions. They have also been victimized by past colonialism, slavery, and for many the IMF's notorious structural adjustment programs.
The climate data from the World Meteorological Organization (WMO) presented at the summit is sobering: Global temperatures are up 1.1C since 1850 of which a 0.2C (or near 20 percent) rise occurred from 2011 to 2015. The five-year period from 2014 to 2019 is the hottest on record while carbon emissions over the same period are up 20 percent from the previous five years. Sea level rise since 2014 has averaged 5mm annually while the 10-year average up to 2016 was only 4mm.
One consequence of the sea level rise and warmer temperatures has been the human catastrophe from the unprecedented storms in Mozambique and the Bahamas recently.
Ninety percent of the excess heat from climate change is absorbed by water, and the WMO recorded the highest ocean heat content on record in 2018. It poses a special danger for the Greenland ice sheet and the Arctic. New research (July 2019) also finds melt under the water surface from glaciers reaching the sea and icebergs is 'orders of magnitude' greater than previously believed. It threatens a dramatic sea level rise by the end of the century.
Professor Brian Hoskins, a meteorologist from Imperial College London warns, "Climate change due to us is accelerating and on a very dangerous course," adding "We should listen to the loud cry from the school children …" No one is listening Professor, despite human-induced warming exacerbating storms, wildfires, heatwaves, coastal flooding, etc. No, not a single major polluter stood up to make a commitment. The EU blames Poland which relies on coal exports and has veto power over any EU-wide policy; the US, Brazil and Saudi Arabia scrupulously avoided the event as if it were a plague.
The IPCC officially adopted its report on oceans and the cryosphere (those portions of Earth's surface where water is in solid form, including sea ice, lake ice, river ice, snow cover, glaciers, ice caps, ice sheets, and frozen ground). Compiled by 100 scientists, it forecasts a catastrophic rise in sea levels, coastal flooding and worsening disasters. It moved none of the implacables — not even the terrifying fact that Greenland's ice sheet alone can raise sea levels by 20 feet. All of it was ignored and instead of a breakthrough, the IPCC was left touting its evidence and reports at the end of the summit.
To summarize, nothing happened. The climate action summit became a climate inaction summit, and the climate can was kicked down the road to Chile for the next IPCC meeting in December.
Actions not words: What was promised at the UN's landmark climate summit?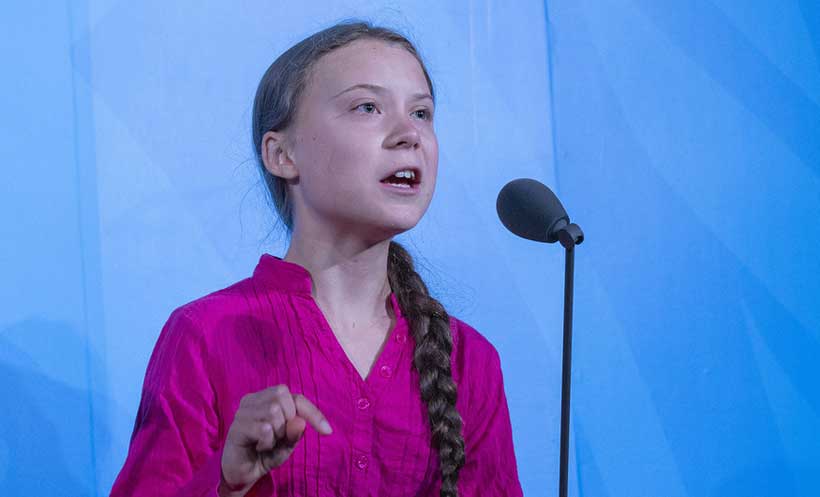 UN Secretary-General warned leaders not to come to his landmark Climate Action Summit with beautiful speeches, but to present concrete plans for cutting harmful greenhouse gas emissions, and strategies for carbon neutrality by 2050. So what, exactly, was promised at Monday's all-day event at UN Headquarters in New York?
Profiting from sustainability
The private sector had a chance to demonstrate how it can bring about real positive change, when 87 major companies – with a combined market capitalization of over US$2.3 trillion, over 4.2 million employees, and annual direct emissions equivalent to 73 coal-fired power plants – committed to setting climate targets across their operations.
These businesses include well-known brands such as Burberry, Danone, Ericsson, Electrolux, IKEA, and Nestlé. A number of these companies (you can find the full list here), went a step further, by committing to "science-based targets", which means that their corporate emissions cuts can be independently assessed.
Speaking at the UN Global Compact Private Sector Forum, Anand Mahindra, chairman of the Mahindra Group, an Indian multinational conglomerate with over 200,000 employees, said that more and more business leaders are waking up to the fact that sustainability and profit go together, and that climate action represents the biggest business opportunity of the next few decades.
In the finance sector, some of the world's largest pension funds and insurers, responsible for directing more than $2 trillion in investments, have joined together to form the Asset Owner Alliance, which committed to moving their portfolios to carbon-neutral investments by 2050. The members of the Alliance are already engaging with companies in which they are investing, to ensure that they are decarbonizing their business models.
Unlocking the power of nature
Using the power of nature is believed to be one of the most effective and immediate ways to address the climate crisis. Strengthening natural ecosystems such as forests, for example, is one such solution: more forests means more capacity for carbon capture, and replanting mangrove forests provides an effective and cheap natural barrier against coastal floods and shoreline erosion.
Monday saw the launch of several initiatives designed to boost nature-based solutions. These include the Global Campaign for Nature, which plans to conserve around 30 percent of the Earth's lands and oceans by 2030; a High-Level Panel for the Sustainable Ocean Economy, which will build resilience for the ocean and marine-protected areas; and the Central African Forest Initiative promises to protect the region's forest cover, which provides livelihoods for some 60 million people.
Cleaning up cities
It is now possible to construct buildings that are 100 per cent net-zero carbon emitters, and the Zero Carbon Buildings for All initiative is pledging to make all buildings – new build and existing – net zero carbon by 2050. This could potentially lead to a $1 trillion investment in developing countries, by 2030.
A total of 2000 cities committed to placing climate risk at the centre of their decision-making, planning and investments: this includes launching 1,000 bankable, climate-smart urban projects, and creating innovative financing mechanisms.
Tackling traffic congestion and pollution is the aim of the Action Towards Climate Friendly Transport initiative, which includes actions to plan city development in a way that minimises travel, shift from fossil-fuelled vehicles to non-motorized and public transport, and increase the use of zero-emission technologies.