John Kerry and Sergey Lavrov to finalize Syria deal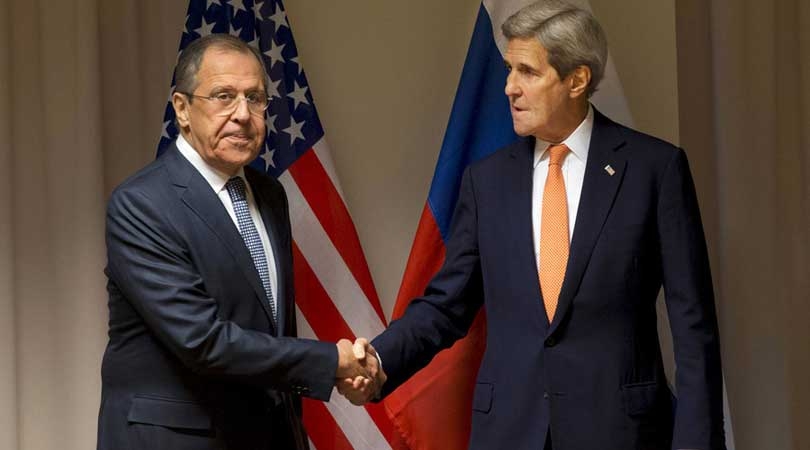 The war in Arab Syria, still going on for years, is a sort of world war as many powers are killing Muslims there as part of America's permanent war project following 9/11. The war has become intense with Russian forces joining the party in Damascus. As in the case of Palestine issue, USA maintains it wants to find a credible solution to the crisis and end war in Syria.
US Secretary of State John Kerry said he plans to meet with Russian Foreign Minister Sergey Lavrov in Geneva on Aug. 26 to try to finalize a deal on Syria, after an initial US-Russian understanding reached at meetings in Moscow on July 15 was upended by intensified fighting in Aleppo. "We want to be very measured in our expectations as we go forward … but we believe this meeting is worth having," State Department spokeswoman Elizabeth Trudeau told journalists on Aug. 24 about the upcoming Kerry-Lavrov meeting in Geneva. When asked if the scheduling of the meeting was a sign a deal was imminent she said: "We still have issues that need to be resolved. However, we are meeting. We are going to put Secretary Kerry and the foreign minister in a face-to-face meeting to try to resolve some of the issues that remain. I don't know where we will be after this. … We are committed to this … advancing."
Kerry, speaking to reporters in Kenya on Aug. 22, said he hoped that meetings between US and Russian technical teams in Geneva this week would make sufficient progress on a plan to expand a cessation of hostilities in Syria nationwide so that a deal could be announced by the end of the month. "Foreign Minister Lavrov and I would meet," Kerry told reporters in Kenya. "But I wouldn't be surprised, if they are positive and constructive, that we do get together sooner rather than later. And, therefore, it is possible that something could be agreed … upon before the end of the month. … I wouldn't express optimism; I would express hope." "This has to end — this Syrian travesty," Kerry added. "It has gone on far too long. It has cost too many lives." A resumption of intra-Syrian political talks "has to be empowered by a legitimate cessation of hostilities and that is what we're working to achieve," he added.
The Russian Foreign Ministry said Kerry and Lavrov spoke by phone Aug. 24. They "discussed the situation in Syria, including in Aleppo … as well as possibilities for coordinating Russian and US efforts to combat terrorism, building on earlier agreements, including the need to draw a clear line between pro-American Syrian opposition groups and terrorist groups using them as cover, and to whom the cease-fire provisions do not apply," the ministry said in a press release.
Earlier, diplomatic sources in Geneva had said that a Kerry-Lavrov meeting was tentatively planned, but that whether one materialized depended on whether there was sufficient progress on Aleppo discussions. "It depends on how the talks progress," a diplomat in Geneva, speaking not for attribution, said on Aug. 24. "Clearly, both sides want a deal … but there is so much mistrust."
Syrian war grew out of the unrest of the 2011 Arab Spring and escalated to armed conflict after President Bashar al-Assad's government violently repressed protests calling for his removal. The Syrian civil war is an ongoing multi-sided armed conflict in Syria in which international interventions have taken place. The war is now being fought among several factions: the Syrian Government, a loose alliance of Syrian Arab rebel groups, the Syrian Democratic Forces, Salafi jihadist groups (including al-Nusra Front) who often co-operate with the rebels, and the Islamic State of Iraq and the Levant (ISIL). The factions receive substantial support from foreign actors, leading many to label the conflict a proxy war waged by both regional and global powers.
Syrian opposition groups formed the Free Syrian Army and seized control of the area surrounding Aleppo and parts of southern Syria. Over time, factions of the Syrian opposition split from their original moderate position to pursue an Islamist vision for Syria as al-Nusra Front and the Islamic State of Iraq and the Levant (ISIL).In the north, Syrian government forces largely withdrew to fight the FSA, allowing the Kurdish YPG to move in and claim de facto autonomy. In 2015 the YPG joined forces with Arab, Assyrian, and Armenian and Turkmen groups forming the Syrian Democratic Forces.
As of February 2016 the government held 40% of Syria, ISIL held around 20-40%, Arab rebel groups (including al-Nusra Front) 20%, and 15-20% is held by the Syrian Democratic Forces. Both the Syrian Democratic Forces and the Syrian Army have made recent gains against ISIL.
International organizations have accused the Syrian government, ISIL and other opposition forces of severe human rights violations and of multiple massacres. The conflict has caused a considerable displacement of population. On 1 February 2016,a formal start of the UN-mediated Geneva Syria peace talks was announced by the UN but fighting continues unabated.[
Syria became an independent republic in 1946, although democratic rule ended with a coup in March 1949, followed by two more coups the same year. A popular uprising against military rule in 1954 saw the army transfer power to civilians. From 1958 to 1961, a brief union with Egypt replaced Syria's parliamentary system with a highly centralized presidential regime. The secular Ba'ath Syrian Regional Branch government came to power through a successful coup d'état in 1963. The next several years Syria went through additional coups and changes in leadership. In March 1971, Hafez al-Assad, an Alawite, declared himself President, a position that he held until his death in 2000.
The Assad government opposed the US's 2003 invasion of Iraq. The Bush administration undertook to destabilize the regime by increasing sectarian tensions, showcasing and publicizing Syrian repression of radical Kurdish and Sunni groups and financing political dissidents. Assad also opposed the Qatar-Turkey pipeline in 2009. A classified 2013 report by a joint U.S. army and intelligence group concluded that the overthrow of Assad would have drastic consequences; the opposition supported by the Obama administration was dominated by jihadist elements.
In 2000, Bashar al-Assad took over as President of Syria upon Hafez al-Assad′s death. He and his wife Asma al-Assad, a Sunni Muslim born and educated in Britain,[110] initially inspired hopes for democratic reforms. A Damascus Spring of social and political debate took place between July 2000 and August 2001. The Damascus Spring largely ended in August 2001 with the arrest and imprisonment of ten leading activists who had called for democratic elections and a campaign of civil disobedience.[112] In the opinion of his critics, Bashar Assad had failed to deliver on promised reforms.]
Syrian President Assad continues to be adamant, refusing to step down, allowing the situation to calm down especially after Russia, on pretext of supporting Assad, also began attacking the Syrians. Meanwhile, in September 2015, an announcement was made about the formation of the New Syrian Army (NSA), which would initially begin its operations by fighting the Islamic State (IS), without any mention about it possibly confronting Bashar al-Assad's forces. This is despite the fact that the NSA commander, Khazal al-Sarhan, told various media outlets that Assad and IS were but two sides of the same coin, and that his army would fight Assad once IS is defeated.
Russia said Aug. 18 that it would be willing to consider cease-fires that would last 48 hours for Aleppo on a weekly basis, provided there could be security guarantees that would enable aid to reach both government-held western Aleppo as well as rebel-held eastern Aleppo. But follow-up meetings on how to implement the plan only resumed in Geneva on Aug. 23 and have been complicated, the diplomatic source said.
US officials said Russian actions had served to bolster popular support for al-Qaeda-linked Jabhat al-Nusra (recently renamed Jabhat Fatah al-Sham), which played a key role in breaking an attempted Syrian regime besiegement of rebel-held eastern Aleppo. "The recent escalation in airstrikes and ground fighting in Aleppo is of deep concern to the United States," a US official, speaking not for attribution, said on Aug. 23. "The Syrian regime and its allies, Russia and Iran, are driving this escalation that is bringing more suffering to an already deplorable humanitarian crisis and complicates efforts to get Syrian parties to the negotiating table. "Russia has pledged to focus its military actions against ISIL (new name given by the CIA to Islamic State) and al-Qaeda in Syria.
The US official said instead of degrading these terrorist organizations, however, Russia's actions have empowered the Syrian regime — which uses barrel bombs and, reportedly, toxic chemicals, like chlorine, on its own people. These actions threaten to galvanize popular support for extremists like al-Qaeda, which claim to defend the population suffering under the rule of a brutal dictator and his allies." "By intervening militarily in this civil war, Russia assumed enormous responsibility for Syria's future," the US official said. "It is long past time for Russia to take the necessary steps to reduce violence against civilians, guarantee open access for humanitarian agencies and create conditions conducive for a political transition."
Meanwhile, Turkey launched its most ambitious operation of the Syrian conflict on Wednesday with President Recep Tayyip Erdogan saying it targeted the double threat from Islamic State extremists and Syrian Kurdish militias. Turkey says the air and ground operation dubbed "Euphrates Shield" will clear jihadists from the Syrian town of Jarabulus, which lies directly opposite the Turkish town of Karkamis.
The operation was launched just days after Ankara appeared to soften its often-confrontational line on Syrian President Bashar al-Assad, whom Turkey wants to see removed. Turkey views the Kurdish People's Protection Units (YPG) militia as an extension of the outlawed Kurdistan Workers' Party (PKK), which it has denounced as a terror organisation along with the EU and the USA. The Syrian Kurds "already occupy a large strip of that border but there is this part in the middle that is still held by ISIS.
At the weekend, Turkish Prime Minister Binali Yildirim for the first time acknowledged that Assad was one of the "actors" in Syria, saying he may need to remain as part of any transition. Turkey is also working more closely with Iran and Russia, Assad's last remaining major allies. So far, no world power has objected to the Turkish operation, which began just hours before US Vice President Joe Biden arrived in Ankara.
There have also been signs of a less confrontational Turkish foreign policy since Yildirim took over from Ahmet Davutoglu as premier in May. Stopping Kurdish advances in the north was now Ankara's primary goal in Syria rather than Assad's removal. "Following the ouster of Ahmet Davutoglu, the architect of Turkey's foreign policy in the last decade, Ankara has recalibrated its Syria policy."Blocking PYD Kurdish advances in Syria, previously Ankara's secondary goal, now trumps Turkey's erstwhile policy of ousting the Assad regime."
The Kerry-Lavrov Geneva discussions "will be the big meeting," Bassam Barabandi, a former Syrian diplomat now with the Syrian opposition High Negotiating Committee, told Al-Monitor on Aug. 23. "Now I think it is very difficult to talk about a cessation of hostilities," Barabandi said. Rebel gains in Aleppo in recent weeks are "very difficult to use as leverage, because part of them are Nusra, so I don't see how Kerry can leverage that" in his discussions with the Russians, Barabandi said.
Even as Kerry expressed hope that a US-Russia deal on Syria could be finalized this month, the Pentagon pushed back on reports a deal was imminent. "Contrary to recent claims, we have not finalized plans with Russia on potential coordinated efforts," Pentagon spokesman Peter Cook told journalists Aug. 22. "Serious issues must first be resolved before we can implement the steps Kerry and Lavrov discussed in Moscow last month…We are not there yet, and the regime and Russian's recent actions only make it harder to consider any potential coordination," Cook added.
Whether or not the Kerry-Lavrov talks on Syrian war would put an end to war and other forms of hostilities in the country and whether or not Assad would step aside at least now when thousands of Syrians have lost their valuable lives because of him and Syria is in shatters.
It would take years for Syria to revive its economy and trade even if a deal is struck by the top powers of the world.
Once destabilized by US led terror forces, chances of revival is a difficult talks as we have seen in Afghanistan and Libya.
Pakistan is perhaps destabilized once for all.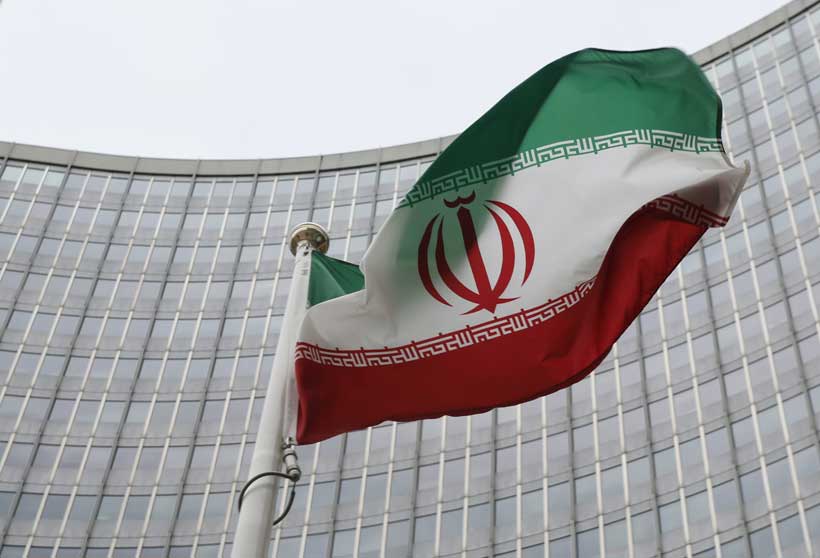 Recently former Israeli Mossad Director Tamir Pardo said that Israeli Prime Minister Benjamin Netanyahu planned to attack Iran in 2011.
Mr Pardo stressed that the order given to servicemen for the preparation of the attack was not a training exercise. Tel Aviv planned to launch an attack within 15 days, but this did not happen.
Well, what does it change?
This statement by the Israeli intelligence officer was not a historical scoop – a godsend for professional historians. Everybody remembers that by 2011 the situation around Iran, or rather its nuclear program, was very tense.
The nuclear talks, which by then had lasted for eight years in different formats, reached a dead end. In the period from 2006 to 2010, the UN Security Council adopted six resolutions condemning the Islamic Republic of Iran for its nuclear program uncontrolled by the IAEA and the reluctance to seek compromises in the negotiations.
Four of these documents of the Security Council included international economic sanctions against Iran. However, these sanctions were insufficient to bring Tehran back to reality.
In fact, at that time the windows of opportunity for a political solution to the Iranian nuclear problem were gradually shutting down. Israel and the United States began to really prepare for a military solution to the Iranian problem. At the same time, it should be noted that "military scenarios" were already on the tables of Israeli and American leaders. Israeli authoritative political analyst Ben Caspit, known for his relations with the country's leadership, said in 2011 that at the initiative of the head of government, Benjamin Netanyahu, Israel had significantly stepped up preparations for "striking at Iran."
According to him, in this matter, the Prime Minister enjoyed the absolute support of Defense Minister Ehud Barak.
The well-known Israeli political figure who was at the time the leader of the Kadima party, Shaul Mofaz, who were born in Iran, believed that Israel should single-handedly eliminate the Iranian nuclear threat.
On March 1, 2011, it was reported that US Air Force commander Norton Schwartz said that his subordinates had developed a plan for a military operation against Iran . According to the plan, three scenarios were being developed:
– A simultaneous strike against one or several major nuclear facilities
– Time (2-5 days) and scale restricted missile and aircraft strikes on critical facilities of nuclear infrastructure, missile units, air defence facilities, airfields, naval bases, main communication centers.
-The multiple-day large-scale aviation-missile operation with massive missile and bomb strikes aimed at completely destroying nuclear facilities and most of the military infrastructure of the Islamic Republic of Iran (the "Yugoslav scenario").
At the same time, the US military was considering the possibility of using the heaviest non-nuclear munition – a new 13.5-ton bomb, capable of destroying underground enemy nuclear facilities with concrete walls up to 65 meters thick.
Apart from this, the US Air Force planned to provide its refueling aircraft for Israeli fighters sent to destroy Iran's nuclear infrastructure – if there would be such a need.
Indeed, back then experts in Jerusalem as well as in Washington were inspired by the military method of solving Iran's nuclear problem. In fact, the military of the United States and Israel together and separately conducted exercises and training, practicing various options for military operations against Iran.
And, apparently, the ground military operation according to to the "Iraq scenario" was not considered due to its utopian nature in connection with the peculiarities of the international and regional situation of that time and Iran's conditions. The only exception could be the landing operation to unblock the Strait of Hormuz (Tehran repeatedly warned and threatened about its blocking ) and further control over shipping in this region.
There were many plans. It is not without reason that in 2011 the world media and serious institutions in various countries repeatedly gave the allegedly exact date of the attack on Iran.
However, in 2011-2012, the European Union and then the United States imposed against Iran "hard-hitting" (according to Hillary Clinton) sanctions, which should have made the Iranian leadership think about the future. A comprehensive military strike was abolished, and a comprehensive financial and economic strike – sanctions against Tehran – were put in place. To a certain extent, the strike hit the target. The serious problems that started in the Iranian economy forced Tehran to make adjustments to its policy.
Hasan Rouhani was elected as Iranian President. He was perhaps the only Iranian politician who could negotiate with the international community on the Iranian nuclear program. President Rouhani brilliantly coped with the task, and became one of the authors of the Joint Comprehensive Plan of Action (JCPOA). The world and the Middle East took a breath – the war against Iran was irrelevant. Almost three years passed. Things changed in Washington. US President Donald Trump "blew up" the JCPOA.
So what comes next? The history repeats itself. Donald Trump, as on a time machine, threw the situation around Iran back to the very beginning of the second decade of 21st century. The situation with the Iranian nuclear program is returning to 2011-2012 years. That is, to the confrontation with the Islamic Republic of Iran, the one we have already spoken about. And now everything is repeated thanks to Trump.
That is why the possible military strikes against Iran worked out during the last tough confrontation with Iran were not mentioned in vain. Unfortunately, they can be carried out, perhaps not today or tomorrow, but after Tehran, quite rightly furious with President Trump's policy and the collapse of the JCPOA will resume its nuclear program without any IAEA contracts and inspectors.
He will prepare his atomic bomb, which, of course, will bring the world to the troubled times of military confrontation in the region fraught with catastrophic consequences for the Middle East, and the whole world. It is possible that this was exactly what US President Donald Trump wanted.
The opinion of the author may not coincide with the position of editorial
First published in our partner International Affairs
Iran at SCO: Role, achievements, and goals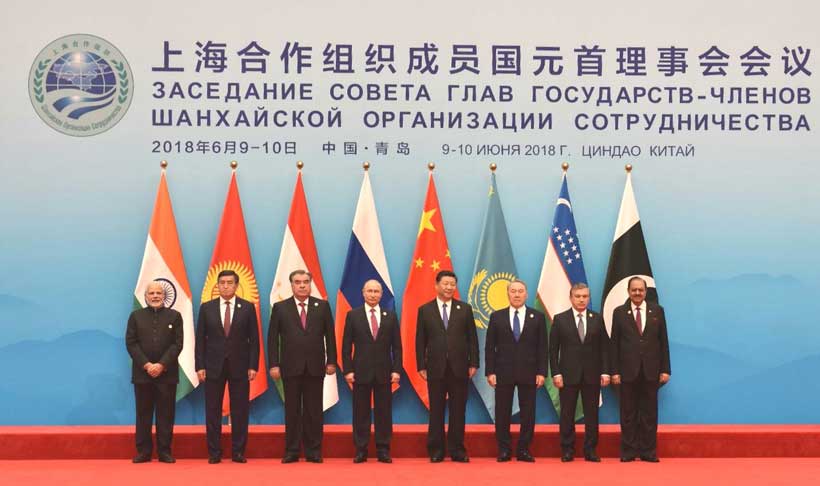 Nearly a month after the U.S. withdrawal from the Joint Comprehensive Plan of Action (JCPOA), leaders from the Shanghai Cooperation Organization (SCO) met in Qingdao, China, to set the roadmap for the future.
In his speech, Chinese President Xi Jinping, the summit host, announced that the SCO members will uphold the authority and efficacy of WTO rules, strengthen an open, inclusive, transparent, non-discriminatory and rules-based multilateral trading regime, and oppose trade protectionism of any form. "We point out that economic globalization and regional integration are the compelling trend of our times," Xi said.
"All parties will continue to work in line with the principle of mutual benefit to improve regional economic cooperation arrangements, enhance the Belt and Road cooperation and complementarity of our respective development strategies, deepen cooperation in business, investment, finance, connectivity and agriculture, advance trade and investment facilitation, and foster new prospects for integrated development of the region to deliver benefits to our people and add fresh impetus to global growth," the Global Times quoted the Chinese president as saying.
Iran, JCPOA and SCO summit
One of the major issues on the summit's agenda was the consensus that Russia, China, and India (which comprise three of the five BRICS countries) do not back sanctions against Iran announced by Trump and his secretary of state. The summitters also rejected U.S. unilateralism in global affairs in favor of a multilateral world order.
Iran, a current observer member of the SCO which has officially applied full membership, participated at the event on June 8-9 at the presidential level. Iran sought to achieve several goals in the summit. The country initially seeks saving the 2015 international nuclear deal by getting assurances from the remaining parties to the nuclear agreement. It wants its interests, which is removal of economic and financial sanctions under the agreement, are guaranteed otherwise it would resume nuclear activities at a higher speed. Developing regional and international economic cooperation as an independent and reliable partner and also expanding a comprehensive strategic partnership with China in the fields of energy and infrastructure, stand among the other major priorities of Iran for attending the summit.
President Hassan Rouhani, addressing the summit, stressed the significance of a non-political approach to energy security and legitimate international trade in both regional and global development, calling on the international community to stand up to abuse of energy.
"Without a doubt, economic, political and legal unilateralism undermine regional convergence. In this regard, the United States' attempts to impose its own policies on others is a growing danger. A recent example of the United States' unilateralism and indifference towards the opinions of the international community is its decisions to withdraw from the JCPOA. The Islamic Republic of Iran has so far lived up to all his commitments under the JCPOA and the International Atomic Energy Agency (IAEA) has so far confirmed my country's commitment to its obligations for 11 times," he said. He added, "All signatories to the JCPOA have a responsibility regarding the commitments of removing sanctions under the JCPOA, and also based on Resolution 2231 of the UN Security Council and Article 25 of the Charter of the United Nations are responsible to help full implementation of the JCOPA and prevent any move that poses an obstacle on implementation of the JCPOA."
Welcoming efforts by Russia and China in maintaining the JCPOA, Rouhani announced that "Iran has given a limited opportunity to remaining signatories to the JCPOA so that they can give the necessary guarantee in action to help implement all the agreed conditions in the JCPOA and continue being a party to this agreement."
"Definitely, the U.S. has monitored the reactions to its withdrawal from the JCPOA and considers the lack of response to its unilateral withdrawal as not being costly, which will have very bad consequences for the international community," he underlined.
Rouhani's participation at the event bore some economic fruit, ended with the signing of a cooperation document within the framework of the Belt and Road Initiative with China. Included in the document was the agreement to use national currencies in bilateral investments and trade exchanges as well as developing technical and scientific cooperation between the two countries and cooperation between stock exchanges of the two countries.
In addition, concluding the summit, the SCO unanimously issued a statement urging a "full and efficient" implementation of the nuclear deal.
"The member SCO states deem it important to consistently implement the JCPOA on the Iranian nuclear program, and call for participants to strictly observe their obligations with a view to ensuring its full and efficient implementation and promoting peace and stability in the region and globally," read a paragraph of the statement issued at the end of the summit.
It is worth noting that almost concurrent with the SCO summit in Qingdao, the leaders of the Group of Seven (G7) met in Quebec, Canada. The G7 meeting ended in failure as leaders of Canada, France, Germany, and Britain clashed with President Trump over imposition of tariffs on import of steel and aluminum from Europe and Canada. Also one of the main contentions of the other six nations in the G7 group with Trump was their support for the JCPOA.
Cooperation with SCO members is Iran's lever of power   
To have a better view about the achievements of the SCO summit, the Tehran Times conducted a phone interview with Davood Abbasi, an economic expert.
Abbasi said, "Besides China and Russia who are the major powers at United Nations Security Council, the SCO members include Central Asian countries of Kazakhstan, Kyrgyzstan, Tajikistan, Uzbekistan, and India and Pakistan, among which India can be considered as a rising economic power in the world. Iran, Afghanistan, Belarus, and Mongolia are the observer states. Armenia, Azerbaijan, Cambodia, Nepal, Sri Lanka and Turkey are the dialogue partners."
"One of the main goals of SCO 2018 was supporting China's One Belt, One Road (OBOR) project, as a giant economic project which can engage all the named SCO members," he said.
He added, "The interesting point about this project is that China discusses a type of trade cooperation pattern totally different from the one used by the capitalist Westerners."
In fact, the SCO seeks creation of a free trade zone, transition to a preferential trade regime, and facilitating trade between countries along the OBOR route in Central Asia and the Persian Gulf region.
Abbasi said, "All the countries in the region can benefit from the establish the OBOR project, accordingly." In better words, he said, the project can spur all the member states to take part for joint economic benefits.
Answering a question on Iran's participation and role in development of OBOR and the advantages of cooperating with SCO to persevere its national interests, Abbasi said, "I believe some factors, such as the simultaneity of the SCO 2018 with G7 summit and Russia's tendency in trying other formats than G8, can highlight the positive and pivotal role of Iran in OBOR project for China, while such factors could increase Iran's bargaining power in the Shanghai Cooperation Organization as well as the country's capability in convincing EU members to preserve their economic relations with the country after withdrawal of U.S. from the JCPOA."
"Iran can benefit from its participation in the regional agreement of the SCO as an alternative for replacing European countries in its economic relations with those from the region," the economic expert highlighted.
"Under the present conditions, I guess that senior European officials are focusing more than before on continuing their oil purchases from Iran, of course, without encountering any difficulties in their relation with the U.S., specifically Trump. While, China preserved its purchase of 630,000 bpd of Iranian oil in 2017 and has announced its readiness to boost oil purchases from Iran. Besides, the value of Iran-China trade surpassed $37 billion in 2017, showing a 20-percent increase from the preceding year. Therefore, in case Europeans decide to decrease the purchasing volume, Iran has an alternative to replace them with eastern customers," he said, "This improves Iran's bargaining power."
"More effectively than any political measure, Iran's reinforcement of economic ties with regional countries and China can persuade Europeans to tighten their economic ties with Iran, while Europeans cannot ignore the economic benefits they can gain from developing ties with Iran," he concluded.
Considering Iran's relations with Russia and China, Abbasi said the three countries' cooperation on reconstruction of the war-hit Syria and Iraq can additionally improve their trilateral cooperation.
"In better words, the three countries' political cooperation is incrementally being converted into economic collaboration in the region to guarantee their economic benefits."
However, the road to reach such warm ties through OBOR is not smooth.  India disagrees with the OBOR project, which cuts through the Pakistan-controlled Kashmir since it lays claim to that area.
"Here, China has the possibility to resolve the old row between India and China by defining economic benefits for both sides via implementation of the OBOR project. Regarding its firm economic ties with India and Pakistan, Iran can also have a positive impact on India-Pakistan relations as well as that between Armenia and Azerbaijan," Abbasi remarked.
"In fact, when some countries in the region such as Saudi Arabia sow unrest via spreading ideological and political disputes…, Iran is transmitting a direct message to regional countries, inviting them to peace and boosting economic cooperation to guarantee multilateral benefits of all parties," Abbasi stated.
Asked about Iran's membership in the SCO, he expressed content that "some negotiations have been held at the SCO summit to improve Iran's situation in the SCO via accepting it as a permanent member," predicting that Iran's full membership in the regional bloc would be facilitated regarding the current circumstances.
First published at our partner Tehran Times
Morocco may have lost the World Cup but could lead the way in protest
Mounting anger and discontent is simmering across the Arab world much like it did in the walk-up to the 2011 popular revolts that toppled four autocratic leaders. Yet, this time round the anger does not always explode in mass street protests as it recently did in Jordan.
To be sure, fury at tax hikes in Jordan followed the classic pattern of sustained public protests. Protesters, in contrast to the calls for regime change that dominated the 2011 revolts, targeted the government's austerity measures and efforts to broaden its revenue base.
The protesters forced the resignation of prime minister Hani Mulki and the repeal of proposals for tax hikes that were being imposed to comply with conditions of a $723 million International Monetary Fund (IMF) loan to Jordan.
Austerity measures in Egypt linked to a $12 billion IMF loan have also sparked protests in a country in which dissent is brutally repressed. Rare protests erupted last month after the government hiked Cairo's metro fares by up to 250%.
Now, with economists and analysts waiting to see how Egyptians respond to this weekend's austerity measures that include a 50 percent rise in gasoline prices, the third since Egypt floated its currency in 2016, and further hikes expected in July, Morocco may provide a more risk-free and effective model for future protest in one of the most repressive parts of the world.
An online boycott campaign fuelled by anger at increasing consumer prices that uses hashtags such as "let it curdle" and "let it rot" has spread like wildfire across Moroccan social media. A survey in late May by economic daily L'Economiste suggested that 57 percent of Moroccans were participating in the boycott of some of Morocco's foremost oligopolies that have close ties to the government.
The boycott of the likes of French dairy giant Danone, mineral water company Oulmes, and the country's leading fuel distributor, Afriquia SMDC, is proving effective and more difficult to counter. The boycott recently expanded to include the country's fish markets.
The boycott has already halved Danone's sales. The company said it would post a 150 million Moroccan dirham ($15.9m) loss for the first six months of this year, cut raw milk purchases by 30 percent and reduce its number of short-term job contracts.
Danone employees recently staged a sit-in that blamed both the boycott and the government for their predicament. Lahcen Daoudi, a Cabinet minister, resigned after participating in a sit-in organized by Danone workers.
The boycott has also impacted the performance of energy companies. Shares of Total Maroc, the only listed fuel distributor, fell by almost 10 percent since the boycott began in April.
The strength of the boycott that was launched on Facebook pages that have attracted some two million visitors lies in the fact that identifying who is driving it has been difficult because no individual or group has publicly claimed ownership.
The boycott's effectiveness is enhanced by the selectiveness of its targets described by angry consumers on social media as "thieves" and "bloodsuckers."
Anonymity and the virtual character of the protest, in what could become a model elsewhere in the Middle East and North Africa, has made it difficult for the government to crackdown on its organizers.
Yet, even if the government identified the boycott's organizers, it would be unable to impose its will on choices that consumers make daily. The boycott also levels the playing field with even the poorest being able to impact the performance of economic giants.
In doing so, the boycott strategy counters region-wide frustration with the fact that protests have either failed to produce results or led in countries like Syria, Yemen, Egypt and Libya to mayhem, increased repression, and civil war.
"While boycotts solve some of the problems of protest movements,… they also create new challenges…. Diffuse structures…limit their ability to formulate clear demands, negotiate on the basis of these demands, respond to criticism of the movement and, eventually, end the boycott. Boycotts against domestic producers are likely to face criticism that they are hurting the economy and endangering the jobs of their compatriots working in the boycotted companies," cautioned Max Gallien, a London School of Economics PhD candidate who studies the political economy of North Africa.
The Moroccan boycott grew out of months of daily protests in the country's impoverished northern Rif region that the government tried to squash with a carrot-and-stick approach that involved the arrest of hundreds of people.
Underlying the boycott is a deep-seated resentment of the government's incestuous relationship with business leading to its failure to ensure fair competition that many believe has eroded purchasing power among rural poor and the urban middle class alike.
Afriquia is part of the Akwa group owned by Aziz Akhannouch, a Moroccan billionaire ranked by Forbes, who also serves as agriculture minister, heads a political party and is one of the kingdom's most powerful politicians. Oulmes is headed by Miriem Bensalah Chekroun, the former president of Morocco's confederation of enterprises, CGEM.
"The goal of this boycott is to unite Moroccan people and speak with one voice against expensive prices, poverty, unemployment, injustice, corruption and despotism," said one Facebook page that supports the boycott.
It is a message and a methodology that could well resonate across a swath of land stretching from the Atlantic coast of Africa to the Gulf.