John Kerry and Sergey Lavrov to finalize Syria deal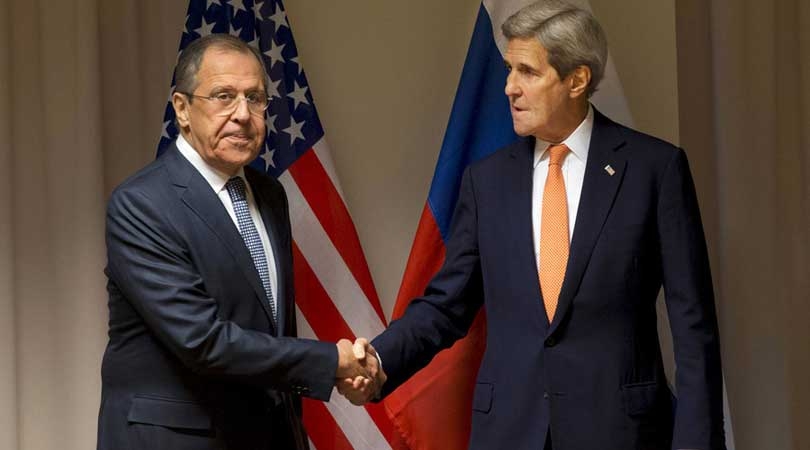 The war in Arab Syria, still going on for years, is a sort of world war as many powers are killing Muslims there as part of America's permanent war project following 9/11. The war has become intense with Russian forces joining the party in Damascus. As in the case of Palestine issue, USA maintains it wants to find a credible solution to the crisis and end war in Syria.
US Secretary of State John Kerry said he plans to meet with Russian Foreign Minister Sergey Lavrov in Geneva on Aug. 26 to try to finalize a deal on Syria, after an initial US-Russian understanding reached at meetings in Moscow on July 15 was upended by intensified fighting in Aleppo. "We want to be very measured in our expectations as we go forward … but we believe this meeting is worth having," State Department spokeswoman Elizabeth Trudeau told journalists on Aug. 24 about the upcoming Kerry-Lavrov meeting in Geneva. When asked if the scheduling of the meeting was a sign a deal was imminent she said: "We still have issues that need to be resolved. However, we are meeting. We are going to put Secretary Kerry and the foreign minister in a face-to-face meeting to try to resolve some of the issues that remain. I don't know where we will be after this. … We are committed to this … advancing."
Kerry, speaking to reporters in Kenya on Aug. 22, said he hoped that meetings between US and Russian technical teams in Geneva this week would make sufficient progress on a plan to expand a cessation of hostilities in Syria nationwide so that a deal could be announced by the end of the month. "Foreign Minister Lavrov and I would meet," Kerry told reporters in Kenya. "But I wouldn't be surprised, if they are positive and constructive, that we do get together sooner rather than later. And, therefore, it is possible that something could be agreed … upon before the end of the month. … I wouldn't express optimism; I would express hope." "This has to end — this Syrian travesty," Kerry added. "It has gone on far too long. It has cost too many lives." A resumption of intra-Syrian political talks "has to be empowered by a legitimate cessation of hostilities and that is what we're working to achieve," he added.
The Russian Foreign Ministry said Kerry and Lavrov spoke by phone Aug. 24. They "discussed the situation in Syria, including in Aleppo … as well as possibilities for coordinating Russian and US efforts to combat terrorism, building on earlier agreements, including the need to draw a clear line between pro-American Syrian opposition groups and terrorist groups using them as cover, and to whom the cease-fire provisions do not apply," the ministry said in a press release.
Earlier, diplomatic sources in Geneva had said that a Kerry-Lavrov meeting was tentatively planned, but that whether one materialized depended on whether there was sufficient progress on Aleppo discussions. "It depends on how the talks progress," a diplomat in Geneva, speaking not for attribution, said on Aug. 24. "Clearly, both sides want a deal … but there is so much mistrust."
Syrian war grew out of the unrest of the 2011 Arab Spring and escalated to armed conflict after President Bashar al-Assad's government violently repressed protests calling for his removal. The Syrian civil war is an ongoing multi-sided armed conflict in Syria in which international interventions have taken place. The war is now being fought among several factions: the Syrian Government, a loose alliance of Syrian Arab rebel groups, the Syrian Democratic Forces, Salafi jihadist groups (including al-Nusra Front) who often co-operate with the rebels, and the Islamic State of Iraq and the Levant (ISIL). The factions receive substantial support from foreign actors, leading many to label the conflict a proxy war waged by both regional and global powers.
Syrian opposition groups formed the Free Syrian Army and seized control of the area surrounding Aleppo and parts of southern Syria. Over time, factions of the Syrian opposition split from their original moderate position to pursue an Islamist vision for Syria as al-Nusra Front and the Islamic State of Iraq and the Levant (ISIL).In the north, Syrian government forces largely withdrew to fight the FSA, allowing the Kurdish YPG to move in and claim de facto autonomy. In 2015 the YPG joined forces with Arab, Assyrian, and Armenian and Turkmen groups forming the Syrian Democratic Forces.
As of February 2016 the government held 40% of Syria, ISIL held around 20-40%, Arab rebel groups (including al-Nusra Front) 20%, and 15-20% is held by the Syrian Democratic Forces. Both the Syrian Democratic Forces and the Syrian Army have made recent gains against ISIL.
International organizations have accused the Syrian government, ISIL and other opposition forces of severe human rights violations and of multiple massacres. The conflict has caused a considerable displacement of population. On 1 February 2016,a formal start of the UN-mediated Geneva Syria peace talks was announced by the UN but fighting continues unabated.[
Syria became an independent republic in 1946, although democratic rule ended with a coup in March 1949, followed by two more coups the same year. A popular uprising against military rule in 1954 saw the army transfer power to civilians. From 1958 to 1961, a brief union with Egypt replaced Syria's parliamentary system with a highly centralized presidential regime. The secular Ba'ath Syrian Regional Branch government came to power through a successful coup d'état in 1963. The next several years Syria went through additional coups and changes in leadership. In March 1971, Hafez al-Assad, an Alawite, declared himself President, a position that he held until his death in 2000.
The Assad government opposed the US's 2003 invasion of Iraq. The Bush administration undertook to destabilize the regime by increasing sectarian tensions, showcasing and publicizing Syrian repression of radical Kurdish and Sunni groups and financing political dissidents. Assad also opposed the Qatar-Turkey pipeline in 2009. A classified 2013 report by a joint U.S. army and intelligence group concluded that the overthrow of Assad would have drastic consequences; the opposition supported by the Obama administration was dominated by jihadist elements.
In 2000, Bashar al-Assad took over as President of Syria upon Hafez al-Assad′s death. He and his wife Asma al-Assad, a Sunni Muslim born and educated in Britain,[110] initially inspired hopes for democratic reforms. A Damascus Spring of social and political debate took place between July 2000 and August 2001. The Damascus Spring largely ended in August 2001 with the arrest and imprisonment of ten leading activists who had called for democratic elections and a campaign of civil disobedience.[112] In the opinion of his critics, Bashar Assad had failed to deliver on promised reforms.]
Syrian President Assad continues to be adamant, refusing to step down, allowing the situation to calm down especially after Russia, on pretext of supporting Assad, also began attacking the Syrians. Meanwhile, in September 2015, an announcement was made about the formation of the New Syrian Army (NSA), which would initially begin its operations by fighting the Islamic State (IS), without any mention about it possibly confronting Bashar al-Assad's forces. This is despite the fact that the NSA commander, Khazal al-Sarhan, told various media outlets that Assad and IS were but two sides of the same coin, and that his army would fight Assad once IS is defeated.
Russia said Aug. 18 that it would be willing to consider cease-fires that would last 48 hours for Aleppo on a weekly basis, provided there could be security guarantees that would enable aid to reach both government-held western Aleppo as well as rebel-held eastern Aleppo. But follow-up meetings on how to implement the plan only resumed in Geneva on Aug. 23 and have been complicated, the diplomatic source said.
US officials said Russian actions had served to bolster popular support for al-Qaeda-linked Jabhat al-Nusra (recently renamed Jabhat Fatah al-Sham), which played a key role in breaking an attempted Syrian regime besiegement of rebel-held eastern Aleppo. "The recent escalation in airstrikes and ground fighting in Aleppo is of deep concern to the United States," a US official, speaking not for attribution, said on Aug. 23. "The Syrian regime and its allies, Russia and Iran, are driving this escalation that is bringing more suffering to an already deplorable humanitarian crisis and complicates efforts to get Syrian parties to the negotiating table. "Russia has pledged to focus its military actions against ISIL (new name given by the CIA to Islamic State) and al-Qaeda in Syria.
The US official said instead of degrading these terrorist organizations, however, Russia's actions have empowered the Syrian regime — which uses barrel bombs and, reportedly, toxic chemicals, like chlorine, on its own people. These actions threaten to galvanize popular support for extremists like al-Qaeda, which claim to defend the population suffering under the rule of a brutal dictator and his allies." "By intervening militarily in this civil war, Russia assumed enormous responsibility for Syria's future," the US official said. "It is long past time for Russia to take the necessary steps to reduce violence against civilians, guarantee open access for humanitarian agencies and create conditions conducive for a political transition."
Meanwhile, Turkey launched its most ambitious operation of the Syrian conflict on Wednesday with President Recep Tayyip Erdogan saying it targeted the double threat from Islamic State extremists and Syrian Kurdish militias. Turkey says the air and ground operation dubbed "Euphrates Shield" will clear jihadists from the Syrian town of Jarabulus, which lies directly opposite the Turkish town of Karkamis.
The operation was launched just days after Ankara appeared to soften its often-confrontational line on Syrian President Bashar al-Assad, whom Turkey wants to see removed. Turkey views the Kurdish People's Protection Units (YPG) militia as an extension of the outlawed Kurdistan Workers' Party (PKK), which it has denounced as a terror organisation along with the EU and the USA. The Syrian Kurds "already occupy a large strip of that border but there is this part in the middle that is still held by ISIS.
At the weekend, Turkish Prime Minister Binali Yildirim for the first time acknowledged that Assad was one of the "actors" in Syria, saying he may need to remain as part of any transition. Turkey is also working more closely with Iran and Russia, Assad's last remaining major allies. So far, no world power has objected to the Turkish operation, which began just hours before US Vice President Joe Biden arrived in Ankara.
There have also been signs of a less confrontational Turkish foreign policy since Yildirim took over from Ahmet Davutoglu as premier in May. Stopping Kurdish advances in the north was now Ankara's primary goal in Syria rather than Assad's removal. "Following the ouster of Ahmet Davutoglu, the architect of Turkey's foreign policy in the last decade, Ankara has recalibrated its Syria policy."Blocking PYD Kurdish advances in Syria, previously Ankara's secondary goal, now trumps Turkey's erstwhile policy of ousting the Assad regime."
The Kerry-Lavrov Geneva discussions "will be the big meeting," Bassam Barabandi, a former Syrian diplomat now with the Syrian opposition High Negotiating Committee, told Al-Monitor on Aug. 23. "Now I think it is very difficult to talk about a cessation of hostilities," Barabandi said. Rebel gains in Aleppo in recent weeks are "very difficult to use as leverage, because part of them are Nusra, so I don't see how Kerry can leverage that" in his discussions with the Russians, Barabandi said.
Even as Kerry expressed hope that a US-Russia deal on Syria could be finalized this month, the Pentagon pushed back on reports a deal was imminent. "Contrary to recent claims, we have not finalized plans with Russia on potential coordinated efforts," Pentagon spokesman Peter Cook told journalists Aug. 22. "Serious issues must first be resolved before we can implement the steps Kerry and Lavrov discussed in Moscow last month…We are not there yet, and the regime and Russian's recent actions only make it harder to consider any potential coordination," Cook added.
Whether or not the Kerry-Lavrov talks on Syrian war would put an end to war and other forms of hostilities in the country and whether or not Assad would step aside at least now when thousands of Syrians have lost their valuable lives because of him and Syria is in shatters.
It would take years for Syria to revive its economy and trade even if a deal is struck by the top powers of the world.
Once destabilized by US led terror forces, chances of revival is a difficult talks as we have seen in Afghanistan and Libya.
Pakistan is perhaps destabilized once for all.
Rejiggering Gulf Security: China's Game of Shadow Boxing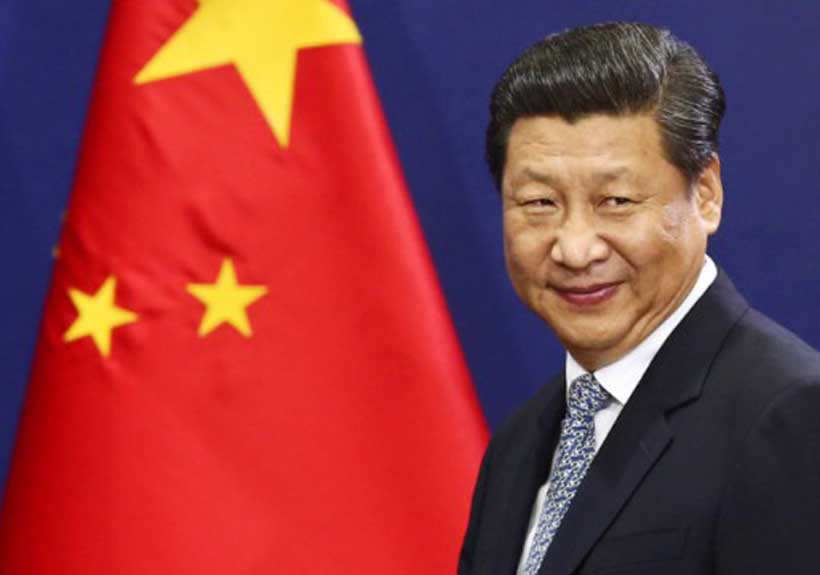 China and its Gulf partners appear to be engaged in a game of shadow boxing.
At stake is the future of Gulf security and the management of differences between the region's conservative monarchies and revolutionary Iran.
With governments passing to one another unofficial subtle messages, intellectuals and journalists are the ones out front in the ring.
In the latest round, Baria Alamuddin, a Lebanese journalist who regularly writes columns for Saudi media, has cast subtlety aside.
Ms. Alamuddin warned in strong and rare anti-Chinese language that China was being lured to financially bankrupt Lebanon by Hezbollah, the Iranian-backed Lebanese Shiite militia.
Writing in Arab News, the Saudi Arabia's primary English-language newspaper, Ms. Alamuddin suggested that the Lebanese Shiite militia's seduction of China was occurring against the backdrop of a potential massive 25-year cooperation agreement between the People's Republic and Iran.
Her tirade was as much a response to reports of the alleged landmark agreement as it was to a declaration by Hezbollah leader Hassan Nasrallah that China was willing to invest in Lebanon's infrastructure.
"Chinese companies are ready to inject money into this country. If this happened, it would bring money to the country, bring investment, create job opportunities, allow heavy transport, and so on," Mr. Nasrallah said.
In a state-controlled media outlet in a country that has studiously backed some of the worst manifestations of Chinese autocratic behavior, including the brutal crackdown on Uyghur Turkic Muslims in Xinjiang and the repression of democratic expression and dissidents, Ms. Alamuddin did not mince words.
"Chinese diplomacy is ruthless, mercantile and self-interested, with none of the West's lip service to human rights, rule of law or cultural interchange."
"Chinese business and investment are welcome, but Beijing has a record of partnering with avaricious African and Asian elites willing to sell out their sovereignty. Chinese diplomacy is ruthless, mercantile and self-interested, with none of the West's lip service to human rights, rule of law or cultural interchange," Ms. Alamuddin charged.
She quoted a Middle East expert of a conservative US think tank as warning that "vultures from Beijing are circling, eyeing tasty infrastructure assets like ports and airports as well as soft power influence through Lebanon's universities."
She went on to assert that "witnessing how dissident voices have been mercilessly throttled in Hong Kong, Tibet and Xinjiang, Lebanese citizens are justifiably fearful that their freedoms and culture would be crushed under heavy-handed, authoritarian Chinese and Iranian dominance, amid the miserable, monolithic atmosphere Hezbollah seeks to impose."
Ms. Alamuddin's outburst implicitly recognized that China was signaling Gulf states, at a time of heightened uncertainty about the reliability of the United States' regional defense umbrella, that they need to reduce tensions with Iran if the People's Republic were to engage in helping create a new regional security architecture.
China was signaling Gulf states, at a time of heightened uncertainty about the reliability of the United States' regional defense umbrella, that they need to reduce tensions with Iran.
Expressing concern about last month's US decision to withdraw troops from Europe a day after Ms. Alamuddin's stark criticism of China, Gulf Cooperation Council (GCC) Assistant Secretary-General for political affairs and negotiation Abdel Aziz Aluwaisheg suggested that "a more systematic framework, with organic feedback to the leadership and decision-makers" was needed for US-Gulf security discussions.
The GCC groups the Gulf's six monarchies: Saudi Arabia, the United Arab Emirates, Qatar, Kuwait, Oman, and Bahrain.
China has been subtly pressuring Gulf states through academic and Communist party publications and public statements by prominent scholars with close ties to the government in Beijing.
Its messaging has primarily targeted Saudi Arabia, the one Gulf state that has so far refrained from engaging in any gestures towards Iran that could facilitate a dialing down of tension.
A recent article in a renowned Chinese journal laid out the principles on which China is willing to break with its long-standing foreign and defense policy principles to engage in Gulf security.
The principles included "seeking common ground while reserving differences," a formula that implies conflict management rather than conflict resolution.
Most Gulf states have extended a helping hand to Iran, the Middle East country most hard hit by the coronavirus pandemic.
The Iranian and UAE foreign ministers agreed in a recent video call to cooperate during the health crisis.
"We agreed to continue dialogue on [the] theme of hope—especially as [the] region faces tough challenges, and tougher choices ahead," said Iranian Foreign Minister Mohammad Javad Zarif on Twitter.
UAE officials said earlier that there were limits to a reduction of tensions. They said a real détente would only be possible once Iran changed its behavior, meaning a halt to support for proxies in Lebanon, Iraq, and Yemen and a surrender of its nuclear ambitions.
The Chinese-Gulf shadow boxing takes place against a slow-moving and seemingly troubled US and Chinese-backed Pakistani effort to mediate between Saudi Arabia and Iran.
The Chinese-Gulf shadow boxing takes place against a slow-moving and seemingly troubled US and Chinese-backed Pakistani effort to mediate between Saudi Arabia and Iran.
Pakistani Prime Minister Imran Khan said last week without providing details that he had averted a military confrontation between the two Gulf powers. He said mediation was "making progress but slowly."
Ms. Alamuddin's column coupled with Saudi Arabia's refusal to capitalize on the pandemic as way to reduce tensions, suggests that Saudi Arabia has yet to fully embrace Mr. Khan's efforts.
Mr. Khan's efforts are likely to be further complicated by the disclosure last month by Pakistani law enforcement that a Baloch gang leader, who was detained in 2017, had confessed to giving "secret information and sketches regarding army installations and officials to foreign agents," believed to be Iranians.
It was not immediately clear what prompted the disclosure.
Pakistan has long asserted that Iran and India have lent support to Baloch nationalist militants responsible for multiple attacks on military and Chinese targets in the South Asian state.
"The Iran-Pakistan border issues are mainly affected by the sectarian rivalry between Iran and Saudi Arabia. For Pakistan, this is a costly and difficult diplomatic situation at this time," said Michael Kugelman, a South Asia scholar at the Wilson Center in Washington.
Pakistan has a vested interest in helping dial down Saudi-Iranian tensions. It takes, however, two to tango and a mediator whose efforts are not burdened by bilateral issues of his own with any of the parties.
To move the pendulum, more will be required than a regional go-between or subtle nudging. With the US likely to refrain from doing the heavy lifting, that task may be left to China. If Ms. Alamuddin is an indication, China is already discovering that changing the paradigm in the Middle East is easier said than done.
Author's note: This story was first published in Inside Arabia
Japan and the UAE share a unique relationship with each other. Japan recognised the UAE as an independent state in 1971 and opened its Embassy in the UAE in 1974 and on the other hand, UAE opened its embassy in Japan in 1973. Both nations share strong bilateral economic relations, dating back to 1961 when the first shipment of the crude oil was exported from Umm Al-Sharif offshore field in Abu Dhabi to Japan. Japan is known to be the world's fourth-largest importer of oil. In 2017, it was the second-largest export market, behind China, for Saudi Arabia, the UAE and Qatar. The UAE became the top destination in the Middle East region for Japan's exports, valued at $7.18 billion in 2019, taking economic bilateral relations to a great level. However, on 19 July 2020, UAE spacecraft rocketed into blue skies from a Japanese launch centre at the start of a seven-month journey to Mars on the Arab's world's first interplanetary mission. This mission gave a boost to its strategic relations as well as space cooperation.
Understanding their bilateral relations
The longstanding cordial relationship between the UAE and Japan has been honored for decades. In 2013, PM Shinzo Abe visited the UAE and both nations jointly announced the statement on the strengthening of the Comprehensive Partnership between Japan and the UAE towards stability and prosperity. The relations between both countries have mostly focused on the economy and trade ever since they established their diplomatic relations. Crown Prince of Abu Dhabi and Deputy Supreme Commander of the UAE Armed Forces H.H. Sheikh Mohammed bin Zayed Al Nahyan visited Japan as an official guest in February 2014 to follow up the Joint Statement issued during the Prime Minister's visit to the UAE in May 2013.
In 2016, the number of Japanese citizens living in the UAE totalled 4,000, while hundreds of Emirati citizens are in Japan for education and investment purposes.
According to the Japan External Trade Organisation (JETRO), In 2017, Japan imported Dh57.3 billion worth of oil from the UAE.
In 2018, the Comprehensive Strategic Partnership Initiative (CSPI) was signed between the two countries when Abe visited the UAE. With the signing of the CSPI, the relationship between Japan and the UAE entered a new era of strategic partnership for the future and joint cooperation strategy between the institutions of the two countries. They also agreed to increase trade in areas which included renewable energy, advanced robots, artificial intelligence and health care. Ensuring cordial energy ties are critical under the CSPI. In 2018, Japan also acquired an oil concession in Abu Dhabi for the coming 40 years which proved that Japan is an important strategic energy partner in the UAE.
The leadership of the UAE has been keen on strengthening ties with Japan in areas like education, scientific research and industry. It aims to seek its ties with Japan to new levels as Japan possesses advanced technology which would serve the sustainable and comprehensive development goals in the UAE. Cooperation is very strong in the education field. The first Japanese school was inaugurated in the UAE in 2009 and began teaching the Arabic language, Islamic education and social studies to the students of the Emirates along with the Japanese curriculum. Furthermore, around 100 students from the Emirates are studying in Japanese universities for bachelors, masters and even PhD degrees.
In 2019, an attempt of initiating to teach Japanese as a second foreign language in some UAE high schools was discussed among both countries. Akihiko Nakajima, new Japanese ambassador to the UAE affirmed that 'both nations are currently giving importance to educational cooperation'. The friendly ties were further strengthened in recent times when Sheikh Hazza Bin Zayed Al-Nahyen, Deputy Chairman of Abu Dhabi Executive Council and Dr Sultan Ahmad Al-Jaber, Minister of State and Special Envoy to Japan, attended the enthronement ceremony of the Japanese Emperor Naruhito in 2019. They wished that Japan shall achieve a brighter and more prosperous future during the 'Reiwa Era'.
Japan and the UAE have been closely cooperating in space sciences. In October 2018, 'KhalifaSat' was launched into outer space from the Tanegashima Space Centre in Japan aboard an H-IIA rocket. In January 2020, Shinzo Abe made an official visit to the UAE and other Gulf countries to further bolster the strong ties which have been evolving on multiple fronts like trade, energy, technology, space and education. "UAE-Japan relations are historic and based on trust, cooperation, respect and mutual interests," Sheikh Mohamed bin Zayed said. Abe and Sheikh Mohammad also witnessed the signing of an Energy Cooperation Agreement between supreme Petroleum Council, represented by Adnoc (Abu Dhabi National Oil Company), and Japan's agency for natural resources and energy.
Space Cooperation
The lift-off of the Mars orbiter named Amal or Hope probe on 19th July 2020, from a Japanese launch centre is to be followed soon by China and the United States. Amal blasted off from the Tanegashima space centre aboard a Mitsubishi heavy industries H-IIA rocket. This has given a major boost to space cooperation between Japan and the UAE. Amal is set to reach Mars by February 2021, which will mark the year the UAE celebrates 50 years since the country's formation. It points out that the launching of Amal was well planned in line with the celebration of 50 years of the country's formation. "The UAE is now a member of the club and we will learn more and we will engage more and we'll continue developing our space exploration program," UAE Space Agency chief Mohammed Al Ahbabi told a joint online news conference from Tanegashima. The Amal statecraft costs $200 million and it is about the size of a small car, carries three instruments to study the upper atmosphere and monitor climate change. Japan's services of such launches are known well for accuracy and on-time record. However, the providers are working to cut costs to be more competitive internationally. Japan also has its own Mars mission planned in 2024, where it aims to send spacecraft to the Martian moon Phobos to collect samples to bring back to Earth in 2029.
The objective of the UAE'S mission is to provide a comprehensive image of the weather dynamics and fundamentally, building a human settlement on Mars within the next 100 days. Omran Sharaf, the mission's project manager said, "What is unique about this mission is that for the first time the scientific community around the world will have a holistic view of the Martian atmosphere at different times of the day at different seasons. Sheikh Abdullah Bin Zayed Al Nahyan, Minister of Foreign Affairs and International Cooperation has said that 'Hope Probe' exemplifies the distinctive strategic partnership between the UAE and Japan.
It is the first time that the UAE attempted to send a deep space mission, that of a mission to Mars. It clearly sends a strong message to the Arab youth that if the UAE is able to reach Mars in less than 50 years, then they certainly can do much more. Emiratis also believed that it represented a step forward for the Arab world and for scientists.
However, energy remains a key priority in the ongoing relations between the two countries which may contribute significantly to energy development and economic diversification in the UAE and Japan. Through space and strategic cooperation, the two countries are looking to expand and deepen the fields of cooperation. A successful mission to Mars will indeed be a major step for the oil-dependent economy seeking a great future in space. The launch of the hope probe demonstrates that effective space cooperation is a driving force for strengthening their bilateral ties. Hope is expected to begin transmitting information back to earth by September 2021.
China-Iran Deal and its implication for the region
From the past few years, the increasing partnership between China and Iran has raised major concerns among many countries. Sinking economy and the recent COVID crisis pushed Iran into the corner and China timely manifested itself as a perfect partner for Iran. The diplomatic ties between these two countries were established in 1971 and over the years China's demand for energy and Iran's isolation from the international community brings them together. The recent investment and security pact covered almost every sector from Telecom, banking, ports, railways and dozens of other projects. Though the secret details of the pact were leaked but soon rejected by Iranian officials.
In 2016, Xi Jinping made a state visit to Iran and then laid the structure of this deal. Soon after in 2019, China announced its plan to invest $ 400 billion. Iran's economy is suffering greatly because of the U.S.A sanctions and needs a lifeline to revive their domestic market. Where one side, most of the companies from different nations pulled out their businesses from Iran, On the other hand, Chinese investment can play a significant role in Iran's survival. This partnership between these two nations directly challenges U.S.A efforts to cut off Iran from the international market arena. China's ever-growing aspirations to increase its involvement in the Middle East perfectly sync with the geostrategic location of Tehran. However, Iran's ambition to become a regional power needs huge investment in its domestic market. That's where both countries see themselves as an emerging partner.
China-Iran Economic Relationship
As a growing economy, China dependence on Iran's oil is quite reasonable. Though this relationship is not just based on the energy, but even on the many different aspects. After 2016, China and Iran were agreed to increase their trading relations to $600 billion in the upcoming 10 years. The agreement was concordant with One Belt, One Road framework. A total of 17 agreements were signed, including one which relates to the Iran nuclear programme. The Chinese will help connect Tehran with Mashhad via their high-speed rail technology. After the sanctions levied by the USA and other western countrieson Iran, its dependence on China increased in recent years. The trading relationship is not only limit to purchase of crude oil but even China's involvement inIran's upstream and downstream production processes through major investments.From 2005, both countries signed seven upstream production agreement with each other. All these agreements involve the state-owned Chinese companies, which shows the significant presence of China in Iran.
China-Iran-Syria Nexus
In December 2019, Syrian president while giving an interview to a Chinese media expressed his willingness to join the BRI project and projected Syria as a perfect partner for the Chinese investment. Syria suffered a lot because of the decades of war and wanted to start the reconstruction activities in their country. Iran and China identified themselves as the ally of Syria and they even wanted to make a strategic nexus between these countries. For the reconstruction process, China is helping Syria from Port of Tripoli by setting up it as a logistic base for the reconstruction process. China wanted to link this port with Syria's "Four sea strategy" and connect the BRI project to the eastern Mediterranean area. This whole economic bloc could challenge the American hegemony in the region. Iran and Syria are already strategic allies in this region and by adding China in this situation, it would promote the autocratic rule in the region to counter America.
The implication for the Region
Trump administration's 'maximum pressure' policy towards Iran pushed many countries like India and Japan to cut off the trading ties with Tehran. This was seen as the major diplomatic blunder made by the U.S.A because of the one very simple reason that these countries could play a major role to find the middle ground for the talks between Iran and the west.As claimed by the reports, China will increase its partnership to build the ports too, getting a port in the Persian Gulf will provide the major boost to Chinese strategic plans. If China successfully expands its presence in Iran then it will lead to the major conflict between the U.S.A and China. Though China has already invested heavily on the Gwadar port, it will not hesitate to gain an upper hand in the Persian Gulf. From where Beijing can keep its eye on U.S.A movements in the region. India's investment progress in Iran was slow and that's the reason recently Iran started the railway track construction work on its own.
The growing instability in the region will further escalate, as the partnership will grow between these countries. China's ambitions to expand its BRI projects and Syria's "Four seas strategy" can become a foundation for future projects in the whole region. Syrian President Bashar Assad has promoted this four seas strategy since 2009 that would transform the Damascus into a major trading hub. Syria wanted to form an economic space between Iran, Iraq, Turkey and Syria that will shape a new bloc of nations in the region. This plan includes the four seas of the region from the Mediterranean, Caspian, Black Sea, and the Persian Gulf, which makes easy for these nations from investment to transportation.
The expanding partnership will lead to the architecture of a security structure between these three countries and will directly undermine the U.S.A presence in the region. The gradual consolidation of powers based on Anti-American and Anti-west sentiments can even form a proper security alliance where the inclusion of Turkey would be a possible scenario shortly. All these countries kind of having the same political regime one way or another, so for them it will be a great strategy to stop America's presence from their domestic issues. If U.S.A wants to stop China's involvement in the region, it needs to involve its key Asian partner, so that there will be some major power players in the region to maintain stability.