John Kerry and Sergey Lavrov to finalize Syria deal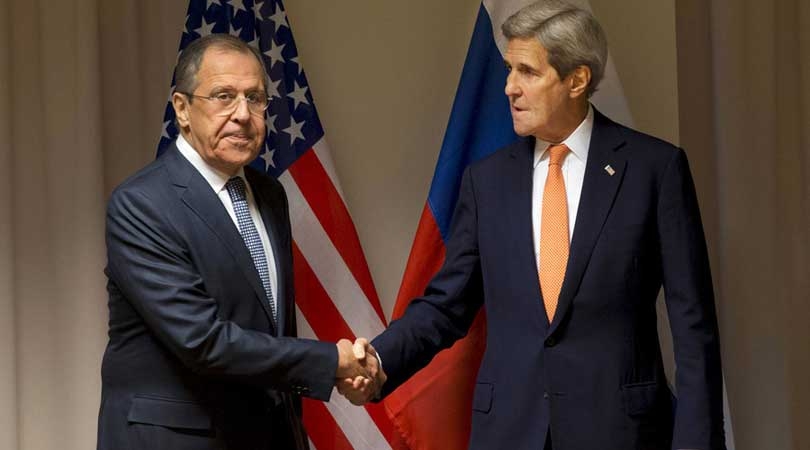 The war in Arab Syria, still going on for years, is a sort of world war as many powers are killing Muslims there as part of America's permanent war project following 9/11. The war has become intense with Russian forces joining the party in Damascus. As in the case of Palestine issue, USA maintains it wants to find a credible solution to the crisis and end war in Syria.
US Secretary of State John Kerry said he plans to meet with Russian Foreign Minister Sergey Lavrov in Geneva on Aug. 26 to try to finalize a deal on Syria, after an initial US-Russian understanding reached at meetings in Moscow on July 15 was upended by intensified fighting in Aleppo. "We want to be very measured in our expectations as we go forward … but we believe this meeting is worth having," State Department spokeswoman Elizabeth Trudeau told journalists on Aug. 24 about the upcoming Kerry-Lavrov meeting in Geneva. When asked if the scheduling of the meeting was a sign a deal was imminent she said: "We still have issues that need to be resolved. However, we are meeting. We are going to put Secretary Kerry and the foreign minister in a face-to-face meeting to try to resolve some of the issues that remain. I don't know where we will be after this. … We are committed to this … advancing."
Kerry, speaking to reporters in Kenya on Aug. 22, said he hoped that meetings between US and Russian technical teams in Geneva this week would make sufficient progress on a plan to expand a cessation of hostilities in Syria nationwide so that a deal could be announced by the end of the month. "Foreign Minister Lavrov and I would meet," Kerry told reporters in Kenya. "But I wouldn't be surprised, if they are positive and constructive, that we do get together sooner rather than later. And, therefore, it is possible that something could be agreed … upon before the end of the month. … I wouldn't express optimism; I would express hope." "This has to end — this Syrian travesty," Kerry added. "It has gone on far too long. It has cost too many lives." A resumption of intra-Syrian political talks "has to be empowered by a legitimate cessation of hostilities and that is what we're working to achieve," he added.
The Russian Foreign Ministry said Kerry and Lavrov spoke by phone Aug. 24. They "discussed the situation in Syria, including in Aleppo … as well as possibilities for coordinating Russian and US efforts to combat terrorism, building on earlier agreements, including the need to draw a clear line between pro-American Syrian opposition groups and terrorist groups using them as cover, and to whom the cease-fire provisions do not apply," the ministry said in a press release.
Earlier, diplomatic sources in Geneva had said that a Kerry-Lavrov meeting was tentatively planned, but that whether one materialized depended on whether there was sufficient progress on Aleppo discussions. "It depends on how the talks progress," a diplomat in Geneva, speaking not for attribution, said on Aug. 24. "Clearly, both sides want a deal … but there is so much mistrust."
Syrian war grew out of the unrest of the 2011 Arab Spring and escalated to armed conflict after President Bashar al-Assad's government violently repressed protests calling for his removal. The Syrian civil war is an ongoing multi-sided armed conflict in Syria in which international interventions have taken place. The war is now being fought among several factions: the Syrian Government, a loose alliance of Syrian Arab rebel groups, the Syrian Democratic Forces, Salafi jihadist groups (including al-Nusra Front) who often co-operate with the rebels, and the Islamic State of Iraq and the Levant (ISIL). The factions receive substantial support from foreign actors, leading many to label the conflict a proxy war waged by both regional and global powers.
Syrian opposition groups formed the Free Syrian Army and seized control of the area surrounding Aleppo and parts of southern Syria. Over time, factions of the Syrian opposition split from their original moderate position to pursue an Islamist vision for Syria as al-Nusra Front and the Islamic State of Iraq and the Levant (ISIL).In the north, Syrian government forces largely withdrew to fight the FSA, allowing the Kurdish YPG to move in and claim de facto autonomy. In 2015 the YPG joined forces with Arab, Assyrian, and Armenian and Turkmen groups forming the Syrian Democratic Forces.
As of February 2016 the government held 40% of Syria, ISIL held around 20-40%, Arab rebel groups (including al-Nusra Front) 20%, and 15-20% is held by the Syrian Democratic Forces. Both the Syrian Democratic Forces and the Syrian Army have made recent gains against ISIL.
International organizations have accused the Syrian government, ISIL and other opposition forces of severe human rights violations and of multiple massacres. The conflict has caused a considerable displacement of population. On 1 February 2016,a formal start of the UN-mediated Geneva Syria peace talks was announced by the UN but fighting continues unabated.[
Syria became an independent republic in 1946, although democratic rule ended with a coup in March 1949, followed by two more coups the same year. A popular uprising against military rule in 1954 saw the army transfer power to civilians. From 1958 to 1961, a brief union with Egypt replaced Syria's parliamentary system with a highly centralized presidential regime. The secular Ba'ath Syrian Regional Branch government came to power through a successful coup d'état in 1963. The next several years Syria went through additional coups and changes in leadership. In March 1971, Hafez al-Assad, an Alawite, declared himself President, a position that he held until his death in 2000.
The Assad government opposed the US's 2003 invasion of Iraq. The Bush administration undertook to destabilize the regime by increasing sectarian tensions, showcasing and publicizing Syrian repression of radical Kurdish and Sunni groups and financing political dissidents. Assad also opposed the Qatar-Turkey pipeline in 2009. A classified 2013 report by a joint U.S. army and intelligence group concluded that the overthrow of Assad would have drastic consequences; the opposition supported by the Obama administration was dominated by jihadist elements.
In 2000, Bashar al-Assad took over as President of Syria upon Hafez al-Assad′s death. He and his wife Asma al-Assad, a Sunni Muslim born and educated in Britain,[110] initially inspired hopes for democratic reforms. A Damascus Spring of social and political debate took place between July 2000 and August 2001. The Damascus Spring largely ended in August 2001 with the arrest and imprisonment of ten leading activists who had called for democratic elections and a campaign of civil disobedience.[112] In the opinion of his critics, Bashar Assad had failed to deliver on promised reforms.]
Syrian President Assad continues to be adamant, refusing to step down, allowing the situation to calm down especially after Russia, on pretext of supporting Assad, also began attacking the Syrians. Meanwhile, in September 2015, an announcement was made about the formation of the New Syrian Army (NSA), which would initially begin its operations by fighting the Islamic State (IS), without any mention about it possibly confronting Bashar al-Assad's forces. This is despite the fact that the NSA commander, Khazal al-Sarhan, told various media outlets that Assad and IS were but two sides of the same coin, and that his army would fight Assad once IS is defeated.
Russia said Aug. 18 that it would be willing to consider cease-fires that would last 48 hours for Aleppo on a weekly basis, provided there could be security guarantees that would enable aid to reach both government-held western Aleppo as well as rebel-held eastern Aleppo. But follow-up meetings on how to implement the plan only resumed in Geneva on Aug. 23 and have been complicated, the diplomatic source said.
US officials said Russian actions had served to bolster popular support for al-Qaeda-linked Jabhat al-Nusra (recently renamed Jabhat Fatah al-Sham), which played a key role in breaking an attempted Syrian regime besiegement of rebel-held eastern Aleppo. "The recent escalation in airstrikes and ground fighting in Aleppo is of deep concern to the United States," a US official, speaking not for attribution, said on Aug. 23. "The Syrian regime and its allies, Russia and Iran, are driving this escalation that is bringing more suffering to an already deplorable humanitarian crisis and complicates efforts to get Syrian parties to the negotiating table. "Russia has pledged to focus its military actions against ISIL (new name given by the CIA to Islamic State) and al-Qaeda in Syria.
The US official said instead of degrading these terrorist organizations, however, Russia's actions have empowered the Syrian regime — which uses barrel bombs and, reportedly, toxic chemicals, like chlorine, on its own people. These actions threaten to galvanize popular support for extremists like al-Qaeda, which claim to defend the population suffering under the rule of a brutal dictator and his allies." "By intervening militarily in this civil war, Russia assumed enormous responsibility for Syria's future," the US official said. "It is long past time for Russia to take the necessary steps to reduce violence against civilians, guarantee open access for humanitarian agencies and create conditions conducive for a political transition."
Meanwhile, Turkey launched its most ambitious operation of the Syrian conflict on Wednesday with President Recep Tayyip Erdogan saying it targeted the double threat from Islamic State extremists and Syrian Kurdish militias. Turkey says the air and ground operation dubbed "Euphrates Shield" will clear jihadists from the Syrian town of Jarabulus, which lies directly opposite the Turkish town of Karkamis.
The operation was launched just days after Ankara appeared to soften its often-confrontational line on Syrian President Bashar al-Assad, whom Turkey wants to see removed. Turkey views the Kurdish People's Protection Units (YPG) militia as an extension of the outlawed Kurdistan Workers' Party (PKK), which it has denounced as a terror organisation along with the EU and the USA. The Syrian Kurds "already occupy a large strip of that border but there is this part in the middle that is still held by ISIS.
At the weekend, Turkish Prime Minister Binali Yildirim for the first time acknowledged that Assad was one of the "actors" in Syria, saying he may need to remain as part of any transition. Turkey is also working more closely with Iran and Russia, Assad's last remaining major allies. So far, no world power has objected to the Turkish operation, which began just hours before US Vice President Joe Biden arrived in Ankara.
There have also been signs of a less confrontational Turkish foreign policy since Yildirim took over from Ahmet Davutoglu as premier in May. Stopping Kurdish advances in the north was now Ankara's primary goal in Syria rather than Assad's removal. "Following the ouster of Ahmet Davutoglu, the architect of Turkey's foreign policy in the last decade, Ankara has recalibrated its Syria policy."Blocking PYD Kurdish advances in Syria, previously Ankara's secondary goal, now trumps Turkey's erstwhile policy of ousting the Assad regime."
The Kerry-Lavrov Geneva discussions "will be the big meeting," Bassam Barabandi, a former Syrian diplomat now with the Syrian opposition High Negotiating Committee, told Al-Monitor on Aug. 23. "Now I think it is very difficult to talk about a cessation of hostilities," Barabandi said. Rebel gains in Aleppo in recent weeks are "very difficult to use as leverage, because part of them are Nusra, so I don't see how Kerry can leverage that" in his discussions with the Russians, Barabandi said.
Even as Kerry expressed hope that a US-Russia deal on Syria could be finalized this month, the Pentagon pushed back on reports a deal was imminent. "Contrary to recent claims, we have not finalized plans with Russia on potential coordinated efforts," Pentagon spokesman Peter Cook told journalists Aug. 22. "Serious issues must first be resolved before we can implement the steps Kerry and Lavrov discussed in Moscow last month…We are not there yet, and the regime and Russian's recent actions only make it harder to consider any potential coordination," Cook added.
Whether or not the Kerry-Lavrov talks on Syrian war would put an end to war and other forms of hostilities in the country and whether or not Assad would step aside at least now when thousands of Syrians have lost their valuable lives because of him and Syria is in shatters.
It would take years for Syria to revive its economy and trade even if a deal is struck by the top powers of the world.
Once destabilized by US led terror forces, chances of revival is a difficult talks as we have seen in Afghanistan and Libya.
Pakistan is perhaps destabilized once for all.
Turkey's 18-month state of emergency has led to profound human rights violations
The United Nations on Tuesday called on Turkey to end its 18-month-old state of emergency, saying that the routine extension of emergency powers has resulted in "profound" human rights violations against hundreds of thousands of people and may have lasting impact on the country's socio-economic fabric.
"One of the most alarming findings of the report […] is how Turkish authorities reportedly detained some 100 women who were pregnant or had just given birth, mostly on the grounds that they were 'associates' of their husbands, who are suspected of being connected to terrorist organizations," said Zeid Ra'ad Al Hussein, the UN High Commissioner for Human Rights, in a news release announcing the findings.
"Some were detained with their children and others violently separated from them. This is simply outrageous, utterly cruel, and surely cannot have anything whatsoever to do with making the country safer," he added.
While taking note of the complex challenges Turkey has faced in addressing the attempted coup in July 2016, as well as a number of terrorist attacks, the report cites that the sheer number, frequency and lack of connection of several emergency decrees to any national threat seem to point to the use of emergency powers to stifle any form of criticism or dissent vis-à-vis the Government.
During the 18-month state of emergency, nearly 160,000 people have been arrested; 152,000 civil servants dismissed, many arbitrarily; and teachers, judges and lawyers dismissed or prosecuted.
The report also documents the use of torture and ill-treatment in custody, including severe beatings, threats of sexual assault and actual sexual assault, electric shocks and waterboarding by police, gendarmerie, military police and security forces.
It also notes that about 300 journalists have been arrested under allegations that their publications contained "apologist sentiments regarding terrorism" or other "verbal act offences" or for "membership" in terrorist organisations.
Over 100,000 websites were reportedly blocked in 2017, including a high number of pro-Kurdish websites and satellite TV channels.
Covering the period January to December last year, the report also states that the April 2017 referendum which extended the President's executive powers into both the legislature and the judiciary as seriously problematic, resulting in interference with the work of the judiciary and curtailment of parliamentary oversight over the executive branch.
By the end of 2017, 22 emergency decrees were promulgated with a further two more since the cut-off date of the report.
The report further underlines the need ensure independent, individualized reviews and compensation for victims of arbitrary detentions and dismissals and calls on Turkey to promptly end the state of emergency, restore normal functioning of State institutions, as well as revise and release all legislation not compliant with its international human rights obligations, including the emergency decrees.
"I urge the Government of Turkey to ensure that these allegations of serious human rights violations are investigated and the perpetrators are brought to justice," said Mr. Zeid, also calling on the Government to allow full and unfettered access to his Office (OHCHR) to be able to directly, independently and objectively assess the human rights situation in the southeast of the country.
Saudi moderation: How far will Crown Prince Mohammed go?
In his effort to improve Saudi Arabia's badly tarnished image and project the kingdom as embracing an unidentified form of moderate Islam, Saudi Crown Prince Mohammed bin Salman has hinted that he envisions a conservative rather than an ultra-conservative society, but not one in which citizens are fully free to make personal, let alone political choices of their own.
Prince Mohammed's vision, although not spelled out in great detail, seemed evident in an interview with CBS News' 60 minutes, his first with a Western television program, on the eve of a three-week trip that is taking him across the United States.
The trip is designed to cement relations with the Trump administration following the dismissal of Secretary of State Rex Tillerson, who Prince Mohammed and his United Arab Emirates counterpart, Mohammed bin Zayed, viewed as unenthusiastic about their hegemonic designs for a swath of land stretching across the Middle East from the Horn of Africa to South Asia, including the Saudi-UAE-led ten-month old diplomatic and economic boycott of Qatar.
The visit comes barely a month before Mr. Trump has to decide whether to pull the United States out of the 2015 international agreement with Iran designed to curb the Islamic republic's nuclear program. A withdrawal could lead to the agreement's collapse and spark a nuclear arms race in the Middle East.
"Saudi Arabia does not want to acquire any nuclear bomb, but without a doubt, if Iran developed a nuclear bomb, we will follow suit as soon as possible," Prince Mohammed, who is locked into existential battle with Iran, told CBS.
It is also intended to project the kingdom as a beacon of moderation rather than a promoter of ultra-conservatism and cutting-edge modernity led by a young reformist but autocratic king-in-waiting.
In a meeting in the White House with Donald J, Trump, on the first day of his visit, both Prince Mohammed and the US president touted the economic benefits of the two countries' relationship, with massive US arms sales and other deals, including nuclear sales that would involve reducing US safeguards by giving the kingdom the right to enrich uranium. Both leaders asserted that the deals would significantly boost employment in both Saudi Arabia and the United States.
Besides Mr. Trump, Prince Mohammed is scheduled to meet members of Congress, think tanks and academics, oil executives, businessmen and representatives of Silicon Valley's high-tech industry and Hollywood.
Both Prince Mohammed and Mr. Trump need to demonstrate economic progress to boost or cement their popularity at home. The crown prince needs to demonstrate to Saudis that he is feted as a leader despite mounting international criticism of his conduct of the ill-fated, three-year old war in Yemen, his domestic power and asset grab under the mum of an anti-corruption campaign, the kingdom's long-standing severe political and social restrictions, and its four-decade long global support for ultra-conservative Sunni Islam.
Beyond concern about the high civilian casualty rate in Yemen and the war having sparked one of the world's worst current humanitarian crises, many fear that potentially destabilizing anti-Saudi sentiment in the ravaged country will persist long after the guns fall silent.
Those fears are reinforced by contradictory Saudi measures. While on the one hand pledging billions of dollars in aid and allowing at least some relief to get into the country, Saudi Arabia has aggravated the crisis in the country by expelling tens of thousands of Yemeni workers in recent months.
Prince Mohammed also needs to demonstrate that he can attract foreign investment despite the arbitrary nature of the arrest in November of hundreds of senior members of the ruling Al Saud family, prominent businessmen, and high-ranking officials, and reports that at least some of them were abused and tortured during their detention.
Most of the detainees were released after surrendering control of assets and/or paying substantial amounts of money. The government said it expects to raise $100 billion from the asset grab.
Prince Alwaleed bin Talal, one of the most prominent detainees and the kingdom's most-high-profile businessman, who seemed to put up a fight during his detention, has since his release in January said that he would be investing in some of Prince Mohammed's pet projects.
Prince Mohammed bolstered his image by vowing to return Saudi Arabia to an unidentified form of moderate Islam; forcing the country's ultra-conservative religious establishment to endorse his reforms; suggesting that the kingdom may halt its massive global funding of Sunni Muslim ultra-conservatism to counter Iran's revolutionary zeal; surrendering control of the Saudi-managed Great Mosque in Brussels; granting women the right to drive, join the military, and attend male sporting events; and creating a modern entertainment sector.
Despite the boldness of his moves, Prince Mohammed has sent mixed messages about how far he is prepared to go. Women and men mix at concerts and theatre plays but are segregated in the three sport stadiums that have been declared open to women.
While the crown prince has been decisive in his power and asset grab, he has yet to say a clear word about lifting Saudi Arabia's system of male guardianship that gives male relatives control of their lives. Similarly, there is no indication that gender segregation in restaurants and other public places will be lifted.
Asked about the guardianship, Prince Mohammed evaded specifics. "Today, Saudi women still have not received their full rights. There are rights stipulated in Islam that they still don't have. We have come a very long way and have a short way to go," he said.
Middle East Scholar As'ad Abu Khalil, whose blog is named The Angry Arab News Service, posted a picture of Prince Salman's meeting with Mr. Trump, noting that there was not one woman on either side of the conference table.
Speaking Arabic despite having learnt to speak English by watching movies, Prince Mohammed appeared in his CBS interview to defend allowing a mingling of the sexes in the work place while shying away from ultra-conservative Islam's ban on a man meeting a woman unaccompanied by a male relative in non-professional or non-public settings.
"We have extremists who forbid mixing between the two sexes and are unable to differentiate between a man and a woman alone together and their being together in a workplace," Prince Mohammed said.
The crown prince conceded that women had the right to determine what to wear if their clothes were "decent, respectful clothing, like men." He did not define what would constitute decent but insisted that it did not have to be a "black abaya or a black head cover."
No doubt, Prince Mohammed's social reforms and promised economic change provide him significant arrows in his multimillion dollar public relations blitz. That is getting him the support of the White House.
"Getting a strong presidential endorsement of the crown prince's trip to the U.S. to encourage investment in Saudi Arabia, that, I think, could be something that could be done," said Anthony H. Cordesman, the Arleigh A. Burke chair in strategy at the Washington-based Center for Strategic and International Studies.
Translating that into real policy and dollars and cent could, however, prove to be a harder sell.
The role of spin doctors in the Eastern Ghouta crisis
When it comes to war, it is exceedingly important to get all the facts straight: always remember there are—at least—two sides to every story and be careful to distinguish reality from propaganda.
Many words have been spoken about the ongoing crisis in Eastern Ghouta: the Damascus district, in fact, is paying the price of the umpteenth conflict between pro-Syrian government forces and rebels.
The protests against President Bashar al-Assad have been going on in the area since 2011 and the next year the rebel fighters managed to establish their control over the territory.
The initial tensions rapidly developed into a full-blown war that did not spared civilians—including a large percentage of children—from being a target.
In the last few weeks, a global campaign of solidarity—#IAmStillAlive—has been launched on social media platforms to support the children trapped in the rebel-held enclave, where there is almost no food left, nor medical supplies and humanitarian access has been completely cut off.
In this regard, it is necessary to remember that international aid convoys have been regularly delivered from the United Nations, the Syrian government, the Syrian Arab Red Crescent and Russia. It became known, anyway, that the supplies do not always reach civilians falling, instead, directly in the hands of the rebels.
But who are exactly the so-called "rebels"?
Numerous groups are active inside the besieged region and, despite being in opposition to each other, they stand together against the Syrian Arab Army.
Jaysh al-Islam represents the largest factionwith an estimated 10-15,000 members. Formerly allied with Al-Nusra Front—al-Qaeda's branch in Syria— they conducted several deadly attacks, such as the infamous "Adra massacre".
The Syrian Military claimed that in last December 2013 over 80 people were executed in the city of Adra and, during the following days, dozens of others were kidnapped and use as human shields.
Geopolitical analyst Patrick Henningsen believes that the foreign encouragement of rebel forces was to blame for that tragedy; in an interview with RT he goes even further, claiming that "there is involvement by the Western intelligence agencies that have links to some of those radical jihadist groups."
The Hay'-at Tharir al-Sham and the Faylaq al-Rahman—which is also affiliated to the Free Syrian Army—organizations are linked to al-Qaeda and they are responsible for a huge amount of atrocities, including the heinous attack that took place on 16 December 2016 in the Al-Midan neighborhood in Damascus, when jihadi-father Abu Nimr al-Suri sent his two daughters to die in a suicide-bombing attack against the police station.
The Ahrar al-Sham coalition is probably the biggest terrorist group in Syria and it is currently aligned with Jaysh al-Islam against al-Nusra Front.
The criminal organizations above—some more than others—aim at the extermination of Syrian religious minorities, proving themselves to be nothing but terrorist groups.
Furthermore, they are said to have received "donations" from Saudi Arabia, Qatar ,Turkey and the US, although they rejected those claims.
The Western Media seemed initially reluctant to highlight the Tafkiri-Jihadi inspired nature of the rebels, depicting them as "moderate rebels" or "freedom fighters".
Once again, it is necessary to check the accuracy of sources of information and report on solid facts exclusively.
It can be quite tricky, since much of the country is inaccessible to journalists on the ground and news coming out is often filtered through "media activists" or unofficial outlets.
Every major newspaper and outlet gleaned the information from the often quoted Syrian Observatory for Human Rights (SOHR), a UK-based monitoring group—actually a one-man band—run by Rami Abdul Rahman.
According to the New York Times "military analysts in Washington follow its body counts of Syrian and rebel soldiers to gauge the course of the war," as well as providing mainstream media with daily updates about the Syrian crisis.
In the same article from the NYT, he admitted to receive "small subsidies from the European Union and one European country that he declines to identify."
Mr. Abdul Rahman—born Osama Suleiman—is a three-term convicted criminal in Syria, due to his years of activism against the Assad regime.
He fled to the United Kingdom eighteen years ago and the government relocated him to Coventry, in the West Midlands region; he has not returned to his home country ever since.
In the UK, he has had direct access to the Foreign and Commonwealth Office in London, where has been documented meeting with the former Foreign Secretary William Hague.
Both Hague and current Foreign Minister Tobias Ellwood endorse Rahman's political position.
Among Rahman's network of contacts there is Rafid al-Janabi, better known as "Curveball". The Iraqi defector played a crucial role in the 2003 Iraq War, falsely accusing Saddam Hussein of having weapons of mass destruction and pushing the US and its allies into launching offensive.
In 2011 he eventually admitted that he "had the chance to fabricate something to topple the regime," and spread the fake information that became the centerpiece of then-Secretary of State Colin Powell's pro-intervention speech at the United Nations.
It is hard to believe that the Western press never considered to examine its main source's political connections and background before using hisnot-necessarily-objective reports.
Funded in 2013 by  ex-military officerJames Le Mesurier, the White Helmets NGO aims to rescue civilian survivors trapped in bombed buildings and the people who   volunteer for the corps are hailed as some sort of heroes in the West.
The Netflix heart-breaking Oscar-winning documentary ("The White Helmets", 2016) focuses indeed on the "perilous work of volunteers who brave falling bombs to rescue civilians from the carnage of Syria's civil war."
They present themselves as an unarmed, non-governmental and neutralorganization, yet they have had a leading role in various controversial events.
Although they claim to be apolitical, they actually actively campaign for a no-fly zone and they are largely funded by Western governments which advocate for regime change.Their principal funder is, in fact, the United States Agency for International Development (USAID), along with the UK, and Europe.
They work exclusively in rebel-controlled areas, which raised doubts about the independence of their reports; in addition, some volunteers happened to be photographed while assisting in terrorist executions.
In 2016 members of the group were caught staging a rescue scene, later justified as their version of the popular 'mannequin challenge,' in which people were supposed to freeze for the camera. They apologized for the fact calling it an "error of judgment," but the footage has been subject of harsh criticism on social media.
This does not mean that their effort as rescue workers is unappreciated, but it truly indicates the need to examine whatever information they provide with a critical eye.
In order to understand the reasons that could lead media to distort information, we have to introduce the concept of "spin".
Spin is a form of propaganda used by public relations agencies—referred as "spin doctors" in this case—which provide a biased interpretation of facts and data to influence public perception on significant matters.
Cited as an invaluable source of information by Western media outlets, the Syria Campaign is a public relations and marketing company that, among other operations, branded and promoted the White Helmets to the international public.
The agency presents itself as impartial and non-political, yet they not only called for a no-fly zone, but also pushed for military intervention in several occasions.
They even attacked the UN's work in Syria by publishing a 50-page report on a dedicated website that used a UN logo soaked in blood.
Ironically, among the supporters of their anti-UN campaign was the previously mentioned Ahrar Al-Sham.
The supposed most-reliable media outlets feed us altered and even fake news sometimes.
The majority of information we have about the Syria's war do not come from  disinterested observers: citizen journalists and activists, in fact, are either pro-rebel or pro-regime, which is no guarantee of objectivity.
In conclusion, we have a duty to question where the news is coming from, whether it has been manipulated or whether there is an intentional attempt to shape our own opinion.