John Kerry and Sergey Lavrov to finalize Syria deal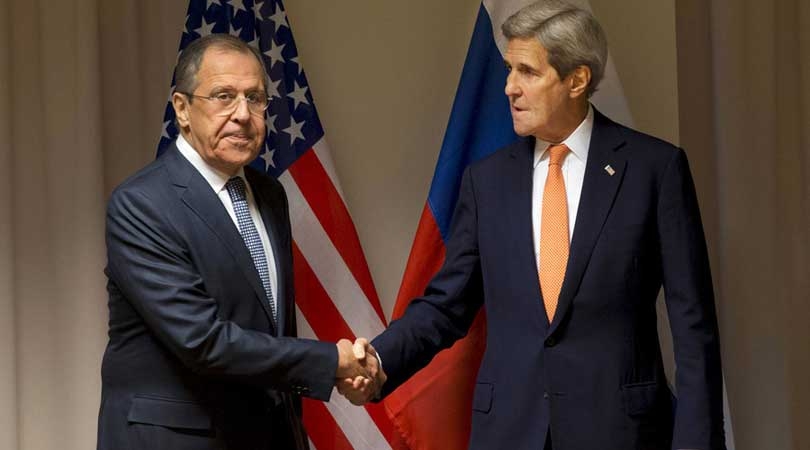 The war in Arab Syria, still going on for years, is a sort of world war as many powers are killing Muslims there as part of America's permanent war project following 9/11. The war has become intense with Russian forces joining the party in Damascus. As in the case of Palestine issue, USA maintains it wants to find a credible solution to the crisis and end war in Syria.
US Secretary of State John Kerry said he plans to meet with Russian Foreign Minister Sergey Lavrov in Geneva on Aug. 26 to try to finalize a deal on Syria, after an initial US-Russian understanding reached at meetings in Moscow on July 15 was upended by intensified fighting in Aleppo. "We want to be very measured in our expectations as we go forward … but we believe this meeting is worth having," State Department spokeswoman Elizabeth Trudeau told journalists on Aug. 24 about the upcoming Kerry-Lavrov meeting in Geneva. When asked if the scheduling of the meeting was a sign a deal was imminent she said: "We still have issues that need to be resolved. However, we are meeting. We are going to put Secretary Kerry and the foreign minister in a face-to-face meeting to try to resolve some of the issues that remain. I don't know where we will be after this. … We are committed to this … advancing."
Kerry, speaking to reporters in Kenya on Aug. 22, said he hoped that meetings between US and Russian technical teams in Geneva this week would make sufficient progress on a plan to expand a cessation of hostilities in Syria nationwide so that a deal could be announced by the end of the month. "Foreign Minister Lavrov and I would meet," Kerry told reporters in Kenya. "But I wouldn't be surprised, if they are positive and constructive, that we do get together sooner rather than later. And, therefore, it is possible that something could be agreed … upon before the end of the month. … I wouldn't express optimism; I would express hope." "This has to end — this Syrian travesty," Kerry added. "It has gone on far too long. It has cost too many lives." A resumption of intra-Syrian political talks "has to be empowered by a legitimate cessation of hostilities and that is what we're working to achieve," he added.
The Russian Foreign Ministry said Kerry and Lavrov spoke by phone Aug. 24. They "discussed the situation in Syria, including in Aleppo … as well as possibilities for coordinating Russian and US efforts to combat terrorism, building on earlier agreements, including the need to draw a clear line between pro-American Syrian opposition groups and terrorist groups using them as cover, and to whom the cease-fire provisions do not apply," the ministry said in a press release.
Earlier, diplomatic sources in Geneva had said that a Kerry-Lavrov meeting was tentatively planned, but that whether one materialized depended on whether there was sufficient progress on Aleppo discussions. "It depends on how the talks progress," a diplomat in Geneva, speaking not for attribution, said on Aug. 24. "Clearly, both sides want a deal … but there is so much mistrust."
Syrian war grew out of the unrest of the 2011 Arab Spring and escalated to armed conflict after President Bashar al-Assad's government violently repressed protests calling for his removal. The Syrian civil war is an ongoing multi-sided armed conflict in Syria in which international interventions have taken place. The war is now being fought among several factions: the Syrian Government, a loose alliance of Syrian Arab rebel groups, the Syrian Democratic Forces, Salafi jihadist groups (including al-Nusra Front) who often co-operate with the rebels, and the Islamic State of Iraq and the Levant (ISIL). The factions receive substantial support from foreign actors, leading many to label the conflict a proxy war waged by both regional and global powers.
Syrian opposition groups formed the Free Syrian Army and seized control of the area surrounding Aleppo and parts of southern Syria. Over time, factions of the Syrian opposition split from their original moderate position to pursue an Islamist vision for Syria as al-Nusra Front and the Islamic State of Iraq and the Levant (ISIL).In the north, Syrian government forces largely withdrew to fight the FSA, allowing the Kurdish YPG to move in and claim de facto autonomy. In 2015 the YPG joined forces with Arab, Assyrian, and Armenian and Turkmen groups forming the Syrian Democratic Forces.
As of February 2016 the government held 40% of Syria, ISIL held around 20-40%, Arab rebel groups (including al-Nusra Front) 20%, and 15-20% is held by the Syrian Democratic Forces. Both the Syrian Democratic Forces and the Syrian Army have made recent gains against ISIL.
International organizations have accused the Syrian government, ISIL and other opposition forces of severe human rights violations and of multiple massacres. The conflict has caused a considerable displacement of population. On 1 February 2016,a formal start of the UN-mediated Geneva Syria peace talks was announced by the UN but fighting continues unabated.[
Syria became an independent republic in 1946, although democratic rule ended with a coup in March 1949, followed by two more coups the same year. A popular uprising against military rule in 1954 saw the army transfer power to civilians. From 1958 to 1961, a brief union with Egypt replaced Syria's parliamentary system with a highly centralized presidential regime. The secular Ba'ath Syrian Regional Branch government came to power through a successful coup d'état in 1963. The next several years Syria went through additional coups and changes in leadership. In March 1971, Hafez al-Assad, an Alawite, declared himself President, a position that he held until his death in 2000.
The Assad government opposed the US's 2003 invasion of Iraq. The Bush administration undertook to destabilize the regime by increasing sectarian tensions, showcasing and publicizing Syrian repression of radical Kurdish and Sunni groups and financing political dissidents. Assad also opposed the Qatar-Turkey pipeline in 2009. A classified 2013 report by a joint U.S. army and intelligence group concluded that the overthrow of Assad would have drastic consequences; the opposition supported by the Obama administration was dominated by jihadist elements.
In 2000, Bashar al-Assad took over as President of Syria upon Hafez al-Assad′s death. He and his wife Asma al-Assad, a Sunni Muslim born and educated in Britain,[110] initially inspired hopes for democratic reforms. A Damascus Spring of social and political debate took place between July 2000 and August 2001. The Damascus Spring largely ended in August 2001 with the arrest and imprisonment of ten leading activists who had called for democratic elections and a campaign of civil disobedience.[112] In the opinion of his critics, Bashar Assad had failed to deliver on promised reforms.]
Syrian President Assad continues to be adamant, refusing to step down, allowing the situation to calm down especially after Russia, on pretext of supporting Assad, also began attacking the Syrians. Meanwhile, in September 2015, an announcement was made about the formation of the New Syrian Army (NSA), which would initially begin its operations by fighting the Islamic State (IS), without any mention about it possibly confronting Bashar al-Assad's forces. This is despite the fact that the NSA commander, Khazal al-Sarhan, told various media outlets that Assad and IS were but two sides of the same coin, and that his army would fight Assad once IS is defeated.
Russia said Aug. 18 that it would be willing to consider cease-fires that would last 48 hours for Aleppo on a weekly basis, provided there could be security guarantees that would enable aid to reach both government-held western Aleppo as well as rebel-held eastern Aleppo. But follow-up meetings on how to implement the plan only resumed in Geneva on Aug. 23 and have been complicated, the diplomatic source said.
US officials said Russian actions had served to bolster popular support for al-Qaeda-linked Jabhat al-Nusra (recently renamed Jabhat Fatah al-Sham), which played a key role in breaking an attempted Syrian regime besiegement of rebel-held eastern Aleppo. "The recent escalation in airstrikes and ground fighting in Aleppo is of deep concern to the United States," a US official, speaking not for attribution, said on Aug. 23. "The Syrian regime and its allies, Russia and Iran, are driving this escalation that is bringing more suffering to an already deplorable humanitarian crisis and complicates efforts to get Syrian parties to the negotiating table. "Russia has pledged to focus its military actions against ISIL (new name given by the CIA to Islamic State) and al-Qaeda in Syria.
The US official said instead of degrading these terrorist organizations, however, Russia's actions have empowered the Syrian regime — which uses barrel bombs and, reportedly, toxic chemicals, like chlorine, on its own people. These actions threaten to galvanize popular support for extremists like al-Qaeda, which claim to defend the population suffering under the rule of a brutal dictator and his allies." "By intervening militarily in this civil war, Russia assumed enormous responsibility for Syria's future," the US official said. "It is long past time for Russia to take the necessary steps to reduce violence against civilians, guarantee open access for humanitarian agencies and create conditions conducive for a political transition."
Meanwhile, Turkey launched its most ambitious operation of the Syrian conflict on Wednesday with President Recep Tayyip Erdogan saying it targeted the double threat from Islamic State extremists and Syrian Kurdish militias. Turkey says the air and ground operation dubbed "Euphrates Shield" will clear jihadists from the Syrian town of Jarabulus, which lies directly opposite the Turkish town of Karkamis.
The operation was launched just days after Ankara appeared to soften its often-confrontational line on Syrian President Bashar al-Assad, whom Turkey wants to see removed. Turkey views the Kurdish People's Protection Units (YPG) militia as an extension of the outlawed Kurdistan Workers' Party (PKK), which it has denounced as a terror organisation along with the EU and the USA. The Syrian Kurds "already occupy a large strip of that border but there is this part in the middle that is still held by ISIS.
At the weekend, Turkish Prime Minister Binali Yildirim for the first time acknowledged that Assad was one of the "actors" in Syria, saying he may need to remain as part of any transition. Turkey is also working more closely with Iran and Russia, Assad's last remaining major allies. So far, no world power has objected to the Turkish operation, which began just hours before US Vice President Joe Biden arrived in Ankara.
There have also been signs of a less confrontational Turkish foreign policy since Yildirim took over from Ahmet Davutoglu as premier in May. Stopping Kurdish advances in the north was now Ankara's primary goal in Syria rather than Assad's removal. "Following the ouster of Ahmet Davutoglu, the architect of Turkey's foreign policy in the last decade, Ankara has recalibrated its Syria policy."Blocking PYD Kurdish advances in Syria, previously Ankara's secondary goal, now trumps Turkey's erstwhile policy of ousting the Assad regime."
The Kerry-Lavrov Geneva discussions "will be the big meeting," Bassam Barabandi, a former Syrian diplomat now with the Syrian opposition High Negotiating Committee, told Al-Monitor on Aug. 23. "Now I think it is very difficult to talk about a cessation of hostilities," Barabandi said. Rebel gains in Aleppo in recent weeks are "very difficult to use as leverage, because part of them are Nusra, so I don't see how Kerry can leverage that" in his discussions with the Russians, Barabandi said.
Even as Kerry expressed hope that a US-Russia deal on Syria could be finalized this month, the Pentagon pushed back on reports a deal was imminent. "Contrary to recent claims, we have not finalized plans with Russia on potential coordinated efforts," Pentagon spokesman Peter Cook told journalists Aug. 22. "Serious issues must first be resolved before we can implement the steps Kerry and Lavrov discussed in Moscow last month…We are not there yet, and the regime and Russian's recent actions only make it harder to consider any potential coordination," Cook added.
Whether or not the Kerry-Lavrov talks on Syrian war would put an end to war and other forms of hostilities in the country and whether or not Assad would step aside at least now when thousands of Syrians have lost their valuable lives because of him and Syria is in shatters.
It would take years for Syria to revive its economy and trade even if a deal is struck by the top powers of the world.
Once destabilized by US led terror forces, chances of revival is a difficult talks as we have seen in Afghanistan and Libya.
Pakistan is perhaps destabilized once for all.
Libya: Lights and shadows of the peace process
After six days of intense closed-door talks between the 75 delegates of the various Libyan factions summoned to Tunis by the Acting Special Representative of the UN Secretary-General (SRSG), Stephanie Williams, the first round of negotiations that ended on November 15 confirmed the "ceasefire", but failed to reach an agreement on the mechanisms and criteria for selecting the candidates for a new "national unity" government.
Acting SRSG Stephanie Williams has decided to reconvene in the coming days – via video conference – a second round of what has been called the "Libyan Political Dialogue Forum" (LPDF), with the ambition of succeeding in forming a government able to manage the national elections scheduled for December 24, 2021.
While admitting the partial failure of the Tunis talks, the U.S. diplomat declared frankly that it was not "realistically possible to find solutions to a ten-year conflict in a simple round of negotiations". Nevertheless, Acting SRSG Stephanie Williams has stressed that "there seems to be the possibility of an agreement on three important sensitive aspects of the negotiation, i.e. the tasks and duties of the new government; the criteria for appointing those who will take up the government posts and the roadmap for the peace process.
She added that "Libyan politicians now have the opportunity to effectively occupy centre stage or end up going extinct as dinosaurs".
Tough words that convey the disappointment for a negotiation that sees the parties involved (the Tripoli government led by Fayez al-Sarraj; the Tobruk faction commanded by General Khalifa Haftar and the Fezzan independent tribes) willing to respect the armed truce, but little inclined to make political concessions to their counterparts.
Certainly it was not easy to make the Libyan stakeholders – who, until last summer, had been fighting one another in open field -converge on a political dialogue path
It was not easy also due to the behind-the-scenes activism of the international sponsors of the opposing factions: Turkey and Qatar in favour of al-Sarraj; Saudi Arabia, the Gulf States, Egypt and Russia supporting the "Libyan National Army" led by General Haftar, while President Macron's France is openly siding with the Fezzan tribes.
During the Tunis talks, all delegates systematically leaked to the press fake drafts of possible agreements, in view of thwarting the proposals of their counterparts.
According to "Agenzia Nova", apparently official documents were circulated containing references to the topics actually under discussion, "polluted" by totally invented parts: "real poisoned drafts received from Libyan sources close to General Haftar".
Malicious rumours have also spread about the possible corruption of some delegates, bribed with many dollars to favour the appointment of Abdullh al-Dabaiba -the powerful "warlord" of Misrata and founder of the "Future for Libya" movement – to the new government. It should be recalled that, thanks to Turkish weapons and Islamist mercenaries brought by President Erdogan to Libya from Syria, Misrata's militias rescued al-Sarraj's government from collapse when last April General Haftar's militias had arrived at Tripoli's gates.
However, despite the difficulties, in her report to the UN Security Council, Acting SRSG Stephanie Williams also highlighted some positive aspects of the situation on the ground.
First of all, the military truce is holding out: there are no significant violations of the "ceasefire", while "the exchange of prisoners continues, facilitated by the Council of Elders, with the support of the Joint Military Commission.
Another important result has been achieved in the oil sector: with the agreement of all the parties involved, the National Oil Company has resumed oil production in full swing, which has quickly returned to last year's level of 1.2 million. However, the transparent distribution of oil revenues must be postponed until an agreement is reached between all the parties involved, pending which the National Oil Company shall set aside the proceeds from oil sale in a special UN-controlled account.
This is a sensitive aspect regarding directly Italy: the resumption of crude oil extraction means much for ENI which – albeit left alone by national institutions to operate in the dangerous situation of tension between the opposing Libyan factions – has managed to establish itself as a credible and reliable counterpart and to maintain its extraction, production and refining activities in Libya.
While concluding her briefing to the UN Security Council, Acting SRSG Stephanie Williams underlined: "Seventy-five Libyans came together in Tunis …in a good faith effort to start the process of healing their nation's wounds. …they extended their hands, if not their hearts, to each other".
"Not their hearts": this is the deepest shadow hanging over the Tunis talks, casting uncertainty over a peace process in which the role of the national players is often influenced and manipulated by the various international sponsors – and the sponsors certainly do not act for "heart" reasons.
On the Tripoli government's front, the two key allies are President Erdogan's Turkey and Qatar ruled by young Emir Tamin bin Hamad Al Thani.
Despite the accession of the former to NATO and of the latter to the Gulf Cooperation Council (GCC), the two countries have embraced the cause of Muslim extremism by more or less openly supporting jihadist militias during the civil conflicts in Syria, Iraq and, most recently, Libya.
At the side of these awkward travel companions, in a quiet and secluded corner, we can find Italy which, in 2016, with an undoubtedly politically correct move, followed the United Nations, which imposed a neo-colonialist governmental solution on Libya, by establishing al-Sarraj's "Government of National Accord" (GNA), at first in Tunis and later in Tripoli. A "neo-colonialist" solution because the GNA has not been recognised by any of Tripoli's and Tobruk's Parliaments and has never been legitimized by elections or supported by the people.
Over the last four years, while al-Sarraj barely controlled the capital, the Italian diplomacy has not seemed able to find a clear policy and line of action, in a region of vital importance for the country, other than that of "respect for UN resolutions", a formal pretext used also by the European Union to justify its inaction.
As said above, faced with Turkey's and Qatar's political and military commitment to support al-Sarraj, but above all the Islamist militias of Tripoli and Misrata, the Gulf States have broken diplomatic relations with Qatar, accusing its Emir of an adventurous conduct in favour of the "Muslim Brotherhood" throughout the region.
Furthermore, together with Egypt, France and Russia, the Gulf States have actually established an alliance to protect two of the three Libyan political-military components, i.e. General Haftar's"Libya Liberation Army" and the militias linked to the Fezzan tribes with whom France has established an almost exclusive partnership.
While the diplomacies interested in the Middle East are playing on several tables – just think of the new relations between the Arab Emirates, Bahrain, and above all Saudi Arabia, with Israel-Italy and Europe – probably also because of the pandemic – seem to be immobilized and bogged down into passive positions of principle on the positive aspects of "multilateralism".
Indeed. the other countries are taking action also in view of possible political and economic dividends in the future, while Italy and Europe, with their wait-and-see attitude, remain on the sidelines to watch – as mere spectators – the development of events that will have a decisive impact on the new Mediterranean equilibria of the near future.
Nevertheless, there seem to be no good news about U.S. international commitments in the "after-Trump era".
The new President, Joe Biden, has appointed Antony Blinken as the new Secretary of State.
Despite his being an educated, cosmopolitan and polite person, we cannot forget that, during Obama's Presidencies, Blinken was a close aide of Hillary Clinton, at first, and of John Kerry, later, i.e. two negative protagonists of international relations and foreign policy who, with their naïve support for the fake "Arab Springs", contributed to upset North Africa and the Middle East in the name of a mirage that saw an unattainable goal of Western democracy for the countries experiencing Islamist civil uprisings and unrest.
After having fomented and militarily supported the revolt against Colonel Gaddafi, the U.S. Department of State led by Hillary Clinton, had to face the sacrifice of its ambassador in Libya, Chris Stevens, who was killed on September 11, 2012 in Benghazi, where he had been sent for a confused and botched negotiation with the Islamists of Ansar Al Sharia.
Under Kerry's leadership, with Blinken at his side as Deputy Secretary of State, the United States managed the Syrian crisis in a politically and militarily unwise manner, thus finally leaving the field open to Russia and Turkey.
Against this backcloth, the prospects for a return to action of U.S. diplomacy (partly put to rest by Donald Trump) are not particularly fascinating, in an area such as Libya where Italy, in its own small way, is not even able to sketch out a credible negotiation for the release of the eighteen fishermen from Mazara del Vallo, kidnapped by General Haftar's forces for over two months.
Iranian media and Nagorno-Karabakh Conflict
Freedom of the press and the Media are both considered the fundamental pillars of Democracy across the globe. However, some authoritarian regimes restrict and ban the media and freedom of speech. These regimes establish and monitor their broadcasting system and media activity. The Iranian regime's nature is authoritarian and dictatorial, and the country is ruled based on Shiite ideology and Persian nationalism. Security forces, especially the Iran intelligence ministry, Islamic Revolutionary Guard Corps (IRGC), have a robust interconnection with media. Through cooperation with the Ministry of Culture and Guidance, security agencies can monitor the media and the press. Undoubtedly, Iran's state-driven media have to pursue and consider the procedures based on ideological and national interests, focusing on the Shiite religion rules and Persian nationalism. The Iran State Press and media and other foreign opposition news media stood by Armenia and refused to hold a neutral position during the second Nagorno-Karabakh (Internationally recognized as Azerbaijani territory) conflict lasting September 27th to November 10th, 2020.
We first need to analyze why the Iranian media holds discriminatory policy and behavior toward the Republic of Azerbaijan. One of the main reasons is the large population of Turks who reside in Iran. They live mainly in Northwestern regions whom Turkish activists call South Azerbaijan. It is estimated that approximately 30 percent of Iran's population is Turkish. Iranian officials assume the potent, rich, and attractive the Republic of Azerbaijan can influence Azerbaijani Turks and reinforce their desire to secession from Iran. One example is a November video report named the "Nagorno-Karabakh War" and shared by Mashregh News, an analytical website affiliated with IRGC, which served as a pretext for Iran's disintegration. In October, thousands of Azerbaijan Turks from cities like Tabriz, Ardabil, Zanjan, and Tehran gathered to support Azerbaijan and protested to criticize Iran's aids in Armenia. Unfortunately, security forces cracked down on these demonstrations and arrested dozens of protesters. Of course, Iran's state-run media organizations avoided discussing arrest details of the demonstrations, and some, like the IRIB, went as far as distorted and misrepresented the nature of the protests in favor of the government. The Iranian media using mostly the Persian language represented and conveyed the sovereign and independent Azerbaijan as the major threat to the religious, totalitarian, and Persian-centered government's interest and security.
Another important factor impacting Iranian state media policy against Azerbaijan in the recent battle of Nagorno-Karabakh is Azerbaijan's strategic relations with Turkey and Israel. Turkey has been a long-time political rival of Iran regionally. This is the reason why Iran will not tolerate the presence of Turkey in the Caucasus. The Iranian media spread misleading news and inaccurate information against Turkey, which mobilized the Jihadi fighters to go to the battlefield of Nagorno-Karabakh. Naturally, the Iranian media had no supporting evidence to back up their claims in the news. Furthermore, on November 1st, IRIB interviewed Iranian Foreign Minister Mohammad Javad Zarif, in deceptive statements claimed terrorists and possibly Zionists participated in the conflict and diverted the issue to those governments involved. Since then, the war is now over, and there is still no reliable documents or evidence to support his allegations. Propaganda and hate speech against Israel and Jewish people have been a dominant headline in Iranian media since the establishment of the Islamic Republic of Iran. Due to Iran and Israel's deep hostility, the Iranian government cannot endure Israel's presence and strong ties with neighboring countries. Recently, the government news agency, Fars News, published an article by Ehsan Movahedian about the economic consequences of the recent peace agreement between Armenia and Azerbaijan on Iran. The author emphasized that Israel's permanent presence in Iran's northwest border could be a significant threat for the Islamic Republic and create ethnic tensions. Similarly, on November 17th, Mashregh News posted an article about the second war of Nagorno-Karabakh and its effects on Iran's geopolitical capacity in the energy sector. In a similar theme, Ministry of Intelligence expert Ahmad Kazemi claimed that in the second Karabakh War, Turkey's primary aim, The Republic of Azerbaijan, and Israel was to occupy the 42-kilometer border strip between Iran and Armenia by implementing the exchanging corridors in their plan. Kazemi concluded that opening the transit corridor between Azerbaijan and Nakhichevan is the American and England idea to restrain China, Russia, and Iran in the coming decades, to strengthen the concept of the Great Turan and Pan-Turkism. The transparent distress and concern of Iranian officials and experts reflected in the media indicated the government's objective to disrupt the November Russian-brokered truce deal between Armenia and Azerbaijan that was signed between 3 countries over the Nagorno-Karabakh.
Like Iran state media, Iranian overseas opposition media had a similar consensus about the Nagorno-Karabakh conflict. Most of them deliberately distorted and censored the region's realities and war facts in favor of Armenia in their articles and news. Iranian opposition media such as the BBC Persian, Radio Farda, and Iran International TV describe Nagorno-Karabakh as an Armenian-populated region. They refrain from elaborating on ethnic cleansing, which caused the displacement of one million Azerbaijani people from Karabakh and surrounding areas by Armenian troops during the first war in the 1990s. In the same media, Shusha was announced as an occupied city by Azerbaijan and not as a liberated city. Stemming from their Persian-centric nationalist views, they deem the awakening and empowerment of Northern and Southern Azerbaijanis as a serious threat to national security and unification in Iran.
In most cases, the Iranian media does not analyze events and issues impartially. Comparatively, they evaluated regional problems and national issues influenced by ideological interest and Persian nationalism. In the recent Nagorno-Karabakh battle, the Iranian media supported Armenia by spreading fallacious news and misleading information against Azerbaijan, like Israeli forces' deployment in Iran's Northwest border and transferring terrorists to the front lines of the war. Not surprisingly, the media attempted to deceive the public opinion by making accusations to justify Iran's support for Armenia. Although Iranian Journalists and media activists thought that their anti-Azerbaijani actions would strengthen national security, contrastingly, their destructive activities did not contribute to national unity but instead intensified the ethnic division between Azerbaijani Turks and Persians in Iran. Consequently, with the continuance of the Iranian media's destructive policies, without considering the Turks' demands in Iran, maintaining stability, national solidarity, and territorial integrity will be a prominent issue in the future.
Netanyahu-Pompeo secret meeting with MBS: A clear message to Joe Biden and Iran
Israeli media reported on Monday, November 24, 2020, that Netanyahu had secretly traveled to Saudi Arabia on Sunday to meet with Saudi Crown Prince Mohammed bin Salman and US Secretary of State Mike Pompeo. According to some media reports, the meeting took place in the city of Neom on the Red Sea coast, and was attended by Yossi Cohen, the head of Mossad, the Israeli intelligence and security service, but Benny Gantz, the Minister of Defense, and Gabi Ashkenazi, the Israeli Foreign Minister, They were not during this trip. Although some claim that Netanyahu and Mohammed bin Salman have met before, this secret trip is very important in this sensitive situation. That means less than two months before the end of the Trump administration, the US move could have far-reaching implications for Middle East countries, regional security policies and the future of their relations with Israel.
On the other hand, the Donald Trump administration has helped mediate an Israel's peace agreement with neighboring Saudi Arabia, the United Arab Emirates, Sudan and Bahrain. The normalization of relations between Israel and Saudi Arabia, as one of the most important Muslim countries in the Middle East, has always been on the agenda of the administration of US President Donald Trump and he hopes to lead Saudi Arabia and Israel to an agreement. About two months ago, the UAE and Bahrain signed a joint statement in Washington on a commitment to peace called the "Ibrahim Agreement" with Israel. The agreement has been described as a turning point in the official relations between the Arab states and Israel in recent decades. Following the announcement of the agreement, Mohammed bin Salman welcomed Saudi Arabia's efforts to improve Israel's relations with the Arab world, but stressed that his country wanted a permanent solution to the Palestinian question.Therefore, in this text, by examining the reasons for this secret trip, the possible consequences for the future security of the Middle East region as well as regional coalitions towards Iran have been explained.
The normalization of Arab countries' relations with Israel has been largely due to their shared concerns about Iran. However, the interesting thing about this secret trip is that the Saudi authorities deny it. This means that Saudi Foreign Minister Faisal bin FarhanAl-Saud tweeted: "I have seen press reports about a purported meeting between HRH the Crown Prince and Israeli officials during the recent visit by @SecPompeo. No such meeting occurred. The only officials present were American and Saudi".However, Saudi Arabia does not talk about this trip for various reasons, which could include the following: 1) Saudi Arabia is the cradle of the Islamic world and is not yet internally ready to establish open relations with Israel. However, Saudi Arabia is the most important country in the Arab world, and the normalization of relations with Israel will allow other Arab countries in the region to follow the path of other countries to establish relations with Israel. 2) Saudi Arabia stated in the Arab League that it does not allow direct flights to Israel and does not even allow Israeli planes to cross the skies of Riyadh, and if it does so and establishes a relationship with Israel, its credibility will be reduced. Saudi Arabia has said in the past that it will only recognize Israel if the Palestinians achieve an independent state. Israelis also usually travel to Saudi Arabia with a special permit or with foreign passports, most of whom are Muslims, a pilgrimage to Saudi Arabia.
Send a clear message to Joe Biden's government
After the Trump administration came to power in 2016, the Israeli and Saudi sides were very happy. This means that the foreign policy of the Obama administration (2008-2016) in the Middle East was not very satisfactory for Saudi Arabia and Israel. That is why the actions of the Trump administration, and especially the efforts of Jared Kushner and Pompeo to improve relations with Israel, Saudi Arabia and other countries, have improved their regional situation. For Examples can mentioned US-Saudi military agreements and the withdrawal from the nuclear deal with Iran, maximum pressure on Iran, the Century Deal Plan to resolve the Israeli-Palestinian conflict, the relocation of the US Embassy from Tel Aviv to Jerusalem, and normalization Israel's relations with Arab countries such as the UAE, Bahrain and Sudan. However, with the end of the Trump administration's presidency in less than two months, concerns have grown for Joe Biden as the next US president for Israel, Saudi Arabia and other Middle Eastern countries.
Therefore, one of the main points of this trip is to send a clear message to the Biden administration to show that Israel and Saudi Arabia are in the same direction on regional issues, especially confronting Iran, and that the Biden administration must continue the path of the Trump administration. Although it should be noted that Israel's relationship with the Democratic Party has warmed over the past half century, it is imperative that any government that wants to rule in the United States must pay special attention to Israel's interests and security. Perhaps one of the levers of pressure on the US government is the powerful Zionist lobbies in the United States, which play a special role in US security strategy and foreign policy. Thus, the secret meeting between Mohammed bin Salman, Netanyahu and Pompeo means that Saudi Arabia considers the US presence in the Middle East necessary and to maintain security in the region.
Maintaining a regional coalition against Iran
Another reason for this trip is the issue of Iran. This means that during the four years of the Trump administration, the toughest measures were taken against Iran, which was acceptable to Saudi Arabia and Israel. These include the unilateral withdrawal from the nuclear deal in 2018, maximum pressure on Iran and further economic sanctions, the assassination of Qasem Soleimani in Iraq, the formation of a regional coalition against Iran, and attacks on Iranian forces in Syria and Iraq. Israel considers Iran its greatest enemy, and Saudi Arabia, which cut ties with Iran four years ago, sees the Islamic Republic as a serious rival and threat.
But in his remarks, Biden said a return to a nuclear deal with Iran had raised concerns in Saudi Arabia and Israel. Saudi Arabia and Israel have openly sent a message to Biden that Riyadh and Tel Aviv will continue the Trump-formed coalition against Iran, and that Biden must follow Trump's lead, keep up the pressure on Iran, and respond to Iran's regional presence, ballistic missiles, nuclear deal, and tensions in regional crises such as Iraq and Syria. On the other hand, Saudi Arabia and Israel, in order to maintain their security, want the United States to be present in the region and, as the leader of the region, to be able to reduce the growing influence of Iran and Russia. Therefore, the main demand of Saudi Arabia and Israel from the Biden government is that Iran must abide by all its obligations.
Netanyahu also met with Mohammed bin Salman and Mike Pompeo after the media reported about two weeks ago that the Trump administration was planning a series of new sanctions against Iran in the final weeks of its work, in coordination with Israel and several Gulf Arab states. The reason for such a move is the increase in non-nuclear sanctions and the increasing pressure on Iran to make it harder for the Biden administration to return to the nuclear deal. Both the United States and Saudi Arabia and Israel are waiting for the next government in Iran. It is unlikely that the Biden government will consider the Iran issue as one of its priorities in the next year. Economic problems and the Corona crisis will be the most important issues for the Biden government.
Changing the security balance in the Middle East
Less than two months after the end of the Trump administration, some believe that there is a possibility of changing the regional balance. This means that there is a possibility of a limited military attack and covert operation by the US-Israel-Saudi Arabia against Iran and the government of Bashar al-Assad. A claim that may be different from reality. Although some see, the transfers of the B-53 bomber to the region as an important reason for this, Israel and Saudi Arabia themselves know that entering into a limited war with Iran could make things difficult for them. Saudi Arabia and Tel Aviv believe that with the advent of the Biden government and its multilateral policy on regional issues and the possible return to a nuclear deal with Iran, crises in Iraq, Syria, and Yemen may continue, with the threat of Iran and its influence. Security will change the region to the detriment of Saudi Arabia and Israel.
Therefore, before the end of Trump's presidency, they are trying to form a US-Israel-Saudi regional alliance to maintain the balance of power so that it can somehow intensify it during Biden. With Biden in office, the Middle East regional order appears to be moving toward security, and tensions between key regional actors such as Saudi Arabia and Israel and Iran are spreading. Finally, Russia's mediating role should be mentioned. As an important regional player, it has been able to maintain the balance of power between the countries of the region and has been recognized as an important winner in regional crises. Russia's relations with Iran, Saudi Arabia and Israel are going well, which is why Riyadh and Tel Aviv want US support to counter Iran. Although Russia is also pursuing its own national interests, it will try to take advantage of the tensions between these actors and undermine the US unilateral presence.The trip is for reasons such as sending a clear message to the next US administration and Joe Biden to cooperate fully with Riyadh and Tel Aviv, and on the other hand, to continue to put maximum pressure on Iran and balance regional powers in favor of Saudi Arabia and Israel.