India's gas-based economy vision seeks subsea pipeline option
Authors: Manish Vaid and Darshit Paun
India's hunt for developing a sustainable economy should not only involve the push towards renewable energy sources but also a firm commitment towards increasing in natural gas base, as also reflected in the statement of India's Petroleum Minister. The efforts to this direction include increase cheaper LNG imports and reviving its gas pipeline diplomacy through undersea gas pipeline such as Middle East to India Deepwater Pipeline (MEIDP).
Natural gas as a bridge fuel could address the uncertain nature of renewable energy sources, particularly with respect to financing capital cost and innovation. Natural gas can further compliment renewable energy by keeping the wholesale electricity prices low when renewables such as solar and wind are not producing optimally.
Though, the irony is that India, despite the appreciation of the fact that the share of natural gas in total energy mix has to be increased to curb emission, India has so far failed to do so. Resulting in falling domestic gas production and concurrent increase in its demand, India continues to move up in its trajectory of importing natural gas, which has now gone over 40 per cent of its total natural gas requirement.
According to Petroleum Planning and Analysis Cell (PPAC), India's cumulative projected natural gas imports from April to June 2016 accounts for around 50 per cent of the total natural gas consumption, which is up by 9 per cent on year-on-year basis, signifying consistent increase in demand-supply gap. This gap is largely met through LNG supplies via four LNG terminals having a total capacity of 25 million metric tonnes per annum (MMTPA), albeit with low operational capacities such that of the Kochi terminal, mainly because of lack of evacuation infrastructure in place.
This accentuates the need for a small scale LNG value chain supported with more intensified natural gas grid, which as on April 1, 2016 is limited to 16,250 km pipeline with another 12,687 km to be added keeping an eye on India's projected gas demand. According to the 2016 IEA Medium-Term Gas Market Report, India's gas demand is set to grow at 6.5 per cent per year by 2021. Its consumption too is projected to grow by 38 per cent from 52 billion cubic metres in 2015 to 72 BCM in 2021.
While the current low oil and gas price regime is favouring India's LNG imports, the tide may turn after crude oil prices start increasing because India's most of the LNG are indexed to global oil prices. In such case an increase in global crude oil prices could push the LNG prices up unless Indian buyers accordingly re-negotiate long term contracts just like they did with Qatar's RasGas and now in the process of repeating the same with Australia's Gorgon Project. To mitigate the high LNG prices India can also get connected with hub based pricing, such as the Henry Hub or can even form a strong alliance with LNG buyers of Japan, China and South Korea.
While the LNG prices are expected to remain around the same levels in next 3-4 years resulting from additional gas supplies from countries like Australia, Canada and at the later stage from even Mozambique and Tanzania, it would be prudent for India to strive for undersea gas pipeline option, more steadfastly. This is despite the realization of the fact that LNG suppliers worldwide have invested heavily in their allied infrastructure.
Thus an additional and cost effective route to import natural gas from gas rich nations would help India to have a greater bargaining chip in the long run to fully reap the potential of its rising natural gas demand.
India's pipeline diplomacy, which has largely revolved around three main transnational natural gas pipelines, namely, Turkmenistan-Afghanistan-Pakistan-India (TAPI), Iran-Pakistan-India (IPI) and Myanmar-Bangladesh-India (MBI), the revival of the same through MEIDP, initiated by SAGE India (SAGE), could be a better option.
This is because MEIDP is now considered to be a feasible option largely due to the technical advances made in undersea gas pipeline, ever since Oman-India Pipeline (OIP) Project was envisioned in 1990s and after export of natural gas from Iran's giant gas field is now available to the world resulting from the Joint Comprehensive Plan of Action (Iran deal).
The 1300 km SAGE undersea gas pipeline, bypassing Pakistan's territorial waters, is expected to start from Chabahar in Iran and Ras al Jafan in Oman and end in Porbandar, Gujarat, with an alternative tap-off to Mumbai under consideration, which can help India to diversify its natural gas supplies.
Nord Stream offshore pipeline, which is of the same length as that of the proposed MEIDP, is already transporting Russian natural gas to Germany and other parts of Europe. The successful operation of Nord Stream pipeline reinforces the faith in technology that can bring such a proposed project to reality.
Interestingly, low LNG prices in the near term, an array of LNG infrastructure proposed in the next five years and a comparable transportation tariff, may give rise to winds of skepticism around the policy makers as to whether the huge investment in MEIDP may be debated. However, MEIDP, with the incremental benefits comparable to other transnational natural gas pipelines in question, can form a cornerstone for India's energy security, especially at a time when Iran is ready to offer natural gas at a reasonable price for the long term.
In addition, Chabahar port, being the proposed starting point for MEIDP, indeed fits in the geostrategic calculus of India to gain access through Persian Gulf as also to Central Asia, wherein swapping of gas from this region with that from Iranian gas is very much the possibility. Hence, the MEIDP can become a key piece in India's energy security Jigsaw and play a vital role in offering concrete solution to India's gas-based economy vision.
Manish Vaid is a Junior Fellow with the Observer Research Foundation, having research interest in energy policy and geopolitics.
Darshit Paun is an energy sector professional. He holds a Masters in Business Administration in Energy & Infrastructure from Pandit Deendayal Petroleum University.
Disclaimer: Views expressed in this article are those of the authors
Boosting Energy Access through Parliamentary Action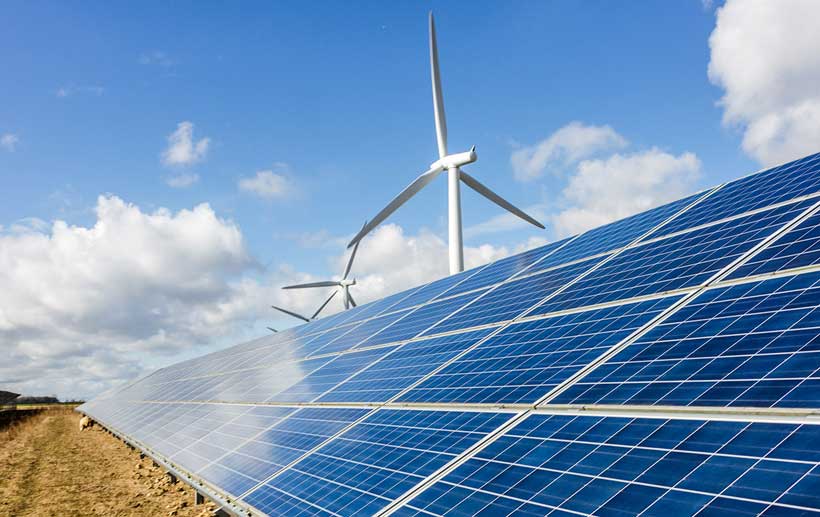 Belgian Parliamentarian, Andries Gryffroy, shares his views on enabling energy access through pro-renewables policy making
Parliamentarians from around the world will gather next week in Geneva, Switzerland, for the 138th Assembly of the Inter-Parliamentary Union (IPU), an international organisation of 178 Member Parliaments. While the institution has been around since the 19th century, this year's meeting will – for the first time – discuss a resolution focused on deploying clean, affordable and sustainable forms of energy, which is recognised as a key pillar of the global sustainable development agenda.
According to the International Renewable Energy Agency (IRENA), one of the global custodians of the Sustainable Development Goal (SDG) 7 indicators, off-grid renewable energy may serve around six million households worldwide – helping change the lives of approximately 30 million people. A further 120 million people currently without grid access, use solar lights.
To address this issue, a new resolution called 'Engaging the private sector in implementing the SDGs, especially on renewable energy' has been proposed by Mr. Andries Gryffroy, Member of the Flemish Parliament, IPU focal point and spokesperson on energy for his party, N-VA , together with his co-rapporteur, Mr. Duong Quoc Anh, member of parliament from Vietnam, in consultation with IRENA.
Though non-binding, IPU resolutions are drafted and adopted by parliaments around the world, distributed at the United Nations, and have the potential to influence national legislation. This new and yet-to-be-adopted renewable energy-focused resolution identifies what parliaments can do to maximize engagement around SDG 7 — ensuring access to affordable, reliable, sustainable and modern energy for all.
Andries Gryffroy, outlined the magnitude of the energy access challenge, ahead of the meeting. "Today, about 1.1 billion people lack access to energy powered by the grid. Unhealthy wood stoves, hazardous kerosene lanterns, loud and environmentally unfriendly gas and diesel generators are being used instead. These forms of energy are costly and labour intensive, yet, in remote areas, it is not financially viable to develop high voltage distribution networks. Installing small windmills, or solar systems in villages or homes, represents a sound alternative to more conventional sources of energy."
Drawing attention to the potential of off-grid and mini-grid renewable energy projects (including small-scale electricity generators converting power from renewable energy sources) for contributing to the implementation of SDG 7 in developing countries, the resolution encourages parliaments to facilitate, and account for, the risk management needs of small local project developers. It advocates for the establishment of enabling legal frameworks, and for incentivising public-private partnerships to speed up the transition towards a more sustainable system of energy production and consumption.
"Access to finance remains the issue even though such projects represent a relatively small investment," Gryffroy points out. "Investors are less attracted by those projects because they have limited visibility on the financial risks. The cost of assessing an off-grid project's viability is also higher than for larger projects. Therefore, one needs reassurances, such as a clear and long term agreement on price of electricity. Projects can also be facilitated when investors have obtained the expressed support both from the government and the local population." He adds that, "establishing an enabling environment to accelerate the deployment of sustainable off-grid energy solutions, will require a collective effort. Being a member of the Flemish Parliament and of the Senate, I am regularly in contact with various stakeholders, which is of crucial importance to undertake any legislative work."
The draft resolution, which will be debated throughout next week's IPU meetings, and submitted for adoption to the IPU Assembly, represents a unique opportunity for parliamentarians to act decisively. "Ultimately," says Andries Gryffroy, "legislators must seize the opportunity to act now."
Source: IRENA
Sustainable energy at affordable prices precondition for prospering economies in OSCE region and beyond
Energy security, the protection of critical energy infrastructure, the development and integration of renewable energy and the best use of digitalization for energy security were the focus of the OSCE Mediterranean Contact Group meeting held today in Vienna.
Today's discussion was the first conducted under the 2018 Slovak Chairmanship of the Mediterranean Contact Group. Participants highlighted that sustainable and reliable energy at affordable prices is the precondition for prospering economies and peace and security throughout the OSCE region and its Mediterranean partner countries (Algeria, Egypt, Israel, Jordan, Morocco and Tunisia).
"Secure, affordable and available energy is vital for national and regional economies across the OSCE region and beyond – a major driver for today's policymaking and an important part of the 2030 Sustainable Development Agenda," said the Slovak State Secretary of the Foreign and European Affairs Ministry and Special Representative for 2019 OSCE Chairmanship, Lukáš Parízek.
"Governments need to provide their citizens with affordable energy, at the same time meeting the growing energy demand by the industries, while making them more energy efficient and sustainable," said Parízek. "Investing in new and more resilient energy infrastructure is crucial. Improved energy connectivity and co-operation in securing the energy supply, transit and demand chains can lead to a better future."
Participants noted that there is hardly any domain other than energy in which the indivisibility of Euro-Mediterranean security is more consequential for the stability of states and the well-being of the people.
Representative of Italy's OSCE Chairmanship and Chairperson of the Permanent Council Alessandro Azzoni said that Italy commends Slovakia's decision to engage with Mediterranean Partners to foster co-operation in the energy domain. "Countries on both shores of the Mediterranean, and thus all OSCE participating States, stand to gain from increased energy security in the Euro-Mediterranean region."
Azzoni recalled that while Italy was chairing the Mediterranean Contact Group in 2017, it launched the "OSCE GEMS Award for young green entrepreneurs in the Mediterranean region making a social impact".  "The GEMS Award is a clear example of our efforts to promote co-operation between the OSCE and Mediterranean partners on issues including energy security," he said.
Recent challenges such as blackouts caused by an increased amount of extreme weather conditions, terrorist and cyber-attacks on physical and digital infrastructure and a changing energy mix were also discussed.
"One of the central energy security challenges of today is how to effectively protect critical energy networks from existing and emerging security threats such as natural and man-made disasters and terrorist cyberattacks," said the Co-ordinator of OSCE Economic and Environmental Activities, Vuk Žugić. "We stand ready to provide a platform to exchange best practices and build capacity, effectively addressing these issues."
The Mediterranean Contact Group meeting brought together a number of experts to share perspectives on energy security from both sides of the Mediterranean, with a focus on the growing role of technology.
Energy is at the heart of the sustainable development agenda to 2030
Three years ago, all countries of the world adopted 17 ambitious policy goals to end poverty, protect the planet, promote gender equality, or ensure prosperity, as part of the United Nations Sustainable Development Agenda, and vowed to achieve specific targets by 2030.
Energy is at the heart of many of these Sustainable Development Goals – from expanding access to electricity, to improving clean cooking fuels, from reducing wasteful energy subsidies to curbing deadly air pollution that each year prematurely kills millions around the world. One of these goals – commonly known as SDG 7 – aims to ensure access to affordable, reliable, sustainable and modern energy for all by the end of the next decade.
All these topics are fundamental to the work of the International Energy Agency. As the world's leading energy authority, the IEA has unmatched analytical capabilities based on its unique data collection, technological network, research, and policy recommendations, which we put in the service of understanding the energy system. As I have often said – in the world of energy, data always wins.
The adoption of energy specific sustainable development goals was a milestone in moving the world towards a more sustainable and equitable system. The IEA continues to support this critical goal with unbiased data and projections. This has long been a personal and professional priority for me. Fifteen years ago, we recognized this basic fact when we first compiled data for electricity access and mapped out a scenario for delivering universal electricity access by 2030 in the World Energy Outlook, the IEA's benchmark publication.
As a result, the IEA has been tracking country-by-country progress on energy access (SDG 7.1) on an annual basis since 2002. As the world's most authoritative source of energy statistics, the IEA is also the lead custodian agency for reporting progress towards substantially increasing the share of renewables in the global energy mix (SDG 7.2) and doubling the global rate of improvement in energy efficiency (SDG 7.3).
The United Nations will have the first in-depth review of SDG 7 goals at the High-level Political Forum on Sustainable Development organized in New York, in July this year. This will be a good time to assess where we stand with our global energy goals, where existing national policies are taking us, and how to steer the global energy system towards a more sustainable path. To assist this critical process, the IEA has decided to create a new online resource to centralize all of our data and scenario projections in support of the 2030 Agenda.
It is clear that the energy sector must be at the heart of efforts to lead the world on a more sustainable pathway. But our data and analysis show that the current and planned policies fall well short of achieving our critical energy-related sustainable development objectives.
There has been tremendous progress in delivering universal electricity access (SDG 7.1.1) in Asia and parts of sub-Saharan Africa, with the number of people without access declining to 1.1 billion in 2016, from 1.7 billion in 2000. But on the basis of current progress, more than 670 million people are still projected to be without electricity access in 2030. Much work remains to be done in this field.
The picture is even dimmer when it comes to access to clean and modern cooking facilities (SDG 7.1.2). About 2.8 billion people rely on polluting biomass, coal and kerosene to cook their daily meals, a number which has not changed since 2000. Without greater ambition, 2.3 billion will still remain without clean cooking access in 2030, with grave health, environmental and social consequences.
The share of modern renewables in global final energy consumption (SDG 7.2) has been growing steadily in the past decades, reaching nearly 10% in 2015. However, to achieve a truly sustainable energy system, this share needs to more than double to 21% by 2030. But while wind and solar deployment has accelerated, thanks to falling costs and policy support in many parts of the world, this goal is still out of reach under current policies.
Finally, 2015 was an impressive year for energy efficiency (SDG 7.3), with global energy intensity falling by 2.8%, the fastest annual improvement since 1990. However, the average improvement between 2000 and 2015 of 2.2% still falls short of the 2.6% target needed to achieve the SDG target, and the 3.4% annual improvement needed to meet more ambitious long-term climate objectives.
Tracking progress towards these goals is only one aspect of our sustainable development work. Through our new Sustainable Development Scenario, introduced in 2017, we also seek to map an integrated path for achieving critical global goals in the next three decades: delivering universal energy access by 2030, an early peak in carbon emissions (SDG 13), and reducing deadly air pollution (SDG 3). One of the main finding of this new scenario is that these three goals are not incompatible. Indeed, our analysis shows they can successfully be met together.
But there is an urgent need for action on all fronts, especially on renewables and energy efficiency, which are key for delivering on all three goals – energy access, climate mitigation and lower air pollution. The IEA is committed to keep leading this agenda, and stepping up efforts to support the clean energy transition. We will do so with our unparalleled data, unbiased analysis, and our determined policy support to help move the world towards delivering the 2030 Agenda.