Why can Hillary Clinton not be US president?
Like in Israel, US ruling elites plan for the future strategies and choose presidents to suit the needs. After using a Black President Obama to attack North Africans and Arab nations for their energy resources in order to ensure energy security of the superpower, now the US leaders seem to think of using a female President in the name of Hillary to advance US interests globally.
Former US state secretary Hillary Clinton and associates are being pampered by those who are scared of any possible change in US foreign policy towards a possible thaw and neutrality in world affairs, notwithstanding what trump talks now.
So-called progressive bits like Sanders, the dummy candidate of President Obama the so-called lefty, was only promoting prospects of Hillary as the first ever "woman" president all Americans should be proud of.
Media publish very charming pictures and of Hillary Clinton while deliberately placing a terrorist cum drunkard looking Trump in order to promote the cause of democratic band of capitalist imperialism.
It seems, cutting across the bipolar political spectrum, there is some understanding to make Hillary to enter the White House to continue with the disastrous policies of Obama who has dutifully accelerated Bushdom war for resources and Muslims' blood and flesh blood in Islamic world. Both bush and his ally Obama could reduce the Islamic population with backing from Saudi Arabia, Pakistan and other Muslim nations.
Only recently Turkey, the only Muslim nation in Europe with an Islamist ideology but promoting the joint interests of USA and Israel in Europe and Mideast, has realized its mistake of colluding with USA in killing Muslims under the banner of NATO terrorist organization.
Media not only in the West but also in third world as well try to see in Hillary Clinton all virtues of freedom, liberty, democracy, etc., as the so-called first ever woman president of the super power without comprehending the truth about this devastating woman candidate who as Secretary of State willingly dispatched Pentagon led NATO military into Arab world and is more than keen to control entire world, including the other America, Europe, Africa and Asia, to serve Israel – America's illegally born, spoiled terror child.
Being in the company of extremist Neocons camp, not only Hillary is bent upon promoting the Zionist criminal regime in Mideast but also equip Israeli military with newer terror technologies to kill all Palestinians once for all.
Hillary Clinton must already have promised all colonialist, fascist and imperialist nations/forces the continued US support under her presidency as well and Israel would be chief beneficiary of Hillary's reign. As such Hillary could be best candidate for the criminal Israeli regime, the Jews and Mossad agency to advance its fascist goals in Mideast.
On the contrast, the Republican presidential nominee Donald Trump, despite all his sick rhetoric to impress the fanatic sections of US society, appears to suggest several positive things for USA and world at large. Trump said when he assumes presidency, he would revise the US policy for Mideast and neutralize its existing Palestine-Israel policy to promote peace in the region and he'd also recognize Russia's annexation of the Ukrainian territory in 2014.
Future Russia policy
Annexation of Crimea long appears to be on the agenda of Putin's regime as it had earlier been a part of Russian empire and made a part of Ukraine Republic during the time of Khrushchev who belonged to Ukraine. Russia maintained close links to Crimea even after the dissolution of the Soviet Union as the region mostly has Russians and Russian speaking nationalities. More than half of Crimea's 2 million people were Russian; Russia maintained a naval base in the region; and Russians retired in Crimea in large numbers. Also, Ukraine maintained the most pro-Moscow positions until 2014. But when Ukraine's pro-Moscow president, Viktor Yanukovych, was ousted, the tensions over Crimea became apparent. USA claimed victory. In a referendum in May of that year in which an overwhelming majority of voters said they wanted to rejoin Russia. The West reacted with anger and imposed a string of sanctions on Russia—sanctions that even Putin acknowledged adversely affected Russia's economy, which was already hurt by falling oil prices.
Last year, on the anniversary of Russia's annexation, the U.S. State Department said: "We do not, nor will we, recognize Russia's attempted annexation and call on President Putin to end his country's occupation of Crimea." However, Washington refuses to see Israeli occupation of Palestine territories or Indian occupation of neighboring Kashmir – both committing genocides of Muslims by regular aggressions and fake encounters. American democrats and republicans do not see any violation of human rights both by India and Israel against Kashmiris and Palestinians.
USA maintains doublespeak on occupation and double standards
As president, Trump may reverse that policy, and if he does Ukraine won't be the only country that worries. Another is likely to be Georgia, the former Soviet Republic. A brief war with Russia—brief in that Georgia was crushed—in 2008 resulted in Russia extending support to two breakaway Georgian regions, Abkhazia and South Ossetia, and wielding its influence with the rebels there. Russia's recent military exercises over Ukraine have worried US backed Eastern European states such as Poland and the Baltic nations that share a border with it.
However, it is premature to conclude that Trump would lead USA towards a normal course of diplomacy and his presidency would help herald a peaceful world in real sense of w the word. By nature USA, ever seeking to dominate the world and showcase it military prowess to the world, especially to those that refuse to budge and fall in line, cannot prefer peaceful course of diplomacy.
Now, with his comments on Crimea, Trump has given the foreign-policy establishment in the USA and Europe even more to consider before November.
Donald Trump's recent call on Russia to hack Hillary Clinton's emails resulted in widespread criticism. But his comments on Crimea, coupled with ones he made last week on NATO, are likely to have greater significance if he is elected president in November. As President Trump would recognize Crimea as Russian and even might lift sanctions on Moscow imposed after its 2014 annexation of the Ukrainian territory. He would thus give a chance for peace to thrive globally. Under trump USA could develop new relations with Russians and pave way for consolidation of globalized relations.
Interestingly, Trump the man who could become the next American president has not only questioned the utility of NATO, though the critics say he only trying to repudiate the post-World War II security consensus, he also has seemingly removed whatever fig leaf of artificial protection from Russia the USA offered the post-Soviet republics and Moscow's former allies in the Eastern bloc.
Trump policy would allow EU and European nations to chart their own independent foreign policies for the future regional discourses and security architectures. This would allow every nation to reduce expenditures on terror goods and military equipments and spend the money for the welfare of the common masses who have suffered a great deal over decades and centuries.
Having came to power after the death of Joseph Stalin, Soviet leader Nikita Khrushchev, belonging to Ukraine, gifted Crimea, a region that had been part of Russia for centuries, to Ukraine in 1954—though, to be fair, Khrushchev thought the Soviet system is permanent and probably didn't foresee that the mighty USSR would be the stuff of history books less than four decades later.
Democratic disaster
The foreign policy legacy of Bill Clinton is this: foreign interventions on the flimsiest of "humanitarian" pretexts. Bill Clinton embarked upon a series of military interventions, often in the absence of UN sanction, in Somalia (1993), Haiti (1994), Bosnia (1995), Iraq (1998), Sudan (1998), Afghanistan (1998) and Kosovo/Serbia (1999). Yet, rather than undertake serious steps to find and capture Al Qaeda's Osama bin Laden after the bombing of the Khobar Towers (1996) and the USS Cole (2000), President Bill Clinton did little more than fire a tomahawk missile into a pharmaceutical factory in Sudan. He repeatedly allowed the Saudis to block FBI Director Louis Freeh's investigation into the Khobar Towers bombing which killed 19 servicemen and wounded 350. No one knows why.
In foreign policy, it was a period in which liberal hawks like Madeline Albright, Richard Holbrooke, Strobe Talbott and Samuel Berger took the reins of the foreign policy apparatus and abandoned the mostly nuanced realism, if any, of the government of George H.W. Bush, former CIA boss. It launched a crusade to spread "democracy" to achieve regime change in West Asia and Africa, and "open markets" abroad which, in practice, amounted to isolating plus targeting Russia, relegating America's European allies into vassals and immiserating the developing world.
Under neoconservative pressure – including from Robert Kagan's and William Kristol's Project for the New American Century – Bill Clinton signed the Iraq Liberation Act (1998) which helped set the stage for the Bush regime's disastrous decision to invade Iraq in 2003. Meanwhile, Clinton embarked on a series of policies in the former Soviet Union which have had dire consequences. The decision to expand NATO by the alliance at its 1994 summit in Brussels came only 12 months into the Clinton presidency and only 24 months after the Soviet Union dissolved itself and peacefully disbanded its own military alliance, the Warsaw Pact.
The NATO alliance's expansion to include its own former allies and protectorates remains a mystery. Indeed, by expanding NATO, Clinton and his team not only went against the advice offered by scores of distinguished Russian experts, savvy politicians and foreign policy thinkers, Clinton also sought to tie the former Soviet Republics of Central Asia and the Caucasus to the USA. All this took place while Clinton studiously ignored the grotesque abuses of power by Russian President Boris Yeltsin. "Good old Boris," as Clinton liked to call him, bombed the democratically elected Russian parliament in 1993, stole the 1996 election with the help of American political advisers and pseudo-academics, and launched a barbaric war in Chechnya, while simultaneously raiding the state treasury and enriching the circle of thieves around him.
Yeltsin was looking for a hawk to take over reign from him to finish off the Chechen war in Russia's favor and former KGB man Vladimir Putin with enormous experience working in Germany suited for the occasion. It was Yeltsin who subverted Russia's burgeoning democracy, not his successor, Vladimir Putin. And he did it all with Clinton's help.
USA successfully worked for the dismantling of the mighty USSR and turned to Arab world. Now it is killing Muslims in Arab world with Russian backing. Joint operations!
Surrounded by Hawks
A Hillary Clinton presidency will more likely than not to be a faithful replication of her husband's tenure. Her record as Secretary of State speaks to the kind of foreign policy she will pursue. She continually sought to embroil the U.S. in the Syrian civil war (2011-present), and pushed President Obama to unleash NATO forces in helping to overturn the Libyan government (2011) which cleared the path for ISIS to build dangerous footholds in both countries. Whenever the option was between military action and serious diplomacy, the nation's chief diplomat would invariably opt for the former, as when she forcefully lobbied the President to send more troops to Afghanistan (2009).
As a candidate she has surrounded herself with regime change hawks, like former State Department Policy Planning chief Jake Sullivan and former the Ambassador to Russia, Michael McFaul. She has also smothered the neoconservative establishment in a warm embrace. Leading members of the Neocon tribe like Eliot A. Cohen and Max Boot have signaled that "they're with her" and on July 21 in Washington, D.C.'s tony Logan Circle neighborhood, leading Neocon Robert Kagan and former Biden adviser Julianne Smith spoke on Clinton's behalf at a fundraiser.
A source who attended the Logan Circle soiree told me that Smith cited an outgoing memo to President Obama from Secretary Clinton which warned him of the danger of unchecked "Russian aggression." Smith claimed that as someone who saw "Hillary in action," that "it was the Secretary who pushed President Obama the hardest on checking Russian aggression." Smith, according to my source, credited Clinton with pushing Obama "to turn up the heat on Putin."
This effort by then-Secretary of State Clinton to "turn up the heat" on Putin, it should be noted predates the 2014 crisis in Ukraine by well over a year and predates. Russia's annexation of Crimea (which occurred after a referendum in which Crimea's voters, by a 96 percent margin, called for leaving Ukraine and rejoining Russia). In other words, if what Smith says is true, Clinton was actively working to subvert the "re-set policy" of which she was ostensibly in charge!
Hillary Clinton Is a known Neocon cum Zionist.
Donald Trump did something extraordinary even for him: He called on a foreign power to launch an espionage operation against his chief political opponent, hacking into Hillary Clinton's email server to find 30,000 emails she allegedly deleted.
Trump has repeatedly expressed wild admiration for Putin personally; his campaign staff and businesses have extensive ties to Russian interests.
Trump's policy instincts are objectively pro-Kremlin and the sources of information that shape his policy ideas (his advisers and business interests) serve to reinforce rather than challenge these instincts. If the Kremlin is helping Trump win the election, it would be a perfectly rational thing for them to do.
Hillary's hilarious task
Money plays its "democratic" role in presidential poll of USA as well.
In the Democratic National Convention, Mrs. Clinton may have made history by becoming the first woman nominee for president of the United States. Her husband and former US president Bill Clinton's task at the Convention may have seemed deceptively simple: to add "new dimensions" to his wife's public image – elements of her life story with which US public is well aware of. As Hillary Clinton's husband for the past 40 years, the popular ex-president was her ultimate character witness, portraying her as hard-working, persistent, and caring. Bill Clinton was charming and steely-eyed, and owned the arena as he told his wife's story in personal terms, from their courtship through to her time as secretary of State.
Thus far, husband Clinton, who has become "explainer in chief" for his own record, played a more low-key role in his wife's campaign, appearing at smaller events and fundraisers, and weighing in privately with advice. Eight years ago, when Mrs. Clinton ran for the Democratic nomination against Obama, Bill Clinton stumbled at times and hurt her cause by saying that Obama had won South Carolina only because he's black.
Bill Clinton's presidency was a time of relative peace and prosperity, including a balanced budget and he would be an asset to her while she's in the White House. She cannot say Bill Clinton was a "total non-factor" in one delegate's decision to support her as a candidate.
Hillary Clinton's nominating convention has focused on domestic issues, but her foreign policy has even many anti-war Democrats worried, as she surrounds herself with Neocons with their favorite regime change proposals, and liberal hawks The Democratic convention leaves one with an uneasy sense of déjà vu about the potential foreign policy direction of a second Clinton presidency. We've seen this movie before and we know how it turns out: badly.
The mood among some of the Democratic Party's foreign policy cognoscenti here is one of an unadulterated smugness bred of certainty mixed with a sense of global entitlement. One Democratic US senator lamented to a roomful of well-heeled donors and foreign policy experts that the US had "lost" Ukraine.Lost? Does Crimea belong to America? But the Democratic Party's foreign policy elites are certain that that is so. Funny! They are certain NATO is the "cornerstone" of American national security and therefore any criticism of the alliance is "dangerous"; and many are certain that the Republican nominee is the Kremlin's very own Manchurian candidate. They are also certain Donald Trump is dead wrong about everything.
As former Secretary of State Hillary Clinton may be the most qualified candidate for the nation's highest office since Republican hawk George H.W. Bush, but there the comparisons end. Clinton is not running to extend the Obama terror legacy (whatever that may be) but to extend the Clinton terror legacy, and this should worry the world deeply.
Observations: permanent war agenda of USA for resources
Divisions in Islamic world in West Asia allowed the hawkish foreign policy makers behind the doors like Neocons of USA to launch a permanent war program to control the energy resources of the region and promote the fascist interests of Israel by stretching the war tentacles across the region, killing millions of Muslims. Now the USA has enlisted almost every country, including Saudi Arabia led GCC, Russia and China to fortify its imperialist misadventures.
As per its secret plan, the USA has been at war continuously for a quarter century, beginning with the first Persian Gulf conflict of 1990–91. While using propaganda catchphrases, such as "democracy", "defense of human rights" "war on Terror," to conceal the real aims of its interventions in the Middle East, Central Asia, and Africa, as well as its confrontation with Russia and China, the United States has been engaged in a struggle for global hegemony.
Today, energy and energy routes globally have been brought under US control with as many military bases of U across the globe.
However, the contradictions of American and world imperialism can be discerned by the rift between USA and Europe on the one hand, and between Arab/Islamic world and USA, on the other. The progression of military interventions and geopolitical crises as they have developed over the past quarter century as per US schedule, is not a sequence of isolated episodes, as US media want the world to know but the moments in the unfolding of an interconnected historical process to make the USA the top most military power with which every nation world be forced to make "adjustments".
Having got nukes for retaining the annexed parts of Jammu Kashmir and killed thousands of Kashmiri Muslims, Pakistan and India, for instance, fall at the US feet just to gain support for their illegal Kashmir agenda. By using the weakness of Pakistani leadership, USA has, as part of its anti-Islamic tirade, destabilized Pakistan which is supposed to be an ally of NATO. India pumps a lot of money into US economy even as China stabilizes US finances by heavy lending, even while Pentagon .keeps pumping oil into USA., thereby ensuring its energy security on permanent basis. . This has been possible for US leaders only through a permanent war agenda.
Bush Sr. and Bush Jr., Bill Clinton, Barack Obama and Hillary represent the hawkish US imperialist agenda and carry forward the US war agenda
Hillary Clinton is wife of former President Bill Clinton and now both want to promote dynastic rule in USA. Daughter Chelsea, who will introduce her mother before her big acceptance speech, says she too may run for office someday. However, the failure of former Florida Gov. Jeb Bush in the Republican primaries signaled, in part, a rejection of dynastic politics in America. The idea of American politics as a family business is not endorsed by true democracy.
In fact, Hillary is a monster in woman format and as US foreign minister she has proven fascist instinct without any iota of doubt. She is just waiting for the poll results to accelerate, if she wins presidency, her and those of the "regime change" oriented Neocons terror brains. Wanting a woman president is one thing but promoting a known terror mind for presidency is totally different as Americans and world at large would have to face the terror consequences of Hillary's term.
Hillary Clinton as the proven state terrorist minister in the Obama government is unfit to be the president of USA but her daughter Chelsea who hands are free from blood stains from genocides of Palestinians and killing of their children at Gaza strip can contest for presidency nest time and even win.
However, if Bill and Hillary feel as their daughter Chelsea also shares the shame of what they did in Gaza Strip of Palestine and Arab world, then, Chelsea should also leave the field of politics for honest and sinecure people without any imperialist and fascist ideas.
An arrogant Zionist in USA, Madam Hillary violated all rules and norms with a sense of impunity because no one can punish her or Obama, for, republicans and democratic now collaborate against Islam and Muslims. Obama could get 'resources" to Washington on the pretext of "security threats".
As US President Hillary Clinton can fail both America and world and cause unbearable pains to humanity, including mothers, children and women.
If by chance Hillary makes her entry into the august White House as its custodian, obviously, Israel would officially decide both the domestic and foreign policy of USA. That would make it clear as to how the US decision making apparatus operates
Americans are really fed up with war agenda of US leaders of both democratic and republican party. Though Trump has expressed his ideas and agenda, Hillary pretends to a good looking nice lady but she is a ruthless US leader who can destroy entire world for the sake of Israel.
Like other nations, US people also are eager to see a credible peace agenda of the government to defend the humanity from evil intentions of hawkish leaders who are indeed merchants of death. .
Certainly, if elected, Hillary, notwithstanding her oratory skills to fool the Americans, would prove to be a hell for USA and disaster for the world at large.
The 4 groups of Senate Republicans that will decide Trump's impeachment trial
With Senate Minority Leader Mitch McConnell pushing back the Trump impeachment trial to mid-February to make sure things cool down, Senate Republicans' positions on the vote are far from crystallized yet. Here are the four groups of Senate Republicans, according to views and likely vote. The numbers and composition of these four groups will decide Trump's future political faith. Which group Mitch McConnell chooses to position himself in will also be a deciding factor in the unusual and curious impeachment trial of a former US president no longer sitting in office.
Group 1: The Willing Executioners
There surely are those in the Republican Party such as Senator Mitt Romney and Senator Ben Sasse who cannot wait to give that Yea and the final boot to disgraced former President Trump, and will do that with joy and relief. Both the Utah Senator and the Nebraska Senator may be vying for the leadership spot in the Republican Party themselves but that is not the whole story. Senator Lisa Murkowski of Alaska openly said "I want him out." This group is unlikely to reach as many as 17 Senators, however, needed for the two thirds Senate majority to convict Trump.
Group 2: The Never Give up on Trumpers
There are also those Republican Senators who will stick with Trump through thick and thin until the end – some out of conviction, but most as someone who cannot afford to alienate the Trump supporter base in their state – a supporter base which is still as strong.
At least 21 Republican Senators are strongly opposed to voting to convict former President Trump, as reported by Newsweek. They realize that doing so would be a political suicide. Republican voters, on the whole, are unified in their belief that the presidential elections were not fair and Joe Biden did not win legitimately, with 68% of Republican voters holding the belief that the elections were "rigged". The majority of the Republican Party constituents are Never Give up on Trumpers themselves.
Among them are Senators Cruz and Hawley. Both will fight at all cost a vote which certifies as incitement to violence and insurrection the same rhetoric they both themselves used to incite the Trump crowd. Cruz and Hawley will try to avoid at all cost the legal certification of the same rhetoric as criminal in order to avoid their own removal under the 14th Amendment, as argued already by Senator Manchin and many others.
Senator Ron Johnson even called upon Biden and Pelosi to choose between the Trump impeachment trial and the Biden new cabinet confirmation. Group 2 will fight fierce over the next weeks and you will recognize them by the public rhetoric.
Group 3: I'd really like to but I can't be on the record for convincing a President of my own party
Then there is a large group of Republican Senators – maybe the largest – who would really like to give that Yea vote and leave Trump behind but they do not wish to go on the record as having voted to convict a US President from their own party. Some of these Senators will share their intention to vote Yea in private or off the record with the media, but when push comes to shove and the final vote, they will be hesitant and in the end will vote Nay. Senator Marco Rubio of Florida falls under Group 3.
Senator Pat Toomey of Pennsylvania is also the illustration of the average Republican Senator right now – someone who said that Trump committed "impeachable offenses" but who is not sure about convicting him through trial, so that probably means a Nay.
The BBC quoted a New York Time's estimate from mid-January that as many as 20 Republican Senators are open to voting to convict Trump, but it should be recalled that in the first Trump impeachment trial in 2020, several Republican Senators also shared in private and off the record that they would be willing to convict. After so much discussion, calculations and prognosis, in the end, it was only Senator Mitt Romney who broke ranks on only one of the two impeachment articles, and voted to convict.
The Capitol events, of course, are incomparable to the Ukraine impeachment saga, but it should be accounted for that the trial vote will likely take place sometime in March 2021, or two months after the Capitol events, when most of the tension and high emotion would have subsided and much of American society will be oriented towards "moving forward". Group 3 will host the majority of Senate Republicans who in the end will decide to let it go. Most of the 21 Republican Senators who already expressed their opposition to convicting Trump actually belong to Group 3 and not Group 2 Never Give up on Trumpers.
Group 4: I am a Never Give up on Trumper but I really want to look like Group 3
And finally, there is the most interesting group of Republican Senators who are secretly a Never Give up on Trumpers but would like to be perceived as belonging to the hesitant and deliberative Group 3 – willing and outraged but unwilling to go all the way on the record to eliminate a former Republican President.
Senator Ted Cruz might move into Group 4 in terms of rhetoric. Never Give up on Trumpers will vote Nay willingly but will try to present themselves as conflicted Group 3 politicians doing it for different reasons.
Which group Mitch McConnel chooses will be the decisive factor in aligning the Senate Republican votes. McConnel himself seems to be a Group 3 Senator who, in the end, is unlikely to rally the rest of the Senators to convict Trump even though McConnel would really like Trump out of the Republican Party, once and for all. The very fact that McConnel is not in a hurry and is in fact extending the cool-off period places him in Group 3.
Yea voters don't need time to think about it and look at things. It took House Democrats exactly three days to get it over and done with. McConnel is quoted as willing to give time to "both sides to properly prepare", allowing former president Trump enjoy due process. But Trump's legal team will notice quickly that there is not much to prepare for, as they won't find plenty of legal precedent in the jurisprudence on American Presidents' incitement to violent insurrection for stopping the democratic certification process on an opponent who is the democratically elected President.
McConnel himself has said that he is "undecided" and that speaks volumes. He is a Group 3 Senate Republican, and with that, Group 3 will describe the mainstream Senate Republicans' position in the impeachment trial.
Senate Majority Leader Chuck Schumer set 8 February as the start of the impeachment trial, pushing earlier McConnel's time frame. This is when it all starts.
It is my prediction that when all is said and done, there won't be as many as 17 Senate Republicans to vote to convict former President Trump. Trump will walk away, but not without the political damage he has incurred himself and has also left in American political life.
Two Ways that Trump Spread Covid-19 in U.S.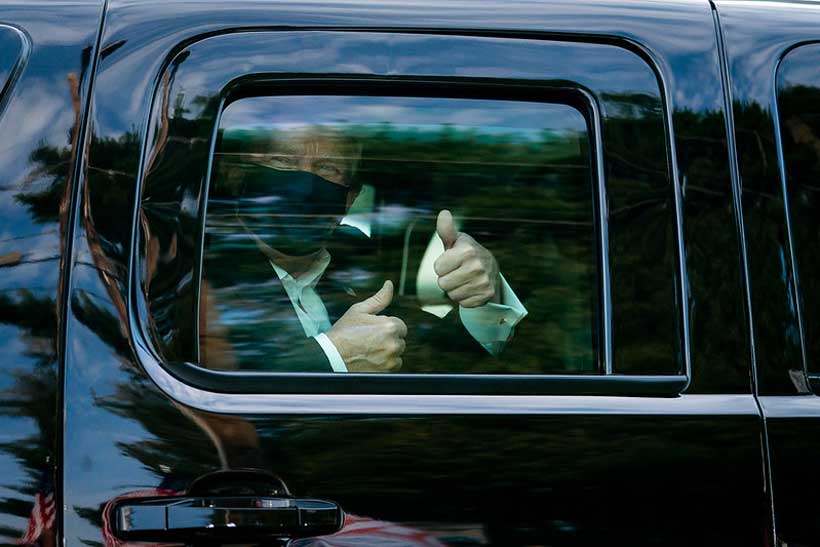 1. Encouraging infected workers to continue working even if it infects others:
On 12 May 2020, two hundred and twenty five labor organizations signed a letter to Antonin Scalia's son Eugene Scalia who was Donald Trump's appointed Secretary of Labor, and it urged his Department to change its policies "that address the standards that apply under the federal U[nemployment] I[insurance] law to determine when workers remain eligible for regular state UI or P[andemic] U[nemployment] A[ssistance] if they leave work or refuse to work due to COVID-19 health and safety concerns." In more-common language, an economist Jared Bernstein headlined in the Washington Post six days later on May 18th, "The Labor Department is forcing workers back to jobs that could make them sick" and he explained that Scalia's Department "has issued guidance that virtually ignores health risks and encourages employers to report workers who refuse job offers [while unemployed] so their unemployment payments can be taken away. The agency is busy urging employers to snitch on 'claimants that have turned down suitable work.'" Trump's Labor Department ignored the labor-organizations' letter. Then, a barista headlined at Huffpost on 22 January 2021, "I Work In A Coffee Shop In Montana. Anti-Maskers Have Made My Job Hell." She complained that the many customers who refused to wear masks were causing her to fear working there — she was blaming those customers, but not Trump. However, Trump and his Labor Secretary were responsible and simply didn't care about the safety of workers, such as her, and were instead encouraging employers to force these workers to stay on the job, though doing so endangered themselves and their co-workers. Millions of infected workers were infecting others because not to would cause them to become fired and could ultimately force them into homelessness. Maybe the billionaires who funded Trump's political career profited from such exploitation of their employees, but nationally this policy helped to increase the spreading of Covid-19. Also: since so many of those bottom-of-the-totem-pole employees are Blacks and Hispanics, etc., this Trump policy helped to cause the drastically higher infection-rates that have been reported among such groups.
2. Refusing to deal with the pandemic on a national basis:
On 15 July 2020, the Washington Post headlined "As the coronavirus crisis spins out of control, Trump issues directives — but still no clear plan" and reported that, "health professionals have urged the White House to offer a disciplined and unified national message to help people who are fatigued more than five months into the crisis and resistant to changing social behaviors, such as wearing masks and keeping a distance from others. Trump, for instance, refused to be seen publicly wearing a mask until last weekend, when he sported one during a trip to Walter Reed National Military Medical Center. 'You can get a really strong and eloquent governor who can help at the state level, but it does seem like we need some more national messaging around the fact that for many people, this is the most adversity they've faced in their life,' said Marcus Plescia, chief medical officer with the Association of State and Territorial Health Officials." Every country (such as China, Vietnam, Venezuela, South Korea, Thailand, New Zealand, and Finland) that has been far more successful than America is at having a low number of Covid-19 cases (and deaths) per million residents has dealt with the pandemic on a national and not merely local basis, but all of the worst-performing countries (such as America, which now is at 76,407 "Tot Cases/1M pop") have not.
It therefore also stands to reason that
which ranks all 50 states according to how high is the number of Covid-19 infections per million inhabitants, shows (and links to the data proving) that "In 2016, the top 17 [most Covid-infected states] voted for Trump, and the bottom 5 voted for Clinton. All but 3 of the top 24 voted for Trump." The correlation of high Covid-infection-rate with Trump-voting was astoundingly high. Trump, it seems, gave the high-infection-rate states what they had wanted. But what he gave to America is the highest Covid-19 infection-rate of any nation that has at least 11 million population. It is the 7th-highest Covid-19 infection-rate among all 219 reporting nations. Trump's policies produced the type of results that had been expected by well-informed people around the world.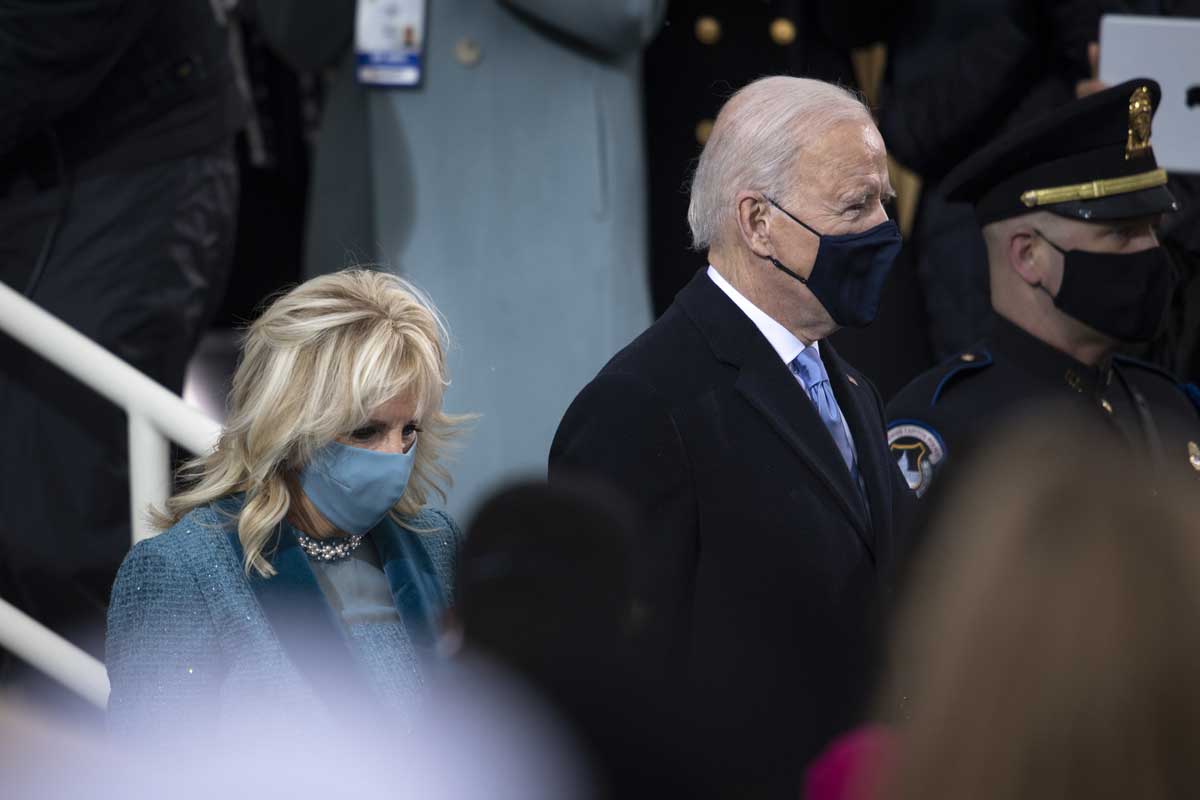 Sic transit gloria mundi — thus passes worldly glory, which seems an apt phrase for the peaceful transition of power from one administration to the next.
Joseph Robinette Biden, Jr. became the 46th president of the United States at noon on January 20th, and earlier Donald J. Trump departed the White House quietly for Florida — his last ride on Air Force One as president — leaving behind a generous and gracious letter for Biden. So it is described by Joe Biden himself. Trump did not attend the inauguration, the first president not to do so since Woodrow Wilson in 1921, who remained inside the Capitol building because of poor health while his successor Warren G. Harding was installed.
It was a most unusual inauguration this time. There were no crowds on the lawns outside; instead row upon row of American flags representing them. The official attendees all wore masks and included three former Presidents (Obama, the younger Bush and Clinton). President Carter, who is in his 90s and frail, sent his apologies.
The usual late breakfast before the ceremony and the lunch afterwards were also cancelled — one cannot eat with a mask in place! No evening inaugural balls either. These were sometimes so many that the new president and his lady could only spend a few minutes at each. In their stead, there was a virtual inaugural celebration hosted by Tom Hanks the actor. It consisted mostly of pop-singers who supported Biden plus a disappointing rendering of Amazing Grace by Yo-Yo Ma on his cello.
Biden's first act was to sign a series of executive orders to undo some of Trump's policies. He announced the U.S. would not leave the World Health Organization (WHO) and would continue to contribute to it. On climate change a complete policy reversal now means the U.S. will abide by the Paris climate accord.
Biden's other executive orders totalling 15 responded to the coronavirus crisis with the goal of giving 100 million vaccine shots by the end of April. He proposes to establish vaccine centers at stadiums and community facilities and also plans to speed up production of the supplies required for making vaccines.
The U.S. now has lost 406,000 lives (and counting) from COVID-19. That number is noted to be greater than U.S. deaths during WW2. The virus has so far infected 24.5 million people. However, the problem is more complicated than simply inoculating everyone.
Swedish authorities report that 23 people, mostly elderly and having other health issues, have died after being given the Pfizer vaccine. Its side effects apparently can be severe and mimic the disease itself. Thus given a choice, one would prefer the Moderna vaccine.
Old age is a poignant sight to behold. Biden the ex high school football star now having difficulty lifting his feet to walk. Very gamely, he even tried a jog or two to say a quick hello to bystanders during his short walk to the White House. We wish him well and hope for a successful presidential term. Thirty-six years as senator and eight years as vice-president certainly make him one of the most experienced to sit in the White House Oval Office. Good luck Mr. President!