Gazprom Transgaz Ukhta sponsors 'Cranberry. Shores' arts festival
The Fifth Experimental Plein Air Festival of Visual Arts 'Cranberry. Shores' ('Klyukva. Berega') was held from August 1 through August 16, 2016, at the initiative of the Artists Union of the Komi Republic, the Yugor Cultural Initiatives Center, and Pitirim Sorokin Syktyvkar State University. Gazprom Transgaz Ukhta was the festival's general partner.
The festival is aimed at showcasing wildlife sanctuaries closed to mass tourism, with their austere, pristine beauty, and the environmental balance between nature and gas transmission facilities. In the lead-up to the Year of Environmental Awareness at Gazprom, the 'Cranberry. Shores' festival stands out as a remarkable modern project that provides an example of environmental friendliness. The charitable initiative has also helped many artists realize their dream of traveling to the Far North and carrying on the traditions of Northern explorers and painters Yakov Vunder, Stanislav Torlopov, and Alexander Borisov.
The project brought together 16 painters and photographers from across Russia, including Syktyvkar painter Angela Razmanova, art historian and Komi National Gallery expert Olga Orlova, St. Petersburg Hermitage Museum photographer Yury Molodkovets, Moscow photographer Igor Popov, Ukhta photographer Marina Sivakova, and many others.
The festival took place in two stages: the participants undertook an Arctic expedition, visiting Vorkuta and Vaigach Island's nature reserve and admiring the picturesque scenery in the neighborhood of Gazprom Transgaz Ukhta's Gagaratskaya and Yarynskaya compressor stations. The project concluded in the Kozlovka village (Knyazhpogostsky District, Komi Republic).
The festival will be followed by a series of exhibitions in Komi Republic and across Russia. The first exhibition opened on August 16 at the Yugor Cultural Initiatives Center in Syktyvkar.
Alexander Gaivoronsky, Director General of Gazprom Transgaz Ukhta, attended the exhibition's opening ceremony and thanked the festival participants for sharing their impressions and works with the public and bringing everyone closer to the remote lands they had depicted. "Gas workers and artists have one thing in common: we all love the land we live in, we love its nature and the people who live there. The festival participants had the chance to travel to the Far North and to not only look at magnificent landscapes, but also see how well the gas transmission facilities blend into the scenery," Alexander Gaivoronsky said.
In the course of the Arctic expedition, the painter group encouraged the employees of Gazprom Transgaz Ukhta to participate. Painter Yury Lisovsky gave an open master class in drawing at the Gagaratskaya CS. The resulting artworks were presented at the exhibition later. The Yarynskaya CS hosted an art-themed event for gas workers with a presentation on the festival's concept and goals.
Strong Producer Organizations Key to a Vibrant Farming Sector
Scaling up agricultural production among small farmers through clustering and organizing them into cooperatives and various types of producers' organizations, and forging partnerships with agribusiness firms can help raise their incomes and subsequently spur the socio-economic transformation of the Philippine countryside.
A report titled "Realizing Scale in Smallholder-Based Agriculture: Policy Options for the Philippines" – launched jointly by the World Bank and the Department of Agriculture (DA) – said that there are rich lessons in the country and abroad for these clustering and consolidation of activities on-farm and along the value chain to succeed and transform the agricultural sector.
One notable example of this approach, the report said, is the Philippine Rural Development Project (PRDP), which is currently implemented by the DA. The PRDP clusters or organizes producers into enterprises that take a business-oriented approach to farming and fishing, supported through complementary investments in infrastructure such as farm-to-market roads, irrigation, post-harvest facilities, and cold storage.
"To succeed, efforts at clustering and consolidation needs to be voluntary, built on trust and confidence, and collaborative relationships among stakeholders—whether they are farmers, communities, municipalities, other local government units, or small and larger agribusiness enterprises," said Ndiame Diop, World Bank Country Director Brunei, Malaysia, Thailand, and the Philippines.
"Where different approaches to clustering land management are not feasible, support for the mechanization of farming and post-harvest operations may be an alternative or complementary strategy for smallholder-based systems to increase farmer productivity and incomes, both on and off the farm," Diop said.
Philippine agriculture is dominated by small farmers and fishers who operate independently, mostly using traditional production practices and earning low incomes. A typical farmer earns an average of P100,000 pesos each year, well below the poverty line (based on 2015 PSA figures).
Average farm size declined from three hectares (ha) per family per holding in the 1980s to only 0.9 ha per family per holding in 2012. These increasingly smaller farms are often split into more fragmented blocks. The country has some 5.56 million farms, totaling 7.2 million hectares, of which more than half (57 percent) are one ha or less, 32 percent are one to three ha, 9 percent are three to seven ha, and only two percent are seven ha or larger.
Agriculture Secretary William Dar has highlighted that using modern technology, schemes like block farming, trust farming, and contract farming can make farming more efficient and profitable for farmers and their partners in agribusiness ventures. With higher and better-quality production, linking agriculture to the domestic and global manufacturing sectors and accessing markets become easier, he said.
"Finding opportunities for clustering and consolidation of small and medium-sized farms as well as partnerships with agribusiness enterprises – to bring about economies of scale (and lower per-unit cost of production), particularly for crops that require mechanization and extensive use of technology – is part of the 'new thinking' of the Department of Agriculture," said Secretary Dar.
"We want to collectively empower farmers, fisherfolk, and the private sector to increase agricultural productivity and profitability, taking into account sustainability and resilience," the DA chief added.
Global experience shows that forcing collaboration among farmers and agribusiness enterprises through decree or subsidies (top-down approach) usually does not work but those that emerge from farmers' bottoms up collective initiatives yield good results.
The report says that the country can explore various arrangements based on global experiences, including:
Realizing scale in primary production. In the Philippines, perhaps the most promising areas to pursue clustering can be among selected irrigation schemes where water user associations are already well established; and within Agrarian Reform Communities supported by the Department of Agrarian Reform.
Supporting market-oriented producer organizations. Encouraging the growth of cooperatives and producer organizations. In the East Asia region, Japan, South Korea, and Taiwan have had especially rich experiences promoting farmer groups or cooperatives.
Fostering contract farming, productive alliances, or other linkages between farmers groups and agricultural enterprises. These are well understood in the Philippines and can be scaled up.
Elsewhere in the region, contract farming has become increasingly common in some value chains, including value chains for specialized rice varieties or rice production systems.
Saint Lucia Builds Investment Reference Guide to Boost Sustainable Development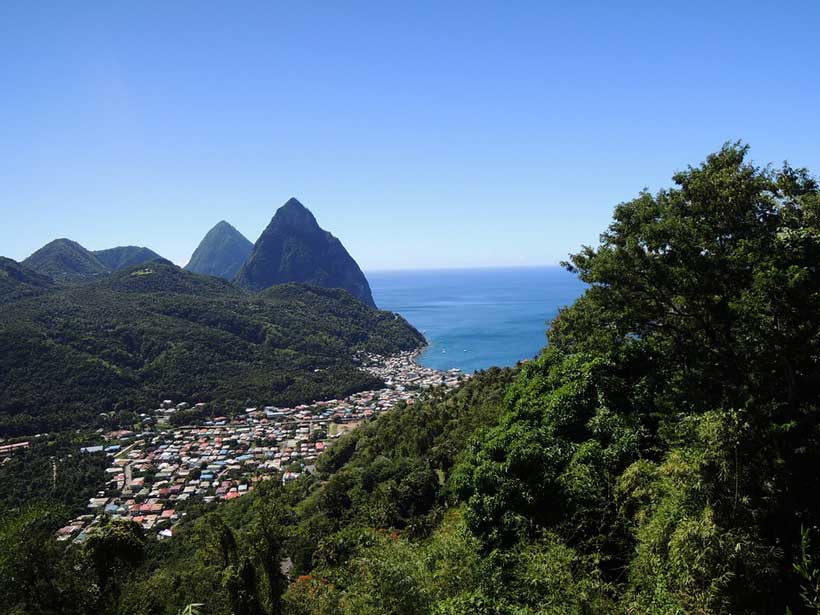 In partnership with the Government of Saint Lucia, the World Economic Forum is launching the Country Financing Roadmap for the SDGs. It aims to help Saint Lucia unlock sources of funding, remove investment bottlenecks and develop a more coordinated approach for financing projects that are environmentally friendly or can help people develop new skills.
The Country Financing Roadmap for Saint Lucia provides an overview of priority initiatives for leaders to assess and action project work – potentially saving money and helping to identify synergies across funding areas.
For example, the initiative brought together reskilling programmes with $12 million in total budget that can support the country's economic recovery efforts – potentially supercharging efforts. These include a collaboration between the European Commission and Forte, to help 500–600 people develop skills related to hospitality, digital skills and green or blue economy by the end of 2022, at no upfront cost to the government.
Another project, the Caribbean Climate-Smart Fund initiative by the Rocky Mountain Institute (RMI) and Lion's Head Global Partners (LHGP), is working towards mobilising both private and below market rate capital to finance a $80 million project pipeline dedicated to renewable energy in Saint Lucia.
"Finding viable solutions in the short, medium and long term to the myriad challenges that plague small island developing states (SIDS) like Saint Lucia is critical to safeguarding and putting the needs of our people first while achieving meaningful post-COVID socioeconomic recovery and implementing the Sustainable Development Goals," said Wayne Girard, Minister in the Ministry of Finance, Economic Development and the Youth Economy, Government of Saint Lucia. "The CFR not only presents Saint Lucia with actionable options to unlock some of the financing and investment bottlenecks that limit sustainable development, it also presents a useful mechanism for replication across other SIDS in the Caribbean region. Saint Lucia is committed to continuing its work with the Sustainable Development Investment Partnership (SDIP), to advance a regional approach to driving our collective capacities to build back better."
"Saint Lucia has demonstrated its commitment to meeting the SDGs by embarking on several important initiatives, with some of the most important focusing on financing targets," said Sean de Cleene, Member of the Executive Committee of the World Economic Forum. "We hope that this CFR initiative will create opportunities for Saint Lucia and other countries to fast track similar impact projects."
The CFR is a country-led initiative in collaboration with the Sustainable Development Investment Partnership (SDIP) and a joint initiative of the World Economic Forum and the Organisation for Economic Co-operation and Development (OECD). Its goal is drive economic recovery and achieve the Sustainable Development Goals by presenting viable solutions that address barriers to investment and attract greater sources of capital.
As a small island nation, Saint Lucia is vulnerable to economic shifts and continues to expand recovery efforts due to the consequences of the COVID-19 pandemic, which pushed the country to an 86.5% debt-to-GDP ratio for 2020. In 2019, tourism accounted for 80% of the nation's labour market which faced a reduction in jobs from 63,400 in 2019 to 41,600 in 2020 as a result of the crisis, according to the World Travel and Tourism Council. Barriers to sustainable growth also hinge on the population's dependence on fossil fuels which, through a successful transition to renewable energy, could increase self-sufficiency, equity, and environmental sustainability.
Alongside the CFR, the government in collaboration with the United Nations Office for Project Services (UNOPS) and the University of Oxford launched the Saint Lucia National Infrastructure Financing Strategy developed using the Sustainable Infrastructure Financing Tool (SIFT), which complements the CFR and further explores the opportunities for sustainable infrastructure financing in the country.
The Sustainable Development Investment Partnership plans to continue its support to the Government of Saint Lucia and regional organisations in hosting a series of discussions on reskilling and renewable energy solutions with over the next six months.
World Bank Supports Croatia in Transforming Its Primary Education
The World Bank Board of Directors today approved a loan to the Republic of Croatia in the amount of EUR25 million ($28.9 million equivalent) for a project to improve the learning environment in selected primary schools.
The Croatia: Towards Sustainable, Equitable and Efficient Education Project (SEE Education) will support the Ministry of Science and Education's (MSE) introduction of the Whole Day School (WDS) system in selected schools, which is designed to improve student learning outcomes, particularly among disadvantaged students, through increased instructional hours and improved teacher training and school infrastructure. Since school days will be better aligned with common working hours, young mothers and fathers, of children attending WDS will find it easier to participate in the labor market and thereby increase their earnings. The project will also strengthen the capacity of MSE to scale up the WDS system at the national level and to implement other needed sector reforms.
Croatia has committed to a set of sweeping reforms, outlined in the National Recovery and Resilience Plan (NRRP) 2021-2026, to modernize and improve the education system and respond to the learning challenges which have been further exacerbated by the COVID-19 pandemic and the two large earthquakes that struck Croatia in 2020.
"We are so pleased to partner with Croatia in this vital effort that will ultimately bring benefits to the whole Croatian society through better learning outcomes, higher labor force participation and increased productivity," said Jehan Arulpragasam, World Bank Country Manager for Croatia and Slovenia. "The SEE project comes at a critical stage of the transformation of Croatia's education system and will substantially improve educational opportunities for current and future generations of children, including those from disadvantaged backgrounds and vulnerable groups."
The proposed project will support a systemic transformation of Croatia's basic education sector. It will initially help to implement the WDS reform in 50 demonstration schools by providing both technical assistance and the needed infrastructure. The capacity built as a result of these efforts will help authorities to introduce the WDS model at the national level. The direct beneficiaries of the project will include approximately 32,500 students, their parents and teaching and administrative staff.
The project will also support the design of new infrastructure standards for Croatian schools, incorporating seismic resilience into building upgrades, and encompassing best practice OECD-EU climate, environment, and energy-efficiency standards, contributing to the European Green Deal agenda.
The World Bank has been a partner to Croatia for over 27 years. During this period, the Bank has supported more than 50 projects, worth almost US$5 billion, produced numerous studies, and provided technical assistance to help strengthen institutions and support the design of policies and strategies. The Bank's current program focuses on mitigating the economic and social impact of COVID-19, post-earthquake reconstruction, transport, justice, innovation, business environment, land administration, science and technology, and economic development of the Pannonian region.