Although terrorism has never been isolated to one continent, one country or one ideology, before September 11th 2001, terrorism was not a high priority security issue that dominated government policies across the globe. However, since its birth, India has witnessed terrorist activity swiftly encroach and continually penetrate its borders.
In the case of Kashmir and in India, the direct exportation of state sponsored terrorism from Pakistan was viewed more as a complication and obstacle in the India-Pakistani relationship than a formidable and dangerous threat. Until 9/11, no serious commitment was made by India's allies in the West to challenge the assistance, encouragement and infiltration of extremism within the subcontinent.
The most suitable example includes the disregard of India's accusations toward Pakistan's state sponsored terror policy, with no grievous event taken seriously until the United States experienced an attack on her own soil.
Only four years after 9/11, the United Kingdom experienced its worst terrorist incident since the 1988 Lockerbie bombing. No stranger to domestic terrorism with the Real IRA bombings failing to cease after three decades, the 7/7 bombings marked the first Islamist suicide attack in the country.
These incidents forced the West to reconsider their current stance on terrorism, leaning their ears towards countries that had been heavily afflicted by terrorist activity. After correcting previous policies, redrafting laws and creating counter-terrorism acts, the impact of these changes in national security inevitably rippled into international relations. For example, Pakistan enjoyed a beneficial bilateral relationship with the United States until 9/11 and the consequent intervention in Afghanistan. However the relationship between the two nations continues to deteriorate under the strain of each others criticism of the War on Terror, along with several high profile incidents that fuelled already high levels of mistrust. In addition to this, members within the U.S congress have passed an amendment that seeks to restrict aid to Pakistan because of its close relations with the terrorist organisations. These restrictive tactics by the United States continue to fail in thwarting Pakistan's objectives, with China now using Pakistan to gain geopolitical leverage and counter India's growing influence in the region.
Terrorism has three formats.
First, state sponsored. An example of this includes the United States facilitating arms shipments and financial aid to the insurgent group "the Mujahideen" during the Cold War. With the help of Pakistani government contacts, the objective was to restrict Soviet forces in Afghanistan. However, the repercussion of this action has a regional ripple effect that continues for decades, particularly in the case of Pakistan, where terrorism has been given a breeding ground.
Second, the growth of non-state actors world wide, namely ISIS, al-Qaeda, the Taliban and Hezbollah. Identified as an entity that participates and wields power and/or influence in international relations without belonging to an established state, these non-state actors thrive because of their ability to shift their operations and activity. This means that any terror activity carried out by these actors are quickly claimed as a way of establishing, recognising and legitimising their presence. For example, September 11th in New York, the 2008 Mumbai terror attack and the 2014 attack on the Peshawar military school in Pakistan were all taken responsibility for by the concerned non-state terror outfits.
And third, terrorism completely based on ideology. This is one of the deadliest virus' the present time has witnessed, with anyone vulnerable to being radicalised by an ideology. Unlike non-state actors, ideological based terror is more reluctant and sometimes unable to fully claim for their activity. We can see this pattern emerging in some recent cases, where terrorist groups are not ready or informed enough to take responsibility for atrocities. This is evident in the rise of lone wolf attacks and small, but organised factions across Europe claiming allegiance to Islamic State without IS having full knowledge or participation in the recruitment and radicalisation. By urging followers to carry out acts of terrorism without official planning, instruction or material contribution from senior leaders, IS manages to remain an infectious and deadly enigma in which global leaders still remain uncertain on how to effectively tackle and defeat.
The shift from non-state actor terrorism to ideological based terrorist activity is extremely alarming. It does not require traditional leadership or direction, and it can penetrate borders without a passport or visa. The recent attacks in Paris, Nice, Brussels, Kabul, Bangkok, and Dhaka and in US cities demonstrate this. Post-9/11, the entire concept of terrorism has drastically changed, domestically and globally. A cowardly attack against innocent civilians continues today without any hard policy restrictions from the international community. Western countries in particular have strong condemnations but are restrict their acts of responding to terror, leaving their societies fearful, shaken and heartbroken.
In regards to analysis, we do not have any correct perception of these attacks. We are not ready to analyse the real issue behind this new enemy. Many agree that terrorism has ushered an ambiguous form of war into the modern era, and into parts of the world where it was previously unknown or unrecognisable. Moreover, it has support from all radicalised groups. Glorifying death by killing others allures many young, misguided minds across the globe. It is worth noting, those involved in ideological based terror acts all are rarely from poor socio-economic backgrounds. For example, the Dhaka attackers were well-educated individuals from middle class families.
All our security and intelligence operations are based on old, outdated perceptions and information. Now we are forced to deviate from traditional security perspectives and review alternative, contemporary outlooks. However, there is currently no consensus on how to target and destroy an enemy based on ideology. The former secretary of state Hillary Clinton endorses this point. Following the attack on the city of Nice in France, she said that the enemy was "an ideology and not a nation state".
The state sponsored enemy can be at least identified and action can be taken to handle them. Negotiations can be organised with the state who has sponsored or who is behind the attacks, targets can be identified, preparations can be made to hinder breeding grounds and/or plans can be formulated for an offensive retaliation.
But the ideological based enemy flourishes with fear, by spreading insecurities and apprehension among the public when gathering in cities, organising group events or celebrating anything in a common place. It is tough to predict who would succumb to radicalisation and inflict destruction and death upon innocent civilians, and it is extremely difficult to adequately prepare for such sporadic and unpredictable events. In addition, these enemies have deadly weapons available, which are no longer restricted to guns and/or suicide bombs. The recent attacks in the city of Nice in France in which the radicalised driver, motivated by his ideology, used his 19-tonne lorry as a weapon to kill more than 80 people and injure hundreds. The target remains largely in-discriminatory, with the goal being to kill the maximum number of people as possible. The attacker is no longer a known, identifiable enemy we share a border with, or is perhaps a sea, mountain range or land mass away. The attacker is the 'enemy at the gates', and waits patiently at the gate of every country to unleash its wrath.
But the ideology based enemy is really panicking anyone to gather in the cities or to organize any group events or to celebrate anything in a common place. It is tough to predict who would turn toward the radical way and become a attacker. They simply occupying by the evil mind passionate in killing the innocence people for their ideology. It is extremely difficult to predict and act on it. These enemies are using the available deadly weapons. Not restricted with guns or suicide bombs. The recent attacks in the city of Nice in France the radicalized driver motivated by his ideology used his lorry as a weapon to smash the 80 plus lives. Their targets are just to kill the maximum number of human. You cannot say the attack is on our neighbor we are nothing to do with that. It indicates that the 'enemy at the gates' of everyone. It is on every state gate to breath its wrath.
What would be the best policy solution?
First, the UN protocol on terrorism should be adopted. The earliest should be the 71st session of the UN General Assembly by September this year (2016). The international community should coordinate the adoption of the Comprehensive Convention on International Terrorism (CCIT). If the CCIT is adopted at the UNGA, this would enable a huge leap forward to counter this ideological enemy, particularly in regard to cooperating with other states for joint action efforts and shared communication.
Second, everyone agree with the statement of Clinton: "We're at war against radical jihadists who use Islam to recruit and radicalise others in order to pursue their evil agenda". This recruitment drive is accelerated through social media, used largely by youthful members of society. In addition to ease of access, the monitoring of social media is difficult, especially with legal challenges. However, it is the responsibility of each state to contribute counter greater efforts in combating radicalisation online.
Third, society should encourage and promote a united voice in opposing those who follow this ideology. This would effectively give a strong stance and warning to those who are vulnerable to accepting and acting on this ideology. Parents should closely observe their children while they are abroad for their higher education or for employment, frequent communication between family members, and between families and religious figures in some cases, would dismantle the idea if they are already poisoned.
Fourth, the government should take stringent action against radicalised preachers. Even a small intelligence warning should be carefully analysed and action should be taken to uproot their existing presence and influence. Their financial foundation should be demolished and any supportive infrastructure should be completely shutdown.
Fifth, the government cannot give protection for all events or gatherings. However, organisers should carefully supervise entrances and scrutinise entry passes. Festivals, large gatherings, celebrations, rallies should be strictly monitored, with local governments and police informed prior. Moreover, airports and bus stations are always a prominent target. Security arrangements should always be motivated to be vigilant, with intermittent drills and training exercises for various security breaches, eliminating any potential for would-be attackers. Small harbours and/or coastal areas should be given added surveillance which are fitted with mechanisms that connect local police stations.
And finally, the governments and the ruling elites should speak for everyone in the society. They should comfort marginalised and minority groups whilst standing with them as they all, side by side as one society, face and deplore violent harassment. The enemy is waiting and watching at the gates, and will radicalise anyone that falls to their hands.
Currently in the United States, the Republican Presidential candidate Donald Trump continues to advance the opposite of these ideas, preying on domestic fears for political gains. In India too, Prime Minister Narandera Modi's speeches are carried out to polarise voters for domestic political gains. Ultimately, this enables the enemy and their agenda by escalating xenophobia and isolating already susceptible individuals, which in turn aids their recruitment, strengthens their devotees and encourages unrestrained, bloody action.
Whether you like it or not, the barbarians are at the gates. It is up to society and their state leaders, do we destroy them or let them destroy us.
Despite acknowledging strict measures, Pakistan has to stay on the grey-list in FATF
President of The Financial Action Task Force (FATF), Dr. Marcus Pleyer, announced in a press conference held on 25 February 2021 after the four-day virtual plenary meeting in Paris, France, that "Pakistan remains under increased monitoring," adding that while Islamabad had made "significant progress," there remained some "deficiencies" in mechanisms to plug terrorism financing.
The Financial Action Task Force (FATF) is an inter-governmental formal decision-making body. It was founded in 1989 during the G7 Summit in Paris to develop policies against money laundering. It is a "policy-making body "that generates the political will to bring about national legislative and regulatory reforms in money laundering. It has also started dealing with virtual currencies. The FATF Secretariat is located in Paris. It sets standards and promotes effective implementation of:-
a. Legal, regulatory, and operational measures for combating money laundering.
b. The FATF works to identify national-level vulnerabilities to protect the international financial system from misuse.
Pakistan has been on the FATF grey list since June 2018 and has been asked to implement the FATF Action Plan fully by September 2019. Pakistan has implemented almost 90% of the recommendations; only three out of 27 points are not fully implemented.
Pakistan has suffered heavy economic losses due to being put on the grey-list; according to some estimates, Pakistan has suffered US Dollars 38 billion.
The FATF president noted that Pakistan was working towards its commitment made at a high level to implement the illicit financing watchdog's recommendations, saying "that is not the time to put a country on the blacklist."He added that as soon as Pakistan completed the action, the watchdog "will verify the reforms' sustainability and discuss in next plenary in June."
However, there are no chances that Pakistan could be put on the blacklist because it has at least three members of the FATF — China, Turkey, and Malaysia — that can sustain all pressures against any downgrade.
The government of Pakistan is committed to fully implementing the action plan, and to date, the progress achieved is admired by other FATF members.
However, FATF is also being used as a political tool against other nations. By reviewing the countries on the blacklist, the new additions are North Korea and Iran- the West's adverse enemies. Also,the addition of Morocco, Burkina Faso, Senegal, and the Cayman Islands, are political decisions. As a matter of fact, the Western world is using international organizations, including FATF, to coerce their political opponents. Pakistan was a close ally with the West during the cold war era, and the front line state on Afghan war and non-NATO ally in the war on terror, yet faced worst sanctions like Pressler Amendments, Kerry Loggar Bill, etc.
Pakistani journalist Adeela Khan stepped up and raised a question asking FATF president Marcus Pleyer why India is not on the grey or blacklist of FATF even after financing proxies in Afghanistan, using Afghan soil to end terrorism in Pakistan, and violating human rights in India Occupied Kashmir. There more than forty banks in India involved in money laundering. The Incident of terrorism in Sri Lanka can be traced back to India. Yet India is not on the grey list or blacklist. India has been playing an ugly role in keeping Pakistan on the grey list. Although the EU Disinfo lab has revealed that Indian state-sponsored media think tanks and professionals play a dirty role in spreading fake news and disinformation against China and Pakistan yet, the world has not realized India's evil intentions.
A bais and discriminatory attitude may harm the FATF's reputation ultimately.
Many neutral people ask similar questions and demand justice and a fair playground for all nations, above the political motives and discrimination. The international community may maintain the reputation of International organizations and integrity – merit-based decisions.
On the one hand, Pakistan is trying its best to implement the FATF plan fully, and on the other hand, it is demanded that a fair playground be provided to judge the case for Pakistan. It is expected that in the next plenary session to be held in June 2021, Pakistan will come out of the grey list.
'Disturbing spike' in Afghan civilian casualties after peace talks began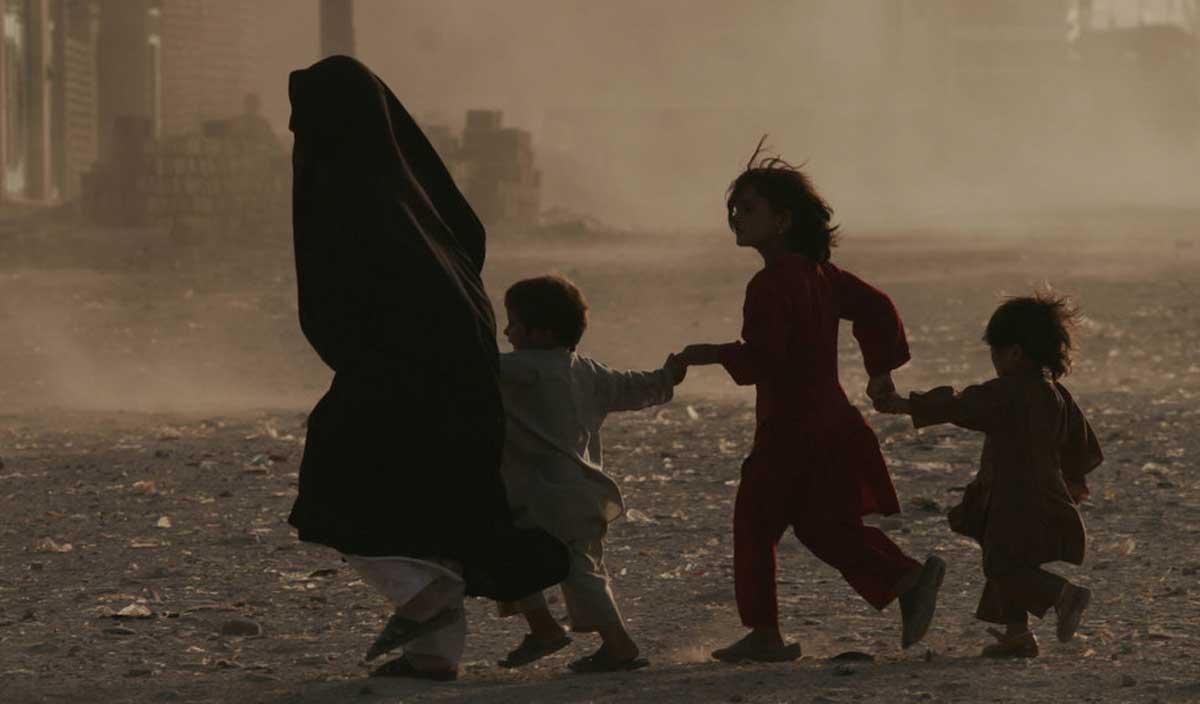 Civilian casualties in Afghanistan witnessed a sharp rise since peace negotiations started in September last year, even though overall deaths and injuries dropped in 2020, compared to the previous year, according to a UN human rights report launched Tuesday.
In their annual Afghanistan Protection of Civilians in Armed Conflict Annual Report, the Office of the UN High Commissioner for Human Rights (OHCHR) and the UN Assistance Mission in the country (UNAMA) documented some 8,820 civilian casualties (3,035 deaths and 5,785 injuries) in 2020, about 15 per cent less than in 2019.
It was also the first time the figure fell below 10,000 since 2013.
However, the country remains amongst the "deadliest places in the world to be a civilian", according to Michelle Bachelet, UN High Commissioner for Human Rights.
"I am particularly appalled by the high numbers of human rights defenders, journalists, and media workers killed since peace negotiations began in September", she said.
At least 11 rights defenders, journalists and media workers lost their lives since September, resulting in many professionals exercising self-censorship in their work, quitting their jobs, and even leaving their homes and the country – in hope it will improve their safety.
Rise in 'targeted killings'
According to the report, the overall drop in civilian casualties in 2020 was due to fewer casualties from suicide attacks by anti-Government elements in populated areas, as well as drop in casualties attributed to international military forces.
There was, however, a "worrying rise" in targeted killings by such elements – up about 45 per cent over 2019. The use of pressure-plate improvised explosive devices (IEDs) by the Taliban, air strikes by the Afghan Air Force, and ground engagements also resulted in increased casualties, the report said.
According to the report, anti-Government elements bore responsibility for about 62 per cent civilian casualties, while pro-Government forces were responsible for about 25 per cent casualties. About 13 per cent of casualties were attributed to crossfire and other incidents.
2020 could have been 'a year of peace'
Deborah Lyons, Special Representative of the UN Secretary-General for Afghanistan and head of UNAMA, called on all parties to take immediate and concrete action to protect civilians, urging them "not to squander a single day in taking the urgent steps to avoid more suffering".
"2020 could have been the year of peace in Afghanistan. Instead, thousands of Afghan civilians perished due to the conflict", Ms. Lyons said.
The "overriding objective" of the report is to provide the parties responsible with the facts, and recommendations, so they take immediate and concrete steps to protect civilians, she added.
Ms. Lyons highlighted that "ultimately, the best way to protect civilians is to establish a humanitarian ceasefire" – a call consistently made by Secretary-General António Guterres and the Security Council.
"Parties refusing to consider a ceasefire must recognize the devastating consequences of such a posture on the lives of Afghan civilians."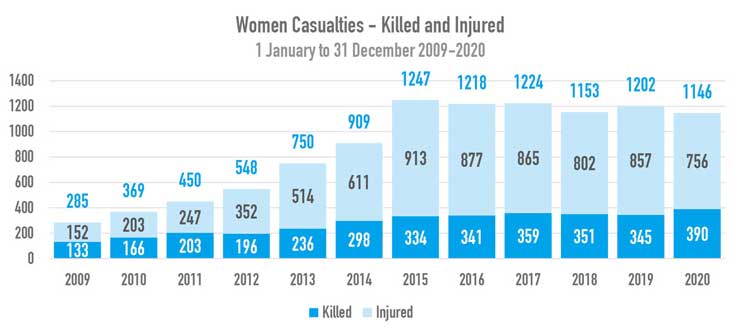 UNAMA-OHCHR report: Women casualties (killings and injuries) documented between 1 January 2009 and 31 December 2020
'Shocking toll' on women and children
The report went on to note that the years-long conflict in Afghanistan "continues to wreak a shocking and detrimental toll" on women and children, who accounted for 43 per cent of all civilian casualties – 30 per cent children and 13 per cent women.
"This report shows the acute, lasting needs of victims of the armed conflict and demonstrates how much remains to be done to meet those needs in a meaningful way", High Commissioner Bachelet said.
"The violence that has brought so much pain and suffering to the Afghan population for decades must stop and steps towards reaching a lasting peace must continue."
Attacking civilians 'serious violations'
With the conflict continuing, parties must do more to prevent and mitigate civilian casualties, the report said, urging them to fully implement the report's recommendations and to ensure that respect and protection of human rights is central to the ongoing peace negotiations.
It also reminded the parties that deliberately attacking civilians or civilian objects are serious violations of international humanitarian law that may amount to war crimes.
Is Blacklisting on Cards for Pakistan?
Financial Action Task Force (FATF) has been an integral part of the economic decision making and regulatory procedures of the country. The days of the ultimate decision are finally on cards as the Global Watchdog is expected to evaluate and review the performance and strategies of Pakistan via virtual meeting tentatively scheduled for February 22-25, 2021. This would be a much-anticipated review since a keen eye would be payed following a long hiatus to the litigations recently undertaken by the country to eliminate the risks and gaps in the financial framework which might earn Pakistan, a way out from the grey list. However, while the preceding meeting only guided more hopes for better litigation and measures to curb terror financing, brimming foreign propaganda and nefarious rulings within the country itself might hamper the way out but instead could dig the trench further towards a harrowing financial turmoil.
Pakistan was placed on the grey list back in June 2018 due to strategic deficiencies. Just before the Covid-19 pandemic wreaked havoc in the world, Pakistan was allowed a breather of 4-months to comply with the 27-point action plan; of which Pakistan met only 14 targets while missing out on the rest of 13 targets. Moreover, Pakistan could only satisfy 10 of a total of 40 recommendations devised by the task force. These lags led to a major pitfall in the Pakistan's Stock Market; PSX plummeting bellow 30,000 points. Furthermore, a bitter narrative started blooming regarding arch-rival India pulling all the strings to push Pakistan down further, even in the blacklist. This was largely shunned by the Indian representatives but the failure of the economic and diplomatic front of Pakistan was evident by now.
The FATF plenary was scheduled, like traditionally, in June. However, all scheduled evaluations and review procedures were deferred for 4-months in the wake of the Covid-19 pandemic, allowing yet another unforeseen yet thoroughly welcomed relief span to Pakistan to strive more actively to meet the requirements.
In the preceding 4 months, Pakistan acutely worked to amend the contradicting laws and policies, the parliament playing an agile role to introduce new bills relating to counter-terrorism and countering money laundering as an act to expedite compliance to the international laws and ultimately meeting up all 27 points in the action plan. Almost all the bills presented, albeit some political resistance, were eventually passed which even led to optimism in the stock market; PSX climbing back over 40,000 points after more than half a year, rallying to record high levels despite of the pandemic wreaking havoc on the investors' mentality across the globe.
The meeting held, after a steep deferral, back in October 2020; the FATF committee observed and commended on the vigilant stance assumed by Pakistan to crawl out of the Grey list. Pakistan has since delivered on 22 out of the 27 core points of the action plan defined. However, the meetings adjourned till February, retaining Pakistan in the grey list under the tag of 'jurisdiction under enhanced monitoring' whilst praising the steps of counter-terrorism and anti-money laundering adopted by Islamabad.
Pakistan was warned back in February last year that if not complied by the 27-point action plan, it could be a great threat to the foreign mechanism and would be eventually moved to the monitored jurisdiction, notoriously also known as the 'Blacklist'. Later this month, FATF would examine if Pakistan meets the 8 key categories of the action plan; remedial actions taken against money laundering, counterfeit terrorism while also reviewing the vigilance of the institutions in countering Terror Financing and actively managing risk. The committee representing Pakistan would perpetually convince the plenary that the country in-fact meets the criteria and transitioning over the next month, the fate of the tormented economy would finally prevail in light of the decision made.
However, Pakistan has been sluggish in taking action against the notorious entities linked to terrorism around the region. The meeting nears with the pinned watch of UN regarding Pakistan's role of providing a safe haven to Lashkar-e-Taiba founder, Hafiz Saeed, or the notorious acquittal of Ahmed Omer Sheikh, the prime culprit of the Daniel Pearle Murder case of 2002. Pakistan, however, claims to have made virtue on 22 of the defined 27 points while has garnered 'Substantial progress' on the remaining 5 points. Thus, the optimism brews that the meeting would push the country out of the list and would open more financial avenues especially in these distressful conditions.
Although Pakistan's Foreign Office including the Foreign Minister, Shah Mahmood Qureshi, appears optimistic to climb out of the grey list after 3 years, the infamous decisions passed by the Supreme Court of Pakistan, the excessive money laundering cases surging against the ex-office holders of Pakistan and the determined efforts of India to subvert Pakistan in global politics, all thwart down that optimism bit by bit. And while some of the economic experts claim that the decision of advancing Pakistan off the Grey list would be naïve move and would arguably impact regional dynamics, the decision could fall in tandem with the preceding outcome of sustaining the grey list status or could deteriorate the level further as gauged by a political expert, opining his narrative: "The facts demand that Pakistan remain on the grey list. The FATF shouldn't just keep Pakistan on the grey list. It should rather warn Islamabad that absent rapid and wide-ranging reform; blacklisting is coming".