Why Australia should abandon its Russian paranoia
Russia and Australia should be partners in the Asia-Pacific. Instead Canberra seems perennially paranoid about the Russian threat. This paranoia is nearly as old as Australia.
In the 1850s at the height of the Crimean War – fought primarily between Russia and Britain –Australia was gripped by paranoia of a Russian invasion. As rumours spread that the Russian Navy had invaded the port of Melbourne, the British colony started building coastal fortifications to repulse the invasion – that never came.
Russophobia is back in fashion in Australia. It almost reached a crisis point at the December 2014 G-20 summit in Brisbane when the Tony Abbott government said it wanted to ban Russia. The Australians backed off after India and China reminded them the G-20 wasn't a private western club.
Abbott then said he would "shirtfront" Vladimir Putin at the summit. Shirtfront is defined in Australian Football Rules as an aggressive front-on body check challenge. The irony is that had Abbott implemented his threat, it would have been Putin the judoka who would have come out on top.
At any rate, instead of wasting words Putin despatched a Russian Navy flotilla towards Australia ahead of his visit.
It is clear that Australia's political leadership doesn't tend to view Russia favourably. Russia has returned the favour by blocking Australia's involvement in the Syrian peace negotiations.
Australia's place in the world
Australians are an easy going people, but their problem is the country's leadership which is way over its head in events it can't begin to understand. This was best illustrated by author David Horne, who wrote in 1960, "Australia is a lucky country, run by second-rate people who share its luck."
Indeed, the Australian political class tends to react to the rapidly transforming world order around them with hysteria rather than level headed thinking.
Take the sudden end of the Cold War. Australians were initially thrilled with the unexpected decline of Russia's global power, which had left the West supreme. But the euphoria didn't last long because the rise of China and India among other countries plus the re-rise of Russia checked the West's expansion. Australians watched with dismay the world go multi-polar and the western economies crumble in slow motion.
For a country of just 23 million, Australia has outsize global ambitions. Despite the fact that the Royal Australian Air Force can barely find enough pilots to man its existing squadrons, Australian leaders like to think of their country as integral to the maintenance of the West's hegemony. Over the decades, they have blindly followed the US and have been loyal foot soldiers in a string of American-inspired conflicts around the world — Vietnam, Iraq, Afghanistan and now Syria. Plus, with old co-hegemon Britain's defence forces shrinking because of budget cuts, Australia is keen to take over the role of America's closest ally.
Russian bogey
America's adversary is, therefore, Australia's adversary. During the 2008 Georgian War, the Christian fundamentalist Prime Minister Kevin Rudd threatened to cancel a 2007 agreement on the sale of uranium to Russia. The Rudd government's argument was specious – that Moscow would use Australian uranium to make nuclear bombs.
Only someone belonging to the Flat Earth Society would have made such an argument. Russia not only had enough nuclear warheads to destroy all NATO countries, but it had thousands more in cold storage. In fact, the Russian government is in the process of dismantling these stored warheads as a security measure.
Again, during the Ukraine crisis, Australia joined the US and Europe and imposed sanctions on Russia. This included asset freezes and travel bans on 50 individuals and 11 Russian companies, including SMP Bank, Bank Rossiya and the Volga Group.
However, while Russia is targeted for acting entirely within its area of influence, Australia looks the other way when it comes to China. According to Saleem H. Ali, Chair and Professor of the University of Queensland, "the moral outrage being exhibited on the matter needs to be tempered with some broader perspective on what gets tolerated in the annals of Australian foreign policy".
Ali explains: "Ultimately, nation states make decisions on relations based on a balance of economic expediency and national security. Australia's ambivalent relationship with China is perhaps the most direct comparison in this regard. Marginalization of dissent, lack of democratic institutions and regional hegemonic tendencies are appropriately tolerated by Australia as well as many other western nations because the broader importance of engaging with China trumps such matters. A similar modicum of care is in order when dealing with Russia."
Australia's fears
To be sure, Australia has legitimate security concerns. Most of its limited population is concentrated on the east coast while the sparsely populated north and west are closer to crowded Indonesia than Sydney or Melbourne.
Fuelling Australia's paranoia are other strategic developments in the region. China's naval expansion is a big worry for the Australian defence forces and curiously the Australian political and military leadership at one time viewed India as a threat. The Indian Navy's current high-octane growth will no doubt be in Canberra's calculations. Add in the fact that Indonesia is re-arming – with the deadly Sukhoi Su-35 aircraft – right next door, and you can see why the Australians are getting jittery. (It is worth mentioning that during World War II, more bombs were dropped on Darwin than were used in the attack on Pearl Harbor. In fact, during 1942-43 the Japanese launched as many 100 raids on Australia.)
In this backdrop, the Australians feel only an alliance with Anglo cousin America can ensure their security.
However, Australia needs to relax about Russia. It's been over 200 years since the invasion scare and there's still no sight of a Russian fleet. The reality is that Moscow has never had designs on Australia. Even during the height of the Cold War, Russians were content with a minor presence in the region. It was almost a career dead end for a Russian diplomat posted to Australia.
Being small and a lightweight in diplomacy, Australia could benefit from Russia's friendship. As Ali says, "For all his many dismissals of smaller states like Australia, President Putin made a gesture in 2007 to visit Australia on an extended visit for the APEC summit, making him the first serving Russian president to give the country a measure of diplomatic respect."
On the flip side, Moscow can squeeze Australia where it hurts as it showed by elbowing out Canberra from the Syrian negotiations. Both countries are commodities exporters to China but it is Russia that holds more leverage with Beijing. Describing Australia as a "Paper Cat", a Chinese newspaper says Beijing should attack Australia if it enters the borders of the South China Sea.
Australia is currently waiting for the Americans to supply the F-35 stealth fighter to replace its aging F-18 jets. However, Russia is supplying the stealth-killer Su-35 to Indonesia and China. If Australia had any friends in Moscow, these sales may have been blocked or delayed just like Russia had delayed the sale of the S-300 anti-missile system to Iran and Syria partly because of Israeli pressure. Once bitter Cold War adversaries, Tel Aviv and Moscow enjoy an easy relationship today. There is no reason why Russia-Australia relations cannot be on the mend.
Letter to heaven: An eulogy to Luang Poo Boonyarith Bundito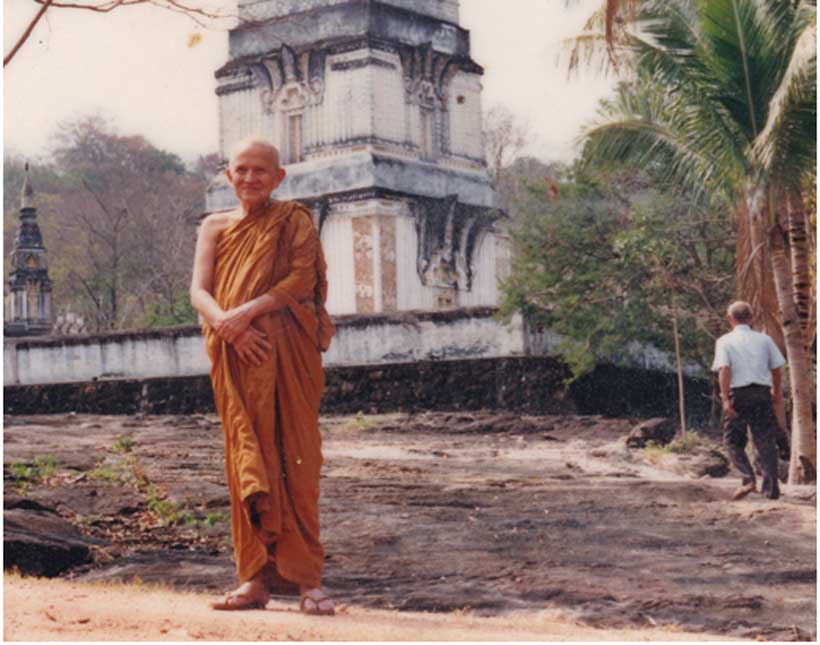 Everyone knows him as a great monk who was an exceptional teacher of meditation. From the royal family to a layman, Luangpoo Boonyarith Bundito was well loved and respected.
Luang Poo Boonyarith was a forest monk who ordained since the age of 31. Like forest monks before him from Luang Poo Mann Puritat to Luang Poo Chob Thannasamo, he followed a strict tradition of solitude. For decades, he traveled to the furthest parts of Thailand and remained there on his own. For at least 9 years, he lived by himself in the peak of a Karen Mountain in the Northern Part of Thailand.
"The karen has an innocent mind" he said in his meditation preaching.
In 1974, he was sent by Wat Bawornnivetviharn on a diplomatic mission to preach Buddhism in Australia. During more than 30 years of his tenure there, he built, strengthened and taught the beauty of mediation to foreigners and Thai alike.
An epitome of what a modern diplomacy is.
With his compassion and open-mindedness, he welcomed Christian, Jewish and Muslim into his temples to learn how to meditate, even though they were clear not to be Buddhist.
He was equally straightforward to them. "Meditation and Buddhism is intertwined and Buddhism is a religion, not a philosophy nor a lifestyle".
Something that would kill the New Age followers.
I had the privilege of knowing him since I was nearly four years old, where he would stay at our house during his trips and sabbatical to Bangkok. Sometimes he stayed for a couple weeks, sometimes that would last for a couple months. At least for 20 summers, we were lucky enough to host him.
While his disciples came to our house to seek truth and find peace, for a 4 years old me, Luang Poo was my English tutor. Having been fluent in French, German and English, Luang poo was a great linguist who paid attention to details of grammatic rules and depth of meaning and complexity of the vocabulary.
He is an avid reader – with extensive collection of books on philosophy, history, maps, arts and great classics. His gifts for me involved pens and notebooks, collection of postcards from foreign lands I never been or books I had never heard of.
At the age of 16, he gave me Brave New World by Aldous Huxley. With the density of idea and complexity of vocabulary, I quickly returned it to him.
He insisted: "keep it, when the time comes, you will get it."
I did. When I joined Thammasat as an undergraduate student, Brave New World became my favourite, inspiring reference to make a difference in a toxic society.
As I became more interested in graduate schools and had my eyes on the most prestigious scholarship in Thailand, the Anandamahidol scholarship under the royal patronage the late king Bhumibol of Thailand, our conversation became more intense, focused and intellectual.
We debated ideas. With his wealth of knowledge on world history, we would always talk current affairs and politics. Theories and concepts.
Who would have thought a forest monk would be on point on world political affairs?
Luang Poo continued to guide me through the hardship of graduate schools. We would talk on the phone on the books I read, the papers I wrote and the difficulty things were for me to conceptualise.
"Sati, Ninja, Sati." Conscious that meant. He said, "one word at a time. Never skim".
He loves dictionary so he taught and trained me to open up every word I don't understand.
If you open his books, you will find scribbles on the sideline on the explanation of words he did not know or his interpretation of them.
As studying theories became more complex, that kind of attention to detail allowed me to be on point, concise and succinct.
He said however that a Buddhist is not a theorist. A Buddhist is a doer. Test the theories, he meant.
When I consulted him with the idea of creating UNITE Thailand, he was on board and gave me the most life changing advice to an idealistic me with heavily foreign influences.
"Forget the theories, forget democracy, forget Buddhism, make kids happy, as many as possible."
We did.
Before the tragic day of the 14th of November 2018 where he parted this world for heaven, he has suffered severe health issues and complication for 7 years that he could not talk, move or eat by himself.
He was the educator who loved Thailand so much. The last sentence he ever said to me was "a great person is one with gratitude. We are indebted to this land, be good. Be kind. Be nice. Be helpful."
Thailand loses a great monk who taught them Dhamma. I lost a grandfather who helped me through the intensity of life, who taught me to read, write and question, who taught me the beauty of life, the necessity to serve our society.
Enjoy heaven, Luang Poo.
I will always remember you.
Ninja.
Decoding The MoU Between India And Brunei For Space Research
Brunei Darussalam or Brunei is one of the oldest continuing monarchies in the world. The ancient name "Negara Brunei Darussalam" means "State of Brunei- Abode of Peace". Its earliest documented history dates back to 6th century when Brunei was apparently called "Puni" a possible distortion of the Sanskrit word "Baruni". Brunei was then a Hindu-Buddhist kingdom which had linkages with the famed Sri Vijaya and Majapahit empires of the region, as well as with China.  It was in the late 14th century, Brunei converted into an Islamic Sultanate when its ruler, Awang AlakBetatar, married a Muslim Johore princess from Malacca and embraced Islam to become Brunei's first Sultan – Mohammed Shah.  Bilateral diplomatic relations between India and Brunei were cemented in May 1984. India and Brunei by virtue being developing countries with strong traditional and cultural ties, enjoy a fair degree of commonality in their perceptions of major international issues. Brunei is a constant partner of India's 'Act East' policy and expansion and deepening of cooperation with the Association of Southeast Asian Nations (ASEAN). Diplomatically, Brunei supports India's claim for permanent membership in an expanded United Nations Security Council (UNSC) and also supported India for its candidature for a Non-Permanent Seat of the UNSC in 2012.
India's export trade with Brunei in 2013 valued USD 32 million while imports mainly crude oil from Brunei were valued at USD 763 million. According to trade stats, India is the third-largest importer of crude oil for Brunei. The two important reasons enabling a positive bilateral trade have been relatively flexible shipping costs and Brunei's small population base. Indians constitute around 2.3 per cent of Brunei's total population. Indian migration to Brunei started since 1929 when oil was discovered in the country. Presently, the majority of the doctors in Brunei are from India and other professionals include engineers, IT professionals, bankers, teachers etc. Indian businessmen have managed to maintain a clear monopoly in the textile industry. According to the Census, there are approximately 10,000 Indian nationals living and working in Brunei.  Bilateral trade between India and Brunei stood at over $504 million in FY 2016-17, according to figures published by Brunei's Department of Economic Planning and Development. The southeast Asian nation is critical for India's Look East Policy and geopolitical expansion for strengthening of cooperation with the 10-nation regional bloc (ASEAN). Brunei also has served India's country coordinator and political facilitator with the ASEAN for three years from 2012.
"When India celebrates the 75th year of Independence in 2022, and if possible, even before, an Indian son or daughter will undertake a manned space mission on board 'Gaganyaan' carrying the national flag," Prime Minister Narendra Modi announced in his 2018 Independence Day Speech. This milestone will make India the fourth nation to send a human in space after the United States, Russia and China. Future plans include the development of Unified Launch Vehicle (ULV), Small Satellite Launch Vehicle (SSLV), development of a reusable launch vehicle, human spaceflight, controlled soft lunar landing, interplanetary probes, and a solar spacecraft mission. The Department of Space was allocated Rs 8,936.97 crore in the 2018 Budget for various space-related projects. The total allocation for the Department of Space for the second fiscal was around Rs 10,783 crore a leap from Rs 9,155.52 crore allocated for the FY 2017-18 net of recoveries and receipts. 'Space economics' suggests that spending on science and technology leads to all-round social development. The Government is also planning on investing extensively in research, training and skill development in robotics, AI, digital manufacturing, Big Data intelligence and Quantum communications, among others. Space Research has been one of the most important areas of interest of the present government.  In the current era of outer space research and development, India is heavily banking on bi-lateral and multi-lateral tie-ups to delve into this area.
The Union Cabinet chaired by the Hon'ble Prime Minister Narendra Modi has approved the Memorandum of Understanding (MoU) between India and Negara Brunei Darussalam on coordination in the operation of Telemetry tracking and Telecommand station for satellite and launch vehicles, and for collaboration in the field of Space Research, Science and Applications. The MoU authorises India to continue to operate, maintain and augment its ground station meant for supporting India's launch vehicle and satellite missions. This will also enable India to share its experience and expertise in space activities through training of officials and students from Brunei Darussalam on Space Technology applications. Cooperation with Brunei Darussalam through this MoU would facilitate operation, maintenance and augmentation of Indian Ground Station to support India's launch vehicle and satellite missions. The MoU will provide momentum to explore contemporary research activities in ground station operations and training on space technology applications. The MoU was signed in New Delhi, India on 19th July 2018. India also signed an MoU with South Africa on 26th July 2018, which shall enable both the nations to coordinate on the potential areas of cooperation such as space science, technology and applications including remote sensing of the earth, satellite communication and satellite-based navigation, space science and planetary exploration, utilise spacecraft and space systems and ground systems and application of space technology.
India has also signed similar MoUs with Russia, Oman and Japan for expansion of cooperation in the field of exploration and use of outer space for peaceful purposes. Joint projects, sharing of expertise and resources, development of space systems and components, scientist training and exchange of vital information are the central components of these agreements. India is marching towards economic prosperity and being labeled as the fastest growing economy in the world, it is geopolitically and strategically crucial for India to have a powerful outer space technology and to have a strong space relationship with other countries.
Ahok biopic: The making of a man, the unmaking of a nation
After comedies, ghost horror films are the genre most liked by Indonesians, with 44 percent saying they enjoy them. Apparently they produce a thrill, stimulate the imagination, invite curiosity and induce anticipation that the protagonist will prevail over evil forces.
Personally, I'm not a fan of such movies but I found myself looking forward to Nov. 8, when a "ghost" movie was to be screened in theatres all over Indonesia. How come? That's because the film was A Man Called Ahok — yup, about Basuki "Ahok" Tjahaja Purnama, former governor of Jakarta, currently jailed on blasphemy charges. I thought he was one of the best governors Jakarta has had, indeed, one of Indonesia's best leaders, someone who wasn't afraid to shake up the status quo.
It was a "ghost" movie in that it contained an apparition of Ahok, which embodied not just his spirit, but also the spirit of values that Indonesia seems to have forgotten, values needed to build a nation.
Controversy never seems to be far away from Ahok, from the no-nonsense way he ran his office, his zero tolerance for bad management, laziness and corruption, his unpopular policies (notably the eviction of squatters from slums), his fiery temper and tough talk (which enraptured and excited, agitated and outraged at the same time), his blasphemy trial and subsequent imprisonment, his divorce from Veronica Tan, his wife of 21 years while in prison, but also his amazing achievements during the short time he was Jakarta governor: disciplining civil servants, eliminating the ubiquitous pungli (illegal levies), transparency of the city budget, responding to citizens' complaints, transforming Jakarta city transportation into one fit for a metropolitan city, cleaning up filthy polluted Jakarta rivers, beautifying and greening the city — achieving many things his predecessors were unable to do.
But you'll see none of that in the film that was far from controversial. A review of the film stated that the "biopic about one of Indonesia's most divisive, loved and hated political figures chooses to play it safe through a family friendly narrative and storytelling" ('A Man Called Ahok: Journey from childhood to prominence', The Jakarta Post, Nov. 10).
While the review provides a good summary of the film, I don't think it was at all a matter of playing it safe. The filmmakers made a very deliberate, wise and insightful choice to portray the making of a man, from his childhood origins in Bangka Belitung, which makes us understand better why he turned into the leader that he did.
The film started when Ahok was aged 10 ( 1976), and stopped just about the time he became regent of East Belitung (2005). Ahok was born and raised in Gantong, East Belitung. His father Kiem Nam was a tauke (Chinese businessman), owner of a tin mining company, who raised his five children with tough love, teaching them to cooperate with each other, instilling the values of hard work and ambition, not for selfish personal reasons, but to serve others.
Kiem would drive his wife to despair, as he was always giving out money to people in need, even borrowing, so he could continue helping them. He said to her that their family still had a roof over their heads, and good food to eat. Yes, that was the case, because she sold some of her gold jewelry, so that the family could continue to eat.
While their relationship was often strained, clearly Ahok was a chip off the old block. He gave up being a doctor (his father's dream) and a businessman (his own dream), to become a politician so that he could help people in a systematic way, unlike his father, not using his own money, but state funds.
The film is a biopic, true, but it's a lot more than that. It's in fact a microcosm of Indonesia, raising issues that remain relevant.
Discrimination: despite Kiem's known humanitarianism and generosity, when Ahok decided to run for office, he faced resistance because of his Chinese ethnicity. As a child, he had once asked his father, "Are we Chinese or are we Indonesian?". The father responded unequivocally, "We are Indonesians". The film shows clearly how his father instilled the love of people and nation in his son.
Bangka Belitung has one of the largest concentrations of ethnic Chinese in Indonesia, who have helped the tin industry flourish. Indonesia is the second-largest producer of tin in the world, after China, this means the ethnic-Chinese have contributed to creating revenue for Indonesia.
That's not the only thing they have contributed. They have contributed to our culture (look at all those dragons, phoenix, snakes and Chinese lions motifs on batik!), food (too many to mention), much needed capital, sporting prowess and guess what? Also Islam, which was brought in by Chinese traders in the 15th century. And yet the Chinese remain reviled and have been targeted as scapegoats throughout Indonesia's history.
Poverty: There was clearly poverty depicted in the film throughout Ahok's life in Bangka Belitung. While in 2018 poverty has fallen to a historic low, the Statistics Indonesia (BPS) figures show that almost 10 percent (27 million) of Indonesians are poor. That is still a very large number.
Corruption: in the film, there was a corrupt government official who kept trying to extort money from both Kiem, and later Ahok when he was an adult running the company. So far, corruption is still the cancer that is eating up the nation. According to the 2017 Corruption Perceptions Index, Indonesia ranks 96th out of 175 of the least corrupt countries. Well, at least it's better than in 2007, when we ranked 143rd.
The lack of health services portrayed in the film is still the reality for many families in Indonesia, as are education facilities, still out of reach for many children.
Watching the film was a very emotional experience for me because of the injustice Ahok has had to endure. Talk about being punished for doing good! But it was emotional also because I thought of Indonesia and how the nation is currently ruled by mindless sectarianism, where religion is used to incite evil instead of fostering good, where selfish, narrow group interests prevail over the greater good.
A Man Called Ahok is a timely reminder of what it takes to build a nation. Hopefully, like a good ghost movie, the (good guys) protagonists will prevail over the evil forces currently haunting Indonesia.
An early version of text appeared in the Jakarta Post