The Surreptitious Reincarnation of COINTELPRO with the COPS Gang-Stalking Program
In 1975 Senator Frank Church convened a joint senatorial/congressional inquiry into the egregious human rights and civil liberties violations of the Central Intelligence Agency ("CIA"), National Security Agency ("NSA"), as well as the Federal Bureau of Investigation ("FBI") against people both foreign and domestic. Such blatant transgressions included the "neutralization" and "elimination" of political dissidents, "enemies of the state," real or imagined threats to National Security, and anyone else on the proverbial shit list of the Military Industrial Complex ("MIC").
The Church Committee was the United States Senate Select Committee to Study Governmental Operations with Respect to Intelligence Activities, a U.S. Senate committee chaired by Senator Frank Church (D ID) in 1975. A precursor to the U.S. Senate Select Committee on Intelligence, the committee investigated intelligence gathering for illegality by the aforementioned agencies after certain activities had been revealed by the Watergate affair.
Some famous examples which have since emerged include: (1) the FBI sending letters to Martin Luther King Jr encouraging him to kill himself or else they would tell the world about his sexual proclivities; (2) the planned or successful assassinations of foreign leaders such as Fidel Castro, Patrice Lumumba, and countless other South American, Middle Eastern or Asian leaders; (3) the wholesale undermining of entire foreign economies if they democratically elected someone at odds with the elite power structure deep state of the United States such as what occurred against Salvatore Allende of Guatemala; (4) the possible assassination of John F Kennedy; (5) revelations of Christopher Pyle in January 1970 of the U.S. Army's spying on the civilian population; (6) the December 22, 1974 New York Times article by Seymour Hersh detailing operations engaged in by the CIA over the years that had been dubbed the "family jewels," involving covert action programs involving assassination attempts against foreign leaders and covert attempts to subvert foreign governments were reported for the first time; (7) efforts by intelligence agencies to collect information on the political activities of US citizens; and (8) countless other examples, both overseas and domestically.
The end result of the Church Committee Hearings was the outright banning on CIA assassinations as well as the FBI/DOJ COINTELPRO gang-stalking programs. In 1975 and 1976, the Church Committee published fourteen reports on various U.S. intelligence agencies' formation, operations, and the alleged abuses of law and of power that they had committed, with recommendations for reform, some of which were later put in place.
Among the other matters investigated were attempts to assassinate other foreign leaders such as Rafael Trujillo of the Dominican Republic, the Diem brothers of Vietnam, Gen. René Schneider of Chile, and Director of CIA Allen Dulles's plan (approved by President Dwight Eisenhower) to use the Sicilian Mafia to kill Fidel Castro of Cuba.
Under recommendations and pressure by this committee, President Gerald Ford issued Executive Order 11905 (ultimately replaced in 1981 by President Reagan's Executive Order 12333) to ban U.S. sanctioned assassinations of foreign leaders.
Together, the Church Committee's reports have been said to constitute the most extensive review of intelligence activities ever made available to the public. Much of the contents were classified, but over 50,000 pages were declassified under the President John F. Kennedy Assassination Records Collection Act of 1992.
The Church Committee learned that beginning in the 1950s, the CIA and FBI intercepted, opened, and photographed more than 215,000 pieces of mail by the time the program was shut down. The Church report found that the CIA was zealous about keeping the US Postal Service from learning that mail was being opened by government agents. CIA agents moved mail to a private room to open the mail or in some cases opened envelopes at night after stuffing them in briefcases or coat pockets to deceive postal officials.
On May 9, 1975, the Church Committee called CIA director William Colby. That same day Ford's top advisers (Henry Kissinger, Donald Rumsfeld, Philip W. Buchen, and John Marsh) drafted a recommendation that Colby be authorized to brief only rather than testify, and that he would be told to discuss only the general subject, with details of specific covert actions to be avoided except for realistic hypotheticals. But the Church Committee had full authority to call a hearing and require Colby's testimony. Ford and his top advisers met with Colby to prepare him for the hearing.
The Ford administration, particularly Rumsfeld, was "concerned" about the effort by members of the Church Committee in the Senate and the Pike Committee in the House to curtail the power of U.S. intelligence agencies. It seemed that Rumsfeld et al was comfortable giving the power to arbitrarily destroy anyone as "enemies of the state" by anyone working in the IC and MIC.
COINTELPRO (COunter INTELligence PROgram) was a series of covert and illegal projects conducted by the FBI aimed at surveilling, infiltrating, discrediting, and disrupting domestic "political dissidents."
FBI records show that COINTELPRO resources targeted groups and individuals that the FBI deemed subversive, including anti Vietnam War organizers, activists of the Civil Rights Movement or Black Power movement (e.g., Martin Luther King, Jr. and the Black Panther Party), feminist organizations, anti colonial movements (such as Puerto Rican independence groups like the Young Lords), and a variety of organizations that were part of the broader New Left.
FBI Director J. Edgar Hoover issued directives on COINTELPRO, ordering FBI agents to "expose, disrupt, misdirect, discredit, neutralize or otherwise eliminate" the activities of these movements and especially their leaders. Under Hoover, the agent in charge of COINTELPRO was William C. Sullivan.
Tactics included anonymous phone calls, IRS audits, and the creation of documents that would divide their targets internally.
After the 1963 March on Washington for Jobs and Freedom, Hoover singled out King as a major target for COINTELPRO. Under pressure from Hoover to focus on King, Sullivan wrote: "In the light of King's powerful demagogic speech, we must mark him now, if we have not done so before, as the most dangerous Negro of the future in this nation from the standpoint of communism, the Negro, and national security."
The Final Report of the Select Frank Church Committee blasted the behavior of the intelligence community in its domestic operations (including COINTELPRO) in no uncertain terms:
"The Committee finds that the domestic activities of the intelligence community at times violated specific statutory prohibitions and infringed the constitutional rights of American citizens. The legal questions involved in intelligence programs were often not considered. On other occasions, they were intentionally disregarded in the belief that because the programs served the "national security" the law did not apply. While intelligence officers on occasion failed to disclose to their superiors programs which were illegal or of questionable legality, the Committee finds that the most serious breaches of duty were those of senior officials, who were responsible for controlling intelligence activities and generally failed to assure compliance with the law. Many of the techniques used would be intolerable in a democratic society even if all of the targets had been involved in violent activity, but COINTELPRO went far beyond that – the Bureau conducted a sophisticated vigilante operation aimed squarely at preventing the exercise of First Amendment rights of speech and association, on the theory that preventing the growth of dangerous groups and the propagation of dangerous ideas would protect the national security and deter violence."
According to attorney Brian Glick in his book War at Home, the FBI used four main methods during COINTELPRO:
(1) Infiltration: Agents and informers did not merely spy on political activists. Their main purpose was to discredit and disrupt. Their very presence served to undermine trust and scare off potential supporters. The FBI and police exploited this fear to smear genuine activists as agents;
(2) Psychological warfare: The FBI and police used myriad "dirty tricks" to undermine progressive movements. They planted false media stories and published bogus leaflets and other publications in the name of targeted groups. They forged correspondence, sent anonymous letters, and made anonymous telephone calls. They spread misinformation about meetings and events, set up pseudo movement groups run by government agents, and manipulated or strong armed parents, employers, landlords, school officials and others to cause trouble for activists. They used bad jacketing to create suspicion about targeted activists, sometimes with lethal consequences;
(3) Harassment via the legal system: The FBI and police abused the legal system to harass dissidents and make them appear to be criminals. Officers of the law gave perjured testimony and presented fabricated evidence as a pretext for false arrests and wrongful imprisonment. They discriminatorily enforced tax laws and other government regulations and used conspicuous surveillance, "investigative" interviews, and grand jury subpoenas in an effort to intimidate activists and silence their supporters;
(4) Illegal force: The FBI conspired with local police departments to threaten dissidents; to conduct illegal break ins in order to search dissident homes; and to commit vandalism, assaults, beatings and assassinations. The object was to frighten or eliminate dissidents and disrupt their movements.
The FBI specifically developed tactics intended to heighten tension and hostility between various factions in their targeted groups and individuals, and this resulted in numerous deaths, among which were San Diego Black Panther Party members John Huggins, Bunchy Carter and Sylvester Bell.
While COINTELPRO was officially terminated in April 1971, critics allege that continuing FBI actions indicate that post COINTELPRO reforms did not succeed in ending COINTELPRO tactics.
ENTER THE "COPS" FEDERAL AND STATE SANCTIONED GANG-STALKING PROGRAM
"Community Oriented Policing," ("COPS") is a strategy of policing that focuses on police "building ties and working closely with members of the communities," and originated in 1994 when then Senator Joseph Biden wrote and then President Bill Clinton enacted the Violent Crime Control and Law Enforcement Act ("VCCLEA") establishing the Office of Community Oriented Policing Services ("COPS") within the US Department of Justice.
Community policing is supposedly a policy that requires police to engage in a "proactive approach" to address public safety concerns, and is a cornerstone of the Clinton Administration, gaining its funding from the 1994 Violent Crime Control and Law Enforcement Act.
Common implementations of community policing include: (1) relying on community based crime prevention by utilizing "civilian education," neighborhood watch, and a variety of other techniques, as opposed to relying solely on police patrols; (2) restructuring the patrol from an emergency response based system to emphasizing proactive techniques such as foot patrol; (3) increased officer accountability to civilians they are "supposed to serve;" and (4) decentralizing police authority, allowing more discretion amongst lower ranking officers, and more initiative expected from them.
In other words, federal and state sanctioned and approved GANG-STALKING.
Gang Stalking has been described as fascism, using East Germany style "Stasi Tactics," a systemic form of control, which seeks to control every aspect of a "Targeted Individual's" life. Gang Stalking has many similarities to workplace mobbing, but takes place outside in the community, where the target is followed around and placed under surveillance by groups of organized civilian spies/snitches 24/7, 365 days a year. Targeted Individuals are harassed in this way for months or years before they realize that they are being targeted by an organized program of gang-stalking harassment. This is very similar to what happened to many innocent individuals in the former East Germany or activists and dissidents in the former Soviet Union. Many innocent people in the former East Germany would be targeted for these harassment programs, and then their friends, family, and the community at large would be used to monitor, prosecute, and harass them. In the former USSR it was used by the state to target activists, political dissidents, or anyone that the Secret Police thought was an "enemy of the state," or as "mentally unfit," and many were institutionalized or murdered using this form of systematic control.
In Bill Clinton's COPS Gang-Stalking Program, civilian spies are recruited from every segment of society, and everyone in the "targets" life is made a part of this ongoing, continuous, and systematic form of control and harassment, with such actions that are specifically designed to control the target and to "keep them in line," like a Pavlovian Dog. These actions are also designed to mentally, physically, emotionally, spiritually, financially, socially, and psychologically destroy the target over years, to make them appear to be crazy, and leave them with no form of support, whatsoever.
For the targets of this harassment, COPS Gang Stalking is experienced as a covert psychological, emotional and physical attack that is capable of immobilizing and destroying a target over time. For the state, it is a way to keep their targets in line, control them, or ultimately destroy them.
This modern day systematic form of control is funded at the highest levels of government, just like it has in other societies where these similar types of harassment programs have been implemented.
Targets can be chosen for many reasons: (1) political views; (2) whistle blowing; (3) political dissidence; (4) asserting rights at work; (5) making the wrong enemy; (6) too outspoken; (7) investigating something that the state does not want investigated; (8) signing a petition; (9) writing a letter; (10) being "suspicious" by a civilian spy/snitch; or (11) being a religious/ethnic/racial minority.
The goal of the COPS state sanctioned organized gang-stalking program is to isolate the target from all forms of support, so that the target can be set up in the future for arrest, institutionalized, or forced suicide. Other goals of this harassment are to destroy the targets reputation and credibility, and to make the target look "crazy" or unstable.
The process often involves sensitizing the target to every day stimuli's as a form of control, which is used to control targets when they "get out of line." Targets of this harassment become vulnerable and destitute, and often become homeless, jobless, have a breakdown, are driven to suicide, similar to targets of the banned COINTELPRO. The government eliminates perceived "enemies of the state" in this manner.
When a target moves or changes jobs, the harassment continues.
Every time the target moves, the same defamation, lies, libel, and slander will be spread, and the systematic harassment will continue. Online defamation, libel, and slander on the internet has made this continuation of COPS gang-stalking a great deal easier.
People from all segments of society can be recruited to be the "eyes and ears" of the state, such as laborers, drug dealers, drug users, street people, prostitutes, punks, church groups, youth groups, your best friend, your lawyer, local policeman, doctor, emergency services, a neighbor, family, social workers, politicians, judges, dentists, vet, supermarket cashier, postman, religious leader, care worker, landlord, anyone.
Most of these recruited civilian spies/snitches do not understand or even care that the end consequence of this harassment protocol is to eventually destroy the targeted person, and function as "useful idiots" of the state sanctioned COPS gang-stalking program.
It has been reported that people participate in this COPS gang stalking because it: (1) gives them a sense of power; (2) is a way to make friends; (3) is something social and fun; (4) breaks down race/gender/age/social barriers; (5) is forced or blackmailed upon them by the State or police to take part; (6) is told to them that they are part of "homeland or national security" to help keep an eye on "dangerous" or "emotionally disturbed" individuals where they are "heroic spies for the state;" (7) is used on local thugs or informants who are already being used for other activities where their energies are diverted into these COPS gangstalking community spy programs; (8) is either a choice of spying for the State or police, or else go to jail; (9) involves outright lies and slander about the target to get them to go along with ruining the targets life; (10) includes average citizens recruited by the state the same way citizens were recruited in the former East Germany and other countries.
Some techniques used against targets in this organized COPS Gang-stalking program include: (1) classic conditioning where a target is sensitized to everyday stimuli over a period of months and years to harass them in public to let them know they are constantly being harassed and monitored; (2) 24/7 Surveillance following the target everywhere they go, learning about the target and where they shop, work, play, who their friends and family are, getting close to the target, moving into the community or apartment where they live, across the street, monitoring the targets phone, house, and computer activity; (3) isolating the target via defamation, libel, and slander campaigns, (eg, people in the target's community are told that the target is a thief, into drugs, a prostitute, pedophile, crazy, in trouble for something, needs to be watched, false files will even be produced on the target, shown to neighbors, family, store keepers); (4) constant or intermittent noise and mimicking campaigns disrupting the targets life and sleep with loud power tools, construction, stereos, doors slamming, etc; (5) talking in public about private things in the target's life; (6) mimicking actions of the target and basically letting the target know that they are in the target's life; (7) daily interferences, not too overt to the untrained eye, but psychologically degrading and damaging to the target over time; (8) everyday life breaks and street theater such as flat tires, sleep deprivation, drugging food, putting dirt on targets property; (9) mass strangers doing things in public to annoy targets such as getting called/text messages to be at a specific time and place to perform a specific action; (10) blocking targets path, getting ahead of them in line, cutting or boxing them in on the road, saying or doing things to elicit a response from the target; (11) "baiting" tactics where a surveillance operation can selectively capture evidence of a targeted person responding to harassment, and then that evidence could then be used to justify the initiation of more formal scrutiny by a government agency.
The COPS Gang-Stalking Program, as all other state sanctioned/approved gang-stalking programs, have always been funded by the Government. They are the only ones with enough money, coordination, and power to keep such a system in place. These coordinated efforts then join hands with others for this systemic form of control and harassment.
Such operations have nothing to do with the target's criminality – they are led and perpetrated by federal agents and intelligence/security contractors, often with the support of state and local law enforcement personnel. Unofficial operations of this type are often private investigators and vigilantes – including many former agents and police officers, sometimes on behalf of corporate clients and others with connections to the public and private elements of America's security industry.
The goal of such operations is "disruption" of the life of an individual deemed to be an enemy (or potential enemy) of clients or members of the security state. Arguably, the most accurate term for this form of harassment would be "counterintelligence stalking."
Agents of communist East Germany's Stasi (state police) referred to this process as Zersetzung (German for "decomposition" or "corrosion" – a reference to the severe psychological, social, and financial effects upon the victim). Victims have described the process as "no touch torture" – a phrase which also captures the nature of the crime: cowardly, unethical (and often illegal), but difficult to prove legally, because it generates minimal forensic evidence.
Tactics include online and personal slander, libel, defamation, blacklisting, "mobbing" (intense, organized harassment in public), "black bag jobs" (residential break ins), abusive phone calls, computer hacking, framing, threats, blackmail, vandalism, "street theater" (staged physical and verbal interactions with the minions of the people who orchestrate the stalking), harassment by noises, and other forms of bullying.
Such stalking is sanctioned (and in some cases, orchestrated) by federal agencies; however such stalking is also sometimes used unofficially for personal and corporate vendettas by current and former corrupt employees of law enforcement and intelligence agencies, private investigators, and their clients.
Since counterintelligence stalking goes far beyond surveillance – into the realm of psychological terrorism, as it is essentially a form of extrajudicial punishment. As such, the harassment is illegal – even when done by the government. It clearly violates the US Constitution's Fourth Amendment, which prohibits unwarranted searches, and the Sixth Amendment which guarantees the right to a trial. Such operations also violate similar fundamental rights defined by state constitutions. Stalking is also specifically prohibited by the criminal codes of every state in America.
As was stated above, organized stalking methods were used extensively by communist East Germany's Stasi (state police) as a means of maintaining political control over its citizens. Although this is supposedly illegal in the US, the same covert tactics are quietly used by America's local and federal law enforcement, and intelligence agencies, to suppress political and domestic dissent, silence whistle blowers, and get revenge against persons who have angered someone with connections to the public and private agencies involved.
Although Edward Snowden's revelations about the National Security Agency ("NSA") in 2013 and 2014 generated a great deal of public discussion about mass surveillance, US domestic counterintelligence activities such as the COPS Program receive relatively little attention.
The FBI's COINTELPRO operation is still happening, involving even more advanced surveillance technology – and this program is none other than Joseph Biden and Bill Clinton's COPS Program.
US Department of Justice crime statistics from a 2006 survey indicated that an estimated 445,220 COPS gangstalking victims reported three or more perpetrators (the only ones reported), and this number is growing exponentially on a daily basis.
In addition to being morally reprehensible, the COPS gang stalking program, just like the original version of the FBI's COINTELPRO operations, is very, very illegal. It violates criminal laws in all fifty states against stalking, as well as grossly violates the US Constitution's prohibitions against warrantless searches and extra judicial punishment.
While the vast majority of Americans are never personally targeted by the Joseph Biden/Bill Clinton COPS gangstalking program, they should still be concerned about the existence of such operations.
Even if such activities were constitutionally legitimate (which they are not), they still have an enormous potential for abuse as a personal or political weapon by enemies currently employed or friendly with these governmental institutions.
Ending this cowardly and illegal practice by law enforcement agencies, intelligence agencies, and their parasitic corporate and individual recruits will first require exposing what is happening, to the public.
Assad's Army and Intelligence Services: Feudalization or Structurization?
Authors: Anton Mardasov* & Kirill Semenov
2017 marked a turning point in the Syrian conflict. With the full support of Russia and Iran, the Bashar al-Assad regime was able to neutralize the "domestic threat" completely. Throughout 2017, Damascus used the situation to carry out "outlying" operations, manipulating the ceasefire agreements and other accords reached as part of the Astana Peace Process. As soon as a relative calm would settle in a given "de-escalation zone" [in the opinion of the present authors, quotation marks are necessary in this case, as they indicate the real nature of these four zones], the regime would start transferring the available forces to other areas. First to eastern Syria in order to break the blockade of Deir ez-Zor and establish control over adjacent areas, which undoubtedly accelerated the downfall of the "Caliphate," then to Idlib Governorate. And then, taking advantage of the agreements reached between Russia and Turkey on the division of spheres of influence in this "de-escalation zone," to East Ghouta. Now Damascus has the initiative in terms of launching an offensive and a significant advantage over opposition groups.
The State of Affairs
As early as the beginning of 2017, the Syrian opposition demonstrated its ability to consolidate efforts and respond to the regime's offensive manoeuvres. One such example is the way it managed to reduce "tension" in East Ghouta by carrying out distracting operations of its own in Daraa and Hama. However, the Syrian opposition became irreversibly fragmented after the process to form the de-escalation zones began, accompanied by the establishment of an external protectorate over these zones. As a result, most of the opposition factions in Greater Idlib now operate exclusively in the interests of Turkey, and the Amman Agreement between Jordan, Russia and the United States regarding the southwest de-escalation zone has succeeded in taking the Free Syrian Army's Southern Front out of the game. External actors have played a decisive role in the outcome of the confrontation between Damascus and the internal opposition, cutting off aid to opposition factions and effectively splitting them into isolated fragments.
That being said, until February 2018 (when the Russia–Turkey agreement made it possible to wrap up the active operation in Idlib and focus forces on East Ghouta), all the efforts of the elite units of the 4th Armoured Division, as well as the Syrian Republican Guard and other regular units of the Syrian Arab Army, to repel opposition forces in East Ghouta's Jobar and Ayn Tarma ended with the withdrawal of government-sponsored troops after significant losses. The operation in Harasta ended with the encirclement of a Republican Guard battalion and the deaths of five colonels and brigadier generals. The same thing happened during an operation in Daraa in the south of the country.
Despite the active support of the Russian Aerospace Forces, the Syrian Special Forces and the Shiite "Expeditionary Corps" led by Lebanon's Hezbollah and various Iraqi factions, the government forces still suffered significant strikes from the heavily outnumbered Islamic State. One such event took place in Homs and Deir ez-Zor in September–October 2017, when Islamic State units managed to cut off almost all the supply routes to pro-Assad troops operating along the Euphrates. The only thing that prevented the terrorists from building on their successes was the lack of numbers on the part of Islamic State (very few detachments are left) and the haphazard band-aid approach adopted by Russian specialists on the issue.
Thus, Damascus' victories over its opponents can, for the most part, be put down to favourable circumstances and external support, rather than to the regime's strengthening of its forces or increasing its combat effectiveness, despite the great efforts Russia has expended to train Syria's military personnel and provide its regular units with up-to-date military technology.
Counting on the fact that these manipulations have successfully paralyzed the opposition to the point that pro-government forces will now be able to deal with current challenges does not eliminate the need to have a national military structure – without the growing Shiite International.
Fragmentation
At present, the armed forces that Bashar al-Assad relies on continue to be an assortment of groupings, all of which depend on Damascus to varying degrees. There is no unity within the army in terms of readiness to unquestioningly carry out the directives of its leadership. There is a complicated system of approvals for the use of "elite" sections of the Syrian Arab Army in specific operations. This even applies to its most elite components: the 4th Armoured Division, the Syrian Republican Guard, Suheil al-Hassan's "Tiger Forces" and individual units of other sections – for example, the "Deir Al-Qalamoun" unit of the 3rd Armoured Division and the "Saif Al-Mahdi" unit of the 4th Armoured Division, among others. At the same time, the combat effectiveness of the Syrian Arab Army's combat manoeuvre units leaves much to be desired, and attempts are made to avoid moving them to regions far away from their areas of permanent deployment.
Various paramilitary groupings that do not answer directly to the Syrian Ministry of Defence, the Ministry of Internal Affairs or the state security organs continue to play an important role, including the so-called National Defence Forces, the Local Defence Forces, foreign (primarily Shiite) groups, and other units created by them in Syrian territory, made up of Syrian nationals. There are at least twice as many fighters in the irregular army formations as in the Syrian Arab Army itself.
The Syrian crisis has made it possible for political institutions to acquire their own military formations. The Arab Socialist Ba'ath Party still has active squadrons, some of which are part of the 5th Corps. Eagles of the Whirlwind is the military wing of the Syrian Social Nationalist Party. And the Syrian Resistance is a left-wing paramilitary group led by Mihrac Ural, who is considered a terrorist in Turkey.
The formation of various paramilitary structures – military wings of mafia-like clans, private military companies, regional and tribal militias and militarized political organizations – has undermined the stability of the regime. These forces do not simply support Damascus. From the very beginning, they have attempted take root in government institutions and/or take control of various sources of income. It is no secret that various Shabiha detachments currently operating under the aegis of the National Defence Forces control the checkpoints, which in practice means that they have access to corrupt schemes, including the opportunity to send radical opposition fighters into the Turkish zones of influence. A number of figures associated with the pro-Iranian Syrian group Liwa al-Baqir (the Baqir Brigade, part of the Local Defence Forces) have their own fleet of minibuses and continue to operate transport businesses.
Given that Damascus is in dire need of local groupings in order to maintain stability and security, these militias will probably continue to exist after victory is declared. All the more given that all armed militia groups were legalized in 2013 and given permission to carry out their "activities" by the Ministry of Interior.
The incorporation of the National and Local Defence Forces into state structures was predetermined by the fact that both the Syrian special services and the army were unprepared for an uprising, and the vacuum thus created was filled by paramilitary groups. Iran also took advantage of this by helping set up various paramilitary structures and thus establishing a multi-echeloned presence in Syria.
Integration
Worthy of separate note is the Fifth Corps of Volunteers, an autonomous military structure that was created with the direct participation of Russian military advisers. According to some reports, the corps itself is also led by Russian generals. The corps can hardly be regarded as a regular military formation. It consists of various subdivisions made up of volunteers and is financed by a number of non-government sources. It also contains certain pro-government Syrian forces that existed before the corps was set up, including those financed by private individuals (the "Sea Commandos") or set up with the participation of Iran and Lebanon's Hezbollah (Liwa Dir' al-Watan). At the same time, the inclusion of defectors and objectors from among the Sunni population in the Fifth Corps was apparently supposed to break the stereotype about the sectarian foundation of the pro-government forces and the auxiliary nature of the Sunnis' participation in the war. However, the experiment has yet to bear fruit. The most combat-ready units of the Fifth Corps – the so-called ISIS Hunters – are again "sectarian militias" (as far as Syria's Sunni majority is concerned). Such groups are made up primarily of Syrian Christians and Alawites (for example, the aforementioned "Sea Commandos") or Shiites (Liwa Dir' al-Watan, with the participation of Lebanese fighters). Work of this kind is likely to continue: according to some reports, work on the establishment of a 6th Corps is already under way.
Sooner or later the Syrian armed forces will surely face the challenge of transition to a peaceful life. In this context, it is important to understand what will happen to the large number of paramilitary formations and militias. The Iraqi leadership is attempting to solve this very same problem at home, having initiated a procedure to integrate soldiers of the militia group "Khashd ash-Shaabi" into the country's armed forces. The experience gained during the creation of the 5th Corps, as well as its predecessor (the 4th Corps) can be used to help integrate certain paramilitary structures into the Syrian Arab Army and the Ministry of Interior.
It is also possible at the initial stage to revive the three corps of the Syrian Arab Army that formally existed before, turning them into territorial commands. All the regular and paramilitary units could be placed under their control on a territorial basis, thus becoming parts of the regular forces, identified by numbers instead of names. This is a necessary step, because many of these structures simply refuse to dissolve themselves, as in the case in Iraq. However, their existence should be legalized and their activities brought into line with military regulations.
Another problem is how to overcome the increasingly "sectarian" nature of military forces in Syria. All or most of the combat-ready units are made up primarily of national and religious minorities. Sunnis play a secondary role, mainly serving in auxiliary, "second echelon" groupings. Attracting Sunnis who have fought or lived in opposition territories, earning their trust and ensuring that they carry out their duties in a diligent manner will also be a key issue.
A Necessary but Unrealistic Scenario
If we distance ourselves from the propaganda and frankly dilettantish stereotypes about the Syrian opposition, then the best option for establishing an ethnic and confessional balance would be to unite the opposition groups and pro-government forces into a single structure. This is the kind of renewal of the armed forces that the UN documents envision. It is hardly possible, for example, to incorporate the insurgent factions that have, with Turkey's support, united to form the Syrian National Army (SNA, which operates exclusively in Northern Aleppo) into existing Syrian Arab Army units and divisions. The leadership of the opposition factions will not agree to this, bearing in mind what happened in Tajikistan (where the opposition was liquidated after its divisions were incorporated into government units). One possibility is to form about five to seven separate corps and divisional units from opposition forces and establish a single military council involving the Syrian National Army and the Syrian Arab Army.
However, neither Damascus nor Tehran, nor indeed Moscow, is interested in such a scenario. Although it is far easier for the Russian side to play along with the Syrian regime, which seeks to eliminate the Syrian opposition once and for all by military means, that goal would serve only to strengthen the positions of Iran and Syria. Moscow has had a significantly more difficult time than expected positioning itself as a moderator in the conflict and maintaining effective working relations with the opposition groups that participated in the Astana Peace Process and signed agreements with the Russian military in Cairo and Geneva. Integrating the opposition into military and political structures that are aligned with the current regime could serve as a natural counterweight to the influence of Iran and preserve a certain balance of power that is beneficial to Moscow. The big question now is: to what extent will Moscow be able to maintain control over its "client," given that Tehran is clearly benefitting from the situation?
Reform of the Military Intelligence Services
Against the backdrop of the Islamic State's transition to clandestine activities in Iraq and Syria (which is common for the group) and various other challenges, the role of the Syrian intelligence services is acquiring greater significance. Their activities today little resemble the standards adopted in the sphere. Opportunities to carry out covert intelligence work have been greatly reduced, and the grassroots tools of state governance have been destroyed. The Syrian intelligence services were not even able to prevent terrorist attacks on the National Security Council building.
At present, the Syrian intelligence services do not seem to have an analogue anywhere in the Middle East. Four independent security structures operate within the Syrian Arab Army. These structures are divided into "military," which includes military intelligence and aerial reconnaissance (Air Force reconnaissance) and "political" (civilian units formally subordinate to the Interior Ministry), which includes the main security department and the department for managing political security. All of these structures answer directly to the president. However, the system of intelligence services in Syria reflects the complexity of relations and confrontations among various groups of influence in the country's ruling elite. The system is constructed in such a way that the individual intelligence services effectively work against each other, which makes it impossible for any single "branch" to become significantly stronger than the others.
Air Force reconnaissance was conceived as the intelligence structure "closest" to the heart of former president Hafez al-Assad, who was a fighter pilot himself. As a result, it effectively turned into an independent state security agency, with its own external intelligence and counterintelligence divisions, and even a department for combatting anti-government activities. During the Civil War, the Air Force reconnaissance formed an entire "pleiad" of special forces units to carry out operations using heavy machinery. The other three "branches" took similar steps in order to prevent any one of the intelligence agencies from becoming significantly stronger than the rest.
It would appear that the simplest solution for transforming the Syrian intelligence services with the goal of optimizing their activities would, first of all, be to merge Air Force reconnaissance and military intelligence into a single organ of the General Staff of the Syrian Arab Army, and strip these structures of the ability to carry out political investigations. As for the political security structures, it would be practical for one of them to focus exclusively on external intelligence activities, while the second could be engaged in counterintelligence and anti-terror activities. In other words, Syrian intelligence services would be brought up to global standards.
It is also imperative to create border security forces to control Syria's eastern frontiers first and foremost, but also the entire border, as a kind of unified system with its own social and infrastructural characteristics. While Hafez al-Assad paid special attention to the country's tribes, granting their leaders various privileges and taking their views into consideration in political life, his son Bashar all but forgot about them, which combined with drought in the regions and the misallocation of resources created the conditions for social upheaval. The years spent under the control of radical groups transformed the tribal social fabric even more. At present, the regime relies primarily on the Suqur al-Furat militia, which contains members of the Al-Shaitat tribe, to carry out its activities in the eastern part of the country. The tribe attempted a revolt against the Islamic State rule in 2014 but was defeated in a gruesome fashion. Damascus used this as a pretext to organize a military training programme for the tribe's members and announced an amnesty for them.
If Damascus is unable to hold a constructive dialogue with the Sunni tribes, then there is a risk that the Islamic State will emerge once again in one form or another as a result of the joint efforts of independent Sunni groups and radicals (operatives, preachers, etc.), who will be able to remain in the country. It is all the more important to deal with the cadres who are familiar with the local terrain in the east of the country could help prevent smuggling, with which both Damascus and Baghdad have well-documented issues.
*Anton Mardasov, Military Observer Head of the Department of Middle Eastern Conflicts at the Institute of Innovative Development
First published in our partner RIAC
Russia Says U.S. Trains Jihadists to Do Chemical Attacks Blamed Against Assad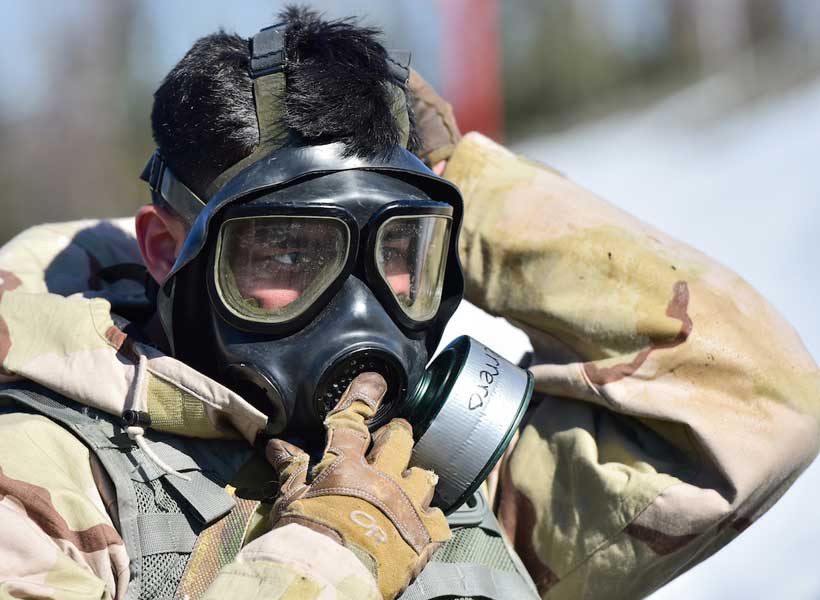 On March 17th, Russia's Minister of Defense (equivalent to America's Secretary of Defense) announced, through Russian General Staff spokesman General Sergey Rudskoy: "We have reliable information at our disposal that US instructors have trained a number of militant groups in the vicinity of the town of At-Tanf, to stage provocations involving chemical warfare agents in southern Syria. Early in March, the saboteur groups were deployed to the southern de-escalation zone to the city of Deraa, where the units of the so-called Free Syrian Army are stationed. They are preparing a series of chemical munitions explosions. This fact will be used to blame the government forces. The components to produce chemical munitions have been already delivered to the southern de-escalation zone under the guise of humanitarian convoys of a number of NGOs."
He also said:
"The provocations will be used as a pretext by the United States and its allies to launch strikes on military and government infrastructure in Syria. We're registering the signs of the preparations for the possible strikes. Strike groups of the cruise missile carriers have been formed in the east of the Mediterranean Sea, Persian Gulf and Red Sea."
He went on to add that in the most jihadist-friendly province, Idlib, another such "false flag" attack is being prepared by Al Qaeda in Syria, called there, "Al-Nusra Front terrorist group, in coordination with the White Helmets," which is a group financed by the U.S. and UK Governments to rescue victims of bombings by Syria's Government and its ally Russia.
This would hardly be the first example of such attacks. For example, on 14 January 2014, MIT's Theodore Postol and the former U.N. Weapons Inspector Richard Lloyd co-authored a detailed technical study and analysis, regarding "the Damascus Nerve Agent Attack of August 21, 2013" (which was the most-famous sarin-attack, in East Ghouta), saying that "the US Government's Interpretation of the Technical Intelligence It Gathered Prior to and After the August 21 Attack CANNOT POSSIBLY BE CORRECT," and documenting that the rocket had actually — and clearly — been fired from an area that even the U.S. Government's own maps showed to be under the control of the 'rebels', whom the U.S. Government supported, and definitely not of the Syrian Government, whom those 'rebels' were trying to overthrow. (That was the incident in which U.S. President Barack Obama announced to the world his "red line" and then said that the Government headed by Bashar al-Assad had crossed it and that this justified a U.S. invasion, but Seymour Hersh said that it had become blocked by the UK/s intelligence lab at Porton Down, by their finding that the sarin which had been used in this attack wasn't of a type that the Syrian Government had in its arsenals.) There have been several such "false-flag" attacks, in order to get the public to support invading Syria. However, the main way that the U.S. and its allies try to overthrow Assad and his Government is to arm and protect Al Qaeda in Syria, which leads the various jihadist groups there (other than ISIS).
From Radical Ecology to Ecoterrorism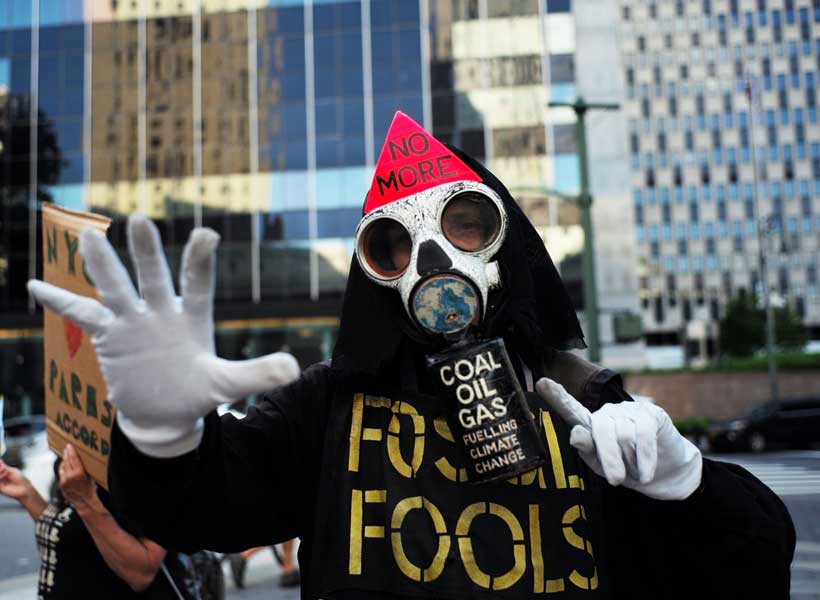 Radical ecology
The schools of thought of contemporary eco-terrorism are many, but those that use an antagonist theoretical-practical approach can be identified in deep ecology, feminist ecology, Marxist ecology, primitivism, degrowth ecology, the Slow Food movement, ecology, animalism (which together with vegetarianism is a logical consequence of radical ecology) and, finally, eco-terrorism. In this sense – beyond the often demagogic rhetoric – eco-terrorism does not differ from the above-mentioned schools of thought because of its ethical-philosophical assumptions but rather by the operative procedures through which its antagonism is carried out. Therefore, an ideological community exists, whether implicit or explicit, in the main schools of thoughts of ecology and eco-terrorism. These schools of thought, however, can be associated with the idea of radical ecology.
Definition of radical ecology
While continuing to take the complexity of current ecology into account, the expression "radical" is used to indicate extremely antagonist ecology, from Pinochot's utilitarian conservationism, which was deeply anthropocentric and aimed to rationalize the use of nature toward a lasting economic exploitation, to Haeckel's neo-Darwinian approach, Tanskey's view, Lotka's trophic-network ecology, and finally, Odum's thermodynamic approach. Firstly, radical ecology comprises the holistic preservationism of Thoreau, Emerson, and Leopold, ecofeminism, political ecology, deep ecology, primitivism, social ecology, the degrowth movement, the Slow Food movement, eco-regionalism, animalism, and eco-terrorism. Secondly, although the list of the organizations is not complete, it is important to underline that the several "-isms" do not exclude the possibility of profitable contaminations among the different schools of thought. Thirdly, the epistemological, political and philosophical features shared by the above-mentioned schools of thought can be identified as follows:
they all support a structural modification of the current economic system and are against the supranational institutions that control global capitalism, in particular, the IMF, the WTO, and the World Bank;
they are in favor of the anti-globalization movement, and know its limits and potentials;
they share an eco-centric, bio-centric, anti-anthropocentric, holistic and sometimes organicistic perception of natural reality;
they are against a mechanistic vision of reality such as Bacon's and Descartes', and are in favor of legal extensionism;
they support a relevant extension of representative democracy or a radical exceeding of it in favor of an anarchic, neo-tribal society, or a participatory democracy;
they share and develop apocalyptical and radical scenes of current society's environmental and economic condition;
they advocate a change in the ethic of western civilization through an eco-pacifist reorientation carried out by counter-information;
they are against military institutions and share a typical interpretation of irenic pacifism;
they are against the use of biotechnologies in agriculture and the civil and military use of nuclear energy;
several members of radical ecology share a new interpretation of nature according to neo-romantic or oriental philosophies (such as Buddhism, Hinduism, Taoism and Zen philosophy);
many scholars and activists belonging to radical ecology embrace animalistic and vegetarian views which they deem deeply coherent with an ecocentric vision of nature.
Finally, several exponents of radical ecology refer to 1968 culture, and to underground American and tribal cultures.
In short, regarding the operative procedures carried out by the several schools of thought or radical ecology, we should point out the difference between non-violent and terroristic ones. There are three levels of antagonist procedure: a) non-violent practice strictly antagonist toward political and legal institutions; b) non-violent practice with an entryist political logic toward national and supranational political institutions; c) publically terroristic practice. We should, nevertheless, underline the differences between positions a) and b) both of which are well-organized and opposing: the first clearly condemns the use of terroristic procedures, the second supports terrorist procedures – but without putting them into practice – and is therefore ambiguous.
The historical predecessors of radical ecology
According to Livorsi, the genesis of radical ecology can be easily traced from a historical point of view to the philosophical and religious interpretation of Bachofen and the Marxist psychoanalysis of Reich as well. The author of the "Canticle of the Sun" ("Cantico del Frate Sole") not only asserts the sanctification of the world by God – in other words, the sun, the moon, and the animal world – but also refers to Mother Earth, anticipating the modern concept of "Gaia" . Moreover the heterodox pantheism of Saint Francis implies a brotherhood between human beings and creatures according to an ecocentric and egalitarian view. The French philosopher Rousseau, in his "Discourse on the Origin and Basis of Inequality Among Men" ("Discours sur l'origine et les fondements de l'inégalité parmi les homes"), emphasized the goodness of the state of nature and the existential authenticity of the human being in this pre-civilized context, while condemning in the meantime private property and therefore civilization determined by technique. Moreover, unlike civilized society, tribal society conducted an ecocentric, egalitarian and communal style of life. Bachofen, in his reinterpretation of the history of civilization, emphasized the existence of a gynocratic, anti-patriarchal view in pre-Achaean society in which there was no private life, there was sexual freedom, nature was accepted as a living organism, and above all, the modus vivendi was built on egalitarian pacifism.
In short, regarding Reich, the rise of patriarchy brought about the triumph of capitalism, the closed family, and sexual repression. The natural and erotic man who struggles for a libertarian socialism has reemerged only rarely in history, such as in the Paris Commune in 1871, for example.
Definition of Terrorism and Eco-Terrorism
According to Pisano, terrorism can be defined as a non-conventional form of conflict because it lies outside both democratic, organized and civil dispute and the traditional battlefield of war regulated by international law. Terrorism is characterized by three elements: a) physical and psychic criminal violence, b) political, religious political or social political movement, and c) the use of illegal structure. Traditional terrorism, as Pisano explains, together with neo-terrorism, coexist both as a threat and as a concrete aggression. Neo-terrorism is performed by dynamic and polymorphous schemes that can intertwine while preserving their methodological and operational autonomy at the same time. Pisano indicates ecologic terrorism, narco-terrorism, the NRBC, and cyber-terrorism as the most important.
Ecologic terrorism (the topic of our research) is based on lay and/or religious ideological ideas and from an organizational point of view is carried out alternatively by cellular organizations with no hierarchies and by binary structures that are cellular and propagandistic at the same time. Ecologic terrorism furthers its antagonism through several operative procedures: 1) obstructive human barriers (lock box), 2) machinery sabotage, 3) arson and explosive detonation, 4) legal instruments focused on reporting abuse by police, 5) assemblage and road blocks, 6) intrusion within military installations or scientific and university institutions, 7) wide use of misinformation through media, internet and magazines, and 8) instigation to tax evasion. The enemies or targets to strike are several in number as well: 1) national and supranational capitalism, 2) the state, which defends its interests and consolidates its power, 3) national and supranational military institutions, and 4) scientific and university laboratories.
In a nutshell, eco-terrorism presents two fundamental trends: animal (such as ALF, ARM or JD) and environmental (e.g. Earth First!). In conclusion, Pisano suggests that the dangers of eco-terrorism are linked to the potential strengthening of its organizational power, creation of operative or ideological ties with traditional terrorism, and the consolidation of its relations with the anti-globalization movement.