Henkel, BASF and Solidaridad support around 5,500 smallholders in Indonesia
When renewable raw materials such as palm oil and palm kernel oil are used, the main focus is on economic, environmental and social impacts along the entire supply chain – from field to shelf. Small farms produce around 40 percent of the world's palm and palm kernel oil.
An important question for the oil producing countries is how to increase the yields from the land already under cultivation. This is why Henkel and BASF are collaborating with the development organization Solidaridad to support a project in Indonesia and advocate for smallholders and local initiatives.
Trainings for around 5,500 farmers
Sustainable farming methods, efficient production and high occupational health and safety standards are some of the most important conditions for certified palm oil production. Smallholders can learn how to fulfill these requirements locally in dedicated training programs. Since 2015, Henkel has been supporting the 5-year-project in the Indonesian province of West Kalimantan. Earlier this year, BASF joined the effort as an additional industrial partner. The smallholder program is implemented by Solidaridad in cooperation with its partners Good Return and Credit Union Keling Kumang (CUKK). The Australian non-governmental organization Good Return coaches and supports the teachers who carry out the trainings on the ground and who will continue the farmer support program after the project ends. The teachers are employees of CUKK, the second largest local credit organization in Indonesia.
Through the project, Solidaridad and its partners want to establish sustainable supply chains for palm and palm kernel oil that both effectively improve smallholders' living conditions and are eligible for certification according to the criteria of the Roundtable on Sustainable Palm Oil (RSPO). Of the around 5,500 farmers that will be reached by the project, 1,600 will learn about the different aspects of good agricultural practice (GAP) in direct trainings that include measures for sustainable farming as well as for increasing crop yields. Furthermore, around 3,900 smallholders will be reached not only through a multiplier effect, but also via farmer field days and regular text messages on their mobile phones. The project spans an area of roughly 16,000 hectares.
Common commitment to a sustainable palm oil industry
"We want to change the market to develop a sustainable palm oil industry. To do so, we also need solutions and projects that allow small farms to increase productivity on their plantations – and we are making an important contribution to that by supporting local partners and initiatives," explained Thomas Müller-Kirschbaum, Corporate Senior Vice President in the Laundry & Home Care business unit and Deputy Chairman of Henkel's Sustainability Council. "With BASF supporting this smallholder project as an additional industrial partner, we're sending the signal that we are joining forces to make the palm oil market more sustainable."
"BASF is one of the largest global manufacturers of ingredients for the cosmetics industry as well as the home care industry and one of the links in the palm oil supply chain from smallholders to end consumers. We believe that we can only find solutions for sustainable, certified palm oil products by working together to preserve the forests and improve the living conditions of the people in the farming areas," said Jan-Peter Sander, Senior Vice President at BASF Personal Care Europe. "That's why we are collaborating intensively with our customers and suppliers, and also want to involve more smallholders in the dialog. The project in West Kalimantan is an important step in this direction."
Higher yields and increased income for smallholders
The productivity of small farms in the palm oil industry is estimated to be 40 percent lower than the average when compared with larger companies. Measures ranging from farmer trainings to sustainable farming methods are expected to increase palm fruit yields and increase smallholders' revenue. "We are delighted that Henkel and BASF are supporting this project in West Kalimantan," said Marieke Leegwater, program manager palm oil at Solidaridad. "We think that it is of great interest that companies using palm oil products take responsibility beyond just buying sustainable palm oil, and contribute to investing in more sustainable and inclusive palm oil supply chains on the ground. This project certainly contributes to building such inclusive and sustainable chains, as it is expected to make a significant contribution to improve the livelihoods of independent oil palm farmers in the province of West Kalimantan, one of the poorest regions in Indonesia."

Two-Thirds of Poorer Countries Are Cutting Education Budgets Due to COVID-19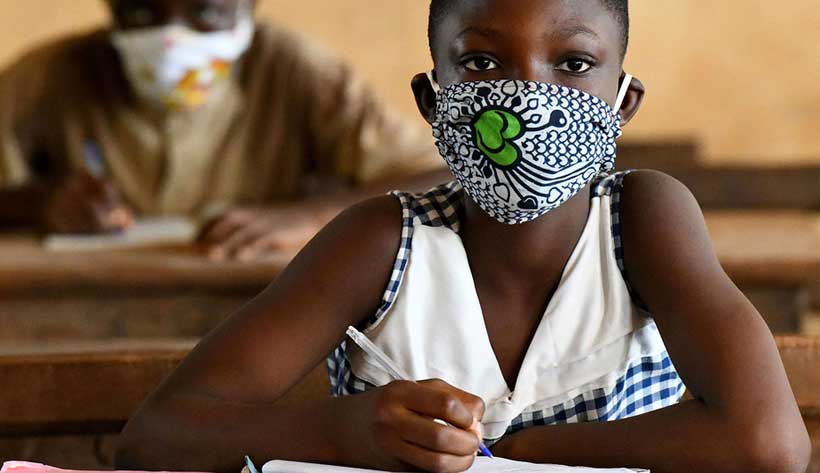 Education budgets are not adjusting proportionately to the challenges brought about by COVID-19, especially in poorer countries. Despite additional funding needs, two-thirds of low- and lower-middle-income countries have, in fact, cut their public education budgets since the onset of the Covid-19 pandemic, according to the new joint World Bank – UNESCO Education Finance Watch (EFW).
In comparison, only one-third of upper-middle and high-income countries have reduced their budgets. These budget cuts have been relatively small thus far, but there is a danger that future cuts will be larger, as the pandemic continues to take its economic toll, and fiscal positions worsen. These differing trends imply a significant widening of the already large spending disparities seen between low- and high-income countries.
According to the new report, prior to the COVID-19 pandemic, in 2018-19, high-income countries were spending annually the equivalent of US$8,501 for every child or youth's education compared to US$48 in low-income countries. COVID-19 is only widening this huge per-capita education spending gap between rich and poor countries.
EFW stresses that the education finance challenge is not only about mobilizing resources, but also about improving the effectiveness of funding. Unfortunately, recent increases in public education spending have been associated with relatively small improvements in education outcomes. Although access to education has improved, the learning poverty rate – the proportion of 10-year-olds unable to read a short, age-appropriate text – was 53 percent in low- and middle-income countries prior to COVID-19, compared to only 9 percent for high-income countries. COVID-19 related school closures are likely to increase this 53 percent share to as much as 63 percent.
"This is a critical moment where countries need to recover the learning losses the pandemic is generating, invest in remedial education, and use this window of opportunity to build more effective, equitable, and resilient systems," said Mamta Murthi, World Bank Vice President for Human Development. "The learning poverty crisis that existed before COVID-19 is becoming even more severe, and we are also concerned about how unequal the impact is. Countries and the international development community must invest more and invest better in education systems and strengthen the link between spending and learning and other human capital outcomes."
EFW notes that global spending on education has increased over the last 10 years, but the signs are that the pandemic may interrupt this upward trend. Funding for education has grown most rapidly in low- and lower-middle-income countries, where the gaps between the funding needed to achieve the SDGs and current allocations are the widest. The deterioration in government finances over the medium-term suggests that without concerted efforts to prioritize education, the outlook for mobilizing the domestic resources required for education will worsen.
Aid for education has increased by 21 percent over the last 10 years. Disbursements had increased rapidly in the 2000s and fell between 2010 and 2014 in the aftermath of the great financial crisis. However, since 2014, aid to education has increased by 30 percent, reaching its highest recorded level of US$ 15.9 billion in 2019. However, fiscal constraints, other sectoral needs, and changes in student mobility patterns, suggest that external aid for education might fall at a time when it is needed most.
"External financing is key to support the education opportunities of the world's poorest," said Stefania Giannini, Assistant Director-General at UNESCO. "Yet donor countries are likely – and some have already begun – to shift their budget away from aid to domestic priorities. Health and other emergencies are also competing for funds. We foresee a challenging environment for countries reliant on education aid. UNESCO estimates that it may fall by US$ 2 billion from its peak in 2020 and not return to 2018 levels for another six years."
The EFW is a collaborative effort between the World Bank and the UNESCO Global Education Monitoring Report team. It will be produced annually following the main release of spending data by UNESCO's Institute of Statistics. The EFW aims to draw together the best data available on all sources of education funding and monitor efforts to improve information on the levels and use of education funding. However, good quality and timely information on government, household, and aid spending in education is not readily available in all countries. This hinders planning and monitoring at a time when countries cannot afford any missteps.
Global Alliance on Circular Economy and Resource Efficiency
Bringing together governments and relevant networks and organizations, the Global Alliance on Circular Economy and Resource Efficiency (GACERE) aims to provide a global impetus to initiatives related to the circular economy transition, resource efficiency, sustainable consumption and production patterns, and inclusive and sustainable industrialization.
GACERE is being established by the European Commission on behalf of the European Union (EU), and by the United Nations Environment Programme (UNEP), in coordination with the United Nations Industrial Development Organization (UNIDO).
GACERE will be launched on Monday 22 February 2021 from 12:00 until 13:15 CET on the margins of the first segment of the fifth meeting of the United Nations Environment Assembly.
The event will be hosted by Virginijus Sinkevičius, EU Commissioner for Environment, Oceans and Fisheries; Inger Andersen, United Nations Under-Secretary-General and UNEP's Executive Director; and LI Yong, UNIDO's Director General.
Ministers of countries which have joined GACERE and other stakeholders will provide their perspectives on the Alliance's intended role in supporting a global just transition to circular and resource-efficient economies and the achievement of the 2030 Agenda for Sustainable Development.
First steps towards strengthening Moldova's national innovation system
The United Nations Industrial Development Organization (UNIDO) has published "The Innovation Ecosystem in Moldova", a report that presents a preliminary analysis of Moldova's research and innovation ecosystem. The report aims to inform and connect actions in the fields of innovation and industrial competitiveness in the context of the Country Framework Programme signed between the Republic of Moldova and UNIDO in December 2018.
Iuliana Drăgălin, Moldova's Secretary of State of the Ministry of Economy and Infrastructure (MEI), said, "The report presented by UNIDO sets out the support mechanisms and tools developed and applied by the Government of the Republic of Moldova to promote industrialization and business development in Moldova, such as free economic zones, industrial parks, clusters, science and technology parks and business hubs, as well as recommendations for improving the research and innovation ecosystem."
An examination of the statistics and current trends in the adoption of digital technologies in Moldova shows that the country still has a low transition level towards the Fourth Industrial Revolution (4IR). However, the study also reveals that Moldova has good adoption readiness, spearheaded by infrastructure developments such as the extensive fibre optic and mobile networks coverage. The report concludes with a series of recommendations to maximize the country's innovation potential.
Drăgălin thanked UNIDO, Moldova's Organization for Small and Medium Enterprise Sector Development (ODIMM), the Chamber of Commerce and Industry, the National Agency for Research and Development, and the Investment Agency, as well as the specialists from MEI and the Ministry of Education, Culture and Research. She also noted that the respective institutions were actively involved in the process of developing and finalizing two project proposals set out in the UNIDO Country Framework Programme for Inclusive and Sustainable Industrial Development 2019-2023: Supporting Industrial SMEs in Moldova through the Subcontracting and Partnership Centr, and Development of innovation, entrepreneurship and technology transfer (EIT) platforms for strengthening the links between research and industry in Moldova.
I am pleased to note that improving industrial competitiveness, job creation and promoting innovation-based economic development in Moldova, by strengthening knowledge and collaborative links between scientific and research institutions, the Government and the private sector, is of major interest to our partners," acknowledged Drăgălin.