A Critique of the American Justice System Pertaining to Race
The most painful lesson a minority can experience is when he comes face to face with the American justice system, whether it be the criminal, family, or civil courts, or the law enforcement agencies which often times feed them by dragging minorities before them.
It is only when the racial/religious minority enters that system, at whatever age, does he realize that in America, which was built on a legacy of slavery and indentured servitude, he is only a fraction of a human or citizen in the institutionalized eyes of the law.
Slavery was only abolished in the United States in 1865, while the Civil Rights Act (otherwise known as Title VII) was only enacted in 1964.
So in essence this country only granted the rights (or perception) that all men are equal in the eyes of the law roughly 50 years ago, barely enough for 2 generations of Americans, and only 150 years since racial/religious minorities were literally enslaved and were not even considered human by their white European colonizers/owners.
Therefore it should come as no surprise that the United States does indeed have a deeply entrenched race problem, where it can be hidden in the restaurants, bars, social circles, places of employment, universities, and other places where different races meet and congregate, but behind closed doors, white America still has not fully grasped the fact that non-white, non-European based people, are fully and 100% human as well.
Because of this deep-seated prejudice (if not hatred), and since the majority of law enforcement personnel and the courts are staffed with European-descended white Americans, and because of the common law based judicial made law that exists in this country, whenever there is any doubt about the guilt or innocence of the minority, this system almost always goes against that minority, and all of this is committed under the color of law and authority, fully legal, and in the vast majority of cases, the lies often become the truth.
Even within inter-racial relationships, where one party is white, and the other is not, that white individual will nearly always carry some remnant (however minuscule) that their partner is not fully human, and therefore can not fully be respected, so if a relationship goes sour, or if an argument takes place, rather than respect the other party to work through it, the vast majority of white partners in that relationship will simply throw up their hands up and declare that it is not worth fixing anyway.
Why do they do that?
Well, because it is not possible to fully love and respect a "non-human" as an equal, deserving full respect normally accorded to a fully fledged, 100%, white human being.
And this is the saddest part of the truth, and a lesson purposefully not taught in nursery, grammar, grade, high school, or even college, where teachers hope for a better future, or don't want to ruin their pupil's hopes in their own future.
In fact the exact opposite is taught, that all are equal in the eyes of the American Justice System, like the fables of Santa Claus and the Easter Bunny, until that minority is one day shaken down to their very core, usually because of his experiences in the icy, cruel, sadistic, soul-less American Justice System, as described above.
There is unfortunately no quick fix to this problem – and sadly it will go on for as long as it can run its course, but the fundamental truth must be acknowledged – that America was built and assembled on the skulls and bones of the minority races, whatever their hue or religion, and white European based Americans were the ones who stood on top of them.
This inherent, institutionalized racism and discrimination goes to the very core and fabric of this country, and this is why so many minorities who come to these shores, looking for a better life, are so invariably heartbroken when they discover these eternal truths.
That they will always be an outsider.
That they will never be able to fully develop true friendships or real love affairs with their fellow white citizenry, and that if ever there should be a disagreement or a conflict with one of them, at the end of the day, in the final analysis, the minority will always lose the battle, especially within the American justice system, normally without fail.
If you are in a court room with one of your white American counterparts, very often you will see the judge rule against you on nearly everything (denied motions, ex parte petitions granted in your absence, contempt motions against you freely signed and handed down against you by the judge while yours go unnoticed, unsigned, or disregarded, your opposition afforded rights and privileges not given to you, your opposition being tutored and counseled by the judge himself on how to defeat you, issues of doubt nearly always resolved in your opposition's favor, and other small but aggregated acts of institutionalized discrimination).
To that end, even if you are correct on the facts and law, the American justice system, given enough time and delay, will nearly always find you in the wrong.
In the criminal courts this means jail time, probation, sanctions, and other horrific punishments, and in the civil system, this means bankruptcy, loss of money and property, loss of funds and livelihood, or other destructive edicts.
In the family court system, this means that you will most probably lose your own children even if you are the better parent, have them abducted and kid-napped right in front of you under the color law and authority, and you are rendered completely and utterly powerless to do anything about it.
The American police are also part of the problem, but what they make up for in a general lack of education in the law on par with the judges ruling the courtrooms, they make up for in their brutal power to arrest, beat, detain, harass, surveillance, set you up with dishonest informants, eavesdrop, lie, cheat and steal in order to destroy your life.
God forbid you are a minority and the police are white Americans, because they will also, under the color of law and authority, engage in the above acts which are far worse and less respectful of your inalienable civil liberties and human rights than a judge could ever be.
Unfortunately, even if the minority is an Attorney, litigant or defendant in the American justice system, born optimistic, driven, ambitious, highly organized, intelligent, and resourceful, he must finally acknowledge that there is no true real justice in America if you are a racial or religious non-white minority in the United States of America.
This is why 1/3 of all blacks, 1/6 of all latinos and 1/5 of all other racial and religious minorities have found themselves in jail, behind bars, or financially ruined, in this country.
The American Justice System is at its current state, a lost cause if you are not a white European based person.
And it is a nightmare if you are not.
Possible Directions for U.S. Policies in the Biden Era
Authors: Chan Kung and He Jun
On January 20, 2021, a new page will be turned in the history of the United States when Joe Biden becomes the 46thPresident. What will happen to U.S. domestic and foreign policy as a result of the transition from the "Trump Era" to the "Biden Era"? What will be the impact of this on the U.S., the world, and China? After the tumultuous Trump Era, we believe that this is an issue of great concern to international governments and markets.
The "ANBOUND 100+" high-end discussion platform and the macro team have been continuously tracking the news of the imminent Biden Era and possible policy changes. To this, we have made a number of key predictions. In the historic moment when Joe Biden is about to take office, it is important to review and summarize the relevant research to understand the changes that the new U.S. President will bring.
First, we shall look at the American political landscape in the Biden Era.
An overall judgment is that Democrats are taking control, but "Trumpism" is still unlikely to disappear from U.S. politics any time soon. The ANBOUND team had judged on November 11, 2020, that Donald Trump's various policies had in fact left Biden with a number of political and diplomatic "legacies", and that Biden actually had considerable autonomy over whether to "inherit" these "legacies". Objectively, whether inherited or not, these "legacies" can be used as a bargaining chip for the Biden administration. On the issue of Trump himself, ANBOUND once said on December 20 that Trump will be in trouble because he had "gone too far" and that the future Biden team might carry out a complete reckoning with Trump and his team. Judging by the fact that Trump is facing a second impeachment and the investigation into the storming of the Capitol, such a reckoning is happening. In this regard, ANBOUND has summed up Trump's influence remains and its trajectory to be: Trump -> Trumpism -> Trumpism without Trump.
In the Biden Era, the two-party political landscape in the U.S. will be unbalanced, with the Democrats dominating U.S. politics and rapidly gaining the upper hand, and the Republicans facing an internal split, as ANBOUND judged on January 10, 2021. On this basis, we believe that there is a clear trend towards "bipartisanship", with the Democrats becoming the dominant party in this cooperation. In this context, the Biden administration is likely to complete domestic integration faster and turn its focus to foreign policy sooner. It is also possible that with less resistance at home, the Democrats will give more focusat home, and the U.S. society will become more integrated than in the past, with some of the major domestic issues, such as welfare and environmental protection, to likely make significant progress over the next four years.
Then, there are the U.S. economic issues and economic policies in the Biden Era.
The United States faces many problems in the economy, but the core problem lies in the distribution of wealth, which is the cause of many social problems. The research team of ANBOUND pointed out in November 2019 that the wealth of the United States is still in the process of being accumulated in large quantities, and the real problem of American society lies in the distribution of wealth. Part of the backlash against globalization in the U.S. is also related to the distribution of wealth in American society. On this basis, we believe that welfare will be an important aspect of U.S. economic policy that needs to be addressed in the future. On November 22, 2020, we further pointed out that the transition to a welfare state could usher in a new super-boom for the United States. Contrary to the view of many that welfare is a "simple spending" policy, we believe that welfare, if properly used, will create new consumption space. In terms of health insurance, education, and consumption in the United States, we expect that a full-scale welfare transition in the U.S. would create a USD 10 trillion mega-consumer market that would potentially bring the U.S. into a new phase of rapid development while resolving social tensions.
Based on the above analysis, we believe that the core of the so-called "Bidenomics" is about the distribution of wealth and the "welfarization". From what has been observed so far, the basic logic of "Bidenomics" is to solve the public health crisis, save jobs, reconfigure the industrial chain, overhaul infrastructure, promote an environmental agenda, build a better social security system, and promote social equality. This logic is likely to be the "core" of economic policies in the Biden Era. There were similar signals that emerge before Biden officially took over the presidency. Biden has proposed USD 1.9 trillion stimulus package to deal with the impact of the pandemic on the U.S. economy and society. Biden's Treasury Secretary nominee Janet Yellen also called on the U.S. Congress to act more aggressively to deliver economic aid without worrying too much about the debt. "Neither the president-elect, nor I, propose this relief package without an appreciation for the country's debt burden. But right now, with interest rates at historic lows, the smartest thing we can do is act big," Yellen said. "I believe the benefits will far outweigh the costs, especially if we care about helping people who have been struggling for a very long time," Yellen added. Yellen also stressed the need to rebuild the U.S. economy "so that it creates more prosperity for more people and ensures that American workers can compete in an increasingly competitive global economy."
Concerning the foreign policy issues in the Biden Era, as mentioned above, Biden will not completely abandon Trump's diplomatic "legacies", rather he would build on it with some kind of "pullback". In this process, institutionalization and systematization will be the most prominent characteristics of American diplomacy in the future. A top foreign policy priority for the Biden administration will be to rebuild relations with its allies, particularly Europe, restoring stability to the transatlantic alliance and healing the rifts that have emerged over the past few years. We believe that such rapprochement will certainly play a role and the U.S.-EU strategic alliance will not change, but it will be difficult to fully restore to the levels of the past. On many issues, such as economy and trade, market space, security, and digital sovereignty, the EU will have a stronger "sense of autonomy". As for U.S.-China relations in the Biden era, we have argued that we should not expect the U.S. government to adjust its hardline position on China, but that the Biden administration would be more predictable in its approach to policy games, returning to the character of "the establishment". In fact, as early as October last year, the ANBOUND's research team pointed out in its outlook on U.S.-China relations in the Biden era that the Biden administration's approach to several aspects of domestic and foreign affairs would generally differ from that of the Trump administration, and that while its strategic positioning of China and the policy of inhibiting the rise of China in the long term would remain unchanged, in terms of specific approaches, the Biden administration would seek a certain degree of order and geopolitical discipline to implement and enforce its policies.
In regard to the Korean Peninsula issue, we believe that in the Biden Era, it is possible for the United States and North Korea to reach a phased nuclear abandonment agreement. On Iran, the main concern is still the Iranian nuclear issue. We believe that the United States will amend Trump's extreme policies on the issue of the Joint Comprehensive Plan of Action (JCPOA), or the Iran nuclear agreement, and some adjustment will take place. However, even if the United States can return to the Iran nuclear agreement, Iran may have to make certain concessions on the 2015 version. One of the key points may be that Iran needs to further restrict its support to the militia in the Middle East on the basis of the original version. This means that Iran's influence in the Middle East will be significantly reduced. Regarding the issue of returning to Comprehensive and Progressive Agreement for Trans-Pacific Partnership (CPTPP), we believe that returning to CPTPP is quite attractive to the Biden administration, but it is also quite difficult. Fluctuations in U.S.-China relations will affect the process of the United States returning to CPTPP; the worse the U.S.-China geopolitical relationship gets, the less resistance the United States will have to return to CPTPP.
In addition, ANBOUND's researchers also believe that looking from the standpoint of historical development, the Biden administration may be a transitional period for the United States to return to "normal" from the Trump Era. From Biden's personality, age, situation and environment, we tend to think that the Biden administration is likely to be a "presidential accountability system under the leadership of Secretaries". In such a government, it is the Secretaries of various departments, the Department of State, and the new cooperation pattern of the two parties in Congress that play a key role, rather than relying mainly on the President. In particular, Janet Yellen, the new Treasury Secretary who had served as the Chairperson of the Federal Reserve, could very well have crucial impact on the U.S. economic policy in the Biden Era.
Final analysis conclusion:
With the transfer of executive power, the United States will bid farewell to the "Trump Era" and usher in the "Biden Era". The United States under Joe Biden will undergo considerable adjustments and changes, which are reflected in many aspects of the United States' domestic politics, international geopolitics, economy, and foreign policy. The world will watch the new changes in the United States, and China will see a new pattern of U.S.-China relations. Changes in the United States will not only affect the world but also China's development strategy.
Removed Diplomacy: Why U.S. Sanctions Against Russia Have Gone Stale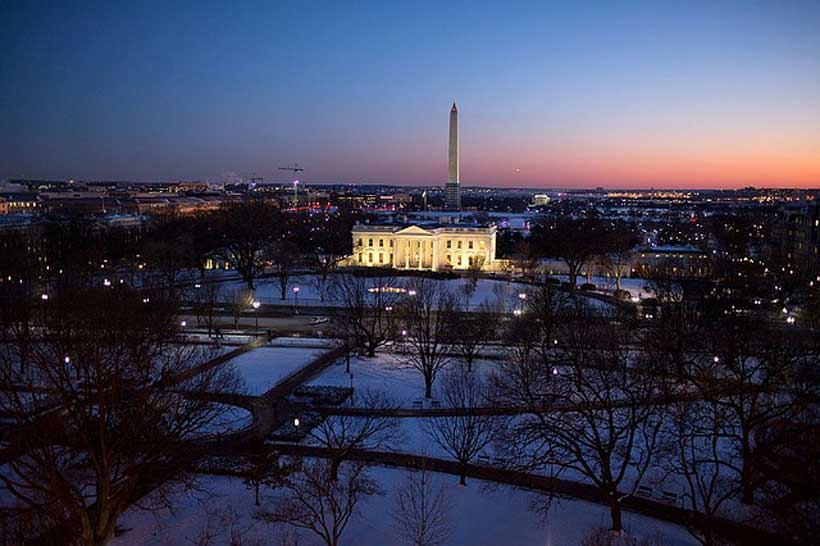 Since 2014, Russian and American diplomacy has been defined by economic sanctions. This has become the default, expected option for U.S. policymakers—but Russia has refused to concede, repent and ask for forgiveness. The U.S. had hoped Russia would experience just enough economic hardship that they would revert their course, retract their reunification with Crimea, and end any involvement in Eastern Ukraine. Almost seven years later, there is no evidence to suggest that Russia has any intention of buckling under the pressure and denying its national interests.
What the United States has failed to realize is that sanctions work on highly dependent countries. Russia is an independent country and has become more economically autonomous as a result of U.S. sanctions. The Russian domestic industry has flourished since sanctions were first imposed. Sanctions imposed by the United States are predicated on some combination of the following: either the United States has enough of an economic relationship prior to sanctions, so the loss of the United States as a trade partner alone is hugely detrimental to the target economy, or the United States can influence other countries who share a more extensive economic relationship with the target country to carry out the same policies.
Venezuela is a country that has been grievously affected by U.S. sanctions, as one would predict, given the country's dependence on the exportation of crude oil, particularly to the U.S. With oil comprising roughly 95 per cent of exports and their petroleum industry making up 25 per cent of overall GDP, Venezuela is considered very resource dependent when engaging in international trade. Venezuela has also been plagued by Dutch Disease, which has largely prevented its economy from diversifying for the past century. In 2013, the United States brought in 29.5 per cent of Venezuelan exports and delivered 23 per cent of the county's imports. Strangely, despite the sanctions imposed in 2014, Venezuela has grown more dependent on the United States. By 2018, 39.2 per cent of Venezuelan exports and 52.9 per cent of Venezuelan imports were in trade with the U.S. With this increased dependence on the United States after the implementation of U.S. sanctions. It is no wonder that Venezuela has been increasingly devastated beyond comprehension since sanctions were first imposed in 2013. Venezuela's trade balance through this period has consistently been in surplus. However, the volume of trade has shrunk USD 101.9 billion, from USD 143.76 billion in 2013 to USD 41.86 billion in 2018. The country has been rocked by astronomical inflation, reaching as high as 344 509 per cent. Is it the same case for Russia? No, which is due, in part, to Russia's Soviet legacy. The vast territory and harsh climate have also helped the Russians develop a much more diverse and independent economy. Additionally, the United States is simply not one of Russia's main trade partners.
As illustrated by data from the Observatory of Economic Complexity, Russia and Venezuela couldn't be more unalike. Russia's largest trade partners for the past 20 years have been Germany and China. In 2014, when the sanctions were first imposed, Russia's economy and international trade figures were at an all-time high. In that year, Russia exported USD 454 billion and imported USD 296 billion, a trade surplus of USD 158 billion. This year, the United States only accounted for 5.58 per cent of Russia's imports and 3.87 per cent of Russia's exports. In 2018, with even stricter sanctions imposed, Russia exported USD 427 billion and imported USD 231 billion, increasing the trade surplus from USD 158 billion in 2013 to USD 196 billion in 2018. Russia's trade balance from 2013 to 2018 still experienced a shrink of USD 92 billion. A key difference between Russia and Venezuela is that from 2014 to 2018, Russian trade decreased by just 12 per cent, compared to Venezuela's loss of 71 per cent. What does Russia have working to its advantage that Venezuela is lacking? Remember, for sanctions to work, they require high economic dependence from either the country issuing the sanctions.
Russia and Germany have an interesting codependency on one another. The Nord Stream project has been a source of tension between the U.S. and Germany; a recent Bloomberg article points out that there is an anticipated clash between newly elected president Biden and German Chancellor Angela Merkel. The German chancellor openly supports the completion of the second pipeline because the project is a means for securing German influence over Western Europe, as they will maintain their status as energy distributors once the pipe project is complete. Merkel also understands that the German economy depends on Russian energy. Nord Stream has become the only option since the Ukrainian pipelines have gone cold. Merkel has received criticism from those close to her, including from Norbert Röttgen, the head of the foreign affairs committee in German parliament. In September of 2020, he is quoted saying, "We need to respond with the only language that Putin understands, the language of natural gas," Meaning the one thing that Germany has at its disposal is the ability to back out of the Nord Stream deal to pressure the Kremlin into correcting their behaviour to satisfy western leaders. The only problem is that Germany is dependent on Russian natural gas. Germany has been falling behind other European countries in environmental efforts and has grown more dependent on coal power to supplement energy demand when renewable sources fail to meet the needs of the German people.
It's important to consider is the continuation of oil trade between the Netherlands and Russia. If the West is so concerned about preserving its ideals, why hasn't this trade been pressured? Likely because Nord Stream 2 is a relatively recent development, but the arrangement between the Dutch and Russia has been around for some time. What is odd, however, are the numbers. Between the Netherlands and Russia, there is hardly a difference in the dollar value of Russian exports in various petroleum products. It has maintained an average of about USD 33 billion for the past decade. This spans time both before and after sanctions. How does the West expect itself to be taken seriously if it is hyper selective about the battles it chooses to fight even when concerning sanctions. What is more comical about this particular deal is that the Netherlands supplies much of Western Europe's oil. Henceforth, further defending the point of Western Europe's dependence on Russian energy.
In conclusion, Russia has proven to be very resilient over the past six years. It shouldn't be implied that the sanctions have not affected the Russian economy. However, Russians have faced pervasive negative externalities, such as inflation and decreased average national income, despite the sanctions having been designed only to affect a select group of individuals. Even so, the Russian economy is growing and proving to be insulated and resilient against increased trade barriers. At first, the sanctions appeared to have a tremendous effect on the Russian economy, shrinking it by 44 per cent from USD 2.292 trillion in 2013 to USD 1.272 trillion in 2016. Since 2016, however, the GDP has steadily stabilized and gained back 42 per cent of losses from 2013 figures at USD 1.7 trillion as of 2019. It can be surmised that if the U.S. continues to impose sanctions on Russia for years to come, the Russian economy will continue to grow, develop, and become more independent.
From our partner RIAC
The World Should Get Rid of "Trump Inertia"
Authors: He Jun and Chan Kung
A new chapter is about to begin for the politics of the United States as the "Trump Era" will soon give way to the "Biden Era". As the United States still has major global influence, any shift in the American politics would therefore inevitably change the global geopolitical landscape as well as international investments and the trade environment. After four years of extreme policies in the Trump Era, coupled with the impact of the COVID-19 pandemic, countries around the world hope to see change and a return to relative normalcy.
However, the end of the Trump Era does not spell the end of "Trumpism." The many marks, characteristics, and ideological trends brought about by Donald Trump will continue to influence the world for some time. However, in the real economic field, countries may need to startridding itself of the environment characterized by unilateralism, America First, and the politicization of economic issues. Researchers at ANBOUND call these remaining Trumpist characteristics and their effects on countries' behavior "Trump Inertia".
"Trump Inertia" has many specific manifestations. The deterioration of the relationship between Australia and China is a clear example of this. Australia followed the Trump administration's side by choosing and adopting many extreme politicization practices against China despite China being Australia's largest trading partner, largest export destination and largest source of imports. In 2019, Australia-China trade volume totaled approximately US$158 billion; Australia's trade surplus with China was approximately US$48.83 billion, and its exports to China totaled US$103.90 billion, accounting for 38.2%
During the Trump Era, Australia followed the United States in adopting antagonistic approaches against China, which is understandable. Yet, though the Trump Era is coming to an end, Australia's attitude towards its largest trading partner is still considerably arrogant and hostile. While it is true that there are differences in ideology and values, such paranoia is still unreasonable and there is a lack of political insight in recent shift of international exchanges.
China too, has retaliated against Australia. On the one hand, it has adopted countermeasures in economic and trade, and imposed trade restrictions on the import of coal and a variety of agricultural products. On the other hand, China has also adopted tit-for-tat approaches against Australia in diplomacy.
With the withdrawal of Trump from the political arena, it is puzzling as to why there are lingering disputes between Australia and China as theirrelationscontinue to deteriorate. Trump might even feel proud if he sees that the two countries are still at odds even after he steps down. For China and Australia, this means that they have fallen into the quagmire of "Trump Inertia".
Though being a member of the Five Eyes alliance (FVEY) like Australia, New Zealand's approach is far different. Damien O'Connor, New Zealand Minister of Trade and Export Growth and Minister of Agriculture, stated that strong global demand for dairy products, especially in the Chinese market, will offset the adverse effects of weak dairy prices. It is estimated that in the year ending June 2022, New Zealand's dairy products export revenue is expected to reach NZ$ 20.1 billion. At the same time, forestry exports are showing a recovery trend. The New Zealand Government's Situation and Outlook for Primary Industries (SOPI) report predicts that in the year to June 2021, the export revenue of primary industries will exceed NZ$47.5 billion; in the year to June 2022, this figure will reach the NZ$ 49.2 billion record. It is worth noting that New Zealand's Foreign Minister Nanaia Mahuta also publicly stated that New Zealand is willing to help China and Australia achieve peace talks.
The policies and flexibility shown by New Zealand which differs from Australia'sreflect a normal response of a rational country. This is also something that China should learn from. In the current situation, geopolitical relationship between China and Western countries is tense, and this is seen as the most "successful" part of the Trump administration, all due to "Trump Inertia". For both Western countries and China, it is necessary to get rid of "Trump Inertia" as soon as possible.
Though the attitudes of other countries cannot be controlled by China, China is able to adjust and change its own actions. As the Biden Era is approaching, all countries need to adjust to the new changes and find new consensus points in terms of diplomacy, trade, multilateral cooperation, and global climate change. China is a major power with huge national interests. For that reason, it should have long-term visions and goals. China will need to adjust certain foreign policies and practices in accordance with the overall national situation and long-term interests to pave the way for its future development.
Final analysis conclusion
The Trump Era is about to end, but Trumpism will still linger for some time to come. In the face of the "political switch" in the United States, China and many Western countries need to adjust their strategies, get rid of "Trump Inertia" as soon as possible, and return their diplomacy to a rational and normal track.