Vienna and Munich Agreements: Does History Repeat Itself?
Robert A. Heinlein's assertion "A generation which ignores history has no past; and no future," is a good starter to understand the issue of the Vienna Agreement. After the Munich Agreement was signed, in September 1938, Britain and France deliberately abandoned Czechoslovakia to Hitler, believing this was the only way to save the world from another war. However, Winston Churchill: ""You were given the choice between war and dishonor. You chose dishonor and you will have war. "Exactly as in 1938, Obama had to choose between dishonor and war, and he chose dishonor. Now we all will have both the dishonor and the war.
One of the great wonders is how people translate information into knowledge. In fact, history proves that lack of knowledge stems from mental blindness, ignorance, selective hearing and information. We recycle and circulate information we hear and read without any inquiry and criticism, and believe this is the truth and the whole truth. Indeed, Thomas Jefferson declared, "If a nation expects to be ignorant and free in a state of civilization, it expects what never was and never will be." Wolfgang von Goethe reiterated this, "There is nothing more frightful than ignorance in action."
All that Obama wished was to establish a legacy for his foreign policy, but he got the opposite, and we will get the disaster. This is a colossal failure. Not only has he betrayed U.S. allies in the Middle East, mainly Israel, Saudi-Arabia, Egypt, Jordan and the Persian Gulf states; not only has he deliberately strengthen Iran's power to become a regional hegemon at the expense of these states; not only he has created a huge vacuum and brought the failed states of Iraq, Libya, Yemen and Syria; not only to the vacuum created entered all the Jihadi Islamic fanatic groups – Obama actually has also accelerated the nuclear race in the Middle East, and inevitably the outbreak of regional war in the future. This is only in the Middle East, but the decisive failure is domestic, in the American society and economy.
What happened in the late 1930s? The shameful Allied refusal to confront Nazi aggression bestowed Hitler what he wanted time and again in exchange for his eternal promise of "peace in our time." The shameful appeasement resulted in the outbreak of the Second World War. Most important to note: nevertheless the appeasement and the capitulation, still the aggressor, Germany, initiated the war. This is the lesson to deeply learn and adopt: appeasement never works. Appeasement comes out of defeatism and it also breeds defeat and colossal failure. Appeasement, said Winston Churchill, is feeding the dragon hoping it will devour you last. However, even being the last, the dragon will eat you, because he is dragon, and he is hungry.
If we take Winston Churchill's saying: "In war, resolution; in defeat, defiance; in victory, magnanimity;" it seems that Obama operates just the opposite: in war – magnanimity; in defeat – resolution; in victory – defiance. This is exactly what happens today. By deliberately abandoning Israel, Saudi-Arabia and Egypt's security concerns, Obama has paved the way for Iran not only to develop a nuclear weapon, but worse than that, he encouraged Iran's desires to become a political and military hegemon in the Middle East. As in WWII, war will breakout in the Middle East, and the initiator will be the aggressor, Iran. That is exactly because you can never change the dragon's character, and because appeasement means horror and it yields catastrophes.
One needs only to look now at Iran's ideology (as no one looked at Germany's under the Nazis): Iran is mandated by Islam to conquer the world; to make all men convert, submit or die. Ayn Rand was correct by declaring: "The spread of evil is the symptom of a vacuum. Whenever evil wins, it is only by default: by the moral failure of those who evade the fact that there can be no compromise with evil on basic principles."
The Munich agreement was called by Churchill a "total and unmitigated defeat." This is exactly the case of the Vienna Agreement of July 14, 2015, with Iran. In the 1930s Britain and France had sought every possible way to evade confronting Germany, by giving up and giving in and capitulating to Nazi Germany. Today the Obama Administration has been following the same track with the same results: it evolved from the assertion that "no deal is better than a bad deal" to the policy of any deal, even a bad one that can be reached, is better than having no deal at all.
During this period of time the US has proven that it is much more eager to reach an agreement with Iran than the Iranians. This is amazing because the Iranians were under the pressure of economic collapse and the depression of diplomatic isolation. Indeed, history repeats itself, as Europe before the Second World War, the US has been willing to compromise on all of its own principles, while the Iranians compromised on none. Iranian negotiators understood this bizarre situation and extorted more and more concessions. This is proof of Aldous Huxley's assertion, "Facts do not cease to exist simply because they are ignored;" and the resulting ware will prove Ayn Rand's, "You can ignore reality; but you cannot ignore the consequences of ignoring reality." Perhaps this situation belongs to George Orwell's declaration, "There are notions that are so foolish that only an intellectual will believe in them."
Like the Munich Agreement that culminated in the victory of the aggressor at the expense of the appeaser, the Vienna Agreement is a total defeat of the US and a great victory of Iran. Now a nuclear arms race has begun. Saudi Arabia will have a nuclear weapon from Pakistan. Egypt and Turkey will perhaps turn to Russia and China for nuclear bomb or purchasing its devices. Russia and China have both proven eager to play the double game: trading with Iran and supplying nuclear reactors to anyone who seek for it, in due prices. Another actor is North Korea, as demonstrated by Iran, is willing to engage in nuclear proliferation.
There are two kinds of Iran: nuclear Iran and conventional war-mongering aggressive Iran. Nuclear Iran is built as a strong-threatening support to war-mongering aggressive Iran. Despite the miserable propaganda message delivered by the US, the reality is that it has exacerbated the regional and the international situation. Not only it has paved the way for Iran to continue its nuclear weapon program, but it also helped Iran to strengthen its strategy of the two-track axes fronts: the "Levant Axis," the northern one, by controlling Iraq, Syria and Lebanon; and the "Maritime Axis," the southern one, by controlling the Hormuz and Bab al-Mandeb straits.
Both are aimed at directly threatening militarily Saudi-Arabia, Egypt and Israel, and even strangling them militarily and economically. These states know exactly the dangerous situation, however, the US has become blind and deaf, as its eyes are widely shut on Islamic Jihadi terrorism and Islamic millennialism. Moreover, the northern Axis Iran is building is also meant to constrain and contain Turkey, while the southern Axis is a direct way to influence and control the strategic area leading to Africa.
Iranian influence and stature will grow and flourish thanks to the lifting of sanctions and the resulting hundreds of billions of dollars of economic investments in Iran which will finance their terrorist activities and allies, and sustain their tyrannical regime. There is nothing in the agreement that addresses Iran's continual violation of basic human rights. We must always recall Karl Popper's eloquence: "If we extend unlimited tolerance even to those who are intolerant, if we are not prepared to defend a tolerant society against the onslaught of the intolerant, then the tolerant will be destroyed, and tolerance with them… We should therefore claim, in the name of tolerance, the right not to tolerate the intolerant."
It must be recalled: the Vienna Agreement was between the U.S., Britain, China, France, Germany and Russia on the one side, and Iran, on the other. Israel, Saudi Arabia, Egypt and the Persian Gulf States are not signed partners to the agreement as if it does not bind them. Now they are free to defend themselves. Though deliberately abandoned by its only ally, Israel is no Czechoslovakia. It has the power and the ability to defend itself, to deter and to retaliate against Iran. It is worth quoting Winston Churchill's, "If you will not fight for the right when you can easily win without bloodshed; if you will not fight when your victory is sure and not too costly; you may come to the moment when you will have to fight with all the odds against you and only a precarious chance of survival. There may even be a worse case. You may have to fight when there is no hope of victory, because it is better to perish than to live as slaves."
We must cry out loud and clear: 'Never again.' It must also be recalled that in the Middle East Western-Oriented rationalism is not common, and there are not only suicidal Shi'ites and Sunnis, but wars also start unintentionally or from miscalculation. Add to this grave situation the emergence of the Islamic Caliphate State (ICS. There is no longer DAESH, ISIS, ISIL), which threatens the existence of the Middle Eastern nation-states, and the possibility that al-Qaeda will seek to regain its power and prestige among the Muslim Salafi-Jihadi groups by performing a "super-blast."
Hear is exactly the formula to world disaster. The Vienna Agreement, like the Munich Agreement in the 1930s, and the North-Korean agreement on October 21, 1994, has a tremendous impetus to bring these horrors into reality. The Middle East is not susceptible to the discipline of mutual deterrence let alone to abiding by written agreements.
Many will say, the Iran deal is really a high-stakes, a strategic bet. This is not the situation. The Vienna Agreement is worse than that. Not only does it give Iran free license to have nuclear weapons, it also allows it to become the regional hegemonic power. Senator Lindsey Graham describes Obama's approach to Iran as "dangerously naïve… I think he is misjudging what the Iranians want… and the best evidence of what they want is what they're doing right now to destabilize the region without nuclear weapons."
However, Senator Graham is mistaken. Obama does this deliberately. It seems he believes that powerful Iran as a regional hegemon will bring stability to the Middle East. Totally, the other side happens. What drives Iran the most is the need for the religious victory of the Shi'ite version of Islam against the Sunnah. Iran's top enemy is Saudi-Arabia and the Iranian target is controlling Mecca and Medina religiously. That is, if are we honest enough to admit, Saudi-Arabia and not Israel is the primary target of Iran's nuclear capability. That does not mean that Israel can relax. On the contrary Israel's very existence is at stake, however Saudi-Arabia should be much more concerned as it is a greater prize for Iran.
Unfortunately the agreement makes the war in the Middle East more probable. Iran's successes will encourage the leaders of the regime to be more confident in their strategy and that they are on the track of fulfilling their mission. The Western world is nearly irrelevant, as the US is weak and Obama acts to destroy its presence as a world power. Europe suffers even more a lack of leadership, and continues its policy of appeasement and defeatism; Russia under Putin wishes to be back a world power, and it automatically confronts America on every issue. China grows more aggressive and assertive in the face of American weakness.
Moreover, the Middle East is in anarchy and chaos, with many failed states, like Iraq, Libya, Yemen and Syria; while Egypt and Saudi-Arabia are under direct threat: sub-conventional (by Salafi-Jihadi and Salafi-Takfiri Islamic groups); conventional (the consequences of the Islamic Anarchic Tribal Winter, mistakenly referred to as "Arab Spring"); and unconventional (Iran's nuclear capability, and the following nuclear arms race). The Middle East has lost the most from Obama Administration's faults.
This situation was clearly reflected in the negotiations. Obama offered almost unlimited concessions while ignoring all its own red lines. This was exactly the situation between Britain and France on the one hand and Germany on the other, in the late 1930s. The current colossal capitulation of the US to Iran is also marked by the fact that Russia, the EU and China will highly benefit from the deal economically. This is the only reason why they go together. The words of Douglas MacArthur fit this situation: "I am concerned for the security of our great Nation. Not so much because of any threat from without, but because of the insidious forces working from within."
Vienna repeats the shameful October 1994 agreement of President Clinton with North Korea. The same syndrome; the same results; and still the same unlearned lessons by the political system as much as by academic "experts", who endorsed the agreement with North Korea as successful and prolific. Unfortunately, this syndrome is worse, as in the 1930s' issue of what to do with Nazi Germany aggression; and as in the 1990s' issue of what to do with the North-Korean aggression; and like today's issue of what to do with Iran's aggression — the media and the academia have betrayed their role and took one-sided policy, that of supporting the appeasers and ignoring the aggressors threats.
These two important players have bestowed the political systems the impetus and rationalized their policies to continue their failed policies. This reality has become a syndrome. The academia-media have been betraying their balancing role of giving sense to the functioning political system. They have become, as Norman Dixon indicates in his book, Our Own Best Enemy, by denying the severe hazards coming from the aggressive states, and by rationalizing the failed policies adopted. It is the right place here to quote Albert Einstein's definition of insanity: doing the same thing over and over again and expecting different results.
The agreement signed on Tuesday, July 14, 2015, known as "Joint Comprehensive Plan of Action" (JCPOA), is weak and dangerous; it undermines American national security and discredits the US foreign policy among its allies; it poses grave threats to Israel, Saudi-Arabia and Egypt, and it promotes all-out war, perhaps nuclear, in the Middle East. From its beginning Iran's nuclear program was acquired by deception, evasion and concealment. Iran continues this pattern today, and now it has an international legitimacy to successfully fulfill its strategy.
The only barrier left to stop Iran from becoming a nuclear threshold state is the new elected President in the US and the Congress act together to prevent this agreement from moving forward. The US Congress must invalidate this agreement. It has to learn the consequences of the agreement with North Korea and never to betray its balancing role in the American web of government.
Albert Einstein's assertion is correct: "The world will not be destroyed by those who do evil, but by those who watch them without doing anything." After the Nazi invasion to Poland in September 1, 1939, the British Parliament understood the huge disastrous failure of Chamberlain, and replaced him with Churchill, in May 1940. His speech at the Parliament was of historic importance. "All I can promise you is blood, sweat, and tears… We shall outlive the menace of tyranny; we shall not flag or fail; we shall never surrender… You ask: what is our aim? I can answer only in one word. It is victory; victory at all costs; victory in spite of all terror, however long or hard the road may be. For without victory there is no survival."
The US Congress has to recall that Noah built the Ark before the Deluge. This is of utmost importance: before the Deluge, and not after it. The Free World desperately needs leaders like Winston Churchill; courageous and realist leaders to save us out of this madness. The Congress should tell President Obama loud and clear: with this signed agreement, you have become like Neville Chamberlain instead of being Winston Churchill. You lead the US and the Free World to a huge disaster.
However, the problem is more aggravated, as Chamberlain stepped down from office quietly even willingly, as he understood his failure. Obama continues to believe arrogantly that he is not mistaken, that his policy is righteous. Like President Carter, He deludes himself that he is carrying out a divine mandate. But whose? And to whom? Obama proves Barbara Tuchman's assertion in her March of Folly, of leaders who bring disasters on their own peoples out of stupidity, blind stubbornness, and permeability of mind.
July 14, 2016 was the one-year anniversary of the nuclear agreement with Iran. In his new book, Obamabomb: A Dangerous and Growing National Security Threat, Fred Fleitz, of the Center for Security Policy detailed analysis of the dangers this agreement continues to pose to U.S. and international security, including: why the threat from Iran's nuclear weapons program is growing despite the JCPOA; how the nuclear agreement gave Iran a pass on its nuclear weapons work and led the IAEA to dumb down its reports on the Iranian nuclear program; how the agreement has made Iran a greater regional and international threat; and how the Obama administration is trying to grant further concessions to Iran.
Fleitz's detailed analysis of this agreement not only proves the growing danger that the agreement poses to U.S. national security. For Fleitz it is clear: the nuclear deal is so dangerous that the next president should tear it and re-negotiate another nuclear pact: Iran must cease all uranium enrichment and its research. Iran must not have a heavy-water reactor or a plant to produce heavy-water. Iran must robust real and effective verification and inspections; Iran must curtail and agree to limitations on its ballistic missile program. Iran must agree to end its meddling in regional conflicts and sponsorship of international terror.
Now we hear of the cash payment of $400 million to Iran. Obama, Kerry, and others in the administration, claim it was not ransom money and had nothing to do with the release of hostages. The decision to unfreeze the money in cash was made because "the nuclear deal [was] done" and the prisoners were released. Contrary to many others, I believe in what they say. The reason is Obama's ideological and strategic policy of bringing Iran to a regional hegemony. He has never abandoned this target. In his naïve deep misunderstanding of the situation, he still believes that Iran and Saudi-Arabia can walk together in leading the Middle East, with the US is the force "behind."
The US continues to support the forces of evil in the Middle East, like Iran; the Jihadi groups in Syria that oppose Bashshar al-Asad but identified with al-Qaeda; and Turkey under the Erdogan dictatorship caliphate. At the same time the US continues its policy of suppressing Egypt's al-Sisi; embarrassing Saudi Arabia; and coercing Israel to adopt policies that compromise its security.
On July 8, 2016, a Washington Post columnist wrote, "The reality that many Republicans have still not come to terms with is this: that Barack Obama was elected and reelected, fair and square, and that the American public knew what it was doing." He is absolutely right. And that is exactly the reason the US has so deeply deteriorated in all webs of American life. To make it short: domestically, there is misery and wretchedness among the society, being on the verge of internal racial war. In foreign policy, the US has become weak and unimportant in international relations, while it has ruined the Middle East. World balance of power has vanished. The balancer of the balance of power, according to Hans Morgenthau, has ceased to exist, and the international relation is in a state of chaos.
The records of history will show that Obama has been perhaps one of the greatest failed President in the history of the US. He has changed America – for the very bad. He has stolen America from its citizens, and abandoned their cherished values: the family ("the American way of life"); the military (patriotism and believing in the greatness of America); and the country ("God Bless America"). Obama has transformed every aspect of American values to the bad.
This is not the American dream or the American spirit. According to Philip Haney, Obama is an anti-civilizational agitator whose primary goal is to create destruction and tyranny. Obama 'dismantles' America's defenses. Now the big question is how America fell out in love with him from the beginning? The answer seems paradoxically simple. The majority of people is gullible, brainwashed by the Big-Left-Media, uninformed, historically illiterate, uncurious, incompetent to do background research, and possessed of an extremely slow learning curve.
Obama's policy of coercing and forcefully imposing his Muslim believers on America is painful, awful and tragic. Muslims don't want to assimilate or to adapt themselves to American (or any Western) principles and values, they want the US (and Europe) to adapt itself to Islam and adopt their 7th century desert values.
James A. Lyons, retired Admiral, put it on May 9, 2016: How Obama transformed the military. There is no question that America's worldwide leadership, power and influence have been significantly degraded over the last seven and a half years. The basic reason is that Obama has been very successful in the implementation of his goal to fundamentally transform America. In so doing, he has undercut the Judeo-Christian foundation of this great country while at the same time promoting the advancement of Islam throughout our society — including the U.S. military. This transformation, at its core, is anti-American and anti-Western. Yet it is also pro-Islam, pro-Iranian and pro-Muslim Brotherhood. Compounding this travesty is Mr. Obama's decision to embrace our sworn enemies. Unbelievable.
The 'multicultural' makeover of our military threatens to undermine the very fabric of our military forces, and is being accelerated with no apparent opposition from military or congressional leaders. Mr. Obama has used the military's founding principle of civilian control to impose his debilitating directives which are destroying the military's warrior mentality and the 'will to win.'"
Maureen Scott has called Obama "the Architect of Destruction." Obama appears to be a tormented man who is filled with resentment, anger, and disdain for anyone of an opinion or view other than his. He acts in the most hateful, spiteful, malevolent, vindictive ways in order to manipulate and maintain power and control over others. Have we ever heard Obama speak lovingly of the U.S. or its people, with deep appreciation and genuine respect for our history, our customs, our sufferings and our blessings? Obama is void of the basic emotions that most feel regarding this country and is insensitive to the pride we have in our national heritage. Not a day goes by that he is not attempting to defy our laws, remove our rights, over-ride established procedures, install controversial appointees, enact divisive mandates, and assert a dictatorial form of power. Obama thrives on tearing us down, rather than building us up. He is the Architect of the decline of America, and the epitome of a demagogue.
This paper has only one aim: to introduce the similarities between leaders in the process of creating a political vacuum that enables the onslaught and encroachment of evil forces to ruin the existing world order and balance of power.
Movement of the White House towards radicalism
The removal of U.S. Secretary of State Rex Tillerson from power and the replacement of CIA chief Mike Pompeo will create new crises at the White House. In the domestic circles of the United States, Tillerson was considered one of the few symbols of political rationality in the Trump cabinet. However, Pompeo has always been a symbol of extremism in the political and security structures of the United States.
Consequently, the domestic circles of America believe that Tramps has thrown Tillerson out of power, radicalism and extremism in his government. Accordingly, Tramp will henceforth be more costly in the international system and foreign policy of his country.
The U.S. president has ousted the Foreign Minister while Washington and Pyongyang have not yet begun talks on the disagreements. Donald Trump, on the other hand, is scheduled to make a final decision on a nuclear deal with Iran in about two months. In such a situation, the U.S. Secretary of State is about to create new crises in the White House.
Although the American political structure (especially in the field of foreign policy) has little connection with the presence of people in power, the presence of Pompeo as a symbol of extremism at the top of U.S. foreign policy equations represents a more serious confrontation between Trump's government and the international community.
Pompeo's presence at the head of the U.S. foreign policy equation has raised a lot of concerns among Washington's allies, especially the European ones. One of the issues in which Pompeo and Trump are shared is to confront the existence and nature of the European Union.
Pompeo, as the head of the CIA, has played a significant role in supporting extremist right-wing and nationalist groups in Europe over the last year. In some of his positions, Donald Trump has explicitly supported phenomena such as election and called for the modeling of other European countries. Europe's return to nationalism is a major policy that Tramp and Pompeo have followed and are pursuing in the last year (especially in 2017). Obviously, this process will intensify during Pompeo's presence at the U.S. Department of State.
As Guardian reported, Rex Tillerson will go down as one of the worst secretaries of state in U.S. history. And yet, with his departure and replacement by CIA director Mike Pompeo, things could get a whole lot worse for U.S. national security.
Donald Trump made clear his disdain for diplomacy from day one of his presidency, and that he views foreign policy as an endeavor for the military, not the state department. He proposed enormous increases in the military budget while attempting to slash the state department budget by roughly a third. Trump appointed generals to be secretary of defense, national security advisor (twice) and White House chief of staff, while appointing as secretary of state someone with no diplomatic experience.
If Trump's contempt for diplomacy somehow wasn't clear, he did his best to actively undermine his secretary of state, criticizing him in public on a number of occassions. In the fall of 2017, as Tillerson attempted to open a diplomatic process with North Korea, Trump tweeted to the world, "I told Rex Tillerson … he is wasting his time trying to negotiate with Little Rocket Man." When a Middle East dispute between Saudi Arabia and Qatar broke out in 2017, as Tillerson scrambled to calm the situation and mediate, Trump undercut him by publicly siding with Saudi Arabia.
So it should come as no surprise that Tillerson would find out he was fired when his boss tweeted the news to the world.Despite this poor treatment, it is hard to shed a tear for Tillerson. He has been a good soldier in enabling a military-first foreign policy, in which the state department is relegated to an afterthought.
He has worked aggressively to gut the state department, not filling key positions, and implementing freezes on hiring, all of which have contributed to a hostile environment and low morale. The nation's most senior diplomats have resigned over the last year, leading to a wave of exits of career diplomats at all levels that has depleted the ranks of the nation's diplomatic corps. It will take years to rebuild the state department in the wake of the damage inflicted by Trump and Tillerson.
Guardian continues that On leading America's diplomacy with the world and running the state department, Tillerson has been an utter disaster – but his policy views were about as moderate as they come inside the Trump administration. He has been one of the administration's strongest voices for diplomacy with North Korea.
He was reportedly an advocate of remaining in the Paris climate change agreement. And he supposedly tried to keep the U.S. in the Iran nuclear deal.If and when Pompeo replaces him, we should be deeply concerned – both because of Pompeo's more hawkish views, and where they might take America on the critical foreign policy decisions coming down the pike.
The fate of the Iran deal is once again hanging in the balance, and with it potentially more conflict in the Middle East. Trump has set a 12 May deadline for getting European allies on board with changes to the Iran deal, and has reportedly said that he will exit the deal if those changes aren't made.While Tillerson advocated remaining in the deal, Pompeo has been a vocal critic of the 2015 agreement.
If the U.S. unilaterally withdraws from the deal, there's no telling where tensions with Iran – which is already fighting proxy wars in Syria and Yemen – could go.This development doesn't bode well for diplomacy with North Korea, either. As Trump prepares for a possible summit meeting with North Korean leader Kim Jong-un, Tillerson's exit could signal a much harder line on talks.
Whereas Tillerson has been a proponent of diplomacy with North Korea, Pompeo's public language on North Korea has been more aggressive, and he has openly hinted at regime change. A negotiation with North Korea is one of the most difficult diplomatic endeavors one can imagine – and Pompeo, like Tillerson, has no diplomatic experience.
And then there's Russia. Tillerson has hardly been tough on Russia, prioritizing attempts at cooperation over pushing back against clearly destabilizing actions by Russia, including its interference in the 2016 election. While Pompeo held critical views of Russia during his time in Congress and has admitted that Russia interfered in the election, it's unclear for which policies Pompeo will advocate.
To those ends, there are reasons for concern: at Trump's request, Pompeo met with a conspiracy theorist peddling the falsehood that the hack of the Democratic National Committee's emails in 2016 was an inside job, not Russian hacking. He also falsely claimed that the CIA concluded that Russian meddling did not affect the election's outcome. As war rages in Syria and Ukraine, and Russia continues interfering in U.S. politics, Pompeo will be a key player in leading U.S. policy on all.
At the end of the day, the president directs foreign policy, and no change in personnel will alter the unique chaos of Trump's foreign policy. But if past is prologue, Pompeo appears much more willing than Tillerson to toe Trump's line – a very dangerous prospect.This development may prove that no matter how bad things look, in Donald Trump's administration, they can always get worse.
First published in our partner Tehran Times
A Deceitful Trump Has Difficulty Filling Administration Jobs
A politician on center stage calls Mexican immigrants rapists and killers for those people send their bad guys here; says Syrian refugees are snakes and they and other Muslims could harbor ISIS among them; says African countries are sh*tholes and Haitian immigrants carry aids … .  Then without a hint of irony or embarrassment — except a permanently red face — he proclaims, "I am the least racist person anybody is going to meet."  What would a rational individual call him?
The Washington Post ran an op-ed by Bella De Paulo on Donald Trump's lies and lying, drawing on her research work and the Post's Fact Checker.  It turns out he is an inveterate liar and, worse, a cruel one for his lies are often malicious.  The op-ed was also taken up by the right-leaning Chicago Tribune, the leading such organ in Chicago.
Bella De Paulo is a social scientist who earlier on in her career as a professor at the University of Virginia studied lies and liars jointly with some colleagues there.  Since October 2017, President Trump, she notes, "told a remarkable nine lies a day outpacing even the biggest liars in our research."  It gets worse.
Most of the lies (about half) in their study of college students and general community members in the area were self-serving intended to advantage the liars.  Less often they told kind lies, like the woman telling her mother she did not mind taking her shopping.  These constituted about a quarter.
One category was so small as to warrant just a footnote in their study.  This was the cruel lie intended to hurt or disparage someone.  Only 0.8 percent of student participants' lies and 2.4 percent of community members' lies fell in this category.
President Trump is different, shockingly different.  To use his favorite adjective, an amazing 50 percent of his lies were in the cruel category, the content hurtful or disparaging.  His kind lies were few, outnumbered 6.6 times by self-serving ones.  It is not surprising then that 58 percent of voters questioned in a Quinnipiac University poll last November thought he was not honest.  As most people tend to believe others, there has to be a good reason to label someone dishonest.  The old adage, one can't fool all of the people all of the time appears to be working — the people have caught on.
The departures from the Trump administration took in the most prestigious cabinet post.  Secretary of State Rex Tillerson was fired; Mr. Trump apparently furious at his enthusiastic support for the British in their reaction to the poisoning in Salisbury of Sergei Skripal and his daughter Yulia.  The pair remain in critical condition.  The nerve agent used, Novichok, was developed in Russia.  Mr. Skripal acted as a double agent for the UK in the 1990s and early 2000s betraying many agents.  Would that assemble enemies?
President Trump, therefore, had a point.  However, within a few days he had flip-flopped.  He is now projecting a united front with the British, the Germans and the French on the issue.  Clearly, there were also other reasons for his unhappiness with Mr. Tillerson, including the latter's reported pithy description of him as 'a f***ing moron'.  Disagreements on political appointees was another issue.  Moreover, Tillerson's radical reorganization efforts were not popular with career officials in his department.
Trump's chief economic adviser resigned last week.  His successor Larry Kudlow is a long-time media personality.  He is not what one would call a professional economist.  In fact, he does not even have an economics degree.  He is a journalist.  He is also an ardent supply-sider and trickle-downer though — no doubt to Trump's liking — and he played a role alongside the conservative Heritage Foundation's Stephen Moore on Trump's tax plan during his campaign.
So the arrivals and departures at Trump Junction continue, a busier place than almost any previous administration and with numerous government vacancies.  But then, are there many who want to risk a job with the mercurial Trump when it is also difficult to believe much of what he says?
What Results When U.S. Invades a Country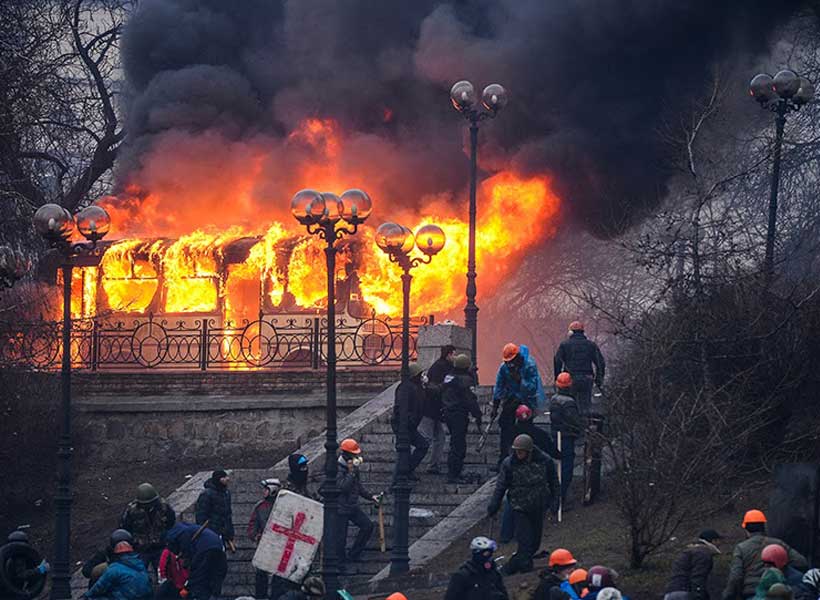 The U.S. Government certainly leads the world in invasions and coups. In recent years, it has invaded and occupied — either by military assault or by coup, but in either case followed by installing (or trying to install) a new regime there — a number of countries, especially Afghanistan, Iraq, Libya, Syria, Ukraine, and Yemen.
U.S. propaganda says that its invasions and military occupations (and it denies its coups) are to benefit the people in the invaded and militarily occupied countries, or to bring them 'democracy', and are not done merely to benefit the people who control the U.S. Government (which itself is not a democracy, and even the neoconservative — pro-invasion or "imperialistic" — American magazine The Atlantic has finally acknowledged this fact, even though it contradicts their continuing neoconservatism).
Polling and other evidences within the invaded/occupied countries shows the opposite of the U.S. claim: America's invasions/occupations (after World War II, and especially after 2000) destroy those countries, not help them.
The most authoritative such study that has yet been done on this matter was recently released, and its findings regarding this matter will here be presented, and then supplemented with other relevant data so as to provide a fuller picture.
The U.N./Gallup surveys of the happiness/misery of the residents in 155 countries, as reported in 2017, were physically in-person interviews in almost all countries, but there was at least one exception, as they explained: "In Libya, telephone survey methodology has been used since 2015 owing to the country's high rate of mobile phone coverage and ongoing instability which has made it too dangerous to use face-to-face interviewers." That's a highly euphemistic way of saying, actually: Libya was too dangerous, and perhaps too miserable, for opinions to be sampled by the ordinary methodology, the scientifically sound methodology, which is in-person interviews. It's a way of saying this without even mentioning the invasion and war there — as if those things don't even count. Therefore, the finding that Gallup reported about Libya is presumably being included in Gallup's otherwise excellent report purely for Western propaganda purposes — they know that it's not an actual scientific finding about Libya, not a finding that can reasonably be compared to the survey-findings in the other countries. As a result, Libya, which might have been the most miserable of all countries after the U.S.-UK-France-Canada invasion, scored in the top half of all countries, #68, 5.525. But, all of the other countries that the U.S. has recently invaded (the nations that are boldfaced below) scored at or below #132, 4.096 — Ukraine's score — as is shown here below from that U.N. report:
Following are the happiness-scores of the bottom 24 out of the 155 happiness/misery-rated countries. (Iraq, which the U.S. had destroyed in 2003, perhaps is now recovering, and it scored as #117, with a score of 4.497; but, here only the bottom 24, the most-miserable of all of the 155 countries, are shown.) Here they are:
132 Ukraine                                                        4.096
133 Uganda                                                        4.081
134 Burkina Faso                                              4.032
135 Niger                                                             4.028
136 Malawi                                                         3.970
137 Chad                                                              3.936
138 Zimbabwe                                   3.875
139 Lesotho                                                        3.808
140 Angola                                                          3.795
141 Afghanistan                                               3.794
142 Botswana                                    3.766
143 Benin                                                            3.657
144 Madagascar                                                3.644
145 Haiti                                                               3.603
146 Yemen                                                         3.593
147 South Sudan                                              3.591
148 Liberia                                                           3.533
149 Guinea                                                         3.507
150 Togo                                                              3.495
151 Rwanda                                                        3.471
152 Syria                                                              3.462
153 Tanzania                                                      3.349
154 Burundi                                                        2.905
155 Central African Republic        2.693
Ukraine is (other than #117 Iraq) the least-miserable of the recently invaded countries, and perhaps the reason for this is that Ukraine was taken over by means of a coup, instead of by means of an outright and direct military invasion.
(You can see this coup happening, here. The way that U.S. President Barack Obama set it up is documented here. You can hear there his agent instructing the U.S. Ambassador in Ukraine whom to place in charge of Ukraine's Government once the coup will have been culminated (which happened 22 days later, and that person did get the leadership-position). It's the full conversation. And here, you will see the phone-conversation in which top EU officials were shocked to find that it had been a coup instead of what Obama pretended, a 'revolution'.) (These evidences are some of the reasons why the head of the 'private CIA' firm Stratfor called it "the most blatant coup in history.")
The U.N. happiness surveys have been taken in Ukraine not only after the coup, which occurred in February 2014, but before it, in 2013. At happiness index you can see the happiness/misery scores shown by Ukrainians during the years 2013, 2015, 2016, and 2017 (there was no survey in Ukraine during 2014, perhaps because of the rampant violence at that time.) In 2013, Ukraine's happiness score was 5.057, but that steadily declined down to the 2017 score of 4.096, which placed Ukraine within the bottom 24 countries, all of which either were extremely poor, or at war, or both. You can also see there Ukraine's resulting "World Happiness Index" rank for each one of those four years, 2013, before the coup, and then 2015-2017, after the coup. As you see there, Ukraine, which was #132  in 2017, had been #87 in 2013 before the coup. So: within just three years after the coup, it declined 45 places in the global rankings.
Some people might retort against this by saying that "happiness" is meaningless or unimportant and only physical welfare is 'objective'," but even on the most crudely physical measures, Ukraine has been enormously harmed by the U.S. coup. In 2013, Ukraine's average annual household income was $2,601.40, and then it fell off a cliff and became $1,109.63 by 2015 and has stabilized at around that level since. Also, in 2013, Ukraine's GDP was $183.31 billion, and by 2015 that had become $91.03 billion and stabilized at that level. Furthermore, some figures aren't any longer even reported by the post-coup Ukrainian regime. For example, whereas the number of unemployed was shown in Ukrainian statistics in 2013, it disappeared in 2016 and subsequently. More information about the decline in Ukraine's economic rankings can be seen here. The U.S. regime has been toxic to the Ukrainian people, no matter how one looks at it. But happiness/misery is the real bottom-line.
Two researchers, Tom Coupe and Maxym Obrizan, published together two separate studies, both in leading economics journals, one article titled "The impact of war on happiness: The case of Ukraine", and the other titled "Violence and political outcomes in Ukraine — Evidence from Sloviansk and Kramatorsk". They reported, in "The Impact of war on happiness":
The average level of happiness declined substantially in zones that experience war directly. …
This decline is comparable to the loss of happiness a relatively well-off person would experience if he/she were to become a poor person. …
Regions that are not directly affected by the war are basically as happy as they were before the war.
In other words: all of the increase in misery occurred only in the regions that have been "directly affected by the war." The Ukrainians who reside outside those regions are "as happy as they were before the war." They're not happier than before the war; they haven't been helped by the war; but, the misery — so intense for them that it has already lowered the happiness-ranking of the entire nation, from 87 down to 132 — just hasn't bothered them, at all.
In "Violence and political outcomes in Ukraine" they reported:
We also find that property damage is associated with greater support for pro-Western parties, lower support for keeping Donbas in Ukraine and lower support for compromise as a way to stop the conflict.
In other words: Ukrainians who live close to the Ukraine-Donbass border; that is, who live inside Ukraine but close to Donbass and so are in the Ukrainian portion of the conflict-zone (not in Donbass, where the vast majority of the "property damage" is actually occurring), have "greater support for pro-Western parties" (i.e., for the Obama-installed regime), but "lower support for keeping Donbas in Ukraine." Although they endorse the overthrow that had been done of the pre-coup government (because they receive 'news'media only from the post-coup regime, in the Ukrainian language), they want to get on with their lives without the war that's since been causing them "property damage." (U.S. propaganda notes that "the separatist-controlled parts of Lugansk and Donetsk oblasts ([the two Donbass] provinces) only have access to Russian TV channels" but avoids noting that the Ukrainian regime's blocking of Russian-language media on the other side of that border — inside Ukraine — exists and is even more severe.) Apparently, Ukrainians near the border just want the war to end — no "compromise" — no negotiations, no Minsk process; they want their Government to simply quit trying to conquer Donbass, no negotiations about it, at all. And they're ignored.
Right now in Ukraine, the central political controversy is between the U.S.-puppet President of Ukraine, who promises to conquer both of the two breakaway provinces, Donbass and also Crimea — but who hasn't yet been able to do it — versus Ukraine's political parties, in western and northern Ukraine, that derived from the organizations which had supported Hitler against Stalin in World War II and who still crave to kill Russian-speakers. Those passionately racist-fascist, anti-Russian, ideologically nazi, political organizations, are determined to actually carry out those additional invasions, no matter what the cost. However, according to this finding by Coupe and Obrizon, the Ukrainians who are suffering the "property damage" and whose personal scores on happiness have thus become so abysmally low as to have dragged the whole Ukrainian nation down to a 132nd ranking, are opposed to that nazi position, and they just want the war to end. And they're ignored.
Where, then, is the support for the war to be found (except amongst the U.S. Congress and President and the U.S. arms-makers whose products have been selling so well to Ukraine's government and which are now being used against the residents of Donbass)? That support is to be found as far away from the conflict-zone as possible: in Lviv and the rest of far-western and northern Ukraine, the areas that were cheering Hitler's forces in WW II, and where the 'news' media today are owned by U.S.-supported oligarchs and their NGOs.
Ukraine was a severely divided nation even before the coup. In the last Ukrainian election in which the residents within the Ukraine that then included both Donbass and Crimea voted, which was the election in 2010, the candidate who won Ukraine's Presidency and whom Obama ousted, had won 90% of the vote in Donbass, and 75% of the vote in Crimea. However, in far-western Ukraine, his opponent — whom Obama had been hoping that Ukrainians would elect as Ukraine's President in 2014 after the coup — won 90% of the vote. That's the candidate whose party (though not herself) now dominates (in conjunction with the two outright nazi parties) the Ukrainian Government. The man whom the residents in the rump Ukraine chose, was the more moderate candidate, and he is increasingly being challenged by the nazis. (Ukraine is the world's only nation that has two nazi political parties. Both of them have been clients of the U.S. Government ever since the end of World War II, but only with Obama did they win control of the country — that is, of its non-breakaway regions.) For example, on 18 January 2018, the AP headlined "Ukraine passes bill to get occupied regions back from Russia" and reported that, "Ukraine's parliament on Thursday passed a bill that aims to reintegrate the eastern territories currently controlled by Russia-backed separatists, and goes as far as to declare support for taking them back by military force if necessary." Though that position is a minority position amongst the Ukrainian public, it authentically represents the position that Obama wanted. In fact, he even overrode his own Secretary of State, John Kerry, to push for it. That's the position of Ukraine's two nazi parties, which are trying to replace the existing President. (Trump hasn't yet made clear whether he backs them, but he is expected to.)
So: that's Ukraine — the happiest of the nations that the U.S. has recently invaded.
——
UPDATE: On March 15th, the "World Happiness Report 2018" was issued, and here are the bottom-scoring countries:
Ukraine (4.103)
Togo (3.999)
Guinea (3.964)
Lesotho (3.808)
Angola (3.795)
Madagascar (3.774)
Zimbabwe (3.692)
Afghanistan (3.632)
Botswana (3.590)
Malawi (3.587)
Haiti (3.582)
Liberia (3.495)
Syria (3.462)
Rwanda (3.408)
Yemen (3.355)
Tanzania (3.303)
South Sudan (3.254)
Central African Republic (3.083)
Burundi (2.905)
first published at The Saker