Ecosophy: New Philosophy, Ethics of Care, a New Humanism, or a mere Reinvention of the Wheel already discovered?
"Much more than a simple ecology, ecosophy is a wisdom-spirituality of the earth. The new balance is not so much between man and the Earth, but between matter and spirit, between spatio-temporality and consciousness. Ecosophy is not simply a science of the earth (ecology) and even wisdom on earth, but the wisdom of the earth itself that occurs when a man knows how to listen with love."–Raimon Pannikar
In ancient Greece, the word cosmos designated nature's grand universe; the organizational pattern of the universe as our greatest context as well as the organizational pattern inherent in human society. This relatedness of nature and society in harmony with each other also held for the human mind or psyche that is preoccupied with them, so all three – universal nature, human society, and individual psyche/mind – were seen as embedded levels of our complete world, and all three were based on the same organizational principles and laws of operation or conduct.
In this truly cosmic model, the Greeks believed that if we knew how the greater cosmos was organized, we would know how to organize our smaller human cosmos, the world of the polis or Plato's Republic, for the microcosm reflects the macrocosm. The greater cosmos came out of chaos, which was not seen as the disorder conjured up by that word, but as the unpatterned no-thing-ness of the universal source, the infinite potential (more as in today's chaos theory) within which all arises. Thus, the matter of how cosmos-as-order arose and functions was of supreme importance for the Greeks.
To create a harmonious human cosmos within nature's greater cosmos, the Greeks believed that the human mind and emotions would have to be trained to function by the principles of harmonious cosmic organization. Epic poems, ancient Greek drama, and eventually even logic and metaphysics were all teaching tools. Dramas about terrible tragedies wove together the levels of cosmos in order to teach people democracy – what difficult or horrific situations could befall people, what decisions had to be made, what consequences must be dealt with when bad decisions were made individually or collectively, how cosmic influences moved between levels. Comedy taught similar lessons by spoofing how people actually behaved in order to promote better behavior, as in Aristophanes' plays Lysistrata wherein women scheme to make peace when men fail to do so.
Another familiar ancient Greek word, philosophy, etymologically meant love of wisdom (philo = love; sophia = wisdom) and was used to designate the pursuit of wisdom by studying the natural world for guidance in human affairs. This was especially true for the pre-Socratics who at times are called the cosmologists, before Socrates began the searching for wisdom interiorly within the human conscience and initiated ethics as a branch of philosophy. The cosmologists assumed that the study of nature would reveal patterns of relationships applicable to human society – patterns that would help people organize and conduct their own lives, the lives of their families and their society wisely. There was destiny in the stars, hence the importance of astrology. Thus, philosophy, from the outset, encompassed what later was designated as natural science, the term 'science' coming into use only in the Middle Ages.
The Greeks were aware that understanding nature, including our own human nature, would help us live on Earth more intelligently and peacefully. To know one's nature is to know how to live in harmony. Sadly, science abandoned that mission when philosophy became an independent field of knowledge while the systematic study of nature became 'science,' from the Latin scientia, a word implying knowledge, and the analytical separation or division of things into parts to understand them. The dichotomy began in the 17th century with Francis Bacon and signals the arrival of the modern sensibility, or perhaps a better term would be "insensibility" toward nature, which to put it mildly is nothing short than that of a rapist toward a woman whom he wants to control and exploit.
With the arrival of such a dichotomy, wisdom, which was part of the original understanding of science disappears or is relegated to philosophy understood esoterically as a very broad pursuit in its own right, based on thinking instead of experimentation or other formal scientific research. Meanwhile, within science the Greek notion that studying nature can bring wisdom in the running of human affairs was simply neglected and even lost.
Enter Ecosophy, often called deep ecology, which usually presents itself as something brand new, a new philosophy, a new Renaissance spurred by the ecological crisis of our times and able to save human-kind from its self-destructive tendencies.
Now, given the relationship to nature that the ancient Greeks explored as above argued, the question arises: is ecosophy, this latest modern synthesis of scientific ecology and philosophy, merely a reinventing of the wheel, the wheel already discovered by the ancient Greeks? The answer, I am afraid, has to be both yes and no, which may sound like an evasion or a paradox. But let me explain. The answer is yes in the sense of what we in modern times have regretfully forgotten about our cultural origins; as in so many other fields of knowledge disproportionately influenced by modern deterministic-mechanistic science, we, especially those of us committed to a positivistic approach to the apprehension of reality, continue to conclude that ancient philosophy too is a passé, long superseded anachronism, with some latent cultural-historical value, to be sure, but practically useless to solve our pragmatic ecological problems, the sooner disposed, the better. Within this line of thinking, modern science divorced from philosophy must at all costs have the last word, because it is the latest of human developments; what arrives at the end of a process, evolutionary or otherwise, has to be the best because it is the latest and most modern and most progressive; and progress, after all, is all but inevitable and unstoppable. This of course is positivism with a vengeance, which continues to be taken for granted by so many knowledgeable intelligent persons; but is it reasonable? Let's briefly explore this assumption. When we do we also find out that the answer is not only yes but also no.
For a while, since Descartes' rationalistic philosophy came into being announcing modernity in the 17th century, we have assumed that the universe is a great machine. And yet, lately our astronauts, who have seen the Earth from far above it, are speaking of an Earth that feels very much alive to them. From a rather depressing scientific story of a non-living material universe accidentally giving rise to all within it, and devoid of meaning or purpose, those astronauts as well as many notable physicists are beginning to enunciate a brand new more hopeful and visionary story strangely resembling that of the ancient Greeks: that the universe is more like a great thought than a great machine and that we are, in some way, its conscious co-creators, active responsible agents for a living Earth, not mere fatalistic victims of our destiny as consumers of stuff. "In the beginning was the Word" may be just as good, just as reasonable, if not better, than "in the beginning there was a big bang which began the process of entropy and final dissolution."
I said "a new story" purposefully. In Italian the word "storia" the way a Vico interprets it, has two meanings: it can designate a myth, as well as well as history documented by humans about events effecting their existence. Few would disagree that we humans always have been, from time immemorial, and probably always will be, storytellers. Whether we create our stories from the revelations of religions or the researches of science, or the inspirations of great artists and writers or the experiences of our own very personal lives, we live by the stories we believe and tell to ourselves and others. As Thomas Berry, walking in the footsteps of Giambattista Vico and Teilhard de Chardin, one of the authors of the word 'ecology,' said quite cogently: "We cannot tell the human story without telling the Earth's story."
Vico, Jung and Campbell discovered that certain archetypes of mythology were held in common by many ancient cultures. Of course the story most often referred to as the quintessential "Hero's Journey" is that of Ulysses in Homer's Odyssey. Campbell intimates that such a myth or story is incomplete. What happens to Ithaca after Ulysses' return and heroic challenge of his wife's suitors? Does the island, having returned to order and stability, become a sustainable resources' society thriving in peaceful prosperity? We are not told; we need to fill the gap. It has been noted by some eco-sophists that Darwin's evolution story is like the youthful adventures of Ulysses which now needs to be replaced by another adventure with the goal of building a mature ecologically stable society. Progress cannot be stopped. And this, of course, is positivistic.
Alas, in our modern positivistic world obsessed with explaining how the universe works but wholly disinterested in its ultimate meaning and destiny, story seems to have lost its vital importance. We have assumed since Descartes, since the empiricists and the positivists, since Darwin, that science alone could lead us to the truth, as story never did or could. We misguidedly thought that myths were mere fairy tale story for children or ignoramuses and then doubled up on that assumption by declaring the story of Jesus of Nazareth and his resurrection just another ethnic Hebrew myth comparable to the myth of Atlas or Thor. We assumed a reality independent of humans – a material-mechanistic (lately morphed into a cybernetic) universe that could be studied objectively without the human interfering in it in any way. In more poetical terms, we banished the gods and we declared the lord of the Universe dead.
When however, physicists discovered that all the universe was composed of energy waves and that every instance of our human reality was a wave function collapsed from sheer probability by a conscious observer, they were slightly surprised and everything began to change. That discovery meant that our world is produced in our consciousness and that language, to put it in Heideggerian terms, is the house of Being; that the Kantian phenomenon includes human consciousness- that realities are not fixed scenarios in which we grope our way about, but ever-changing creations we ourselves 'bring forth' both individually and collectively through our beliefs and actions. In other words, a universe more like a great thought than like a great machine appears; one that is more like a storytelling universe we make up as we go than like a stable physical reality in which we grope our way about. A universe more likely to be found in Michelangelo's Sistine Chapel than in Galileo's scientific astronomy. Of course the hard-nosed positivist will continue to insist that such is the delusion of people unable to bear the brutal reality revealed by a material mechanistic universe.
A few weeks ago I had a conversation with my oculist, who in attempting to explain to me the incredible complexity of the human eye (and non-human animal's eye too), blurted out the following: only a fool can think that this kind of complexity simply came about by sheer chance. He then agreed with my observation that the ancient Greeks might have well had it on target all along by postulating a nous, or a Cosmic Mind or Cosmic Intelligence behind the purpose (telos) and orderliness exhibited by the cosmos.
Indeed, it takes time for the new scientific stories of a conscious living universe and Earth to percolate. But philosophers of science such at Thomas Kuhn have by now made it clear that science can only give us useful hypotheses, not truths. Even the ever-more-obsolete scientific beliefs and findings told us a story, and a very powerful story at that. It told us we lived in a one-way universe beginning with a Big Bang and running down ever since like a battery depleted in the process of powering all the random collisions that gave us galaxies and our world. Some of those collisions, we were told, brought about certain molecules that sprung rather magically to life, but life – so the (largely Darwinian) story goes – became a struggle for survival in fierce competition before the running-down tide called 'entropy' eventually sweeps all life away.
This was a tragically misleading story. We abandoned community, cooperation and solidarity, as proclaimed by great religions of the world, to individualism, social Darwinism and greedy competitive selfishness a la Ayn Rand, and turned our human civilization into a capitalistic, competitive 'Get what you can, while you can' globalized shopping mall. Some now call it "globalization" whose main feature is that the rich get richer and the poor get poorer. We have been frantically chopping down, drilling, digging and scraping up Earth's 'resources' as if – or rather, because – we expected no tomorrow. We have literally put ourselves into the Sixth Great Extinction and are the first of Earth's species to create such disaster. Only Earth's very first creatures, her most ancient bacteria, came close to our destructiveness, causing both global hunger and global pollution in turn. They found a solution, we have not yet by transforming themselves into cells.
Primeval bacteria, our deep ecologists tell us, had Earth to themselves for almost two billion years – fully half of all biological evolution, and crossed a the tipping point which led to evolving the evolution of the nucleated cell as a giant bacterial cooperative. These cells, being new on Earth, then went through their own competitive youth for a billion years until they crossed point into full fledged maturity by evolving multi-celled creatures, to wit Humanity which in turn crossed another tipping point when tribes built the first cities collectively as centers of worship and trade that we are only now discovering in South America, Africa, Asia and Europe.
These city cooperatives too have been experiencing their own youth as cities became the centers for competitive empire-building over thousands of years up to national and now corporate empires. We have at last reached a new tipping point where enmities are more expensive in all respects than friendly collaboration, where planetary limits of exploiting nature have been reached. Will we have the courage and the wisdom to cross it?
There is cause for optimism in this regard. Just as everything seemed hopeless, we suddenly have a cause for new hope. In such a sense the answer to our initial question continues to be no: what is going on is not a mere imitation or a reinvention of the wheel of ancient Greece; it is only that if we do not know the history of ancient Greece; there is something added, just as the Renaissance was not just a reinvention or imitation of the wheel of ancient Greece, there was an added value which was unknown to the Greeks: Christianity and the good news that this God was immanent within the universe and participates in its history. That changes the meaning of the story. We are slowly discovering that rather than wait for saviors to save us, we may have the power to save ourselves. How are we to do it? By first changing our story. From cogs within the wheels of a mechanized industrialized world, satirized so masterfully by Charlie Chaplin in one of his silent movies, we have developed a technology—the Internet—that is able to give us the capacity for collaboration and genuine communication. Now we can all save ourselves; not one at a time but together as a human species. We seem to have finally intuited that there is something hopelessly immature about the competing and fighting and grabbing going on at the highest levels of human society. Some have called it Capitalism and have added that it is the best economic system ever devised by man. Reality does not bear that out.
But the call to humanity goes on. Community as a concept, finally having lost the taint of its association with communism and its political agenda of world domination, is in wonderful revival as local self-sufficiency and sustainability become very human and very practical goals in an uncertain world. Caring and sharing are replacing competing and grabbing, in no small measure due to the increasing empowerment of women, who have always held these values and are promoting an ethics of care, care for the Earth who is the mother of us all, as St. Francis so wonderfully expressed in Italian literature's first poem "The Canticle of the Creatures." Indeed, many see this as a final growing-up and maturity of humanity. We can be thankful for this new Renaissance, so to speak, to the likes of St. Francis of Assisi, Da Vinci (who conceived of no dichotomy between science and art), Vico, de Chardin, Berry, Sparenberg, Capra, Kuhn, Pannikar, not to speak of the various founders of ecosophy such as Ness and Eisler.
That wisdom expressed by those visionaries, is inherent in the nearly four billion years of Earth's evolution. Species after species, from the most ancient bacteria to us, have gone through a maturation cycle from individuation and fierce competition to mature collaboration and peaceful interdependence. The maturation tipping point in this cycle occurs when species reach the point where it is more energy efficient – thus, less costly and more truly economic – to feed and otherwise collaborate with their enemies than to kill them off. But the process is not inevitable, for if it were, then we would be determined robots devoid of free will.
A final caveat is in order here: we need to be careful not to characterize this positive hopeful trend called ecosophy deterministic and inevitable or we shall fall once again in the trap of the narcissistic, idolatrous worship of "inevitable progress." Man's freedom needs to be preserved and protected because it is part of his identity. Without self-knowledge, as Socrates reminded us, no way forward is possible. We shall not know what are the ethical imperative consonant to human nature. The maturity brought about by time and experience is important but there is also decrepitude to consider. To refuse to change in the name of a pseudo-conservatism, deluding oneself that immobility insures order and stability, is to forget that immobility can also be a sign of decay and death. There is a kind of democracy in the cemetery: they are all equally dead and immovable.
Mark Twain tells a story of his 18 years old daughter thinking of him as the most stupid man in the world, but by the time she was 25, she was surprised at how much "the old man" had learned and matured in seven short years. What Twain is driving at is that the one who had changed was not him but his daughter. She had matured, of course, but she had also acquired wisdom or she would have continued to think of her father as the most stupid man in the world, no matter how many years passed. Wisdom can be an eternal idea but as Plato put it, nobody can be a genuine philosopher before the age of 50.
It is to be fervently hoped that human-kind has matured enough to realize that Ecosophy can not only unite our separate categories of economics, ecology, finance, politics and governance, but can also wonderfully unite science and spirituality, secularity and religion, and thus be the harbinger of human values into the entire human enterprise; as such it also represents a new humanism on the horizon. This new humanism cannot even be imagined till we have at least an inkling of the old humanism of the 14th century.
Global Environmental Governance and Biden's Administration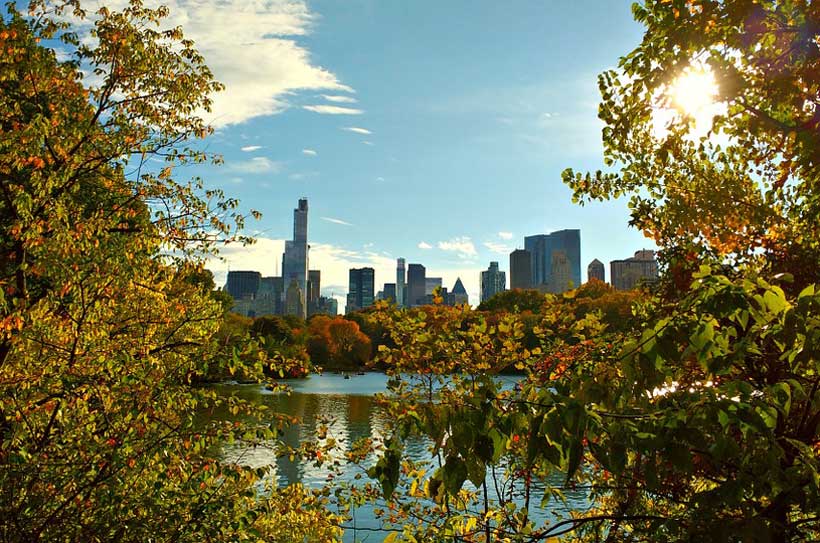 Being the largest emitter of greenhouse gas in the world, it is the responsibility of U.S to contribute expeditiously to manage the environmental issues at domestic and international level but the previous government, under the leadership of Trump, took back seat and reversed all the decisions of Ex-president Barack Obama to combat the climate change. Unlike this, New Elected President, Joe Biden, who is very enthusiastic and firm to fulfill all the promises regarding climate change which were done during the general election's campaign. Moreover, he views climate change a thwart to national security. One of the biggest achievements associated with Biden' administration regarding environmental issues is to bring U.S back into Paris Climate Accord and brought executive order'' Protecting Public Health and the Environment and Restoring science to tackle the climate crisis'' on the surface.
A flurry of changes to U.S environment policy is going to play a constructive role in global environmental governance under Biden administration. Even before elections, climate change was one of the top priorities and aimed to put the U.S on a path which leads towards '' Zero Net'' greenhouse gas emission. In the very early of His office days, He is very committed to deal with the climate change as they hosted '' Climate Day'' to introduce government climate centric approach to emphasize on the climate change. Biden administration also ordered to revoke a permanent issued for Keystone XL oil pipeline which trump issued for extraction of oil and energy which is dangerous to national ecosystem. In addition to this, they are also very active to promote US role to tackle the climate change at domestic and abroad. At domestic level, Biden's actions are speaking louder than the words as he has ascribed the climate crisis with a national emergency. At the time of his inauguration, Biden said: '' A cry for survival comes from the planet itself, a cry that can't be any more desperate or any clearer''. He also directed his cabinet to work on the policy of '' social carbon cost'' to measure the cost of actions and how costs will impact the climate change. He endeavors to control the climate change by keeping a strict eye on the big project's reviewing process before working under the National Environmental Policy Act which calculates the social costs of greenhouse gas emissions.
On international level, Biden has been striving to improve the spoil image shaped by the previous government regarding global environmental governance as he has declared to rejoin the Paris Climate accord which would help to reduce the greenhouse gas emission. In the result of this action, Biden was welcomed by the General Secretary of the United Nations and French Prime Minister Emmanuel Macron by saying '' Welcome Back to the Paris Agreement''. Moreover, Biden Administration is very determined to convene a global climate summit on the earth day to encourage leaders to align themselves with scientist to alleviate the impacts of climate change. On international forums, US need to cooperate and compel the economic trade partner to take actions to combat with climate crisis. One of the essential steps taken by the Biden administration is to manage the climate refugees which aim to make strategies to compensate the climate affected migrants.
The thin majority of democratic in the senate does not only limit the possibility for Biden to achieve climate change reforms along strong anti-climate lobbyist business group who are inimical to the reforms particularly relevant to vehicle, power plants and oil and gas drilling industries. Without new climate legislation from congress, it would be not an easy task to implement the climate agenda across the borders. The vocal resistance comes from the coal production sectors which result in burning of fossil fuels and caused of greenhouse gas emissions. Whereas, few sectors are opposing the agenda there are also companies specially electrical vehicles are exclusively offering assistance to Biden for the sustainable development. Undoubtedly, environmental organizations and scientists community applauded the Biden decisions but few business groups have also filed a lawsuit against Biden to not stop the new permit for oil and gas drilling. There are also concerned raised by the community that climate actions will delete many jobs and cause of upsurge in unemployment percentage across the federation.
It is very evident from the ambitions of Biden's action regarding climate crisis that he is very interesting to mitigate and curb the climate change but it will require highly comprehensive strategy aims to manage the reforms in laws while taking congressmen in confidence because most of them are not in favor of climate actions due to clash of interests. On the other hand, there is need to work on renewable energy resources at domestic and international level and for this US should compensate the companies to compete with the old capitalized firms which do not want safe and peaceful planet. Moreover, there is need to bring reforms in existing environmental treaties and their compliance process which should be strictly followed by the harsh actions against the violators. The process of financing the agendas which are very environment friendly and transforming the resources to the periphery states should be done swiftly to improve the environment across the globe. The aims of achieving sustainable development should be promoted and supported by the US across the world.
EU-Asian Partnerships are necessary to prevent the next pandemic
COVID-19 has demonstrated the vulnerability of global supply chains and revealed the ever-increasing ecological dangers of industrial expansion, which has amplified the risks of diseases migrating from animals to humans. This is demonstrated in a new report launched by UN Secretary-General Antonio Guterres which argues that to prevent future pandemics the world must cooperate to addresses interlinked challenges presented by biodiversity, pollution and the climate crises. The UN chief encouraged everyone to use the report to "re-evaluate and reset our relationship with nature".
This is precisely the time for countries in the European Union (EU) to re-evaluate their trade relations with producer nations in order to protect local environment and prevent deforestation.
The relationship between deforestation and public health and cannot be denied. Unfortunately, in recent years the EU's economic model has not paid sufficient attention to sustainability, trade and global forest management. So far, the EU's approach to trade has ended up alienating the most important areas of biodiversity in Asia, while emboldening some of the biggest despoilers of biodiversity and polluters in the Americas.
The Konrad Adenauer Foundation, the leading think-tank of Germany's ruling political party, has published its own report on how EU policies have unfairly targeted Asian commodities by fostering protectionist market dynamics which harm the environment.
In one case in point, the EU initiated a ban on the import of palm oil from 2030, as a means to reduce deforestation in Asia. However, scientific evidence actually indicates that sustainably cultivated palm oil is far better than other seed oil alternatives – rapeseed, coconut, soy and sunflower. Those commodities need up to ten times more land to produce the same amount of oil. Therefore, instead of halting deforestation, the ban simply transfers the effects of ecological degradation elsewhere – namely within the EU on the back of domestically produced commodities.
Meanwhile the EU continues to import beef and soy, the top two contributors to deforestation globally. In fact, beef production requires more than double the forest land than for the production of soy, palm oil, and wood products combined. Land clearing for beef and soy production in the Amazon has reached a 12 year high, leading scientists to warn of an irreversible 'tipping point' that could mean huge drought, forest death, and release of great amounts of stored carbon to the atmosphere.
As the Konrad report indicates, the move to ban palm oil while maintaining beef and soy imports is a double standard that has created a trust gap between the EU and ASEAN nations. This has inhibited collaborative efforts to combat deforestation as EU policies exclude ASEAN nations from important sustainability debates. Moreover, the EU ban does nothing to cease palm oil production. Producer nations will continue to produce without adhering to EU environmental standards and regulations. This will spell disaster, not only for the diverse wildlife found in Asia's tropical forests, but for humanity's public health – a correlation which cannot be divorced from the economy.
If the EU sought out a trade deal with ASEAN then it could integrate mandatory sustainable standards and enforce regulations to produce sustainable palm oil and limit deforestation. The EU could also work with existing schemes like the Malaysian Sustainable Palm Oil (MSPO) standard, which purportedly meets the EU's key sustainability criteria and is the standard against which almost 90% of Malaysian palm oil is now produced.
This is an example of how the EU has overlooked Asian success stories in creating adaptable blueprints through strict and proactive measures which have largely kept the virus at bay and allowed their economies to stay afloat. While Europe's economy is only expected to grow by 3.7% in 2021, ASEAN nations are predicted to rebound over 6%.
That means we could have the best of both worlds; trade that opens up two powerhouse regions to a new era of economic vitality and cooperation – underpinned by ecological conservation through an unfailing commitment to protect pristine ecosystems, exotic wildlife and precious forests.
The EU should use the lessons of the pandemic to capitalize on its environmental goals, working with producer nations to ensure they are participating in ethical markets and enforcing sustainable practices which maintain biodiversity.
If the EU can build a global coalition with Asia, which prioritises trade and sustainability, they can underpin a bold new era in the fight for thriving, Covid-free economies.
Such cooperation would empower the European Union to encourage environmental consciousness across Asian economies—by incentivising compliance with laudable environmental goals and dis-incentivising noncompliance. There would be significant economic benefits to EU consumers as well like access to efficient and affordable edible oils from rapidly growing emerging markets. While in turn the producer would have access to the EU's uniquely large market.
These are clearly more than enough reasons to compel the EU to act. Let's hope they start soon.
Making Women Visible in Plastic Waste Management: Examples from Indonesia
Plastic Waste: Long History, Massive Consumption
Plastic was invented by John Wesley Hyatt in 1869 and has an original sense of "pliable and easily formed." It is known as a polymer material. However, Leo Baekeland introduced the revolutionary of plastic in 1907, with the intention of creating a material that could be used as an insulator, was versatile, heat resistant, and could be mass-produced in large quantities. The glory of plastic was exalted during World War II, when the plastic industry in the United States expanded rapidly. Since it could be used to replace natural resources that had become scarce due to the war, plastic use peaked during that time span. Since then, plastic has been touted as an "award-winning" commodity due to its plethora of uses. Unfortunately, the use of plastic distracted in the 1960s as people became more worried about environmental issues and discovered that many coastal lines in America were littered with plastic waste.
These days, plastic can be categorized as the most manufactured materials in the world and commonly used by society. From the latest data by IUCN, over 300 million tons of plastic are manufactured yearly and utilized as main materials for industry and households. About 8 million metric tons of plastic wastes end up in our coastal zones every year, posing a serious threat to our marine ecology and ocean sediments. By the end of 2040, it is estimated that the amount of plastic waste dumped along the coast will be tripled compare with today.
In most developing countries, plastic contamination has become a major problem that requires immediate concern and management. Indonesia is currently the world's second-largest plastic polluter after China, and produces about 200,000 tons of waste every day, which is thrown into the coastal areas. Despite the fact that there are plenty studies on plastic waste, people still ignored the problem due to their lack of knowledge and awareness about how harmful the effect could become in the upcoming years. Plastics production and consumption will make greater impacts not only on human health because it contained chemicals, but also will change human behavior to environment, both men and women. In Indonesia, women take role as the main contributor to raise such awareness in segregating and sorting plastic waste. This fact is parallel with the research that has been conducted by Phelan et al (2020) in two small islands in Indonesia (Selayar and Wakatobi), which found that women are mostly identified as binners (those who manage waste disposal) while men are likely identified as litterers. It was noted that almost 60% of women are in charge of household waste management, while only 40% of men involve in this activity. Women are expressing an interest in learning more about waste management, especially to learn about the next steps or what happens to the waste after disposal. Men, on the other hand, are taking important roles in waste collection and disposal process.
Gender Sensitive Approach to Manage Plastic Waste
Women play an important role in the use and recycling of plastic, but their contribution is often overlooked by many stakeholders. Plastic waste management is viewed solely from a scientific standpoint, with little consideration given to the gender implications. For example, at the micro level (households), it is customary for women to have control over the purchase of food and home-products (which has influenced them to use plastic packaging), but they may also be recycling and processing the plastic for other uses at the same time. As a result, their involvement and inclusion are critical in every attempt to enhance waste management and reduce plastic pollution. When looking at recent developments in the field, the relevance of gender-sensitive approaches to handling plastics becomes even more apparent.
Plastic waste management is not something that can be done overnight because it necessitates continuous steps and massive behavioral changes on the part of all parties concerned. Since women play such an important role in the use and recycling of plastic waste, it is critical to involve them as a key player in changing household and community disposal habits. Furthermore, as the primary caregivers in the home, women should raise awareness among family members about the dangers of plastic waste. Similar actions can be taken in society; for example, women can organize a soft-campaign and disseminate waste management information to the community (through regular social gathering conducted by women that called 'arisan' or regular religious meeting in community that called 'pengajian').Women, at the other side, cannot act alone; they need a cost-effective and simple plastic waste management system, as well as waste management training (which has been initiated by local governments and NGOs). Hence, providing a plastic collection station will help many stakeholders embrace this action. Finally, strong commitment and collaboration from relevant parties can help to improve plastic waste management.