ASEAN celebrates its community during 49th anniversary
The Association of Southeast Asian Nations (ASEAN), for the first time as an ASEAN Community, observed its 49th anniversary on 8 August 2016. A celebration was held today at the ASEAN Secretariat in Jakarta, Indonesia.
In his welcome remarks, the Secretary-General of ASEAN, H.E. Le Luong Minh highlighted the progress that ASEAN has achieved in the last 49 years, which enabled ASEAN to play a central role in the evolving regional architecture in helping reduce tensions, maintaining peace, stability and promoting economic and cultural cooperation beyond Southeast Asia. He said, "Indeed, ASEAN has come a long way from the limited aspirations of trade and economic cooperation in its early days in divided southeast Asia with serious security concern."
In her opening speech, Minister of Foreign Affairs of Indonesia, H.E. Retno Marsudi stressed the relevance of ASEAN centrality and unity as a key principle in achieving the ASEAN Community Vision 2025. She said 'This principle is key to realize a more 'down to earth' ASEAN where ASEAN delivers concrete benefits for our peoples."
The people-centered celebration also included a panel discussion on ASEAN Convention on Trafficking in Persons, hosted by the ASEAN Intergovernmental Commission on Human Rights (AICHR) and the ASEAN Committee of Permanent Representatives (ASEAN CPR) during which they shared good practices on anti-trafficking initiatives.
A series of other commemorative activities were also held throughout the day at the ASEAN Secretariat to mark the regional bloc's 49th founding anniversary. The ASEAN Women's Circle ran the Food Festival to showcase the ASEAN culinary traditions along with an exhibition of Batik motif. Other highlights of the day included an ASEAN Trivia Booth for visiting students and youth and various performances to celebrate the artistry of ASEAN Community.
ASEAN was founded in Bangkok, Thailand on 8 August 1967 when the five founding fathers signed the ASEAN Declaration. The five original members are Indonesia, Malaysia, Philippines, Singapore and Thailand. Since then, ASEAN enlarged its membership with the inclusion of Brunei Darussalam, Cambodia, Lao PDR, Myanmar and Viet Nam.
The 10 Member States established the ASEAN Community in December 2015 with a goal of bringing more opportunities and benefits to the peoples.
Beyond tourism: Investing in local communities to protect Africa's wild spaces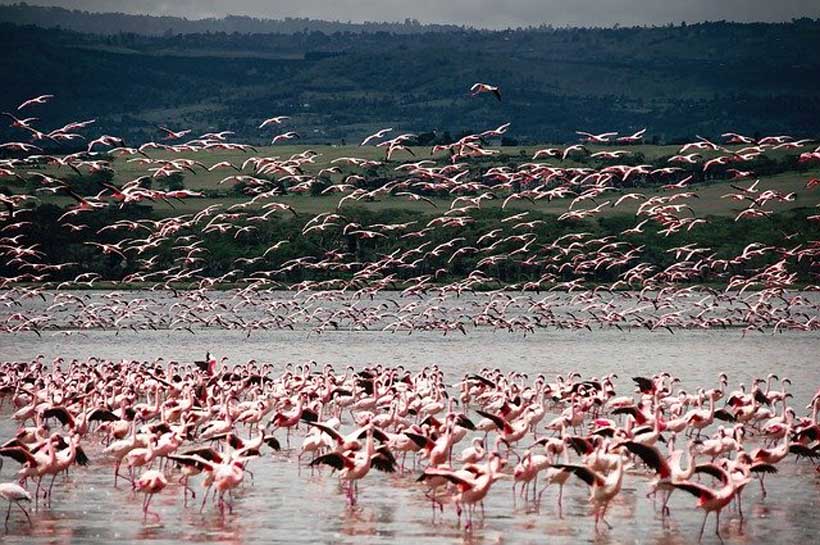 For ten years, Dixon Parmuya has guided tourists on bush walks around Amboseli National Park in Southern Kenya. But since COVID-19 swept through Kenya in mid-March, the country's tourism industry has dwindled, leaving many locals without jobs and animals without protection.
The coronavirus pandemic is creating what experts are calling a brewing conservation crisis in Kenya, a country home to some of Africa's most iconic animals. Most of Kenya's programs to protect wildlife are funded directly by tourist dollars and with visitor numbers down, money for conservation is drying up, say experts. There are also fears that poaching will rise, leaving wildlife protection hanging in the balance.
"If there is no tourism, there is no conservation," says Parmuya.
But the pandemic is encouraging countries to change that.
"Tourism can be fickle," says Doreen Robinson, Chief of Wildlife at the United Nations Environment Programme (UNEP). "We have to be more creative to expand revenue streams that can directly support local communities and protect natural assets."
In Africa, UNEP is working closely with governments and partners to encourage wildlife-based economies – where local communities are central to protecting the wildlife areas they inhabit, for mutual benefit of both. This includes going beyond tourism to attract other kinds of green investment in wildlife areas, like using natural resources to produce consumer goods in a sustainable way.
"We have to ensure that money gets reinvested into locally protected areas, and benefits are shared with the communities protecting biodiversity and wildlife, because these communities are creating the conditions for long-term, sustainable conservation in Kenya," says Robinson.
That is something Purity Amleset agrees with. She is part of a team of all-female rangers with the International Fund for Animal Welfare that is working to raise awareness about the importance of wildlife to Kenya's economy and its identity.
"As a ranger, I'm creating that conducive environment between the wild animals and my community. I come from that community, so they understand me well when I tell them the importance of wildlife," she says.
Each year, 31 July marks World Ranger Day to commemorate rangers all over the world who risk their lives every day at the forefront of conservation.
European Commission strengthens support for treatment through convalescent plasma
European Commission has invited more than 200 blood-collection services around the EU to apply for funding for the purchase of plasmapheresis equipment, i.e. equipment that takes plasma from donors. The aim of this action is to support the treatment of new COVID-19 patients who are fighting the disease, by increasing EU capacity to collect convalescent plasma, i.e. plasma from recovered COVID-19 patients. This action is part of the Emergency Support Instrument (ESI). Grants will be provided to public and NGO blood-collection services authorised to collect plasma.
This action demonstrates the Commission's commitment to developing therapeutics, as specified in the EU health preparedness for possible future outbreaks communication.
Stella Kyriakides, Commissioner for Health and Food Safety, said: "Convalescent plasma could be a promising treatment for COVID-19.With the financing we put forward today, we are able to go a step further in plasma collection and I invite all relevant stakeholders to make use of it. We will continue to explore all possible options to support the development and access to safe and effective treatments for COVID-19 to protect our citizens. This remains our primary objective in the weeks and months ahead."
The treatment consists of transfusing convalescent plasma to sick patients to boost their immunity and ability to fight the disease. Plasma transfusion is also used to purify antibodies to make a COVID-19 specific medicinal product (immunoglobin) as short-term alternative to vaccines. This product is given as a prophylactic injection to patients, vulnerable persons and healthcare workers, or as a treatment. The efficacy of these treatments is being investigated worldwide, including in an EU research project funded by Horizon 2020. Preliminary results are promising while results from full clinical trials are forthcoming.
These treatments rely on the collection of large quantities of convalescent plasma donated by recovered patients.
At the moment, almost 75% of plasma collected by public blood services and the Red Cross is done via donations of whole blood, from which the plasma is then separated. This is a much less efficient collection method compared with plasmapheresis – a bedside process where plasma is taken from the donor whilst the other blood components are returned to the donor. In case of plasmapheresis, donors can donate higher volumes of plasma at one time and can donate once every 2 weeks compared with once every 3-4 months for whole blood donors. Additionally, 'super donors' – donors whose plasma is particularly rich in antibodies – can be asked to give donations many times over a period of months.
The invitation is valid for a month, and has a budget of €40 million funded through the Emergency Support Instrument. The allocation of grants will be done according to the needs expressed by Member States' blood-collection services
The budget will support the purchase of a number of plasmapheresis machines and associated equipment, including collection kits, storage facilities, the testing and characterisation of plasma and organisational programmes.
Background Information
Adopted by the Council in April 2020, the Emergency Support Instrument (ESI) allows the EU to provide emergency support addressing the human and economic consequences of a crisis such as the ongoing pandemic.
The ESI supports Member States in their efforts to address the COVID-19 pandemic in a strategic and coordinated manner at European level.
In the health area, the ESI is already being used to help address Member States' ongoing needs and to contribute to preparedness for future outbreaks and a possible second wave. In particular, the ESI is supporting the transport of essential goods, medical teams and patients and is financing a facility to procure essential medical products for stockpiling and/or distribution to Member States.
Under the procurement facility, a contract was signed on 28 July to secure doses of the therapeutic Remdesivir for around 30,000 patients across the EU. Some 10 million masks to protect healthcare workers have also been purchased and delivery through batches is on-going.
A significant part of the budget available under the ESI will be used to secure the production of vaccines in the EU and sufficient supplies for its Member States through Advance Purchase Agreements with vaccine producers, in line with the EU Vaccines Strategy.
No end in sight to COVID crisis, and its impact will last for 'decades to come'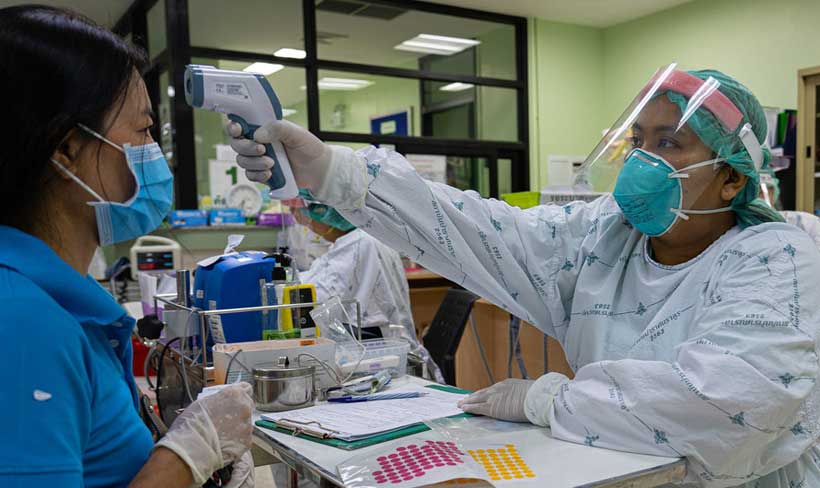 Expressing "appreciation for WHO and partners' COVID-19 pandemic response efforts", the emergency committee convened by the UN health agency's chief, made it clear that there is not yet an end in sight to the public health crisis that has so far infected more than 17 million and killed over 650,000 people.
The committee convened by Tedros Adhanom Ghebreyesus, Director-General of the World Health Organization, under the International Health Regulations (2005) (IHR), held its fourth meeting on 31 July.
Sustained effort needed
In its statement following the meeting, published on Saturday, it highlighted the "anticipated lengthy duration" of the pandemic, noting "the importance of sustained community, national, regional, and global response efforts."
After a full discussion and review of the evidence, the Committee "unanimously agreed" the outbreak still constitutes a public health emergency of international concern (PHEIC). Tedros accepted the advice of the Committee.
The Director-General declared a PHEIC – WHO's highest level of alarm – on 30 January, at a time when there were fewer than 100 cases in total, and no deaths outside China.
'Once-in-a-century health crisis'
"The pandemic is a once-in-a-century health crisis, the effects of which will be felt for decades to come", Tedros told the Committee in his opening remarks on Friday.
"Many countries that believed they were past the worst are now grappling with new outbreaks. Some that were less affected in the earliest weeks are now seeing escalating numbers of cases and deaths. And some that had large outbreaks have brought them under control."
Recommendations
The Committee made a range of recommendations to both WHO and Member States.
It advised the agency to continue to mobilize global and regional multilateral organizations and partners for COVID-19 preparedness and response and to support Member States in maintaining health services, while also accelerating the research and eventual access to diagnostics, therapeutics, and vaccines.
Fair access
It advised countries to support these research efforts, including through funding, and to join in efforts to allow equitable allocation of diagnostics, therapeutics and vaccines by engaging in the Access to COVID-19 Tools (ACT) Accelerator, an unprecedented global collaboration between countries, philanthropists and business.
The committee also advised countries to strengthen public health policies to identify cases, and improve speedy contact tracing, "including in low-resource, vulnerable, or high-risk settings and to maintain essential health services with sufficient funding, supplies, and human resources."
Countries were also advised the committee to implement proportionate measures and advice on travel, based on risk assessments, and to review these measures regularly.