New thug-like behavior from major banks becoming the norm
It seems that the veil of civility and professionalism hiding the criminal antics of the big banks is now coming crashing down in an open display of blatant fascism and tyranny backed up by violence and threats to the average consumer wronged by them on a daily basis.
It has been reported from all around the country that the big banks are now openly engaging in far-flung conspiracies geared and designed to increase their financial bottom line at their customers' expense, such as hitting people with finance charges and fees of sometimes $200 or more, orchestrating business client credit card chargebacks and debits withdrawing and removing tons of cash from their bank accounts without giving them enough time or due process to respond or provide proof of an authorized charge, coupled with credit card merchant services holding this type of ill-gotten cash for 90 days or more while allegedly collecting and keeping the ill-gotten interest skimmed thereon while it sits in their own escrow accounts, purposefully staffing their bank branches and customer service departments with un-trained, un- informed, rude, belligerent, arrogant, and frankly stupid staff, literally designed to make small problems worse, failing to obey stop payments or ACH transactions even if you pay for them, freezing or blocking access to your own accounts even for routine debit card or banking transactions, forcing you to have a very limited dollar amount daily withdrawal on your own money and your accounts, coordinating with the federal and state governments to sometimes penalize or report you criminally for exercising your God-given right to access and use your own hard-earned money, summarily canceling or closing your account while blacklisting you or your business within their own bank if you protest, but then also sharing any derogatory information with other banks even if the etiology of any problems with the bank was their own fault, and otherwise treating their customers in an overly paternalistic and arrogant fashion with regards to their customers' own money, blocking and labeling them as "troublemakers" if they bother to complain or report their gross misconduct to the "relevant authorities" such as the Consumer Financial Protection Bureau ("CFPB"), whose high crimes and misdemeanors will be discussed later below in this article.
As was stated above, the CFPB was ostensibly created by the President Obama Administration to protect banking customers from predatory behavior from these big banks, but upon further scrutiny one finds that the most "bank protecting" administration in history under former Attorney General Eric Holder, would never create an agency or entity which could actually "help" the People against the tyranny of the Banks, until you actually observe and watch how the CFPB handles complaints by the average banking customer, and why they are going after small Pay-Day loan companies which actually assist the poor to pay their bills and buy food, and otherwise hang on for dear life.
When a pissed off banking consumer files a complaint with the CFPB online, it immediately goes to the bank itself. That's when the magic happens – more often than not, the bank takes this complaint and proceeds to assign one of their countless high-powered, overly educated, obscenely paid in-house lawyers or big law firms to absolutely obliterate and destroy your complaint, using all sorts of arcane and esoteric banking law terminology, from both this country and others, in order to absolutely blow your complaint out of the water.
They don't focus on what was morally, ethically, or even legally wrong about their conduct, they in fact simply regurgitate the countless myriad piles of unclear, inconclusive, and cleverly hidden banking laws and exceptions to show that, in fact, their unethical, immoral, and criminal banking behavior is completely and totally protected under the current state of the banking laws.
Since the big banks write the laws that regulate their own industry, which are then introduced and passed by their paid for and bought off congressional and senatorial "whores" in the US legislature, they clearly have the "home turf advantage," since many of their defense lawyers spent a significant amount of time on Capitol Hill as interns and representatives actually jamming through and enacting these unfair and immoral banking laws in the first place, and are the only ones who know how to use all of the hidden and clandestine "loop-holes" in the first place.
Crimes and acts which would, on their face, absolutely horrify and shock the average banking customer from anywhere around the world, such as the specific acts and actions described above, are simply laundered, cleaned, ironed and pressed to present you with a nice clean, finished defense product, unfortunately without a nice little bow, and is evidently a governmentally-sanctioned and approved criminal act.
You are expected to swallow their response, and accept it and go away with your tail between your legs. To add insult to injury, this big bank then quietly etches and notates your full name, social security number, business tax ID number, address, and other confidential banking information, and blackballs and blacklists you from ever doing business with their bank again, and then proceeds to share this defamatory, slanderous, and libelous information with all of the other banks, thus rendering you unable to obtain another bank account, ever again.
You have now been relegated to "bankers no-mans land," a stateless, vile creature doomed to walk the earth, clutching filthy dirty dollars in your hand, dropping coins here and there while dodging the IRS and law enforcement as a potential "terrorist" who must pay for everything with cash, having no records for any of your transactions for tax reporting purposes or accounting, or being outright refused service from vendors who will only accept a debit/credit card or check as payment for their services, and not cash.
This "banking blacklist," akin to Dante's Inferno, is the hell you have been banished to for ever questioning the banks, and their outright and totally shameless plundering of you and your hard- earned money.
And if you are truly stupid enough to protest further, you will invariably be reported to their banking security "thugs" who will promptly take you aside physically if you dare to enter a bank branch, or will call you on your personal cellphone from a blocked number threatening you with any number of physical, emotional, or psychological threats designed to keep you afraid, and keep you in line.
Such is the current state of the Rothschild Central Banking criminal empire, and it is only going to get worse, so long as "whitewashing" entities masquerading as regulatory agencies such as the cowardly and traitorous CFPB are manning the gates.
Rinse, lather and repeat for the FTC Antitrust Division and behemoth monopolies such as Google for whom they protect and interfere with investigation/prosecution for their myriad criminal acts against the People with search engine manipulation and other anti-trust violations, but that is another story, and grist for another article.
Circular Economy: New rules will make EU the global front-runner in waste management and recycling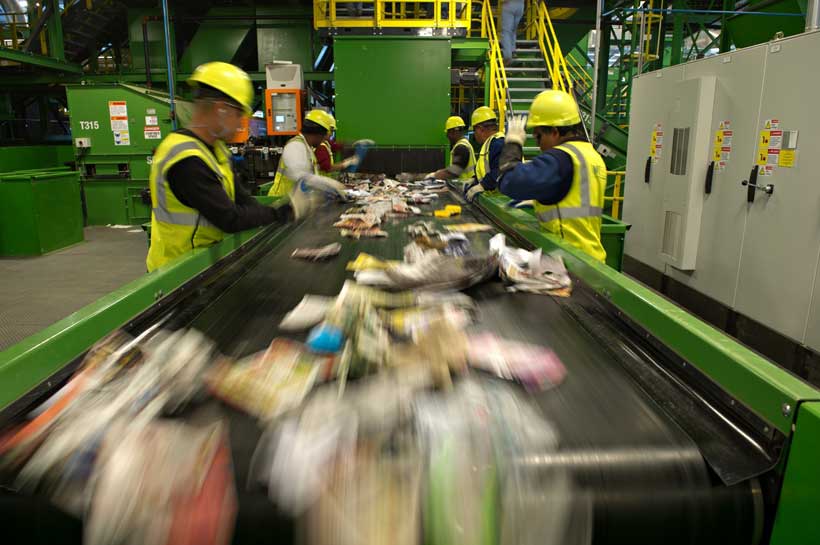 EU Member States approved a set of ambitious measures to make EU waste legislation fit for the future, as part of the EU's wider circular economy policy.
The new rules – based on Commission's proposals part of the Circular Economy package presented in December 2015 – will help to prevent waste and, where this is not possible, significantly step up recycling of municipal and packaging waste. It will phase out landfilling and promote the use of economic instruments, such as Extended Producer Responsibility schemes. The new legislation strengthens the "waste hierarchy", i.e. it requires Member States to take specific measures to prioritize prevention, re-use and recycling above landfilling and incineration, thus making the circular economy a reality.
Commissioner for Environment, Maritime Affairs and Fisheries, Karmenu Vella said: "The final approval of new EU waste rules by the Council marks an important moment for the circular economy in Europe. The new recycling and landfilling targets set a credible and ambitious path for better waste management in Europe. Our main task now is to ensure that the promises enshrined in this waste package are delivered on the ground. The Commission will do all it can to support Member States and make the new legislation deliver on the ground."
The Commission had originally presented proposals for new waste rules in 2014, which were withdrawn and replaced by better designed, more circular and more ambitious proposals on December 2015 as part of the Circular Economy agenda of the Juncker Commission. These proposals were then adopted and are now part of the EU rule book.
The new rules adopted today represent the most modern waste legislation in the world, where the EU is leading by example for others to follow.
The details of the new waste rules:
Recycling targets for municipal waste
| | | |
| --- | --- | --- |
| By 2025 | By 2030 | By 2035 |
| 55% | 60% | 65% |
In addition, stricter rules for calculating recycling rates will help to better monitor real progress towards the circular economy.
New recycling targets for packaging waste
| | | |
| --- | --- | --- |
|   | By 2025 | By 2030 |
| All packaging | 65% | 70% |
| Plastic | 50% | 55% |
| Wood | 25% | 30% |
| Ferrous metals | 70% | 80% |
| Aluminium | 50% | 60% |
| Glass | 70% | 75% |
| Paper and cardboard | 75% | 85% |
Separate collection
Building on the existing separate collection obligation for paper and cardboard, glass, metals and plastic, new separate collection rules will boost the quality of secondary raw materials and their uptake: hazardous household waste will have to be collected separately by 2022, bio-waste by 2023 and textiles by 2025.
Phasing out landfilling
Landfilling of waste makes no sense in a circular economy and can pollute water, soil and air. By 2035 the amount of municipal waste landfilled must be reduced to 10% or less of the total amount of municipal waste generated.
Incentives
The new legislation foresees more use of effective economic instruments and other measures in support of the waste hierarchy. Producers are given an important role in this transition by making them responsible for their products when they become waste. New requirements for extended producer responsibility schemes will lead to improving their performance and governance. In addition, mandatory extended producer responsibility schemes have to be established for all packaging by 2024.
Prevention
The new legislation will place a particular focus on waste prevention and introduce important objectives for food waste in the EU and halting marine litter to help achieve the UN Sustainable Development Goals in these areas.
Strong labour relations key to reducing inequality and meeting challenges of a changing world of work
Globalisation and rapid technological innovation have spurred unprecedented economic growth but not everyone has benefited. Unions and employers, together with governments, can play a major role in making growth more inclusive and helping workers and businesses face the challenges of a changing world of work. Good labour relations are a way to reduce inequalities in jobs and wages and better share prosperity, according to a new OECD-ILO report.
Building Trust in a Changing World of Work finds that trade union membership is declining in a majority of countries, while in several emerging economies large shares of the workforce are still in the informal economy. The share of employees whose job conditions and pay are regulated by collective bargaining varies greatly across sectors and countries, from less than 10% in Turkey to over 90% in Sweden. Coverage of collective bargaining have also seen a marked decline in many countries over the last decades, although in some countries more workers are covered today thanks to decisive policy reforms.
"Creating more and better jobs is key to achieving inclusive economic growth. At a time marked by increasing job insecurity, wage stagnation and new challenges from the digital revolution, constructive labour relations are more important than ever," said OECD Secretary-General Angel Gurría, launching the report alongside Swedish Foreign Affairs Minister Margot Wallström, French Labour Minister Muriel Pénicaud, ITUC General Secretary Sharan Burrow and ILO Deputy Director-General for Field Operations & Partnerships, Moussa Oumarou.
The report is part of the Global Deal for Decent Work and Inclusive Growth, an initiative launched in 2016 by the Swedish Prime Minister Stefan Löfven and developed in cooperation with the OECD and the ILO. This multi-stakeholder partnership aims to foster social dialogue as a way of promoting better-quality jobs, fairer working conditions and helping spread the benefits of globalisation, in keeping with the Sustainable Development Goals. The Global Deal has around 90 partners representing governments, businesses, employers' and workers' organisations and other bodies who make voluntary commitments to contribute to a more effective dialogue and negotiated agreements on labour issues.
"We are convinced that the Global Deal for Decent Work and Inclusive Growth can  help to spur more and better social dialogue so we can provide all workers with strong voices, protection, fair working conditions and good levels of trust with employers," Mr Gurría said.
"The new report shows that enhanced social dialogue can create opportunities for more inclusive labour markets and economic growth, better socio-economic outcomes and greater well-being for workers, improved performance for businesses and restored trust for governments," said ILO Director-General Guy Ryder.
Some 2 billion workers around the world – more than half the global labour force – are in informal and mostly insecure jobs, according to the report, meaning they do not have formal contracts or social security. Annually there are 2.78 million work-related deaths and 374 million non-lethal work-related injuries and illnesses.
The report highlights the crucial role that unions and employers can play in shaping the future of work by jointly deciding what technologies to adopt and how, contributing to manage transitions for displaced workers, helping identify skills needs and developing education and training programs. The report also shows that when looking at the OECD Guidelines for Multinational Enterprises companies with a higher social score (a measure of their capacity to generate trust and loyalty among the workforce, customers and wider society) also have a stronger financial performance.
This report analyses the voluntary commitments made by Global Deal partners and gives examples of initiatives to improve labour relations that have been taken in different countries and sectors.
How digital is your country? Europe needs Digital Single Market to boost its digital performance
European Commission published the results of the 2018 Digital Economy and Society Index (DESI), a tool which monitors the performance of Member States in digital connectivity, digital skills online activity, the digitisation of businesses and digital public services.
According to it, the EU is getting more digital, but progress remains insufficient for Europe to catch up with global leaders and to reduce differences across Member States. This calls for a quick completion of the Digital Single Market and increased investments in digital economy and society.
Andrus Ansip, Vice-President for the Digital Single Market, said: "This is a shift, albeit small, in the right digital direction. As a whole, the EU is making progress but not yet enough. In the meantime, other countries and regions around the world are improving faster. This is why we should invest more in digital and also complete the Digital Single Market as soon as possible: to boost Europe's digital performance, provide first-class connectivity, online public services and a thriving e-commerce sector."
Mariya Gabriel, Commissioner for Digital Economy and Society, said: "We look forward to a rapid progress on major reforms such as the European Electronic Communications Code aiming at boosting investments in enhanced connectivity. This year's Digital Economy and Society Index demonstrates that we must deploy further efforts to tackle lack of digital skills among our citizens. By integrating more digital technologies and equipping them with skills, we will further empower citizens, businesses and public administrations. This is the way to succeed the digital transformation of our societies."
Over the past year, the EU continued to improve its digital performance and the gap between the most and the least digital countries slightly narrowed (from 36 points to 34 points). Denmark, Sweden, Finland and the Netherlands scored the highest ratings in DESI 2018 and are among the global leaders in digitalisation. They are followed by Luxembourg, Ireland, the UK, Belgium and Estonia. Ireland, Cyprus and Spain progressed the most (by more than 15 points) over the last four years. However, some other EU countries still have a long way to go and the EU as a whole needs to improve to be competitive on the global stage.
DESI 2018 shows:
Connectivity has improved, but is insufficient to address fast-growing needs
Ultrafast connectivity of at least 100 Mbps is available to 58% of households and the number of subscriptions is rapidly increasing. 15% of homes use ultrafast broadband: this is twice as high as just two years ago and five times higher than in 2013.
80% of European homes are covered by fast broadband with at least 30 Megabits per second (Mbps) (76% last year) and a third (33%) of European households have a subscription (23% increase compared to last year, and 166% compared to 2013).
The number of mobile data subscriptions has increased by 57% since 2013 reach 90 subscriptions per 100 people in the EU. 4G mobile networks cover on average 91% of the EU population (84% last year).
Indicators show that the demand for fast and ultrafast broadband is rapidly increasing, and is expected to further increase in the future. The Commission proposed a reform of EU telecoms rules to meet Europeans' growing connectivity needs and boost investments.
More and more Europeans use the internet to communicate
The highest increase in the use of internet services is related to telephone and video calls: almost half of Europeans (46%) use the internet to make calls, this is almost a 20% increase compared to last year and more than 40% increase compared to 2013. Other indicators show that 81% of Europeans now go online at least once a week (79% last year).
To increase trust in the online environment, new EU rules on data protection will enter into force on 25 May 2018.
The EU has more digital specialists than before but skills gaps remain
The EU improved very little in the number of Science, Technology, Engineering and Mathematics (STEM) graduates (19.1 graduates per 1000 people aged 20 to 29 years old in 2015, compared to 18.4. in 2013);
43% of Europeans still do not have basic digital skills (44% last year).
Alongside the Digital Skills and Jobs Coalition, the Commission has launched the Digital Opportunity Traineeships to tackle the digital skills gap in Europe. The pilot initiative will provide digital traineeships for up to 6,000 students and recent graduates until 2020 in another EU country.
Businesses are more digital, e-commerce is growing slowly
While more and more companies send electronic invoices (18% compared to 10% in 2013) or use social media to engage with customers and partners (21% compared to 15% in 2013), the number of SMEs selling online has been stagnating over the past years (17%).
In order to boost e-commerce in the EU, the Commission has put forward a series of measures from more transparent parcel delivery prices to simpler VAT and digital contract rules. As of 3 December 2018, consumers and companies will be able to find the best deals online across the EU without being discriminated based on their nationality or residence.
Europeans use more public services online
58% of internet users submitting forms to their public administration used the online channel (52% in 2013).
18% of people use online health services.
In April 2018, the Commission adopted initiatives on the re-use of public sector information and on eHealth that will significantly improve cross-border online public services in the EU.