Obama's operation choke point
In yet another dereliction of President Obama's duties to the American people, and in another display of his complete obeisance to American Plutocratic Elitist tyranny, Operation Choke Point is an initiative of the United States Department of Justice that was announced in 2013, under fellow "club member" former Attorney General Eric Holder, which states that their purpose is "investigating banks in the United States and the business they do with payment processors, payday lenders, and other companies believed to be at higher risk for fraud and money laundering,"
but which instead is used as an openly unconstitutional weapon in the hands of tyrannical Plutocrats behind the scenes within the US Government and in the Military Industrial Complex security establishment to shut down, without warning or due process, any and all businesses deemed to be enemies of their political and militant agenda.
This operation, disclosed in an August 2013 Wall Street Journal story, has been accused of bypassing due process; the government is pressuring the financial industry to cut off the targeted companies' access to banking services, without first having shown that the targeted companies are violating the law. As reported by the St. Louis Post-Dispatch, critics say, "it's a thinly veiled ideological attack on industries the Obama administration doesn't like, such as gun sellers and coal producers."
Ironically, while fellow "club member" Governor Andrew Cuomo has openly declared war on the anti-Israel economic boycott BDS movement in New York by disenfranchising them from business dealings and contracts with the State, encouraging others to follow, in a complete and total violation of the First Amendment, no one seems to question or ask how corrupt elitists in America can now literally starve out, shut down, and cut off from credit anyone and everyone who pisses them off, for whatever reason, under the guise of being a "high risk business."
Certain banks and merchant services, are apparently shutting down credit card acceptance services of businesses all over the country, accused of going after targeted businesses and individuals who are in competition with other favored businesses in their same locale, so as to "cut out the competition," using the federal US Government to do so.
Some merchant categories that the Federal Deposit Insurance Corporation (FDIC) had listed until July 2014 as being associated with "high-risk activity" include Ammunition Sales, Cable Box De-scramblers, Coin Dealers, Credit Repair Services, Dating Services, Debt Consolidation Companies, Firearms Sales, Government Grants, Home-Based Charities, Mailing Lists/Personal Info, Money Transfer Networks, Payday Loans (which actually help poor people in desperate times), Pharmaceutical Sales, Pornography, "Racist" Materials, Surveillance Equipment (so as not to allow governmental competition), Telemarketing, Tobacco Sales, Travel Clubs. Of course this list can be added to at anytime by anyone hidden within the "Justice Department" or US Treasury headed by Jacob Lew, Adam Szubin, and David Cohen.
Frank Keating of the American Bankers Association complained that Operation Choke Point "is asking banks to identify customers" who are "simply doing something government officials don't like (such as fighting for civil liberties, human rights, the US Constitution. Banks then "choke off" those customers' access to financial services, "shutting down their accounts" without notice, warning, abruptly, and without any due process.
In August 2014, U.S. Representative Blaine Luetkemeyer introduced a bill that would limit law enforcement's ability to restrict access to the banking system as a response against Operation Choke Point.
On April 8, 2014, the House Financial Services Committee held a hearing with the general counsels of the federal banking agencies regarding, among other things, Operation Choke Point. Committee members from both parties argued that Operation Choke Point is hurting lawful non-bank financial service providers by pressuring to eliminate access to the banking system and, in turn, the businesses unable to offer services to constituents. The FDIC's Richard Osterman repeatedly asserted that Operation Choke Point is a Justice Department operation and the FDIC's participation is limited to providing information and guidance upon request. Mr. Osterman also asserted that the FDIC is not attempting to prohibit banks from offering products or services to non-bank financial service providers operating within the law. Similarly, Amy Friend, of the Office of the Comptroller of the Currency (OCC), stated that the OCC wants to ensure that banks conduct "due diligence and implement appropriate controls," but that the OCC is not prohibiting banks from offering services to "lawful" businesses.
On May 29, 2014, the U.S. House of Representatives Committee on Oversight and Government Reform published a highly critical staff report that concluded: "Forceful prosecution of those who defraud American consumers is both responsible and admirable. However, Department of Justice initiatives to combat mass-market consumer fraud must be legitimate exercises of the Department's legal authorities, and must be executed in a manner that does not unfairly harm legitimate merchants and individuals."
However that was where it stopped, and nothing really happened after that point.
Operation Choke Point fails both these requirements. The Department's radical reinterpretation of what constitutes an actionable violation under § 951 of FIRREA fundamentally distorts Congress' intent in enacting the law, and inappropriately demands that bankers act as the moral arbiters and policemen of the commercial world. In light of the Department's obligation to act within the bounds of the law, and its avowed commitment not to "discourage or inhibit" the lawful conduct of honest merchants, it is necessary to disavow and dismantle Operation Choke Point.
On November 21, 2014, William Isaac, the former Chairman of the FDIC from 1981 to 1985, wrote a scathing opinion piece in The Wall Street Journal entitled "Don't Like an Industry? Send a Message to Its Bankers: With Operation Choke Point, the Justice Department's targets have included vendors of firearms and fireworks" stating that he believed that the agency acted in bad faith.
On March 24, 2015, a hearing was held before the Subcommittee on Oversight and Investigations of the House Financial Services Committee. Subcommittee chair Sean P. Duffy said at the outset, "I fear that activists at the DOJ and the FDIC are abusing their power and authority and are going after legal businesses and, in effect, they are weaponizing government to meet their ideological beliefs."
The FDIC and the Department of Justice (DOJ) have launched investigations into the operation, but of course since those agencies are staffed and run by elitists, this will of course go nowhere.
The FDIC's inspector general, Fred Gibson, said he would review the conduct of agency personnel to find if the "actions and policies of the FDIC were consistent with applicable laws, regulations and policy," as well as the regulator's mission. Gibson said he would investigate allegations that FDIC General Counsel Richard Osterman provided false testimony to Congress earlier this year when discussing his organization's activities. Osterman was testifying to the House of Representatives member when he rejected assertions that the FDIC wanted to cut off legitimate businesses' use of the financial system.
Is Mike Pompeo the worst Secretary of State in history?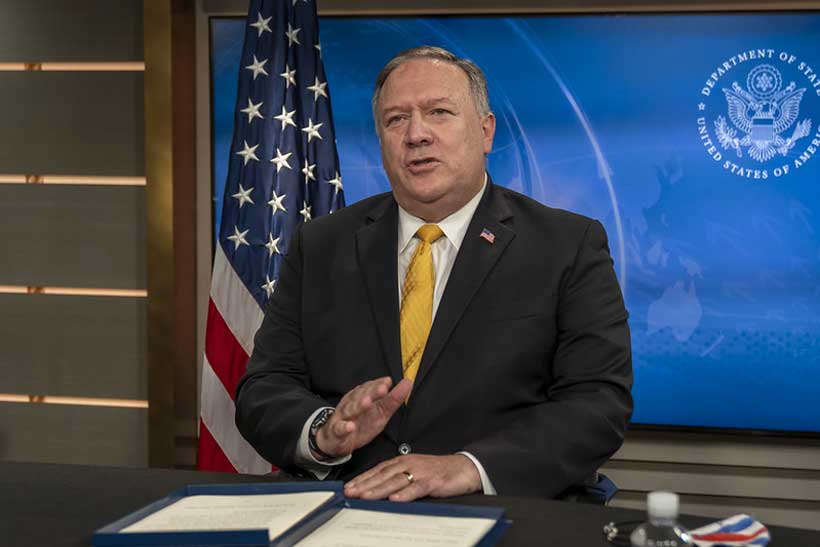 Trump may have a race for the worst presidential title, but Pompeo is in a class of his own. James Buchanan and Andrew Johnson remain formidable contenders for Donald Trump in the ranking of worst US presidents. However, there is no competition for Mike Pompeo, Trump's most passionate subordinate, in the worst Secretary of State ranking.
During his two years and nine months as the nation's top diplomat, Pompeo did nothing to improve the US administration's security, values, or even policies. His term ended in humiliation: humiliation from European allies, disgusted by the profanity he and Trump have committed over the past four years. On January 4, Pompeo announced he would travel to Europe and meet European Union leaders.
Two days later, after Trump-fueled riots on Capitol Hill, EU officials said they would not meet him. So Pompeo canceled his last chance to travel abroad. It's been a long season of humiliation for Pompeo. In August, he pressed the UN Security Council to pass a ban on the sale of conventional weapons to Iran. Only one of the council members, the Dominican Republic, joined the US in supporting the ban; Russia and China against it; others, all US allies, abstained.
The episode depicts, in extreme form, two of Pompeo's most distinct features: the obsession that foments regime change in Iran and the inability to bring it about or any other goal. Like Trump, Pompeo has been unceasingly opposed to the Iran nuclear deal. It's no coincidence that Trump pulled out of the deal and reimposed sanctions on the Islamic Republic on May 8, 2018, just 12 days after Pompeo was sworn in as Secretary of State. (His predecessor, Rex Tillerson, has advised Trump to stick to the deal.)
Pompeo claimed, with high confidence, the sanctions would force Tehran to return to negotiating a "better" nuclear deal, or perhaps force a regime collapse. Today: Iran's economy is in ruins, but the regime survives, its hardline faction is stronger than ever, and its reactors are more capable of producing atomic bombs than ever before. (President-elect Joe Biden wants to restart the nuclear deal, but Iran's technological advances and political hardening will make this more difficult to achieve.)
This week, he may realize his "maximum pressure" campaign has failed miserably. No wonder then that Pompeo changed course and claimed, in a speech to the National Press Club, that Iran was al-Qaeda's new "base" and declared, "The time is now for America and all countries free to destroy the al-Qaeda axis of Iran." The US intelligence official said there was not any evidence for this claim.
Pompeo's other big target is China, and he has called for regime change in Beijing as well, despite the goals that are clearly absurd. In fact, a large proportion of China's population supports the party that ruled the government, which lifted more than 850 million people out of poverty in record time. However, there is nothing "Marxist-Leninist" about President Xi Jinping's philosophy, which seeks expansion through mercantilist techniques, not ideological conformity.
While it is important to contain Chinese military presence in the South China Sea (something the US military has been doing for some time), it is very difficult to compare its scope or ambition to that of the Soviet Union, which once enjoyed a presence in a truly global world. Pompeo misunderstood the nature of China's challenge. As a result, he came up with half-baked ideas on how to deal with it.
There are also Pompeo's lies. He has claimed he and Trump have made NATO "stronger" than ever. In reality, those trans-Atlantic relations are strained as Trump continually rejects the alliance in general and the European Union in particular.
Pompeo has also been a corrupt foreign minister. By filming a speech in Jerusalem to be broadcast at the 2020 Republican National Convention, he was violating not only the law, but also the previously announced policy of barring department employees from attending political conventions.
He used security guards to carry out errands for himself, his wife, and his wife's mother. He also asked Trump to fire the inspector general who investigated the misuse of his government's resources. He threw a lavish dinner party inside the State Department, inviting donors who might contribute to some future political campaigns.
He tricked the Voice of America, which in recent decades had become a fairly objective global news service, into becoming a propaganda organ for Trump. He demoralized the foreign service even more thoroughly than Tillerson had done.
Pompeo paved his way to power by directing his every word to the pleasure of the boss, starting when he was director of the CIA (where he frequently omitted or distorted intelligence that contradicted Trump's hunches). He is a dishonest intermediary, reluctant to speak the truth to power, for fear that he will lose power in doing so.
To end it all, in his final days, Pompeo issued a no-discussion order that overturned existing policies: lifting restrictions on official contact with Taiwan, designating Cuba as a "state sponsor of terrorism," and declaring Iranian-backed Houthi fighters in Yemen an "organization. foreign terrorists ".
This movement will not have a long-term effect. The future Secretary of State, Anthony Blinken, can reverse this dictum, although it would be awkward to do so. It was an act of sheer mischief, like a teenager throwing a rotten egg at a new neighbor's front door.
Is Pompeo the worst Secretary of State ever? In modern times, John Foster Dulles (former Secretary of State) may be a rival for the crown, but, fortunately, President Dwight Eisenhower did not listen to Dulles' most dire advice.
Dulles was fanatical about pushing for the "backsliding" of Soviet communism, but Eisenhower, however, still adopted the "containment" policy of his predecessor, Harry Truman. Dulles also offered his French counterpart two tactical nuclear weapons to prevent the Viet Cong siege of Dien Bien Phu. However, Eisenhower was not interested in doing so. So, Mike Pompeo won the crown of worst US Secretary of State. Next week, he will fly back to Kansas, where he was a congressman and where he hopes to run for the Senate.
Latin America and China: The economic and debt situation and the U.S. discomfort
Latin American countries have no relatively good room for fiscal and monetary policy adjustment like China, and basically lack the ability for governmental countercyclical adjustment. This is mainly reflected in their room for fiscal and monetary policy.
From a fiscal viewpoint, the taxation ability of Latin American governments is generally weak. Taxation accounts for 16-18% of GDP, which is obviously lower than the 30-35% level of developed countries.
In terms of monetary policy, since the currencies of Latin American countries are directly correlated to the U.S. dollar exchange rate, the dollar fluctuation also entails the reduction of their room for monetary policy adjustment. These countries have continuously borrowed and cut interest rates. Hence there is little room for further steps.
The Federal Reserve has adopted the policy of unlimited quantitative easing which, in practical and easy-to-understand terms, is one of the unconventional ways by which a central bank intervenes in a State's financial and economic system to increase the amount of debt money in circulation.
Although the U.S. stock market went into a slump several times, it should be noted that Nasdaq reached a new high. Ultimately, money has become more circulating. Interest rates in Latin American countries, however, have become very low and there is little room for further cuts.
At the same time, their foreign debts are also relatively high. For example, Argentina has recently approved a 70billion dollar debt restructuring plan and its debt accounted for over 50% of GDP.
The first solution to the debt crisis is to delay repayment, and the second one is to cancel interest or partly write off the debt. The creditor has no choice but to be forced to agree if one of the counterparts is unable to repay it. This is an endless cycle that, once the debt restructuring plan is approved, will only alleviate and mitigate Argentina's crisis.
Argentina's debt crisis occurred nine times in history, and this is the third time in the new century. Inflation in Argentina has caused its currency to depreciate by over 70%. According to statistics from the United Nations Economic Commission for Latin America, over 12 million people were jobless in Latin America in 2020. Poor people in Latin America will increase from 118 to 130 million and the extremely poor people will rise from over 60 million to over 90 million.
Faced with some new difficulties and challenges, we need to explain and assess China-Latin America relations at the current historic juncture. The development of China-Latin America relations has shifted from a period of high-speed growth to a period of stable growth. Quantitative and extensive development is shifting to a qualitative and specific one.
Initially China-Latin America relations took off suddenly and even exceeded expectations. Instead, a steady, efficient, stable and effective approach is currently preferred. The orderly progression of diplomatic and commercial relations is more advantageous than a context of actual speed.
This is especially the case in the context of intensified strategic competition between China and the United States. The political situation in Latin America, and the further impact of the Covid-19 pandemic, mean that certain changes need to be made to China-Latin America relations.
Firstly, the U.S. influence on China-Latin America relations needs to be assessed. Sino-U.S. relations are the most important, sensitive and complex bilateral relations in Chinese diplomacy.
Recently, there have been many major changes in Sino-U.S. relations, but one of them is often overlooked: from the Latin American countries' perspective, the relationship between Latin America and the United States is the most important one. China's interests in Latin America have not surpassed the United States' in terms of political and economic development.
Here are some data. In the field of economy and trade, the United States is still Latin America's main trading partner. The same applies to investment. The United States has great advantage over China.
In 2017, trade between the United States and Latin America exceeded 760 billion dollars, almost three times the volume of trade between China and Latin America. In 2019, trade between China and Latin America was about 270-280 billion dollars, while the volume of trade between the United States and Latin America was almost 800 billion dollars.
From an investment perspective, U.S.A.'s and Latin America's direct engagement in 2017 was 45 billion dollars, almost double that of China. Therefore the United States outperforms China in terms of trade and investment.
However, benefiting from the advantage of China's economic growth and the structural complementarity between China and Latin America, the acceleration of China's economic and trade investment in Latin America is higher than that of the United States. Therefore, China has an incremental advantage in Latin America, but the United States enjoys an 'equity' primacy.
For example, outgoing President Trump has never visited Latin America, but this does not mean that the United States does not pay attention to it. Quite the reverse. If we look at the reports on Sino-Latin American relations issued by U.S. think tanks, scholars and experts are particularly worried.
The U.S. Congress holds several hearings on Sino-Latin American relations every year and invites not only local experts, but also experts from Mexico, Brazil and other countries. We can see that the United States attaches great importance to the development of China-Latin America relations.
We wonder, however, why has the United States not taken propagandistically political positions in Latin America as it does towards China, the Middle East, South-East Asia and the South China Sea.
This means that the United States still considerably trust Latin American bonhomie, good nature, patience and tolerance. The U.S. media merely claim that China's influence in Latin America has increased and its soft power has enhanced but, overall, China's influence in Latin America is far less than that of the United States.
If we ask in Brazil what they think of U.S.-China, U.S.-Brazil and Brazil-China relations, we get the following answers. The United States is a model for Brazil's development and the values and ideologies of both Brazil and the United States are close. China is an important trade and investment partner for Brazil. From an economic viewpoint, Brazil's development should seek to establish a better partnership with China, but in terms of ideology and values, the Forbidden City is further away than the White House.
For Latin America, maintaining stable relations with the United States is a primary interest. After the outbreak of the Covid-19 pandemic in Latin America, China – thanks to some of its medical equipment – did its best to help those countries mitigate the impact of the disease. A Chinese state-owned company responded to the call and promised to build a hospital with an in-patient module in a conference and exhibition centre in Panama to help infected patients, for only a small sum of money from the State.
Panamanian President Laurentino Cortizo Cohen, however, rejected the proposal outright. In the end, Panama spent 12 million U.S. dollars and built 100 hospital beds and 26 intensive care units, without taking advantage of Chinese aid.
On April 16, Cortizo presided over the hospital's opening ceremony, announcing that it was his own decision. Conversely, when former Panamanian President Juan Carlos Varela (2014-19) was in power, he visited China, and Chinese Foreign Minister and State Councillor Wang Yi reciprocated by travelling to Panama.
At the time, President Varela said that the landmark project for the expansion of the Silk Road passed through Panama, as did the 4 billion dollar plan to expand the canal and railway from Panama to Costa Rica. The new President in power, however, has not followed the philosophy of his predecessor, terrified of displeasing the United States. Unfortunately, this news is not reported in the Italian press.
Gallup: Trump Globally the Least Respected U.S. President This Century
On January 15th, the Gallup World Poll issued its preliminary report for their upcoming "Rating World Leaders: 2021" report. It shows the results that have been tabulated for 60 of the 135 countries where they annually sample global public opinion about U.S. leadership. One especially clear finding from it is that when their final report for all 135 countries will be issued, it will show that among the three U.S. Presidencies on which Gallup has internationally surveyed — which are only the three U.S. Presidents in this century — Trump is clearly the one who is globally respected the least, even lower than George W. Bush was respected.
Here are the findings, in each of the 60 nations, and the percentage increase or decrease from Gallup's last completed survey report, "Rating World Leaders: 2020":
"Approval of U.S. Leadership Across 60 Countries and Areas"
"Do you approve or disapprove of the job performance of the leadership of the United States?"
% "Approve":
Dominican Republic, 66% was 56% in 2020
Cameroon, 62 was 61
Georgia, 61 was 43
Zambia, 56 was 26
Albania, 56 was 67
Philippines, 55 was 58
Uganda, 53 was 47
Mauritius, 50 was 59
Zimbabwe, 50 was 59
Ecuador, 43 was 34
Colombia, 42 was 41
Moldova, 40 was 45
Brazil, 40 was 38
Japan, 39 was 34
Kyrgyzstan, 34 was 32
Namibia, 34 was 31
Bulgaria, 32 was 26
Cambodia, 32 was 49
Hong Kong, Special Administrative Region of China, 31 was 31
Poland, 30 was 59
South Korea, 30 was 41
Bolivia , 30 was 31
Australia, 29 was 23
Taiwan, Province of China, 28 was 40
New Zealand, 26 was 17
Mexico, 26 was 17
Malta, 26 was 30
Ethiopia, 25 was 37
Argentina, 24 was 26
Ukraine, 24 was 32
Greece, 21 was 19
Croatia, 21 was 25
Morocco, 21 was 22
Serbia , 20 was 19
Ireland, 20 was 30
Finland, 20 was 20
Slovenia, 19 was 20
Cyprus, 19 was 27
Tunisia, 19 was 24
Italy, 19 was 22
France, 18 was 23
Russia, 18 was 11
Netherlands, 18 was 20
Canada, 17 was 22
Spain, 17 was 23
Chile, 16 was 16
Estonia, 15 was 17
United Kingdom, 15 was 25
Denmark, 14 was 24
Turkey, 13 was 12
Slovakia, 13 was 28
Norway, 12 was 15
Portugal, 12 was 14
Belgium, 12 was 17
Sweden, 11 was 12
Switzerland, 10 was 13
Austria, 9 was 11
Iran, 6 was 6
Germany, 6 was 12
Iceland, 5 was 9
Remarkably, Gallup doesn't poll in China on this question. (Nor does Pew.)
Notably, Trump is more disapproved-of in Europe than in any other part of the world. (Also, as Pew reported on 16 December 2020, "In Europe, more trust Putin than Trump.")
Those percentage-changes that we've just shown total to a decline, among all 60 countries, of 121 percentage-points (-121%), or, almost exactly, a -2% change from the 2019 findings that had been reported in Gallup's "Rating World Leaders: 2020".
Gallup says that "until all of Gallup's 2020 fieldwork is complete in a few months, it is still too early to say that the U.S. will see its worst ranking in the history of Gallup's World Poll." However, Gallup's "Rating World Leaders: 2020" report covered 135 lands, and the 60 lands that they have tabulated as of now, for the 2021 report, seem to be a representative sampling of all of those 135, and collectively those 60 populations have reduced their respect for America's leadership by 2%. In the 2020 report, the global level of approval for America's leadership was 33%. The all-time-low had been the 30% figure in 2017, Trump's first year, a finding which was based on Trump's promises, not on his performance. The upcoming final Gallup report "Rating World Leaders: 2021" will — if the results from those 60 lands do turn out to be representative of the global findings — produce a 31% global approval level by all of the approximately 135 lands that will be covered in it. For each of Trump's four years, then, the global percentages will have been (for each one of his four years) 30%, 31%, 33%, and (now, in his final year) 31%. Each year, it was even lower than the prior record low, of George W. Bush, had been, at 34% in 2008.
There was higher disapproval than approval of America's leadership during the Presidencies of George W. Bush and of Donald Trump than there was approval of either U.S. President's leadership. Strikingly, however, there was higher approval than disapproval during (and throughout) the two terms of office of Barack Obama. That Nobel Peace Prize winner was/is internationally admired. (Crazy, but true: he was an international charmer.)
Here are summarized (with links to the evidence regarding) the actual chief international achievements of each of these three U.S. Presidents:
George W. Bush: destroying Iraq, and destroying Afghanistan.
Barack Obama: destroying Syria, and destroying Ukraine, while continuing Bush's destructions of Iraq and of Afghanistan.
Donald Trump: destroying Iran, and destroying Venezuela, while continuing his predecessors' destructions of Iraq, Afghanistan, Syria, and Ukraine. He also made the destruction of Palestine even worse than it had previously been.
So, the question regarding incoming U.S. President Joe Biden will be whether he will continue this tradition further, or reverse it. Because, it's really all the same tradition, throughout all three U.S. Presidencies this century. By contrast, global perceptions are that those three U.S. Presidents were drastically different from one another.
On 15 September 290290, Pew bannered "U.S. Image Plummets Internationally as Most Say Country Has Handled Coronavirus Badly" and reported that:
The publics surveyed also see Trump more negatively than other world leaders. Among the six leaders included on the survey, Angela Merkel receives the highest marks: A median of 76% across the nations polled have confidence in the German chancellor. French President Emmanuel Macron also gets largely favorable reviews. Ratings for British Prime Minister Boris Johnson are roughly split. Ratings for Russian President Vladimir Putin and Chinese President Xi Jinping are overwhelmingly negative, although not as negative as those for Trump.
Right above that was this graph, which shows starkly the false European perception that Barack Obama was vastly superior to George W. Bush and Donald Trump: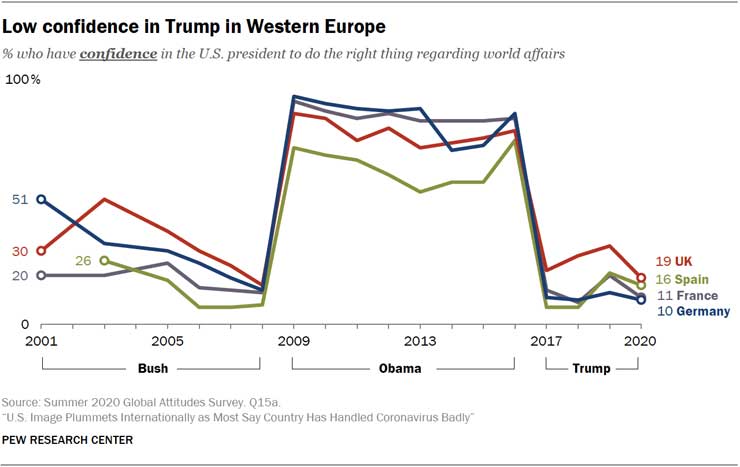 Apparently, most Europeans have no problem with a U.S. President who continues America's use of torture, and who continues America's legal immunity of prosecution for banksters, and who imposes ethnic cleansing abroad, and who aims for achieving a U.S. first-strike ability to conquer Russia by a sudden nuclear blitz attack. Style is everything, for them; substance is nothing, to them. Why didn't they like Hitler? Is it only because he did it to them?