Obama's operation choke point
In yet another dereliction of President Obama's duties to the American people, and in another display of his complete obeisance to American Plutocratic Elitist tyranny, Operation Choke Point is an initiative of the United States Department of Justice that was announced in 2013, under fellow "club member" former Attorney General Eric Holder, which states that their purpose is "investigating banks in the United States and the business they do with payment processors, payday lenders, and other companies believed to be at higher risk for fraud and money laundering,"
but which instead is used as an openly unconstitutional weapon in the hands of tyrannical Plutocrats behind the scenes within the US Government and in the Military Industrial Complex security establishment to shut down, without warning or due process, any and all businesses deemed to be enemies of their political and militant agenda.
This operation, disclosed in an August 2013 Wall Street Journal story, has been accused of bypassing due process; the government is pressuring the financial industry to cut off the targeted companies' access to banking services, without first having shown that the targeted companies are violating the law. As reported by the St. Louis Post-Dispatch, critics say, "it's a thinly veiled ideological attack on industries the Obama administration doesn't like, such as gun sellers and coal producers."
Ironically, while fellow "club member" Governor Andrew Cuomo has openly declared war on the anti-Israel economic boycott BDS movement in New York by disenfranchising them from business dealings and contracts with the State, encouraging others to follow, in a complete and total violation of the First Amendment, no one seems to question or ask how corrupt elitists in America can now literally starve out, shut down, and cut off from credit anyone and everyone who pisses them off, for whatever reason, under the guise of being a "high risk business."
Certain banks and merchant services, are apparently shutting down credit card acceptance services of businesses all over the country, accused of going after targeted businesses and individuals who are in competition with other favored businesses in their same locale, so as to "cut out the competition," using the federal US Government to do so.
Some merchant categories that the Federal Deposit Insurance Corporation (FDIC) had listed until July 2014 as being associated with "high-risk activity" include Ammunition Sales, Cable Box De-scramblers, Coin Dealers, Credit Repair Services, Dating Services, Debt Consolidation Companies, Firearms Sales, Government Grants, Home-Based Charities, Mailing Lists/Personal Info, Money Transfer Networks, Payday Loans (which actually help poor people in desperate times), Pharmaceutical Sales, Pornography, "Racist" Materials, Surveillance Equipment (so as not to allow governmental competition), Telemarketing, Tobacco Sales, Travel Clubs. Of course this list can be added to at anytime by anyone hidden within the "Justice Department" or US Treasury headed by Jacob Lew, Adam Szubin, and David Cohen.
Frank Keating of the American Bankers Association complained that Operation Choke Point "is asking banks to identify customers" who are "simply doing something government officials don't like (such as fighting for civil liberties, human rights, the US Constitution. Banks then "choke off" those customers' access to financial services, "shutting down their accounts" without notice, warning, abruptly, and without any due process.
In August 2014, U.S. Representative Blaine Luetkemeyer introduced a bill that would limit law enforcement's ability to restrict access to the banking system as a response against Operation Choke Point.
On April 8, 2014, the House Financial Services Committee held a hearing with the general counsels of the federal banking agencies regarding, among other things, Operation Choke Point. Committee members from both parties argued that Operation Choke Point is hurting lawful non-bank financial service providers by pressuring to eliminate access to the banking system and, in turn, the businesses unable to offer services to constituents. The FDIC's Richard Osterman repeatedly asserted that Operation Choke Point is a Justice Department operation and the FDIC's participation is limited to providing information and guidance upon request. Mr. Osterman also asserted that the FDIC is not attempting to prohibit banks from offering products or services to non-bank financial service providers operating within the law. Similarly, Amy Friend, of the Office of the Comptroller of the Currency (OCC), stated that the OCC wants to ensure that banks conduct "due diligence and implement appropriate controls," but that the OCC is not prohibiting banks from offering services to "lawful" businesses.
On May 29, 2014, the U.S. House of Representatives Committee on Oversight and Government Reform published a highly critical staff report that concluded: "Forceful prosecution of those who defraud American consumers is both responsible and admirable. However, Department of Justice initiatives to combat mass-market consumer fraud must be legitimate exercises of the Department's legal authorities, and must be executed in a manner that does not unfairly harm legitimate merchants and individuals."
However that was where it stopped, and nothing really happened after that point.
Operation Choke Point fails both these requirements. The Department's radical reinterpretation of what constitutes an actionable violation under § 951 of FIRREA fundamentally distorts Congress' intent in enacting the law, and inappropriately demands that bankers act as the moral arbiters and policemen of the commercial world. In light of the Department's obligation to act within the bounds of the law, and its avowed commitment not to "discourage or inhibit" the lawful conduct of honest merchants, it is necessary to disavow and dismantle Operation Choke Point.
On November 21, 2014, William Isaac, the former Chairman of the FDIC from 1981 to 1985, wrote a scathing opinion piece in The Wall Street Journal entitled "Don't Like an Industry? Send a Message to Its Bankers: With Operation Choke Point, the Justice Department's targets have included vendors of firearms and fireworks" stating that he believed that the agency acted in bad faith.
On March 24, 2015, a hearing was held before the Subcommittee on Oversight and Investigations of the House Financial Services Committee. Subcommittee chair Sean P. Duffy said at the outset, "I fear that activists at the DOJ and the FDIC are abusing their power and authority and are going after legal businesses and, in effect, they are weaponizing government to meet their ideological beliefs."
The FDIC and the Department of Justice (DOJ) have launched investigations into the operation, but of course since those agencies are staffed and run by elitists, this will of course go nowhere.
The FDIC's inspector general, Fred Gibson, said he would review the conduct of agency personnel to find if the "actions and policies of the FDIC were consistent with applicable laws, regulations and policy," as well as the regulator's mission. Gibson said he would investigate allegations that FDIC General Counsel Richard Osterman provided false testimony to Congress earlier this year when discussing his organization's activities. Osterman was testifying to the House of Representatives member when he rejected assertions that the FDIC wanted to cut off legitimate businesses' use of the financial system.
Donald Trump and America's People
The American mid-term elections in the current situation can be considered one of the most sensitive elections in American history; the unusual character and Donald Trump's extreme actions at the level of domestic and foreign policy have led the American community to more bipartisan and bipartisan competition than ever before. And in the upcoming election, the Democrats are trying to prevent the victory of the Republicans in any way possible and to control Donald Trump's extremists through the congressional congress.
The division of the American political community into the scene of the opponents and opponents of Trump
What distinguishes Congressional elections from the last election is the division of American society into the bipartisan opponents and supporters of Donald Trump in this election. In fact, in the new situation, the rivalry of the two main US parties has become more or less a controversial scene based on opposition or alignment with the Trump, rather than on the basis of traditional competition between the two parties. This led to a less pronounced party and rivalry between the two political currents, but the critique of the actions and the character of Donald Trump were centered on Democrats.
In support of this, former US President Barack Obama's remarks can be seen after two years of silence against his tangled attacks. Obama's Democrats 'Democrats' campaign, and with several releases, has directly targeted Donald Trump. Obama says in his most remarkable remarks: "We are witnessing unprecedented behaviors in the White House, which has violated custom and common habits among Democrats and Republicans. If you are young voters worried about what happened over the past two years at the White House, the only way to monitor this behavior is to have congresses and positions that are emerging for the values and ideals of the United States. "In another move, he released a video message asking the youth to participate in November's mid-term elections. Obama also said in a speech at the University of Illinois with a direct attack on the White House chairman: "The Trump is a disease itself, not a sign, and now we have the chance to bring wisdom back to the political scene of the country."
In addition, the bipolar society of Donald Trump's opponents and opponents is now in a position that some political experts talk about the possibility of a civil war in the United States. In the same vein, Professor Nil Ferguson, a professor at Harvard University, says: "Lately, internal disputes in the United States are intensifying and cultural conflicts are proud. On the Internet, there has long been a kind of civil war in the United States, and this war is getting hotter as the congressional election approaches. Sending a bomb to Barack Obama and Hillary Clinton will pave the ground for predicting the civil war in the United States. "Also, Emily Wylan, a science fiction candidate from the University of Texas in an article comparing the civil war in Lebanon and the United States, pointed out that Jonathan Randall had not paid attention to it in his time. "There is a common ground between Lebanon in 1975 and the United States in 2018," he wrote. Washington believes that Washington has powerful and uncompromising allies that have their own interests and are, in fact, an "ineffective cartoon state". Meanwhile, the Republican Party of America reminds Lebanon's conservative forces on the brink of civil war, and Democrats, like the Lebanese advanced parties, are decentralized and dispersed. "
The November 6 decisive election
In spite of the apparent political divide and political divide within the political community of America between its two main parties, Republicans and Democrats, on the axis of the problem called "Trumpism," prominent members of the Democratic Party or supporters of the Democratic Party in all electoral campaigns, and sometimes even prominent American figures of art Opponents of Trump have emphasized the decisive importance of the inter-period election and the need for its participation, and since November 6th, it has been remembered as a historic moment to restore rationality to the American political scene.
Indeed, mid-term congressional elections are important for Democrats, which if they win, the two final years of the presidency of Donald Trump can turn into a nightmare and a nightmare for him and his government members until the 2020 election. The symbol of this can be seen in 2014, as a result of the Republican victory in the inter-congressional election, a large level of tensions between the Obama administration and the congress was formed, and even the level of conflict was so advanced that, at a time when President Barack Obama was forced to The federal government closed its 16th day.
Now, if Democrats win the mid-term election, they are considered vital for three reasons. On the first level, if the Democrats win the congress and take over the majority, they can stop most of the Trump government's approvals that they argue against US national interests. On the second level, a Democratic majority congress can provide grounds for plotting against Donald Trump for engaging in several issues, such as secret relations with Russia, illegal sexual relations and lying. In the event of approval of the problem in the House of Representatives and bringing the matter to the Senate, the Democrats can still be successful in raising the maximum pressure and stopping Trump in his most recent extremism. The third dimension, the decisive outcome of the November 6 Congressional election for Democrats, is that they will create a psychological environment for a grand victory against Trump in the presidential election of 2020, if they win in the recent election. Political facts in American history indicate that victory in inter-parliamentary elections has always had a serious and massive impact on the election of the next American president in the next two years.
The congressional election meets the general satisfaction of Trump
In the midst of the turbulent state of the mid-term elections in the United States, Donald Trump's premature runaway escapes from accepting Republican defeats. According to the results of the polls, the Republicans' defeat to a certain extent seems to be necessary; as a result, Donald Trump as a senior Republican party can be the first factor in this defeat; in other words, early election results for measuring public policy satisfaction He will be in the past two years.
In the analysis of the disappointment of the Republicans and the Trump on the victory over the inter-congressional elections, it is possible to look at Trump's performance at two levels of domestic politics and foreign policy. On the one hand, at the internal level, Trump faces numerous problems at the individual and moral levels, and his moral scandals, economic activities, and his relations with the Russians during the electoral campaign have reduced American confidence and, on the other hand, his domestic policies It is mostly based on racism and even fascism; it has placed non-white Americans in front of him. Meanwhile, immigration policies, his opposition to the colorful people, as well as Trump's opposition to the general insurance plan introducing Obamawalker, have created a backdrop of dissent and disgust of American citizens from Trump.
At the foreign policy level, Trump's catastrophic performance in partnering with traditional US allies and his efforts to get close to Russia has put a lot of criticism into the White House's performance. In fact, Trump has frustrated US voters by importing America into a war of commerce with all the world powers, including China, Russia and even European countries as traditional allies. Also, Trump's action in support of the Yemeni war that killed thousands of innocent people, and in particular the silence in the savage murder case, the Saudi-critic's journalist Jamal Khashoggi in Istanbul, has disappointed the Republican Party's supporters of the Trump performance. Taken together, these two levels can be said that Donald Trump's two-year performance at the domestic and foreign levels has turned into Republican Achilles heels in the mid-term elections.
The Meaning of a Multi-Polar World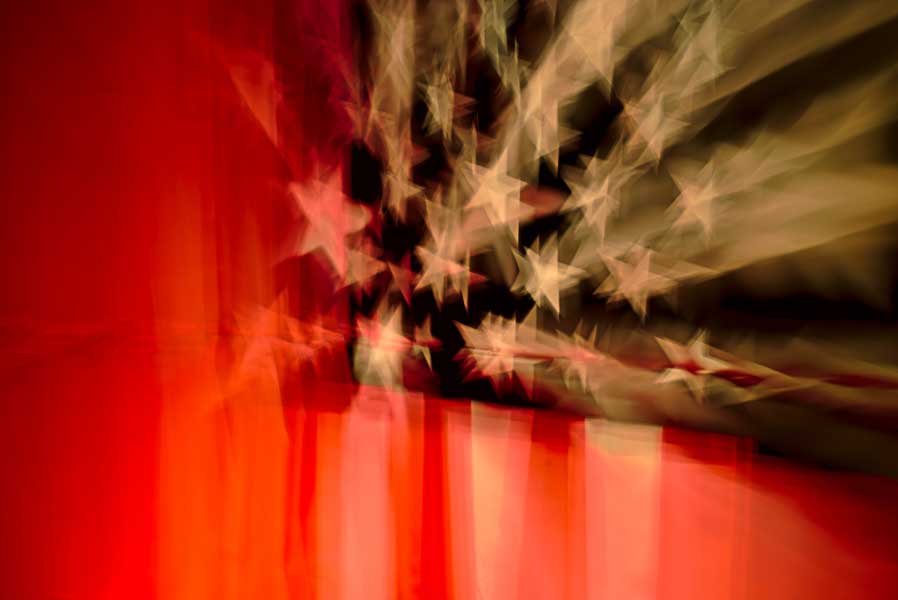 Right now, we live in a mono-polar world. Here is how U.S. President Barack Obama proudly, even imperially, described it when delivering the Commencement address to America's future generals, at West Point Military Academy, on 28 May 2014:
The United States is and remains the one indispensable nation. [Every other nation is therefore 'dispensable'; we therefore now have "Amerika, Amerika über alles, über alles in der Welt".] That has been true for the century passed and it will be true for the century to come. … America must always lead on the world stage. If we don't, no one else will. … Russia's aggression toward former Soviet states unnerves capitals in Europe, while China's economic rise and military reach worries its neighbors. From Brazil to India, rising middle classes compete with us. [He was here telling these future U.S. military leaders that they are to fight for the U.S. aristocracy, to help them defeat any nation that resists.] … In Ukraine, Russia's recent actions recall the days when Soviet tanks rolled into Eastern Europe. But this isn't the Cold War. Our ability to shape world opinion helped isolate Russia right away. [He was proud of the U.S. Government's effectiveness at propaganda, just as Hitler was proud of the German Government's propaganda-effectiveness under Joseph Goebbels.] Because of American leadership, the world immediately condemned Russian actions; Europe and the G7 joined us to impose sanctions; NATO reinforced our commitment to Eastern European allies; the IMF is helping to stabilize Ukraine's economy; OSCE monitors brought the eyes of the world to unstable parts of Ukraine.
Actually, his — Obama's — regime, had conquered Ukraine in February 2014 by a very bloody coup, and installed a racist-fascist anti-Russian Government there next door to Russia, a stooge-regime to this day, which instituted a racial-cleansing campaign to eliminate enough pro-Russia voters so as to be able to hold onto power there. It has destroyed Ukraine and so alienated the regions of Ukraine that had voted more than 75% for the democratically elected Ukrainian President whom Obama overthrew, so that those pro-Russia regions quit Ukraine. What remains of Ukraine after the U.S. conquest is a nazi mess and a destroyed nation in hock to Western taxpayers and banks.
Furthermore, Obama insisted upon (to use Bush's term about Saddam Hussein) "regime-change" in Syria. Twice in one day the Secretary General of the U.N. asserted that only the Syrian people have any right to do that, no outside nation has any right to impose it. Obama ignored him and kept on trying. Obama actually protected Al Qaeda's Syrian affiliate against bombing by Syria's Government and by Syria's ally Russia, while the U.S. bombed Syria's army, which was trying to prevent those jihadists from overthrowing the Government. Obama bombed Libya in order to "regime-change" Muammar Gaddafi, and he bombed Syria in order to "regime-change" Bashar al-Assad; and, so, while the "U.S. Drops Bombs; EU Gets Refugees & Blame. This Is Insane." And Obama's successor Trump continues Obama's policies in this regard. And, of course, the U.S. and its ally UK invaded Iraq in 2003, likewise on the basis of lies to the effect that Iraq was the aggressor. (Even Germany called Poland the aggressor when invading Poland in 1939.)
No other nation regularly invades other nations that never had invaded it. This is international aggression. It is the international crime of "War of Aggression"; and the only nations which do it nowadays are America and its allies, such as the Sauds, Israel, France, and UK, which often join in America's aggressions (or, in the case of the Sauds' invasion of Yemen, the ally initiates an invasion, which the U.S. then joins). America's generals are taught this aggression, and not only by Obama. Ever since at least George W. Bush, it has been solid U.S. policy. (Bush even kicked out the U.N.'s weapons-inspectors, so as to bomb Iraq in 2003.)
In other words: a mono-polar world is a world in which one nation stands above international law, and that nation's participation in an invasion immunizes also each of its allies who join in the invasion, protecting it too from prosecution, so that a mono-polar world is one in which the United Nations can't even possibly impose international law impartially, but can impose it only against nations that aren't allied with the mono-polar power, which in this case is the United States. Furthermore, because the U.S. regime reigns supreme over the entire world, as it does, any nations — such as Russia, China, Syria, Iran, North Korea, Venezuela, Nicaragua, Cuba, and Ecuador — that the U.S. regime (which has itself been scientifically proven to be a dictatorship) chooses to treat as an enemy, is especially disadvantaged internationally. Russia and China, however, are among the five permanent members of the U.N. Security Council and therefore possess a degree of international protection that America's other chosen enemies do not. And the people who choose which nations to identify as America's 'enemies' are America's super-rich and not the entire American population, because the U.S. Government is controlled by the super-rich and not by the public.
So, that's the existing mono-polar world: it is a world that's controlled by one nation, and this one nation is, in turn, controlled by its aristocracy, its super-rich.
If one of the five permanent members of the Security Council would present at the U.N. a proposal to eliminate the immunity that the U.S. regime has, from investigation and prosecution for any future War of Aggression that it might perpetrate, then, of course, the U.S. and any of its allies on the Security Council would veto that, but if the proposing nation would then constantly call to the international public's attention that the U.S. and its allies had blocked passage of such a crucially needed "procedure to amend the UN charter", and that this fact means that the U.S. and its allies constitute fascist regimes as was understood and applied against Germany's fascist regime, at the Nuremberg Tribunal in 1945, then possibly some members of the U.S.-led gang (of the NATO portion of it, at least) would quit that gang, and the U.S. global dictatorship might end, so that there would then become a multi-polar world, in which democracy could actually thrive.
Democracy can only shrivel in a mono-polar world, because all other nations then are simply vassal nations, which accept Obama's often-repeated dictum that all other nations are "dispensable" and that only the U.S. is not. Even the UK would actually gain in freedom, and in democracy, by breaking away from the U.S., because it would no longer be under the U.S. thumb — the thumb of the global aggressor-nation.
Only one global poll has ever been taken of the question "Which country do you think is the greatest threat to peace in the world today?" and it found that, overwhelmingly, by a three-to-one ratio above the second-most-often named country, the United States was identified as being precisely that, the top threat to world-peace. But then, a few years later, another (though less-comprehensive) poll was taken on a similar question, and it produced similar results. Apparently, despite the effectiveness of America's propagandists, people in other lands recognize quite well that today's America is a more successful and longer-reigning version of Hitler's Germany. Although modern America's propaganda-operation is far more sophisticated than Nazi Germany's was, it's not entirely successful. America's invasions are now too common, all based on lies, just like Hitler's were.
On November 9th, Russian Television headlined "'Very insulting': Trump bashes Macron's idea of European army for protection from Russia, China & US" and reported that "US President Donald Trump has unloaded on his French counterpart Emmanuel Macron, calling the French president's idea of a 'real European army,' independent from Washington, an insult." On the one hand, Trump constantly criticizes France and other European nations for allegedly not paying enough for America's NATO military alliance, but he now is denigrating France for proposing to other NATO members a decreasing reliance upon NATO, and increasing reliance, instead, upon the Permanent Structured Cooperation (or PESCO) European military alliance, which was begun on 11 December 2017, and which currently has "25 EU Member States participating: Austria, Belgium, Bulgaria, Czech Republic, Croatia, Cyprus, Estonia, Finland, France, Germany, Greece, Hungary, Italy, Ireland, Latvia, Lithuania, Luxembourg, the Netherlands, Poland, Portugal, Romania, Slovenia, Slovakia, Spain and Sweden." Those are the European nations that are now on the path to eventually quitting NATO.
Once NATO is ended, the U.S. regime will find far more difficult any invasions such as of Iraq 2003, Libya 2011, Syria 2012-, Yemen 2016-, and maybe even such as America's bloody coup that overthrew the democratically elected Government of Ukraine and installed a racist-fascist or nazi anti-Russian regime there in 2014. All of these U.S. invasions (and coup) brought to Europe millions of refugees and enormously increased burdens upon European taxpayers. Plus, America's economic sanctions against both Russia and Iran have hurt European companies (and the U.S. does almost no business with either country, so is immune to that, also). Consequently, today's America is clearly Europe's actual main enemy. The continuation of NATO is actually toxic to the peoples of Europe. Communism and the Soviet Union and its NATO-mirroring Warsaw Pact military alliance, all ended peacefully in 1991, but the U.S. regime has secretly continued the Cold War, now against Russia, and is increasingly focusing its "regime-change" propaganda against Russia's popular democratic leader, Vladimir Putin, even though this U.S. aggression against Russia could mean a world-annihilating nuclear war.
On November 11th, RT bannered "'Good for multipolar world': Putin positive on Macron's 'European army' plan bashed by Trump (VIDEO)", and opened: Europe's desire to create its own army and stop relying on Washington for defense is not only understandable, but would be "positive" for the multipolar world, Vladimir Putin said days after Donald Trump ripped into it.
"Europe is … a powerful economic union and it is only natural that they want to be independent and … sovereign in the field of defense and security," Putin told RT in Paris where world leader gathered to mark the centenary of the end of WWI.
He also described the potential creation of a European army "a positive process," adding that it would "strengthen the multipolar world." The Russian leader even expressed his support to French President Emmanuel Macron, who recently championed this idea by saying that Russia's stance on the issue "is aligned with that of France" to some extent.
Macron recently revived the ambitious plans of creating a combined EU military force by saying that it is essential for the security of Europe. He also said that the EU must become independent from its key ally on the other side of the Atlantic, provoking an angry reaction from Washington.
Once NATO has shrunk to include only the pro-aggression and outright nazi European nations, such as Ukraine (after the U.S. gang accepts Ukraine into NATO, as it almost certainly then would do), the EU will have a degree of freedom and of democracy that it can only dream of today, and there will then be a multi-polar world, in which the leaders of the U.S. will no longer enjoy the type of immunity from investigation and possible prosecution, for their invasions, that they do today. The result of this will, however, be catastrophic for the top 100 U.S. 'defense' contractors, such as Lockheed Martin, General Dynamics, and Raytheon, because then all of those firms' foreign sales except to the Sauds, Israel and a few other feudal and fascist regimes, will greatly decline. Donald Trump is doing everything he can to keep the Sauds to the agreements he reached with them back in 2017 to buy $404 billion of U.S. weaponry over the following 10 years. If, in addition, those firms lose some of their European sales, then the U.S. economic boom thus far in Trump's Presidency will be seriously endangered. So, the U.S. regime, which is run by the owners of its 'defense'-contractors, will do all it can to prevent this from happening.
However, right now, Chris Hedges reports that Ecuador is in the process of killing Julian Assange, who is a major and well-known bane of America's sellers to the U.S. 'Defense' Department. Hedges wants to keep his American aristocratic funder (the owner of Truthdig), and so he doesn't say that — nor how — the U.S. regime itself is actually forcing Ecuador's Government to do this. Hedges seems not even to care much about the ultimate perpetrator of this slow murder that he describes as being in process. Hedges instead focuses only against what Ecuador's President, Lenín Moreno, is doing, that's slowly murdering Assange. He also implicates Australian Prime Minister Scott Morrison, the U.K. government, and U.S. V.P. Mike Pence. But actually, the top decision-maker, who ordered this crime, this murder, is Donald Trump, who won the U.S. Presidency with Assange's investigative-journalism help. That's the kingpin, and all the others are merely soldiers in the U.S. President's organized crime. They all represent the U.S. aristocracy, but only Trump is the commander here. The U.S. regime — first under Obama, and now under Trump — is 100% of what's forcing Ecuador's Government to kill Julian Assange inside its London Embassy. Ecuador is doing this job, for the U.S. regime, so excruciatingly that Assange will either soon be committing suicide, or else he will die more slowly, from the ever-increasing "torture" that Ecuador's Government is applying, and which is also destroying Assange's health. Or else, he will give himself up to the American 'justice' system (which Assange's mother, Christine Ann Hawkins, explained on November 3rd would likely mean either to charge him with 'espionage', or else to apply indefinite detention at Guantanamo, without charge, trial or any access to the public). There will then be 'news'-coverage by the American propaganda-media, to demonize him. Ecuador's President wants to do his job for his U.S. masters (the U.S. aristocracy) but not to get blame for the inevitable result. All along the line, the aristocracy know how to preserve deniability, and advise their agents so as to shift blame downward, whenever they can't succeed in shifting it to the victim that they're destroying. However, the ultimate blame belongs truly to the owners of the U.S. regime. Even most 'alternative news' media might not (and they, in fact, do not) report this fact (because most of even the 'alternative' media are owned by aristocrats), but it's clearly the case. And most of the public don't care much about it, anyway, and continue to subscribe to those 'news' media, which the aristocrats are actually controlling, and to buy the products they advertise, producing yet more income for the aristocracy. The public thus helps the aristocracy to fund the aristocracy's propaganda-vehicles, to control the public, to vote for the aristocrats' candidates, and so control the government.
A multi-polar world could enable this to change. But it can't change in a mono-polar world. Julian Assange has been trapped by, and in, this fascist mono-polar world. He is its enemy, and they are murdering him; but, above all, Donald Trump is murdering him.
But this is not a partisan operation on behalf of only a faction of the U.S. aristocracy. The Hedges article links through to an important June 29th news-report in the Washington Times, titled "Mike Pence raises Julian Assange case with Ecuadorean president, White House confirms". It makes clear that Moreno is doing the bidding of the White House, and that the White House is "heeding calls from Democrats wary of Mr. Assange." America, after all, is a two-party dictatorship: both parties represent the same aristocracy, and murdering Assange is in the agenda of both of its factions, not of just one of the two parties. The U.S. aristocracy are united on this matter. And that's how this mono-polar world is being run.
Author's note: This piece first posted at The Saker
Trust: Lessons from my Brazilian driver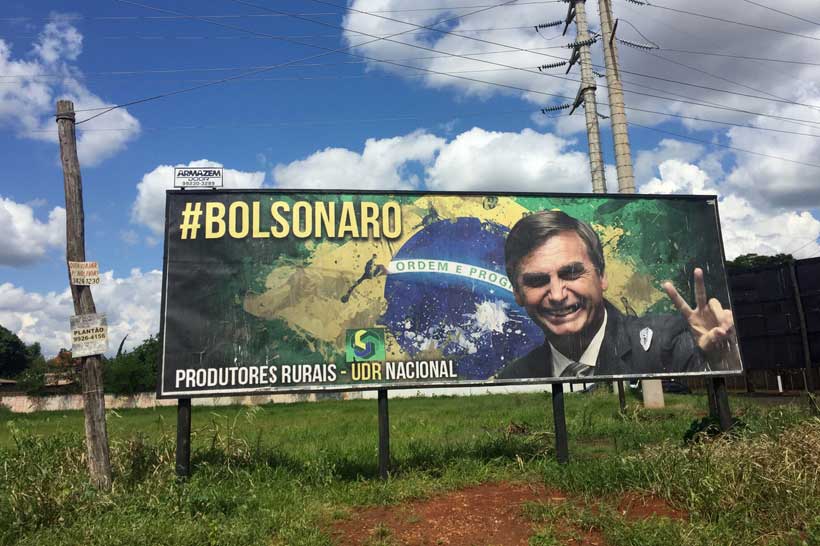 Trust takes years to build, seconds to break, and forever to repair– Anonymous
Be safe. That's what we're always told when we travel. It could be a short drive to another city or a flight to another state. Just be safe.
It's usually said with about the same emotion as, "good morning". It's almost obligatory and carries little meaning. A courtesy. It's said with a little more sincerity when you're traveling overseas. The unknown could be dangerous – pay attention, be aware…be safe.
I nod and smile, because what else do you say? What does it really mean to "be safe"? Of course, some things are obvious – don't go running down the street naked waving a flaming Molotov cocktail in your hand. Check. Keeping your clothes on in public is probably always a good idea. You're pretty much always safer with clothes.
Don't hitchhike drunk. Check. Although I did do that once with a friend in Nanjing, China and the friendly (and confused) garbage truck driver picked us up and dropped us off at the foreign student dorms, per our request in broken Chinese. But still, in general, not a good idea.
I generally stifle a giggle at the well-meaning "be safe" when I'm traveling to Asia. For sure, there are incidents against foreigners in Asia; the Abu Sayyaf terrorist incident in the Philippines was shocking. But typically, Americans are much safer in Asia than many large American cities (I'm looking at you Detroit, Chicago and New Orleans). If you accidentally leave your wallet on the table, or your cell phone in the bathroom, most likely a "good samaritan" is not going to turn it into a manager. Being safe means being aware of your belongings, not your actual being.
The urgency to "be safe" was greatly intensified when I told my family, I'm going to Brazil. Be really safe. Like, this time, I mean it.
My dad is a test pilot. When he gets nervous on a plane, I freak: not safe, not safe my brain screams. My husband is in law enforcement, with quite a bit of international experience. Contrary to what you may think, he infrequently tells me to be safe. When he worries, I pay attention. Brazil worried him.
Despite a lifetime of traveling and living abroad, namely in Asia, this is my first time to Brazil. Brazil, more than anywhere I've been, including Europe, "looks" like America. Like America, Brazil is an immigrant country. A Multicultural Mecca.
In my attempt to "be safe" I hired a car and a bilingual driver to take me around São Paulo. I hit the jackpot. Before turning 10 years old, Ricardo picked up an English dictionary and taught himself the language. And he didn't stop there. Given that his Protestant family didn't believe in TVs he became a voracious reader and spent hours in the library reading political philosophers such as John Locke and Antonio Gramsci. And so it happens that my driver was also a political philosopher of sorts, with a view from the streets (literally) of the Brazilian socio-political landscape.
Everything I learned from my Brazilian driver shed light on the challenges not only in Brazil but also in America and around the world: we have a trust deficit.
There are many similarities between Brazil and the United States, especially in their multicultural heritage, but its geography and history put it on a completely different trajectory.
Brazil's rugged terrain and lack of viable ports make economic development difficult. As a result, the development necessary to take advantage of Brazil's agriculture and commodity opportunities needs massive capital expenditures. This higher cost of development meant only the wealthy were involved in setting up towns and plantations. Low-skilled labor was imperative for working plantations, and slavery was the norm.
When slavery was abolished (Brazil was the last country in the Western Hemisphere to abolish slavery in 1888), low-skilled immigration was encouraged and flourished. Brazil's Gino Coefficient highlights the income inequality and stark division between the rich and poor that continues to define Brazilian demographics, even into the modern era. It is also visible in its high crime rate, giving Brazil the title of Murder Capital of the World. Brazil has the most cities (17) in the top 50 dangerous cities in the world.
Brazil's geography shaped its economy and in turn, its politics. The wealth disparity and need to develop the interior were components that eventually led to the rise of a military regime in the 1960s. The regime kept order and was able to command the resources for development through force, if necessary. As the interior developed, there were more opportunities for smaller landholders and a rise in the middle-class – the classic underpinnings for political liberalization.
Under these circumstances, in 1985 the military handed over control to the people in an election. In 1988 a new constitution was written. Thirty years of democratically elected governments later, and many of Brazil's problems remain. The oligarchs – the powerful and wealthy – prevail. Justice usually reflects who you know and is unevenly applied. A string of politicians, including the current President Temer and past Presidents Lula and Rousseff, among others, have recently been implicated in the huge "car wash" scandal.
People are fed up with the corruption. And now, many are looking for a political "outsider" to shake up the establishment.
In this fraught landscape emerged Jair Bolsonaro. Bolsonaro started his career in the military while the military still held power. He is neither a land-owner nor a peasant, and to many, is seen as a "vote for change", outside of the elite power structure. Sound familiar?
He is the Brazilian Trump.
His fame is growing, and people show up en masse to hear him speak. His focus is a return to law and order in a country that seems out of control. Bolsonaro's message resonates at a time when there are an increasing number of people nostalgic for the order under the former military government.
Rounding out the similarities, Bolsonaro, like Trump, has been called out for scandalous behavior, which hasn't dampened his support. In 2014 he told a Congresswoman that he wouldn't rape her because "she didn't deserve it". This is the little quip seen here in the anti-Bolsonaro propaganda picture. Note the cartoonish Hitler's tache too.
The allure of more right-wing traditionalists, nationalists and populists is a global trend in a world rapidly changing. Whether due to the growing individualism leading to the breakdown of social cohesion in the United States, the growing anti-immigrant sentiment and the resulting Brexit in England, or the ubiquitous corruption in Brazil, wistful notions of stability and order are endemic.
As these and other like forces continue to restructure the global order–politically, economically and socially – no one gets out unscathed. Perhaps the United States is best able to weather the storm, given its unique mix of geography, strong institutions and resources. The Brazilian economy, however, is largely dependent on high commodity prices and Chinese demand. As structural demand trends downward, and the Chinese face their own internal and external struggles, a variety of crises threaten multiple countries, like Brazil.
Further, a Brazilian characteristic – lack of trust – creates its own challenges. The lack of trust in American institutions is also at an all-time low, but as Ricardo reminds me, the American government was formed by the people to serve the people. In contrast, in the Brazilian system, the people are there to serve the state.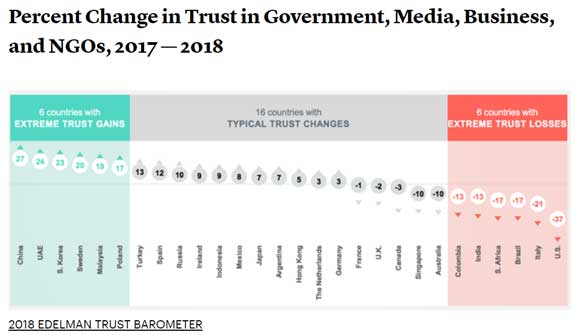 In the current climate, despite disparate trajectories, America and Brazil now share some of the same trust issues. As we explored this idea of trust and our distinct cultural experiences further, we came up with a rough theory. America's free market capitalist economy generates trust. Although there are many currently disillusioned with capitalism and growing income inequalities, which in part is what is generating momentum in the more "right-wing" camps worldwide, consider the aspect of competition. When there is competition, the markets hold corporations accountable. If a company makes a poor product, it loses market share. In an economy like Brazil, based more on elite relationships than competition for gaining market share, this built-in accountability is lost. Trust never has a chance to develop.
By contrast, trust in America did develop, but to a certain degree, has been lost. However, there is a foundation for trust. The question is, can it be regained?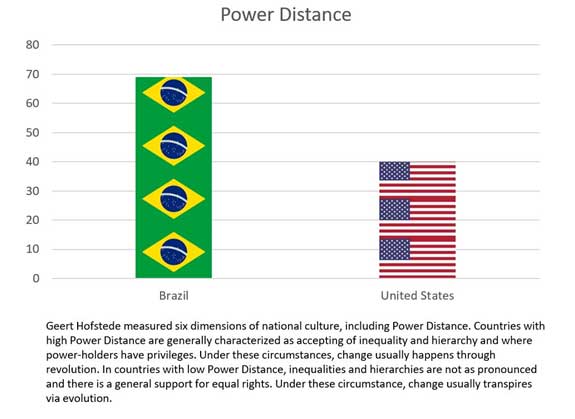 Despite many factors portending some rough patches ahead, Ricardo is hopeful. He doesn't have any affection for Bolsonaro, but believes corrective measures are necessary to address inherent corruption – after all, the pendulum must swing in the opposite direction before slowing its cadence to a more sustainable groove in the middle.
The "Trump Trend" (and its European predecessors) is not an isolated event, but rather a reaction to global disorder, similarly affecting countries with diverse geopolitical histories; it is a symptom of our trust deficit and truth decay. Further, different political parties worldwide hold their own claims on the truth, making trust more elusive. Confusing the issue, in an internet era replete with fake news, truth and trust alike have become valuable commodities. Hold onto them.
Finally, levels of trust are generally inversely correlated to crime statistics, so… be safe!