Why Pakistan is also opposed to an independent Kashmir?
Against the general impression gained by the world that Pakistan has been fighting for the cause of Kashmiris, the fact remains Pakistanis are fighting not for Kashmiris but for itself as it wants to annex the parts of Kashmir now under Indian occupation and have been the target of military attacks, fake encounters and genocide spree.
Beyond its open rhetoric India has always maintained that the parts of Jammu Kashmir it annexed soon after its own independence from Great Britain in 1947 as the first ever external operation as a free nation, belong to India and Jammu Kashmir is now an integral part of India. Cutting across their Hindutva intent, both Congress and BJP maintain this "integral" status.
Pakistan also, on its part, annexed a small part of Kashmir and "integrated" into its official territory and after a war with India it got some more parts of Kashmir that it named as Azad Kashmir which is now an integral part of Pakistan.
While India has put a full stop to ay soverign Kashmir, Pakistan also does not think in terms of an independent Kashmir for Kashmiris and it is eager only get Sri Nagar into Pakistani territory for which it is using pro-Pakistani Kashmiris to fight against Indian occupation. And India mercilessly kills Kashmiris for supporting Pakistan and seeking to make Kashmir apart of a destabilized and weak Pakistan.
However, there are Kashmiris both in Azad Kashmir and Jammu Kashmir who seek a soverign Kashmir to live in peace and prosperity, though voices are not allowed to be heard by both India and Pakistan. There so weak that they cannot do anything to achieve their noble cause of establishing a soverign Kashmir.
Had Islamabad worked for an independent Kashmir, most probably Kashmiris would have legally obtained their independent Kashmir by now.
Today, both India and Pakistan are also allies of expansionist fanatic Israel, another colonizer who keeps killing Palestine Muslims, drinking their blood profusely. As a "friend" of Zionist criminal regime, Pakistan cannot be expected to value the worth of freedom and sovereignty and human dignity. Nor can it respect the life of Kashmiri Muslims. Like India, Pakistan and Israel want the enamoring lands and have least concern for freedom and dignity of Kashmiris- the target of Indian colonialist attacks.
Indian Jammu Kashmir and Pakistani Azad Kashmir
At the time of the Partition of India in 1947, the British abandoned their suzerainty over the princely states, which were left with the options of joining India or Pakistan or remaining independent. Hari Singh, the maharaja of Jammu and Kashmir, wanted his state to remain independent. In spring 1947, an uprising against the Maharaja broke out in Poonch, an area bordering the Rawalpindi division of West Punjab. Maharaja's administration is said to have started levying punitive taxes on the peasantry which provoked a local revolt and the administration resorted to brutal suppression. The area's population rebelled against the Maharaja's forces and gained control of almost the entire district. The pro-Pakistan chieftains of the western Jammu districts of Muzaffarabad, Poonch and Mirpur proclaimed a provisional Azad Jammu and Kashmir government in Rawalpindi on 3 October 1947.
On 21 October, several thousand Pashtun tribesmen from North-West Frontier Province poured into Jammu and Kashmir to liberate it from the Maharaja's rule. They were led by experienced military leaders and were equipped with modern arms. The Maharaja's crumbling forces were unable to withstand the onslaught. The raiders captured the towns of Muzaffarabad and Baramulla, the latter 20 miles (32 km) northwest of the state capital Srinagar. On 24 October, the Maharaja requested military assistance from India, which responded negatively and coerced the king to make JK acceded to India. Accordingly, on 26 October 1947, Maharaja Hari Singh signed an Instrument of Accession, handing over control of defence, external affairs and communications to the Government of India in return for military aid. Indian troops, kept ready, were immediately airlifted into Srinagar. Pakistan intervened subsequently. Fighting ensued between the Indian and Pakistani armies, with the two areas of control more or less stabilized around what is now known as the "Line of Control".
India occupied Jammu and Kashmir, the only state in India with a Muslim-majority population, consists of three regions: Jammu, the Kashmir Valley and Ladakh. Srinagar is the summer capital, and Jammu is the winter capital. The Kashmir valley is famous for its beautiful mountainous landscape, and Jammu's numerous shrines attract tens of thousands of Hindu pilgrims every year. Ladakh, also known as "Little Tibet", is renowned for its remote mountain beauty and Buddhist culture.
Jammu and Kashmir has an international border with China in the north and east, and the Line of Control separates it from the Pakistani territories of Azad Kashmir and Gilgit-Baltistan in the west and northwest respectively. The state has special autonomy under Article 370 of the Constitution of India. The Hindutva parties led by BJP question the article and while in opposition they wanted it to be removed. But as the ruling party of India BJP allies understand the need to retina the class and article intact. In fact, article ha so special life for the Kashmiris who get killed by the occupation forces from New Delhi.
Maharaja Hari Singh became the ruler of the princely state of Jammu and Kashmir in 1925, and he was the reigning monarch at the conclusion of the British rule in the subcontinent in 1947. With the impending independence of India, the British announced that the British Paramountcy over the princely states would end, and the states were free to choose between the new Dominions of India and Pakistan or to remain independent. It was emphasized that independence was only a `theoretical possibility' because, during the long rule of the British in India, the states had come to depend on British Indian government for a variety of their needs including their internal and external security.
Jammu and Kashmir had a Muslim majority (77% Muslim by the 1941 census). Following the logic of Partition, it was expected that Kashmir would join Pakistan. However, the predominant political movement (Maharaja Rule) in the Valley of Kashmir (Jammu and Kashmir National Conference) was secular, and was allied with the Indian National Congress since the 1930s. So many in India too had wanted Kashmir should join India. The Maharaja was faced with indecision. While the Government of India accepted the accession, it added the proviso that it would be submitted to a "reference to the people" after the state is cleared of the invaders, since "only the people, not the Maharaja, could decide where Kashmiris wanted to live." It was a provisional accession
Indo-Pakistani War of 1947 lasted till the end of 1948. A ceasefire was agreed on 1 January 1949, supervised by UN observers. At the beginning of 1948, India took the matter to the United Nations Security Council. The Security Council passed a resolution asking Pakistan to withdraw its forces as well as the Pakistani nationals from the territory of Jammu and Kashmir, and India to withdraw the majority of its forces leaving only a sufficient number to maintain law and order, following which a Plebiscite would be held. A ceasefire was agreed on 1 Jan 1949, supervised by UN observers. A special United Nations Commission for India and Pakistan (UNCIP) was set up to negotiate the withdrawal arrangements as per the Security Council resolution.
In the end, no withdrawal was ever carried out, India insisting that Pakistan had to withdraw first, and Pakistan contending that there was no guarantee that India would withdraw afterwards. No agreement could be reached between the two countries on the process of demilitarization.
India militarized Kashmir with regular additions of troops and terror goods and local Muslims are under their threats as they have lost sovereignty plus freedom and the right to live in their nation. . India and Pakistan fought two further wars in 1965 and 1971. Following the latter war, the countries reached the Simla Agreement, agreeing on a Line of Control between their respective regions and committing to a peaceful resolution of the dispute through bilateral negotiations.
India well as Pakistan has no plans of withdrawing from Kashmir and in order to maintain their terror hold over Kashmir, they have equipped their respective military capability with deadly nukes obtained without the approval of IAEA and without signing the NPT.USA allows both to enjoy their nuke arsenals. They continue to blame one another, and terrorize the Kashmiris besieged and sandwiched between them.
When it could not "flush out" Pakistani forces from Kashmir, India approached the United Nations, asking it to resolve the dispute, and resolutions were passed in favour of the holding of a plebiscite with regard to Kashmir's future. However, no such plebiscite has ever been held on either side as both are not sure of support of Kashmiris for their colonization project. Also, there was a precondition which required the withdrawal of the Pakistani Army along with the non-state elements and the subsequent partial withdrawal of the Indian Army from the parts of Kashmir under their respective control – a withdrawal that never took place. In 1949, a formal cease-fire line separating the Indian- and Pakistani-controlled parts of Kashmir came into effect.
Following the 1949 cease-fire agreement with India, the government of Pakistan divided the northern and western parts of Kashmir that it occupied at the time of cease-fire into the following two separately-controlled political entities: Azad Jammu and Kashmir (AJK) – the narrow, southern part, 250 miles (400 km) long, with a width varying from 10 to 40 miles (16 to 64 km).; Gilgit–Baltistan formerly called the Federally Administered Northern Areas (FANA) – the much larger political entity to the north of AJK with an area of 72,496 square kilometres (27,991 sq mi).
At one time under Pakistani control, Kashmir's Shaksgam tract, a small region along the northeastern border of Gilgit–Baltistan, was provisionally ceded by Pakistan to the People's Republic of China in 1963 and now forms part of China's Xinjiang Uygur Autonomous Region.
Status of Azad Kashmir
India quickly made Jammu Kashmir as a part of its territory. There is a confusion as to why Pakistan ah snot yet annexed the Azad Kashmir and added to its territory. Azad Kashmir is accorded a special status with a president and Prime minister ruling it as a country but with guidance from Islamabad. Like in Jammu Kashmir where India parties like Congress and BJP play important roles in the state, in Azad Kashmir Pakistani political parties play important roles. PDP and Muslim league are the dominant parties and now ML is AK's ruling party.
Raja Farooq Haider Khan of Pakistan Muslim League-N has been elected as new Prime Minister of Azad Jammu and Kashmir. Voting for election of new Leader of the House was held in Muzaffarabad. Raja Farooq Haider Khan secured 38 votes while a joint candidate of Muslim Conference and PTI Ghulam Mohi ud din Dewan and Chaudhry Muhammad Yaseen of Pakistan Peoples' Party bagged five votes each.
Punjab Chief Minister Shahbaz Sharif has also felicitated Raja Farooq Haider on being elected as the new Prime Minister of Azad Jammu and Kashmir. In his message, he hoped that the newly elected Prime Minister of AJK will fulfill the expectations of his people.
The territory has a parliamentary form of government with its capital located at Muzaffarabad. The President of Azad Kashmir is the constitutional head of the state, while the prime minister, supported by a Council of Ministers, is the chief executive. The unicameral Azad Jammu & Kashmir Legislative Assembly elects both the prime minister and president. The state has its own Supreme Court and a High Court, while the Government of Pakistan's Ministry of Kashmir Affairs serves as a link between it and Azad Kashmir's government. Neither Azad Kashmir nor Gilgit-Baltistan elects members to Pakistan's National Assembly.
Azad Jammu and Kashmir commonly known as Azad Kashmir, is a self-governing] administrative division of Pakistan. The territory lies west of the Indian-administered state of Jammu and Kashmir, and was previously part of the former princely state of Jammu and Kashmir, which ceased to exist as a result of the first Kashmir war fought between India and Pakistan in 1947 upon their own freedoms from UK..
Azad Kashmir is part of the greater Kashmir region, which is the subject of a long-running conflict between India and Pakistan. The territory shares a border with Gilgit–Baltistan, together with which it is referred to by the United Nations and other international organisations as "Pakistan-administered Kashmir. The territory also borders Pakistan's Punjab province to the south and Khyber Pakhtunkhwa province to the west. To the east, Azad Kashmir is separated from the Indian-administered state of Jammu and Kashmir by the Line of Control, the de facto border between India and Pakistan. Azad Kashmir has a total area of 13,297 square kilometres (5,134 sq mi), with an estimated population of around 4.6 million people.
The 2005 earthquake killed 100,000 people and left another three million people displaced, with widespread devastation. Since then, with help from the Government of Pakistan and foreign donors, reconstruction of infrastructure is underway. Azad Kashmir's economy largely depends on agriculture, services, tourism, and remittances sent by Pakistanis living abroad. Nearly, 87% of the households own farms in Azad Kashmir, while the region has a literacy rate of approximately 72% and has the highest school enrollment in Pakistan.
Azad Kashmir expresses solidarity with people of Jammu Kashmir
Today, Kashmiris in India occupied Jammu Kashmir are protesting Indian occupational techniques against the Kashmiri Muslims. Indian forces target them and many Kashmiri Muslims have fallen victim to Indian terror tacks.
People of Azad Kashmir now are protesting against Indian brutality in Kashmir valley and ill-treatment of Kashmiri Muslims by occupation forces. .
A large number of people including refugees from Indian-held Kashmir came out on the streets in Muzaffarabad, capital of Azad Kashmir, to stage a rally against Indian violence on people across the Line of Control (LoC), just weeks after the extra-judicial killing of Burhan Wani, a pro-freedom insurgent leader in the occupied zone.
Earlier, when Azad Jammu and Kashmir (AJK) was smack in the middle of general elections, the leaders of most religious and political parties had marched in front of United Nations Military Observers Group for India and Pakistan (UNMOGIP) to protest the ongoing wave of state-ordered violence in the occupied zone.
All Parties Hurriyat Conference (APHC) AJK chapter leaders and workers have been urging members of civil society and refugees settled in AJK to continue staging street protests.
Pakistani concern over unrest in Kashmir
Kashmir valley has become restless for quite some time now. People of Kashmir are facing serious problem of witnessing Indian force crimes in their neighborhoods. Kashmiris look a upon their freedom fighting leaders but India, in order to continue to kill them, calls them terrorists.
Now Kashmiris are increasingly willing to call themselves the "terrorists" as their husbands, children and other relatives are getting into India military traps and get killed or just disappear without clues.
Pakistan Prime Minister Nawaz Sharif recently expressed concern over the law and order situation in Jammu and Kashmir during a high-level meeting here called to discuss regional security. In the meeting, Sharif and Pakistan Army chief General Raheel Sharif, were briefed on the situation in Kashmir and Afghanistan. PM Sharif said the "brutal use of force is a blatant Indian violation of fundamental rights of the Kashmiri people which no civilized society permits". Sharif maintained that the Indian attempts to claim the situation in Kashmir an internal matter were "factually incorrect, legally untenable and a violation of international law and UN Security Council resolutions".
The meeting resolved to approach the UN Human Rights Council to send a fact-finding mission to Kashmir to "investigate the slaughter of innocent civilians and impose a ban on the use of pellet guns for dispersing people". It called upon the international community to condemn human rights violations by Indian security forces.The meeting condemned "the oppression of the Indian security forces over innocent Kashmiris" protesting against the violence in the region, a Prime Minister's House statement said.
The only solution to the Kashmir issue was "early implementation of UNSC resolutions — a fair and impartial plebiscite under the UN auspices", Sharif said. The statement said Pakistan "will continue to provide diplomatic, political and moral support" to the people of Kashmir for the realization of their fundamental right to self-determination. The meeting comes a day after India slammed Pakistan over its "deplorable meddling" in the internal affairs of the country and asked it to "vacate its illegal occupation of Pakistan-Occupied Kashmir". Pakistan observed "Kashmir's Accession to Pakistan Day" on July 19, followed by "Black Day" on July 20 over the killing of Hizbul Mujaheedin commander Burhan Wani.
India in a statement strongly condemned the "encouragement and support" which "terrorists and their activities receive from Pakistan's state".
At least 50 people have been killed and hundreds injured in Jammu and Kashmir following the July 8 killing of Wani in a gunfight with the security forces.
Indian terror techniques
Fake encounters to target Kashmiri youth, repeated curfews to silence the Kashmiris and to cripple Kashmir economy so that the JK government would run to New Delhi for financial assistance on Indian terms to arrest as many Kashmiri Muslims as it can to somehow reduce the Kashmiri anger, have not eventually worked in India's favor as Kashmiris continue to fight for sovereignty.
Come what may, India, now supported by USA, does not want to surrender sovereignty back to Kashmiris and in order to silence them in their struggle for sovereignty, India keeps killing them through enacted fake encounters. For India, Kashmiris are terrorists just like Palestinians are terrorists for Israel, while entire Muslim community is a terrorist gang for US led NATO rogue states, terrorizing energy rich Arab nations.
It appears, like India, Pakistan also enjoys its double-speak, mixing half truth with full lie regarding the status of Kashmir now and in future. While Pakistan is an ally of US led NATO terror gang, now controlling Islamabad, India has been trying its best to make an unwilling USA its strategic partner. Now both these nuclear powers causing perpetual tension in South Asia are being remote controlled by Washington.
New Delhi is too happy that USA has moved away from Islamabad and is not working for Indian causes everywhere, as it thus has been promoting the anti-Islamic Zionist criminal regime. On the contrary, Pakistan is worried that it is fast losing service charges from USA and EU.
However, despite their differences and regular military cross firings, meant essentially to terrorize Kashmiris, India and Pakistan have a common agenda – to retain the nuke arms in their respective possessions at any cost. This now explains why they don't want to resolve the Kashmir issue and grant sovereignty to Kashmiris.
Pakistani PM Sharif said he is dreaming to Kashmir inside Pakistan but he fails to recognize the Pakistanis destabilized and not stable at all and it might even disintegrate as per the CIA plan. India has warned Islamabad to stop day dreaming about Kashmir joining Pakistan now or any time in future. Kashmiris cannot decide to commit a mass suicide by joining a corrupt and weak Pakistan which would not hesitate to sell them to China or America for favors, including financial and military help. Pakistan ahs "gifted" a part of occupied Azad Kashmir to China for economic and military help.
Pakistani mischief on soverign Kashmir?
The general impression gained by the public that Pakistan is fighting for the cause of Kashmiris for a soverign Kashmir apparently looks false. Pakistan has been fighting for Kashmir and not for Kashmiris as it is eager to incorporate into Pakistan both Azad Kashmir which's under Pakistani control and Jammu Kashmir which is under Indian occupation. But Kashmir I sunder Indian occupation and it refuses to surrender Kashmiris its sovereignty ostensibly to deny India to quickly occupy it and add to its own territory.
Pakistan already has a part of Kashmir in its territory and also administers Azad Kashmir, annexed from Kashmir in a war with India. Pakistan is fighting now for India controlled Kashmir to be eventually made a part of Pakistan and for this purposes, India claims, Pakistan has been misusing Kashmiri Muslims.
It appears, Pakistan has not yet incorporated Azad Kashmir into itself because it wanted to let India think that Pakistan is sincere about a soverign Kashmir and it would add Jammu Kashmir once India releases Kashmir.
Pakistani leaders until recently never openly said it wants to make Kashmir a part of Pakistani territory once India leaves it, but it always, tactfully, maintained that the India should "solve" it without specifying what it meant by 'solution". .
Pakistan is trying to make the Kashmir issue more complicated with new ideas. For the first time in recent times, Pakistan has openly reiterated its resolve to annex Kashmir into Pakistani territory. Prime Minister Nawaz Sharif said he would like to see Kashmir a part of Pakistan. "We are waiting for the day when Kashmir becomes a part of Pakistan," PM Sharif said. Sharif was addressing a public gathering on the occasion of his Pakistan Muslim League-Nawaz's win in the "Azad Jammu and Kashmir" assembly election last week.
In his first public address following an open heart surgery earlier this year, Sharif urged Kashmiris "not to forget those in India held Kashmir who are sacrificing their lives for freedom". The PML-N is set to form the next government in Pakistan occupied Kashmir, whose official name is "Azad Jammu and Kashmir".
New Delhi was quick to respond to Pakistan's statement. India always maintains its stand that Kashmir is an "integral" part of Kashmir. New Delhi had accused Islamabad of arming and training militants fighting to secede Jammu and Kashmir from India. Pakistan said it only provides moral and diplomatic backing to the separatist campaign. In a strong attack on Pakistan Prime Minister Nawaz Sharif for his statements on Kashmir, External Affairs Minister Sushma Swaraj told him that his dream of the state becoming a part of his country "will not be realized even at the end of eternity". Taking umbrage at Sharif's statement that "Kashmir will one day become Pakistan", she said in a statement that this "delusional though dangerous dream" was the reason for Pakistan's "unabashed embrace and encouragement to terrorism". "The whole of Jammu and Kashmir belongs to India. You will never be able to make this heaven on earth a terror hell," she said. India's reaction came amidst provocative statements issued on near-daily basis by Pakistan government and Sharif.
Noting that in the last few days, leadership of Pakistan, including its Prime Minister has praised Burhan Wani, a popular but wanted by India terrorist Commander of the banned terrorist organisation Hizbul Mujahideen, as "martyr", Swaraj wondered did he not know that he was carrying an award of Rs 10 Lakh on his head because he had perpetrated heinous crimes including murder of elected representatives of local bodies and security personnel. "Even more condemnable than these deplorable attempts from across the border to incite violence and glorify terrorists is the fact that these attempts have been undertaken by Pakistan's state machinery.
Now India does not need terror evidence
India, like USA, always sought "evidence" from Pakistan. Asserting that there is no need for evidence of Pakistan's complicity in the Kashmir issue as Nawaz Sharif is openly saying they will get Kashmir back. India says Pakistan is directly or indirectly claiming credit for aiding and abetting the ongoing insurgency and unrest. So, there is no need for any evidence now.
Union Minister of State in Prime Minister's Office Singh was reacting to Sharif's remark that the day was not far when the struggle of the Kashmiris will meet with success and Jammu and Kashmir will be part of Pakistan. Singh said, "The United Nations too has said that it Kashmir is India's internal matter. Now, the world has come to acknowledge India's point of view on Kashmir and it is time for us to be united in the fight against Pakistan." He asserted that Pakistan's involvement in promoting terrorism in India has been evident on more than one occasion. The Union minister urged all the political parties to unite in the fight against Pak-sponsored terrorism.
Former Jammu and Kashmir Chief Minister Omar Abdullah Omar said today's unrest cannot be compared with 2008 or 2010 agitations. "In 2008, we had a land row and in 2010, the outbreak was because of a fake encounter done by army. But in 2016 there is no such demand. It is just plain anger. "Even the young boys of the age of 8-10 years have no fear and that is worst," he said.
The Modi government is not serious about genocides and political (freedom) crisis in Kashmir. Will a grand initiative by the Prime Minister normalize the situation in the Valley? Omar Abdullah said any initiative that Prime Minister Narendra Modi may take to resolve the current crisis in the Valley could calm tempers but if it is not followed up then it becomes difficult to sort out. He agreed with former Union Home Minister P Chidambaram's views that the Centre had broken promises on issues that formed the state's accession to India, saying they have been "dishonest with the people of Jammu and Kashmir". "It will help. It will definitely calm tempers but there will be far more suspicion today than a few years ago. Because if it is not followed through, every time a problem like this arises, then it becomes more difficult to bring an end to it," he told on a TV channel interview on Saturday.
For want of better set of words, India has actually been dishonest with the people of Jammu and Kashmir because you struck a deal. Former Finance Minister Chidambaram said that New Delhi had ignored the grand bargain under which Kashmir acceded to India. Omar endorsed his statement. You struck a bargain. Jammu and Kashmir acceded to India on the basis of certain conditions which is that the Union of India will be responsible for currency, communication, defence and foreign affairs everything else will be the domain of the state. On the basis of those conditions Jammu Kashmir would remain a part of India.
But Jammu and Kashmir to this date remains a part of India, how much of those conditions have Indian rulers actually fulfilled? You have gradually whittled that away to the point that autonomy is a a fig leaf to what it was in 1947. So he is not wrong," Omar said. However, he regretted that immediately after Chidambaram remarks, Congress came out with a statement that it were the personal views of former Finance/Home Minister. "Here is a person who is talking out of box and is ready to take the first knock and we pull him down," he said.
Omar said Pakistan has always been fishing in troubled waters. "It is nothing new. If you are saying Pakistan is responsible, then I am am sorry. We are doing the same mistake." He said people are are ready to set aside old memories provided "we are ready to sit and solve the problem".
On controversial AFSPA in Kashmir, Omar said, "I don't know how the army has become a villain. Army has always maintained that they don't want to stay permanently and want to go back to barracks. But they don't decide the such matters. They deadly oppose withdrawal of Draconian law and also any reduction. So this is a contradictory stand." He said more than a political will, it takes courage to take bold steps which was lacking in the previous UPA government. "May be UPA at that time was facing several problems. May be they did not want to open another front," he said. Congress has been insensitive to the popular demands in Kashmir.
About the statement made by Chidambaram that the Union Cabinet was divided on withdrawal of AFSPA, he said, "I know that the then Defence Minister (Pranab Mukherjee and A K Antony) were opposed to it and the then Prime Minister (Manmohan Singh) had not firmed up his mind.
There was strong opposition from the army but political courage could have overtaken that opposition," he said and added that between him and Chidambaram, they were successful in removing 35 to 40 bunkers from the city. "I am not saying that army's concerns should not be addressed but at the same time elected representatives in a democracy must have courage to carry forward its decisions with conviction," he said. He expressed apprehensions that the way the Centre has been dealing with the situation in past had lived its life. "The Centre swings into action only when there is a fire in Kashmir. At that point they promise everything but when the situation is normal, they forget everything." "By announcing a package of Rs 80,000 crore, centre should not think that it can buy out anti-India sentiments. PM Modi while addressing a rally said he knew everything about Kashmir problem. If you know everything then everything is over. Nothing to be discussed and the problem should be at his door rather than anyone else's," the former Chief Minister said.
Newly Independent India claimed it somehow managed an Act of Accession with the rulers of Jammu Kashmir. On 26 October, 1947, VP Menon, who had just returned from Srinagar, poured out a stiff drink, smiled and exulted: "We have Kashmir. And now that we have got it, we will never let it go." This incident should be enough to remind Pakistan Prime Minister Nawaz Sharif of the futility of his dream of seeing Kashmir become part of Pakistan some day.
Menon, who helped Sardar Patel put hundreds of princely states in India's basket, had prophesied on that fateful October day that India will never let Kashmir go. Six decades of futile Pakistani efforts, including three wars, suggest Sharif's dream is not genuine.
Sharif has a long list of people to blame for his unrequited love for the Vale. He can, for instance, blame Mohammad Ali Jinnah, who decided to send tribals from the frontiers to invade Kashmir after the Maharaja supposedly denied his request for a vacation in the Valley.
Did India betray Pakistan on Kashmir?
The stance Patel had reportedly taken on the disputes that rose from the decision of Kashmir, Junagarh and Hyderabad to not accede to either of the two countries even after 15 August. Several scholars have suggested that Patel was willing to consider Pakistan's claim if it gave up Junagarh and Hyderabad.
Our reply was that we would agree to Kashmir if they agreed to Hyderabad." But, the moment Jinnah decided to send tribals under the leadership of Major Khurshid Anwar to invade Kashmir, and then dispatched his soldiers guised as Pathans to fight the Indian army, Pakistan lost the argument and the Valley. As Patel used to say, possession is 90 per cent of the law.
Pakistan failed to get anything out of the 1965 war it fought with India. In 1972, it signed the Simla accord and agreed to a status-quo and bilateral resolution of the dispute. Since then, nothing has changed that entitles Sharif to a walk through Srinagar's Nishat Bagh or drink from the founts of Chashm-e-Shahi.
While India can further destabilize and divide Pakistan with US help, Pakistan doesn't have the military might to split India. Its proxy war lacks the firepower to melt India's resolve. And there is no way India will surrender its rights over Kashmir, especially in a global scenario dominated by huge security concerns, anti-imperialist Islamic terror and China's rising ambitions of China in the region.
India does not want a third Muslim country Kashmir in the region. New Delhi says allowing a Muslim-majority territory on the northern border to become a hotbed of Chinese, Pakistani, Afghan and Islamic State interference would be a political disaster. India cites the fate of Bangladesh and Pakistan, both it treats as "home to terror", has forever ruled out the possibility of another Islamic country in the region.
Though pro-Pakistan sloganeering and flag-waving is common in Kashmir as a useful tactics to express I their anger over Indian occupational crimes, it is doubtful if Kashmiris actually want to become part of Pakistan, especially in its current avatar. In 2014, not even 50% of Kashmiris in the Kashmir Valley wanted to join Pakistan or support the idea of union with Pakistan: off the record 25% .
However, those Kashmiris expressing desire to be a part of India is much below that of those who support Pakistan- less than 10%. .
Though armchair hardliners in India never seek peace with Pakistan and Kashmir, and jihadis, they forget that for several years after Independence, while Kashmir remained calm and quiet', the desire for azaadi (freedom) simmered below the surface. Even the first decade of this millennium was comparatively quiet and calm, suggesting a return to normalcy. But Kashmiris oppose subjugation and brutality by Indian forces.
In 1947, when Jinnah dispatched his tribals to Srinagar, he assumed their presence would trigger a revolt within Kashmir. Muslims of the Valley, he erroneously believed, would support the Pakistani invasion and drive out the Indian army.
India's challenge now is to ensure that its own follies in Kashmir do not alienate Kashmiris enough to inspire someone in Pakistan to embark on another misadventure. Only rank stupidity, rigidity, continued oppression, suppression of rights and over-reliance on guns by the Indian state has the potential to fulfill Sharif's dream.
Observation
True, USA has not openly declared its opposition to Kashmir issue or support for genocides in Kashmir, though it does not support Kashmir either.
Russia today is less enthusiastic about Indian occupation of Kashmir but USA is trying to shield Indian military crèmes inside Kashmir.
India would not find it profitable and correct to let the Kashmiri territory to obtain sovereignty as Pakistan would any time soon annex it under some garb and make it an integral part of Pakistan. US/Pakistani military can just finish them off.
New Delhi has realized by keeping puppet government in Sri Nagar/Jammu, it cannot stop freedom struggle of Kashmiris.
In fact, many Indians also now believe that Indian government has almost lost Kashmir but now it has to ensure that it does not go to Pakistan and makes its own home as a soverign Kashmir.
It is true Kashmiris dream of azaadi, a future that was promised to them by Dogra ruler Hari Singh before Jinnah forced his hand. But their loyalty towards Pakistan is grossly exaggerated, more propaganda than reality.
For all practical purposes, a workable solution to the Kashmir problem will have to be worked out first between the people of Kashmir, including the freedom groups, and the Indian government. Than India and Pakistan, along with Azad Kashmir leaders should agree for a unified Kashmir to emerge as a soverign nation. . Pakistan would, of course, never agree to anything that shatters its dream of possessing Kashmir, and that would ensure longevity of the dispute. PM Sharif has a right ot dream abut he should be realistic and understand the sufferings of Kashmiris.
Obviously, as India's arrogant posture is unhealthy and irresponsible, Pakistan's unrealistic dream is destined to remain unfulfilled, and thus remain a source of trouble. India can never win over Kashmiris through brutality, genocides, or through dialogue and peace-money initiatives.
Both India and Pakistan stop boss over Kashmir.
One can understand Pakistani dream if it has been truly Islamic (It attacked Lal Mosque in Islamabad, killing Imams there in a cold blooded manner) or a strong Muslims nations- but s destabilized puppet nation serving the cause of anti-Islamic nations like USA, UK, Israel etc.
Pakistan would not hesitate to sell Kashmiris to any nation to be anti-Islamic agents. And there would be none in the world to save the Kashmiris. .Already Pakistan seems to have "sold" a part of Azad Kashmir to China for r economic and military favors.
Independence of Kashmir is the only reliable and credible solution.
When United Nations too says that Indian brutality in Kashmir is India's internal matter, the big powers have no interest in resolving the Kashmir flashpoint.
Pakistan at a crossroads as Imran Khan is sworn in
Criticism of Pakistan's anti-money laundering and terrorism finance regime by the Asia Pacific Group on Money Laundering (APG) is likely to complicate incoming Pakistani prime minister Imran Khan's efforts to tackle his country's financial crisis.
Addressing the criticism of the 41-nation APG, which reports to the Financial Action Task Force (FATF), an international anti-money laundering and anti-terrorism watchdog that earlier this year put Pakistan on a grey list with the prospect of blacklisting it is key to a possible Pakistani request for a US$ 12 billion International Monetary Fund (IMF) bailout.
A US demand that any IMF package exclude funding for paying off Chinese loans coupled with the APG/FATF criticism, against a backdrop of the Pakistani military's efforts to nudge militants into the mainstream of Pakistani politics and the incoming prime minister's mixed statements on extremism, could push Mr. Khan to turn to China and Saudi Arabia for rescue, a move that would likely not put Pakistan in the kind of straightjacket it needs to reform and restructure its troubled economy.
The APG criticism followed Pakistani efforts to demonstrate its sincerity by passing in February the Anti-Terrorism Ordinance of 2018, which gave groups and individuals designated by the UN as international terrorists the same status in Pakistan for the first time.
Pakistan, however, has yet to implement the ordinance by for example acting against Hafez Saeed, a leader of the banned group Lashkar-e-Taiba and the alleged mastermind of the 2008 attacks in Mumbai, who despite having been designated a global terrorist by the United Nations Security Council and having a US$ 10 million US Treasury bounty on his head, fielded candidates in last month's election.
The APG, which just ended talks with Pakistani officials, has scheduled follow-up visits to Pakistan in September and October to monitor Pakistani progress in addressing its concerns, which focus on legal provisions governing non-profit and charitable organisations, transparency in the country's beneficial ownership regime and the handling of reports on suspicious financial transactions.
Those concerns go to the heart of the effort by the Pakistani military and intelligence to mainstream militants who garnered just under ten percent of the vote in last month's election but have a far greater impact on Pakistani politics. The military and intelligence have in the past encouraged militants to form political organizations with which mainstream political parties have been willing to cooperate and establish charity operations that have had a substantial social impact.
Similarly, Mr. Khan, who earned the nickname Taliban Khan, is likely to have to counter his past record of allowing government funds to go to militant madrassas, his advocacy for the opening in Pakistan of an official Taliban Pakistan office, and his support of the Afghan Taliban. His Tehreek-e-Insaf (PTI)-headed government in Khyber Pakhtunkhwa, gave in February US$2.5 million to Darul Aloom Haqqania, a militant religious seminary.
Dubbed a "jihad university," Darul Aloom Haqqania, headed by Sami ul-Haq, a hard-line Islamist politician known as the father of the Taliban, counts among its alumni, Mullah Omar, the deceased leader of the Taliban, Jalaluddin Haqqani, the head of the Haqqani Network. Asim Umar, leader of Al-Qaeda in the Indian Subcontinent, and Mullah Akhtar Mansoor, Mullah Omar's successor who was killed in a 2016 US drone strike.
Those may be policies that, at least initially, may be less of an obstacle in assistance on offer from China and Saudi Arabia to replenish Pakistan's foreign exchange reserves that have plummeted over the past year to US$ 10.4 billion, enough to cover two months of imports at best. Pakistan's currency, the rupee, has been devalued four times since December and lost almost a quarter of its value.
Chinese loans have so far kept Pakistan afloat with state-owned banks extending more than US$5 billion in loans in the past year. PTI officials said this week that China has promised the incoming government further loans to keep Pakistan afloat and enable it to avoid reverting to the IMF, which would demand transparency in the funding of projects related to China's US$50 billion plus investment in the China Pakistan Economic Corridor (CPEC), a crown jewel of its Belt and Road initiative.
And that is where the rub is. Despite Chinese officials reportedly urging Pakistan to reduce its deficit, neither China nor Saudi Arabia, which has offered to lend Pakistan US$4 billion are likely to impose the kind of regime that would put the country, which has turned to the IMF 12 times already for help, on a sustainable financial path.
Relying on China and Saudi Arabia would likely buy Pakistan time but ultimately not enable it to avoid the consequences of blacklisting by FATF, which would severely limit its access to financial markets, if it fails to put in place and implement a credible anti-money laundering and terrorism finance regime
Moreover, relying on China and Saudi Arabia, two of Pakistan's closest allies could prove risky. Neither country shielded Pakistan from FATF grey listing in February. A Chinese official said at the time that China had not stood up for Pakistan because it did not want to "lose face by supporting a move that's doomed to fail."
The problem of pellet guns in Kashmir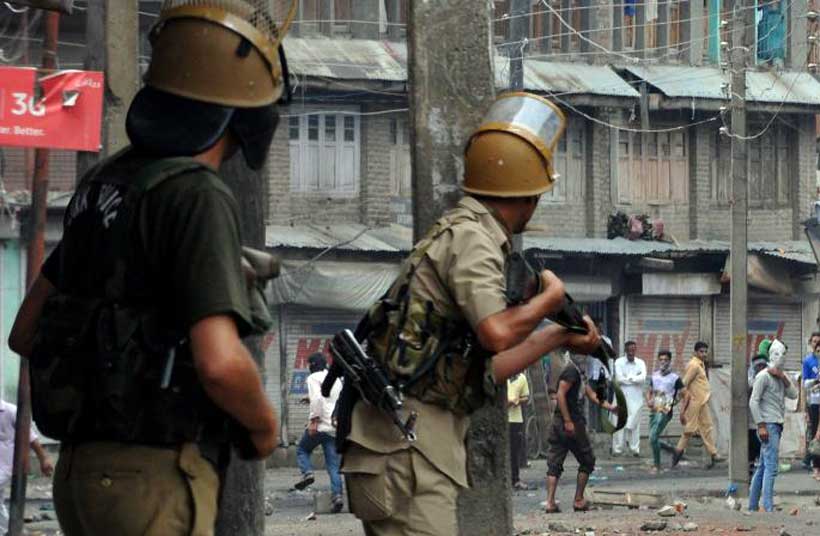 Jammu and Kashmir is the only northern state of the Indian union dogged with an overridden unhealthy political atmosphere. The valley of Kashmir is beset with a major governance deficit which has given renewed impetus to the dissenting voices of the masses day in and day out. Dissent is the hallmark of a democracy which acts as a medium for the expression of the masses against the system. There are certain rights and duties guaranteed by the Indian constitution for the citizens, including the right to freedom of expression and right to life. Caught in the quagmire of a political crisis that has deeply permeated the society, the people in Kashmir from time to time vent up their dissent. Hartals are the tools for the masses through which they ventilate their pent up emotions. Kashmir is not a different case. It is also amuck with crisis and caught in a looming distress day in and day out. Kashmir is the most sensitive zone of the whole Asian sub-continent, where situations turn awry with the passage of time, like the seasons of the year and is the only state of the Indian Union where there has been a reckless use of the pellet guns without any regard for the precious life of the common man. This is a sort of dichotomy.
The use of pellet guns is a major problem which has not only maimed, blinded and killed the masses, but also shaken the collective conscience of the people, who have fallen prey to a different approach of dichotomy of the government. The killing of militant commander Burhan Wani in 2016 brought about a volcanic eruption in valley which not only deteriorated the situation in Kashmir, but also increased the massive alienation of the masses. The waves of grief and anger against the day-to-day killings and maims that the people felt increased with each passing day. In order to control the crisis, the security agencies used the deadly pellets which caused heavy damage to the sufferers. More than 1200 people lost their vision in 2016. According to a report of State Human Rights Commission (SHRC), more than 75% people suffered injuries due to pellet guns, ranging from minor to major in 2016.There was a heavy loss of life.
Although small in size, these black metallic balls have deteriorated our young generation. The use of pellet guns has wreaked crisis in Kashmir. For the security agencies, it is meant to disperse the crowds, but, for the common masses, it is a problematic affair. Pellet guns are pump-action shotguns which fire a cluster of small, round, metal pellets with high velocity over a broad range.
Recently, after the killing of a militant from Pahalgam area during the anti-establishment protests, a number of people were injured due to pellet A nurse working in the same area personally told me that we healed at least 100 plus pellet injured victims. The bloody Sunday of this year's April and the subsequent clashes of the protestors with the security agencies left many injured, with multiple cases of pellet injuries to the eyes of the protestors.
Naseer Ahmad Bhat of Seer Hamdan, Anantnag was killed by the security forces during the post-Burhan phase of 2016 protests in Kashmir. He was an able worker and a good cricketer who fell silent to the pellets. Not only the collective conscience of the people was shaken, but also a state of disparity ensued. These deadly pellets have not even spared the school going children and snatched the power of seeing of the victims. Insha, a pellet victim who passed her matriculation examination last year despite odds is an inspiring hope for the likewise victims.
Pellets cause a number of biological ramifications in the victim, like the loss of vision, the state of paralysis, in case, the damage is caused to the spinal cord, defacements, and death in case of damage to the vital organs of the body, like, heart, kidneys, lungs, brain, etc. Moreover, the pangs of guilt that a victim suffers in silence dishearten one and all. The use of pellet guns as a crowd-control method during protests, whether in case of cordon and search operations (CASO) or common protests has added a volley of questions to the psyche of the common man? Being a part of the Indian union, that two acing the crown, Kashmir has been treated otherwise all through the passing times. People have got million queries, but, there are no solid answers to their problems and subsequent tactful solutions.
The substitution of pellet guns with PAVA shells can in no way control the crisis. The way people of other parts of the country are treated should form a close semblance in case of protests in Kashmir. Why the security forces are using pellets and bullets against the people whom the system claims with a sense of belonging. There can be other alternatives, like the use of water cannons without any damage and subsequent ensuing crisis that engulfs the society and creeps the psyche of the common men. If this is the notion of the system to punish dissent, then dissent itself takes a u-turn of additions and alterations with the passage of time. The bleeding valley is giving a close call for one and all to unite and ensue a state of peace and order. There is an urgent requirement of the administrative and political will to stop the use of pellet guns in Kashmir.
Whatever is happening to the people of Kashmir has not been experienced by the other people of the country. After all, it is a question of humanity. People suffer out of the ways as circumstances decide or may be destined otherwise. But to expect a peaceful valley without the intervention of a political will would be an underestimation of statements. There is a dual intolerance in Kashmir, one from the people and next from the system. The systematic targeting of the protestors from a point blank range irrespective of regard for the human life has shattered several families in Kashmir
Kashmir is passing through the phases of testing times with each passing day. The ugly turn of the situations and recurring events and the amateur dealing of the same has created an unhealthy atmosphere everywhere, where people have lost faith in the governance systems. The safety and security of every Tom, Dick and Harry is the looming question of the hour. Exits from dwellings and adieus from home don't guarantee the safe return of the leavers. The interlocutor of the centre in vale, Mr. Dineshwar Sharma once reiterated that, 'the priority is to prevent Kashmir turning into Syria'. The imbroglio has crippled the educational scenario, down slowed the economy, increased the unemployment, but, above all, the ultimate question is the redressal of the problem at stake, which for God sake can erupt into a lava-laden volcano one day and engulf the whole peace, stability and order of the South Asia, if not tactfully handled in the current times by the government.
The victory of BJP at the centre with the thumping majority after the 2014 Lok Sabha elections with the slogan of 'minimum government, maximum governance' falls short of words and has partially failed in the state of J&K.The killings of the common masses are in no way remedies to the political ailments. There should be the ultimate regard for the human lives. Why has the blood of the people become so cheap .When will peace return to the valley of Kashmir? The government of India had constituted an expert committee in July 2016 to explore other possible alternatives to pellet guns as non-lethal weapons. Although, the committee submitted its report and the recommendations were taken into account by the government for implementation. But, what happened afterwards lies in the public domain for discussion. The use of pellet guns is tantamount to the violation of rights of the people.
In order to direct the valley towards the state of peace and development, the role of multiple players of India, Pakistan and Valley is necessary. This way the government can make a significant contribution in the restoration of normalcy. The need of the hour is the unity of all the stakeholders of the society, like government, non-governmental parties, NGO's, etc. to help these pellet victims via financial or other means.
Although, there has been a strong criticism of the use of pellet guns not only at the local level ,but also at the international level, but the main part of the problem resolution lies with the government of India and the state. Although, much has been said and written about the people of Kashmir with the flow of waters of the river Jhelum, but the stability of the region is a farfetched dream. Here, comes the role of the government into play. The use of pellet guns against the dissenting masses has wreaked havoc and wounded the collective psyche of the people, particularly those who have lost their near and dear ones due to the deadly metallic balls. Those who have fully or partially lost the vision and are living in dark suffer in silence. The government should review the situation and put a full stop for the future use of pellet guns. Those who have lost their dear ones should be financially compensated or by provision of bread and butter. However, the clarion call of the people is the complete ban and stoppage of these pellet guns in order to prevent the further damage and restore the faith of the people in the system. The government of India should pass a resolution to put a terminal pause to the use of pellet guns in the state of Jammu and Kashmir.
The vital task for the current times is to build a consensus for the total pellet ban. The use of non-lethal methods by the security agencies like water cannons could be the best alternatives. This will not only restore the faith of the people in governance, but also generate a feeling of belongingness among the masses. The bruised scars of the pellets have defaulted the trust of the people in the political system. Although, the situation is worrisome for one and all, but, in which direction the boat sails lies with the future course of action. After all action speaks louder than the words.
Pakistan not a Threat for Israel: Clearing Misconceptions
Ever since 1998; the beginning of Pakistan's nuclear age, the state's self-defense mechanism has been a source of worry and unrest for India and the US. Both these states never really accepted that a small state like Pakistan could develop the prestigious asset and was now well capable of defending itself against external threats. US opposed the program on the grounds that it had been tested after the signing of NPT and that it is an "illegitimate" program. Their basic concern was Pakistan not being a party to NPT and US non-proliferation efforts failing. India, though very much against the program, could not openly oppose it on the same grounds because its own Nuclear Program had the same issue i.e. it was tested after the signing of NPT and they had also not signed the treaty.
There  are  a  lot  of  ambiguities  surrounding   Pakistan's  nuclear  program  which  are  there intentionally for the benefit and security of the program and state. However, there is one thing which has been kept very clear since day one and that is the Indo centric nature of Pakistan's nuclear program. The program was developed because the conventionally strong next door neighbor had developed their program. Pakistan, in an attempt to ensure territorial security, had to develop its own program as well. US, China, Russia, France or the UK were never a threat to Pakistan nor was Pakistan on their attack agenda. India on the other hand was in close territorial proximity, a historic enemy, conventionally stronger and now also a nuclear power. After evaluating all these factors any national strategist would suggest a nuclear program for Pakistan and that is exactly what the state did.
There have been news in an Israeli newspaper,  Haaretz, that Pakistan is more of a threat to Israel than Iran. This was published on 20 May, 2018. The grounds for this allegation have been identified  as  Pakistan's  growing  arsenal  and  other  similar  reasons  which  have  always  been popular in the western policy circles. Iran, a conventional enemy, one with which there have been numerous conflicts, has been ruled out as a threat to Israel since they do not have a nuclear arsenal.
However, there are many concrete facts that have been ignored in this propagating debate. For instance Pakistan has had no wars with Israel. Both the states have never even been on the verge of an all-out war. The states have never even had a conflict that could've led to war. Although Iran does not have  a nuclear arsenal at present but that did not stop the states from indulging into conflicts before and although initiating a nuclear war might not be a possibility for Iran but a conventional war is very much within their skill set.
Pakistan is already indulged in a two front defense strategy on its eastern and western borders. The Taliban threat from the west and the ever present Indian threat from the east, particularly along the  line of control is already consuming most of the state's energy, attention and resources. Under such circumstances, jumping into any sort of venture as far as Israel without any apparent or direct conflict seems like an amateur move which is not expected from Pakistan whatsoever. If any linkages are being made based on the fact that Iran and Israel have cordial ties then they are weak to begin with. On the other hand India and Iran have more than friendly ties and India's nuclear arsenal is growing rapidly with the US help. However, this does not mean that just because India is a nuclear state and a friend of Iran, it will be inclined to attack Israel.
Pakistan's nuclear program is solely for the safety and security of the nation against any external threat.  The program  is not for the state  to pick  and choose  enemies  and start  non-existing conflicts. That is definitely not how Pakistan intends to use its resources and deviate from the real agenda which is to protect the state of Pakistan. The only condition under which Pakistan would use its nuclear weapons against any state would be if they choose to attack the territory of Pakistan in a nuclear or non-nuclear manner. The state has been absolutely clear about this from the very beginning of its  nuclear era.