The Forward-looking Impeachment of a Frankenstein Monster
Some two thousand years ago there was a Roman Emperor by the name of Caligula who led the Roman army into Normandy in France and stopped at the shores facing Britain. Thereafter, rather than give orders to prepare for the invasion, he instructed his generals to dismount from their horses and look for shells on the beach that he could add to his collection at home. After his return home, to show his contempt for Roman republican ways he nominated his horse as senator of Rome and send it to the Senate.
At that point some, including his own praetorian guards in charge of his security, began to suspect that Caligula was not only a psychological sociopath, but that he was insane and therefore a political danger to the whole polity of the Roman Empire. After all, he had given proof that he was a man at such a point of acute narcissism and megalomania that he could use the most powerful army in the world to enrich his private shell collection and think of a horse as superior and more intelligent than a Roman senator. In equivalent modern terms this was a madman with his finger on the nuclear button. Most would agree that such a man is unhinged.
They began to devise all kinds of stratagems by which to remove him as an emperor, for indeed the emperor was naked and devoid of any rationality; he had in effect become a clown but a dangerous one at that, good at staging extravagant reality-shows in the Coliseum, but still parading as the most intelligent man in the land since intelligence and power and money are proportional to each other; so did the amused zombie-like masses thought.
This projected removal from power proved rather difficult since, as elite praetorian guards, they had sworn an oath of fealty to the supreme authority of the Empire and that loyalty had to be absolute and neutral with no political strings attached. Besides there would be predictable repercussions and reactions; a civil war might ensue. Many in the land were ideological fanatics and were harmed to their teeth, after all this was a rather militaristic society used to constant war. They had Caesar's assassination episode and the ensuing civil war in mind. Nevertheless, they concluded that the best method was that of assassination as a form of execution without any democratic preliminary trial or discussion, it is after all the most unequivocal and final: the assassination (or in modern Machiavellian parlance, the liquidation) of the madman, or tyrant if you will, is un-appealable. As we know, from Roman history, this was actually carried out one fateful day as the emperor was walking back to his quarters in a dark tunnel after watching the reality-show presented on that day to the adoring crowds in the Coliseum. The transition to a more sane emperor (Caligula's own uncle Claudius) went quite smoothly. In any case, the war games in the Coliseum continued unabated; which is to day, the madness in a more moderate form continued too.
This is ancient history. Let's now jump to a parallel scenario in modern Western history: the presidential campaign going on as we speak in the US. As previously commented upon, for the last three years or so the Republican party has been steadily grooming a Frankenstein monster who has now grown too big and powerful to be stopped and is proceeding to the destruction of the whole party.
Today's headline is "Civil War in the Republican Party," meaning that there is an acrimonious discussion going on as we speak among the party leaders on whether or not there is still time to remove the threat to the unity of the party and, most importantly, to the chances of their own re-elections to the Senate and the House, should the Democratic party win in a landslide in November, which is a real possibility. The more brave among them have repudiated not only the character and the persona of the republican nominee, but the nomination itself. Under no circumstance they will support his nomination; some have declared that they will vote for Hillary Clinton. The more pusillanimous, usually comprising the majority of opportunistic politicians, want the cake and eat it too, they repudiate the person and his bigotry but accept the nomination of the party. The results of these two differing defensive strategies in November will be intriguing.
Be that as it may, the removal of the Frankenstein monster has proven to be quite a difficult task. It might have been easier three years ago when he was going around with his trumped up birther issue completely made up by his fertile imagination, never mind the truth. His arrogance and bully-like behavior grows by the day. He has now taken to collecting purple hearts from simple-minded naïve adoring followers saying that he had always wanted to have one and it is easier that way; he has repeatedly insulted a golden medal family, implying via his surrogates that the reason their son was killed is the fault of the present "illegitimate" occupier of the White House, never mind that he was not president when Captain Khan was killed on the field of battle, and the list could go on and on. The gaffs and embarrassments also grow by the day, the polls are showing a decline. The party is deeply worried. To go back to the comparison with ancient history: the praetorian guards are worried; they are in a pickle. After all, they helped in the creation of the monster. What to do?
The operative word at present seems to be "unfit." Mr. Trump is unfit to be president. He does not understand what that document called the American constitution is all about, if he ever read it. He has propensities toward bigotry, racism and xenophobia. He has no inkling of what it means to be an American, and so on, and so on. So far the term mentally "unhinged" and psychologically impaired has been studiously avoided. After all, some 30% of the Republican electorate chose him. Are they also "unhinged?" If one watches carefully the documentaries of the Mussolini and Hitler rallies in the 30s, there seemed to be a lot of unhinged people enthusiastically saluting the Duce and the Fuhrer at those rallies. It seemed that the whole nation had gone insane. After the war, most of them declared themselves anti-fascists and anti-Nazis and probably said so to their children and grandchildren. Interesting!
But to go on. The praetorian guards are now frantically asking: how do we proceed with this unstoppable monster? They seem to have come up with a new stratagem. The stratagem is this: let's impeach forwardly the Frankenstein monster and prosecute him by listing all the reasons why he is unfit to be president, without mentioning that he may also be unhinged. After he is found guilty, he will have effectively and legally been removed retroactively, that is to say, removed from the presidency five months ahead of time. The way is now open for the vice-president, Mr. Pence, to step in. After all, we are not barbarians any longer; we don't solve our problems by violent assassinations, they are even against the law, aren't they?; that might have been still ok in the 60s and 70s and the 80s when a president was assassinated and an attempt was made on two others, but now that we have evolved politically we do our removals and liquidations democratically by impeachment, and so we can impeach a president ahead of time as unfit to be president. Voilà, problem solved. Will this clever stratagem work? History will soon give us an answer. Stay tuned.
Hardened US and Iranian positions question efficacy of parties' negotiating tactics
The United States and Iran seem to be hardening their positions in advance of a resumption of negotiations to revive a 2015 international nuclear agreement once Iranian President-elect Ebrahim Raisi takes office in early August.
Concern among supporters of the agreement to curb Iran's nuclear program which former US President Donald J. Trump abandoned in 2018 may be premature but do raise questions about the efficacy of the negotiating tactics of both parties.
These tactics include the Biden administration's framing of the negotiations exclusively in terms of the concerns of the West and its Middle Eastern allies rather than also as they relate to Iranian fears, a failure by both the United States and Iran to acknowledge that lifting sanctions is a complex process that needs to be taken into account in negotiations, and an Iranian refusal to clarify on what terms the Islamic republic may be willing to discuss non-nuclear issues once the nuclear agreement has been revived.
The differences in the negotiations between the United States and Iran are likely to be accentuated if and when the talks resume, particularly concerning the mechanics of lifting sanctions.
"The challenges facing the JCPOA negotiations are a really important example of how a failed experience of sanctions relief, as we had in Iran between the Obama and Trump admins, can cast a shadow over diplomacy for years to come, making it harder to secure US interests," said Iran analyst Esfandyar Batmanghelidj referring to the nuclear accord, the Joint Comprehensive Plan of Action, by its initials.
The Biden administration may be heeding Mr. Batmangheldij's notion that crafting sanctions needs to take into account the fact that lifting them can be as difficult as imposing them as it considers more targeted additional punitive measures against Iran. Those measures would aim to hamper Iran's evolving capabilities for precision strikes using drones and guided missiles by focusing on the providers of parts for those weapon systems, particularly engines and microelectronics.
To be sure, there is no discernable appetite in either Washington or Tehran to adjust negotiation tactics and amend their underlying assumptions. It would constitute a gargantuan, if not impossible challenge given the political environment in both capitals. That was reflected in recent days in Iranian and US statements.
Iranian Spiritual Leader Ayatollah Ali Khamenei suggested that agreement on the revival of the nuclear accord was stumbling over a US demand that it goes beyond the terms of the original accord by linking it to an Iranian willingness to discuss its ballistic missiles program and support for Arab proxies.
In a speech to the cabinet of outgoing President Hassan Rouhani, he asserted that the West "will try to hit us everywhere they can and if they don't hit us in some place, it's because they can't… On paper and in their promises, they say they'll remove sanctions. But they haven't lifted them and won't lift them. They impose conditions…to say in future Iran violated the agreement and there is no agreement" if Iran refuses to discuss regional issues or ballistic missiles.
Iranian officials insist that nothing can be discussed at this stage but a return by both countries to the nuclear accord as is. Officials, distrustful of US intentions, have hinted that an unconditional and verified return to the status quo ante may help open the door to talks on missiles and proxies provided this would involve not only Iranian actions and programs but also those of America's allies.
Mr. Khamenei's remarks seemed to bolster suggestions that once in office Mr. Raisi would seek to turn the table on the Biden administration by insisting on stricter verification and US implementation of its part of a revived agreement.
To achieve this, Iran is expected to demand the lifting of all rather than some sanctions imposed or extended by the Trump administration; verification of the lifting; guarantees that the lifting of sanctions is irreversible, possibly by making any future American withdrawal from the deal contingent on approval by the United Nations Security Council; and iron-clad provisions to ensure that obstacles to Iranian trade are removed, including the country's unfettered access to the international financial system and the country's overseas accounts.
Mr. Khamenei's remarks and Mr. Raisi's anticipated harder line was echoed in warnings by US officials that the ascendancy of the new president would not get Iran a better deal. The officials cautioned further that there could be a point soon at which it would no longer be worth returning to because Iran's nuclear program would have advanced to the point where the limitations imposed by the agreement wouldn't produce the intended minimum one year 'breakout time' to produce enough enriched uranium for a bomb.
"We are committed to diplomacy, but this process cannot go on indefinitely. At some point, the gains achieved by the JCPOA (Joint Comprehensive Plan of Action) cannot be fully recovered by a return to the JCPOA if Iran continues the activities that it's undertaken with regard to its nuclear program…The ball remains in Iran's court, and we will see if they're prepared to make the decisions necessary to come back into compliance," US Secretary Antony Blinken said this week on a visit to Kuwait.
Another US official suggested that the United States and Iran could descend into a tug-of-war on who has the longer breath and who blinks first. It's a war that so far has not produced expected results for the United States and in which Iran has paid a heavy price for standing its ground.
The official said that a breakdown in talks could "look a lot like the dual-track strategy of the past—sanctions pressure, other forms of pressure, and a persistent offer of negotiations. It will be a question of how long it takes the Iranians to come to the idea they will not wait us out."
Wendy Sherman's China visit takes a terrible for the US turn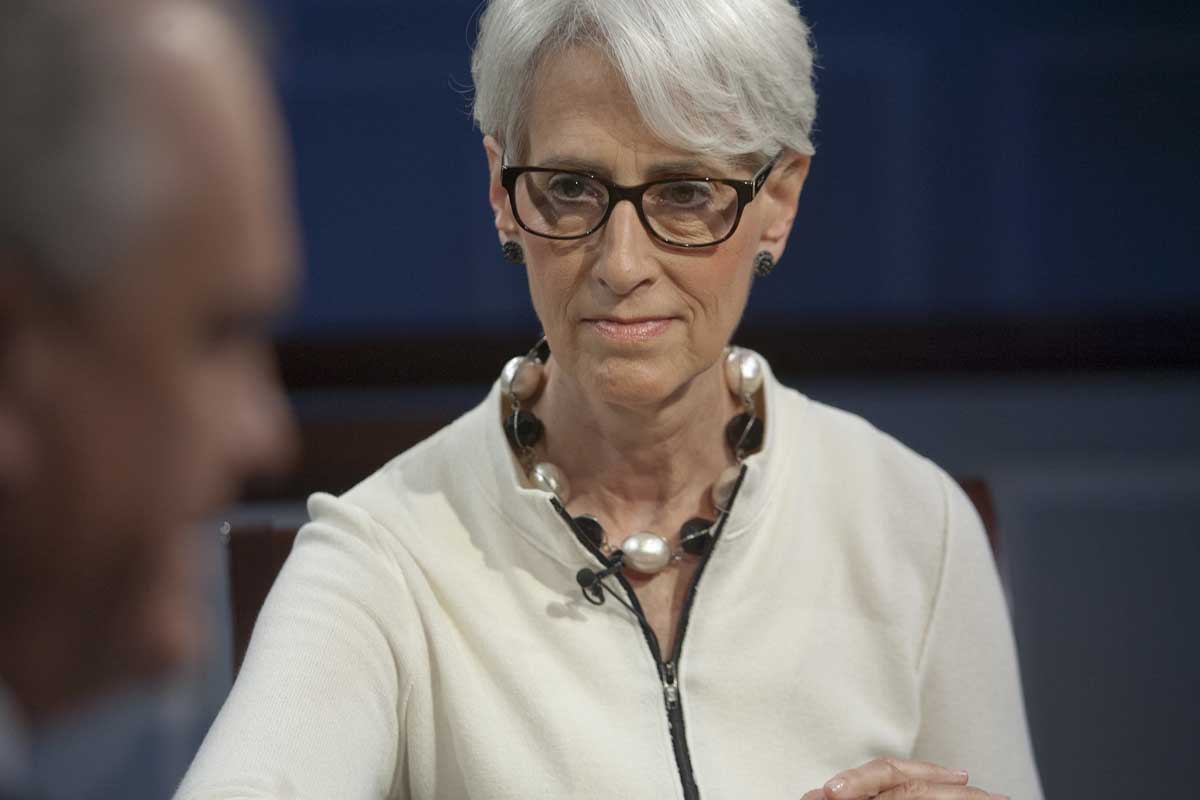 US Deputy Secretary of State, Wendy Sherman, had high hopes for the meeting in China. At first, the Chinese side did not agree to hold the meeting at all. The reaction had obvious reasons: Antony Blinken's fiasco in Alaska left the Chinese disrespected and visibly irritated. This is not why they travelled all the way.
So then the State Department had the idea of sending Wendy Sherman instead. The US government actually needs China more than China needs the US. Sherman was in China to actually prepare the ground for Biden and a meeting between the two presidents, expecting a red carpet roll for Biden as if it's still the 2000s — the time when it didn't matter how the US behaved. Things did not go as expected.
Instead of red carpet talk, Sherman heard Dua Lipa's "I got new rules".
That's right — the Chinese side outlined three bottom lines warning the US to respect its system, development and sovereignty and territorial integrity. In other words, China wants to be left alone.
The bottom lines were not phrased as red lines. This was not a military conflict warning. This was China's message that if any future dialogue was to take place, China needs to be left alone. China accused the US of creating an "imaginary enemy". I have written about it before — the US is looking for a new Cold War but it doesn't know how to start and the problem is that the other side actually holds all the cards.
That's why the US relies on good old militarism with an expansion into the Indo-Pacific, while aligning everyone against China but expecting the red carpet and wanting all else in the financial and economic domains to stay the same. The problem is that the US can no longer sell this because there are no buyers. Europeans also don't want to play along.
The headlines on the meeting in the US press are less flattering than usual. If the US is serious about China policy it has to be prepared to listen to much more of that in the future. And perhaps to, yes, sit down and be humble.
Why Jen Psaki is a well-masked Sean Spicer
When Sarah Huckabee Sanders showed up on the scene as White House Press Secretary, the reaction was that of relief. Finally — someone civil, normal, friendly. Jen Psaki's entry this year was something similar. People were ready for someone well-spoken, well-mannered, even friendly as a much welcome change from the string of liars, brutes or simply disoriented people that the Trump Administration seemed to be lining up the press and communications team with on a rolling basis. After all, if the face of the White House couldn't keep it together for at least five minutes in public, what did that say about the overall state of the White House behind the scenes?
But Psaki's style is not what the American media and public perceive it to be. Her style is almost undetectable to the general American public to the point that it could look friendly and honest to the untrained eye or ear. Diplomatic or international organization circles are perhaps better suited to catch what's behind the general mannerism. Jen Psaki is a well-masked Sean Spicer, but a Sean Spicer nevertheless. I actually think she will do much better than him in Dancing With The Stars. No, in fact, she will be fabulous at Dancing With The Stars once she gets replaced as White House Press Secretary.
So let's take a closer look. I think what remains undetected by the general American media is veiled aggression and can easily pass as friendliness. Psaki recently asked a reporter who was inquiring about the Covid statistics at the White House why the reporter needed that information because Psaki simply didn't have that. Behind the brisk tone was another undertone: the White House can't be questioned, we are off limits. But it is not and that's the point.
Earlier, right at the beginning in January, Psaki initially gave a pass to a member of her team when the Politico stunner reporter story broke out. The reporter was questioning conflict of interest matters, while the White House "stud" was convinced it was because he just didn't chose her, cursing her and threatening her. Psaki sent him on holidays. Nothing to see here folks, move along.
Psaki has a level of aggression that's above average, yet she comes across as one of the most measured and reasonable White House Press Secretaries of the decade. And that's under pressure. But being able to mask that level of deflection is actually not good for the media because the media wants answers. Style shouldn't (excuse the pun) trump answers. And being able to get away smoothly with it doesn't actually serve the public well. Like that time she just walked away like it's not a big deal. It's the style of "as long as I say thank you or excuse me politely anything goes". But it doesn't. And the American public will need answers to some questions very soon. Psaki won't be able to deliver that and it would be a shame to give her a pass just because of style.
I think it's time that we start seeing Psaki as a veiled Sean Spicer. And that Dancing with the Stars show — I hope that will still run despite Covid.