The Transformation of America into a "de facto" Apartheid State
The difference between "de jure" and "de facto" legislation is not one of semantics – if a law is discriminatory on its face, it is called "de jure." However if an enacted law has the effect of being discriminatory, it is called "de facto." Most de jure laws are thankfully illegal in the United States, however de facto discriminatory legislation is rampant throughout this country, with the effects often not seen for years, if not decades, on the populace.
This means that if a President or sitting Legislature passes a bad discriminatory law, the damages usually aren't seen until a long time in the future, long after that leader has left office, usually after he has made millions if not billions in the private sector, using his past laurels as an American politician.
This is the ultimate mark of a true scoundrel – and unfortunately characterizes the vast majority of our political leaders.
The combined effect of this morass of discriminatory laws, regulations and ordinances, coupled with the actual encouragement of police departments to recruit low IQ racist applicants while rejecting higher scoring ones, or the awarding of complete and total immunity for unethical, dishonest, or politically motivated prosecutors and judges who selectively prosecute and punish based on racial/ethnic/political grounds, whether federal or state, ensures a Josef Stalin-style police state more reminiscent of the days of the SS/Gestapo NAZI political dragnet targeting political dissidents and minorities, than what the Founding Fathers probably envisioned. As famed criminal defense lawyer Harvey Silverglate aptly stated, "The average US Citizen now commits at least 3 felonies per day unknowingly." And as Lavrenty Beria, Stalin's Secret Police Chief said, "Show me the man, and I will show you the crime." Adding to this mix are recent admissions by FBI Chief James Comey that racist organizations have been infiltrating police departments for decades. Or that FBI Agents have been lying for decades in order to falsely convict people who may be innocent.
Because of this de facto American-style of segregation, not open and state-sanctioned, it has outlived the openly de jure segregationist state of South Africa which had an official governmental policy of apartheid, and because of its open and explicit state action, made it vulnerable to local and global anti-segregationist forces.
For example, when past Housing and Urban Development Commissioner Andrew Cuomo passed sweeping legislation reducing the credit requirements for people to buy or mortgage a home, this allowed tens of millions of minorities and poor people, who could not afford to buy a home, to buy into a financial albatross trap around their neck, and when the economy started to sputter in mid 2008, the vast majority of those people who couldn't afford a house anyway, began to default, and then a huge avalanche of defaults ensued, causing the housing bubble to burst. Investment banks like Goldman Sachs actually betted against the people, and set up "credit swap derivatives" based solely on the cynical prediction that this housing mortgage bubble crisis would occur, and then they sickeningly made money off of this.
Adding insult to injury, then President Bill Clinton, bowing to pressure from ex-Goldman Sachs big-wigs Robert Rubin, Larry Summers, and Gene Sperling, who were in his Cabinet at the time in "government service," repealed the Glass-Steagall Act in 1999, thus dissolving the wall between private checking/savings accounts of the people, and the wild and crazy gambling antics of the investment banks. This allowed these big banks to place high-stake, high-risk global investments using the American taxpayers' hard-earned money. But of course, even though Bill Clinton dissolved Glass-Steagall in 1999, the American people of course did not feel its after effects until December 2008. And Andrew Cuomo was involved with HUD from 1993 to 2001, a full 7 years before his housing bubble mortgage crisis hit the fan.
Similarly, the Violence Against Womens' Act ("VAWA"), written by then Senator Joe Biden and passed by then President Bill Clinton in 1994 seemed harmless, if not helpful, to battered women at that time, but the Trojan Horse of this very bad legislation allowed corrupt and racist local law enforcement, con-artist women, activist corrupt judges, money and power-hungry feminist womens' groups, and others with a political agenda in the district attorneys office, to use the federal law's ability to summarily suspend anyone's 1st, 2nd, 4th, 5th, 6th, 13th and 14th Amendment Rights whenever a complaint was made that someone engaged in some type of domestic dispute, even if no violence or evidence was found, arrest and charge that person, and then throw them into the abyss of the criminal justice system, where dishonest and unethical prosecutors, or activist judges "on the take" from various special interests and lobbying groups, could selectively prosecute or dismiss the case at their whim, with little to no recourse, or remedy for the accused. This means that after 20 years, marriage is at an all time low, more domestic violence has taken place, more children are growing up without parents, the Child Protective Services have grossly enlarged and are now being accused of being vehicles for child abduction/abuse/sexual trafficking, and other horrific crimes. Furthermore, the very fabric of the American family has been broken down into damaged components, while the "state machinery" operates to keep couples apart, even if they want to reconcile, thus further breaking down families and exposing innocent children to the wolves of providence and predators.
Bill Clinton also passed the newly amended federal Child Support Enforcement Act in 1994 which also summarily tossed good men into jail without a trial or inquest, suspending their drivers and professional licenses, even if they missed a few child support payments due to disability, loss of a job, bankruptcy, personal tragedy, or other unforseen event. The effects of these two above laws re-instituted the Debtors' Prison in America, and many would argue that Slavery was in fact re-instituted as well, in violation of Abraham Lincoln's greatest triumph, the 13th Amendment prohibiting Indentured Servitude and Slavery. Many a con-artist in American society has taken advantage of these two laws with the full force and brute power of the state against that targeted individual. The same story applies to the Violent Crime Control and Law Enforcement Act of 1994, sponsored by U.S. Representative Jack Brooks of Texas, which bill was also originally written by then Senator Joe Biden of Delaware, passed by Congress, and signed into law by then President Bill Clinton. And again, these laws target racial minorities much harder than their white counterparts.
Bill Clinton recently admitted in April 2015, more than 15 years after he left office, that mass incarceration on his watch "put too many people in prison." He went on to further state that poor whites and minorities in America were victimized as a result of America's unparalleled rate of imprisonment due to the horrific laws that he enacted. Ibid. More than 2 million people are still held in captivity in prisons and jails, giving the country 25% of the world's prison numbers despite having only 5% of its overall population. Id. Bill Clinton's drug enforcement laws of 1994 created a crime bill that laid down several of the foundations of the country's current mass incarceration trends vowing to be "tough on crime" with his "triangulation" policy of creating incentives to individual states to build more prisons, put more people behind bars and to keep them there for longer, introducing a federal three-strikes law that brought in long sentences for habitual offenders, creating "truth in sentencing" states which sentenced people to long terms in prison with no chance of parole being rewarded with increased federal funds, and the Clinton COPS program, ie, the "Community Oriented Policing Services," where federal money was provided to states to allow them vastly to increase the number of police officers on the streets and consequently resulting in more arrests and convictions of poor whites and minorities. Id.
In terms of real estate, buying homes and leases of property, the real estate market is notorious for working with local, city, state and federal "urban planners" to literally, under the color of law and authority, "zone entire areas" to create the de facto result of segregating whites and other minorities from living, working, or going to school together.
According to the seminal study "Spatial Segregation and Neighborhoods" by Carl Nightingale, "during the 1890s, the word segregation became the preferred term for the practice of coercing different groups of people, especially those designated by race, to live in separate and unequal urban residential neighborhoods. In the southern states of the United States, segregationists imported the word originally used in the British colonies of Asia—to describe Jim Crow laws, and, in 1910, whites in Baltimore passed a "segregation ordinance" mandating separate black and white urban neighborhoods. Copy-cat legislation sprang up in cities across the South and the Midwest. But in 1917, a multiracial team of lawyers from the fledgling National Association for the Advancement of Colored People (NAACP) mounted a successful legal challenge to these ordinances in the U.S. Supreme Court—even as urban segregation laws were adopted in other places in the world, most notably in South Africa. The collapse of the movement for legislated racial segregation in the United States occurred just as African Americans began migrating in large numbers into cities in all regions of the United States, resulting in waves of anti-black mob violence. Segregationists were forced to rely on non-statutory or formally nonracial techniques. In Chicago, an alliance of urban reformers and real estate professionals invented alternatives to explicitly racist segregation laws. The practices they promoted nationwide created one of the most successful forms of urban racial segregation in world history, rivaling and finally outliving South African apartheid. Understanding how this system came into being and how it persists today requires understanding both how the Chicago segregationists were connected to counterparts elsewhere in the world and how they adapted practices of city-splitting to suit the peculiarities of racial politics in the United States."
These neo-segregationists escaped allegations of housing discrimination due to the relative lack of interest and enforcement of civil rights laws by the local, state, and federal government. Some claim that organizations like the NYS Division of Human Rights often do nothing more than provide an illusion of enforcement, while simply notifying or tipping off the offender so that they can cover themselves, and then retaliate against the complainer. In 2008 by a bipartisan federal commission on housing equity found that in the United States only about twenty thousand out of an estimated four million acts of housing discrimination receive any official attention in any given year.
As was described above, when in 1999 Bill Clinton repealed the Glass-Steagall Act dissolving the wall between investment banks and the peoples' hard-earned money, three de facto racially discriminatory and apartheid-causing results occurred: predatory "subprime" loans to poor minorities; mortgage-backed securities consisting of predatory loans bundled with other loans and re-sliced into highly lucrative "tranches," and "credit default swaps" meant to insure the mortgage-backed securities.
These three apartheid-spawning spiderwebs trapped huge numbers of minorities and poor people into bad mortgages using grossly fraudulent practices with guaranteed defaults.
Furthermore according to Nightingale, black people were more than 2-3 times as likely as white people of the same income to be steered into subprime loans even though 2/3 were eligible for standard mortgages that on average cost $100,000 less over the life of the loan. The resulting racial disparities in housing foreclosures widened the large inequalities in wealth on either side of the American color line. Ibid. Furthermore, according to Nightingale, "in 2008, as the American mortgage bubble burst, bringing on a global recession, U.S. whites possessed a staggering ten times more wealth on average than blacks of equal income, largely because of segregation in the American housing market. Four years later, as Obama finished his first term, the black-white wealth gap had doubled to twenty to one." Id.
Reflecting on the above, it is no stretch of the imagination to conclude that the United States of America, through the de facto manipulation of its laws, especially in the last 20 years, in the laboratory-like settings of the family, criminal, and civil courts, both federal and local, as well as in its House of Representatives and Senate, and capped off by the Executive Branch, has devolved into a fully functional Apartheid State. Not on its surface, but in its practice. And this is the essential difference between a de jure apartheid state, and a de facto one.
And as Johann Wolfgang von Goethe so eloquently stated, "None are more hopelessly enslaved, than those who falsely believe they are free."
Scandinavia Veers Left plus D-Day Reflections as Trump Storms Europe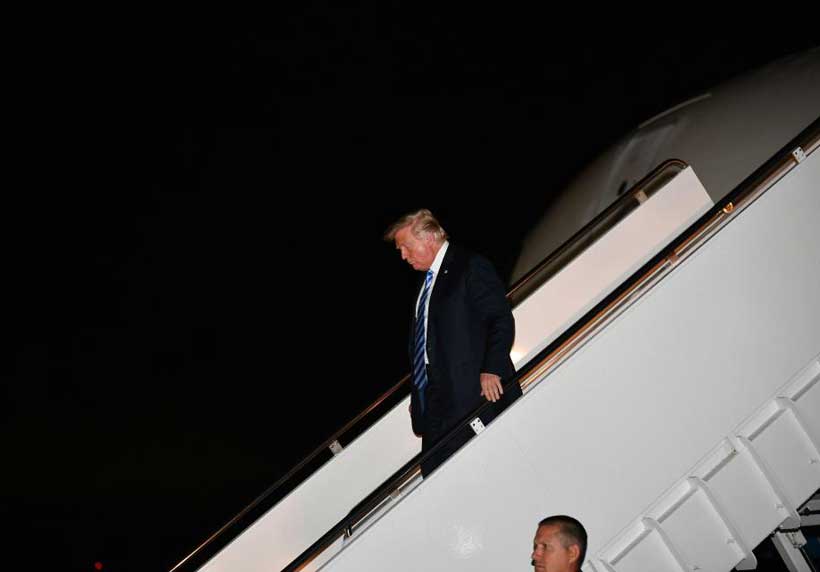 Mette Frederiksen of the five-party Social Democrat bloc won 91 of the 169 seats in the Danish parliament ending the rule of the right-wing Liberal Party group that had governed for 14 of the last 18 years. The election issues centered on climate change, immigration and Denmark's generous social welfare policies. All parties favored tighter immigration rules thereby taking away the central issue dominating the far-right Democrat Freedom Party which has seen its support halved since the last election in 2015.
Ms Frederiksen promised more spending to bolster the much loved social welfare model and increased taxes on businesses and the wealthy. A left wave is sweeping Scandinavia as Denmark becomes the third country, after Sweden and Finland, to move left within a year. Mette Frederiksen will also be, at 41, the youngest prime minister Denmark has ever had.
Donald Trump has used the 75th anniversary of D-Day commemorations to garner positive publicity. The supreme promoter has managed to tie it in with a "classy" (his oft-chosen word) state visit to the UK spending a day with royals. It was also a farewell to the prime minister as her resignation is effective from June 7. Add a D-Day remembrance ceremony at Portsmouth and he was off to his golf course in Ireland for a couple of days of relaxation disguised as a visit to the country for talks — he has little in common with the prime minister, Leo Varadkar, who is half-Indian and gay.
Onward to France where leaders gathered for ceremonies at several places. It is easy to forget the extent of that carnage: over 20,000 French civilians were killed in Normandy alone mostly from aerial bombing and artillery fire. The Normandy American cemetery holds over 9600 soldiers. All in all, France lost in the neighborhood of 390,000 civilian dead during the whole war. Estimates of total deaths across the world range from 70 to 85 million or about 3 percent of the then global population (estimated at 2.3 billion).
Much has been written about conflict resolutions generally from a cold rational perspective. Emotions like greed, fear and a sense of injustice when unresolved lead only in one direction. There was a time when individual disputes were given the ultimate resolution through single combat. Now legal rights and courts are available — not always perfect, not always fair, but neither are humans.
It does not take a genius to extrapolate such legal measures to nations and international courts … which already exist. Just one problem: the mighty simply ignore them. So we wait, and we honor the dead of wars that in retrospect appear idiotic and insane. Worse is the attempt to justify such insanity through times like the "good war", a monstrous absurdity.
It usually takes a while. Then we get leaders who have never seen the horror of war — some have assiduously avoided it — and the cycle starts again.
To Impeach Or Not To Impeach? That Is The Question
Robert Mueller let loose a thunderbolt midweek. Donald Trump had not been charged, he said, because it was Department of Justice policy not to charge a sitting president. Dumping the issue firmly into Speaker Nancy Pelosi's lap, he reminded us of the purpose of the impeachment process. According to Mueller there are ten instances where there are serious issues with the president obstructing justice adding that his report never concludes that Trump is innocent.
So here is a simple question: If Mueller thought the president is not innocent but he did not charge him because of Justice Department policy, and he appears also to favor impeachment, then why in heaven's name did he not simply state in his report that the preponderance of evidence indicated Trump was guilty?
Nancy Pelosi is wary of impeachment. According to the rules, the House initiates it and when/if it finds sufficient grounds, it forwards the case to the Senate for a formal trial. The Senate at present is controlled by Republicans, who have been saying it's time to move on, often adding that after two years of investigation and a 448-page report, what is the point of re-litigating the issue? They have a point and again it leads to the question: if Special Counsel Mueller thinks Trump is guilty as he now implies, why did he not actually say so?
Never one to miss any opportunity , Trump labels Mueller, highly conflicted, and blasts impeachment as 'a dirty, filthy, disgusting word', He has also stopped Don McGahn, a special counsel at the White House from testifying before Congress invoking 'executive privilege' — a doctrine designed to keep private the president's consultations with his advisors. While not cited anywhere in the Constitution, the Supreme Court has held it to be 'fundamental to the operation of government and inextricably rooted in the Separation of Powers under the Constitution.' Separation of powers keeps apart the executive branch, the legislature and the judiciary, meaning each one cannot interfere with the other.
Nancy Pelosi is under increasing pressure from the young firebrands. Rep Alexandra Ocasio-Cortez has already expressed the view that it is time to open an impeachment inquiry against Trump given the obstruction of lawmakers' oversight duty.
Speaker Pelosi is a long-time politician with political blood running through her veins — her father was Mayor of Baltimore and like herself also a US Representative. To her the situation as is, is quite appealing. Trump's behavior fires up Democrats across the country and they respond by emptying their pockets to defeat the Republicans in 2020. Democratic coffers benefit so why harm this golden goose — a bogeyman they have an excellent chance of defeating — also evident from the numbers lining up to contest the Democratic presidential primaries, currently at 24.
Will Trump be impeached? Time will tell but at present it sure doesn't look likely.
When Republicans Are In Power, Banks, Real Estate, and Insurance Companies Crush The People
There is certainly a correlation by and between when conservatives and Republicans talk about "de-regulation" and "freedom" of business, in the outright and total crushing of the American people underneath a boot of immorality.
For example, insurance companies will start to increase the use dishonest and unethical "adjustors" to set out to deny lawful proper claims for insurance, such as when someone has fully paid their expensive premiums, but then is cruelly and out of hand denied much needed assistance from these insurance companies for various health problems, automobile accidents, home and renters policy mishaps, professional liability defense, general business liability assistance, property damage, and other types of accidents and mishaps that these insurance companies state that they were designed to protect their customers with.
These insurance companies know fully well that the poor and middle class do not have the ability to hire and retain competent high powered lawyers to defend their interests, either by entangling with them or in dealing with the entities that are coming after them in the above named types of life problems.
The Democrats had created and implemented such consumer watchdog agencies such as the Consumer Financial Protection Bureau ("CFPB") and the New York Department of Financial Services ("DFS") and these agencies were very successful in prosecuting, investigating, and beating back insurance company and banker predatory behavior, but then the lobbying groups for these industries began to buy and pay for Republican whores and populated the Congress and Senate with their "people," and low and behold, we got an avalanche of "deregulation" from the Executive and Legislative Branches, gutted agencies and replacement of its leaders, all of a sudden leaving the American people at the will and hellish end of the retaliatory insurance and banking industries, and now things are worse than they ever were before.
Similarly, as the Insurance industry benefited from screwing over the American people, the Banking industry simultaneously have begun again to rape the American people, by instituting usurious collections and interest rates, sometimes as high as 50-60%, on such things as student loans in default through no fault of the borrower (due to sickness, injury, loss of employment, bankruptcy) and credit card companies now routinely rape and pillage the American people with ungodly APRs and other "bait and switch" mechanisms designed to fleece their customers, enriching themselves while impoverishing their customers.
All the while these banks and insurance companies are charging more than ever for premiums, simple day to day processes such as ATM machine usage, finance charges, late fees, and other highway robbery-type methods to steal from the American people.
The real estate industry, headed up by men such as Ben Carson of HUD, have now mercilessly began to crush tenants and mortgage holders, denying them basic warranties of safety and habitability, skirting all state and federal regulation so as to make a buck.
"Freedom" as used by Republican and conservative leaders was supposed to mean something different than giving trillion dollar international banks, real estate, and insurance companies the license to rape and pillage the American people, but "deregulation" is the proverbial "wolf in sheep's clothing" or "trojan horse" by these communist industries to devastate the American people, and they must be reigned in once again by the Democrat led powers in the Congress and the Senate, and perhaps even the Judiciary (state and federal).