Pope Francis declares Capitalism as terrorism against humanity
Almost every nation today pursues capitalism and funds the spread of imperialism globally, seeking to help the US led NATO forces invade and occupy as many nations as possible with abundant energy resources. America's choice of Arab nation has been deliberate and awfully focused. Since the terror wars have been to pump oil to USA, like from Libya and Iraq, USA has decided to make the terror wars a permanent feature of US foreign policy.
USA introduced economic terrorism as sanctions on those who refuse to support US capitalism and its imperialist wars.
Pope Francis has on several occasions been critical of capitalist exploitative mechanisms and defended the poor, deprived and vulnerable sections of humanity. He calls capitalism the "god of money" and at times ridicules those who promote wars and capitalism.
Pope Francis argues that modern economy's worship of 'god of money' leads to disenfranchisement and extremism. It is indeed marvelous that Pope Francis has now clear views about who the real terrorists are and how to defeat them. Earlier popes had condemned Islamic terrorism, like the anti-Islamic leaders do.
Pope Francis surprised everyone on a flight from Krakow to the Vatican late July 31 when he blamed the "god of money" for extremist violence in Europe and the Middle East, saying that a ruthless global economy leads disenfranchised people to violence. "Terrorism grows when there is no other option, and as long as the world economy has at its center the god of money and not the person," the pope told reporters. "This is fundamental terrorism, against all humanity," he remarked with clear insight.
The pope was responding to a journalist's question about whether there is a link between Islam and terrorism, particularly focusing on the fatal attack on a priest by Muslim extremists in France last week. "I ask myself how many young people that we Europeans have left devoid of ideals, who do not have work. Then they turn to drugs and alcohol or enlist in [the Islamic State, or ISIS]," he said.
The pope said that no religion has a monopoly on violence: His own experience in interreligious dialogue had shown him that Muslims seek "peace and encounter," he said. "It is not right and it is not just to say that Islam is terroristic." And he said no religion had a monopoly on violent members. "If I speak of Islamic violence, I should speak of Catholic violence. Not all Muslims are violent, not all Catholics are violent," Pope Francis said, dismissing Islamic State as a "small fundamentalist group" not representative of Islam as a whole.
In fact, all terrorist factions are the creation of America and CIA. It was USA that created Al-Qaeda and Taliban to defeat Soviet military occupied Afghanistan. Pope said terrorists are everywhere, in every religion. "In almost all religions there is always a small group of fundamentalists," even in the Catholic Church, the pope said, though not necessarily physically violent. "One can kill with the tongue as well as the knife."
The remarks followed similar comments made last Wednesday, when Pope Francis argued that the current Middle East conflicts are wars over economic and political interests—not religion or so-called "Islamic terrorism." "There is war for money," he said on Wednesday. "There is war for natural resources. There is war for the domination of peoples. Some might think I am speaking of religious war. No. All religions want peace; it is other people who want war."
That the terror wars in Mideast are being fought not only to demonstrate military prowess, but also for oil and transport routes. Wars have killed millions of Muslims as per the Neocons' plan of slashing Islamic population in wars and generating Islamophobia to keep the remaining Muslims on the runs.
When Pope Francis made a comment about terrorism and Islam it was bound to get attention. However, the sentiments expressed by the man who has been described as the "world's most popular leader", was not welcomed by all. While general public welcomed the Pope's genuine sentiments, all anti-Islamic, capitalist and imperialist minds criticized the Pope's open heart comments.
Speaking onboard the papal plane as he returned to Rome from Poland, the Pope told reporters why he doesn't uses the word "Islam" when discussing terrorism. "It's not right to identify Islam with violence. It's not right and it's not true," he said. "I believe that in every religion there is always a little fundamentalist group." And referring to organised crime in Italy, he added: "These are baptized Catholics. If I speak of Islamic violence, then I have to speak of Catholic violence as well."
All these years, aided by global media spreading Islamophobia, every anti-Islamic source rejoiced criticism of Islam and targeting Muslims, but now this true validation of capitalism being the cause of terrorism is not good news for them.
This for the first time an important world leader has tried to expose the hidden agenda of capitalist nations under the NATO terror syndicate.
Hopefully, US president Obama and his western political allies endorse the views of Pope and wind down all terror wars for promoting capitalism.
Pope Francis's understanding of essence of capitalism would go a long way in making the common masses know the whole truth about terrorism that began with the Sept-11 hoax, carefully executed to invade Afghanistan and Iraq, on the one hand and, promote NATO terror syndicate, on the other, against the will of Russia. .
Had terror war been the response to the so-called Osama war on USA, it would have ended long ago. But USA also talks about Islamic fundamentalism in order to target all Muslims and possible try for a holocaust- beyond genocides.
Pope Francis has clearly come out of western illusionary understanding of Islam and gone deep into the real cause of terrorism.
How to build your entrepreneurial mindset today
An entrepreneurial mindset is a way of life. Even if you aren't starting your own business, an entrepreneurial mindset teaches you that no problem is insurmountable: you can overcome challenges through perseverance and resilience.
Here are five things you can remember to build an entrepreneurial mindset today. If you're aged between 18-30, why not start by applying to be a Young Champion of the Earth in 2019? Stay tuned—the competition is opening soon!
Transform problems into opportunities
There are so many clues in everyday life. Is there anything that you experience daily that frustrates you? Perhaps it is the prominence of unsustainable materials in your local shop and restaurants, such as plastic straws or unnecessary food packaging? Often, alternatives to problems do exist, but no one has thought of connecting them in specific circumstances. A good example is supplying restaurants and bars with paper straws. Entrepreneurial mindsets apply a lens which identifies problems not as negative issues but as opportunities to be solved, towards creating value in our economy.
Dare to dream and believe in yourself
If you can dream it and believe it, you are halfway there. How big you can dream is a component of your potential for success. Everyone has ideas—but daring to dream big, and then believing in yourself to apply an entrepreneurial mindset and bring them to reality, takes effort. This year, why not push yourself to think creatively? You could come up with a problem once a week, and each week, come up with one matching solution, for example. The key is to think outside the box, to think of a problem as a potential solution.
Know yourself and discover what you are passionate about
Solving problems, especially those associated with the environment, can be daunting. You will constantly be faced with challenges in your journey to change the world. Some environmental challenges feel so large—like those brought about by climate change. But helping to break down large issues into smaller ones which everyone can take steps to solve, is part of the entrepreneurial journey. Remember that you are capable. Find problems that you are passionate about solving and connect with others passionate about solving them too. This will help you through the tough times to stay motivated.
Go for it and don't take no for an answer
We all have the foundations of an entrepreneurial mindset. We can all identify problems and think up ideas about how to solve them. Being an entrepreneur pushes you to go out there and take actions to achieve them. Often, this process forces you to think through a specific problem in more detail. It helps you to truly understand pathways towards a solution which others might not have thought about. An idea does not have application in the real world if it is not hammered out in real situations. Part of being an entrepreneur requires following this process, identifying real experiences which can be made better or more efficient, and talking with other people who experience similar challenges to find solutions. Using the resources you have at your disposal will force you to be creative. Keep improving your solution. As you go on, you will eventually gain traction and interest. From there, the possibilities are endless.
Learn, embrace uncertainty and accept failure
Eric Ries from the lean startup says that entrepreneurship is "management under conditions of extreme uncertainty". Forging your own path to solve a problem that no one has solved before is scary—things change constantly. There will be many obstacles and there will be failure. But an entrepreneurial mindset teaches you that failures are opportunities to learn in disguise. An entrepreneurial mindset embraces uncertainty and learning, to leverage the opportunities that emerge from the space between them.
Iran's oil market facing the new sanctions era: What to expect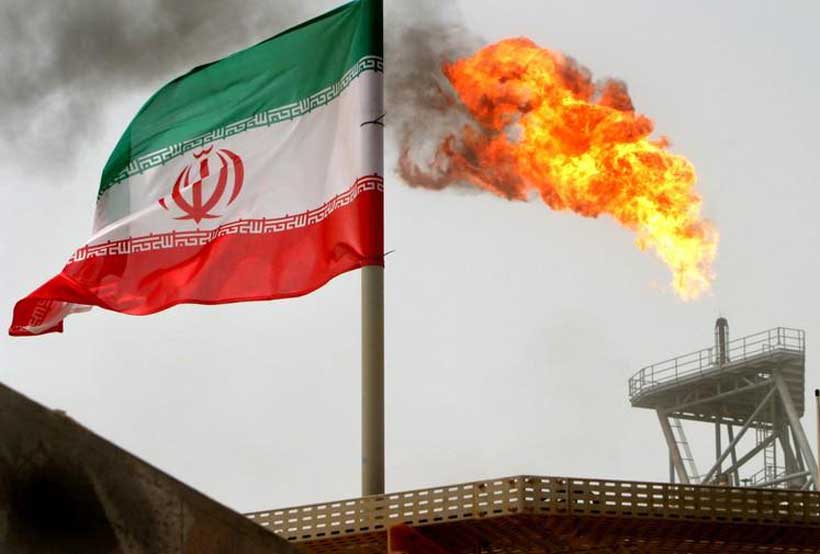 After an expected hiatus in Iran's oil exports to some of the country's main customers following the reimposition of the US sanctions, once again the country's old buyers are coming back to take advantage of the 180-day window which has been presented by the waivers granted in November.
Although it took some of these buyers more than a month to make necessary arrangements or to contemplate on the matter, it seems that finally the convenience of buying oil from Iran has outweighed the skepticism overshadowing Iranian oil industry.
With the customers coming back everything was seemed to be, once again, in favor of Iran's oil industry, however the US government's disappointing comments last weekend could change all the equations for Iran's oil market in the months to come.
"The United States is not looking to grant more waivers for Iranian oil imports after the reimposition of US sanctions." Brian Hook, the US special representative for Iran, told an industry conference in the United Arab Emirates capital Abu Dhabi.
Considering this new stand, the immediate question which comes to mind is what would become Iran's oil market after the 180-day period is over? To answer this question two main aspects should be taken into account, one is the consideration of Iran's ability to bypass the sanctions and the second is the possibility of Iranian oil customers being pushed away in the wake of difficulties resulted from the sanctions.
Iran's capabilities
Even though at first the markets were almost certain about the severe impact of Trump's plans on Iranian oil industry, but the surprising decision on granting eight countries waivers to continue buying Iranian oil significantly mitigated the harsh outlook.
Now, nearly three months after the reimpostion of the US sanctions on Iran, the market has witnessed that the Iranian oil exports are not plunged as much as expected.
Although due to the confidentiality of Iran's crude oil sales data, especially in the sanctions era, there is not an exact report for the level of the country's oil exports in recent months, however based on the estimations presented by institutes which track Iranian oil vessels, the country's oil exports stood at near 1.1 to 1.3 million barrels per day in November and December.
Furthermore, considering the exempted countries which are going to resume their oil purchasers from January, and the new approaches which Iran is taking to sell its oil like offering oil at energy exchanges or finding new customers, the country can definitely maintain an even higher level of exports in the months to come.
According to a FGE report, Iran will ship 1.08 million barrels per day in January and exports 1.115 million barrels per day in February.
We should not also forget Iran's experience in bypassing sanctions to sale its oil. As I mentioned before, Iran has acquired certain ways to bypass sanctions and sell its oil even during the sanctions.
Iranian oil buyers
Nearly two months after the US granted eight countries waivers to continue purchasing oil from Iran, recently some of the Asian buyers have signaled willingness for resuming oil imports from the country.
China, India and South Korea have placed orders for loadings in January or February and Japanese refineries have also expressed hope to resume shipping in Iranian oil as from late January provided that some final clearance and paperwork were made.
As reported by S&P Global, the presidents of Japan's JXTG Holdings and Cosmo Oil stated that they aim to load Iranian barrels at the end of January upon making some final clearances.
"Cosmo Oil aims to load around 1.8 million barrels of Iranian crude at the end of this month" the report read.
Last week, head of South Korea's SK Innovation, which owns South Korea's biggest oil refiner SK Energy also told Reuters that South Korean oil buyers are expected to restart Iranian oil imports in late January or early February.
India's Ministry of External Affairs has also stated recently that the Asian country will continue importing Iranian oil. According to data provided by FACTS Global Energy Group (FGE), four Indian refineries namely, Indian Oil, Bharat Petroleum, HMEL and HPCL have placed orders for 321,000 barrels of Iranian oil in February.
Regarding Greece, Italy, and Taiwan which were exempted from the US sanctions, no news has been officially out since November.
Even though Europe opposed Trump's actions, and have reassured Iran's government that they want the nuclear deal to continue, refiners in the green continent have had little choice but to comply with sanctions. The US can cut off access to their financial system for any company judged to be doing business with Iran.
The customer preferences
With all that said, there are still other considerations which should be taken into account to have a rather clear view of what to expect for the future of Iranian oil.
The fact that it took near two months for some of the Asian buyers of Iranian oil to make necessary arrangements to come back to Iran's market, is an indication of the hardships that the customers of Iranian oil will be facing in trade with Iran.
The heavy bureaucratic process which the exempted countries have to go through in order to buy Iranian oil, could push some of the more cautious customers like Japan and even South Korea away from Iran.
Most Asian customers of Iranian oil are very sensitive and conservative in their relations with the United States, and this is likely to be a barrier in the way of their energy relations with Iran.
Japan is a clear example of this situation; despite being granted sanction waiver the Japanese refineries have conditioned the resumption of their purchases upon "making some final clearances".
Regarding Iranian oil buyers' future decisions, yet another fact that should be taken into account is the reality that with Saudi Arabia, Russia and US producing almost at their peak, and with prices hovering near $60 there is currently a lot of cheap oil in the market.
In such a market, it is natural that some of the Iranian oil customers prefer to purchase their oil from other oil suppliers instead of exposing themselves to the consequences of breaching the US sanctions.
So in the end, it all comes to the incentives which Iranian government is willing to provide to make its oil attractive enough to worth the risk.
It seems that the country has taken some steps in this regard, since earlier this month, the Iranian Deputy Oil Minister for International Affairs and Trading Amir-Hossein Zamaninia said despite the US. sanctions more oil buyers have approached the country for negotiations.
"Despite US pressures on Iranian oil market, the number of potential buyers of Iranian oil has significantly increased due to a competitive market, greed and pursuit of more profit." Zamaninia said.
Mentioning "pursuit of more profit" indicates that Iran is probably going to provide its customers with remarkable discounts or provide them with long-term payment plans which considering the current situation in the market seems to be the best decision at the moment.
First published in our partner MNA
Iran: Currency reconversion not a turning point in economic reformation
One of Iran's main economic policies, under the framework of the sixth five-year development plan, is modification of banking system and reformation of monetary policies, moving forward toward which the Rouhani administration put forward the plan to shift the national currency from Rial to Toman earlier in December 2016 by eliminating specific number of zeroes.
However, the administration decided to postpone implementation of currency reconversion policy in 2016 due to some reasons including the expressed concerns about the time unfitting economic conditions which would ignite inflation and economic instability.
The policy basically seeks to facilitate monetary transactions among the Iranians and match the currency being transcribed in official documents and banking bills (rial) with the one utilized in real daily lives of Iranians (toman). Rial has practically been replaced by Toman in daily transactions as the result of the cumulative inflation over the recent years.
On Saturday, the Central Bank of Iran (CBI) submitted the bill on lopping off four zeroes of the national currency to the cabinet, the act which drew public attention to the issue again, forming a chorus of criticism and speculations.
Through its proposed bill, the CBI seems primarily able to re-empower the depreciated national currency, tangibly decrease the ever-increasing liquidity volume, and make a nominal reduction in prices of goods and services in the country.
The most remarkable achievements of implementing the bill, however, would be a psychological one among the society.  Shifting from rial, the free market exchange rate of which is presently about 110,000 against the U.S. dollar, by cutting four zeroes to toman may cover the psychological aspects of the inflationary impacts of rial devaluation, which has unprecedentedly increased prices in Iran. It is said to be able to recover national currency's value against U.S. dollar to some extent and cool down the inflated prices, as well.
Omitting zeroes from the national currency would surely facilitate calculations and money transfers in daily transactions and would seemingly retaliate for the sharp recent rial devaluation but it should not be expected to improve Iranians purchasing power at all.
It would not have any specific impact on economic indices, inflation, investments, job creation or demand and supply, either.
As a matter of fact, economic stability and single-digit inflation rate are the most significant prerequisites of implementing currency reconversion while Iran is experiencing none of the named factors.
Currency reconversion per se would have an inflationary effect. To curb its inflationary impact, it must be done simultaneous with taking contractionary measures and modifications in monetary policies.
In addition, printing new banknotes and injecting them to the market would impose an amount of costs on the shoulder of the central bank.
Addressing the issue in an interview with the Tehran Times, the Iranian economist and President of Iran World Trade Center Mohammad Reza Sabzalipour said that "the government aims to hit several targets with one shot."
"It seeks to control money and liquidity volume in the society i.e. cutting four zeroes would change the present 17 quadrillion rials (about $404 billion) of liquidity down to 1.7 trillion rials (about $40.4 million) overnight," he explained, "but the zeroes will incrementally come back and liquidity will be increased over time, in case CBI continues printing fiat money."
"The act would appease the public opinion just for a short time when they see the price numbers of the goods and services are decreased but after a while when their income also comes with lower zeroes, they will find out that what has happened has not improved their commonwealth," he added.
"There is no reason for us to consider a national currency with less zeroes a more valuable one," Sabzalipour said, "having a strong economy is not necessary related to having a national currency with low number of zeroes but to positive trade balance and high quality of the nation's livelihood."
"The decided monetary reconversion is mere a political and a psychological move," he underscored.
What the government is getting prepared to do should not be expected as a revolutionary step in Iran's economic and banking reformations, that would bring the nation a better livelihood and a more prosperous economy.
It is a postponed measure that has not been implemented in previous years due to lack of proper economic conditions and it is being done under the circumstances that the country is experiencing the toughest economic conditions in its history thanks to the U.S.-led draconian sanctions and when a rampant inflation rate is expected for the upcoming Iranian year.
The costly currency reconversion would, for sure, facilitate money transfer and calculations in daily transactions and also reduce the volume of exchanged paper money and etc., but its effect would be neutralized and the omitted zeroes would snap back one after the other in the long-run, in case of monetary mismanagement or any other unpredicted international, political or economic event which would threaten the economy.
First published in our partner Tehran Times