Gong or Song from China's Hong Kong?
Following the recent abduction of five Hong Kong publishers, alleged to have edited books disclosing "inconvenient truths" about the Chinese government, thousands of people took to the streets of Hong Kong to protest and fight for their right to have Freedom of Expression, which had already been enshrined in the Fundamental Law of Hong Kong.
The post 80 generation wants to defend civil liberties and young people are concerned by the fact that the Chinese grip on the media could be the potential starting point for the end of the "1 country, 2 system" policy, agreed on between China and Great Britain for the transfer of sovereignty over this territory. Is it reasonable to believe that this territory could become a simple reproduction of China, as feared by the younger generation?
On the first of July, 1997, China resumed control of Hong Kong after 156 years of British colonial rule. The two countries had already agreed on the terms for the transfer of power back in 1984. Britain acquired Hong Kong Island in 1842, following the" Opium Wars" of the 19th century. It took possession of Kowloon Peninsula in 1886 and obtained a lease on The New Territories for a period of 99 years beginning in 1898. Lawmakers, appointed by Beijing, took over power in 1997, but promised to honor China's pledge to maintain the Hong Kong way of life for at least another fifty years.
However, today idealism is being replaced very quickly by pragmatism in Hong Kong where official statistics show that this special administrative region is becoming more and more politically and economically dependent on China. The Closer Economic Partnership Agreement (CEPA) set up in 2003 aims at facilitating commercial exchanges between the partners, thus forcing Hong Kong to become more politically integrated into China. Beijing has managed to achieve its goal, because the volume of trade between Hong Kong and mainland China has multiplied by three over the last ten years. In addition, in order to influence the elite of Hong Kong, China has invested extensively there, particularly in finance and real estate. Kai Dai of the United Front of the University of San Yat, of Canton stated that "the CEPA could enable China to use its economy as an axe to reinforce political communication on the two sides and to reconquer the population of Hong Kong". Beijing relies on Hong Kong's economic dependence on China to tighten its control over the territory, indicating that the "one country, two systems" principle is more theoretical than real.
Back in 2012, in his luminary and farsighted policy paper 'What China Wants for Asia?' professor Anis H. Bajrektarevic accurately diagnoses: "To sustain itself as a single socio-political and formidably performing economic entity, the People's Republic requires more energy and less external dependency. Domestically, the demographic-migratory pressures are huge, regional demands are high, and expectations are brewing… In effect, the forthcoming Chinese military buildup will only strengthen the existing, and open up new, bilateral security deals of neighboring countries, primarily with the US – as nowadays in Asia, no one wants to be a passive downloader. Ultimately, it may create a politico-military isolation (and financial burden) for China that would consequently justify and (politically and financially) cheapen the bolder reinforced American military presence in the Asia-Pacific, especially in the South and the East China Sea. It perfectly adds up to the intensified demonization of China in parts of influential Western media."
When speaking with some of residents of Hong Kong during our recent visit there, we realized that many had adopted a fatalistic attitude towards their situation because of their economic dependence on China and their fear of the political powers of Beijing. People feel that China has reneged on its promises and freedom of expression is becoming severely jeopardized. The principle of the two systems framework, regards Beijing as being responsible for the city's defense and foreign affairs while Hong Kong should be able to enjoy limited self-governance and avail of civil liberties, including an independent judiciary and freedom of the press. China promised that Hong Kong could elect its leaders through universal suffrage, but this is far from reality today when China is slowly but systematically tightening its grip over the territory. The people's hope for a change in the political system, which would allow democratic elections and civil liberties, is quickly vanishing. Ben, a very pragmatic businessman whom we met, acknowledges that Hong Kong does not have the economic capacity to count without China, but China is not willing to make any concessions. Hong Kong is in a deadlock situation and seems to be doomed under the influence of China. According to Ling, a young activist of the Umbrella Movement, "the Hong Kong population will only protest in the case of a mass violation of the freedom of expression".
Shortly after the transfer of power from Great Britain to Beijing, the post 80 generation could foresee that freedom of expression was going to be threatened. According to Mai Hai, a woman in her fifties, who is politically involved and very concerned about the lack of civil liberties in Hong Kong, "1997 was the beginning of a head-on confrontation with the CCP" and resistance to the government of Beijing has strengthened in Hong Kong. In 2005 Citizen Radio was launched in order to "bravely speak out" and defend the freedom of expression. However, the authorities of Hong Kong, under the command of Beijing, began acts of repression against the radio station. Szeto Wah, and seven of his colleagues were prosecuted for having dared to speak about the Tianamen Square protests on his radio program.
Over recent years the situation regarding universal rights has not improved in Hong Kong. In 2014, the journalist, King Lau, was prosecuted for having sharply criticized Beijing. This created public indignation and outraged the newly politicized generation who began protests in Hong Kong to defend the freedom of the press and demand "true universal suffrage". The Umbrella Revolution, a pro-democratic movement, began in 2014 when students boycotted class in order to protest outside city government headquarters in favor of the restoration of civil liberties. More and more Hong Kongers of all ages and backgrounds joined in these peaceful street protests, eventually paralyzing the city's central business district for weeks and even months. The humble umbrella became the key symbol of this protest as it was used not only to protect demonstrators from the tear gas and pepper spray used by the police and as a shelter for the night but it was also a symbol of resistance. Unfortunately, it would be naïve to think that these protests, filmed by the cameras of the entire world would have been enough to frighten and threaten the Chinese government. Beijing went from strength to strength in its relentless repression and opposition to the movement. The Umbrella Revolution was no exception to Chinese severe censorship procedure. Lok Yee, one of the remaining protestors who still slept outside under his yellow umbrella several months later, explained how information was controlled and falsified by the authorities in Beijing. At first any "inconvenient truths" related to the Umbrella Movement were either deleted or modified. When this became impossible due to the huge influx of information the government decided to lie by saying that Hong Kongers were only showing support for the CPC. When these first strategies failed they always found new methods of covering over, such as falsifying videos by cutting scenes where policemen launched tear gas. They even paid both Chinese and Hong Kong people to help boost the government's popularity. These "soft warriors" also known as "50 cents" were paid fifty cents for each positive comment twitted about the government or for each comment against the demonstrators. They even received more money if they demonstrated against the Umbrella Movement.
The ten-year judicial sentencing of Yiu Manting, a Hong Kong editor and the recent disappearance of five staff members of the Mighty Current Publishing House (known for frequently criticizing China) shows that Xi Jinping is more determined than ever. Opposing the government and defying censorship is becoming more and more dangerous in Hong Kong. Freedom of expression is severely jeopardized and journalists have no option but to rely on self-censorship in order to avoid retaliation.
All types of communication including the state media and social media are strictly controlled on the mainland of China. A lot of information is censored or falsified or in many cases completely deleted if certain words such as 'democracy' are detected. The aim of the government is to try to hide information concerning its political policies and its methods of dealing with political dissidents or those who do not yield to the power of censorship. Baidu, the most popular search engine in China, has very limited resources on any subjects which are considered as sensitive by the Chinese authorities. Lence, a twenty-year-old student studying in Hong Kong, explained this to us and showed us that with a Chinese search engine it is impossible to find any facts about Liu Xiabo, the imprisoned human rights activist and Nobel Prize winner, who was absent from Oslo and unable to receive his award because he was kidnapped by the Chinese government.
According to Lence, the Chinese government is more and more concerned about the fact that Hong Kong students could bring their "dangerous ideas" to the mainland of China. On his recent visit there, his newspapers and all his academic papers were confiscated at the Chinese border. However this severe treatment is nothing compared to that of some of the leaders of the movement. During demonstrations secret agents are sometimes sent by the Chinese government to follow and list the names of those who are prone to upset the stability of the communist regime. These activists are blacklisted and not allowed reach mainland China.
There seems to be no hope today for a better future in Hong Kong, a sensation felt even among the younger generation. What will the implications be for the people who are being progressively denied their civil liberties? Will Hong Kong find democracy? Probably not, because Beijing fears that the election of any pro-democracy candidate could destabilize communist ideology and bring down the regime. A group of students from the University of Hong Kong, that we had the opportunity of speaking to, confessed that they did not think Beijing would change its attitude towards the people of Hong Kong nor loosen its control over the press.
Is this fatalism definitive or could the situation in Taiwan bring hope to the people of Hong Kong? Thanks to Taiwanese activists the Umbrella Movement influenced the election of the pro-independent president, Tsai Ing-Wen. Could this in turn bring new energy to Hong Kong in its battle to continue its fight for fundamental rights?
Shooting an Own Goal: China's Belt and Road funding terms spark criticism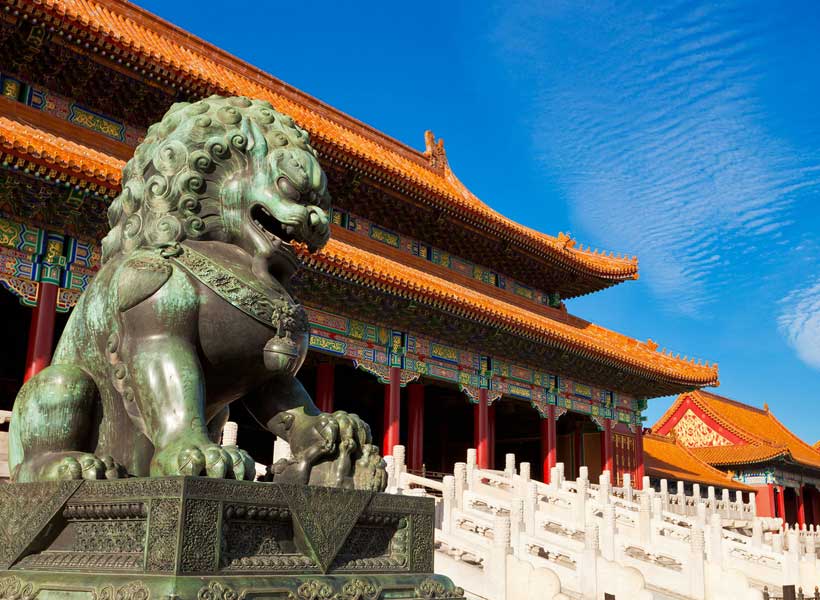 Steep commercial terms for China's investment in infrastructure projects across Eurasia related to its Belt and Road initiative may give it control of key ports and other assets as recipients of Beijing's largess find themselves trapped in debt. Yet, that comes with a risky price tag: potentially rising anti-Chinese sentiment, questioning of Chinese intentions, and a tarnishing of the image China is seeking to cultivate.
Cynically dubbed debt-trap diplomacy, multiple countries along China's Belt and Road risk financial crisis. The Washington-based Center for Global Development recently warned that 23 of the 68 countries involved were "significantly or highly vulnerable to debt distress."
The centre said in a report that eight of the 23 countries — Djibouti, Kyrgyzstan, Laos. the Maldives, Mongolia, Montenegro, Pakistan, and Tajikistan – were particularly at risk.
Djibouti already owes 82 percent of its foreign debt to China while China is expected to account for 71% of Kyrgyz debt as Belt and Road-related projects are implemented.
"There is…concern that debt problems will create an unfavourable degree of dependency on China as a creditor. Increasing debt, and China's role in managing bilateral debt problems, has already exacerbated internal and bilateral tensions in some BRI (Belt and Road initiative) countries," the report said.
International relations scholars Robert Daly and Matthew Rojanski noted in a separate report on a recent trip to the Russia, Kazakhstan and China intended to gauge responses to the Belt and Road initiative that Eurasian nations were eager to benefit from Chinese investment but wary of Beijing's intentions.
"We found an eagerness to participate in projects that support national development, but deep resistance to any westward or northern expansion of China's practices, ideas, or population… Neither (Russia or Kazakhstan) hopes that China's power will increase with its investments.," the scholars said.
Outgoing US Secretary of State Rex Tillerson echoed the centre's concerns on a visit to Africa this month. China "encourages dependency using opaque contracts, predatory loan practices, and corrupt deals that mire nations in debt and undercut their sovereignty, denying them their long-term, self-sustaining growth, Chinese investment does have the potential to address Africa's infrastructure gap, but its approach has led to mounting debt and few, if any, jobs in most countries," Mr. Tillerson said.
China has sought in some cases to counter resistance by offering more concessional or, in the case of Pakistan. interest-free instead of commercial loans for some projects.
Nonetheless, China has used debt relief as a vehicle to gain control of assets. Tajikistan saw an undisclosed amount of debt written off in exchange for ceding control of some 1,158 square kilometres of disputed territory. Sri Lanka, despite public protests, was forced to give China a major stake in its port of Hambantota.
Djibouti, one of the eight countries most at risk and a rent-a-military-base East African nation that hosts a major US facility, is about to follow in Sri Lanka's footsteps. Djibouti last month seized control of the Doraleh Container Terminal from Dubai-based DP World and reportedly intends to hand over its management to a state-owned Chinese company.
Marine General Thomas Waldhauser, the top US commander in Africa, warned that the consequences of a Chinese takeover "could be significant." He said moves by China, described by the Pentagon as one of several "revisionist powers" that "seek to create a world consistent with their authoritarian models," had prompted him to revise US military strategy in Africa.
For their part, Pakistan and Nepal withdrew last November from two dam-building deals. The withdrawal coincided with mounting questions in Pakistan, a crown jewel in Chinese geo-strategic ambition, about what some see as a neo-colonial effort to extract the country's resources.
China's seeming obliviousness to the potential impact on recipients and its own standing of its funding approach appears to be rooted in President Xi Jinping's rewriting of history and spin on reality that threatens to become a self-fulfilling prophecy.
Launching Belt and Road in a speech in Kazakhstan in September 2013, Mr. Xi suggested that the initiative constituted a revival of China's centuries-old relationship with Eurasia. "More than 2,100 years ago … (Chinese) imperial envoy Zhang Qian was sent to Central Asia twice to open the door to friendly contacts between China and Central Asian countries as well as the transcontinental Silk Road linking East and West," Mr. Xi told his audience.
In Indonesia a month later, Mr. Xi reminded the country's parliament that "Southeast Asia has since ancient times been an important hub along the ancient Maritime Silk Road."
Messrs. Daly and Rojanski noted that the historic Silk Road was never centred on China and that it served both commercial and military purposes. "The term 'Silk Road' was coined in 1877 by a German geographer to connote the historic phenomenon of Eurasian trade rather than a particular route," the scholars said.
They suggested that Eurasian nations had not forgotten that historically Chinese expansion westwards had often been violent," a fact Mr. Xi chose to overlook in his projection of the Belt and Road initiative.
It was, moreover, not immediately clear "that China's branding, cash, and ambition can overcome the uneven development, political and cultural diversity, age-old hatreds, and daunting geography" of the Belt and Road, Messrs. Daly and Rojansky said.
Mr. Xi's projection of a China-centric world is reflected in the country's media that positions the Belt and Road as a vehicle to cement the People's Republic's place in the world as well as Communist Party rule despite paying lip service to the principle of a win-win proposition.
Chinese ambitions are evident in its efforts to internationalize its currency, the renminbi, as well as the inclusion of elements of the Chinese surveillance state and the propagation of Chinese culture through local media in investment target countries, for example Pakistan. They are also apparent in the creation of special Chinese courts to adjudicate Belt and Road.
China this month announced the establishment of a new agency to coordinate its foreign aid program. The agency is part of an effort to project China's global influence more effectively and increase Communist Party control.
Taking issue with the Chinese effort, the Washington-based centre suggested that China as well as recipients of Beijing's largess would be better served if the People's Republic adopted a multilateral approach to Belt and Road-related funding rather than insisting on going it alone.
Said Scott Morris, a former US Treasury official and co-author of the centre's report: "The way forward demands a clear policy framework aligned with global standards, something that has been absent from China's lending practices to date. Whether Chinese officials have the will to pursue this approach will be critical in determining the ultimate success or failure" of the Belt and Road initiative.
Ice Silk Road: From Dream to reality
Authors: Mahdi Torabi*, Vahid Pourtajrishi
The history of Silk Road backs to thousands years ago. The aim of creation of this route was linking China to Europe through Middle East. Growth of Chinese enterprises and industries which was started since middle of 20th century increased the significance of expanding the link routes between China and Europe following expansion of China's export to West. Silk Road seems to be the main option in such condition as an ancient route which has been designed and created for this purpose.
But the main existing problem on this way was existinglimitation on capability of the classic Silk Road for transportation of high volume of freight from China to Europe.
In fact, the issue of increase this capability was the essence of Xi Jinping's initiation of his "One Road One Belt" Doctrine which was declared by him as one of the significant elements of Chinese foreign policy.
According to the Xi Jinping's defined policy for the new Silk Road, this route has to be expanded to some new routes on the ground and sea.  But it has to be mentioned that China has not been the only state who follows Jinping's policy toward Silk Road. Many of other states, especially those who are located on China – Europe rote try to increase role on this high interesting route.
Through these states, we can point to Turkey and Russia as the most important ones who have shown their will to participate highly in this project.
Turkey introduced its Baku – Tbilisi – Kars (BTK) Corridor to create a new Silk Road which connects Istanbul to China by passing Azerbaijan and Kazakhstan. Ankara's initiation in introducing a new combined route was a revolution in the regional and intercontinental transport orders.
But beside of all defined merits for this route, some disadvantages like high cost of transport or existence of not suitable weather conditions for move of ships through Caspian Sea on winter. That's why;relating released reports on establishment of BTK by Turkey and its partners created a shock among experts in international transportation.
While many of experts recognized this route as the last alternative for the classic Silk Road, Russia could come over its geographical problems with sea ices of Arctic to establish Northern Sea Route or Ice Silk Road which was just an inaccessible dream for Moscow till few years ago.
Passing through Arctic that is fully covered with at least 150cm diameter pieces of ice might was just like a joke or far dream before end of Cold War and there was no strong logic behind of such assumption.
By start of the Cold War and fast growth of the nuclear technology in 60s to 90s, we can say that development of many nuclear related technologies like construction of reactors, enrichment and producing nuclear armament in one hand andexpansion of maritime industries especially in military section got in force by USSR.
But the main reasons for focus of Moscow on Arctic back to significance of natural resources in this region which composed determinants and important part of USSR's boundaries.
While latitude of Scandinavian states and Canada is closed to Arctic, but no one of these states has not been successful enough to use the potential opportunities of this region like Russia.
Since Vladimir Putin's seize of power in 2000 and his plans for reconstruction of Russia's economy, discover of new routes to access world markets was adopted on the agenda of the Russian government. Finding new costumers for the huge resources of oil and gas was one of the main attitudes of Russia in Moscow's new economic planning. That's why Russia began to expand and execution of its significant and mega plans in this regard like establishment of Turkish Stream gas pipeline.
Despite all adopted policy by Russian government, the main problem was Makinder's concern in his theory of "Heartland" to access the warm water. According to Makinder, the only available link route between Russia and the southern warm water was Iran. That's why; Russians always have been looking for a way to access free and warm waters by Iran.
But by achieved impressive growth of technology during past decades, it seems Russia has found a safer way to access free waters instead of Iran and that is use of its territorial waters of Arctic that is able to link this country to Europe on one hand and connects Russia to East and China from on the other hand.
As we know, required technology for using the Northern Sea in international transit of freight have always been in hands of Russia and US. But this route has never been as interesting one for US because of its easy access to the free waters on one hand and end of Cold War on the other hand. That's why there has been not enough interest for US to invest much in expansion of international transit route from Arctic region. US has only one icebreaker in North Sea and Arctic that is built in 1976 and was used for costal patrol in this region during Cold War era.
We try to investigate the probable causes for establishment of the "Ice Silk Road" by Russia in the following:
Expansion of the oil fields of Arctic and oil export increase
Russia got succeedto transport its first oil cargo in 2017 from Hammerfest in Norway into BoryeongPort of South Korea successfully. This shipment was a 200 million dollars LNG cargo which was transported by "Cristophe de Margerie" tanker carrier within just 19 days. It means Russia got succeed to save the time for 30% rather using Suez Canal as the common path of this route.
Russia has invested in development and expansion of the gas field of "YamalPeninsula" more than 27 million dollars and China also has announced its readiness for investment in this mega project. It is worth mentioning that the order of development this project issued by Vladimir Putinpersonally and this demonstrates the level of priority and significance of this project for Moscow. Margarie ice breaker tanker could sliced the huge ices of Arctic with at least 120 cm thickness and passed Arctic within just six days. But it is clear that possibility of such shipment will get very harder during winter season and needs high-developed ice breakers. That's why, Russia has decided to produce new generation of these ice breakers to remove this obstacle.
Following this policy, Dimitry Rogozin, the deputy of the Russia's prime minister in his interview with TASS News Agency declared decision of his country to build three new nuclear ice breakers.  He said: "Rosatom [state civilian nuclear power corporation] has now been instructed as part of private and state partnership to think over the algorithm of financing three icebreakers rather than one and then we will make navigable the entire Northern Sea Route. We will be able to lead whatever vessels for any customer by transit through the Northern Sea Route: caravans with goods from Asia to Europe and we will be able to export our hydrocarbons in the form of liquefied natural gas not only to Europe but also to Southeast Asia," Rogozin said in an interview with Rossiya-24 TV Channel, describing the plans of developing Russia's icebreaker fleet.
"In 2019, we will commission [the shipyard's] dry dock. Just imagine the dimensions: 484 meters long and 114 meters wide. Two aircraft carriers can be built there at a time," the vice-premier said, describing the new shipyard.
Simultaneously, shipbuilders in northwest Russia are building three current-generation icebreakers: the Arktika, the Ural and the Sibir, Rogozin said.
Simultaneously, shipbuilders in northwest Russia are building three current-generation icebreakers: the Arktika, the Ural and the Sibir, Rogozin said.
According to the vice-premier, these icebreakers will be commissioned for operation in 2019-2021 and "will help ensure an all-out escort [of vessels] through the ice from Yamal Peninsula towards the West."
"Yamal LNG Project" is under construction in Yamal Peninsula and is counted as the most significant maritime project of Russia in energy sector. This mega project includes 200 wells, one airport and 15 tankers (2016) which will be able to export at least 2 million cm liquid gas. According to experts, this amount will be increased to 50 million cm in a year (the Ministry of Roads and Urban development of Iran).
On the other hand, China is one of the most important strategic customers and trade partners of Russia especially in oil section. According to the experts and analysts of energy section, China will be the consumer of 17% of energy resources of the world till 2050. That's why, if Russia increases the amount of its oil productions, Moscow would become the first oil partner of China instead of the Middle Eastern oil exporters like Saudi Arabia, UAE and Iran.
Transit of freight from China to West (the Ice Silk Road)
According to Dimitry Rogozin, transit of freight from Far East to West using Arctic and Northern Sea will be one the main aims of Russia to establish the North Sea Route. Export of the Russian productions into South East of Asia is one of the other significant aims of creating such route. As Rogozin declared, the new generation of the nuclear ice breakers will be able to carry two aircraft carriers. So the approximate area of the each mentioned freight carrier will be something around 55176 m2 and this dimension will be more than 5.5 hectares!
Furthermore, creation of the new route will be 25-55 percent shorter than the Suez Canal path which links China to Europe to each other.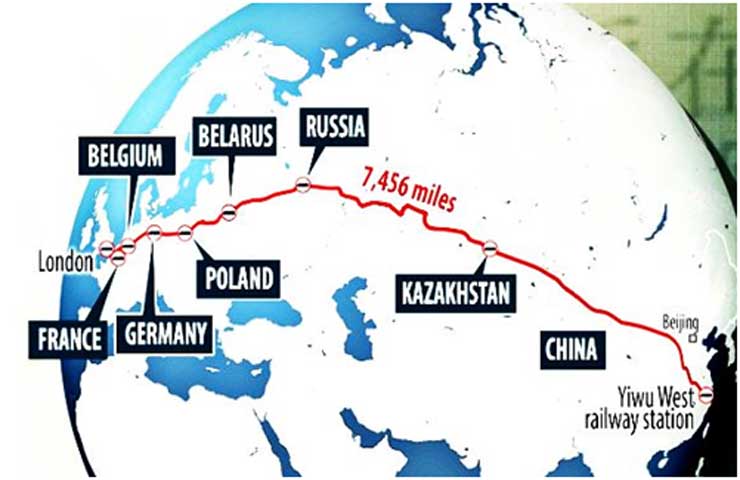 It is worth to mention that one of the significant exports of Russia from this route will be the mineral extractions like gold, uranium and diamondin worth of more than five billion dollars.
Reduction of China's dependence on Middle Eastern oil
China is one of the key players and investors in Yamal project and has invested more than 12 million dollars in this mega project. Except this, the Silk Road Fund has fulfilled 20% of the total project cost. But it has to be asked why China follows this project while Beijing fulfills its required oil from Middle East?
In fact, the energy market of Middle East and its stability is under doubt because of existing many problematic factors like anti – Iranian sanction, fire of war all over the region, the issue of illegal immigration of terrorist groups and etc. that's why such market could not be counted as a stable and permanent energy market for China as the greatest industrial country of world.
So, it seems the Chinese officials have decided to find a more stable alternative to fulfill its energy needs instead of Middle East. On the other hand, we cannot ignore the existing strategic partnership between China and Russia in this way. Also, by creation of Ice Silk Road, it will be more logical for China to fulfill its required energy resources from Russia regarding the issue of short geographical distance between the two countries rather Middle East.
A the end, we have to say that creation of Ice Silk Road is minded as a game changer not only in foreign trade relations of Russia but also will be a revolution in international trade between East and West especially in aspect of trade corridors. It could affect highly on the both classic and new routes in Silk Road like the passing corridors from Iran, Turkey, Azerbaijan and many other states that have enjoyed their geo-economics privileges on this route.
*Mahdi Torabi is head of planning unit at department of the international affairs of the Railway of the Islamic Republic of Iran.
China's military doctrine with President Xi Jinping
Which is President Xi Jinping's military doctrine and his  "warfare rationale"?
With a view to well understanding the evolution of Chinese warfare studies to date, however, we need to study the tradition of the People's Liberation Army (PLA) and the vision that the Communist Party of China (CPC) had in the history of warfare doctrine.
Firstly, for China, the different terminologies used within NATO and, more generally, in Western military doctrines such as "global strategy", "national security strategy" or "national defense strategy" are not separate concepts or ways of thinking, but are all subsumed in the Chinese general notion of "military strategy".
Again in Chinese terminology, in simpler terms,the strategy "guidelines" are the political-military policy lines developed by the CPC leadership.
In these policy lines we can perceive the geopolitical threat that the CPCthinks to be closer and hence the likeliest type of future war that China must absolutely be ready to wage and fight.
The initial evaluations of the Chinese handbooks are the equivalent of the Western strategic assessment, while the analytical ones refer to the Chinese Armed Forces' capabilities in relation to "present and future wars".
According to China's current strategic thinking, the science of military strategy is the study of warfarelaws and of the laws on the conduct of war, as well as the analysis of war predictions and the study of the most probable type of war in the future – all analyzed on the basis of past, present and future scenarios.
Our analysis, however, needs to begin at least with the military philosophy of Deng Xiaoping, who was the first Chinese leader to break with the philosophy of Maoist "people's war", in which the missing technology was replaced by the large dimension of masses in arms.
It is worth noting that, in Mao's mind, all thiswas the policy line for being prepared to resist a nuclear attack with a subsequent invasion – a nuclear attack carried out, in all likelihood, by the USSR or the United States.
Indeed, the Two Worlds of Mao's doctrine on foreign policy – the Third World was the world of Poor Countries, which were bound to be globally directed and led by Communist China.
Conversely, in Deng's opinion, there was a shift from the primary perception of a global threat to the theory of local and "limited war" around China's borders.
Deng Xiaoping's "policy line" on war and defense envisaged above all land conflicts on the Northern and Eastern borders (the "Northern enemy", namely the Soviet Russia, as Deng called it), but also sea clashes and surprise air attacks, with the subsequent necessary countermoves of the People's Liberation Army.
What wasmissing in Deng's military thinking – and that was Mao's legacy – wasa specific doctrine of the nuclear weapon that – as Soviet Marshal Shaposhnikov also taught us – was "a weapon like the others".
Jiang Zemin – after Deng – when the Four Modernizations (the last of which was exactly the military and technological one) redeveloped Deng Xiaoping's model by envisaging "limited warfare under high-technology conditions".
In that new context – the first real theoretical departure from  "Mao's policy line" on war – Jiang Zemin envisaged  two primary intervention areas, the one near Taiwan and the one against all US networks in the Pacific, while the fall of the USSR made the traditional Chinese defense against the "Northern enemy" basically useless.
This was the first real maritime dimension of the Chinese doctrine, after Mao Zedonghad thought about an almost entirely terrestrial defense, on the basis of his Long March.
As early as the 1950s, however, the internal documents of the Central Committee identified the Philippines, Southeast Asia, the Pacific Islands and obviously Taiwan and even Japan, as future areas of Chinese invasion or hegemony.
Hence, in technological terms, Jiang Zemin's new war meant a clash based on intercontinental missiles, fine electronics, multi-dimensional battlefields, sensors and intelligence.
The Central Military Commission, namely the highest Party's body for defense matters, officially accepted Jiang Zemin's policy line in 1992.
It is easy to imagine what the Chinese military decision-makers were observing and studying at thetime: the war in the Balkans; the first Gulf War of 1990-1991; the war in Rwanda; the "ten-daywar" between Slovenia and the Republic of Yugoslavia; the beginning of the Algerian jihadist insurgency; the outbreak of war in Somalia; the clashes in Georgia; the conflict on the border between Armenia and Azerbaijan and some other minor conflicts.
The Chinese study of military doctrine always refers to concrete cases. In China's traditional philosophy there is nothing resembling the Aristotle's or Kant's "categories".
Hence, according to China and "Jiang's policy line", the war was bound to be won always by means of elite troops and preventive operations, although China has always refused to be the first to start a military clash- even a solely nuclear one.
The new local wars theorized and studied by Deng Xiaoping and Jiang Zemin were supposed to be "quick battles to force quick resolutions".
Instead of making the enemy enter deep into the Chinese territory – as Mao Zedong thought – and later holdingand gripping it as in a vice of masses in arms, Deng's and Jiang's new doctrine envisaged operations deep into the enemy's territory.
Therefore emphasis was laid on very advanced technological preparation and on the elite troops' abilities, as against the great masses of Mao's time, as well as on undercover operations, the tactical and strategic element of surprise and deep combined actions.
Beyond the myth of all-out nuclear war -in which also  Mao believed and which, however, was a paper tiger –  Jiang Zemin's new military policy line focused on the maximum lethality of weapons, on tactical precision and on the encirclement and tacit overcoming of the enemy, as well as penetration beyond the lines.
Later the CPC's military and strategic thinking focused on the Revolution in Military Affairs, which the United States had developed in the early 1990s.
It should be recalled, however, that the first theory of Revolution in Military Affairs had been developed by Marshal Ogarkov in the Soviet Union, by laying emphasis on the robotization of the battlefield and the increasingly important role played by space technology and satellites as weapons in themselves and for tactical and strategic intelligence.
Jiang Zemin revised those Western and Soviet concepts and added a series of considerations on the political and social dimension of the conflict, but always in a framework of "regional war under conditions of high-technology and  computerization".
After China had studied the war in Kosovo, the specific doctrinal concept was developed in 2004.
Chinahad also well studied the theories of "non-violent warfare" developed by Gene Sharp in the United States and later implemented them thoroughly in the "color revolutions" of Georgia and Ukraine, as well as in the case of OTPOR! in Serbia.
Specific emphasisis laid – although not explicitly – onpsychological warfare in the current Chinese military doctrines.
As clearly stated in the 2004 White Paper, China's IT and cyber warfare consists mainly in "inflicting a heavy toll on the enemy, even the conventionally superior one, through a variety of tools ranging from the destruction of its satellites and missile systems to the use of electromagnetic pulse weapons to hit enemy ships or aircraft and even its civilian IT networks".
At the time, the idea of ​​Chinese political and military decision-makers was the shift from "mechanization to ICTs  and computerization" leading to multiple asymmetric, non-contiguous and non-linear wars in the strategic clash region.
If we consider the provincialism characterising many "White Books" of the European Armed Forces at the time, what stands out is the vitality of the Chinese strategic thinking, certainly devoid of semantic ambiguities or pacifist concerns.
Conversely mechanization was the specific aim of the 2008 White Paper, when the CPC's central power still supported the idea of ​​training the best military elites on the field and also acquiring the Command, Control and Intelligence (CCI) IT networks,in addition to acquiring the weapon systems most suitable for the 2008 new doctrine, which followed the doctrine of the official documents of 2004 and subsequent years.
According to the Chinese decision-makers, ICTs and computerization werethe Achilles' heel of the weapon and command systems of Westerners or anyway of China's possible enemies.
The "web" was supposed to be the PLA's first attack frontin a situation of limited warfare or global confrontation.
Therefore, the Chinese decision-makers did not only seek  an efficient network for the Chinese CCI, but also a specific doctrine for the "electronic warfare" and the signs that it would be greatly developed in the following years.
Many of you may remember that, in those years, the Western interestin the Military Operations Other Than War (MOOTW) emerged.
In the Chinese official doctrines from 2007 to 2010, we could note that specific attention was paid to the role that the Chinese Armed Forces could play in assisting the Chinese economy and society and in supporting the population during natural disasters.
In this regard, we cannot certainly forget the role played by the PLA against sabotage, internal subversion and factionalism with respect to the Party and the Chinese nation.
Hence we can envisage an internal military role of the Armed Forces which is far subtler and more careful than the usual one prevailing in Western countries – a role which is also predictive and proactive, not just ex post.
As you may have realized, all these considerations show that there is very clear submission of the PLA to the Party, but also the creation of a specific political role for the Chinese Armed Forces.
A role that is played through the Central Military Commission which,since 1990,has increased its importance within the CPC hierarchy.
It is in this political and strategic context that the global threats to the Chinese status quo really change: the USSR collapsed in 1991 – hence there is no longer the danger of a great invasion from the North, as the CPC's leadership   had feared during the clashes on the UssuriRiver in 1968.
The Ussuri River war broke out when, a year before, the "Red Guards"  had besieged the USSR Embassy in Beijing and hence the USSR attacked the Chinese border guards right on the Ussuri River.
The USSR threatened the use of nuclear weapons against  China, but the United States threatened heavy repercussions against the Soviet Union if this happened.
Thiscurrently well-known data coming from the US archives make us imagine how natural was for China at the time to accept the US proposal for a new opening towards the United States to clearly oppose the Soviet Union.
It should also be noted that Mao's famous theory "on the correct handling of contradictions among the people" was, in fact, an appeal to compromise with the Soviets, who supported the "Parliamentary way" – as also the Parties  depending on the USSR did – while China wanted a greater "anti-imperialist" and anti-colonialist struggle.
Other military resultswere also achieved between China and the Soviet Union in that political and ideological juncture: Khrushchev refused to actively respond to the US Marines' operations in the Lebanon, besides refusing to support China when it began bombing the island of Quemoy still  occupied by Chiang Kai Shek's Kuomintang, and later making it clear to everyone that the Soviet Union would never grant a nuclear bomb prototype to China.
This is the real military plot of a now very famous discussion – apparently scholastic and obscure – between the two Marxist powers of the world.
Therefore in 1991, the "Northern enemy", namely the USSR, no longer existed and the fear of the great invasion had waned.
However, as the Chinese decision-makers rightly thought,  the no longer bipolar world increased – and certainly not  diminished – the likelihood of regional conflicts.
Nothing to do with the pacifist dreams or delusions not only of the unaware public, but also of Western decision-makers.
The sanctions imposed on China by the United States after the Tiananmen Square events; the ongoing Anglo-American controversy on human rights in China; the US support to Taiwan during the 1996 crisis, when the United States sent two aircraft carriers to the Formosa Strait, and the Tibet issue – as well as the Xinjiang issue, which is currently mounting between the US and European media influencers – and finally the commercial tensions between the United States and China, are all factors which made us think – in those years, but also at a later stage – that China's "far enemy", namely the United States, would remain – in fact – the only real enemy.
It was the US technology show in the two Gulf Wars of  1991 and 2003which definitely convinced the Chinese decision-makers of the new IT turn and direction the CPC's National Armed Forces had to take.
Nevertheless the moment of truth came for China when the United States created the casus belli in Kosovo. For the Party's and PLA's decision-makers that proved how the United States wascapable of creating difficult situations by manipulating both diplomacy and the military equilibria of a wholeregion.
But what is President Xi Jinping's current political-military vision?
In the official documents,Xi Jinping's "policy line" regards not so much the analysis of new threats or the most  abstract doctrinal issues, but rather the list of things that the PLA must absolutely accomplish in a short lapse of time:
a) to improve the ability of simultaneously coping with a wide range of internal emergencies and tactical or non-tactical military threats, which could endanger China's sovereignty at terrestrial, sea and air levels;
b) to support the harsh and specific protection of the unification of the Motherland – an essential factor for achieving the great Belt and Road Initiative;
c) to ensure China's security "in new contexts" – and here reference is obviously made to the protection of the financialand industrial system, besides the political one;
d) to ensure the protection of China's interest overseas – the truly new strategic asset of China as global economic power;
e) to improve the efficiency of strategic nuclear and cyber deterrence, as well as the PLA's possibility of successfully launching a quick and highly dissuasive nuclear counterattack;
f) to increase the PLA's participation in international peace-keeping operations – a full recognition of China's role also at military level;
g) to strengthen the protection of the Chinese homeland against separatism and terrorism;
h) to improve the PLA's ability to fully carry out its tasks during environmental and health crises – as was the case with the bird flu crisis in 2003 and in the following years.
Hence, with a view to winning a cyber regional war – the PLA's first political and strategic goal – the utmost protection of strategic surprise is needed, also on the part of the CPC itself – in addition to the protection of China's interest overseas, another primary goal of the Chinese leadership.
Moreover, the defense of interests "in other fields" refers to China's expansion at the maritime, space and cyber levels.
An expansion going well beyond the territorial limits of China and of the areas such as Hong Kong and Macao.
In fact, China is currently looking for new military bases abroad, namely Chongjin in North Korea; Port Moresby in Papua New Guinea; Sihanoukville in Cambodia;Koh Lanta in Thailand;Sittwe in Myanmar; Dhaka in Bangladesh; Gwadar in Pakistan; Hambantotaportin Sri Lanka; the Maldives and the Seychelles islands; Djibouti; Lagos in Nigeria; Mombasa in Kenya; Dar es Salaam in Tanzania;  Luanda in Angola and Walvis Bay in Namibia.
Certainly this program of military expansion and strategic repositioning under President Xi Jinping implies a series of anti-corruption actions that have also heavily affected the PLA, especially its highest ranks.
Therefore President Xi Jinping thinks that highly technically and operationally advanced Chinese Armed Forces are needed. They must above all be strongly and exclusively subjected to the Party, which has also been undergoing an anti-corruption probe for many years.
Mao Zedong's Chinese dilemma "Reds versus Experts" is back again, but this time in the new global horizon imposed by Xi Jinping's Presidency.