What does Israeli occupation of Palestine really mean?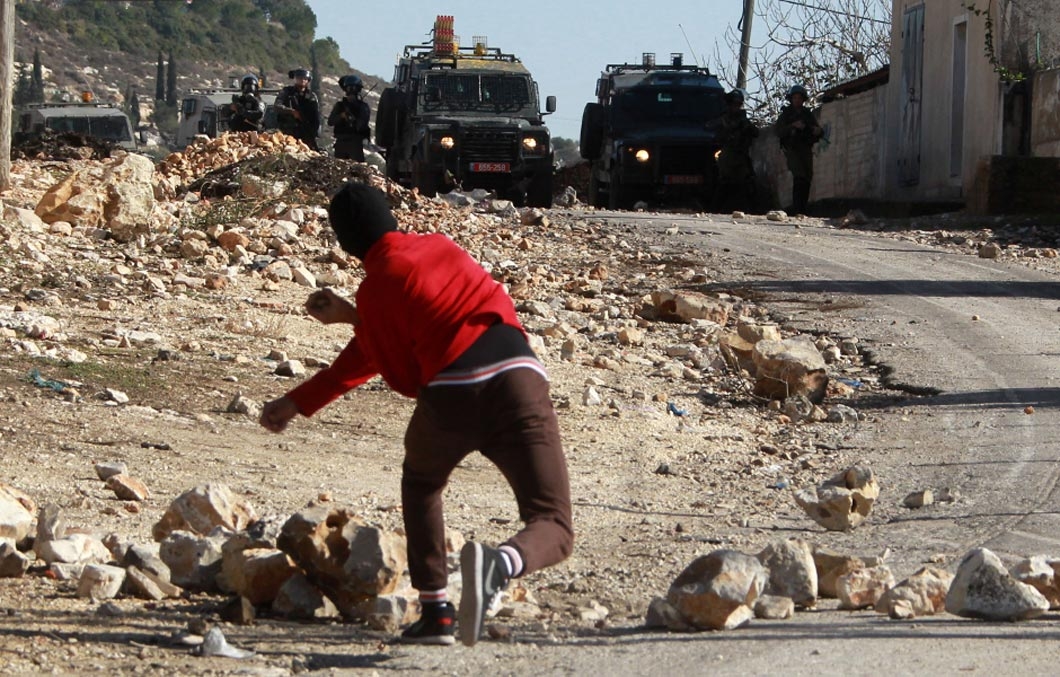 Palestinians feel being chased by Jewish government and its military cum police all the time. Persecution, aggression, oppression of Israel in Palestine where its military and police have a free ride all the time. USA, Europe and their UNSC help Israel terrorize Palestinians all the time.
Israeli occupation of Palestine means annexations, destruction genocides, midnight knocks at house doors, insane torture worse than beheading, military-police chasing of Palestinian youth and children, and fear among Palestinian community living even abroad as Zionist Mossad with CIA backing can murder any Palestinians anywhere in the world. CIA guys make the so-called suspected terrorists remove their cloths and use the worst kind to torture methods on their bodies, worse than even murdering them. Chopping of finders, hands, legs, other body parts have become very ordinary technique of these imperialist capitalists.
Since America and Europeans claim to be democracies they think they have the right to torture any Muslim anywhere in the world. Israel also does it because it a terror allies of NATO/USA.
Unlike American occupation forces s in Islamic countries or Hindu/India terror forces in Kashmir, Jewish military keeps expanding the illegal borders by annexing more and more lands each time after its genocides of Palestinians.
The Hindu forces in Kashmir keep building houses and offices for military purposes. JK government disallows anybody from purchasing lands in Kashmir which disables Indian desire to make Hindutva inroads by making Hindus settle down in Kashmir. However, Indian regime and its military keep trying all tricks to break the law.
Zionist crimes in Gaza
Let us consider the Jewish attacks most recently on Gaza strip on July 28. Israeli navy attack fishermen in Gaza damaging their boats, meanwhile Israeli troops invade West Bank communities and injure three youth. The Pentagon has already offered its blanket approval of all Zionist crimes inside Palestine as such terror operations reduce Islamic population worldwide – a major goal of US led NATO terror wars in Islamic world.
Israeli navy ships attacked, on Thursday morning, several Palestinian fishing boats in the Sudaniyya Sea area, northwest of Gaza city, kidnapped seven fishermen and confiscated their boats. A fisherman told local news sources that the Israeli military forces first surrounded them all of a sudden giving a deadly shock to them and the navy boats attacked them from several directions, and fired many rounds of live ammunition, causing damage. The navy illegally confiscated the boats before moving them to the Ashdod Port.
On July 27 also the Israeli navy attacked Palestinian fishing boats, close to the Gaza shore, and kidnapped two fishers. Some of the boats were hit with live rounds, before the Jewish terroirsts in uniform (soldiers) assaulted them. Elsewhere, three Palestinian youth were injured; four others kidnapped when Israeli soldiers invaded Deheishe refugee camp in the southern West Bank city of Bethlehem on Thursday at dawn and searched homes there.
The Zionist "soldiers" surrounded the refugee camp before invading it and clashed with dozens of local youths, who hurled stones and empty bottles at the military vehicles, while the army fired live rounds, rubber-coated steel bullets and gas bombs. Medical sources said the soldiers shot three Palestinians with live rounds before the medics moved them to hospital suffering moderate-but-stable wounds, while many suffered the effects of teargas inhalation.
Moreover, Dozens of Israeli soldiers invaded, on Thursday at dawn, the northern West Bank city of Nablus, and conducted extensive searches of homes before kidnapping seven Palestinians.
In the meantime, Israeli troops invaded late at night and at dawn, several areas in occupied Jerusalem, searched many homes and kidnapped four young Palestinian men.
All such terror operations happen without the knowledge of western capitals or their intelligence wings that care for freedoms, democracy, etc.
Despite lack of support from USA for the cause of freedom and sovereignty for Palestinians, there has been strong protest against Zionist occupational crimes inside Palestine.
The crude manner in which the Zionist criminals deal with besieged Palestinians has been criticized even by some Jewish leaders themselves. The day after the shooting of Palestinians recently, Tel Aviv's Mayor Ron Huldai found the courage to state the obvious—that the state violence will persist until the occupation ends. Israel "is perhaps the only country in the world holding another nation under occupation without civil rights," Huldai said.
Such frankness counts as bravery these days, but even Huldai was understating the truth. It's not the mere fact of a military occupation, of Israeli troops on Palestinian territory, which provokes such attacks. It can be difficult to comprehend from across the Atlantic, or even from usually tranquil Tel Aviv, but the occupation, as many commentators have observed while reporting from the West Bank since 2011, functions as a massive mechanism for the creation of uncertainty, dispossession and systematic humiliation.
It is not just soldiers and guns, but a far-reaching structure that affects all aspects of Palestinian life—a complex web of checkpoints to harass and torture the Palestinians , travel restrictions, permits, walls and fences, courts and prisons, endless constraints on economic possibilities, home demolitions, land appropriations, expropriation of natural resources, and, too often, lethal force.
Crime and Punishment
Palestinians, the real owners of Palestine lands, are made now the enemy now whom Israel wants to kill enmasse. With Israeli state backing, the illegal settlers seemed a little crazy, but they are Jews the "boss" of Mideast.
Efrati, a Jew who quit Israeli army in protest against Zionist occupational crimes against humanity was earlier a part of the military in Jerusalem at the beginning of a war on Gaza Strip, targeting the children and women as well, that would leave more than 2,000 Palestinians dead. Efrati he spent most of 2006 and 2007 stationed in the southern West Bank city of Hebron, but had long since Gaza attack left the army and become an anti-occupation activist. Efrati was 19 when he arrived there and at the time saw little reason to question the Israeli military's presence in the city. At his first briefing, he recalled an officer asking the troops what they would do if they saw a Palestinian running at a settler with a knife. "Of course the answer was you shoot him in the center of his body, Palestinians have no right to live " Efrati said. The officer posed the question in reverse: What if it was the settler with a knife? "And the answer was you cannot do anything. The best you can do is call the police, but you're not allowed to touch them. From day one the command was, 'You cannot touch the illegal settlers and other Jews.'" This made sense to him, Efrati said.
A few days later, thousands of illegal settlers, mostly Russian speaking, arrived from all over the West Bank to celebrate a religious holiday. The army imposed a curfew to keep Palestinians off the streets to target the Palestinians. Efrati's first task as a soldier in Hebron was to throw stun grenades into elementary school of Palestine children to announce the beginning of the curfew. "I just did it, like everyone Jew," he said, "and within seconds, hundreds of kids ran outside. I was standing at the entrance and a lot of them looked at me in the eyes—that was the first time that it hit me. All of a sudden I understood what I was doing.
Later, Efrati recalled, settlers filled the central city. He was assigned to escort a group of them into the Patriarchs' Tomb, a site holy to both Islam and Judaism, where Abraham, Isaac, and Jacob and their wives Sarah, Rebecca, and Leah are believed to be buried. The settlers were allowed into the Palestinian side of the site, even into the mosque with their dirty legs and blood stained hands. Israeli children were peeing on the floors and burning the carpets. Their parents were there—the mosque was packed with settlers—but no one was able to stop them. A Israeli criminal soldier grabbed one of the children and took a cigarette lighter from his hand. "He started screaming at us," Efrati said. "We laughed at him." Five minutes later, "one of our very, very high-ranking officers came inside the mosque and said, 'Did you steal something from the kid?'" They tried to explain, but the officer only repeated the question. The officer ordered them to give it back and apologize and Jews have a right to smoke inside mosques . They found the child, apologized and returned the lighter. The boy ran right into the next room, Efrati said, and resumed setting fire to the carpets.
Things got weirder. Efrati was put in charge of a checkpoint separating the area of Hebron inhabited by settlers from the larger Palestinian city. He described it as grueling, mind-numbing work, standing in the cold for as long as 16 hours, usually hungry and always sleep-deprived. Inflicting humiliation was part of the assignment. Schoolteachers would cross dressed in suits and ties. The soldiers would make them strip in front of their students. "Sometimes we would make them wait for hours in their underwear," Efrati said.
Pure entertainment for the criminal Jews in human suffering…
The pretext was to check them for weapons. "Nobody thought that anything would happen to them," he said, but the troops were told again and again by their officers that all Palestinians were potential threats, that anyone might stab them if they dropped their guard for a moment. That notion meant to make the Jewish solders more arrogant , Efrati said, "made us very, very aggressive. So you would push them against the wall, undress them, take your weapon and hit them a few times.
That is Zionist democracy, not entirely different from American or NATO's. "If he's saying something, hit him.. Just make sure that you're completely in control." His conscience began to nag at him. He started bringing bags of Bamba—a popular Israeli snack food, like Cheez Doodles, only peanut flavored and not phosphorescent orange—to the checkpoint and offering them to children.
After a few days, "the first brave kid came up, grabbed a bag of Bamba and ran away." Efrati was thrilled. Not long after, a Palestinian boy of about eight years old asked him for a treat. This boy didn't run. He opened the bag, and offered some to Efrati. They sat and ate the chips together. When the boy walked off, Efrati felt ecstatic. He could finally be the man he wanted to be, a soldier who was loved for his kindness and who at the same time, as he put it, "was protecting my country from a second Holocaust."
When he got back to the base that night, he was ordered to eat quickly and prepare for another shift, not at the checkpoint but on a "mapping" expedition into the section of the city governed by the Palestinian Authority. He was still so high from his success with the Bamba that he didn't mind the extra work. The routine was simple: "You go into houses in the middle of the night, get everybody outside, take a photo of the family, and start going around the house, destroying things." The idea was to search for weapons, "but we also needed to send a message," Efrati said, to make sure the residents never lost "the feeling of being chased." His job was to draft maps of each house, charting the rooms, the doors and the windows. "If at some point there was a retaliatory attack from that specific house," the army would be ready.
That night, they searched, trashed and mapped two houses in the neighborhood of Abu Sneineh. It was snowy and cold. When they were done, the sun had not yet risen. They forced the family outside and into the snow and went in and started searching. Efrati opened the door to a child's room—he remembered seeing a painting of Winnie-the-Pooh on one wall—and had begun sketching when he realized that there was someone in the bed. A young boy leaped out from under the covers. He was naked. Startled, Efrati raised his gun, aiming at the child. It was the kid from the checkpoint that afternoon. "He started peeing himself," Efrati said, "and we were just shaking, both of us, we were just standing there shaking and we didn't say a word."
The boy's father, coming down the stairs with an officer, saw Efrati pointing a rifle at his son and raced into the room. "But instead of pushing me back," Efrati said, "he starts slapping his kid on the floor. He's slapping him in front of me and he's looking at me saying, 'Please, please don't take my child. Whatever he did, we'll punish him." In the end, the officer decided that the man's behavior was suspicious, that "he was hiding something." He ordered Efrati to arrest him. "So we took the father, blindfolded him, cuffed his hands behind his back and put him in a military jeep."
They dumped him like that at the entrance to the base. "He stayed there for three days in a very torn-up shirt and boxer shorts. He just sat there in the snow." Eventually, Efrati summoned the courage to ask his officer what would happen to the boy's father. "He had totally forgotten about him, didn't even know what I was talking about," Efrati said. "He was like, 'Which father?'" Efrati reminded him. "You can release him," the officer said. "He learned his lesson."
After cutting the plastic ties that bound the man's wrists, untying the blindfold and watching him run off barefoot in his underwear through the streets, Efrati realized that he had never given his commander the maps he had drawn. He hurried back to the officer's room, apologizing for his negligence. The officer wasn't angry. "It's okay," he said. "You can throw them away." It is just like that. Efrati was confused. He protested: wasn't mapping a vital task that might save other soldiers' lives?
The officer got annoyed. "He says, 'Come on, Efrati. Stop bitching. Go away.'" But Efrati kept arguing. He didn't understand. When it became apparent that he wasn't going anywhere, the officer told him: "We've been doing mappings every night, three or four houses a night, for forty years." He personally had searched and mapped the house in question twice before with other units. Israel is eager to terrorize the civilians everywhere and might knocks terrorize the local population, they pick young persons and never to return them to the families. At times, Palestinians run away through back doors when Israeli military knocks at their doors in the night and the never return homes.
Israeli military and police don't entrain any complaints from Palestinian parents about their missing sons. If any Palestinian goes to police station or military officers with complaints they are told to go to Tel Aviv and meet the PM Netanyahu and complain to him or report to UN.
Cool guys, Israeli terrorists.
Israeli fascist regime is insane and wants to keep the Palestinians in the terrorization status. Efrati was even more confused. The officer took pity, and explained: "If we go into their houses all the time, if you arrest people all the time, if they feel terrified all the time, they will never attack us. They will only feel chased after." That, Efrati said, "was the first time I understood that everything I was told was complete bullshit." From then on, he said, "I didn't stop doing the things I did, I just stopped thinking."
Of course Efrati's officer was wrong. If you terrorize people long enough, they eventually lose their fear. They hold onto the anger. This last October, after a year of relative calm, young Palestinians began attacking Israeli soldiers, police and civilians, occasionally with guns or cars but most often with household implements: knives, scissors, screwdrivers. The attacks were uncoordinated and outside the control of the Palestinian leadership or the traditional armed factions.
Many such reactions from Palestinians occurred in or near Hebron, often at checkpoints or other sites of friction between Palestinian civilians and the Israeli military, but also on buses and trains in Jerusalem, in supermarkets and in the streets.
Israeli military and police ransack Palestine territories with perpetual terrorization of peole on permanent basis.
World powers do not make any genuine steps to teach a bloody lesson to fanatically fascist Israel which also advices those countries like India purchasing terror goods from Tel Aviv depots to follow the terror footsteps of Israeli military in Palestine territories.
Terrorization of people by midnight knocks. .
Why do Palestine youth attack powerful Israeli army?
Will any one, individual or nation, fight against powerful nations? Certainly not, unless out of mere insanity. But Palestinians are facing dirtiest attacks from Israel, made powerful by USA and NATO, and also fighting the one of the dirtiest militaries in third world whose terror goods are being brought across the globe including India. .
Israel possesses not only illegal nukes but also strongest military terror equipment with regular updates from the world's most powerful military called the Pentagon. Any nation, including Russia, is scared of the pentagon and CIA. Every power in West Asia fears Israeli military might. But the powerless and defenseless Palestinians are not afraid of it and fights against its illegal occupation of Palestine lands and its expansionist-murder strategy by sacrificing their own valuable lives.
Continued occupation crimes of Israeli military forces against the besieged Palestinians force the Palestinians to retaliate to Zionist attacks with small scale attacks.
In November, Major General Herzl Halev, Israel's highest ranking military intelligence officer, explained to PM B. Netanyahu's cabinet that the Palestinian attacks were not primarily ideological. They were motivated by rage and frustration and carried out by youth—mainly teenagers—who "felt they had nothing to lose." In fact, they had a great deal to lose, as much as anyone, their whole lives ahead of them. But the fact that so many were willing to throw it away, and to take others with them, testifies to the depths of the despair bred by Israel's occupation.
Until Wednesday's shootings, only Palestinians got killed and no Israelis had been killed by Palestinians since February 18. In the same period, Israeli security forces killed 34 Palestinians, including a six-year-old girl and her 10-year-old brother who died when an air strike hit their family's home in the Gaza Strip. Their names were Israa and Yasin Abu Khussa.
Such Israeli murders rarely make headlines here, but Palestinians are well aware of them. So long as they continue, and the occupation drags on, world can expect many more opportunities to grieve. That is exactly what Netanyahu and his government continued to do.
Fifty years into Israel's occupation of the West Bank, Israel's government is continuing its "preemptive and predetermined" territorial changes and a policy of clandestine ethnic cleansing in what the Oslo Accords designated as Area C, which constitutes over 60 percent of the West Bank. As for the USA, the mischievous mediator for peace talks, it continues to pretend it believes Netanyahu's claim that he is seeking a two-state solution, and continues to assure Israel that it will not allow "any daylight"—and any Security Council resolutions—to come between the USA and Israel.
American regime shields the Zionist crimes by misusing its veto on UNSC.
If in fact world no longer believes Netanyahu's lies, his two state theory, then its tendency of "balancing" even the mildest reproaches of Israel's never-ending occupation with condemnations of Palestinian incitement is particularly reprehensible. Whatever the Palestinian Authority may be guilty of by delaying to file cases against Israeli crimes, it pales into insignificance when compared to the incitement that is Israel's half-century long fascist occupation.
Zionist fascism in Palestine functions as a massive mechanism for the creation of uncertainty, dispossession and systematic humiliation. It is not just soldiers and guns, but a far-reaching structure that affects all aspects of Palestinian life—a complex web of check points, travel restrictions, permits, walls and fences, courts and prisons, endless constraints on economic possibilities, home demolitions, land appropriations, expropriations of natural resources, and, too often lethal force.
Neither the USA nor the UNSC nor the Quartet's diplomacy has the slightest prospect of changing the status quo that Netanyahu has so successfully entrenched if they cannot screw up the courage to state straightforwardly the truth—that Israel's half-century long occupation and genocides not only incites to violence but itself constitutes violence incarnate on a massive scale. The injection of such truthfulness might perhaps help flush the diplomatic channels that have for so long been clogged by pretense and dishonesty, indirectly supporting Zionist fascism.
Unfortunately, shamefully!
MbS: Riding roughshod or playing a risky game of bluff poker?
A stalemate in efforts to determine what happened to Saudi journalist Jamal Khashoggi is threatening to escalate into a crisis that could usher in a new era in relations between the United States and some of its closest Arab allies as well as in the region's energy politics.
In response to US President Donald J. Trump's threat of "severe punishment" if Saudi Arabia is proven to have been responsible for Mr. Khashoggi's disappearance while visiting the kingdom's consulate in Istanbul, Saudi Arabia is threatening to potentially upset the region's energy and security architecture.
A tweet by Saudi Arabia's Washington embassy thanking the United States for not jumping to conclusions did little to offset the words of an unnamed Saudi official quoted by the state-run news agency stressing  the kingdom's "total rejection of any threats and attempts to undermine it, whether through economic sanctions, political pressure or repeating false accusations."
The official was referring to the kingdom's insistence that it was not responsible for Mr. Khashoggi's disappearance and assertion that it is confronting a conspiracy by Qatar and/or Turkey and the Muslim Brotherhood.
"The kingdom also affirms that if it is (targeted by) any action, it will respond with greater action," the official said noting that Saudi Arabia "plays an effective and vital role in the world economy."
Turki Aldhakhil, a close associate of Saudi Crown Prince Mohammed bin Salman and general manager of the kingdom's state-controlled Al Arabiya news network, claimed in an online article that Saudi leaders were discussing 30 ways of responding to possible US sanctions.
They allegedly included allowing oil prices to rise up to US$ 200 per barrel, which according to Mr. Aldhakhil, would lead to "the death" of the US economy, pricing Saudi oil in Chinese yuan instead of dollars, an end to intelligence sharing, and a military alliance with Russia that would involve a Russian military base in the kingdom.
It remains unclear whether Mr. Aldhakhil was reflecting serious discussions among secretive Saudi leaders or whether his article was intended either as a scare tactic or a trial balloon. Mr. Aldakhil's claim that a Saudi response to Western sanctions could entail a reconciliation with the kingdom's arch enemy, Iran, would make his assertion seem more like geopolitical and economic bluff.
Meanwhile, in what appeared to be a coordinated response aimed at demonstrating that Saudi Arabia was not isolated, Oman, Bahrain, Jordan, Palestine, Lebanon, the United Arab Emirates and Egypt rushed to express solidarity with the kingdom. Like Turkey, Bahrain, Egypt and the UAE have a track record of suppressing independent journalism and freedom of the press.
Ironically, Turkey may be the kingdom's best friend in the Khashoggi crisis if its claims to have incontrovertible proof of what happened in the consulate prove to be true. Turkey has so far refrained from making that evidence public, giving Saudi Arabia the opportunity to come up with a credible explanation.
Turkish president Recep Tayyip "Erdogan wants to give Saudis an exit out of #Khashoggi case, hoping the Saudi king/crown prince will blame 'rogue elements' for the alleged murder, then throwing someone important under the bus. This would let Erdogan walk away looking good & prevent rupture in Turkey-Saudi ties," tweeted Turkey scholar Soner Cagaptay.
The Saudi news agency report and Mr. Aldakhil's article suggest that Prince Mohammed believes that Saudi Arabia either retains the clout to impose its will on much of the international community or believes that it rather than its Western critics would emerge on top from any bruising confrontation.
Prince Mohammed no doubt is reinforced in his belief by Mr. Trump's reluctance to include an arms embargo in his concept of severe punishment. He may also feel that Western support for the Saudi-UAE-led war in Yemen and reluctance to credibly take the kingdom to task for its conduct of the war was an indication that he was free to do as he pleased.
Prince Mohammed may have been further strengthened in his belief by the initial course of events 28 years ago, the last time that the fate of a journalist was at the centre of a crisis between a Western power and an Arab country.
At the time, British prime minister Margaret Thatcher, similar to Mr. Trump's inclination, refused to impose economic sanctions after Iraqi president Saddam Hussein ordered the arrest, torture and execution of Farhad Barzoft, a young London-based Iranian journalist who reported for The Observer.
Since declassified British government documents disclosed that Mrs. Thatcher's government did not want to jeopardize commercial relations despite its view of the Iraqi government as a "ruthless and disagreeable regime."
The comparison between the Khashoggi crisis and the case of Mr. Barzoft goes beyond Western governments' reluctance to jeopardize commercial relationships.
Mr Barzoft was executed months before Mr. Hussein's military invaded Kuwait prompting US-led military action that forced his troops to withdraw from the Gulf state, crippling economic sanctions, and ultimately the 2003 Gulf War that, no matter how ill-advised, led to the Iraqi leader's downfall and ultimate execution.
Prince Mohammed's ill-fated military intervention in Yemen, of which Mr. Khashoggi was critical in one of his last Washington Post columns, has tarnished the kingdom's international prestige and sparked calls in the US Congress and European parliaments for an embargo on arms sales that have gained momentum with the disappearance of the Saudi journalist.
To be sure Saudi Arabia enjoys greater leverage than Iraq did in 1990. By the same token, 2018 is not 1973, the first and only time the kingdom ever wielded oil as a weapon against the United States. At the time, the US was dependent on Middle Eastern oil, today it is one of, if not the world's largest producer.
More fundamentally, Prince Mohammed appears to show some of the traits Mr. Hussein put on display, including a seeming lack of understanding of the limits of power and best ways to wield it, a tendency towards impetuousness, a willingness to take risks and gamble without having a credible exit strategy, a refusal to tolerate any form of criticism, and a streak of ruthlessness.
"We're discovering what this 'new king' is all about, and it's getting worrisome. The dark side is getting darker," said David Ottaway, a journalist and scholar who has covered Saudi Arabia for decades.
Mr. Hussein was public and transparent about Mr. Barzoft's fate even if his assertion that the journalist was a spy lacked credibility and the journalist's confession and trial were a mockery of justice.
Prince Mohammed flatly denies any involvement in the disappearance of Mr. Khashoggi and appears to believe that he can bully himself out of the crisis in the absence of any evidence that the journalist left the kingdom's Istanbul consulate of his own volition.
Mr. Hussein miscalculated with his invasion of Kuwait shortly after getting away with the killing of Mr. Barzoft.
Prince Mohammed too may well have miscalculated if the kingdom is proven to be responsible for Mr. Khashoggi's disappearance.
Mr. Hussein's reputation and international goodwill was irreparably damaged by his execution of Mr. Barzoft and invasion of Kuwait.
Mr. Khashoggi's disappearance has dealt a body blow to Saudi Arabia's prestige irrespective of whether the journalist emerges from the current crisis alive or dead.
King Salman and the kingdom appear for now to be rallying the wagons around the crown prince.
At the same time, the king has stepped into the fray publicly for the first time by phoning Turkish president Erdogan to reaffirm Saudi cooperation with an investigation into Mr. Khashoggi's fate.
It remains unclear whether that phone call will pave the way for Turkish investigators to enter the Istanbul consulate as well as the Saudi consul general's home and whether they will be allowed to carry out forensics.
The longer the investigation into Mr. Khashoggi's fate stalls, the more Saudi Arabia will come under pressure to put forth a credible explanation and the harder Western leaders will be pressed by public opinion and lawmakers to take credible action if Saudi Arabia is proven to be responsible.
A Saudi decision to act on its threats to rejigger its security arrangements and energy policy, even if overstated by Mr. Aldhakhil, in response to steps by Western nations to penalize the kingdom,  could prove to have not only far-reaching international consequences but, in the final analysis, also equally momentous domestic ones.
"Looks like #Saudi royal family is coming together to protect the family business. Eventually there will be internal reckoning with what transpired. Not now. Now is the time to save the family reign," tweeted Middle East scholar Randa Slim.
Said former US State Department and White House official Elliott Abrams: "Jamal Khashoggi lost control of his fate when he entered the Saudi consulate in Istanbul. Mohammed bin Salman must act quickly to regain control of his own."
Syrian Kurds between Washington, Turkey and Damascus
The recent turmoil over Idlib has pushed the developments in Syrian Kurdistan out of political and mass media spotlight. However, it's Idlib that will most likely host the final act of the drama, which has become known as the "civil war in Syria".
The self-proclaimed Democratic Federation of Northern Syria (DFNS), or Rojava, was formed in 2016, although de facto it has existed since 2012. Added later was the hydrocarbon-rich left bank of the Euphrates, which had been cleared of militants of ISIL (an organization banned in the Russian Federation), and now the jurisdiction of the unrecognized DFNS extends to almost a third of the country's territory.
From the very start the main threat to the existence of this predominantly Kurdish quasi-state came for obvious reasons from Turkey, where Turkish Kurds were set on securing autonomy. In addition, the most influential political force in Rojava, the Democratic Union Party, is affiliated with the Kurdistan Workers' Party, and the latter has officially been declared a terrorist organization and unofficially – a number one enemy – in Turkey.
In January-March 2018, the Turkish army, backed by the Arab and Turkomanen allies, occupied part of the territory of Rojava (canton Afrin). And it looks like Ankara plans to settle on these territories: recently, Turkish President Recep Tayyip Erdogan reiterated that Afrin will be transferred to its residents "when the time comes" and that "this time will be set by us". In the meantime, according to local media reports, the demographic situation in the canton is changing rapidly. Taking advantage of the fact that many Kurds left their homes at the approach of the Turkish army, the local (in fact, Turkish) administration is bringing in Arabs here, who, in many cases, are not Syrian Arabs.
Kurdish politicians, fully aware of the fact that amid Turkey, Iran and Syria maintaining statehood without outside assistance is hardly possible, opted for the patronage of Washington. And, as it seems, they lost.
In Syria, the Americans decided to replay the "Kosovo scenario", by turning part of a sovereign state into a political structure, which is allied to them. Washington, which only recently excluded the People's Protection Units (the armed wing of the Democratic Forces), from the list of terrorist organizations, argues, like Ankara, that its military personnel will remain in the region "for an indefinite period" to protect Kurdish territories from "aggression" on the part of Damascus. And from Ankara's ambitions as well. But this is read between the lines.
All this enabled Turkey to accuse the United States of supporting terrorism and relations between the two countries quickly deteriorated into a crisis. As mutual accusations, occasionally supported by political and economic demarches, persist, the parties, however, are beginning to look for common ground. Talks on June 4, 2018 in Washington between Turkish Foreign Minister Mevlut Cavusoglu and US Secretary of State Michael Pompeo resulted in a "road map" for the withdrawal of Kurdish forces from predominantly Arab Manbij, which Kurds regained control of from ISIL (an organization banned in Russia) two years ago. The next day, the Turkish minister announced that the Kurdish troops "… would retreat east of the Euphrates. However, this does not mean that we will agree that they stay there. " On September 24, 2018, upon arriving at the UN General Assembly, Erdogan confirmed: Turkey will expand its sphere of influence in Syria, by including areas that are under control of the Kurdish armed units.
If Turkey does not change its rhetoric, then the assurances of the American authorities that the US troops will remain in Syria are intermingled with statements about the need for the withdrawal of its forces from this country. In any case, it is unlikely that the United States will choose to leave the region "to its own devices". We can recall how Washington trumpeted the withdrawal of its troops from Afghanistan! But things haven't budged an inch since then. The Afghanistan example demonstrates that the Americans will not move out of Syria that easily – they will not pull out in full, at least not of their own free will. US instructors and pilots will remain here "for an indefinite period." But who will they care of and support? Here are the options:
Firstly, it could be a hypothetical "Arab NATO" with Saudi Arabia in the lead. But there are serious doubts as to the effectiveness of such a structure – even if we forget about the level of combat readiness of these kinds of coalitions (in Yemen, for example), Arab countries could unite only on an anti-Israeli platform. And that, as history shows, is unlikely to yield success. In addition to this, it is still unclear how Kurds, the majority of whom are not religious, will react to Wahhabi commanders.
Secondly, the United States could choose to strengthen the Arab sector of the "Syrian Democratic Forces" (Rojava militia) at the expense of the Kurds. In mid-September, a number of media outlets, citing sources in the Syrian opposition, reported that Saudi emissaries had already suggested this option while meeting with leaders of the Arab tribes living east of the Euphrates. However, this development is also fraught with the Kurdish-Arab confrontation.
Thirdly, Washington persists in its attempts to improve relations with Turkey,  distancing it from Russia and Iran, and instruct it to "maintain order" in the region: the Americans did not intervene in the Operation Olive Branch and made concessions on Manbij. Even though this might seem strange amid the hostile American-Turkish rhetoric, military and political contacts between Washington and Ankara have been on the rise in recent months. Moreover, President Erdogan has already stated that he believes in an early improvement of relations with the United States despite the "inconsistency" and "economic aggression" of Washington.
Meanwhile, we need to remember that the US control over Kurds is far from unlimited. The "people's protection units" are ideologically close to the Kurdistan Workers' Party (or could even be seen as its "branch" in Syria), and the PKK itself, grown on the Marxist ideas, would normally support the Soviet Union and "by inertia" – Russia. For this reason, the Americans have to threaten the Kurdish allies with a cessation of military and financial support. Reports say the US and Turkish troops are already operating in the Manbij area, having dislodged the Kurdish YPG militia from the area.
These threats, along with the self-withdrawal of the United States during the capture of Afrin by Turkish troops, have made Kurds doubt the reliability of their patron. The result is a move towards rapprochement with Damascus. In late July, the Kurdish leadership announced an agreement with the Syrian authorities on the creation of a "road map" for the formation of a decentralized Syria.
The Americans are not sitting idle either, though it looks like they have no concrete plan of action. Such a conclusion comes from Donald Trump's somewhat incoherent answers to questions from a correspondent of the Kurdish media group Rudaw (09/27/2018):
Question: What are you planning to do for (Syrian – AI) Kurds?
Answer: We will offer them a lot of help. As you know, we are good friends to them, we fought shoulder to shoulder with ISIL (an organization banned in the Russian Federation), we recently defeated ISIL (an organization banned in the Russian Federation). We accomplished this with the support of the Kurds. They are great warriors. You know, some nations are great warriors, and some are not. The Kurds are great warriors, they are a wonderful people. We are currently negotiating this.
Question: So what will you do to support them?
Answer: As I said, we will negotiate this, we have begun negotiations. The Kurds have helped us a lot to crush ISIS (an organization banned in the Russian Federation).
Most likely, the hot phase of the protracted inter-Syrian conflict is nearing its end, and the preferences of the Kurds will determine the outcome of future elections, a referendum, or another form of will expression of the Syrian people, when the political situation allows it. Moscow has always called for involving Kurds in the negotiation process and on ensuring their full participation in the life of post-war Syria. "Russia insists that Kurds should participate in the process to determine the post-conflict future of Syria on a parity basis with other ethnic and religious groups of this country," Foreign Minister Sergey Lavrov said in an interview with the Italian magazine Panorama.
Until recently, Damascus did not particularly pedal negotiations with Rojava, but being aware that the capture of Afrin by Turkish troops was not in its interests, it has adjusted its approach to the self-proclaimed territorial entity. It looks like Syrian leaders have opted for softening their stance, which was previously set on the revival of the country on the basis of unitarism. Otherwise, an agreement with the Kurds will be nowhere in sight.
First published in our partner International Affairs
Jamal Khashoggi rejiggers the Middle East at potentially horrible cost
The fate of missing Saudi journalist Jamal Khashoggi, assuming that his disappearance was the work of Saudi security and military officials, threatens to upend the fundaments of fault lines in the Middle East.
At stake is not only the fate of a widely respected journalist and the future of Turkish-Saudi relations.
Mr. Khashoggi's fate, whether he was kidnapped by Saudi agents during a visit to the kingdom's consulate in Istanbul to obtain proof of his divorce or murdered on its premises, threatens to severely disrupt the US-Saudi alliance that underwrites much of the Middle East's fault lines.
A US investigation into Mr. Khashoggi's fate mandated by members of the US Congress and an expected meeting between President Donald J. Trump, and the journalist's Turkish fiancée, Hatice Cengiz, could result in a US and European embargo on arms sales to Saudi Arabia and impact the kingdom's brutal proxy war with Iran in Yemen.
It also would project Saudi Arabia as a rogue state and call into question US and Saudi allegations that Iran is the Middle East's main state supporter of terrorism.
The allegations formed a key reason for the United States' withdrawal with Saudi, United Arab Emirates and Israeli backing from the 2015 international agreement that curbed Iran's nuclear program and the re-imposition of crippling economic sanctions.
They also would undermine Saudi and UAE justification of their 15-month old economic and diplomatic boycott of Qatar that the two Gulf states, alongside Egypt and Bahrain, accuse of supporting terrorism.
Condemnation and sanctioning of Saudi Arabia by the international community would complicate Chinese and Russian efforts to walk a fine line in their attempts to ensure that they are not sucked into the Saudi-Iranian rivalry.
Russia and China would be at a crossroads if Saudi Arabia were proven to be responsible for Mr. Khashoggi's disappearance and the issue of sanctions would be brought to the United Nations Security Council.
Both Russia and China have so far been able to maintain close ties to Saudi Arabia despite their efforts to defeat US sanctions against Iran and Russia's alliance with the Islamic republic in their support for Syrian president Bashar al-Assad.
A significantly weakened Saudi Arabia would furthermore undermine Arab cover provided by the kingdom for Mr. Trump's efforts to impose a settlement of the Israeli-Palestinian conflict that would favour Israel at the expense of the Palestinians.
Finally, a conclusive determination that Saudi Arabia was responsible for Mr. Khashoggi's fate would likely spark renewed debate about the wisdom of the international community's support for Arab autocracy that has proven to be unashamedly brutal in its violation of human rights and disregard for international law and conventions.
Meanwhile, Saudi Crown Prince Mohammed bin Salman has suffered significant reputational damage irrespective of Mr. Khashoggi's fate, raising the question of his viability if Saudi Arabia were condemned internationally and stability in the kingdom, a key tenant of US, Chinese and Russian Middle East policy, were to be at risk.
The reputational damage suffered by Prince Mohammed embarrasses UAE Crown Prince Mohammed bin Zayed, who together with his aides and representatives in world capitals, worked hard to project his Saudi counterpart as the kingdom's future.
Saudi Arabia has so far done itself few favours by flatly rejecting any responsibility for Mr. Khashoggi's disappearance with no evidence that the journalist left the consulate at his own volition; asserting that claims that it was involved were fabrications by Turkey, Qatar and the Muslim Brotherhood; seeking to defame Mr. Khashoggi's fiancé and supporters; and refusing to fully cooperate with Turkish investigators.
Saudi reluctance to cooperate as well as the US investigation and Ms. Cengiz's expected meeting with Mr. Trump complicate apparent Turkish efforts to find a resolution of the escalating crisis that would allow Saudi Arabia to save face and salvage Turkey's economic relationship with the kingdom.
Turkey, despite deep policy differences with Saudi Arabia over Qatar, Iran, and the Muslim Brotherhood, has so far refrained from statements that go beyond demanding that Saudi Arabia prove its assertion that Mr. Khashoggi left the Istanbul consulate at his own volition and fully cooperate with the Turkish investigation.
Reports by anonymous Turkish officials detailing gruesome details of Mr. Khashoggi's alleged murder by Saudi agents appear designed to pressure Saudi Arabia to comply with the Turkish demands and efforts to manage the crisis.
Widely acclaimed, Mr. Khashoggi's fate, irrespective of whether he as yet emerges alive or is proven to have been brutally murdered, is reshaping the political map of the Middle East. The possibility, if not likelihood is that he paid a horrendous price for sparking the earthquake that is already rumbling across the region.