Modern Migration as a Challenge to European Identity
Simultaneously an issue about European identity has aroused along with European Union formation. It is said in the preamble "European Identity Declaration" 1973 that members of the Community decided to elaborate this document in order to reach more precise determination of their relations with other countries and further interaction on formation of unitary Europe.
Appreciation of that is like European identity is concentrated around ideal concept of unitary Europe formation basing on a certain "imagined community". Identity of the type "we are Europeans" puts in a basis of existence of "European values": human rights, human freedom, liberal economic, democracy, multiculturalism, Eurocentrism. Cultural space of Europe is represented by a diversity of nationalities, languages, religions. The concept of Christianity may not serve as a measure of European identity, as far as EU is less considered as "Christian area" even in those countries like Germany and France. However, new all-European identity acts as an integral factor of legality attribution to governmental institutes. Authority growth of European Union governmental bodies is supported at the international arena due to common identity as well as serving in the capacity of the representative and guarantor of its citizens' interests before the interests of other nations.
Traditional views about the Europe's borders from the moment of EU formation have an impact upon consciousness of European identity. There are different levels of identity: supranational, national and regional – they exist concurrently supplementing each other. Highest-level leaders tend to raise "European identity" over national identity. Historical borders of some regions in Europe do not coincide with ones of the national states, similar division makes difficulties in national state functioning and European nationality formation.
Over recent years Europe has become a centre of international cosmopolitanism. Identity under the terms of globalization experiences transformation, both national and supranational as well. There is a destruction of community's social borders in the base of transformation process by means of integration and informational exchange. Integration processes in Europe lead to impact strengthening of regional identity and as a consequence to smearing EU interior borders and reinforcement of exterior ones. Several processes proceed in European integration directed upon strengthening of European self-consciousness and thinking. Under such circumstances it is rather complicated to identify differences between the countries of Europe as to their belonging to true European countries. All countries will characterized by certain cultural-social distinctions, like language and culture, however, territorial location of these countries will be a unifier.
Geographical borders of the influencing territory of European civilization are to be an essential element in creation of common space. European civilization is often characterized as Western civilization possessing nowadays more political shade. This civilization has more extended geography than physical border of Europe as continent and part of Eurasia. Certain aspects of western civilization as elements of soft power actively disseminated during the Cold War as a counterbalance to the communist Soviet Union, EU expansion to the East in 2004, apart from political and economic contradictions, emerged discussions about ideological backbones of European integration. EU expansion at the official level was performed under the slogan "return to Europe", in this context Europe spiting during bipolar world looked like a short period in long-term history of Europe defacing actual position of the western European countries. Grave differences cause possibility of Turkey entry to the European Union. Geographically, only 3% of Turkish territory is in Europe. The leaders of EU member states vacillate in association with the countries from former USSR located in Transcaucasia. Along with the accession to the EU former USSR Republics took a hard anti-Russian stand, thus Europa turned out to be before the choice of its concern in Russia.
By EU extension a revival process is observes as to national self-consciousness, understanding regional languages and cultures significance. It is a defence reaction to the processes of integration globalization, and ethnic diversity of Europe is already the established fact influencing upon internal and social policy of the Union.
European multicultural society is a multicoloured palette of nations, ethoses and small nations residing within the EU territory. Local topos of multiculturalism is a designated area populated individually in a foreign for it social-political and communal environment, diaspora, small ethnic group united by commonality of language, mental, cultural, ethnic and faith traditions. Special feature of multiculturalism is a compromise reaching between traditional and alien migration cultural communities possessing its cultural patterns. However, another question arises regarding exactly what kind of values – cultural-historical, Christian-religious or liberal – shall become basic in formation of European identity and how to combine with their cultural and religious diversity of Europe.
In 2003 investigation was conducted "Solidarity and Religion in European Union: comparative sociological perspective", where Europe is shown in the section of valuable settings of population. While inhabitants of Northern and eastern Europe are inclined to individualism and post-materialism having their civil rights in priority, and in the countries of Southern and Western Europe religion possesses the first place, however, concurrently, they rather highly appreciate material values. When evaluating population it is essential to consider not only geographical and material state and also history and confession. Low level of religiosity in the countries of Northern Europe, Germany and France is explained by the level of economic development and national policy.
In spite of the in people's consciousness religion continues to play an important role in the Europeans' life. Official representatives of Catholic Church strongly pushed for the issues on search and approval of European identity. During the period of discussion and drawing up European Constitution and Lisbon Treaty the church strongly pushed for provision inclusion about Christianity recognition as one of the sources of European integrity under support of the government of some European countries, especially Germany. However, the official edition of Lisbon Treaty included statements about the sources of democratic values, namely freedom, democracy, human rights, equality as well as cultural, religious and humanistic ancestry of Europe were admitted. However, the provision on Christianity was not included into the Treaty, but it was exactly clear what religion under concern. The subject of religion in the issues of European identity remains a relevant topic for discussion. On the part of more religious countries of Europe opinions are declared that Europe shall more precisely define its religious identity in order to uphold its interests in migration issues against the backdrop of globalization.
Many conservative parties state their position in recognition Christianity as a unified religion for EU, the radical parties are also committed for Christianity recognition but from more "Eurocynical" positions considering it to be an element of national identity. Dispute around religion role in Europe arises not only in the issues of European identity and also in the problems of migration and acceptance of new members by EU, for example Turkey. The majority of politicians are sure that general cultural heritage being inextricably connected with Christianity lies in the EU base, upon which Union's borders shall pass. If not considering all economic and social differences of Turkey and EU, entry of Muslim Turkey to EU is able to introduce imbalance into the attempts to form European identity and reinforce social and cultural-religious diversities.
Outstanding speech of Pontiff Benedict XVI addressed on September 12, 2006 in the Regensburg University called Europe to respect and appreciate its European roots and traditions in order to oppose challenges of the outside world, to which he added Islam as well. This appearance of the Catholic church's head caused a mass of protests on the part of Muslim people worldwide.
Nationalistic and "Eurocynical" tendencies are growing in strength as to a series of different reasons, where culture, religion, economy and policy are interlinked. Problem of migration and smearing of long-standing identity elements serve as a catalytic agent in creation of more active solutions and actions to maintain European identity. Since 2010 leaders of Great Britain, Germany and France suggested in public about collapse of multiculturalism policy, these statements got a multitude of expert assessments and opions about Europe's failure to cope with perform actions of "melting pot", however, these statement did not mean a final reject from the policy of multiculturalism.
After the Second World War the Europeans attempted to weaken the growth of nationalism and gradually to make up general European nationality by means of creating non-governmental institutes. Western-European countries are under a great pressure, they also have to deal with the migration flows from less developed European countries and at the same time to seek refugees assimilation, which arrive from all corners of the world. They have to face with a growth of anti-migration parties within the country (from "National Front" in France to British "United Kingdom Independence Party") in terms of increased terrorist danger. Some provisions of Schengen Agreement are discredited on different levels of state and regional government with regard to the border control between EU countries; agreement is criticised for insufficient control over the borders inside the Union which facilitates the movement not only the illegal migrants, and increases terrorist hazard.
Issues of migration interaction between the countries are on the agenda with envious regularity. Border control introduction is left in doubt by putting one of European Union' pillar, however, the facts itself as to this idea emergence points out a publication of questions on national European identity at the opening pages. In 2009 debates broke out in France regarding the national consciousness, however, all turned towards the situation with Muslims in the country. A series of European countries also face speeches of nationalist parties. Certainly, there is a general European tendency, but it includes regional peculiarities. The countries of central and northern Europe are mostly subjected to the nationalist insistences, it is a little bit aside in the Mediterranean world. As to political weight Italian "League of France" and Greek "Chrisi Auge" ("Golden Sunrise") – they do not pale in comparison with Austrian "Party of Freedom" or French "National Front".
Accession of ultra-rightists to power at the election campaign in Austria in 2016 fits into common interest of ultra-right ideas throughout Europe. Anti-Islamic dispositions prevailing before only in ultra-right political alliances take a form of popular discontent, which promotes popularity of nationalists organizations throughout EU as well as level criticism on open door policy. Anti-migrants moods are propelled by the movement "Pegida" in Germany. French «National Front» headed by Marine Le Pen in December 2015 won at the regional elections in the north of France and in departments located along the Cote d'-Azur. But now, Marine Le Pen and her party are optimistically disposed to presidential elections.
Apart from attempts to regulate several levels of identity within the frames of European Union, the questions on migrants' identity arise. Migrants in EU may be divided into two main categories: internal and external. Internal migrants are persons committing movement inside EU borders. Exterior migrants are persons arriving from the third countries in the search of improvement of their material states or seeking out asylum. The biggest threat is represented by the migrants arriving from the countries differencing much from Europe on the type of culture. Their presence poses a threat not only for European identity and also to senses of national consciousness. This threat is displayed in the acts of vandalism, developing crime situations in the countries visited, appearance of illegal networks and groupings.
The questions arise regarding interests representation of people contributing to economic, social and cultural spheres of the country, which do not have in-country citizenship. It may be more likely reported that the image of world, environment apprehension, religion and traditions of migrants differ from generally accepted European rules. Sweden with its Muslim population may be exemplified, where government encourages the work of neo-political communities and unions by consensual discontent of ethnic Swedes. The supporters of integration policy consider that namely negative attitude to creation of political base of interaction with Muslim minorities is to be a main reason of the crisis in the process of integration. Migrants voice protests, including by means of messes as they do not see any legitimate possibility to change something. However, Swedish government attempting to protect ultra-modern secularizing democratic-individualistic Sweden as much as possible against the capture by outdated and inhumane fundamentalists, has chosen its, not much democratic, but plain way: it tries not to admit Islam to political field of its country at all.
On the other part Germany continues accepting migrants involving non-government organizations to this issue. In 2012 "National Plan of Actions" was adopted at the Fifth National Summit, in which tasks and goals were formed and set considering immigrants' integration, program of arrangement and participants were defined, responsible for conduct, including NGO. About 400 various events were realized (specially-oriented for the youth and other age groups of immigrants) with the participation of funds, public associations of Germans, immigrant organizations, land and municipal authorities. The expenditures of the government for all events performance comprised more than 20 mln Euro. More attention is paid to Muslim communities among different groups of migrants, which German government endeavours to bring under control. The Foundation "Mercator" initiated the opening of graduate schools on Islam theology in the universities in order to solve problems on imams' lack in Germany. The objective of this program is to train academic staff of high qualification on Islam theology to develop Islam higher education in the country. This program will allow to train its imams being loyal to Germany and German society, who had arrived before mainly from Turkey bringing its traditions being not corresponding to German culture.
European Union demonstrates its ability to integration as a new philosophy of international relations, where Europe's unity and simultaneously its diversity of national peculiarities interlink. The President of the European Commission Romano Prodi in his address to the European Parliament made the following statement – "Process of European integration and contemporary history serve as recognition of factors converging us as well as those separating us. Extension will be characterised by the first attempt to form a new type of citizenship within the continent. It will bring along unprecedented extension of citizens' rights and strengthening of the state. The heads of governments constantly seek the ways to reach the greatest solidarity in issues of unity build up with cultural and religious diversity of population.
Agreement on EU establishment is a contract between independent countries agreeing to donate the part of their sovereignty for peace, security, democracy, freedom, human rights and justice. Union's institutes develop in accordance with needs of society and new goals. EU itself may be considered as an unprecedented pattern on building piece and level of integration, thus, it is vitally important to form a general European nationality. EU government provides state support of symbols creation on European belonging in order to maintain and develop ideas of general identity: passport of European patter, anthem, flag, driver's licence, introduction of general currency. Due to Schengen Agreement and cancellation of passport control, the citizens of Europe feel their belonging to an integrated geographical space. Political integration of the European countries increases confidence level and mutual understanding between all participants of integration process guaranteeing the rights and freedoms of EU citizen in all Union member-states.
Thus, listed aspects influencing upon the European identity formation as well as close cooperation in the field of policy and economy between EU countries have created a special system, where the states maintained its identity being paid great attention, retaining strong relations and mutual respect. Apart from national identity, the citizens feel belonging to a huge unification – European Union. This kind of identity is a base for integration process strengthening and relations development within the Union.
Integrated Europe has become an attraction object for many migrants, nowadays a problem on the agenda is to build up a new identity in terms of smearing of all-European cultural-religious values due to a great migration flow, and modern European Union – it is 28 independent states having its own identity and which are engaged in one direction to develop general European identity.
The future of Europe depends on its neighborhood – UfM's Nasser Kamel says
On July 1st, 2020, the Secretary-General of the Union for the Mediterranean (UfM), Dr. Nasser Kamel, participated in an international conference discussing the future of Europe. The event under the name FROM VICTORY DAY TO CORONA DISARRAY: 75 YEARS OF EUROPE'S COLLECTIVE SECURITY AND HUMAN RIGHTS SYSTEM was held at the historic setting of the eldest world's Diplomatic Academy, that of Vienna, Austria. This gathering was organised by four partners; the International Institute for Middle East and Balkan Studies (IFIMES), Media Platform Modern Diplomacy, European Perspectives Scientific Journal, and Action Platform Culture for Peace, with the support of the Diplomatic Academy of Vienna.
In his highly absorbing keynote, Secretary General Dr. Kamel described the impact of the C-19 event as only amplifying the old issues and long-standing challenges within the Euro-Mediterranean theater. To this end, Excellency especially focused on the economic and environmental challenges faced by the Euro-MED. He recommended that sustainability and resilience should be at the core of the post-C-19 recovery, and gave an important piece of advice to European policymakers: if Europe is to become a global power, a positive engagement with its neighborhood – both east and south – will be of paramount importance. Hostilities and confrontation should be replaced by a decisive cooperation on the common future project. And such a project should include all EU/Europe neighbors without prejudices.
Reflecting on the global impact of C-19, Excellency Kamel stated that the pandemic has pushed the world to a new era, and that the repercussions of this crisis will be extremely far-reaching – not least in terms of economic activity, which is set to dramatically decrease at the global level. As for the Euro-Mediterranean more specifically, the UfM's Secretary General noted that the region's existing elements of fragility – most notably the high levels of inequality and the pressing climate change emergency – are set to worsen as a result of the pandemic. To counter the ensuing negative effects, Dr. Kamel advised, resilience must be built through a holistic approach that promotes at the same time an environmental, social, and economic recovery throughout the whole Euro-Mediterranean region.
Secretary General Kamel also touched upon the economic impact of the C-19 in the Euro-Mediterranean region. This impact – he noted – has been markedly uneven, as countries that were more dependent on Asian supply chains, for instance, have been hit harder and faster than others. Starting from this observation, the UfM's Secretary General delved into the debate about the current economic model and its typical long supply chains. While refusing frontal attacks to globalization as an outdated concept, Dr. Kamel suggested that Euro-Mediterranean countries should increase their resilience and work better to ensure the solidity of their supply chains – for instance though what he called a "proximization", or regionalization, of these chains. On this issue –he noted– the UfM Secretariat is currently working with relevant partners, including the OECD, as to explore the potential to create regional supply chains – hoping that this could lead to tangible development gains on both shores of the Mediterranean.
Besides the oft-discussed economic issues, the Secretary General's contribution also sought to highlight the importance of environmental considerations, which risk slipping at the bottom of the agenda in times of economic crisis. Dr. Kamel stressed that the climate crisis is a reality that the Euro-Mediterranean region must inevitably face. A report developed by a large group of scientists from several different countries, supported by both the UfM and the United Nations Environment Programme, has highlighted that the impact of climate change in the Euro-Mediterranean is set to be particularly significant – just to quote one statistic, the region is warming 20% faster than the rest of the world. Hence, Secretary General Kamel stressed, the region's post-pandemic recovery must be more sustainable – more green, blue, and circular – with a focus on enhancing the resilience of societies on both shores of the Mediterranean.
In his concluding remarks, Mr. Kamel decided to stress the interconnectedness of the Euro-Mediterranean region. The European continent is tightly linked to its neighborhood, he noted, both to the east and to the south. Hence, the future of Europe as a relevant economic, political, and geopolitical power depends on how proactive and engaging it will be with its immediate neighborhood – Dr, Kamel said. As for Europe to be prosperous, its neighborhood should be resilient, mindful of the environment, and more economically integrated. At the UfM – Secretary-General assured audience – that is the aim that everyone is hoping, and working, for.
In order to make the gathering more meaningful, the four implementing partners along with many participants have decided to turn this event – a July conference into a lasting process. Named – Vienna Process: Common Future – One Europe, this initiative was largely welcomed as the right foundational step towards a longer-term projection that seeks to establish a permanent forum of periodic gatherings as a space for reflection on the common future by guarding the fundamentals of our European past.
As stated in the closing statement: "past the Brexit the EU Europe becomes smaller and more fragile, while the non-EU Europe grows more detached and disenfranchised". The prone wish of the organisers and participants is to reverse that trend.
To this end, the partners are already announced preparing the follow up event in Geneva for early October (to honour the 75th anniversary of the San Francisco Conference). Similar call for a conference comes from Barcelona, Spain which was a birthplace of the EU's Barcelona Process on detrimental; the strategic Euro-MED dialogue.
Political Impacts of a Second Wave of Covid-19: Looking at Past Health Crises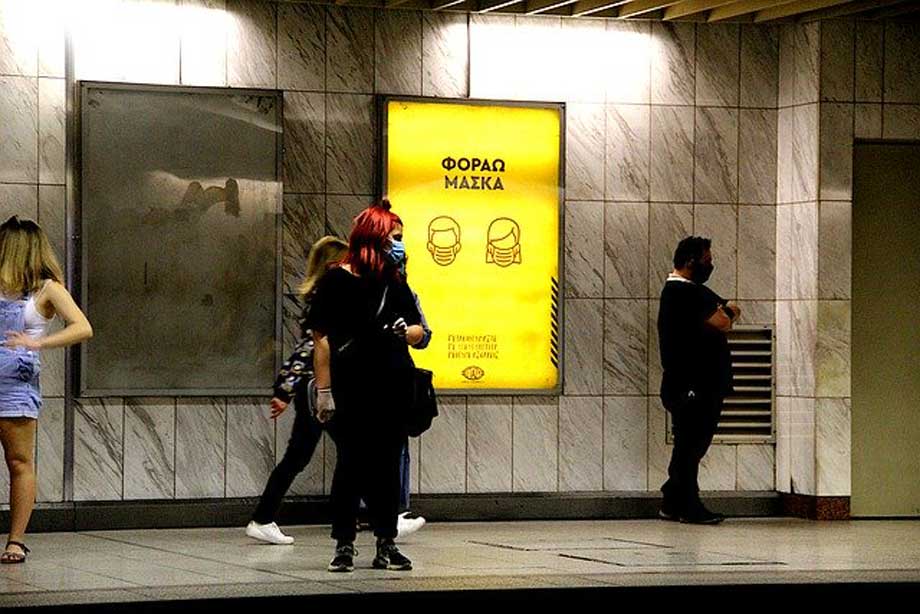 Undoubtedly, a significant number of governmental reports, academic articles and op-eds about the Covid-19 and its likely future impacts in the world societies and economies have already been published. Though useful for planning, anyone attempting to establish prospective post-pandemic scenarios should – above all – be aware that this effort is filled with uncertainty as the repercussions of any contagious diseases are always dynamic. Namely, its reliance on constant evolving factors, is causing persistent shifts in its impacts principally for those of economic and political nature.
With this thought in mind, and as the doubts shrouding a possible second wave of this pandemic slowly erode, it seems important to look at historical instances of uncontrollable transmission of disease and to understand how deeply it can politically impact human societies, albeit contextualizing the obvious differences brought by time and different social and technological backgrounds. Still, having these aspects in consideration, it should be noted the common denominator that the current pandemic has with other historical health emergencies: the absence of medical countermeasures that can truly eliminate the disease.
In fact, the failure to produce an "effective, no side effects" Covid-19 vaccine so far, led Governments to implement quarantines, which from the Black Plague to the SARS epidemic, proved to be of the one of the few historically effective methods to slow the spread of disease. A report, published by the WHO in 2006, characterized the use of quarantines in the SARS 2003  epidemic  to  be  "old  fashioned  and  labour  intensive"  although  effective  as  "these measures slowed the virus' spread, and, in the end, contributed to its containment". This lesson proves to be of particular importance in a time where the  economic and  social pressure to end lockdowns have succeeded in coercing Governments to ease the implemented containment measures, even if any positive outcomes of the latter are yet to be seen.
As stated by a report of the "Konrad Adenauer Center for International Relations and Security Studies" (KACIRSS) on the diseases' impact on political stability, "a high level of virulent infectious diseases may even destabilize politically stable and economically strong countries, like European or North-American countries", making relevant any effort of anticipating the reactions of the masses in the midst of a health emergency, so to contain any negative effects brought by it.
One of the most significant signs of political disruption caused by a pandemic event is the depletion of trust in elected leaders, as they seem unfit to tackle the challenges, which, if uncontained, may constitute as a prequel to a larger erosion of confidence in political institutions. This absence of trust leans on factors such as "high morbidity and mortality rates, a lack of medical knowledge and effective treatment options, and general unfamiliarity with the disease" that unchecked, could lead to higher "destabilizing effect of the disease as the population's perceived (and real) risk increases."
Case in point, as the plague in Athens, during the Peloponnesian War, took its toll on its population, historians reported a detrimental effect on Pericles leadership and other elements of the Athenian society, leading to anarchy and, ultimately, the end of its democracy. Similar conclusions could be drafted from the Black Plague, which had a significant impact on monarchical authority in Europe and other surrounding regions.
Taking these historical episodes into considerations, as we witnessed statements of political leaders downplaying the full impact of Covid-19, solely to later advocate – sometimes against scientific advice – a quick resumption of economic activity, it is important for these high dignitaries to remember that an unprepared society for a second wave will likely not be forgotten by its voters. Furthermore, this sort of impact should speak volumes for governments whose leaderships are near the end of their mandates or are based upon parliamentary coalitions that may no longer be viable within an unstable political context. Worse, in a time where social media and fake news are highly influential, this absence of political trust could be seen as an opportunity for populist political movements, as well as extremist groups, to gain momentum and harvest additional supporters for their causes. To this equation, we need to add profound financial repercussions that the Covid-19 pandemic is expected to have on international economies and, consequently, in the population's discontentment, considering possible signs of lockdown fatigue if a return to status quo ante is required.
Consequently, a second Covid-19 wave, converged with an economic downturn, could carry another political effect, namely in terms of a State's potential political regime change. Already mentioned examples of how the Athens plague undermined its democracy or how the Black Plague may have impacted feudalism in Europe need to serve as a testimony to democratic leaderships of how disease infested societies, if unchecked, may provoke/accelerate structural modifications in political regimes. Hopefully, recent decisions taken by a Central European government, still a formal democracy, may constitute only a temporary exception to the witnessed democratic progresses the world has seen during the past three decades.
Historical epidemic occurrences may also hold valuable lessons for the European Union (EU). Notwithstanding the obvious differences between the Catholic Church of the 14th century and the EU of today, both share the common denominator of being transnational entities with significant  political  influence  on  countries  in  Europe.  Much  has  been  written  on  the detrimental impact that the Black Plague had over the Catholic Church political influence in 14th century Europe, as the members of the clergy were unable to provide any answers to the needs of Europeans faced with rising casualties, causing a "decline in their confidence (…) of the institution of the Church".
Less than seven centuries later,  polls published by the European Parliament's Public Opinion Monitoring Unit clearly state that "In Spain, 90% of respondents consider that the EU is helping "a little" or "not at all" to resolve the situation caused by pandemic" while "88% of Italians feel that the other EU countries are not helping Italy and 79% think the same of the EU institutions. Still, a relative majority (42,6%) do not want to leave neither the EU nor the Eurozone". Given these numbers, it is becoming increasingly discernible that citizens of some Covid-19 hardly stricken  countries  questioned  the  EU's  lack  of  leadership  or  solidarity  to  support  their Member-States when in dire situations. Doubts could also be raised on the possible political effects of a second Covid-19 wave on the EU – Member-States relationship, if health and financial consequences remain unaddressed.
But even though the real impact of this coronavirus crisis on the Italians' opinion towards EU remains to be seen, the apologetic letter written by the President of the EU Commission, Ursula von der Leyen, in an attempt to justify the initial paralysis of the European institutions while staring at the Italy's health system collapse, appears to be a good omen. Furthermore, the EU leaders approval of a recovery fund to mitigate the deep financial and economic impacts of the pandemic are also vital steps, especially if the approved measures are proportionally beneficial to the affected Member-States and particularly their citizens, as otherwise a hypothetical second Covid-19 wave may prove to be more than just another obstacle in the path to Europe's unity.
Finally, considering the profound international impacts of Covid-19, it is difficult not to envisage on how terrorists might be inspired by the detrimental effects of disease on societies and how deadly pathogens could provide a significant boost for their propaganda necessities. Even though bioterrorism, and its contributing factors, has been substantially addressed by academia and official reports, it is still important to understand that several of the technical barriers preventing the terrorist use of pathogens have decreased over the last two decades, so new approaches are in dire need.
In 2015, I co-authored an article with Anne-Yolande Bilala that addressed the possible beneficial effects brought by the implementation of a "Bioterrorism Prevention Initiative" for the mitigation of this particular threat. Regardless of any merits embedded in this proposal, it would be of crucial importance if initiatives with similar desiderata could see the light of day in a post Covid-19 security context, so to decrease any risks of nonstate actors producing, acquiring and/or disseminating biological agents.
The above mentioned historical events may also provide important lessons, in terms of a future pandemic preparedness, for Governments to grasp, the most notable being that Biodefense needs to become a de facto priority, while adopting and investing in a more preventive posture towards biological menaces, so to anticipate emergencies of global and catastrophic nature. Case in point, regardless of the billions of Euros invested on healthcare every year, "global postures remain primarily response-driven and reactive to a dynamic and volatile emerging disease landscape. New epidemics are often met with an emergency response, after-action reviews and a promise to rethink prevention."
Serving as an additional testimony on the absence of structural changes over the last years, it is also important to remember the already mentioned WHO post-SARS report that concludes that  "communicable  diseases  had  been  given  insufficient  attention,  with  doctors  more interested in high-tech fields such as neurosurgery and molecular biology. Awareness levels were low and infection-control procedures had become slack. In sum, public-health systems were simply not ready for what happened." A preventive posture to avoid the same scenario would entail, for example, improved synergies between health and military research facilities, and  a  substantial  increase  of  financial  resources  for  the  latter  institutions  as  well  for universities, research centers, and the private sector so to monitor and develop new solutions aiming to tackle emerging diseases.
Finally, the preventive posture could also result in the formalization of a dual-use for national industries. One of the most positive aspects emerging from this pandemic episode was the ability for some industries and services to adapt their assembly lines in order to produce ventilators, masks and other PPE production. Although very commendable, the majority of these  decisions  were ad hoc and solely  based  on goodwill. A  future  proactive/preventive approach, in which Biodefense is a strategic cornerstone, will likely require that local industries– either within a national or regional context – have a pre-designated role for future pandemic episodes.
This "dual-use" purpose would likely require that Governments leverage lessons learned from the current pandemic, in order to anticipate needs, and negotiate with local industries what their future roles could be in a posterior health crisis. Such negotiation would call for exceptional skills in terms of planning, besides constant updates, as some companies may go bankrupt or transfer their facilities to another country. Nonetheless using a long term perspective to define the blueprints for the role of the civil society in a pandemic scenario may prove to be a fruitful exercise, as, when necessary, societies will be better prepared for a next catastrophic biological event.
When looking back in History to find other examples of epidemics, one could argue that the dimension of human fatalities was much larger or that the available scientific know-how to deal with the latter did not give societies sufficient countermeasures to tackle the disease. Both present valid points, but more important than lethality rates is the threat perception of the affected populations, the de facto origin of political instability, which in an age where information instantly travels across the globe and when efficient medical countermeasures against Covid-19 are still lacking, tends to be even more palpable.
As political leadership in democracies has, over the years, become a little more than a voters' expectations management exercise, political stability in a time of pandemics is likely to be more dependent on how fast governments implement mitigation measures coupled with communication transparency by leaderships and the fact-based science behind unpopular decisions, instead of finger pointing/social dividing speeches that, ultimately, will only lead to ghastlier public health scenarios and to a widespread of social turmoil.
The spirit of "Greater Albania" acquires Brussels substance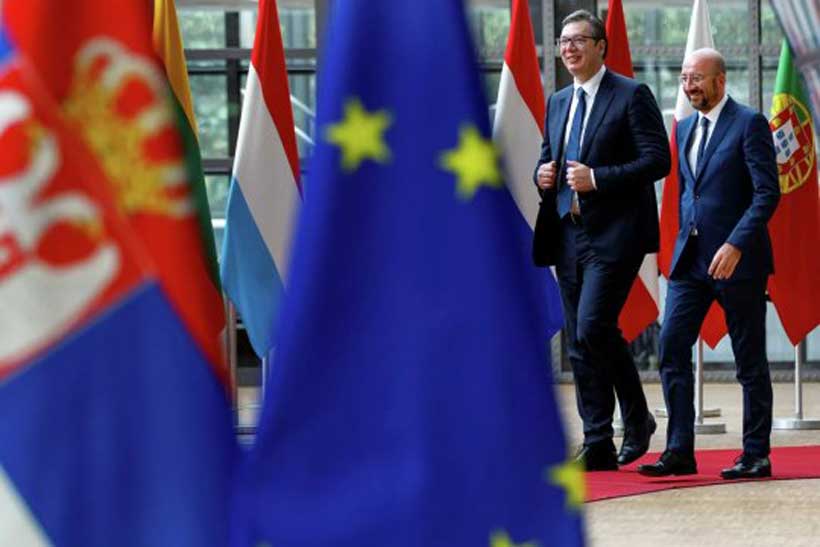 A meeting of Serbian and Kosovo leaders which is scheduled to take place in Brussels in September may result in the signing of an agreement on the normalization of relations. According to reports, the EU leaders, who act as mediators in the Belgrade – Pristina dialogue, have prepared a draft agreement. Serbian and Brussels sources say the draft provides for recognition of the self-proclaimed independence of Kosovo by Belgrade in exchange for Serbia's membership in the EU.
However, even if Belgrade chooses to sign the above-mentioned agreement, – such a step will do nothing to secure normalization in the Balkans. On the contrary, it could open a new chapter in the political and administrative "reformating" of the region. What comes as a key factor here is activization on the part of Albania, which is using the Belgrade-Pristina deal for its own purposes, and these purposes are infinitely far from what the leading European capitals count on. It would hardly be an exaggeration to say that a full-blown international and legal recognition of Kosovo's independence (which is supposed to result from the agreement prepared in Brussels on the normalization of bilateral relations between Belgrade and Pristina) will become a prologue to more active efforts on the part of Albanian radicals to establish "Greater Albania", which would incorporate Albania proper, most of Kosovo, Presevo Valley, parts of Macedonia, Montenegro, and, possibly, Greece, with a total population of up to 10 million.
Statements in support of creating such a state have come recently from many high-profile political and public figures in Kosovo, who maintain close ties with the Albanian community abroad and with influential American and European politicians. One of them is Azem Vlasi, who headed the regional branch of the Union of Communists of Kosovo and was a member of the Central Committee of the Union of Communists of Yugoslavia in the 1980s. He doubts that the recent talks in Brussels on the division of Kosovo will produce an agreement. In his opinion, the authorities in Pristina are not prepared to give up control of the entire territory of the region. Besides, it's Kosovo that could become a center of the "collection" of Albanian lands in the Balkans.
The main guidelines to methodologically justify the program of creating "Greater Albania" were presented in the 1990s, by one of the most outstanding of Albanian intellectuals, Recep Chosja, who pointed out that «Albania has never accepted its present borders, always trying to remind international circles that its present borders are unfair, as they divide Albanian territory into two parts. These borders run across the very heart of Albanian people».
The official position of neighboring Albania, which is same nationality with Kosovo, is the acknowledgment of inviolability of the existing borders. In 1992 the head of government from the Democratic Party of Albania Sali Berisha said in an interview that «the idea of creating "Greater Albania" is alien to Albanian ruling circles and political forces».
Nevertheless, in May 2011, member of the Presidium of the Democratic Party of Albania, Azgan Khaklai, openly demanded that all Albanian territories should be united to form one state, while the incumbent head of government Edi Rama has been indicating that unification of Albania and Kosovo is Tirana's Plan A and should be regarded as such in connection with the agreement between Pristina and Belgrade.
Public opinion polls conducted among the Albanian population of the Balkan countries suggest that the program of creating "Greater Albania" has been acquiring ever more popularity among the Albanian population of the Balkan countries. The idea of making Albania's borders "ethnic" has already won the support of more than 80% of the population of Kosovo, over 70% of residents of Albania, and of more than a half of Macedonian Albanians. About one half of respondents in Kosovo and 40% in Albania believe that Greater Albania with its widest ethnically conditioned borders will come into being in the near future.
Meanwhile, at the end of 2006 a similar study conducted by experts of the UN Development Program found that only 2,5% of Kosovo Albanians considered unification with Albania the best solution, whereas 96% wanted Kosovo to become independent within the existing borders.
Such a situation may force leading world powers and international institutes to reconsider their recent policies, which focused on a state rather than on a territory and which envisaged that each Balkan country should search for a solution of its problems by itself. «A territory-focused policy regards the Balkan region not as a community of established countries, but as a system of territories that stay in dynamic balance and are thus capable of reformatting. «A carve-up of regional borders on the ethno-linguistic and religious principles may acquire fresh impetus in the course of current talks between Belgrade and Pristina. Serbia's President Aleksandar Vucic has expressed readiness to recognize Kosovo in exchange for territorial concessions, while his counterpart Hashim Thaci hopes to invite to his country Serbian Albanians», – points out Le Monde diplomatique, emphasizing the situation in Presevo Valley, which borders on Kosovo.
Another potentially explosive "hot spot" covers three South Serbian communities (Bujanovac, Medveja and Presevo). According to the last census conducted in Serbia, about 90, 000 people live on the territories of these three communities. The ratio of Serbs and Albanians is as follows: in Presevo – 89% Albanians and 9% Serbs, in Bujanovac – 55% Albanians and 34% Serbs, in Medveja – 26% Albanians and 67% Serbs.
Chairman of Presevo community and leader of the Democratic Party of Albanians in Serbia Ragmi Mustafa has spoken in favor of "exchange of territories" between Belgrade and Pristina, underscoring that all three communities "should join Kosovo" while "northern Kosovo should join Serbia". In his words, the relevant proposal should be presented at the Brussels talks: «I think that this is the future of our region».
According to leaders of Presevo Albanians, the international community should make the Serbian government "refrain from impeding the expression of the freewill on the part of the population of the Presevo Valley».
Such a position echoes the program of the radical Kosovo movement "Self-Determination", headed by former Prime Minister Albin Kurti. Kurti believes that Kosovo and Albania "should coordinate their actions and simultaneously streamline their legislation with a view to prepare for two referendums, in Albania and Kosovo, on the outcome of which Kosovo will unite with Albania". "I think that this meets the interests of our people in the economic sphere and in the sphere of security", – Albin Kurti points out, saying that after the referendum the time will come to "solve pan-Albanian issues, in the first place, in Macedonia, Eastern Kosovo [Presevo Valley], Montenegro and Greece". In the opinion of the "Self-Determination" leader, Kosovo authorities ought to hold talks not with Belgrade, about the division, but with Tirana, about the unification.
Given the situation, there are grounds to expect activization of efforts on the part of both Kosovo authorities and Albanian leaders in other Balkan countries and territories with a view to build up their military and political might. In fact, this process is already taking place. Deputy Director of the Information and Press Department of the Russian Foreign Ministry Aleksei Zaitsev has made a statement to this effect drawing public attention to the fact that the United States has begun to supply Pristina with military hardware. According to the diplomat, the US is thus openly undermining international efforts oriented at ensuring peace and stability in the Balkans.
Pristina has also stepped up efforts to establish military cooperation with Germany. All this testifies to the escalation of conflict in the Balkan Region amid the ongoing activization of the "Albanian factor".
From our partner International Affairs