UNSC should act to freeze Israeli settlements in West Bank
Israeli regime exists due mainly to its illegal operations as a part of its state policy of expansionism, backed by USA and its NATO allies. Palestinian authority has once again called on the United Nations Security Council to act against Israeli settlement building, in the wake of the latest Jerusalem Municipality's decision, on instruction from Tel Aviv, to advance 770 new Jewish homes in its Gilo neighborhood, which is located over the Green Line.
"This is yet another opportunity for the international community to show its real commitment for the two-state solution, and to take all needed action in order to have Israel fully cease settlement construction in the occupied state of Palestine," said PLO Secretary-General Saeb Erekat.
Erekat said that he has asked the State of Egypt and the leaders of Arab countries to call for an urgent meeting of the Arab Quartet, in order to submit a draft resolution to the United Nations Security Council to halt settlement expansion."
Discrimination based on religion, race and sex would be illegal in any other civilized country. But Israel argues its illegal settlement law is final and ultimate. It added that building for Jews is advanced everywhere in the capital based on Zionist "construction laws" and the city's master zoning plan, and that such construction is important to ensure the city's future by providing housing for young couples.
Terror state's criminal settlements
Though Tel Aviv is its large capital as approved by all big powers, including USA and UK, Israel , in order to deny the Palestinians their right to make Jerusalem its capital, maintains that Jerusalem would remain its united capital in any final status agreement with the Palestinians for a two-state solution if the world wants. As such, it argues that it has a right to build Jewish houses for its criminal minded "residents" in all areas of the city. "We won't lend a hand to a freeze of Jewish building in Israel's capital," said the Jerusalem municipality.
Israel uses its illegal settlements inside Palestine territories to get maximum concessions from Palestine and Quartet member states. The plan for what is known as Gilo's southern slope was submitted on July 21 before the Jerusalem District and Planning Committee, which means that there is now a 60-day objection period. Initial approval for the project was given in 2012, as the UN General Assembly voted to upgrade Palestine's status by recognizing it as a non-member state, rather than an observer mission. The municipality said that depositing the plans was simply a technical action that followed from that initial 2012 approval.
According to the non-governmental group Ir Amim, the project if approved would help solidify Israel's iron-terror hold on the southwest perimeter of the capital, which abuts both the Palestinian city of Bethlehem and the Gush Etzion area of the West Bank.
The municipality is already building 797 new homes on Gilo's western slope, near the site slated for the new 770 unit project. Gilo is located near the Jewish neighborhood of Har Homa, and the location of what will be the new Jewish neighborhood of Givat Hamatos. Palestinians have argued that an Israeli action in that end of the city is creating a wedge that is isolating Bethlehem from Israeli- Arab neighborhoods of the city and the surrounding Palestinian villages.
Israel-US terror twins fool world on two state solutions
Israel has been isolated on Palestine issue but it still calls all shots thanks to USA. Off and on Tel Aviv does talk about "two state solution" but only as a ploy to fool the world. Any wedge, real or artificial, the Palestinians have claimed, would make it difficult to enact a two-state solution that places east Jerusalem within the boundaries of a Palestinian state. "While Israeli ministers complain about a 'building freeze,' Israel continues its policy of one-sided actions that complicate and distance the possibility for a two-state solution," said Ir Amim. "The past year makes it clear that the peace and security which Israelis deserve require a totally different policy."
Erekat said that "Israeli settlement construction in general, and in and around Occupied East Jerusalem in particular, is part of Israel's political decision to bury the two-state solution by consolidating its illegal occupation and apartheid regime over the Palestinian people."
The UN condemned the Gilo project, and said it too was concerned by its impact on the diplomatic process. "I reiterate that settlements are illegal under international law, and urge the government of Israel to cease and reverse such decisions," said Nickolay Mladenov, the UN's special coordinator to the Middle East peace process. He noted that earlier this month the Quartet — composed of the United States, Russia, the UN and the European Union — had issued a report in which it called on Israel to stop such building. "Continuing on the current trajectory entrenches a one-state reality of perpetual occupation and conflict that is incompatible with realizing the national aspirations of both peoples," he added.
Mladenov said he was also worried about reports that settlers were attempting to rebuild an outpost in the Kiryat Arba settlement, known as Mitzpe Avichai. The two projects, he said, "come against the backdrop of statements by some Israeli ministers that there should never be a Palestinian state or calls for the full annexation of the West Bank. Such moves raise legitimate questions about Israel's long-term intentions."
PLO Secretary General, Dr. Saeb Erekat on Monday had strongly condemned the decision of the occupation authorities to advance plans to build 770 units in the illegal settlement of Gilo, built on lands of the Palestinian towns and villages of: Beit Jala, Beit Safafa and Wallajeh, between Bethlehem and Occupied East Jerusalem. "This approval comes as Israel continues the construction of its Annexation Wall in the same area (Cremisan), as part of Israel's settlement enterprise in the Occupied State of Palestine," Erekat said. In an official statement, Erekat said that such a decision further reflects the failure of the international community to stop Israel's settlement expansion.
The decision comes as Israel receives more assurances that no action will be taken against its illegal policies of colonization and annexation of Occupied Territory, a war crime under International law. Israeli settlement construction in general, and in and around Occupied East Jerusalem in particular, is part of Israel's political decision to bury the two-state solution by consolidating its illegal occupation and Apartheid regime over the Palestinian people."
However, Erekat said that this is yet another opportunity for the international community to show its real commitment for the two-state solution and take all needed action in order to have Israel fully cease settlement construction in the Occupied State of Palestine. "We have asked the State of Egypt and the leaders of Arab countries during our recent visit to call for an urgent meeting of the Arab Quartet in order to submit a draft resolution to the United Nations Security Council to halt settlement expansion." Erekat added. He concluded that the PA will continue to exert all efforts to confront the Israeli illegal colonization projects with all possible tools towards ending the occupation and establishing our independent sovereign state on 1967 borders with East Jerusalem as its capital.
Meanwhile, Russian President Vladimir Putin has said that Moscow considers the existing status quo on Palestine inadmissible and calls for relaunching the negotiation process. "We also intend to continue to provide all possible assistance in resolving the Palestinian problem acting through both the bilateral channels and within various multilateral formats," the head of state said in his message of greetings to the heads of state and government of the Arab League member-countries. "We believe the existing status quo in unacceptable and favor creating the conditions for the speedy relaunching of the negotiation process that will be aimed at creating an independent, viable and integral Palestinian state with its capital in East Jerusalem peacefully coexisting with its neighbors," the president said.
Russia did propose to mediate between the two and find a amicable solution. USA disapproves of Russian role in any peace talks between Palestine and Israel.
The US Role in the Israeli-Palestine Conflict
While with its expansionist-holocaust agenda in Palestine, Israel remains the unavoidable obstacle to peace in West Asia- beyond Mideast- USA with its immoral backing to the illegal regime and its crimes against Palestinians makes developments worse for the besieged Palestinians.
In fact it is the support of USA and its imperialist allies that forces Israeli military and Mossad to keep attacking the Palestinians, killing even children so that they could achieve a total and complete holocaust of Palestinians and Israel could be the owners of all Palestinian lands. A full expansionism!
This immoral and illegal partnership extends back to the creation of the Jewish state when the United States recognized it. The history of this partnership has been described in many books, in the beginning, mostly favorable to Israel then gradually, over the years, becoming more and more hostile to it as the truth of Israel's activities to establish itself as a nuke cum terror nation in Palestine at the expense of the indigenous population of the Palestinian peoples has come to light.
Israel has succeeded during its expansionist regime in Mideast upon its imposition on Palestine lands, in fully terrorizing the Palestinians and at same time naming them the so-called "terrorists". USA and its fascist allies now call the victims in Palestine as theorists and aggressor Israel as the "affected" nation.
In fact, it is the Palestinians who face a real existential threat from US-Israeli terror twins – and not Israel as Madam Clinton keeps crying loud for the Jewish votes in the poll for the presidency. After all, Israel literally controls entire West Asia and entire third world which it sells terror goods, including India, a so-called terror victim a so-called terror victim.
It should come as no surprise to anyone who has paid some attention to horrors of the Israeli-Palestinian conflict over the years, that America, a staunch defender of Zionist crimes on UNSC by its veto, has been playing mischief by actively playing an effective partner in Israel's continued effacement of Palestine from the map of the Middle East.
Of course, the hardcore fanatics Zionists who run Israel deny that there is hostility to its misrule, and the Zionists in the Jewish Diaspora in the US, UK, Europe and elsewhere fully support this line. However, more and more of those very people are beginning to wonder if Israel's position in the world is as acceptable as it could be had it not turned from its original hopes for a peaceful home for the Jewish people into a war mongering nautilus attempting to divide the Middle East into a splintering of failed states. In this, the United States is perfectly complicit, if not actually the main cause.
Israel has used the US as its protector and supporter, while the US has used Israel as the raison d'être for its own bellicosity in the Middle East and other parts of the world. Jeremy Hammond has taken upon himself the task of explaining in great detail the relationship between Israel and the US, and how the US aids and abets the Jewish State to sustain a stranglehold on the Palestinians. In fact, is quite easy to explain the blood thirsty behavior of Israeli Jews and hatred of Global Jews for Islam. USA and Europe also have similar hate "feelings" toward Islam and Palestine.
Observation
For years, the world has been wondering why Israel and the Palestinians cannot sit down over a peace pipe and work out their differences. It would seem simple to end the killing and suffering of thousands of Palestinians and a few Jewish peoples. But Israel makes it difficult even for USA, Russia and France to create two independent and equal states side by side, and it opposes merger into one secular state with all citizens having equal rights.
The rise of Hamas and the Zionist aggression in the name of Operation Cast Lead, the first war on Gaza (more of a chicken-shoot slaughter than a war) show Israel controls the behavior of Palestinians in general and Hamas and others in Gaza in particular . The numerous attempts at a peace process were never planned to succeed and solve the crisis. The hypocrisy of Obama and his role in obstructing progress in making peace did not let the bogus peace talks to succeed.
A two-state solution alone can find an end to this crisis. Now, some experts believe that if a one-state solution is what is ultimately sought, then Palestine must have sovereignty through its own state before it can negotiate on equal terms for sharing one state. That sounds logical, but given Israel's and America's intransigence, there is no way a two solution could ever be attained.
Israel is adamant as the illegal occupier of Palestine. As Israel plays mischief and hides behind the Pentagon-CIA twins, peace talks, tried many times, and peace seems further away today than ever before.
In every instant of Israel's crimes against humanity, the USA seconds Israel's justifications. But then, given the US' own crimes against humanity in its illegal wars against Afghanistan, Iraq, Libya, Syria, etc., why wouldn't they?
American foreign policy has failed miserably and one of the major causes is Israel whose genocides it is bent upon defending. . .
Why no global outcry over Saudi war in Yemen?
On Sunday, the US intelligence agency confirmed that the brazen killing of Saudi journalist Jamal Khashoggi was ordered by the Saudi crown prince Mohammad Bin Salman, which must have finally given some comfort to his restless soul. The truth was not hidden from the world, as it was already established by the Turkish authorities, but now we have the word straight from the horse's mouth.
Khashoggi's killing led to unprecedented global outcry against the Saudi regime because of its wanton disregard for human rights. It dominated newspaper headlines and primetime TV discussions for weeks as the mystery surrounding the dissident journalist's killing grew.
To their credit, Turkish government authorities left no stone unturned to unravel the murder mystery and expose the masterminds of the most diabolical crime. The whole world waited with bated breath because suddenly something had stirred people's conscience.
Today everyone knows about Khashoggi and everyone knows his murderer. Everyone is talking about it and tweeting about it. But, hold on, this is not the only crime his murderer has committed. His murderer has the blood of thousands of Yemenis on his hands and he is directly responsible for the starvation of millions of people in Yemen. Does the world know about it? Does it care?
A much-anticipated UN Security Council resolution calling for a cessation of Saudi-led war in Yemen and for the humanitarian aid to be allowed to reach millions of starving people was reportedly "stalled" this week after British Foreign Secretary Jeremy Hunt, who had moved the resolution, met the Saudi crown prince in Riyadh.
The prince, reports say, 'threw a fit' about the resolution. He didn't like the idea of food reaching the starving Yemenis because he wishes to see them killed either through bombardment or with starvation. Hunt surrendered tamely because UK happens to have arms trade with the Saudi regime.
Saudi-led war in Yemen has stretched into its third year now, killing more than 10,000 people and leaving the country completely devastated. The humanitarian situation in the war-ravaged country has been termed 'catastrophic' by aid groups. And the world has chosen to be a mute spectator.
The blockade of the country means around 18 million people don't have access to food, which could eventually and inevitably lead to the worst famine in more than a century. Already 2.2 million children are acutely malnourished and fighting for their lives. The World Food Program warned this week that the country was "marching to the brink of starvation".
Why has the world chosen to be silent even as warnings of famine have assumed alarming proportions? Akshaya Kumar, a senior Human Rights Watch official, says it's because of the "sway" Saudi has over some members of the UN Security Council, which has prevented the UN in naming and shaming the regime in Riyadh. "At this point, vague appeals to 'all parties' to improve their behavior won't work; Any resolution that doesn't specifically mention the Saudi-led coalition by name and call it out for its role in the carnage in Yemen won't have the required effect in Riyadh," he said in an interview.
The patronage of world powers like the United States and United Kingdom has ensured that Saudi rulers escape culpability for their war crimes in Yemen. Their support for the Saudi-led coalition in the form of arms, training, intelligence, and refueling of bombers has compounded the misery of Yemenis. The two countries continue to sell billions of dollars in arms to the Saudi regime, thus are directly complicit in the war crimes being committed against the Yemenis.
While bombings by the Saudi-led coalition have devastated the country, US drones have also been flying in the air. A new report by AP documenting civilian deaths in Yemen reveals that the US drones have contributed to several civilian killings this year, while pretending to be fighting Al-Qaeda's local franchise. What Americans did in Iraq and Afghanistan previously, they are now doing that in Yemen, directly and indirectly.
Today millions of children in Yemen weigh less than an average American's weekend lunch. One of them dies every ten minutes due to acute malnutrition and various diseases. United Nations has already estimated that 10 million people may starve to death, majority of them children, due to the Saudi-led war and blockade. Yet, there is no anger, no outrage, no vigils, no street demonstrations, no primetime TV debates, no editorials. It is a forgotten war.
Human rights have been reduced to a joke by the Saudi-led coalition and its international sponsors involved in Yemen war. The only way to end this war is to stop arms sale to the Saudi regime and to hold all parties – which includes Saudi Arabia, UAE, Kuwait, Bahrain, Qatar, Sudan, Egypt, Jordon, Morocco, US and UK – accountable for their war crimes.
First published in our partner MNA
Gulf countries pivot towards Israel: Can Arab recognition be foresighted?
The visit of Israeli Prime Minister Benjamin Netanyahu to Oman surprised the entire world and delivered a message of smoothening of relations between Oman and Israel. This event has marked the first ever visit by any Israeli leader to Oman in 22 years. The Israeli Prime Minister and the Sultan discussed 'Ways to enhance the peace process in the Middle East' as well as other issues of 'joint interest'. For Netanyahu, a milestone was achieved in the form of Oman recognition of Israel as normalizing relations with fellow regional states is one of the important clause of Netanyahu's policy. Moreover, an Israeli Minister Yisrael Katz attended an International Transport Conference in Oman and proposed a railway link to connect Persian Gulf with the Mediterranean Sea. However, the railway link isn't confirmed yet, it was just proposed in the conference. In parallel, Israeli Culture and Sports Minister Miri Regev attended Abu Dhabi Grand Slam 2018 in United Arab Emirates, where for the first time in history the national anthem of Israel was played. Similar approach was adopted by Israel towards Qatar. These changing dynamics can foresight the future of Gulf politics, that is, gulf countries can align with Israel to counter the influence of Iran in the region and for this purpose gulf countries may recognize Israel.
An important thing to notice is that the countries smoothening their relations with Israel are members of GCC, where Saudi Arabia is at the top of hierarchy- the major decision maker in Middle East- which means without Saudi Arabia's willingness and its interests, GCC countries cannot take such a big decision. Now here a question arises, why would Saudi Arabia allow this approach?
The main reasons are; firstly, the crown prince Mohammad Bin Salman have cordial relations with Israel's top leadership and he(MBS) is seen as a potential ally by Israel in Middle East, the major reason why Israel demanded US to side by Saudi Arabia in Khashoggi murder case. Second, it would be very difficult for Saudi Arabia- the self-proclaimed leader of the Sunni Muslim world- to recognize Israel while other states in the region still oppose the existence of a Jewish state in Middle East. Recognition of Israel by other GCC countries would make it far easier for Saudi Arabia to recognize Israel or at least to melt ice. Lastly, the Khashoggi murder case have already deteriorated the international image of Saudi Arabia, at this point of time the country cannot afford to bear another blame as Muslim countries think it would be injustice to Palestinians if Israel is recognized.
So will Saudi Arabia follow the suit and recognize Israel? The question still remains ambiguous, but since Saudi Arabia haven't opposed these action of GCC countries and a continuous diplomatic support from Israel to Saudi Arabia have been visible although both countries do not have diplomatic relations, it can be predicted that something is going on, between both of these states which they have chosen  not to disclose now. Coming to Qatar, since Qatar is also involved in this process of developing diplomatic relations with Israel, it can prove to be a catalyst in the troubled Saudi/Qatar relations as helping Saudi Arabia to develop relations with Israel while other Arab states are doing the same can lift up the entire blame from Saudi Arabia. Maybe the sanctions over Qatar will be lifted or just become less intensified. Qatar sees it as an opportunity to regain the similar status in the region as well as to reconstruct relations with the other Arab countries.
Turkish Newspaper Implicates UAE's Crown Prince in Covering Up Murder of Khashoggi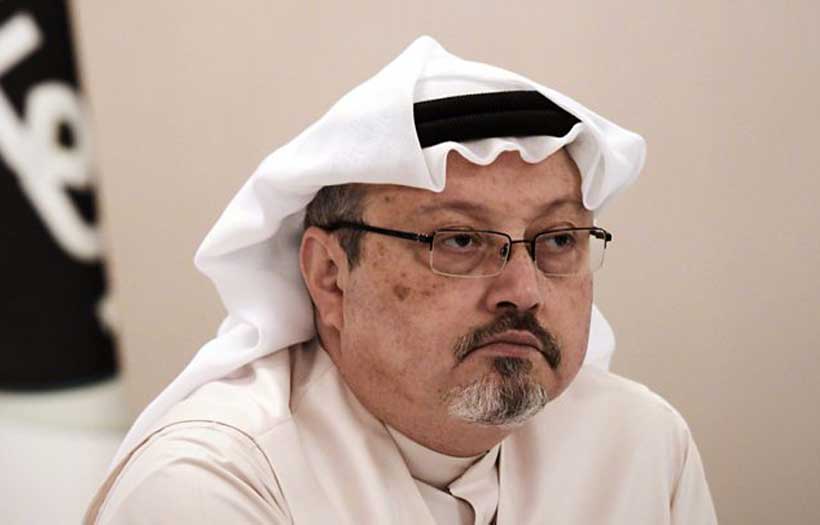 Saudi Crown Prince Mohammed bin Salman al-Saud, and UAE Crown Prince Mohammed bin Zayed al-Nahyan, are close friends and allies, who jointly lead the war against Houthi-led Yemen. On Sunday afternoon, November 18th, a leading Turkish newspaper, Yeni Şafak, reported the two leaders to have also collaborated in hiding the murder on October 2nd in Istanbul of Washington Post columnist Jamal Khashoggi.
Yeni Şafak headlined "Dahlan 'cover-up team' from Lebanon helps hide traces of Khashoggi murder" and reported that on October 2nd, "A second team that arrived in Istanbul to help cover-up the murder of Saudi journalist Jamal Khashoggi was dispatched by Muhammed Dahlan, UAE Crown Prince Muhammed bin Zayed's chief hitman in the region, … according to an informed source who spoke to Yeni Şafak daily on the condition of anonymity."
On November 16th, the Washington Post had headlined "CIA concludes Saudi crown prince ordered Jamal Khashoggi's assassination".
Bin Salman and bin Zayed are U.S. President Donald Trump's closest foreign allies other than, possibly, Israel's Prime Minister Benjamin Netanyahu. All four men are determined that there be regime-change in Shiite Iran. This anti-Shia position bonds them also against the Houthis, who are Shiites, in Yemen, where bin Salman and bin Zayed lead the war, and the United States provides the training, logistics, and weapons. Both bin Salman and bin Zayed are fundamentalist Sunnis who are against Shia Muslims. Israel and the United States are allied with these two princes. Saudi Arabia's royal family have been committed against Shia Muslims ever since 1744 when the Saud family made a pact with the fundamentalist Sunni preacher Mohammed ibn Wahhab, who hated Shia Muslims. Thus, Saudi Arabia is actually Saudi-Wahhabi Arabia, with Sauds running the aristocracy, and Wahhabists running the clergy.
In 2017, in Saudi Arabia's capital of Riyadh, Trump sold, to the Saudi Crown Prince, initially, $350 billion of U.S.-made weapons over a ten-year period (the largest weapons-sale in world history), and $110 billion in just the first year. That deal was soon increased to $404 billion. For Trump publicly to acknowledge that Salman had "ordered Jamal Khashoggi's assassination" would jeopardize this entire deal, and, perhaps, jeopardize the consequent boom in America's economy. It also would jeopardize the U.S. alliance's war against Shiites in Yemen.