Why did Turkey opt for emergency
Western powers, trumpeting that everything is bad in Islamic countries, quickly criticized the emergency clamped by Turkey for a brief period meant to set things right and their complaint is that now the people in Turkey would not have the freedom to even to open mouths.. Strangely enough, those that criticize Turkey for its emergency are supposed to be Turkey's close allies. They stand totally exposed as anti-Turkish and anti-Islamic nations.
They also expected entire world and global network of anti-Islamic media to follow their footsteps as usual to condemn "new" authoritarianism in Turkey. Such has been the usual strategy of the western anti-Islamic powers to belittle and insult Islamic world. After the Sept-11 the NATO rouge forces even attacked Afghanistan, among others. They don't want Turkey to undertake measures to check any future coups by their agents in Turkey.
The failed coup officially by a section of military in Turkey was meant to dethrone or kill President Erdogan, other leaders of his government and ruling AKP party, but it reveals the hidden agenda of western powers. The coup, apparently enacted jointly by anti-Islamic and anti-Turkish sources, signaled an acute danger emanating from different directions from within and from abroad for the Islamist government in Istanbul to rise up to face it and weed out all traces of danger once for all.
No nation would allow the rogue elements to destabilize it, ransack its institutions. Neither USA, nor Germany nor their NATO was kind even to the so-called "suspected terrorists" and the way they torture the suspects is criticized as the worst form of human rights violation by the USA and NATO. But they also talk about "greatness" of their own democracy, condemn the rule of law in Muslim countries.
The power of the President to call up massive crowds of supporters has been on clear display in Istanbul's Taksim Square every night since last week's failed coup. "Work during the day, and come to the square at night" is the message put out by the government of President Recep Tayyip Erdogan. "The threat is not over."
Emergency is a global phenomenon
Emergency is a global phenomenon and not a Turkey special. The military coup is very serious matter, because the fence has tried to destroy the crops – Islamic crops. Turkey ahs face coups before.
Turks are no strangers to military takeovers. Turkey experienced coups in 1960, 1971 and 1980. In 1997 and 2007, there were further interventions via strongly worded memorandums from the army.
Each putsch inflicted huge damage on an already fragile democracy and led to widespread human rights violations. The 1980 coup was the worst of all — thousands were arrested arbitrarily and many tortured, while critics were sent into exile. When the governing Justice and Development party (AKP) came to power in 2001, it attracted support from liberals by promising to keep the army confined to military and security matters — the way it should be in any mature democracy.
The events of July 15-16, when the government foiled an attempted coup by elements within the military, must be read against this historical backdrop. It was a horrible night. By the time it was over at least 290 people were dead and more than 1,400 injured. It felt as if the country had gone back years.
Now the destabilization effort has been put down intelligently, President Erdogan is undertaking a series of measures to deny chances n future for such coups and to make Turkey safe and secure, ignoring all "counseling" from sworn foes enemies disguised, once again, as "well-wishers".
To check institutional collapse
With military playing usual mischief, Turkey genuinely faces risk of institutional collapse and President Erdogan needs to set the things right so that Turkish economy is back on rails.
Turkish nation is yet to recover from the shock it was administered by the coup plotters. As AKP government was busy fighting several forces at the same time like the powerful ISIS, Kurdish forces, Syria, Israel and Russia, Turkish government possibly did not notice how the anti-Islamic forces in Istanbul sponsored by western powers were busy plotting against the Islamist government and Turkey itself in order to destabilize the former Ottoman Empire and establish, like Pakistan, Afghanistan Libya, Iraq, Egypt and elsewhere, a puppet regime in Ankara directly remote controlled by Washington.
The unexpected coup attempt by Turkey's military establishment with a view to killing or arrest President Erdogan and his cabinet members, the AKP party leaders has been put down by person involvement by the Precedent of Turkey himself who cancelled his vacation and rushed to Istanbul. Maybe the plotters had expected President Erdogan to run away to USA, UK or some Arab nation.
Germany indirectly hinted that next time the coup in Turkey would succeed by correcting their errors in strategic planning of the coup.
Turkish President Recep Tayyip Erdogan announced in order to regain full control of the nation the nation attacked by the anti-Turkey coup plotters is clamping a three-month state of emergency in the aftermath of last week's bloody coup attempt.
Before the announcement, Erdogan convened on July 20 with his national Security Council and council of ministers, the latter of which approved the state of emergency recommendation. "The purpose of the declaration of the state of emergency is, in fact, to be able to take the most efficient steps in order to remove this threat as soon as possible, which is a threat to democracy, to the rule of law and to the rights and freedoms of the citizens in our country," Erdogan said, according to a government translation.
Erdogan, speaking later to a national television audience, said the state of emergency was not a threat to democracy. Governors will have expanded powers and the army will be under the command and control of the governors, the President said. Erdogan guaranteed that all the "viruses" in the armed forces would be cleansed during the period. "It is very similar to a cancer," he said. "It is like a metastasis that is going on in the body that is Turkey. And we will clean it out."
The President praised the popular anger and reactions to the coup attempt, in which 246 people died and 1,536 were wounded. "Every member of our nation came together as one," he said.
Enemies of Islamist state and democracy
Unexpectedly for the enemies of Islam and Islamist Turkey, the coup failed and plotters have caught. Now the sponsors from abroad are deeply worried if the plotters caught would reveal the truth about who are behind the coup. So the Western media lords, seeking to shield the coup criminals, now focus on state reaction against the plotters, criticizing the government action against the plotters. Slowly they shift their focus to freedoms and democracy and criticize Turkey for not being kind to the plotting criminal gangs.
That is how the western media efficiently inspired by the strategy of Neocons targeting Islam and Arab nations, talk filth about Muslims, and their nations.
Turkey on Tuesday formally requested the extradition of Gulen from the United States, where he lives in self-imposed exile.
US President Obama has joined his European counterparts in warning Erdogan against over-reacting, and Erdogan supporters have suggested US complicity in the coup which they saw was organized by US-based preacher Fethullah Gulen. Turkey is seeking Gulen's extradition.
USA and EU ask President Erdogan to just forgive the criminal plotters (and move on further) who wanted to kill and jail President Erdogan and allies and destabilize Turkey and hand it over r to enemies of Islam. USA has refused to arrest the Gulen and allies in USA and hand them over to Turkish government.
All that European states want is as Turkey would be busy with "soul-searching" after the failed coup, the coup plotters would regroup and stage another "perfect' coup to remove the elected Islamist government.
President Recep Tayyip Erdogan said European criticism won't stop Turkey taking steps it deems necessary after last week's failed coup. He projected a more conciliatory tone toward the USA and Russia. "The EU is not the whole world," Erdogan said in an interview with Al Jazeera before announcing a three-month state of emergency. "It is just 28 countries. The USA has the death penalty, Russia has it, and China has it."
Why not punish the coup plotters?
Turkey has now fired or suspended about 50,000 people after a failed coup over the weekend as it intensifies its vast purge — battering the country's security forces and many of its democratic institutions. In total, more than 9,400 people are being detained, the vast majority of them from the military. Teachers, journalists, police and judges alike have been caught in a net authorities are casting wider by the day, in what, according to the Western media lords, is increasingly looking like a witch-hunt to suppress dissent.
In order to present themselves as kind people on earth, USA and EU are pressing for no-punishment for the coup plotters in Turkey.
The Western powers that have murdered millions of Muslims in Islamic world calling them the terrorists want Turkish government to be very very kind to the coup plotters, betrays their secret efforts to support the coup and keep the plan very hidden from Turkey leaders.
The natural purge has gutted the leadership in the country's security forces, with at least 118 generals and admirals detained, stripping the general-rank command of the Turkish military by a third, according to Turkish state broadcaster TRT. Authorities have also suspended 8,777 Ministry of Interior personnel, mostly police, as well as 100 Turkish intelligence service personnel, according to the state-run Anadolu news agency.
Western leaders have urged Erdogan and his government to respect democratic principles and act within the law in response to talk of reviving the death penalty and heavy-handed punishments over the coup.
The coup efforts a rent new to Turkey but last time the plotters were caught and punished. The last executions in Turkey were in the mid-1980s and the death penalty was abolished in 2004. Erdogan said restoring capital punishment is being considered because of popular pressure, and the final decision rests with parliament.
Hundreds more have been suspended from the Prime Minister's office and government bodies dealing with religious affairs, family and social policy and development. The total fired or suspended is around 50,000 people.
Anti-Islamic US-EU opposition to Turkey
The reactions from USA and EU reveal their essentially anti-Islamic joint hidden agenda against Turkey. They seek to destabilize the former Ottoman Empire. More than 9,000 people are currently in detention and are under investigation over the coup
It is unclear how many soldiers participated in the attack, during which two of Erdogan's bodyguards were killed, and it is unclear how loyal the troops were, given that they were briefed on the coup so late in proceedings.
Asked if the extradition request would affect wider relations with the USA, Erdogan said "putting the two issues together is not the right thing to do." "We have a strategic partnership, and we have to continue our solidarity," he said. On Russia, Erdogan suggested that the two pilots who shot down a Russian jet on the Syrian-Turkish border in November may have been under orders from the coup plotters. The two pilots have been detained. "The judiciary must have their doubts because they are now in custody," he said.
In order to ensure the safety of US nukes in Turkey is duty bound to take strict actions against the plotters. Rights group Amnesty International said that authorities had canceled 34 journalists' press cards and called on Turkish authorities to not "arbitrarily restrict freedom of expression." "We are witnessing a crackdown of exceptional proportions in Turkey at the moment," said Andrew Gardner, Amnesty International's Turkey researcher.
Will Gulen be extradited?
US President Barack Obama spoke with Erdogan after the failed coup about the coup and the status of Gulen, who lives in Pennsylvania. Obama "strongly condemned" the coup attempt and "expressed his support for Turkish democracy," a White House news release said, without explaining whether Gulen would be extradited.
US Secretary of State John Kerry has, as USA does to Pakistan, outrightly rejected the Turkish demand to extradite Gulen, saying USA wants proof. The Muslim cleric has denied any involvement in the coup attempt.
In order to be on the safe side, Gulen, in a statement released said Erdogan "once again demonstrated he will go to any length necessary to solidify his power and persecute his critics." The reclusive cleric leads a popular movement called Hizmet, which includes hundreds of secular co-ed schools, free tutoring centers, hospitals and relief agencies credited with addressing Turkey's social problems, now targeting Islamic rule.
USA claims that under the US-Turkey extradition agreement, Washington can only extradite a person if he or she has committed an "extraditable act." Treason — such as that implied by Erdogan's demand for Gulen's extradition — is not listed as such an act in the countries' treaty.
As Washington does not want to punish President Erdogan's opponent Gulen, Kerry said in Washington that he told his Turkish counterpart: "Please don't send us allegations, send us evidence; we need to have evidence which we can then make a judgment about."
In the aftermath of the coup, the numbers of those detained, suspended or suspected has risen to the tens of thousands.
For his opponents, the fear is that it's the start of a more sinister era of what they call Erdogan's authoritarian rule, an opportunity to crack down further on any voice of dissent, an opening to push through constitutional and other changes that would give him greater powers.
In Greece, a court sentenced eight Turkish military personnel who fled there aboard a helicopter during the coup attempt to two months in prison for entering the country illegally.
Turkey has demanded their return to stand trial for alleged participation in the coup attempt. The eight, who deny involvement, have applied for asylum in Greece, saying they fear for their safety if they are returned.
Istanbul calm after storm
Turkey woke up to its first full day under a state of emergency on Thursday, imposed by the government the previous night. "Everything is looking normal" in the streets of Istanbul, a resident told journalists at 8 am (0500 GMT), with people commuting to work or taking coffees in the city's cafes.
Away from the nightly Taksim Square celebrations there is a sense that people are going through the motions of daily life as if in a daze, conversations that invariably drift toward recent developments tend to still be preceded with exclamations. It appears there was a concerted effort to try to change the atmosphere of the square, even superficially, from a rallying ground for Erdogan supporters to something that stands more for the nation of Turkey itself. There are fewer political anthems lauding Erdogan's Justice and Development Party, the AKP, and more songs that are simply patriotic or popular; there are fewer banners with Erdogan's image fluttering in the breeze, more Turkish flags. Voices at the microphones — mostly AKP members and supporters — deliver a litany of messages about Turkey's strength, not forgetting the price the nation paid.
There are more sinister reminders, too, such as one man who, standing in front of a newly erected billboard with the names of the dead, held a bullet and reminded the crowd: "This on Friday could have hit anyone of you, it could have had your name on it."
Turkey have been through coups before, the successful ones of the past were bloodless. This one — violent — did not succeed. The anti-Islamic sources say a part of the reason for coup failure was because the authorities got wind of it just in time, and the attempted takeover was poorly executed. But arguably the key reason for failure was that the coup leaders did not take into account Erdogan's popularity and his people power.
Erdogan's supporters have no qualms about the government's reaction. Erdogan is their man, they have unwavering faith in his abilities and they have proven they will lay down their lives for him. And, one could argue, they did not take into account that, whether Turks love Erdogan or hate him, the vast majority of this country does not want to have a democratically elected government brought down in a military coup. That night resulted in rare unity among Turkey's main political party leaders and among its population.
The aims of three-month nationwide state of emergency includes end of Gulen empire in Turkey by creating a "parallel structure" of exiled cleric Fethullah Gulen, blamed for the coup, government spokesman Numan Kurtulmus said. Deputy Prime Minister Mehmet Simsek insisted the state of emergency would not curtail basic freedoms, including restrictions on movement, gatherings and free press. Parliament, dominated by President Recep Tayyip Erdogan's ruling Justice and Development Party, was to meet on Thursday to review the state of emergency.
The government has rounded up or dismissed tens of thousands of civil servants, teachers, lawyers and soldiers. Government supporters have called for the death penalty for coup plotters. Istanbul Mayor Kadir Topbas told a crowd in the city's Taksim Square this week the he had ordered a burial plot to be set aside for any dead coup plotters, to be called "the graveyard for traitors." "Everyone visiting the place will curse them and they won't be able to rest in their graves," he was quoted as saying by Hurriyet Daily news late on Wednesday.
Some locals were celebrating the coup's failure in the streets on Wednesday night, the resident said. But many people were also deactivating their social media accounts, she added, saying she thought they were afraid of a clampdown. "Three people were dismissed in my company yesterday and there are rumours of 15 more on the list," she said, speaking on condition of anonymity.
Opposition politicians also expressed fear of reprisals. "Unfortunately, we are seeing a civilian counter-coup," Lawmaker Ziya Pir of the pro-Kurdish Peoples' Democratic Party told journalists on Wednesday. Many opposition factions "are afraid of being lynched," he said.
Under the Turkish Constitution, the emergency measures allow the government to "partially or entirely" suspend "the exercise of fundamental rights and freedoms," so long as that doesn't violate international law obligations. Lawmakers can sanction a state of emergency for a period of up to six months.
In order to avoid reoccurrence of coups and escape being the target of accusations of becoming authoritarian by anti-Islamic nations, Turkey pres Erdogan has been moving strictly as per law. Turkish lawmakers declare three-month state of emergency allowing president Recep Tayyip Erdogan to ramp up his crackdown after failed coup without parliamentary approval. Parliament voted 346-115 to approve the national state of emergency, which will give Erdogan the authority to extend detention times for suspects and issue decrees that have the force of law without parliamentary approval, among other powers.
Observation
The coup is perhaps a stark reminder of how shaky Turkish nation is, of how for many a sense of security they had once taken for granted is more shattered than it already was, of how deeply July 15 — despite the failure of the coup itself — continues to unsettle this country.
Turkey has to reinvent the prestige and prowess of a big nation.
Erdogan, who had been accused of autocratic conduct even before this week's crackdown on alleged opponents, says the state of emergency will counter threats to Turkish democracy. The main opposition Republican People's Party, CHP, slammed the state of emergency move as going too far. A state of emergency has never been declared nationwide although it was declared in Turkey's restive, Kurdish-dominated southeast between 1987 and 2002.
Since the July 15 coup attempt, the government has arrested nearly 10,000 people. In addition, over 58,880 civil service employees — including teachers, university deans and police — have been dismissed, suspended, forced to resign or had their licenses revoked, accused of being Gulen followers.
Turkish Deputy Prime Minister Mehmet Simsek defended the move, saying he hoped the state of emergency would be short-lived. He said it would be used to go after "rogue" elements within the state and that there would have been "carnage in the streets" had the military coup succeeded.
Turkey immediately said it was partially suspending the European Convention on Human Rights, allowing it more leeway to deal with individual cases, by invoking an article most recently used by France and Ukraine.
Countries around the world are keeping a close watch on developments in Turkey, which straddles Europe, the Middle East and Asia. German Foreign Minister Frank-Walter Steinmeier advised Turkey that the state of emergency should only last as long as it's "absolutely necessary," thereby interfering with internal affairs of Turkey
Erdogan announced a three-month state of emergency to protect Turkey's freedom and democracy, saying Turkey will work to cleanse the "viruses" within the armed forces and other groups.
Turkey's people are still reeling from the shocking events of the weekend and it is vital that press freedom and the unhindered circulation of information are protected, rather than stifled. There is a general incredulity, with the weight of what happened only just beginning to sink in.
It is not just funny but very dangerous that EU member states try to intervene in Turkey's efforts to punish the culprits. Meanwhile, EU leaders have said that Turkey's negotiations to join their bloc will be terminated if it brings back the death penalty to the coup plotting criminals and have criticized the wave of arrests that followed the failed putsch. Erdogan said the arrests were the state "doing its job" and told French Foreign Minister Jean-Marc Ayrault to mind his own business given that France also introduced a state of emergency after last year's attacks. "For 53 years, we have been knocking at the door and the EU leaders have kept us waiting, while others have joined," he said. Turkey has no reason now to feel any urgency to be a part of EU, which has already shown signs of breakup following the Brexit.
President Recep Tayyip Erdogan and the AKP are pinning responsibility for the failed coup on a cabal within the army sympathetic to Fethullah Gulen, the exiled Islamic cleric. These accusations must be investigated and those who are culpable must be brought to justice. Gulenists were active in the police, prosecution service and judiciary, often pursuing their own agenda. Their unbridled lust for power ruined them in the end. Turkish liberals and democrats will never support the ambitions of the Gulenist army officers
Erdogan says death penalty could return to deal effectively with future plotters in Turkey, so that the people and government can surge ahead to revitalize economy and Islamic assets that are the target of the anti-Islamic forces globally.
With the coup having been failed, Turkey's increasingly warm relations with Russia spell trouble for the USA at a time when the already strained ties between Ankara and Washington have been further complicated following the unsuccessful attempt to overthrow President Recep Tayyip Erdogan.
Following the unsuccessful attempt to overthrow President Recep Tayyip Erdogan, Turkey is on its way to effect a dramatic shift in foreign policy from USA to Russia. As ties between the two countries normalize, Ankara could green light the Turkish Stream project, an initiative that Moscow has championed and Washington opposed.
Turkey's new policy approach is based on its economic well-being which has been the basis of the weight and influence the country has been enjoying in the Middle East. Its economy had considerably gone down over the past few years and dipped further after its direct involvement in the war in Syria and Iraq
Every nation is duty bound to take revenge if there is a coup or grave subversive move by military and why not Turkey? USA still invades energy rich Arab nations blaming one Osama's terror attack on USA. Turkey is not a nation displaying its resilience in the face of a terrorist attack, as Turks have done in the past. This is not a nation that can bury the dead and try to move on. This is a nation in uncharted territory.
Turkey must now know who its real friends and foes are and criticize both USA and EU directly instead of taking an indirect route by criticizing only their tool Gulen or the military. Bur the coup plotters and those who help them achieve anti-Islamic agenda. That would make some sense to people in those countries.
Iran unveils new negotiation strategy
While the West is pressuring Iran for a return to the Vienna nuclear talks, the top Iranian diplomat unveiled a new strategy on the talks that could reset the whole negotiation process.
The Iranian parliament held a closed meeting on Sunday at which Iranian Foreign Minister Hossein Amir Abdollahian briefed the lawmakers on a variety of pressing issues including the situation around the stalled nuclear talks between Iran and world powers over reviving the 2015 nuclear deal, officially known as the Joint Comprehensive Plan of Action (JCPOA).
The Iranian foreign ministry didn't give any details about the session, but some lawmakers offered an important glimpse into the assessment Abdollahian gave to the parliament.
According to these lawmakers, the Iranian foreign ministry addressed many issues ranging from tensions with Azerbaijan to the latest developments in Iranian-Western relations especially with regard to the JCPOA.
On Azerbaijan, Abdollahian has warned Azerbaijani President Ilham Aliyev against falling into the trap set by Israel, according to Alireza Salimi, a member of the Iranian Parliament's presiding board who attended the meeting. Salimi also said that the Iranian foreign minister urged Aliyev to not implicate himself in the "Americans' complexed scheme."
In addition to Azerbaijan, Abdollahian also addressed the current state of play between Iran and the West regarding the JCPOA.
"Regarding the nuclear talks, the foreign minister explicitly stated that the policy of the Islamic Republic is action for action, and that the Americans must show goodwill and honesty," Salimi told Fars News on Sunday.
The remarks were in line with Iran's oft-repeated stance on the JCPOA negotiations. What's new is that the foreign minister determined Iran's agenda for talks after they resume.
Salimi quoted Abdollahian as underlining that the United States "must certainly take serious action before the negotiations."
In addition, the Iranian foreign minister said that Tehran intends to negotiate over what happened since former U.S. President Donald Trump withdrew the U.S. from the JCPOA, not other issues.
By expanding the scope of negotiations, Abdollahian is highly likely to strike a raw nerve in the West. His emphasis on the need to address the developments ensuing the U.S. withdrawal from the JCPOA in May 2018 could signal that the new government of President Ayatollah Seyed Ebrahim Raisi is not going to pick up where the previous government left.
This has been a major concern in European diplomatic circles in the wake of the change of administrations in Iran. In fact, the Europeans and the Biden administration have been, and continue to be, worried about two things in the aftermath of Ayatollah Raisi taking the reins in Tehran; one is he refusing to accept the progress made during six rounds of talks under his predecessor Hassan Rouhani. Second, the possibility that the new government of Ayatollah Raisi would refuse to return to Vienna within a certain period of time.
With Abdollahian speaking of negotiation over developments since Trump's withdrawal, it seems that the Europeans will have to pray that their concerns would not come true.
Of course, the Iranian foreign ministry has not yet announced that how it would deal with a resumed negotiation. But the European are obviously concerned. Before his recent visit to Tehran to encourage it into returning to Vienna, Deputy Director of the EU Action Service Enrique Mora underlined the need to prick up talks where they left in June, when the last round of nuclear talks was concluded with no agreement.
"Travelling to Tehran where I will meet my counterpart at a critical point in time. As coordinator of the JCPOA, I will raise the urgency to resume #JCPOA negotiations in Vienna. Crucial to pick up talks from where we left last June to continue diplomatic work," Mora said on Twitter.
Mora failed to obtain a solid commitment from his interlocutors in Tehran on a specific date to resume the Vienna talk, though Iran told him that it will continue talks with the European Union in the next two weeks.
Source: Tehran Times
Shaping US Middle East policy amidst failing states, failed democratization and increased activism
The future of US engagement in the Middle East hangs in the balance.
Two decades of forever war in Afghanistan and continued military engagement in Iraq and elsewhere in the region have prompted debate about what constitutes a US interest in the Middle East. China, and to a lesser degree Russia, loom large in the debate as America's foremost strategic and geopolitical challenges.
Questions about US interests have also sparked discussion about whether the United States can best achieve its objectives by continued focus on security and military options or whether a greater emphasis on political, diplomatic, economic, and civil society tools may be a more productive approach.
The debate is coloured by a pendulum that swings from one extreme to the other. President Joe Biden has disavowed the notion of nation-building that increasingly framed the United States' post-9/11 intervention in Afghanistan.
There is no doubt that the top-down nation-building approach in Afghanistan was not the way to go about things. It rested on policymaking that was informed by misleading and deceitful reporting by US military and political authorities and enabled a corrupt environment for both Afghans and Americans.
The lesson from Afghanistan may be that nation-building (to use a term that has become tainted for lack of a better word) has to be a process that is owned by the beneficiaries themselves while supported by external players from afar.
Potentially adopting that posture could help the Biden administration narrow the gap between its human rights rhetoric and its hard-nosed, less values-driven definition of US interests and foreign policy.
A cursory glance at recent headlines tells a tale of failed governance and policies, hollowed-out democracies that were fragile to begin with, legitimisation of brutality, fabrics of society being ripped apart, and an international community that grapples with how to pick up the pieces.
Boiled down to its essence, the story is the same whether it's how to provide humanitarian aid to Afghanistan without recognising or empowering the Taliban or efforts to halt Lebanon's economic and social collapse and descent into renewed chaos and civil war without throwing a lifeline to a discredited and corrupt elite.
Attempts to tackle immediate problems in Lebanon and Afghanistan by working through NGOs might be a viable bottom-up approach to the discredited top-down method.
If successful, it could provide a way of strengthening the voice of recent mass protests in Lebanon and Iraq that transcended the sectarianism that underlies their failed and flawed political structures. It would also give them ownership of efforts to build more open, pluralistic, and cohesive societies, a demand that framed the protests. Finally, it could also allow democracy to regain ground lost by failing to provide tangible progress.
This week's sectarian fighting along the Green Line that separated Christian East from the Muslim West in Beirut during Lebanon's civil war highlighted the risk of those voices being drowned out.
Yet, they reverberated loud and clear in the results of recent Iraqi parliamentary elections, even if a majority of eligible voters refrained from going to the polls.
"We never got the democracy we were promised, and were instead left with a grossly incompetent, highly corrupt and hyper-violent monster masquerading as a democracy and traumatising a generation," commented Iraqi Middle East counterterrorism and security scholar Tallha Abdulrazaq who voted only once in his life in Iraq. That was in the first election held in 2005 after the 2003 US invasion. "I have not voted in another Iraqi election since."
Mr. Abdulrazaq's disappointment is part and parcel of the larger issues of nation-building, democracy promotion and provision of humanitarian aid that inevitably will shape the future US role in the Middle East in a world that is likely to be bi-or multi-polar.
Former US National Security Council and State Department official Martin Indyk argued in a recent essay adapted from a forthcoming book on Henry Kissinger's Middle East diplomacy that the US policy should aim "to shape an American-supported regional order in which the United States is no longer the dominant player, even as it remains the most influential."
Mr. Indyk reasoned that support for Israel and America's Sunni Arab allies would be at the core of that policy. While in a world of realpolitik the United States may have few alternatives, the question is how alignment with autocracies and illiberal democracies would enable the United States to support a bottom-up process of social and political transition that goes beyond lip service.
That question is particularly relevant given that the Middle East is entering its second decade of defiance and dissent that demands answers to grievances that were not expressed in Mr. Kissinger's time, at least not forcefully.
Mr. Kissinger was focused on regional balances of power and the legitimisation of a US-dominated order. "It was order, not peace, that Kissinger pursued because he believed that peace was neither an achievable nor even a desirable objective in the Middle East," Mr. Indyk said, referring to the Israeli-Palestinian conflict.
Mr. Indyk noted that in Mr. Kissinger's mind the rules of a US-dominated order "would be respected only if they provided a sufficient sense of justice to a sufficient number of states. It did not require the satisfaction of all grievances… 'just an absence of the grievances that would motivate an effort to overthrow the order'."
The popular Arab revolts of 2011 that toppled the leaders of Egypt, Tunisia, Libya, and Yemen, even if their achievements were subsequently rolled back, and the mass protests of 2019 and 2020 that forced leaders of Sudan, Algeria, Iraq, and Lebanon to resign, but failed to fundamentally alter political and economic structures, are evidence that there is today a will to overthrow the order.
In his essay, Mr. Indyk acknowledges the fact that "across the region, people are crying out for accountable governments" but argues that "the United States cannot hope to meet those demands" even if "it cannot ignore them, either."
Mr. Indyk may be right. Yet, the United States, with Middle East policy at an inflexion point, cannot ignore the fact that the failure to address popular grievances contributed significantly to the rise of violent Islamic militancy and ever more repressive and illiberal states in a region with a significant youth bulge that is no longer willing to remain passive and /or silent.
Pointing to the 600 Iraqi protesters that have been killed by security forces and pro-Iranian militias, Mr. Abdulrazaq noted in an earlier Al Jazeera op-ed that protesters were "adopting novel means of keeping their identities away from the prying eyes of security forces and powerful Shia militias" such as blockchain technology and decentralised virtual private networks.
"Unless they shoot down…internet-providing satellites, they will never be able to silence our hopes for democracy and accountability again. That is our dream," Mr. Abdulrazzaq quoted Srinivas Baride, the chief technology officer of a decentralised virtual network favoured by Iraqi protesters, as saying.
Safar Barlek of the 21st Century: Erdogan the New Caliph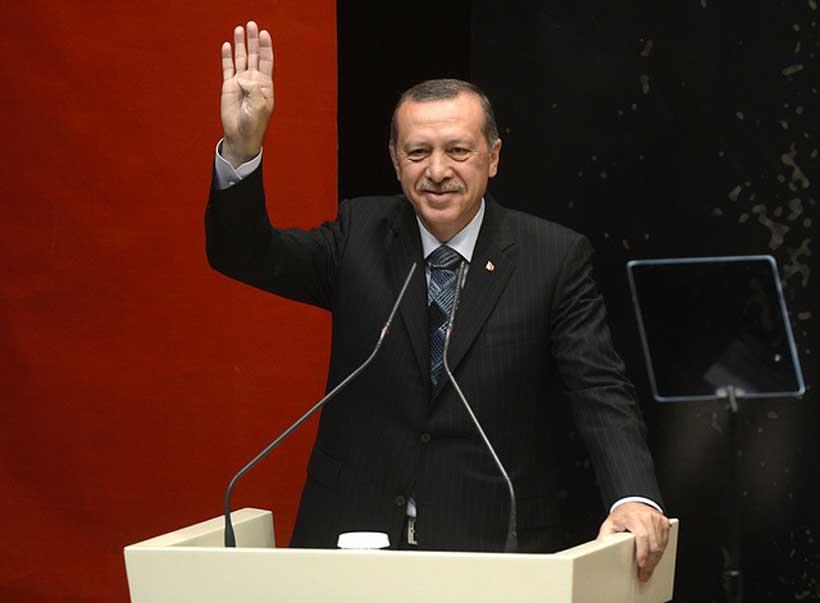 Since the American's withdrawal from Afghanistan, it became clear that everyone is holding his breath. That is exactly what Recep Tayyip Erdogan is doing these days. Ten years have passed since his war on Syria; however, he has, so far, reached zero accomplishments towards his 2023 dreams. As a matter of fact, Erdogan is in the worst position ever. His dream of becoming the new Ottoman Caliph began to fade away.
If we want to understand what is going on in his mind, it is crucial to follow Gas and Oil pipelines: He actively participated in the war on Syria because Syrian President Bashar al-Assad refused to betray his Russian and Iranian friends by allowing the Qatari gas pipelines to pass through Syria then Turkey to reach Europe. Such a step would have empowered Turkey, opened a wide door for it to enter the gas trade industry, and would become the American's firmed grip around the Iranian and Russian necks.
He saw the opportunity getting closer as the war on Syria was announced. He imagined himself as the main player with the two strongest powers globally: the U.S. and Europe. Hence, his chance to fulfil the 1940s Turkish- American plan to occupy northern Syria, mainly Aleppo and Idlib, where he could continue all the way to al-Mussel in Iraq, during the chaos of the futile war on ISIS seemed to be reachable. By reaching his aim, Erdogan will be able to open a corridor for the Qatari gas pipelines and realize the dream of retrieving the legacy of the old Turkish Petroleum Company, which was seized to exist after the collapse of the Ottoman Empire in 1925.
Consequently, Erdogan announced his desire to establish a 15 km deep buffer zone along the Syrian borders and inside the Syrian territory. This is in fact, an occupation declaration, which will definitely enable him to reach the Syrian oil and gas fields. He even tried to offer the Russians a compromise that he would like to share managing these fields with them after Donald Trump's announcement of withdrawing the American troops from Syria in 2018.
It was clear since the year 2019, after attacking the Kurds in east-north Syria, that he has lost the Americans and European support in the region. Especially after inking the Russian missiles S400 deal against the American's will. Then he supported Azerbaijan against Armenia, threatening both Iranian and Russian security.
The situation was repelled with Iran when he recited a poem on the 11th of December 2020, which could have provoked the feelings of the Azeris and incited them to secede from Iran. On the 28th of February 2021, he even accused Iran of harboring the Kurdistan Workers' Party, which Turkey considers a terrorist organization.
Now the situation is escalating again. A few days ago, the Iranian Army's Ground Force launched the "Fatih Khyber" maneuvers in the northwest of the country near the border with Azerbaijan, with the participation of several Armored Brigade, 11th Artillery Group, Drones group, and 433rd Military Engineering Group, with the support of airborne helicopters. A major maneuver that indicates there is an escalation between Iran and Azerbaijan, which is taking place under Turkish auspices. The escalation is an attempt to threaten Iran's security from the north.
When Dr. Mohsen Fakhrizadeh, the Iranian nuclear scientist, was assassinated at the end of last year, the American newspaper New York Times described the deed as "the most brilliant work of the Mossad". At that time, many resources revealed that the executors of the operation passed to Iran through Azerbaijan and were situated in Turkey for a while before moving. And now Iran has great concerns because of Azerbaijan hostess of active Israeli and American intelligence members.
As Iran is going now to another stage of nuclear talks with G5+1, it is an opportunity for the American and Turkish interests to meet again, as Erdogan is pushing towards achieving a victory in the region, and the Americans are trying to create trouble to distract it. We know what the Americans want, but what matters here is what Erdogan wants.
Erdogan wants to be a bigger participant in the Azeri oil industry. He wants to push Iran into aiding him to give him more space in the Syrian lands. He wants to be given a chance to save face and be granted some kind of victory in his "War on Syria". It is his wars that he is leading in Libya, Sudan, the Mediterranean Sea, and now in Afghanistan and Azerbaijan. Erdogan was preparing himself to become the first of the new coming rein of the new Ottoman Sultanate in 2023.
2023 is the date for two important occasions; the first is the Turkish presidential elections. And the second is the end of the Treaty of Lausanne 1923. Erdogan had high hopes that he would be able to accomplish a lot before the designated date. In involving Turkey in every trouble in the Arab country since the "Arab Spring" had begun. He has an agenda in each of them, from Syria to Libya, to the Mediterranean Sea, to where he seeks to preserve the Turkish right for expansion.
Erdogan believed in building double alliances between Russia and Iran from one side and the United States through Turkey's presence in NATO from the other, he can manipulate everyone to achieve his goal in Syria and secure the Buffer Zone. He started a policy of Turkification in northern Syria, which is against international law in occupied regions and countries. In addition, as he is still politically maneuvering to reach this goal, he is becoming more like a bull chasing a red carpet. He is backstabbing everyone, even his allies in Nusra.
Erdogan, the paranoid, has used every possible method to rally aggregations against local governments and authorities in each country as he built his alliances. In Syria, he played on sectarian differences to rally Sunnis and, in particular, on Muslim Brotherhood groups to build alliances against the current Syrian government. He imported terrorists from al-Nusra, armed them, and ideologically manipulated terrorists from Tajikistan, Uzbekistan, Kyrgyzstan, and the Chinese Xinjiang, into fighting in Syria in the name of Islam against the Alawites "regime". He represented himself as the protector of Sunnis. In order to justify bombarding the Kurds, he was playing on nationalistic feelings.
In Libya, he played on empowering the Muslim Brotherhoods against other atheist groups, as he rates them. He empowered the al-Wifaq government along with the Americans to pave the way to dividing Libya, where the dirty international game almost tore the country apart using terrorist groups financially backed by Saudi Arabia, the United Arab Emirates, and Turkey, i.e. Qatar.
In Lebanon, he presented himself as the protector of the injustice Sunnis. Turkish intelligence paid around four million dollars to regroup Sunnis in Said and Tripoli. The same thing was going on with Hamas in Palestine in the name of the freedom of the Palestinians and their fight against Israel. In the Arab countries, Erdogan worked hard to be designated as the new Muslim leader and was very careful not to be perceived as a Turk but as a Muslim. And now the same game is going in Azerbaijan.
Erdogan's interference in Azerbaijan does not fall out of the American expected Turkish role. A few days ago, a congress member praised the important role Turkey is playing within NATO. It is not a language of reconciliation; it is a language of playing on Erdogan's ego. Therefore, it is only fair to question the Turkish role in Azerbaijan, in particular to the relation between the two mentioned countries and Israel.
Iran has been dealing with the two countries with tolerance, as neighboring countries, particularly Turkey, who is playing in this case on the nationalistic feelings of the Azeris in Iran to start trouble, in the least expression. It is clear, if the situation escalates with Azerbaijan, Iran would be walking through land mines. Therefore, it needs to be carefully leading its diplomatic negotiations. On the other hand, Iran knows, but it needs to acknowledge that as long as Turkey occupies one meter in northern Syrian, the region will never know peace and security. The first step to get the Americans out of Iraq and Syria will be to cut Erdogan's feet in Syria, once and for all.
In leading his quest for victory, Erdogan moved the terrorist around the region. Now he is filling Azerbaijan with these mercenary terrorists from the Arab region and center of Asia, just like the Ottoman when they dragged the compulsorily recruited soldiers from their villages and houses from all over the Arab countries to fight their war in the Baltic region. A dream that needs to put an end to it. The Syrians believe that it ends with ending the Turkish occupation in Idlib. However, it is important that their friends believe that too.
*The Safar Barlek was the mobilization effected by the late Ottoman Empire during the Second Balkan War of 1913 and World War I from 1914 to 1918, which involved the forced conscription of Lebanese, Palestinian, Syrian, and Kurdish men to fight on its behalf.
From our partner Tehran Times