Why did Turkey opt for emergency
Western powers, trumpeting that everything is bad in Islamic countries, quickly criticized the emergency clamped by Turkey for a brief period meant to set things right and their complaint is that now the people in Turkey would not have the freedom to even to open mouths.. Strangely enough, those that criticize Turkey for its emergency are supposed to be Turkey's close allies. They stand totally exposed as anti-Turkish and anti-Islamic nations.
They also expected entire world and global network of anti-Islamic media to follow their footsteps as usual to condemn "new" authoritarianism in Turkey. Such has been the usual strategy of the western anti-Islamic powers to belittle and insult Islamic world. After the Sept-11 the NATO rouge forces even attacked Afghanistan, among others. They don't want Turkey to undertake measures to check any future coups by their agents in Turkey.
The failed coup officially by a section of military in Turkey was meant to dethrone or kill President Erdogan, other leaders of his government and ruling AKP party, but it reveals the hidden agenda of western powers. The coup, apparently enacted jointly by anti-Islamic and anti-Turkish sources, signaled an acute danger emanating from different directions from within and from abroad for the Islamist government in Istanbul to rise up to face it and weed out all traces of danger once for all.
No nation would allow the rogue elements to destabilize it, ransack its institutions. Neither USA, nor Germany nor their NATO was kind even to the so-called "suspected terrorists" and the way they torture the suspects is criticized as the worst form of human rights violation by the USA and NATO. But they also talk about "greatness" of their own democracy, condemn the rule of law in Muslim countries.
The power of the President to call up massive crowds of supporters has been on clear display in Istanbul's Taksim Square every night since last week's failed coup. "Work during the day, and come to the square at night" is the message put out by the government of President Recep Tayyip Erdogan. "The threat is not over."
Emergency is a global phenomenon
Emergency is a global phenomenon and not a Turkey special. The military coup is very serious matter, because the fence has tried to destroy the crops – Islamic crops. Turkey ahs face coups before.
Turks are no strangers to military takeovers. Turkey experienced coups in 1960, 1971 and 1980. In 1997 and 2007, there were further interventions via strongly worded memorandums from the army.
Each putsch inflicted huge damage on an already fragile democracy and led to widespread human rights violations. The 1980 coup was the worst of all — thousands were arrested arbitrarily and many tortured, while critics were sent into exile. When the governing Justice and Development party (AKP) came to power in 2001, it attracted support from liberals by promising to keep the army confined to military and security matters — the way it should be in any mature democracy.
The events of July 15-16, when the government foiled an attempted coup by elements within the military, must be read against this historical backdrop. It was a horrible night. By the time it was over at least 290 people were dead and more than 1,400 injured. It felt as if the country had gone back years.
Now the destabilization effort has been put down intelligently, President Erdogan is undertaking a series of measures to deny chances n future for such coups and to make Turkey safe and secure, ignoring all "counseling" from sworn foes enemies disguised, once again, as "well-wishers".
To check institutional collapse
With military playing usual mischief, Turkey genuinely faces risk of institutional collapse and President Erdogan needs to set the things right so that Turkish economy is back on rails.
Turkish nation is yet to recover from the shock it was administered by the coup plotters. As AKP government was busy fighting several forces at the same time like the powerful ISIS, Kurdish forces, Syria, Israel and Russia, Turkish government possibly did not notice how the anti-Islamic forces in Istanbul sponsored by western powers were busy plotting against the Islamist government and Turkey itself in order to destabilize the former Ottoman Empire and establish, like Pakistan, Afghanistan Libya, Iraq, Egypt and elsewhere, a puppet regime in Ankara directly remote controlled by Washington.
The unexpected coup attempt by Turkey's military establishment with a view to killing or arrest President Erdogan and his cabinet members, the AKP party leaders has been put down by person involvement by the Precedent of Turkey himself who cancelled his vacation and rushed to Istanbul. Maybe the plotters had expected President Erdogan to run away to USA, UK or some Arab nation.
Germany indirectly hinted that next time the coup in Turkey would succeed by correcting their errors in strategic planning of the coup.
Turkish President Recep Tayyip Erdogan announced in order to regain full control of the nation the nation attacked by the anti-Turkey coup plotters is clamping a three-month state of emergency in the aftermath of last week's bloody coup attempt.
Before the announcement, Erdogan convened on July 20 with his national Security Council and council of ministers, the latter of which approved the state of emergency recommendation. "The purpose of the declaration of the state of emergency is, in fact, to be able to take the most efficient steps in order to remove this threat as soon as possible, which is a threat to democracy, to the rule of law and to the rights and freedoms of the citizens in our country," Erdogan said, according to a government translation.
Erdogan, speaking later to a national television audience, said the state of emergency was not a threat to democracy. Governors will have expanded powers and the army will be under the command and control of the governors, the President said. Erdogan guaranteed that all the "viruses" in the armed forces would be cleansed during the period. "It is very similar to a cancer," he said. "It is like a metastasis that is going on in the body that is Turkey. And we will clean it out."
The President praised the popular anger and reactions to the coup attempt, in which 246 people died and 1,536 were wounded. "Every member of our nation came together as one," he said.
Enemies of Islamist state and democracy
Unexpectedly for the enemies of Islam and Islamist Turkey, the coup failed and plotters have caught. Now the sponsors from abroad are deeply worried if the plotters caught would reveal the truth about who are behind the coup. So the Western media lords, seeking to shield the coup criminals, now focus on state reaction against the plotters, criticizing the government action against the plotters. Slowly they shift their focus to freedoms and democracy and criticize Turkey for not being kind to the plotting criminal gangs.
That is how the western media efficiently inspired by the strategy of Neocons targeting Islam and Arab nations, talk filth about Muslims, and their nations.
Turkey on Tuesday formally requested the extradition of Gulen from the United States, where he lives in self-imposed exile.
US President Obama has joined his European counterparts in warning Erdogan against over-reacting, and Erdogan supporters have suggested US complicity in the coup which they saw was organized by US-based preacher Fethullah Gulen. Turkey is seeking Gulen's extradition.
USA and EU ask President Erdogan to just forgive the criminal plotters (and move on further) who wanted to kill and jail President Erdogan and allies and destabilize Turkey and hand it over r to enemies of Islam. USA has refused to arrest the Gulen and allies in USA and hand them over to Turkish government.
All that European states want is as Turkey would be busy with "soul-searching" after the failed coup, the coup plotters would regroup and stage another "perfect' coup to remove the elected Islamist government.
President Recep Tayyip Erdogan said European criticism won't stop Turkey taking steps it deems necessary after last week's failed coup. He projected a more conciliatory tone toward the USA and Russia. "The EU is not the whole world," Erdogan said in an interview with Al Jazeera before announcing a three-month state of emergency. "It is just 28 countries. The USA has the death penalty, Russia has it, and China has it."
Why not punish the coup plotters?
Turkey has now fired or suspended about 50,000 people after a failed coup over the weekend as it intensifies its vast purge — battering the country's security forces and many of its democratic institutions. In total, more than 9,400 people are being detained, the vast majority of them from the military. Teachers, journalists, police and judges alike have been caught in a net authorities are casting wider by the day, in what, according to the Western media lords, is increasingly looking like a witch-hunt to suppress dissent.
In order to present themselves as kind people on earth, USA and EU are pressing for no-punishment for the coup plotters in Turkey.
The Western powers that have murdered millions of Muslims in Islamic world calling them the terrorists want Turkish government to be very very kind to the coup plotters, betrays their secret efforts to support the coup and keep the plan very hidden from Turkey leaders.
The natural purge has gutted the leadership in the country's security forces, with at least 118 generals and admirals detained, stripping the general-rank command of the Turkish military by a third, according to Turkish state broadcaster TRT. Authorities have also suspended 8,777 Ministry of Interior personnel, mostly police, as well as 100 Turkish intelligence service personnel, according to the state-run Anadolu news agency.
Western leaders have urged Erdogan and his government to respect democratic principles and act within the law in response to talk of reviving the death penalty and heavy-handed punishments over the coup.
The coup efforts a rent new to Turkey but last time the plotters were caught and punished. The last executions in Turkey were in the mid-1980s and the death penalty was abolished in 2004. Erdogan said restoring capital punishment is being considered because of popular pressure, and the final decision rests with parliament.
Hundreds more have been suspended from the Prime Minister's office and government bodies dealing with religious affairs, family and social policy and development. The total fired or suspended is around 50,000 people.
Anti-Islamic US-EU opposition to Turkey
The reactions from USA and EU reveal their essentially anti-Islamic joint hidden agenda against Turkey. They seek to destabilize the former Ottoman Empire. More than 9,000 people are currently in detention and are under investigation over the coup
It is unclear how many soldiers participated in the attack, during which two of Erdogan's bodyguards were killed, and it is unclear how loyal the troops were, given that they were briefed on the coup so late in proceedings.
Asked if the extradition request would affect wider relations with the USA, Erdogan said "putting the two issues together is not the right thing to do." "We have a strategic partnership, and we have to continue our solidarity," he said. On Russia, Erdogan suggested that the two pilots who shot down a Russian jet on the Syrian-Turkish border in November may have been under orders from the coup plotters. The two pilots have been detained. "The judiciary must have their doubts because they are now in custody," he said.
In order to ensure the safety of US nukes in Turkey is duty bound to take strict actions against the plotters. Rights group Amnesty International said that authorities had canceled 34 journalists' press cards and called on Turkish authorities to not "arbitrarily restrict freedom of expression." "We are witnessing a crackdown of exceptional proportions in Turkey at the moment," said Andrew Gardner, Amnesty International's Turkey researcher.
Will Gulen be extradited?
US President Barack Obama spoke with Erdogan after the failed coup about the coup and the status of Gulen, who lives in Pennsylvania. Obama "strongly condemned" the coup attempt and "expressed his support for Turkish democracy," a White House news release said, without explaining whether Gulen would be extradited.
US Secretary of State John Kerry has, as USA does to Pakistan, outrightly rejected the Turkish demand to extradite Gulen, saying USA wants proof. The Muslim cleric has denied any involvement in the coup attempt.
In order to be on the safe side, Gulen, in a statement released said Erdogan "once again demonstrated he will go to any length necessary to solidify his power and persecute his critics." The reclusive cleric leads a popular movement called Hizmet, which includes hundreds of secular co-ed schools, free tutoring centers, hospitals and relief agencies credited with addressing Turkey's social problems, now targeting Islamic rule.
USA claims that under the US-Turkey extradition agreement, Washington can only extradite a person if he or she has committed an "extraditable act." Treason — such as that implied by Erdogan's demand for Gulen's extradition — is not listed as such an act in the countries' treaty.
As Washington does not want to punish President Erdogan's opponent Gulen, Kerry said in Washington that he told his Turkish counterpart: "Please don't send us allegations, send us evidence; we need to have evidence which we can then make a judgment about."
In the aftermath of the coup, the numbers of those detained, suspended or suspected has risen to the tens of thousands.
For his opponents, the fear is that it's the start of a more sinister era of what they call Erdogan's authoritarian rule, an opportunity to crack down further on any voice of dissent, an opening to push through constitutional and other changes that would give him greater powers.
In Greece, a court sentenced eight Turkish military personnel who fled there aboard a helicopter during the coup attempt to two months in prison for entering the country illegally.
Turkey has demanded their return to stand trial for alleged participation in the coup attempt. The eight, who deny involvement, have applied for asylum in Greece, saying they fear for their safety if they are returned.
Istanbul calm after storm
Turkey woke up to its first full day under a state of emergency on Thursday, imposed by the government the previous night. "Everything is looking normal" in the streets of Istanbul, a resident told journalists at 8 am (0500 GMT), with people commuting to work or taking coffees in the city's cafes.
Away from the nightly Taksim Square celebrations there is a sense that people are going through the motions of daily life as if in a daze, conversations that invariably drift toward recent developments tend to still be preceded with exclamations. It appears there was a concerted effort to try to change the atmosphere of the square, even superficially, from a rallying ground for Erdogan supporters to something that stands more for the nation of Turkey itself. There are fewer political anthems lauding Erdogan's Justice and Development Party, the AKP, and more songs that are simply patriotic or popular; there are fewer banners with Erdogan's image fluttering in the breeze, more Turkish flags. Voices at the microphones — mostly AKP members and supporters — deliver a litany of messages about Turkey's strength, not forgetting the price the nation paid.
There are more sinister reminders, too, such as one man who, standing in front of a newly erected billboard with the names of the dead, held a bullet and reminded the crowd: "This on Friday could have hit anyone of you, it could have had your name on it."
Turkey have been through coups before, the successful ones of the past were bloodless. This one — violent — did not succeed. The anti-Islamic sources say a part of the reason for coup failure was because the authorities got wind of it just in time, and the attempted takeover was poorly executed. But arguably the key reason for failure was that the coup leaders did not take into account Erdogan's popularity and his people power.
Erdogan's supporters have no qualms about the government's reaction. Erdogan is their man, they have unwavering faith in his abilities and they have proven they will lay down their lives for him. And, one could argue, they did not take into account that, whether Turks love Erdogan or hate him, the vast majority of this country does not want to have a democratically elected government brought down in a military coup. That night resulted in rare unity among Turkey's main political party leaders and among its population.
The aims of three-month nationwide state of emergency includes end of Gulen empire in Turkey by creating a "parallel structure" of exiled cleric Fethullah Gulen, blamed for the coup, government spokesman Numan Kurtulmus said. Deputy Prime Minister Mehmet Simsek insisted the state of emergency would not curtail basic freedoms, including restrictions on movement, gatherings and free press. Parliament, dominated by President Recep Tayyip Erdogan's ruling Justice and Development Party, was to meet on Thursday to review the state of emergency.
The government has rounded up or dismissed tens of thousands of civil servants, teachers, lawyers and soldiers. Government supporters have called for the death penalty for coup plotters. Istanbul Mayor Kadir Topbas told a crowd in the city's Taksim Square this week the he had ordered a burial plot to be set aside for any dead coup plotters, to be called "the graveyard for traitors." "Everyone visiting the place will curse them and they won't be able to rest in their graves," he was quoted as saying by Hurriyet Daily news late on Wednesday.
Some locals were celebrating the coup's failure in the streets on Wednesday night, the resident said. But many people were also deactivating their social media accounts, she added, saying she thought they were afraid of a clampdown. "Three people were dismissed in my company yesterday and there are rumours of 15 more on the list," she said, speaking on condition of anonymity.
Opposition politicians also expressed fear of reprisals. "Unfortunately, we are seeing a civilian counter-coup," Lawmaker Ziya Pir of the pro-Kurdish Peoples' Democratic Party told journalists on Wednesday. Many opposition factions "are afraid of being lynched," he said.
Under the Turkish Constitution, the emergency measures allow the government to "partially or entirely" suspend "the exercise of fundamental rights and freedoms," so long as that doesn't violate international law obligations. Lawmakers can sanction a state of emergency for a period of up to six months.
In order to avoid reoccurrence of coups and escape being the target of accusations of becoming authoritarian by anti-Islamic nations, Turkey pres Erdogan has been moving strictly as per law. Turkish lawmakers declare three-month state of emergency allowing president Recep Tayyip Erdogan to ramp up his crackdown after failed coup without parliamentary approval. Parliament voted 346-115 to approve the national state of emergency, which will give Erdogan the authority to extend detention times for suspects and issue decrees that have the force of law without parliamentary approval, among other powers.
Observation
The coup is perhaps a stark reminder of how shaky Turkish nation is, of how for many a sense of security they had once taken for granted is more shattered than it already was, of how deeply July 15 — despite the failure of the coup itself — continues to unsettle this country.
Turkey has to reinvent the prestige and prowess of a big nation.
Erdogan, who had been accused of autocratic conduct even before this week's crackdown on alleged opponents, says the state of emergency will counter threats to Turkish democracy. The main opposition Republican People's Party, CHP, slammed the state of emergency move as going too far. A state of emergency has never been declared nationwide although it was declared in Turkey's restive, Kurdish-dominated southeast between 1987 and 2002.
Since the July 15 coup attempt, the government has arrested nearly 10,000 people. In addition, over 58,880 civil service employees — including teachers, university deans and police — have been dismissed, suspended, forced to resign or had their licenses revoked, accused of being Gulen followers.
Turkish Deputy Prime Minister Mehmet Simsek defended the move, saying he hoped the state of emergency would be short-lived. He said it would be used to go after "rogue" elements within the state and that there would have been "carnage in the streets" had the military coup succeeded.
Turkey immediately said it was partially suspending the European Convention on Human Rights, allowing it more leeway to deal with individual cases, by invoking an article most recently used by France and Ukraine.
Countries around the world are keeping a close watch on developments in Turkey, which straddles Europe, the Middle East and Asia. German Foreign Minister Frank-Walter Steinmeier advised Turkey that the state of emergency should only last as long as it's "absolutely necessary," thereby interfering with internal affairs of Turkey
Erdogan announced a three-month state of emergency to protect Turkey's freedom and democracy, saying Turkey will work to cleanse the "viruses" within the armed forces and other groups.
Turkey's people are still reeling from the shocking events of the weekend and it is vital that press freedom and the unhindered circulation of information are protected, rather than stifled. There is a general incredulity, with the weight of what happened only just beginning to sink in.
It is not just funny but very dangerous that EU member states try to intervene in Turkey's efforts to punish the culprits. Meanwhile, EU leaders have said that Turkey's negotiations to join their bloc will be terminated if it brings back the death penalty to the coup plotting criminals and have criticized the wave of arrests that followed the failed putsch. Erdogan said the arrests were the state "doing its job" and told French Foreign Minister Jean-Marc Ayrault to mind his own business given that France also introduced a state of emergency after last year's attacks. "For 53 years, we have been knocking at the door and the EU leaders have kept us waiting, while others have joined," he said. Turkey has no reason now to feel any urgency to be a part of EU, which has already shown signs of breakup following the Brexit.
President Recep Tayyip Erdogan and the AKP are pinning responsibility for the failed coup on a cabal within the army sympathetic to Fethullah Gulen, the exiled Islamic cleric. These accusations must be investigated and those who are culpable must be brought to justice. Gulenists were active in the police, prosecution service and judiciary, often pursuing their own agenda. Their unbridled lust for power ruined them in the end. Turkish liberals and democrats will never support the ambitions of the Gulenist army officers
Erdogan says death penalty could return to deal effectively with future plotters in Turkey, so that the people and government can surge ahead to revitalize economy and Islamic assets that are the target of the anti-Islamic forces globally.
With the coup having been failed, Turkey's increasingly warm relations with Russia spell trouble for the USA at a time when the already strained ties between Ankara and Washington have been further complicated following the unsuccessful attempt to overthrow President Recep Tayyip Erdogan.
Following the unsuccessful attempt to overthrow President Recep Tayyip Erdogan, Turkey is on its way to effect a dramatic shift in foreign policy from USA to Russia. As ties between the two countries normalize, Ankara could green light the Turkish Stream project, an initiative that Moscow has championed and Washington opposed.
Turkey's new policy approach is based on its economic well-being which has been the basis of the weight and influence the country has been enjoying in the Middle East. Its economy had considerably gone down over the past few years and dipped further after its direct involvement in the war in Syria and Iraq
Every nation is duty bound to take revenge if there is a coup or grave subversive move by military and why not Turkey? USA still invades energy rich Arab nations blaming one Osama's terror attack on USA. Turkey is not a nation displaying its resilience in the face of a terrorist attack, as Turks have done in the past. This is not a nation that can bury the dead and try to move on. This is a nation in uncharted territory.
Turkey must now know who its real friends and foes are and criticize both USA and EU directly instead of taking an indirect route by criticizing only their tool Gulen or the military. Bur the coup plotters and those who help them achieve anti-Islamic agenda. That would make some sense to people in those countries.
A New Era in US-Jordan Relations
King Abdullah of Jordan is the first Arab leader who met American President Joe Biden at the White House. The visit has reaffirmed the strong and long-standing Jordan-US strategic partnership and reinvigorated the bilateral engagement for working together on security issues, and economic development on the basis of shared values and priorities. The King's visit to Washington reaffirmed Jordan's value as a reliable ally who plays a critical role for stability in a highly volatile region.
Jordan's value is multi-dimensional and ranges from bilateral military cooperation, intelligence sharing and joint global counterterrorism operations including as a member of the Global Coalition to Counter ISIS and the Combined Joint Task Force-Operation Inherent Resolve to deployment of almost three thousand (3,000) American troops to Jordan as part of the ongoing campaign to combat regional terrorism. The US has expanded military footprint to Jordan after Washington's decision to withdraw forces from Syria and reduce military presence in the Turkish airbase of Incirlik. In addition, the kingdom's geopolitical position in the heart of the Middle East provides a viable alternative for logistical support to the American military taking into consideration the US decision to withdraw from Afghanistan and close three bases in Qatar. Notably, the remaining supplies from the three Qatari bases along with the Support Mission have been transferred to Jordan and have become part of the Area Support Group-Jordan that operates as the Base Operations Support Integrator to back contingency operations and military-to-military engagements within the US Army Central Command's area of responsibility.
Jordan's value also stems from its critical role in addressing the overwhelming humanitarian needs created by the conflicts in Syria and Iraq as well as in hosting almost two million registered Palestinian refugees.
Support of Two-state Solution
The fact that Jordan remains at peace with Israel and is a key interlocutor with the Palestinians adds to the kingdom's reliability to mediate and advance initiatives that support the two-state solution. This presupposes the resetting of Jordan-Israel relations. Washington is well-placed to offer its good offices and help restore trust between the two neighboring countries. The twenty-seventh year Jordan-Israel peace treaty shows not only the possibilities for coordination and co-existence but also the ceilings to peace with Israel in the absence of a solution to the Israeli-Palestinian conflict. A "cold peace" and quiet, limited cooperation are currently the maximum possibilities vis-a-vis a "warm peace" that will unlock Jordan-Israel cooperation and potential.
It is nevertheless noteworthy that the last five years have been discerned by the previous American administration's lack of appreciation of the complexity of the Israeli-Palestinian conflict. The Trump peace proposal, known as "the Vision", not only undermined the long-established aim of a two-state solution but also reinforced discussions over alternatives including a one state outcome to the Israeli-Palestinian conflict; different measures of annexation, such as Israeli annexation of Area C in the West Bank; "exotic options" such as a federation in which Israel and Palestine share certain aspects of sovereignty; potential unilateral Israeli initiatives with most prevailing a Jordanian model, in which Jordan takes control of the West Bank and Palestinians are given Jordanian citizenship; and, reinforcement of the notion that "Jordan is "Palestine"".
Practically, Jordan can serve as honest broker in any future Israeli-Palestinian peace process, but as the late King Hussein stated in an interview with The New York Times in 1991 "Jordan should not be, cannot be, will not be a substitute for the Palestinians themselves as the major aggrieved party on the Arab side in a process that leads to peace". The cited statement is fully embraced by Jordan's current leadership.
Acknowledgment of Jordan's Custodianship
The public acknowledgement by the American President of the kingdom's special role as custodian of the Muslim holy places in Jerusalem is translated into a vote of confidence and a commendation for Jordan's efficient safeguarding of religious sites for decades. As known, Amman pays the salaries of more than one thousand (1,000) employees of the Jerusalem Waqf Department and its custodianship role is carried out on behalf of all Islamic nations. The kingdom holds the exclusive authority of the Jordanian-appointed council, the Waqf, over the Temple Mount/ Haram Al Sharif and has spent over 1 billion dollars since 1924 for the administration and renovation of Al Aqsa mosque.
Jordan has admittedly served at multiple occasions as credible intermediary for Israel and the Palestinians to suspend tensions in the old city of Jerusalem, particularly at the Temple Mount/Haram Al-Sharif and pursues a successful administration of religious funded schools favoring moderate religious education and religious tourism. Jordanian moderation has guaranteed co-existence of the three monotheistic religions in Jerusalem at a time when on the contrary, counties like Turkey funnel millions of dollars in charity projects in Jerusalem promoting the ideology of the Muslim Brotherhood.
Overall, Jordan's custodianship has proved to be successful in maintaining delicate arrangements for the benefit of all religions and parties involved.
American Loan Guarantees
The King's discussions with the American President also centered on the economic challenges exacerbated by the effect of the pandemic and the enhancement of bilateral economic cooperation. Admittedly, Jordan showed strong leadership and governance with early actions that reduced the coronavirus pandemic pressure on the kingdom's health system. The Jordanian government imposed a nationwide lockdown and severe social distancing measures at a much earlier stage of the pandemic than other Middle East countries.
Jordan withstood the pandemic's impact with minimal loss of life but with a significant cost to its economy. As of June 2020, most restrictions on economic activity were lifted turning Jordan into one of the first Arab countries to reopen. Gross Domestic Product (GDP) has contracted in 2020 by 3.5 percent after growing 2 percent in 2019 due to losses in state revenues because of fewer remittances and a weakened tourism market.
To cope with the direct negative effects of the pandemic on its state budget, the Kingdom received $396 million from the International Monetary Fund (IMF). The amount of finance has specifically helped address the country's balance of payments needs and allowed for higher spending on healthcare, and assistance to households and companies most affected by the pandemic. Despite that the IMF provided in March 2020 another multi-year $1.3 billion loan package to Jordan, the pandemic has caused a $1.5 billion shortfall in its balance of payments.
This complex economic reality along with Jordan's moderation in the Arab world justify continued robust annual American economic assistance to the kingdom in the form of budgetary support (cash transfer), USAID programs in Jordan, and loan guarantees. US cash assistance should increase in the coming years taking into consideration that it is directed to refugee support and to segments of the economy that are mostly affected by the pandemic like foreign debt payments and fuel import costs. Overall, a pledge should be made for Jordan in American congress for the authorization of moreUS sovereign loan guarantees that will help the kingdom weather the pandemic's adverse medium-to-long-term effects on its economy. US sovereign loan guarantees will allow Jordan to issue debt securities that are fully guaranteed by the American government in capital markets, effectively subsidizing the cost for the Jordanian government to access financing.
It is also noticeable that in a genuine effort to help the kingdom contain the pandemic and safeguard public health, the American administration proceeded with the delivery of over 500 thousand covid-19 vaccines to Jordan highlighting American commitment to international vaccination programs including that of the kingdom.
US-Jordan Defense Partnership
The strategic US-Jordan defense relationship was reflected in the discussions that were conducted between the Jordanian King and the American President. American support for the modernization of Jordan's F-16 fighter jets has been at the forefront of the agenda with the aim of achieving greater interoperability and effectiveness for the Jordanian Armed Forces. The American President recognized Jordan's contribution to the successful international campaign to defeat ISIS and honored as an example of heroism the memory of captain Muath al-Kasasbeh who was executed in 2015 by the terrorist organization's militants.
Jordan has suffered avowedly from terrorism throughout the years and works collectively at regional and international levels to eliminate all its forms. The kingdom lost two prime ministers, Haza'a Al-Majali and Wasfi Al-Tal, as victims of terrorism and experienced a series of terrorist attacks like the simultaneous suicide bombings against three hotels in Amman in November 2005 that led to the loss of life of American, Israeli, Palestinian, and Jordanian nationals.
In effect, Jordan is the third-largest recipient of annual American foreign aid globally, after Afghanistan and Israel. A Memorandum of Understanding on American foreign assistance to Jordan commits the United States to providing $1.275 billion per year over a five-year period for a total of $6.375 billion (FY2018-FY2022). Renegotiations on the next such agreement for FY2023-FY2027 is estimated that will aim at increasing the American commitment to Jordan, a key ally in the fight against international terrorism whose military should be in position to procure and maintain conventional weapons systems.
On the whole, Jordan is a steadfast security partner of the United States in the Middle East whose moderation and pragmatism helped the kingdom weather regional and world challenges. As 2021 and past years have showed, Jordan's position as a bridge between the Levant and the Persian Gulf provides it a unique geopolitical standing, in a way that nowadays Amman is granted with a significant security, diplomatic and humanitarian role that signals a new era in US-Jordan relations.
Chinese FM Wraps Up his Visit to Egypt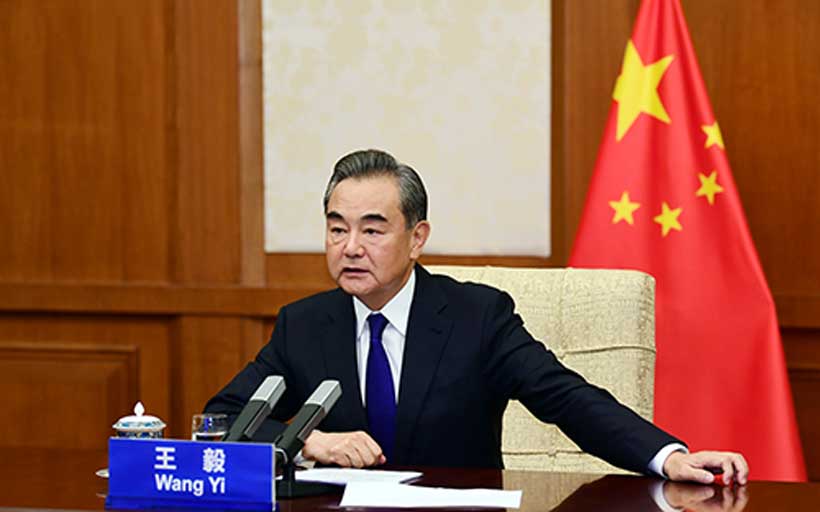 Wang Yi, the Chinese State Councilor and Foreign Minister, visited Egypt on July 18, 2021, in El Alamein City, northwest Egypt. The Chinese Foreign Minister is the first foreign official to visit this strategic city.
Wang Yi met with his Egyptian counterpart, Sameh Shoukry, during his visit to Egypt, and they discussed bilateral relations between the two countries. This year marks the 65th anniversary of the establishment of diplomatic relations between Egypt and China. Egypt is the first Arab country to establish diplomatic relations with China and the first African country to do so. In the Arab world, the Islamic world, Africa, and developing countries, Egypt has long been one of China's most important strategic partners. At the international level, the two countries mutually support one another. The meeting between Egypt's Foreign Minister and China's Foreign Minister focused on three main issues: the Covid-19 vaccine, the One Belt One Road Initiative, and international and regional issues such as Palestine and Syria
Covid-19 Vaccine
Both Egypt and China have a long history of cooperation and friendship. Before the outbreak of the Covid-19, the two countries' relations were based on economic and trade cooperation, with China being Egypt's first trading partner for the eighth year in a row since 2013, and the volume of trade exchange between the two countries exceeding $14.5 billion in 2020. However, as the outbreak Covid-19, cooperation between the two countries expanded to include medical cooperation. Egypt and China worked together to combat the virus. Egypt sent medical supplies to China, and China sent medical supplies and Chinese vaccine to Egypt. In addition, in December 2020, the two sides signed a cooperation agreement on COVID-19 Vaccine Production and China dispatched technical teams to Egypt to assist in the vaccine's local manufacture. As a result, Egypt is considered Africa's first vaccine manufacturer.
One Belt One Road Initiative
Egypt is an important strategic partner in building the Belt and Road Initiative. According to CGTN, the Egyptian president, Abdel Fattah al- Sisi, stated that:" Egypt supports the Belt and Road Initiative(BRI)." He added that Egypt is ready to strengthen cooperation with China in the fields of economy, trade, industry, science and technology, and expand human exchanges within the framework of the "Belt and Road Initiative." One Belt and One Road Initiative is one of the most important initiatives of the twenty-first century, announced by President Xi Jinping during official visits to Indonesia and Kazakhstan in 2013. Egypt was one of the first countries to participate in this initiative. In 2014, Egyptian President al-Sisi expressed in an interview that China's One Belt and One Road Initiative was an "opportunity" for cooperation between China and Egypt. Egypt was willing to participate in it actively.
International and Regional Issues
Regarding the international and regional issues, the two sides exchanged views and coordinated positions on some issues as Palestine, Syria issues. It's worth mentioning that Wang Yi paid a visit to Syria the day before his trip to Egypt, marking him the first Chinese official to visit Syria since the country's civil war began. China supports the Syrian sovereignty and rejects foreign interference in Syria, and also rejects the regime change. The Egyptian Minister Sameh Shoukry also discussed with his Chinese counterpart Wang Yi the GERD issue. According to Sky News, Shoukry explained Egypt and Sudan's positions as two downstream countries, the importance of preserving the interests of all parties and not jeopardizing the downstream countries' water security, and the importance of engaging in intensified negotiations under the auspices of the African Union presidency. The two sides signed an agreement on the Egyptian-Sino Intergovernmental Cooperation Committee at the end of their meeting.
Greater Middle East may force China to project military power sooner rather than later
China may have no short-term interest in contributing to guaranteeing security in parts of a swath of land stretching from Central Asia to the East coast of Africa, but that does not prevent the People's Republic from preparing for a time when it may wish to build on long-standing political and military relationships in various parts of the world to project power and maintain an economic advantage.
Determined to exploit the principle of allegedly win-win relationships that are underwritten by economics, trade, and investment as the solution to problems, China has so far delayed if not avoided bilateral or unilateral political and military engagement in conflicts beyond its borders.
The question is how long it can continue to do so.
China took a first baby step towards greater power projection with the creation in 2017 of its first overseas military base in the East African state of Djibouti, a rent-a-base nation that hosts multiple military facilities for among others the United States, France, and Japan and potentially Saudi Arabia. The base signals the importance China attributes to regions like the Gulf and the Horn of Africa.
A recent article in a Chinese military publication sheds further light on Chinese preparations for a day when it may have to project military might in different parts of the world. The article laid out Chinese thinking about the virtues of offering Middle Eastern, Asian, and African militaries and political elites training and educational opportunities.
"Students who can study in China are mostly local military and political elites or descendants of notable families. After they have studied and returned to their country, they have a high probability of becoming the top military and political leaders of the local country. This is very beneficial for China to expand its overseas influence and corresponding armaments exports," the publication, Military Express, said.
The publication asserted that Chinese military academies were more attractive than their Western counterparts that impose "political conditions," a reference to students having to hail from countries aligned with the West.
"Chinese military academy does a better job in this regard. There are no political conditions attached here. Foreign military students here learn Chinese strategies and tactics and learn to operate Chinese weaponry by themselves," the publication said.
The publication failed to mention that China unlike Western producers also refrains from attaching political conditions to its arms sales like adherence to human rights.
Recent months have not been necessarily kind to Chinese aspirations of remaining aloof to conflict beyond its borders, suggesting that reality on the ground could complicate China's strategic calculations.
The US withdrawal from Afghanistan threatens to put an ultra-conservative religious regime in power on the border with Xinjiang, the north-western province where China is attempting to brutally Sinicize Turkic ethnic and religious identity.
Recent Taliban military advances have already bolstered ultra-conservative religious sentiment in neighbouring Pakistan that celebrates the group as heroes whose success enhances the chances for austere religious rule in the world's second-most populous Muslim-majority state.
"Our jihadis will be emboldened. They will say that 'if America can be beaten, what is the Pakistan army to stand in our way?'" said a senior Pakistani official.
Nine Chinese nationals were killed last week in an explosion on a bus transporting Chinese workers to the construction site of a dam in the northern mountains of Pakistan, a region more prone to attacks by religious militants than Baloch nationalists, who operate from the province of Balochistan and are responsible for the bulk of attacks on Chinese targets in the South Asian nation.
It was the highest loss of life of Chinese citizens in recent years in Pakistan, the largest recipient of Chinese Belt and Road-related infrastructure and energy investments. China's sees Pakistan as a key to the economic development of Xinjiang and part of its effort to Sinicize the region.
Indicating Chinese concern, China last month advised its citizens to leave Afghanistan and last week evacuated 210 Chinese nationals on a chartered flight. China last week delayed the signing of a framework agreement on industrial cooperation that would have accelerated implementation of projects that are part of the China Pakistan Economic Corridor (CPEC).
Complicating Chinese calculations is the fact that both Russia and Turkey are maneuvering for different reasons to strengthen Turkic identity in the Caucasus that potentially would be more sympathetic to the plight of the Uighurs and other Turkic Muslims.
Turkey moreover may see Afghanistan as another stepping stone towards recreating a Turkic world. Turkey has reportedly asked Azerbaijan, whom Ankara supported in last year's Caucasus war against Armenia, to contribute forces to a Turkish contingent that would remain in Afghanistan after the US and NATO withdrawal to secure Kabul's Hamid Karzai International Airport.
Turkish influence among Afghanistan's Turkic minorities has been bolstered by the operation of Turkish schools, an increased number of Turkish scholarships, training of Afghan military and police personnel, the popularity of Turkish movies and television series, and efforts to mediate an end to conflict in the country.
The Taliban have rejected the continuation of a Turkish military presence that for the past six years was part of the NATO-led Resolute Support Mission. The Taliban insisted that Turkish soldiers were "occupiers in Afghanistan" who should leave with NATO and US forces even if they were also representatives of a "great Islamic nation."
In anticipation of a threatening development in Afghanistan, China quietly established a small military post in 2019 in the highlands of Tajikistan, a stone's throw from where Afghanistan's Wakhan Corridor meets Xinjiang.
More recently, Chinese Foreign Minister Wang Ji advised his interlocutors during a visit last week to Central Asia that going forward Chinese private military companies would play a greater role in securing Belt and Road-related strategic infrastructure projects.
Some analysts suggested that the Chinese companies would also be employed to train Central Asian militaries – a domain that was until now largely a Russian preserve.
In a similar vein, France's withdrawal of its forces from West Africa steps up pressure on China to defend its overseas nationals and interests. Three Chinese construction workers were among five foreigners kidnapped by gunmen this weekend in southern Mali. No group has so far claimed responsibility for the kidnapping.
All of this leaves aside the question of how long China will feel that it can rely on the US defence umbrella in the Gulf to secure the flow of energy and much of its trade against the backdrop of a reconfigured US regional commitment and increasingly strained relations between Washington and Beijing.
It also does not consider China's ability to manage expectations of the People's Republic's willingness to engage, in some cases not only politically or militarily, but also economically.
That was evident during Mr. Wang's most recent visit to the region, and particularly Syria, which for much of its civil war was home to Uighur jihadists who distinguished themselves in battle.
It was Mr. Wang's second visit to the Middle East and North Africa in four months. Furthermore, Mr. Wang last week discussed Afghanistan and Gulf security with his Saudi counterpart on the sideline of a regional cooperation meeting in Uzbekistan.
Syrian officials have for domestic and foreign policy reasons long touted China as the imaginary white knight that would come to the rescue in the reconstruction of the war-ravaged country.
"China is far less interested in Syria than Syria is in China… Syria has never been a priority in China's economy-driven approach to the Middle East," noted scholars Andrea Ghiselli and Mohammed Al-Sudairi.
The scholars cautioned however that "the significant potential impact of narratives created by local actors in the context of international politics," a reference to Syria's projection of China as its saviour, cannot be ignored.
Implicit in the scholars' conclusion is the notion that Chinese policy may in future increasingly be shaped as much by decision-making in Beijing as developments on the ground in a world in which powers compete to secure their interest and place in a new world order.
Ultimately, the fundamental question underlying all these push factors is, according to Financial Times columnist Gideon Rahman, whether China has not only the capability and aspiration to become a superpower but also the will.
"If China is unwilling or unable to achieve a global military presence that rivals that of the US, it may have to find a new way of being a superpower – or give up on the ambition," Mr. Rahman argues.