Islam and the Free World: What Should be done as an imperative Survival (B)
The following steps must be taken with deep efforts, seriously and effectively:
1) No more the twisted mirror image. To view Islam through Western inclusive pluralistic lenses means not only never understanding Islam but also it may produce disastrous results. What if the struggle is between two polar opposite cultural conceptions, between a society that aspires to modernity and progress, as against totalitarianism of thought, traditional tribal values and religious extremism?
What if Islamic approaches do not play by the Western rules of the game, by the Judeo-Christian morality? What if Islamic behavior is deeply rooted in the hearts of the Muslims as a norm of social behavior, as a cultural reflection of their society? What if Muslims are devoted to implementing their values out of profound hatred and hostility?
Psychologist Norman Dixon has defined the issue aptly: We are busy performing two things: first, denying reality, and second, when the catastrophe happens, rationalizing our mistaken behavior. This is the reason why the Free World is flattering, appeasing, and serving as useful idiots to Islam and Muslims. If we do not know why the Muslims hate us so deeply and they shamelessly continue pushing for concessions, is there any hope for us to prevail? One Jew of the Holocaust survivors, who was asked what he had learned from the Second World War, replied: "When somebody says he wants to kill you, you should believe him." Everything is so clear and obvious, yet, we do not want to learn.
Let us take, for example, the issue of language, which represents Orwell's 1984. There is a heated debate concerning the difference between Islam and Islamism. As if Islamism is a political ideology of a small minority which holds that the essence of Islam is Jihad and conquests, while Islam is a peaceful religion. However, this is the Western debate, the Western language and a twisted formula to evade reality. There is absolutely nothing on that matter in the Islamic vocabulary.
Moreover, what if the terms 'moderate' and 'extremist' are totally opposite in Western and Arab-Islamic political culture? What if we all use the same terms — peace, political arrangements, negotiations, coexistence, etc. — while we translate them operationally and understand them conceptually totally differently? What if for Islam "good" is only whatever advances the cause of Islam to control the world, and "evil" is whatever resists the cause of Islam and enables the existence of the Kuffār? What if Islam teaches war in the name of peace, and hate in the name of love? What if, Ayman al-Zawahiri and Abu Bakr al-Baghdadi are the moderate true believers, since they strictly follow the orders and commandments of the Sharī'ah, and those whom we relate to as moderates are in fact the extremists, even infidels, in the Islamic perspective?
There is another perspective, which is Theodor Adorno's idea of the authoritarian personality. Scholars had determined that social conservatives suffer from 'mental rigidity,' 'dogmatism,' and 'uncertainty avoidance,' together with associated indicators for mental illness. This is a Machiavellian psychological command and control device. Its purpose is the imposition of uniformity in thought, speech, and behavior.
This is exactly the Arab-Islamic personality that leads to cultural terrorism. Obedience is the result of force. Force is the antithesis of humanizing actions. It is synonymous in human mind with savageness, lawlessness, brutality, and barbarism displayed in an inhuman attitude toward the other. Consequently, it rejects, for example, the first principles of the US Declaration of Independence of "unalienable rights, among which are life, liberty, and the pursuit of happiness." It is rejected by Islam as its uppermost characteristics is submission to Allah.
According to Ali Sina's paraphrasing, there are three categories of Muslims residing in the Free World: the good, the bad, and the ugly. However, this division is not according to Western definitions. The good are in fact the bad; the bad are in fact the good and the ugly are in fact the good face of the Islamic propagators introduced to the Free World's public opinion, in order to deceive and mislead. So, in fact, nothing in Islam is what it is because everything is what it is not. Each and every group has its role in the world game of Islam to occupy the world and subdue humanity to Islamic rule.
What if the terrorists are actually good Muslims, practicing the commandments of the Sharī'ah? Muhammad raided and butchered people merely because they were not his followers. The good Muslims do the same. Bombing and terrorism perpetrated by Muslims are replicas of Muhammad's raids, Ghazawāt, for booty (Ghanā'im) sanctioned in the Qur'an. Muhammad ordered the assassination of his critics, killing the apostates, slaughtering the infidels and decapitating their heads, and imposing terror on them. It is all written in the Qur'an.
What if the bad Muslims are those who do not practice their religion and do not follow its ordinances? What if the ugly Muslims actually appear beautiful? They are eloquent, articulate, intelligent, attractive, and highly manipulative. They know what to say to gain the Muslim majority's approval and applause. They are charming. Their words are reassuring and their faces are reliable and authentic. They act efficiently in diplomacy of deceit; they use propaganda in order to make you believe that Islam is not only peaceful and poses no threat to you, but in fact is cooperative and dialogue-oriented. These are wolves in sheep clothing proving that deception is as deadly as terror.
Muslims that practice and support the ideology and doctrine of Islam are all part of the problem. That is, they wish to occupy the world and to subdue humanity. Some use terrorism and violence; some use Da'wah and good words of propagation; and some, perhaps the majority, push forward, by charity money of Zakāt, by demography and birth-rate, and by being the silent majority, that is refraining from denouncing and alienating the terrorists. The result: Islam acts firmly and steadily to take over the world. This goal is rooted deep in every Muslim, the good, the bad and the ugly, each with its own strategy and tactics, but all with the same objective.
There are also good people, in Western terms, among the Muslims. But they are, unfortunately, a very small minority. They really wish to reform and democratize Islam, and to take away all Islamic signs of hatred and incitement to the other. However, the belief that Islam can be reformed from within is something impossible. The Qur'an is the heavenly book given by Allah. One cannot change the words of Allah, as it means blasphemy and it leads to punishment by death. There are verses in the Qur'an and Ahadīth that clearly state, he who changes even one word of the Qur'an must be killed. It is even forbidden to wonder or ask questions about it, let alone to criticize it. Islam is not adaptable with the times and cannot adapt itself to modernization. The gates of innovations (Ijtihād) have been closed since the 12th century. The mountain of Islam has not changed as what is written in the Qur'an cannot be changed.
In a revealing, perhaps surprising, analysis, the Jerusalem Post editorial, took a bold step by criticizing the media in the US:
The irony, of course, is that our postmodern media analysts, while preaching the gospel of cultural relativism, are themselves entirely blind to the moral values, cultural underpinnings and ethical standards of those who adhere to different sets of guiding principles. Rather, their search for answers are steeped in their own narrow mindsets, nurtured at the universities they attended and reinforced in the scholarly journals they read and in the social circles they embrace. The attempt by the media elites to paint a portrait of these men as alienated, disaffected youths is symptomatic of such a mindset. Their faux sophistication is belied by the narrow Western lens with which they view the motivations of these Islamists living in the West.
In essence, they are guilty of the analytic omission which they accuse others of: an honest attempt to understand events beyond the context of their own cultural biases and narrow frames of reference. If they did, they might find the anger and alienation of these young jihadists have nothing whatsoever to do with the familiar narrative of youthful rebelliousness depicted in iconic American cinematic and literary touchstones such as Rebel without a Cause or The Catcher in the Rye. Hence, the multiculturalist thinkers, plagued by Western guilt, seek conflict resolution through understanding and compromise. For the jihadist (lone wolf or otherwise) those are alien notions. They have already determined that there is no place in the worldwide caliphate to come for those who do not submit to the laws of Allah – Western commentators included.
2) No more 'multiculturalism' and 'moral relativism.' These are in fact names without any common sense, odd and alien notions without a logical definition, inventions that aim at destroying our existence as a free society. These also intend to confuse and to mislead, in fact leading to chaos and disruption.
'Multiculturalism' as opposed to 'multi-ethnicity,' dictates that groups of people with different cultures will live in one society and retain their culture, rather than trying to assimilate into the culture of the host nation. The all but inevitable consequence of this approach is that the law of the land will need to be altered so as to accommodate the culture of the new migrants. This could bring about a whole new set of laws that lead to the demise of the original culture. Multiculturalism was the myth, the keystone to the whole tyrannical mythology of political correctness.
Multiculturalists immediately attack anyone who seems to challenge their new religion called 'multiculturalism,' and brand him a racist and fascist. Studies and analyses which show any negative side to multiculturalism are silenced and consequently any dissent and criticism are paralyzed. We live no longer as a free society in our own political systems. The intimidating situation was that academia embraced this notion of multiculturalism in its entirety, while the media followed it with enthusiasm and the governments go along with it in intimidation. So, instead of an idea being debated whether it had any merit, the peoples were forced to accept this dubious lethal idea without being allowed to question it, even to understand its meaning and consequences.
Western universities are founded on the principle that each and every idea is up for critical thinking, according to the tradition of academic freedom. However, now the forces of evil coerce their societies to embrace destructive ideas without questioning, and if one resists, he is labeled by academia, with the assistance of the media, with a whole set of accusations based on racial prejudice. Yet, the truth is clear: This notion has never been part of the Western values of freedom of speech, expression and conscience and it contradicts the basic civil rights ideas. In fact it is clear that fundamental Western deep-rooted values are in a fast process of disappearing exactly as a result of this horrific notion called 'multiculturalism.'
So currently, across the Western World, ideas are introduced which nobody is allowed to question; ideas that become the basis of new laws which nobody is allowed to criticize; laws that lead to disastrous consequences, and still nobody is allowed to question and to criticize. We live in an era in which our precious freedoms are in danger and no wonder that Western societies are degenerating.
Sweden, once known as one of the most peaceful and law abiding countries in the world, is now the rape capital of Europe, a state of havoc and disarray. It has become a symbol and framework to be a first third world country in Europe in the course of the next decade.
Formerly peaceful and homogenous France now has over seven hundred no-go zones for non-Muslims where the government has no control and no ability to enforce French law. Terror acts by Muslims are common and become a routine.
The UK has embraced legal provisions for Muslims who now have Sharī'ah courts all over the country, while many neighborhoods in London, Birmingham and several other English cities, have areas which are being declared no-go zones.
The situation in Germany is no less bad. Germany is now home to the largest number of immigrants in the EU, and also has the second-largest Muslim population. It continues to be the recipient of the largest number of asylum applications in the EU: more than 200,000 asylum-seekers in 2014, and more than a million at the end of 2015.
A report, produced by the police headquarters of North Rhine-Westphalia, the state with the largest Muslim population, warns that the government is losing control over problem neighborhoods and that the ability of police to maintain public order cannot be guaranteed. There are districts where immigrant gangs are taking over the entire social setting, where native residents and business people are being intimidated and silenced. According to a Duisburg City Councilman, "When I say that steps must be taken to ensure immigrants comply with rules and regulations, I am immediately branded as a far right extremist… But spiraling levels of violent crime perpetrated by immigrants cause areas of lawlessness, areas that are becoming de facto 'no-go' zones for police."
Leaders of the major powers have expressed misgivings over multiculturalism. It has "failed, utterly failed," according to German Chancellor Angela Merkel. This attitude has been the opinion of a former French president and of prime ministers of Spain and Australia. The most forceful denunciation of multiculturalism came from British Prime Minister, David Cameron, who also calls it a "failure." However, nothing is done about it. It has not been a "failure," but a lethal disaster to the Western way of life.
Unfortunately, even before Muslims have changed Europe, the Europeans themselves did so, as leading European states have trashed their national identities and labelled their national awareness as worthless. Since European nations are reluctant to stand for what nations traditionally stand for, religious and/or ethnic identity, it is no wonder that they are undergoing a deep identity crisis and are subdued by the Muslims' desert reality.
Western liberal democratic civilization is falling apart and dismantles, not because of conquest from outside it, but because its leaders and cultural elites in the media and the academia have turned everything upside down, on their own free will. Right is wrong; good is bad; the ideology of evil is forgiven and understandable; and the forces of primitivism and savagery deserve a higher place in Western societies' considerations. Cultural and moral relativism, political correctness and moral equivalency are the on the top, and it is even forbidden to call a spade, a spade, and all must stick to the New Emperor's cloths.
These are the most dangerous time in the walks of our civilization. We have fought and won over tyrants, and dictators, and evil regimes. We have managed to do so as we could strictly and correctly define the situation, to separate between right and wrong, and to fight evil. Today everything has been turned over to the opposite. The horrendous forces of evil of Islam win, not because they are strong, or because they are correct, or because they have a new massage, a new development and innovations to humanity, but because Western civilization has a death wish. Western civilization has determined to commit suicide. The great prophet of our mired situation, George Orwell, is rolling in his grave. Indeed, he was strictly right: in our twisted atrocious new situation, peace is war; love is hatred; and truth is lie.
According to Pascal Bruckner, the West has no shortage of reasons for guilt. The West has no monopoly on evil, and though it has created monsters it also destroyed them: the abolition of slavery; the renouncing of colonialism; the building of peaceful and prosperous technological societies; and the establishing of law and order, of roles and institutions that are models for mankind. However, Western guilt has gone too far. It has become a pathology, an obsessive that has obscured Western understanding and distorted its behavior, even its balanced logic.
Today, there remain a few last bastions that keep Western civilization alive, because Europe has been attacking its own values and has raised generations of self-hating elites, and unfortunately the US academia and the media have aped their European models. It is time to find our own Judeo-Christian roots again, and to assert our values with pride and affection and without being afraid to speak out. The fact is that multiculturalism has become a clear code of submission to Islam, because it clearly leads to a new Dark Age, imposed by a medieval fascism of self-haters enabled by the collaboration of the leftists and the fanatical doctrine of Islam.
There is a disturbing situation. An alliance between Islam and Western left seems odd and grotesque. On the surface, Muslims with their single-minded dedication to the destruction of Western civilization, imposing worldwide Islamic rule according to the prescriptions of the Shari'ah, they are vehemently opposed to the left's touted beliefs in the socialist utopia. However, a closer look makes understandable driving these strange bedfellows into each other's arms. For the left there is just one overpowering consideration. After the collapse of communism, radical Islam appears to be the only power capable of defeating capitalism and the hated United States as the last obstacle on the road to Bolshevik ideas. One analogy stands clear: the Nazi ideology hatred to the Jews and its admiration of Islam.
For the Islamists, on the other hand, the rationale is fully congruent with their worldwide objectives. The leftists, though infidels who deserve death, are valuable as useful idiots to be exploited on the road of destruction of the Free World. The 1991 project of the US Muslim brotherhood indicates a "temporary cooperation" with movements opposed to colonialism and the Jewish state and working with "various influential institutions and using them in the service of Islam." As both share "anti-American and anti-imperialist ideology," this alliance ceases to be strange.
The result: the putative romance of the Left with Islam have become an affectionate embrace. An example to the "anti-imperialist coalition" is ANSWER. (Act Now to Stop War and End Racism). Founded, not coincidentally, three days after 9/11 It was designed to serve the Islamic objective of preventing U.S. retaliation against Muslims. ANSWER called for a "partnership with the Arab-American and Muslim community," and to oppose any American policy or legislation that could ban the activities of Islamic organizations. The case of the American Civil Liberties Union (ACLU), which has become an unabashed defender and apologist for Islamic groups, mainly CAIR in instructive, and in fact its legal arm. Since then, the left-Islamic nexus has moved into the US establishment, the White House and all American branches.
It is again Daniel Greenfield to so aptly remarks: Islam is tribal. Tribes are nomadic and they raid each other. They mount coup on each other. They steal and humiliate each other's women. They lash out and kill each other over insults. Islam incorporates the religious feelings and the tribal behavior. Terrorism also incorporates both the tribal and the religious. Islam sanctified the tribal raid as a religious act and turned the dead into martyrs. Islamic missionary activity in the West also targets dissatisfied minorities, potential fifth columns.
To the leftists, Islam is an inefficient sort of Socialism dependent on medieval superstition and lacking modern idea. To the Muslims, the left is an inefficient sort of Islam that's missing the Shari'ah. It is all just a problem of explanations and textbooks.
In their confused world order, leftists believe that the terrorists are attacking "our values" and we in turn must attack "their values" with our superior "values." While the left attempts to integrate the Muslims with "our values", the Muslim immigrants show that Europeans have no honor on a tribal level.
However, no meaningful dialogue is possible between the Islamic "Allahu Akbar" and "Our values" Western religion. Both insist on absolute submission. The left's demand for submission is based on the absolute moral superiority of "Our values," while Islam's demand literally means submission to its religion. To the Muslim mind, we are a series of fragile tribal associations. The "Our values" leftists think of the threat in terms of "radicalization", but the real threat is "integration." Indeed, if multicultural Westerners continue to ignore, deny, embrace, appease and nurture the truths of Islam's objectives, they do so at their own existential peril.
The left's multicultural vision made this mess possible. It's also making it worse. The left despises tribal thinking and yet its entire political infrastructure is built on rewarding it. Our enemies are not states and they will not fight us as states but as tribes. To the extent that they are religious, they will attack us that way. But the real problem is that we are no longer states and we do not think and act like states. We are in the grip of a mystical deluded cult of multiculturalists that opened the gates to a cruel, backward enemy. And in doing so, they have brought a tribal war into our own homelands.
Multiculturalism is so disastrous that it is shown in the mass-rape plague in Europe. Dennis Prager draws our attention to the horrific fact: between protecting over the European girls from repeated gang rape and protecting Muslims from being identified as the rapists, British authorities chose to protect multiculturalism and "diversity." That is, in the competition between multiculturalism and one of the most elementary obligations of civilization, the protection of women from sexual violence, civilization lost. The U.K. is not alone in taking precedence of the fear of being branded racist or Islamophobic over protecting women. This is also the situation in Germany and Scandinavian states.
Altogether, this is cultural Marxism disguised as multiculturalism. Western political leaders have sold out to the Marxist idea of multiculturalism and the result has been an emboldening the entire world to submit to the Shari'ah. In Europe, this sickening display now culminating in destruction of much of its cultural identity. Multiculturalism would be good if all sides were equally respected and mutually enriched. But, multiculturalism is one-sided, just a fake word that provides cover for its true meaning: the occupation of Islam. Multiculturalism has become code-name for submission to Islam.
The Relics Of Saint Seraphim: A Journey Through Russian Orthodoxy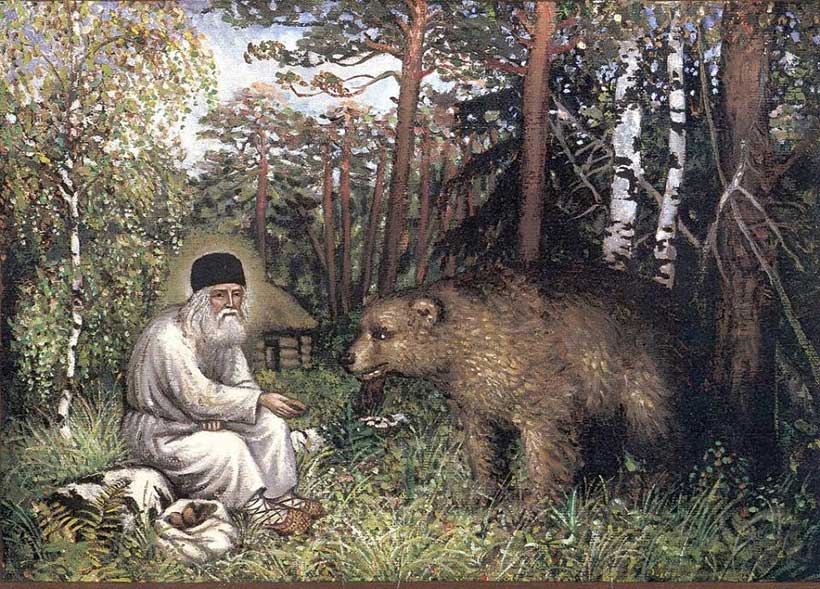 The Orthodox Church is going through deep changes in these last days of 2018. Ukraine is establishing an independent church leading to a serious controversy within the Orthodox world that has prompted a schism between the Russian Orthodox Church and Constantinople patriarchate.
In this series of articles, elements of the history of Orthodoxy in Russia will be (re-) explored to feed the debate covered in most media around religion, power and politics.
The story of Seraphim of Sarov (1754-1833), one of the most revered Orthodox saints, is a symbolic journey through the various milestones in the history of the Russian Orthodox Church (ROC) over the past two hundred years till nowadays.
After decades of seclusion, the pious hermit began to receive visits from pilgrims as word of his ability to heal body and soul spread among the faithful. Some accounts relate Seraphim's prophesies about the fate of the last tsar Nicholas II who was killed during the Bolshevik revolution in 1918. Seraphim would also have foreseen the future of Russia under the Soviets. According to these narratives, he anticipated the repression against the church during the twentieth century. Other accounts raise the affinity that Seraphim might have had with the Old Believers, the Orthodox Christians who refused Nikon's reforms of the mid seventeenth century to preserve traditional ways of worship. Seraphim's teachings of internal unity and spiritual purity thus transcended the canonical differences between the ROC and the Old Believers, a schism that still exist today.
It is known that he was canonized in 1903, but Soviet authorities confiscated his relics when they closed the Sarov Monastery in 1923, at the beginning of the repressions against the Orthodox Church. Like many other objects of veneration, his relics were kept in a storage room in the Museum of Religion and Atheism in Leningrad. The place of origin of Seraphim, the city of Sarov, became the birthplace of the Soviet nuclear program. Sarov was a closed city with limited access to keep the research secret. During the buildup of the nuclear center, many churches were destroyed or repurposed in a failed, yet violent attempt to eradicate religion and all its manifestations.
With the end of the Soviet Union in 1991, Saint Seraphim's relics were uncovered and displayed in a Moscow convent. In the wave of spiritual revivalism and enthusiasm for Russian saints, Russian believers were now able to pay tribute to the holy man. In 2003, the Patriarch Alexey II and President Putin paid a visit to Sarov to celebrate Seraphim's hundredth anniversary of canonization and the revival of the Russian Orthodox Church.
In 2016, a tiny piece of these relics orbited around the earth on board the spaceship Soyuz MS-02. Russian cosmonauts now regularly take religious objects with them into space, such as icons, the Gospels, and stones from Mount Tabor (the site of the Transfiguration of Jesus), symbolically spreading their faith around the world. This practice has become a tradition for space missions since 2008, when relics of Saint Sergius of Radonezh accompanied cosmonauts into space. Ironically, space conquest was formerly heralded as a great achievement of the antireligious Soviet authorities. A popular Soviet propaganda poster even depicted Yury Gagarin in space with the caption: "There is no God!"
Another chapter in the story of Seraphim's relics was the meeting in Cuba in February 2016, where Patriarch Kirill offered some fragments of the saint's remains to Pope Francis as a token of the rapprochement between the two churches. For memory, Orthodox churches and the Roman Catholic Church are at odds since the great schism of 1054. This historic encounter in Cuba held a highly symbolic value as no head of the ROC had met with the head of the Catholic Church. During this encounter, both pontiffs agreed that "the past method of 'Uniatism' is not the way to reestablish unity". The Joint Declaration further cast" hope that the schism between the Orthodox faithful in Ukraine may be overcome through existing canonical norms,and that all the Orthodox Christians of Ukraine may live in peace and harmony." It was almost three years ago.
Recently, in December 2018, archeologists from the Russian Academy of Science have made interesting discoveries during their excavation in Sarov monastery. They found a marble plaque commemorating the canonization of Seraphim and testifying the attendance of the Tsar Nicholas II with his family. This artifact resurfaces as a thread connecting the past and the present.
Saint Seraphim's unique journey during his life has continued after his death with each milestone epitomizing a key moment in the unfolding history of Russian Orthodoxy.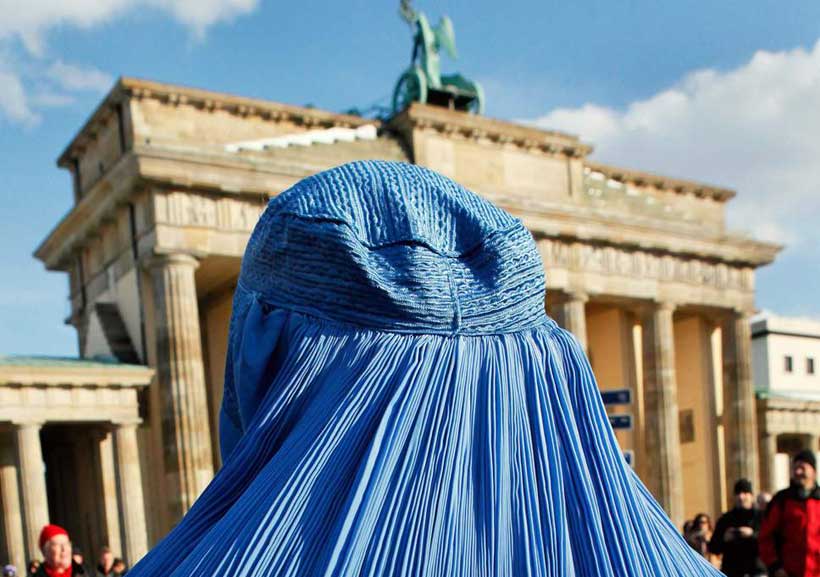 In the beginning of December 2016, Angela Merkel called for a burka ban during the conservative Christian Democratic Union (CDU) party's congress. Specifically, she said "The full veil must be banned, wherever legally possible. Showing your face is part of our way of life," and "Our laws take precedence over honor codes, tribal customs and sharia."
It is really interesting to demonstrate a case where the cross as a European value has the dominant position: the Lautsi case. Lautsi case proved us that religion still travels hand by hand with politics and that political coalitions are still very powerful when cultural memory has to be protected. An Italian national, Ms Soile Lautsi accused Italian Republic for the compulsory display of crucifixes in Italian public schools. According to ECHR's decision there was no violation of any right derived from the Convention. As Marco Ventura has pointed out: "The Grand Chamber has designed a Europe in which every country is free to decide which place to give to religion and to favor Christianity, or rather the dominant churches. For this reason, Italy has been supported by the more confessional of European countries, Russia and Greece, Bulgaria and Cyprus, which the European Court has repeatedly condemned for the oppression of minority religions." The coalition of Vatican State — Italian governments with other Eastern States formed a new ecumenical movement against radical secularism which according to the religious leaders, ECHR tried to promote during its first decision on Lautsi case. His Holiness Patriarch Kirill in a letter to Italian Prime Minister Silvio Berlusconi expressed the following opinion: "Christian religious symbols present in the public space in Europe are part of the common European identity without which neither the past nor the present or the future of this continent are thinkable".
However, does this new ecumenism of Christianity or ultra — secularism lead to Islamophobia? Religious pluralism a new social fact with which European states have yet to come to terms, and, country by country, they are plunging into national debates about religion and public policy. Indeed, Europe has made many efforts to cultivate the interreligious dialogue and to bridge (at least, a theoretical) gap between the relations between Christianity and Islam. The Vatican's effort to reach Islam culminated in a March 2001 visit to Damascus where John Paul spoke about the neighborly relations over the centuries between Christianity and Islam and delivered a message of interfaith peace. On 16th April, Pope Francis with the Ecumenical Patriarch visited the island of Lesvos in show of support to refugees. Leaving for Vatican, the Pope was accompanied by some families of Syrian refugees as a symbolical gesture towards Europe and its strict policies for asylum seeking and the closing of borders. An anti — Muslim sentiment is increasing by placing the blame on Islam's antiliberal tenets and Muslims presumed obedience to those doctrines. Muslims feel that they are second class citizens and victims of discriminatory attitudes and that their religion becomes more important than their education, personal and professional skills, qualifications and virtues in the eyes of the Western community. Are they really free and first class citizens when their religious leaders cannot be educated in Western and national institutions such as Christian clergy? Is this a true religious expression? Many imams are educated in Muslim countries and most probably they have traveled abroad before their religious mission to Europe. This may cause a lot of problems as the majority of those imams does not speak the national language and brings in his suitcase attitudes and traditions totally incompatible with Western values. In many cases, these imams come to carry fundamentalist and extremist messages which may find very welcome ears from disappointed, conservative or marginalized individuals. Beginning in September 2004, New Home Office rules for "overseas ministers of religion" came into effect in Britain. The rules require "imams and priests..to show knowledge of, and engagement, with British civic life, including an understanding of other faiths."
Inside Muslim communities various attitudes towards the position of sharia have been formed. Many scholars, especially Muslim scholars have tried to strike a balance between the implementation of sharia in private affairs and of National Laws in their public life and activities. Furthermore, a movement within Islam, called "Moderate Islam" sees the today context as an opportunity for an Islamic revival movement that focuses on jihad-the individual's believers efforts to master scriptural reading and reinterpretation and aims to redefine all core Islamic concepts, in particular the balance between religious law and individual spiritualism. As Tariq Ramadan, a representative of Moderate Islam writes in his article "Europe's Muslims find a place for themselves" in "Le Monde Diplomatique": Five basic principles were arrived at, and these now provide the basis of a virtual consensus among both Islamic experts and the Muslim communities of Europe : 1) a Muslim, whether resident or citizen, should see himself as involved in a contract, both moral and social, with the country in which he lives, and should respect that country's laws, 2) European legislation (which is secular in nature) allows Muslims to practice the basics of their religion, 3) the old concept of the dar al harb — which does not derive from the Koran, and is not part of the prophetic tradition — is seen as outdated; other concepts have been suggested as ways of reading the Muslim presence in Europe in more positive terms, 4) Muslims should see themselves as citizens in the full sense of the term, and should participate (while at the same time seeking respect for their own values) in the social, organizational, economic and political life of the countries in which they live, 5) in European legislation as a whole, there is nothing to prevent Muslims, or any other citizens, from making choices that accord with their religion.
Our secular societies found themselves in front of a big challenge: the revival of religion and the un-secularization of the world. The most crucial problem is the balance that both individuals and societies have to create in order to avoid a situation of "survival of the fittest". The priority is a society where human rights will not be crucified in the name of religion and where individual spirituality will not be beheaded in the name of National Law or in the name of media.
Recognition of Macedonian schism by Constantinople – Threat Remains
After the publication in Macedonian news agency Sloboden Pecat, many believers of Serbian Orthodox Church gave a sigh of relief supposing that the common sense prevailed and Ecumenical Patriarch Bartholomew discarded his intention to grant autocephaly to the schismatic Macedonian Orthodox Church (MOC). But it appeared that such hopes were premature.
The article in Sloboden Pecat reads that Patriarch of Constantinople had sent a letter to MOC that admitted Serbian Orthodox Church's (SOC) jurisdiction over Macedonian archdioceses and thus he had no rights to satisfy Skopje's request for autocephaly. Ironically Greek mass media used this as an pretext to accuse Fanar of bribery.
A few days ago Ecumenical Patriarchate issued a refutation on its official cite, claiming that they didn't sent a letter to the MOC and haven't even heard of the Serbian gold.
While Serbians keep praying, Constantinople continues secret negotiations with the MOC. According to some sources this is why Metropolitan Amphilochios of Adrianople carries out frequent trips to Macedonia. At the same time statements of Fanar's clergymen and Patriarch Bartholomew demonstrate phyletic intentions with a purpose of establishing the superiority of "Greek" church over all others as "the first without equals". So the threat of the recognition of Macedonian schism by Constantinople is still relevant.
But the Fanar's primary aim now is to force SOC into recognizing the autocephaly of Ukrainian Orthodox Church (UOC) – such a precedent will path the way for Macedonian tomos of autocephaly in the future.
Obviously our Church shouldn't trust fake publications of the mass media. On the other hand there's no point in passive expecting of "His All-Holiness" Bartholomew to declare his will. Considering that the community temporarily believed in a possibility of a "fair verdict" from the Fanar, Serbian Patriarchate's position must be based not only on historical truth and church canons but on public opinion as well. In this regard the separatists' worst nightmares of Constantinople going back to the canonical path can come true.
Constantinople has the right to revoke the tomos of autocephaly of any Slavic church at any time. Recently Archbishop Job of Telmessos. In the same interview he said that the name "Serbian Orthodox Church" is uncanonical and is a sign of ethnophyletism. If it's not a declaration of war, then it's at least a direct threat to Serbian Patriarchate. History shows that accusations of ethnophyletism sound when Greeks need to infringe the rights of Slavic Churches or deprive them of independency.
The Ukrainian example proves that Constantinople easily revokes the historical signatures of its patriarchs and no matter how much gold they were paid and how long ago the papers were signed – 100 or 300 years ago. Will Constantinople be allowed to go on rejecting its own decisions unilaterally and broaden its borders in the future? It mostly depends on the position of Local churches including ours. If we don't react now then Serbian Church will face the fate of Moscow which is losing its territories land by land.
Patriarch Irinej needs Constantinople to officially recognize that the tomos of 1922 still has legal power despite the changing historical circumstances and that the extension of SOC jurisdiction over Macedonian archdioceses is no discussion point. We need a document that will be undoubtedly canonical and impossible to cancel at a moment's notice. At least personal signatures of patriarch Bartholomew are still more trustworthy than fake mass media publications.