The Reincarnation of Benito Mussolini?
"It is better to live one day as a lion than 100 years as a sheep. My fellow-Italians we do not win any more. We must restore the Roman Empire: march on Rome, invade Ethiopia, revive law and order, make the trains run on time, stop the Bolshevists threat, close the borders to foreign influences on our Latin culture, restore Roman discipline and authority as symbolized by the bundle of wheat bound to an ax (the glorious fascist party), suppress strikes and social unrest, institute racial laws, take care of the people who have no voice, punish the crimes of the capitalistic class, restore discipline, in short make Italy great again, never mind constitutional guarantees and respect for human rights, never mind a free press or free speech, never mind political correctness!
We will insure all this through our elite praetorian guards, the Blackshirts. We must become winners again. I am destined to be the man who will restore the lost honor and the glory of Italy. Together we will construct an Italy which is commensurate to its great artistic achievements."
If the above statements by Dictator Benito Mussolini sound slightly familiar, it is because we just heard them yesterday loud and clear at the RNC's acceptance speech by Donald Trump. All that needs to be done is tweak them a bit. The very first quote about lions and sheep was actually tweeted by Trump only a few weeks ago. Then there is the quote about "we do not win any more" and "make America great again" propagandistically and mindlessly repeated time and again. "Fellow Italians" of course needs to be tweaked to "fellow-Americans," closing the borders tweaked to Trump's anti-Moslem immigration proposals, the anti-racial laws by some of the outrageous bigoted statements against Mexican-Americans, Moslem-Americans, women, people with disabilities, naturalized American citizens. Suppression of free speech can be tweaked by his anti-media statements, the Black-shirts advocacy can be replaced by his proposals that dissidents and protesters at his rallies be taken out on a stretcher. And of course "We must make Italy great again" gets replaced by "Make American Great Again."
What has not escaped notice is that not only the rhetoric sounded familiar but even the body language and the gestures that appeared during the one hour plus speech were uncanningly and familiarly Mussolinesques. That raising of the chin with a firmly clenched mouth and a raised finger, that pose of determination and intransigence affirming one's superiority. All that was needed was a war helmet and the resemblance would have been perfect. Some have gone as far as suggesting that we were witnessing a veritable reincarnation or rebirth of the infamous dictator.
For those who not know or do not wish to know much about modern history and believe that what happened in Italy between 1922 and 1945 could not possibly happen here, we have too many constitutional guarantees and checks and balances of power, it may be useful to be reminded that a majority of Americans actually supported Mussolini, at least his frightening rhetoric, for most of his dictatorship. They felt that he was molding a new race of patriotic nationalistic Italians who would be different from what they considered the undisciplined, impoverished, illiterate Italians arriving to the US from Southern Italy (among whom my own grandfather who arrived in American at the turn of the 20th century in his twenties). Mussolini, after all, was a different kind of Italian, with "high energy" (another Trumpian slogan), resolute, a man who built things, of few words, a man of action, even if slightly ridiculous at times. After all, he was making Italy great again and it would take nothing short then a dictator to accomplish such a feat, just as Trump is now posed to make America great again, after eight years of occupation of the White House by somebody descendent from an inferior non-while race, who was not even born in America and is therefore illegitimate.
One may ask: what are the characteristics which both Mussolini and Trump seem to have in common and which are found so appealing by so many Americans? Let me enumerate a few: xenophobia, ultra-nationalism parading as patriotism, anti-media and anti-free speech, the stressing of old-fashioned hierarchies such as authority, obedience, militarism, hard-work and discipline, the restoration of glory and greatness, ideological purity, the redressing of perceived social injustices, populism. Useful to remember too that Mussolini began his career not as a fascist but as a socialist in sympathy with the plight of the disadvantaged but then opportunistically changed direction when the political winds changed; something hat Trump has also done, for he began as a pro-choice democrat who is now a pro-life republican. The appeal to the gay community, trying to blame its persecution not on native bigotry but on international terrorism (hence the Orlando outrage prominently mentioned), is also intriguing. In any case, those who insist on declaring "that it cannot happen here" will perhaps have second thoughts now. At least one can hope so; for it rationality has already left our body politics, then God help us.
It may also be worthwhile to examine what the Europeans are thinking as we speak. After all Europe is the place where Fascism and Nazism took root. Europe is, after all, a place where the excesses of America are promptly denounced. It is safe to say that their sense of superior political sophistication is giving way to alarm and dismay. Europeans know quite well that democracies can collapse all of a sudden. They painfully experienced that phenomenon: that in times of fear and anger and economic hardship, stoked by those who would wrestle power, the demagogue appears promising the moon in the well and a restoration of law and order. He will point out everything that is corrupt in the polity; corrupted by money, that is. He knows it well since he is part of it; he had to become rich and famous and successful, as Trump in fact announced to his audience. The public interest is the least thing on his mind, although he makes pious pronouncements to it. What is at work, rather is a show-business parading as a political campaign. The crowd is entertained by circuses galore while the Empire disintegrates.
Enter the head-clown who promises a restored lost greatness with the bully's penchant for the jugular. He attacks political correctness and takes over a Republican party which has prepared the way for him with bigotry, obstruction of the legislative process, and a racially tinged attitude toward the current US president. As previously mentioned, this is the Frankenstein monster coming to devour its maker. He is usually underestimated by its belittlers till it is too late; he may be anti-rational but he is not stupid; he is a master at deal-making and rabble rousing; a master at capturing resentments and a desire to reclaim something: power, confidence, vague unexpressed hopes and frustrations, and creating the right feelings and vibrations dissembling the fact that in reality he is a thug trafficking in contradictions fueled by hatred, but presenting himself as a savior of sorts; hence Mussolini redivisus.
This is something that is not seen very often. The closest we have seen it in contemporary Europe is Silvio Berlusconi's political performance. The ones who most admire this Mussolini redivivus are politicians of the ilk of Le Pen, Putin, the Russian oligarchs, and just about all the right-wing populist leaders of the EU. No wonder Europe is alarmed. For the power of the Oval Office and the character of a bully necessarily make for an extremely dangerous combination, when combined with contempt for the media, a taste for the language of violence, a tremendous ego which swaggers as above the law. Indeed, as the likes of Adam, and Churchill have already warned, democracies do die at times; or as Socrates' trial also teaches us, they are at times midwife to their own demise. Once dead, they usually stay dead and the best the bereft people can hope for is the patient waiting for a new Renaissance.
Gallup: Trump Globally the Least Respected U.S. President This Century
On January 15th, the Gallup World Poll issued its preliminary report for their upcoming "Rating World Leaders: 2021" report. It shows the results that have been tabulated for 60 of the 135 countries where they annually sample global public opinion about U.S. leadership. One especially clear finding from it is that when their final report for all 135 countries will be issued, it will show that among the three U.S. Presidencies on which Gallup has internationally surveyed — which are only the three U.S. Presidents in this century — Trump is clearly the one who is globally respected the least, even lower than George W. Bush was respected.
Here are the findings, in each of the 60 nations, and the percentage increase or decrease from Gallup's last completed survey report, "Rating World Leaders: 2020":
"Approval of U.S. Leadership Across 60 Countries and Areas"
"Do you approve or disapprove of the job performance of the leadership of the United States?"
% "Approve":
Dominican Republic, 66% was 56% in 2020
Cameroon, 62 was 61
Georgia, 61 was 43
Zambia, 56 was 26
Albania, 56 was 67
Philippines, 55 was 58
Uganda, 53 was 47
Mauritius, 50 was 59
Zimbabwe, 50 was 59
Ecuador, 43 was 34
Colombia, 42 was 41
Moldova, 40 was 45
Brazil, 40 was 38
Japan, 39 was 34
Kyrgyzstan, 34 was 32
Namibia, 34 was 31
Bulgaria, 32 was 26
Cambodia, 32 was 49
Hong Kong, Special Administrative Region of China, 31 was 31
Poland, 30 was 59
South Korea, 30 was 41
Bolivia , 30 was 31
Australia, 29 was 23
Taiwan, Province of China, 28 was 40
New Zealand, 26 was 17
Mexico, 26 was 17
Malta, 26 was 30
Ethiopia, 25 was 37
Argentina, 24 was 26
Ukraine, 24 was 32
Greece, 21 was 19
Croatia, 21 was 25
Morocco, 21 was 22
Serbia , 20 was 19
Ireland, 20 was 30
Finland, 20 was 20
Slovenia, 19 was 20
Cyprus, 19 was 27
Tunisia, 19 was 24
Italy, 19 was 22
France, 18 was 23
Russia, 18 was 11
Netherlands, 18 was 20
Canada, 17 was 22
Spain, 17 was 23
Chile, 16 was 16
Estonia, 15 was 17
United Kingdom, 15 was 25
Denmark, 14 was 24
Turkey, 13 was 12
Slovakia, 13 was 28
Norway, 12 was 15
Portugal, 12 was 14
Belgium, 12 was 17
Sweden, 11 was 12
Switzerland, 10 was 13
Austria, 9 was 11
Iran, 6 was 6
Germany, 6 was 12
Iceland, 5 was 9
Remarkably, Gallup doesn't poll in China on this question. (Nor does Pew.)
Notably, Trump is more disapproved-of in Europe than in any other part of the world. (Also, as Pew reported on 16 December 2020, "In Europe, more trust Putin than Trump.")
Those percentage-changes that we've just shown total to a decline, among all 60 countries, of 121 percentage-points (-121%), or, almost exactly, a -2% change from the 2019 findings that had been reported in Gallup's "Rating World Leaders: 2020".
Gallup says that "until all of Gallup's 2020 fieldwork is complete in a few months, it is still too early to say that the U.S. will see its worst ranking in the history of Gallup's World Poll." However, Gallup's "Rating World Leaders: 2020" report covered 135 lands, and the 60 lands that they have tabulated as of now, for the 2021 report, seem to be a representative sampling of all of those 135, and collectively those 60 populations have reduced their respect for America's leadership by 2%. In the 2020 report, the global level of approval for America's leadership was 33%. The all-time-low had been the 30% figure in 2017, Trump's first year, a finding which was based on Trump's promises, not on his performance. The upcoming final Gallup report "Rating World Leaders: 2021" will — if the results from those 60 lands do turn out to be representative of the global findings — produce a 31% global approval level by all of the approximately 135 lands that will be covered in it. For each of Trump's four years, then, the global percentages will have been (for each one of his four years) 30%, 31%, 33%, and (now, in his final year) 31%. Each year, it was even lower than the prior record low, of George W. Bush, had been, at 34% in 2008.
There was higher disapproval than approval of America's leadership during the Presidencies of George W. Bush and of Donald Trump than there was approval of either U.S. President's leadership. Strikingly, however, there was higher approval than disapproval during (and throughout) the two terms of office of Barack Obama. That Nobel Peace Prize winner was/is internationally admired. (Crazy, but true: he was an international charmer.)
Here are summarized (with links to the evidence regarding) the actual chief international achievements of each of these three U.S. Presidents:
George W. Bush: destroying Iraq, and destroying Afghanistan.
Barack Obama: destroying Syria, and destroying Ukraine, while continuing Bush's destructions of Iraq and of Afghanistan.
Donald Trump: destroying Iran, and destroying Venezuela, while continuing his predecessors' destructions of Iraq, Afghanistan, Syria, and Ukraine. He also made the destruction of Palestine even worse than it had previously been.
So, the question regarding incoming U.S. President Joe Biden will be whether he will continue this tradition further, or reverse it. Because, it's really all the same tradition, throughout all three U.S. Presidencies this century. By contrast, global perceptions are that those three U.S. Presidents were drastically different from one another.
On 15 September 290290, Pew bannered "U.S. Image Plummets Internationally as Most Say Country Has Handled Coronavirus Badly" and reported that:
The publics surveyed also see Trump more negatively than other world leaders. Among the six leaders included on the survey, Angela Merkel receives the highest marks: A median of 76% across the nations polled have confidence in the German chancellor. French President Emmanuel Macron also gets largely favorable reviews. Ratings for British Prime Minister Boris Johnson are roughly split. Ratings for Russian President Vladimir Putin and Chinese President Xi Jinping are overwhelmingly negative, although not as negative as those for Trump.
Right above that was this graph, which shows starkly the false European perception that Barack Obama was vastly superior to George W. Bush and Donald Trump: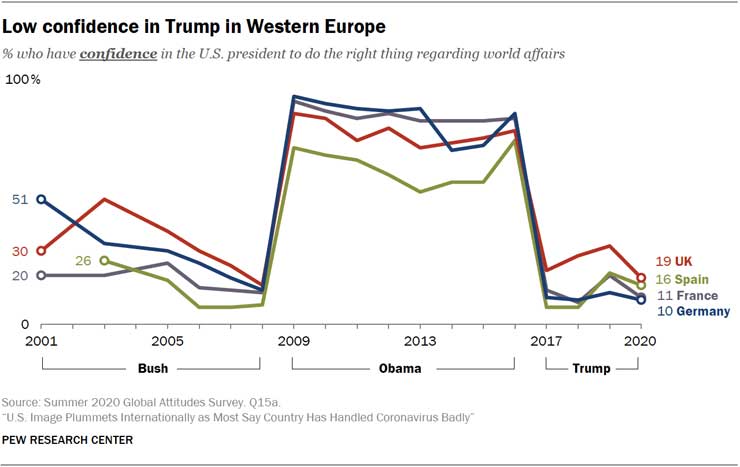 Apparently, most Europeans have no problem with a U.S. President who continues America's use of torture, and who continues America's legal immunity of prosecution for banksters, and who imposes ethnic cleansing abroad, and who aims for achieving a U.S. first-strike ability to conquer Russia by a sudden nuclear blitz attack. Style is everything, for them; substance is nothing, to them. Why didn't they like Hitler? Is it only because he did it to them?
Why won't Bowdich evoke 9/11 now?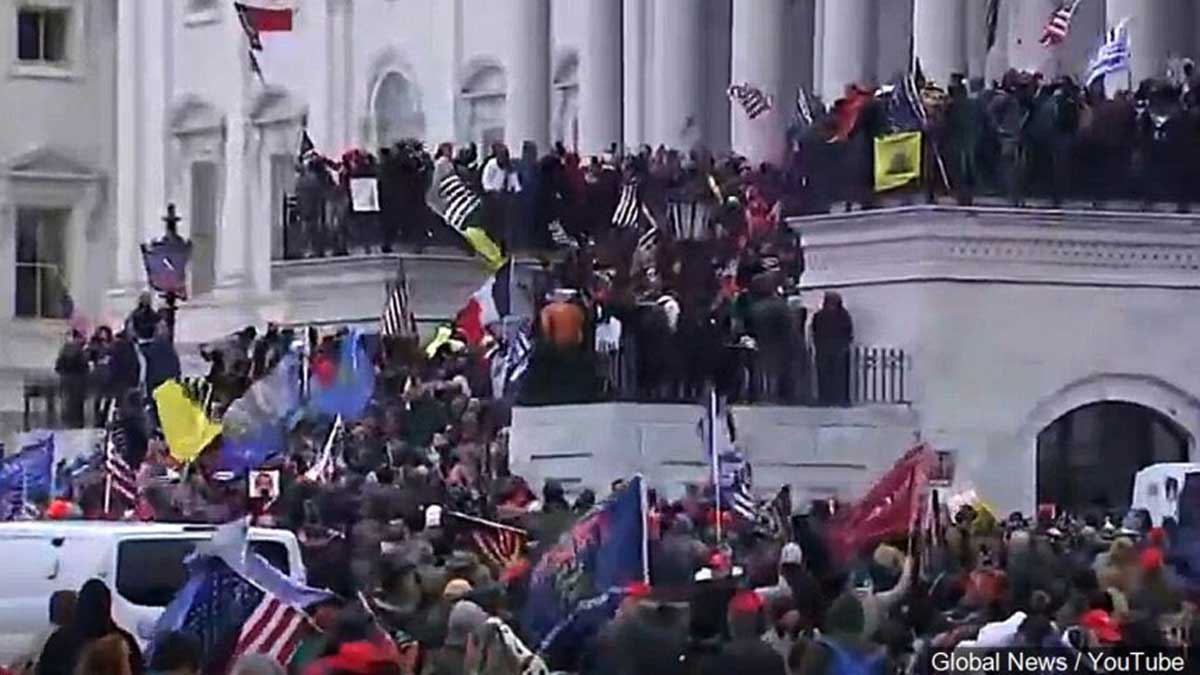 "Day of fire". That's how House Speaker Nancy Pelosi referred to the Capitol insurrection, which happens to be the exact same phrase President George W. Bush used on the occasion of 9/11. That is not coincidental. But why won't the FBI draw 9/11 parallels now?
In spring last year, when I was running for UN Special Rapporteur on freedom of speech, in a leaked memo to the New York Times, FBI Deputy Director David Bowdich was quoted in a reaction to the Black Lives Matters protests. Bowdich maintained that the protesters should be arrested under an outdated racketeering law from the 1940s. The leaked memo showed that Mr Bowdich considered the social justice movement "a national crisis" comparable to 9/11. The hundreds of thousands of people mourning and marching across the country, unified by the simple thought that no life should be taken lightly, for nothing, were actually similar to terrorists in the eyes of the FBI who wanted to charge them as racketeers. Why won't Bowdich evoke 9/11 now, when it comes to far-right actual terrorism? We are talking about plans to blow up buildings and assassinate law-makers.
There is evidence appearing now through the courts that the Trump mob indeed intended to capture and assassinate congressmen. A new court filing by federal prosecutors says that Trump supporters intended to "capture and assassinate" elected officials during the Capitol riot.
The FBI has a misplaced terrorism obsession with the progressive left, while lightly ignoring the far-right, which is by far the more violent and much more organized group. The Capitol events security mishandling demonstrated a different attitude when it comes to the latter group.
There is a difference between street clashes with police in social justice protests that have gone overboard and have turned violent, on one hand, and placing bombs at political buildings, plans to kidnap and assassinate politicians, and violent usurping of the certification of a democratically elected president. The difference should be obvious, and yet the FBI is pursuing its obsession with the left voices, largely ignoring the violent extremists and the real violent terrorism threat on the far right, as recently revealed by an Intercept investigation.
In a public statement, the FBI made sure that the public understood its own misguided standard used in the threat assessment in the Capitol attacks by the Trump mob, namely the aspirations vs intentions test. The FBI official explained that the FBI needs to consider that some online activity and planning by the far right could simply be "keyboard bravado". So, "keyboard bravado" is now the new "locker room talk".
It is not surprising that the FBI uses different standards to assess the threat on the far-left and on the far-right. Former FBI director Hoover called Martin Luther King "one of the most dangerous negroes in America". MLK was far from a hero for the FBI. It is not uncommon for the FBI even today to mischaracterize center-left voices of reasonable progressives who are anti-violence, pro-rights and pro-equality as far-left anarchists and communists, magnifying the threat on the left while ignoring the bigger threat on the right. Calling reasonable center-left Democrats anarchists and communists is a classical President Putin move. Let's recall that ahead of the presidential elections in November, Russian President Putin endorsed Biden and the Democrats as communists whom we would get along with, in order to discredit them.
Let's look at the actions and the security measures present around the two types of crowds. In a recent interview I wondered why FBI deputy director Bowdich won't evoke 9/11 now in relation to far-right terrorism, in the context of the methods that the FBI sometimes uses to suppress and deal with progressive voices.
The FBI have opened mow many cases for "domestic terrorism" into the Capitol attack and it is true that they are saying that they are treating these cases as "international terrorism" but where is the FBI public condemnation of terrorism? We have not seen public statements by the FBI director Christopher Wray and FBI deputy director David Bowdich. Why won't Bowdich come out and evoke 9/11 now, just like he did with the Black Lives Matter movement?
America has a long way to go to recover from the damage that Trump and his cronies spread across the various US agencies have done to democratic principles and human rights. The Trump institutional capture of key agencies such as the FBI and the CIA, let alone DOJ, has led the country into a downward spiral. I myself just launched a $1 UN lawsuit against the Trump circle at the UN, in attempt to clear the Trump circle also from the UN.
The capitol events were an embarrassment for the FBI who failed the due diligence standard of the reasonably expected measures that should have been taken in a similar situation because they were dealing with the President's supporters. Then, the FBI decided to justify their inaction with the false "keyboard bravado" explanation, which does not explain anything.
The FBI are now running social media campaigns for the collection of evidence on suspects in the Capitol attacks but the truth is that the FBI does not need random people to phone them and point them to the bad guys. The FBI follow these groups and people, they know everything. It's just a question of choice as to when to bring out the collected over time evidence. The FBI is in a hurry now only because there is public and social pressure to do something. All of America is watching what will happen to the bad guys.
A couple of days ahead of the Capitol events, I noted on Twitter that Homeland Security acting Secretary, Chad Wolf, was on a trip to Cyprus, while America was "burning". The Cyprus frictions in the European Mediterranean seem like a holiday now, in comparison to the Capitol events. Several days later, Wolf resigned.
With the news that President Trump intends to issue over 100 new pardons during his last two days in office, the question of justice for the Capitol events is as relevant as ever, as it is reasonably expected that some of the pardons could relate to the Capitol attacks.
It is safe to say that former Attorney General Bill Barr is not missed by many people. The Trump supporters' cases would not have received fair treatment at the Department of Justice under his watch. The new Attorney General in the Biden Administration, judge Merrick Garland, in fact, might discover that many cases from the Bill Barr time will have to be reopened.
The top security priority now is President-elect Joe Biden's inauguration on Wednesday, 20 January, while Trump holds a separate rally. The Capitol events served as a warning.
Looking forward, it is time for American democracy to demonstrate its elasticity. And legal justice necessarily has to be a part of that, ignoring phony calls for "unity" and "healing" made by the criminals themselves who are trying to escape justice now. There can't be unity without ensuring justice first.
Latin America and China: The difficulties in relations and Covid-19
The relations between China and Latin America have developed positively, but some problems and challenges are also being faced. Firstly, the intensified strategic and economic competition between China and the United States has increased the negative impact on the relations between China and Latin America. Trump's Administration already used zero-sum competition and Cold War mentality to mark Sino-U.S. relations, believing that China's rise in Latin America could upset the U.S. order in the Western Hemisphere.
Back in February 2018, during a visit to Latin America the then Secretary of State, Rex Tillerson, said that China was using its economic influence to bring Latin America into its sphere of influence, and criticised it as seeking a new imperial power for its geopolitical expansion.
In 2018, Rand Corporation published the 400-page report At the Dawn of Belt and Road. China in the Developing World. The report pointed out that China's contacts in Latin America and its geopolitical advantages held back the U.S. presence in the region.
Specifically, the report explored China's economic, political and security roles in Southeast Asia, Oceania, Central Asia, South Asia, the Middle East, Africa and Latin America and the Caribbean.
The report also analysed China's bilateral relations with key States in each region. Finally, it dealt with the negative consequences of the Chinese strategy towards developing countries for the United States. Therefore, it maintained that strategists and decision-makers in the Armed Forces, and all U.S. military staff, needed to focus on China and anyone interested in developing international relations with that country. An attitude of threat not only towards China.
Another factor preventing – at least apparently – the development of China-Latin America relations is the retreat of Progressives and the advance of Conservatives in the landscape of political change in the Subcontinent: this poses a challenge to the development of mutual relations.
2017 and 2018 were general election years in thirteen Latin American countries. In Brazil, Argentina, Chile, Peru and other countries, the old traditional and left-wing parties lost elections. Therefore, Latin America is divided into two camps: one is the left-wing one represented by Cuba and Venezuela, and the other is the right-wing camp composed of Brazil, Chile, Colombia and Peru.
Conversely, the fast development of China-Latin America relations from 2003 to 2013 was favoured by the political atmosphere of the left-wing camp. Currently, however, the transition from the Left to the Right tells us that some countries rely on the United States in terms of development projects and ideologies. Therefore, the political transition has become an additional challenge for the development of relations between China and Latin America.
Another crisis point is the impact of the pandemic. Here are some data regarding the Covid-19 cases until January 17, 2021:
Latin America: 16,753,447
North America: 23,091,187 (USA: 22,423,006; Canada: 668,181)
Europe: 28,291,217
Asia: 18,549,010
Africa: 3,059,974
Oceania: 56,556
Latin American countries record relatively high urbanisation rates, with peaks of 70-80%. Large cities are very densely populated, with a high percentage of informal employment and weak national control abilities, which create the conditions for the spread of Covid-19.
On the other hand, the United States-which is the worst affected country in the American Continent – has increased the repatriation of illegal immigrants from Mexico and Central American countries for reasons of epidemic prevention and control, thus further aggravating the situation in these already disadvantaged countries.
Why is the pandemic in Brazil so severe? The indifference of President Bolsonaro's government towards the epidemic, as well as ineffective measures and omissions in control are the main reasons for the spread of the epidemic in Brazil. The first case was discovered in Brazil on March 12, 2020 and the epidemic soon began to spread throughout the country, which currently records 8,131,612 cases and 203,580 deaths.
Brazil's former Health Minister, Nelson Teich, advocated isolation, but Bolsonaro's philosophy is different. He believes that imposing quarantine curbs economic development. Health Minister Teichresigned. The new Minister is Gen. Eduardo Pazuello, who has no medical training and no experience in managing public health disasters.
An official of the Brazilian Ministry of Health said that the number of people infected by the pandemic is officially eight million, but it has actually exceeded ten million. This unprecedented public health crisis has triggered economic recession and could lead to new social unrest. These are all new challenges.
The impact of Covid-19 on the entire Latin American region is very severe. According to the World Bank statistics, it has been the most severe crisis ever since the Great Depression in the 1920s and 1930s. The blow to the region is reflected mainly in four aspects:
1) exports have declined.
2) The prices of raw materials have fallen. Due to reduced demand, prices have inevitably fallen. Recently, everyone has seen a drop in copper prices, especially as Peru and Chile, the copper mining centres of the world, have been forced to close their mines due to the impact of the pandemic.
3) Tourism has collapsed. Latin America is a kind of cultural-exotic attraction for North Americans and Europeans. With Covid-19, there is no way for tourism and passenger transport to go back to the traditional levels of normalcy.
4) The inflow of remittances has decreased significantly. They are one of the main driving forces for economic development in the area, especially in regions like Central America and countries like Mexico.
The Latin American immigrants working in the United States put aside the money they earn and send it to their families – a key source of income for Latin America. As the U.S. economy has been severely hit, also remittances have been significantly reduced, to the detriment of the entire subcontinent.
With specific reference to Covid-19, it should also be mentioned that on June 24, 2020, the U.S. Congress held a full-scale hearing and invited a number of U.S. experts to express their views.
Those experts included Robert Evan Ellis of the Strategic Studies Institute of the U.S. Army War College. One of the main points he made was that the U.S. government should strengthen its support for Latin American allies to prevent China from using 'medical diplomacy' to expand its sphere of influence in Latin America, along with advances in supply chains, strategic acquisitions and loans to troubled governments, while the West remains economically weakened and politically distracted by the Covid-19 pandemic.
Hence, in his view, the United States should resolutely stop China's technological expansion in Latin America. This means that the United States should not acquire and share Chinese medical know-how.
Ultimately, the pandemic has not changed China's goals or overall strategy. It provides an unprecedented opportunity for China to move forward with its implementation. With the help of the Chinese government's controls on its population to impose and enforce quarantine, and thanks to its huge financial reserves and leverage on the economy, China is emerging from the crisis (albeit certainly weakened) ahead of most Western and non-Western countries.
The pandemic and its health, economic and other effects are likely to persist and continue to weaken the United States and Europe for some time. The interplay between partial economic reopening and the time needed to develop, test and massively produce a vaccine will extend this process.
In Latin America and in other less developed parts of the world, the situation is likely to be far worse. Less capable public health systems, large informal sectors, vulnerable small and medium-sized enterprises, as well as limits to governments' ability to borrow money to protect vulnerable populations, and the related economic sectors will put pressure on economies as they suffer from Western countries' declining investment and demand for their exports. In China, on the other hand, things are being solved.