Donald Trump the Republican candidate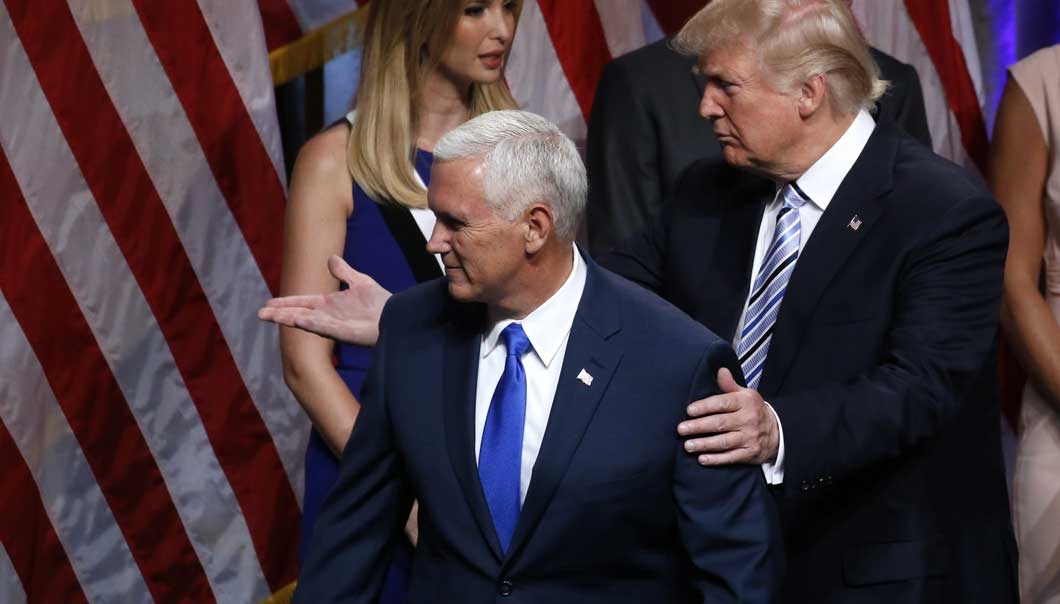 The Republican Party has formally nominated Donald Trump as its candidate for the presidency of the United States, capping a roller-coaster campaign that saw the billionaire tycoon defeat 16 White House rivals. Billionaire businessman Donald Trump has officially sealed the Republican candidate to fight for US presidency after months of acrimonious campaigning.
In fact, the billionaire had been expected to cruise past the 1,237 delegates needed on Tuesday to seal the deal on the first ballot. Trump was put over the top by his home state of New York. "It is something I'll never ever forget," Trump said on a video feed from New York. "Together we have achieved historic results with the largest vote total in the history of the Republican Party. This is a movement, but we have to go all the way." His son Donald Trump, Jr., cast the votes for the New York delegation that put the billionaire businessman over the top of the 1,237 delegates he needed to clinch the nomination, as any talk of disruptive protest votes or walkouts dissipated. Donald Trump Jr told delegates at the Republican National Convention, which erupted in cheers and applause. "Congratulations, Dad. We love you," he said. Now Trump will face Democratic candidate Hillary Clinton former foreign minister of USA and wife of former president Bill Clinton. Donald Jr. was tearing up when he told Bash that putting his father over the top was "one of the more surreal moments of my life other perhaps than the birth of my children. To be able to do that is historic, it's awesome." "It's pretty real."
Trump's Democratic rival, Hillary Clinton, was quick to respond after the vote with a challenge thrown to him: "Donald Trump just became the Republican nominee. Chip in now to make sure he never steps foot in the Oval Office".
The Republican candidate Donald Trump has appeared on screen at the Republican National Convention, telling delegates he is "so proud" to be their nominee for president and vowing to "go all the way" and win the White House in the November election. "This is a movement. But we have to go all the way. I am so proud to be your nominee for president," he told the delegates. The focus was the economy, with many calls for lower taxes and less government interference, as per the conservative way. However, there was again a clear anti-Clinton theme today, perhaps stronger than yesterday, with NJ governor Chris Christie going pretty hard on the Democratic nominee. He said she was guilty of messing up in her responses to various international incidents.
Trump promised to win the election in November, create jobs, strengthen the military, safeguard US borders and "restore law and order". The real estate mogul won a thumping victory in a series of state-wide party elections, garnering more than 13 million votes – the most of any Republican nominee ever. The conventions are designed to champion the party candidate, rally the grassroots, and propel the party towards November's presidential election. "Such a great honor to be the Republican Nominee for President of the United States. I will work hard and never let you down! America first!"
Donald Trump, the business magnet whose outsider campaign has both galvanized millions of voters and divided the Republican Party, is the 2016 GOP presidential nominee.
The New Yorker's embrace by the Republican National Convention marks a remarkable moment in US political history and validates a campaign that shattered precedent, defied experts and usurped the GOP establishment.
Anti-Trump forces on the floor held out for a final miracle on Tuesday after seeking to convince delegates that their votes were not bound and that they could vote their conscience, but it never came to fruition.
It has been a stunning rise for a man most thought would never make it this far. "After all the predications that he could never do it – the public wouldn't want someone with no legislative experience, no government experience – they've opted for a man who has made his name first of all in business and latterly as a reality TV show host," reported Al Jazeera. "He will now be on top of the Republican ticket come November."
An effort to place the name of Texas Sen. Ted Cruz for nomination fizzled late Tuesday afternoon. The effort had no chance of success since most of the delegates won by Trump in his GOP nominating victory were bound to vote for him in the roll call under the rules of the Republican primary process. Cruz's inner circle had adamantly opposed any attempt to involve him in last minute convention floor intrigue, a senior adviser to the Texas senator told CNN. A rebellion would have emphasized the divides in the GOP torn open by Trump's campaign, which was given little chance of success when he descended a golden escalator in Trump Tower with his wife Melania to set his sights on the White House last year.
An instrumental remix of Frank Sinatra's hit New York, New York boomed into the arena after the announcement, as delighted delegates swayed in time with the music and waved their arms in the air.
Trump praised his pick as an "incredible man" who would make "a great vice president".
The state-by-state vote to put forward Trump's nomination took place a day after opponents staged a failed attempt to force a vote opposing his candidacy and after a speech by his wife, Melania, drew accusations of plagiarism. "It's unbelievable. It's surreal. I'm so proud of my father. I'm so proud. We all are," Trump's eldest daughter and businesswoman Ivanka, often described as his secret weapon, told CNN.
Smooth vote
The conventions are designed to champion the party candidate, rally the grassroots, and propel the party towards November's presidential election.
Trump's name was put into the nomination by Alabama Sen. Jeff Sessions, an early supporter of the businessman, and was seconded by fellow early supporters New York Rep. Chris Collins and South Carolina Lt. Gov. Henry McMaster. "We have gotten off course and the American people know it," Sessions said in his speech, warning that crime is rising, terrorist attacks are proliferating, and Congress is deadlocked, arguing that Trump is the only answer. "The American voters heard his message and they rewarded his courage and his leadership with a huge victory in our primaries," Sessions said, drawing raucous cheers from Trump fans on the convention floor. "He loves his country and he is determined to see it be a winner again," Sessions said. "Donald Trump is the singular leader that can get this country back on track. He has the strength, the courage the will to get it done."
Trump's roll call will be followed by the nomination and vote for Indiana Gov. Mike Pence as the vice presidential nominee. Tuesday's vote passed more smoothly than events on the convention floor Monday when holdouts tried to embarrass Trump by initiating a fight over rules of the gathering.
Trump's team monitored delegates to quell any kind of rebellion, with a team of whips on the floor and eyes in the sky. The Trump delegate brain trust was holed up in a skybox inside the convention center where they tracked the movement of delegates as the roll was called. Trump whips wore neon green hats to make it easier for them to spot.
Trump carried 36 states and won 13.4 million votes on his way to the GOP nomination, but he took a smaller percentage of primary and caucus votes than Romney in 2012 or Sen. John McCain of Arizona in 2008. Yet for all Mr. Romney's business orientation and Mr. McCain's maverick streak, neither possessed the potential, ability or inclination to change the Republican Party.
Clinton under attack
A wealthy New York real estate developer and a reality TV celebrity, the 70-year-old was a long shot when he entered the race for the Republican nomination more than a year ago, having never been elected to office. He in fact clinched the nomination nearly two months ago. But relentless controversy over his campaign rhetoric and a simmering movement by anti-Trump delegates to deny him the nomination made it less than a foregone conclusion.
Nonetheless, speaker after speaker at the four-day convention in Cleveland took aim at his rival, Mrs. Clinton, presenting her as out of touch with the concerns of ordinary Americans and the inheritor of President Barack Obama's "oppressive" government pursuing arrogant foreign policy.
Republican delegates savaged Clinton at the convention, breaking into angry chants of "lock her up" and "guilty" as New Jersey Governor Chris Christie accused her of wrongdoing and numerous foreign policy failures, including on Libya, Syria, the Iran nuclear deal, and Boko Haram in Nigeria. Christie, himself a former federal prosecutor, told the convention as he laid out a case against Clinton and "her selfish, awful judgment…We are going to present the facts to you. You, tonight, sitting as a jury of her peers in this hall and in your living rooms around our nation," he said.
Outlining what he called "the facts", Christie slated Clinton's record as US secretary of state, accusing her of being responsible for chaos and violence engulfing the Middle East and elsewhere, and asking whether she is "guilty or not guilty?" "In Syria, imagine this, she called President Assad 'a reformer.' There are now 400,000 dead. Think about that: 400,000 dead. So we must ask this question: As an awful judge of the character of a dictator and butcher in the Middle East, is she guilty or not guilty?" "Guilty," the crowd chanted in reply. "America and the world are measurably less safe because of the Iran deal Hillary helped cut. An inept negotiator of the worst nuclear arms deal in American history, guilty or not guilty?" he bellowed. "Guilty," the crowd replied.
In short, Hillary Clinton does not have any positive opinion in the public. Her actions and rhetoric are unimpressive. Trump stands tall. Trump speaks of making America great and is in the process of remaking the GOP, possesses all three, and he takes them into a race essential for the Republican Party, which has been shut out of the White House for eight years.
Observation
After the presidential vote, the convention by voice vote nominated Indiana Governor Mike Pence, 57, Trump's choice for his vice presidential running mate.
Donald Trump, who has greater chance to be the next president of USA than his opponent Clinton, has secured the nomination of the Republican Party to become the next US president after months of controversial campaigning that has divided the American right of the political spectrum, leading to intense debate on future of US foreign policy. Trump was expected to formally accept the nomination in a speech on Thursday, before facing off against Democrat Hillary Clinton in the November 8 election battle. Mrs Clinton, 68, is due to be formally nominated at the Democratic convention next week in Philadelphia.
Many Americans oppose Trump's ascension in US politics, lambasting his controversial campaign statements, including calling Mexican immigrants rapists and drug dealers whom he would deport if elected president. He has also called for a ban on Muslims from entering the United States. Later he revised much of his harsh rhetoric meant essentially to garner the votes of those who hate Islam.
General scenario is that Donald J. Trump wins in November. But then the Tea Party hardliners would become stronger. If Trump becomes president, he may play the role of Franklin Roosevelt in 1932 and Ronald Reagan in 1980, both of whom transformed the demographic profile of their respective parties.
Donald J. Trump may be harsh, but he is being hailed as a remarkable, formidable and possibly transformative Republican presidential nominee. He has the potential to change everything — the presidency, the way aspiring nominees campaign for the job and the Republican Party itself, which this year is celebrating its 160th birthday. Many Republicans swear with Trump brand of politics, the party is going through creative change.
Establishment Republicans and Tea Party conservatives have little in common besides their contempt, part substantive and part stylistic, for Mr. Trump's brand of politics. Neither group has any affinity for former Secretary of State Hillary Rodham Clinton, but neither group has a stake in Trump prevailing.
While Trump is hawkish, Gov. Mike Pence of Indiana, Trump's running mate, is such a balm to the party. Trump partisans like him because their candidate covered him with stardust, the regulars because he has convent. The Pence selection is far more important for the internal politics of the Republican Party than for its external effect. Only one vice-presidential selection since 1988, Sen. Albert Gore of Tennessee, prompted as much as a third of the public to say it was more likely to support a party ticket.
A split personality, Trump is one of those rare presidential nominees who have the potential of winning the White House but also of being defeated decisively. A defeat would warn the Republicans away from nominating a candidate like Trump again. A victory would remold the party in . Trump's image — and the long-term effect of that cannot be predicted.
Democratic candidate Hillary is now facing a very serious and direct threat from Trump on whom she and her party and incumbent president Obama had high hopes because of his hawkish nature, arrogant character and faulty rhetoric. However, he, unlike Obama and "hopeful" Hillary, clearly said he would review the US-Israel relations and view issue from a neutral viewpoint. This has made a sea change in US policy.
Hillary Clinton is going pursue the same imperialist war agenda of Bush and Obama along with pro-Israel policy encouraging the Zionist criminal regime to advance its expansionist agenda inside Palestine along with genocides of Palestinians, besieged by Israel-Egyptian terror blockades , .
But Trump is likely to revise most, if not all, policies of both Bush and Obama. Thus in order to advance US interests globally if aggressively the republican president is better suited than Hillary Clinton. Unlike Obama, Trump may not obey the Neocons. He has his own ideas.
The Republican-Democratic battle for presidency is yet to begin, Will Trump let Clinton climb the sympathy ladder as a female presidential candidate as she fought the fellow democrat Sanders?
Minor Successes And The Coronavirus Disaster: Is Trump A Dead Duck?
That reminder from the Bible, 'He who is without sin, let him cast the first stone' may give us pause — but not journalists who by all appearances assume exemption. And the stones certainly bruise.
Evidence for the bruises lies in the latest poll numbers. Overall, Joe Biden leads Donald Trump 50 to 43 percent, a margin that has continued to increase since January. It is also considerably wider than the few points lead Hillary Clinton had over Trump four years ago. It gets worse for Trump.
In the industrial states of Michigan and Pennsylvania, which Trump in 2016 won by razor thin margins, he is losing by over 4 percent. Also key to his victory was Wisconsin where, despite his success in getting dairy products into Canada, he is behind by a substantial 7 percent. Key states Ohio and Florida are also going for the Democrats.
Trump was not doing so badly until the coronavirus struck and during the course of his news conferences he displayed an uncaring persona larded with incompetence. Dr. Anthony Fauci, the man he fired for correcting Trumpian exaggerations became a hero and Trump the bully.
If that bullying nature won him small rewards with allies, he hit an impasse with China and Iran … while bringing the two closer to each other. Then there is the border wall, a sore point for our southern neighbor Mexico. President Lopez Obrador made sure the subject never came up at the July meeting with Trump, Thus Mexico is not paying for it so far and will not be in the foreseeable future.
The United Arab Emirates, a conglomeration of what used to be the Trucial States under British hegemony. have agreed to formalize its already fairly close relations with Israel. In return, Israel has postponed plans to annex the West Bank. Whether or not it is in Israel's long term interest to do so is a debatable question because it provides much more powerful ammunition to its critics who already accuse it of becoming an apartheid regime. However, it had become Prime Minister Netanyahu's sop to the right wing who will have to wait. Of course, the reality is that Israel is already the de facto ruler.
If Mr. Trump was crowing about the agreement signed on September 15, although it is akin to someone signing an agreement with Puerto Rico while the United States remains aloof. As a postscript, the little island of Bahrain also signed a peace deal with Israel. Bahrain has had its own problems in that a Sunni sheikh rules a Shia populace. When the Shia had had enough, Saudi and UAE troops were used to end the rebellion. Bahrain is thus indebted to the UAE.
How many among voters will know the real value of these historic (according to Trump) deals particularly when he starts twittering his accomplishments as the election nears?
There things stand. As they say, there is nothing worse than peaking too early. Bettors are still favoring Trump with their money. The longer anyone has been in politics the more there is to mine, and for an opponent to use to his/her advantage. Time it seems is on Trump's side.
U.S. Elections: Trump's Strategy of "Peace" might help
Presidential elections in the United States are around the corner and campaigns by the presidential candidates are in full swing in whole of the United States. The Republicans have nominated Donald Trump as their presidential candidate whereas the Democrats have chosen the seasoned politician Joe Biden who has also served as the vice president under the Obama administrations. Over here, a fact shouldn't be forgotten that the so-called Democrats have also imposed an unnecessary war and burden of foreign intervention on the people of America. Let it US intervention in Afghanistan, Iraq or Syria this has imposed huge financial burden on the American people that is being pay by their taxes. United States has around 200,000 troops scattered in the world. There are around 38,000 in Japan, 34,000 in Germany, 24,000 in Korea, 5,000 Bahrain, 5,000 in Iraq, 3,000 in Spain and 12,000 in Afghanistan. Under the Trump administration, much needed decision was taken by the administration for pulling out of troops from all the unwanted and unwelcomed foreign interventions. This has cost huge monetary burden and heavy taxes on the people of US. These interventions were a gift by Democrats to its people that led American to nothing.
Under Trump administration, US decided to withdrawal its troops from Northern Syria. US have around 1,000 troops positioned in the Northern Syria for deterring Iranian influence and countering ISIS expansion in the country. They have decided only to leave special operations force in Syria and will pull out the rest from the conflict zone. It is not the task that will come to an end in days it will take years and huge budget to relocate the troops. This decision might be a breath of fresh air for the Americans but it might weaken the US military positions in front of the Russian military on the globe. United States also has American military troop's presence in Germany as well. Trump administration is willing to reduce the troops in Germany by around 25%. There is around 11,900 troop's present in Germany for securing Europe's security. The Trump administration is focused on relocation and strategic repositioning of the US troops in the world. For this, the Trump administration has decided to pull out its 6,400 troops from Germany as they whole burden is on the US shoulders for costs maintaining alliance and Germany is not paying its share in the defense budget of NATO putting all the burden on the US citizens. Trump administration also slammed the European countries of not paying their due share in NATO defense budget. Italy spends about 1.22% from its budget and Belgium spends around 0.93% from its GDP on the NATO defense budget.
In addition, the Trump administration has shown that they do not want war and conflict. They have also retreated themselves from the foreign intervention drama that has led to damage to the peace of the world. Trump has given an impression that he aims to bring peace in the world not by arms but through negotiations with the conflict actors. Its example is US negotiations with Taliban's for ending the endless war fruitless war that brought destruction for Afghanistan and brutally damaged the standing of US in the world.
There are around 12,000 American troops in Afghanistan that are now reduced to 8,600 troops. The rest are sent home and some are being settled in Italy and Belgium. The Trump administration has declared to reduce the number of troop in Afghanistan by 5,000 by November and will reach 4,000 by June 2021. They are aiming to completely withdraw from Afghanistan within 14 months if a concrete peace deal is signed between Taliban's and United States.
There were more than 100,000 American troops in Afghanistan that went there to fight war on terror but are coming back empty handed. But still in even in these circumstances it will benefit the American people and their issues will be addressed in a better way. Not just this, Trump administration has also decided to withdraw its troops from Iraq that has been there for more than 19 years now putting a burden on American shoulders.
All of this decision by the Trump administration shows that under Trump USA will go for the isolationist impulses that will help them to rebuild domestically and resolve the problem of its people who are indulged in unemployment, poverty, crumbling health system particularly after the outbreak of COVID-19. The health system of United States has proven to be fragile. Despite of being the wealthiest country, its health system crumbled within days leaving thousands of people to die in waiting for their appointment. Many of the people had severe financial crisis that refrained them to go to the hospital and get them treated.
According to some sources many hospitals in New York were running out of financial and had to send people on leave because they were unable to pay them. This led to massive unemployment during such desperate times of the year. Developing countries like Pakistan coped with the virus in a better way despite of having poor health facilities.
Under Trump, USA is moving towards "American First" strategy that will lead towards massive shrinkage in the defense budget of US military. The strategy of retrenchment and aversion of foreign intervention might help Trump in winning the next elections because right now United States has more domestic issues than international problems. The flag of truce in the hand of Trump and aim of brining peace in the world might bring him back in the oval office. It seems like Trump will make USA resign from its self-proclaimed post of "world policemen" that will benefit the world and the people of USA.
Mistrust between Russia and the United States Has Reached an All-Time High
In August 2020, Politico magazine published three letters outlining their authors' views of the ways the United States, and the West in general, should build relations with Russia. The first, published on August 5 and signed by over 100 prominent American politicians, diplomats and military leaders, states that Washington's present policy towards Moscow "isn't working" and that it is time that the United States "rethink" it. The gist of the proposals is that the United States "must deal with Russia as it is, not as we wish it to be, fully utilizing our strengths but open to diplomacy."
This letter prompted a response, first from another group of former American ambassadors and political scientists (Politico, August 11) and then from several eminent politicians from Poland, the Baltic states, the Czech Republic and Slovakia (August 13). Both groups agree that now is not the time to reconsider policies toward Russia.
I am well acquainted with many of the signatories to these three statements. I worked closely with some of them during my tenure as Minister of Foreign Affairs of the Russian Federation and met some of them during negotiations. I still keep in touch with several of them, as we participate in various informal international projects. Since most parties to the emerging discussion are both highly experienced professionals and public figures, their stances on Russia are well known. The list of signatories under each statement hardly came as a surprise to anyone.
I do not think it makes sense to dwell in too much detail on the arguments presented by the parties. At the same time, proceeding from my own experience of U.S.–Russia relations, I would think that I have the right to put forward some considerations of my own.
First of all, on whether a "new reset" in relations between Washington and Moscow is either possible or desirable. One gets the impression that the authors of the letters see the "old reset" spearheaded by the Obama administration as a kind of bonus or advance offered by the United States to Russia in the hope that the latter would "behave" properly. The debate focuses on whether or not Russia has justified this "advance," and whether or not it deserves a new bonus. Personally, I cannot recall a single instance where the United States (during Barack Obama's presidency or under any other administration) gave Russia a "bonus" or "advance" of any kind, made a unilateral concession or indeed did anything that was not in the interests of the United States.
As I see it, the "reset" fully met the long-term interests of both states, particularly in security. Only a very biased observer would claim that the New START Treaty constituted a unilateral concession to Moscow on the part of Washington. Similarly, NATO's call at the 2010 Lisbon Summit for a true strategic partnership with Russia can hardly be viewed as a unilateral concession. In both instances, the interests of both parties were taken into account, as were the interests of international security in general.
Russia and the United States remain the world's leading nuclear powers, boasting the largest strategic weapons capabilities. Moscow and Washington have been engaged in mutual deterrence for decades now. However, an objective analysis of the challenges and threats to Russian and U.S. security shows that the very real dangers that do exist emanate not from the two countries themselves, but rather from processes and trends that lie outside the bilateral relations. Accordingly, any predictions about the possible and desirable prospects for interaction between the two states will be incomplete at the very least if they are taken out of the overall context of the development of the international system.
We have to admit that mistrust between Russia and the United States has reached an all-time high. It will take years, maybe even decades, to rectify this situation. However, I am confident that, sooner or later, we will have to start moving in that direction, not because one party will "wear" the other down, forcing it to make unilateral concessions or even throw itself at the mercy of the winner. First, each side has a large safety margin and is willing to continue the confrontation for many years to come. Second, history shows us that peace achieved through unilateral concession rarely lasts.
Life itself, by which I mean each side understanding the long-term need of its own security, will force the United States and Russia to resume progress towards cooperation. Such an understanding, in my opinion, has nothing to do with the elections in the two countries, or with the opportunistic calculations of individual political forces. Regardless of these calculations, the world is rapidly moving towards the line beyond which a global disaster looms with increasing clarity. Once we take a peek beyond this line, the entire world, primarily its leading states, which bear special responsibility for the fate of the world, will have to make decisions that go beyond their own immediate interests.
As for the debates on when and with whom the United States should enter into a dialogue with Russia, I believe such discussions have zero practical value. It would be extremely unreasonable and even irresponsible to defer talks in the hope that more convenient or more accommodating interlocutors will appear in the partner country or, alternatively, that a more favourable general political situation for negotiations will appear.
I would like to refer to my own experience. As Minister of Foreign Affairs, I constantly kept in touch with U.S. Secretary of State Madeleine Albright, and then with U.S. Secretary of State Colin Powell. That was in the late 1990s–early 2000s. The bombings of Yugoslavia, the war in Iraq, the Middle Eastern crisis, the expansion of NATO and many, many other events objectively made the U.S.–Russia dialogue more difficult. Obviously, our views on many issues differed greatly. But we never broke off our dialogue, not for a day, no matter how difficult it was. Strictly speaking, this is the art of diplomacy: conducting a dialogue with a difficult partner, achieving agreements where the stances of the parties veer widely and the chances of reaching a comprise appear minimal.
Critics will hasten to say that the U.S.–Russia dialogue in the early 21st century failed to prevent many conflicts and wars, and that is true. But it also helped prevent far graver consequences and, where possible, even led to the signing of important mutually acceptable agreements (New START, etc.). The experience of global diplomacy tells us that the only way to find solutions is through dialogue. The sooner our leading politicians realize it, the faster we will step away from mutual public accusations and destructive information wars waged with cutting-edge technologies and move towards earnest talks on the crucial issues of the 21st-century agenda.
Giving general advice is easy. It is even easier to take the high horse, insisting on staying faithful to one's values and principles. It is much more difficult for those who have been accorded the requisite powers to make specific decisions. As the great American economist John Kenneth Galbraith once said, "Politics is not the art of the possible. It consists in choosing between the disastrous and the unpalatable." All we can do is hope that politicians in Russia and the United States will prefer the unpalatable to the disastrous.
From our partner RIAC