Donald Trump the Republican candidate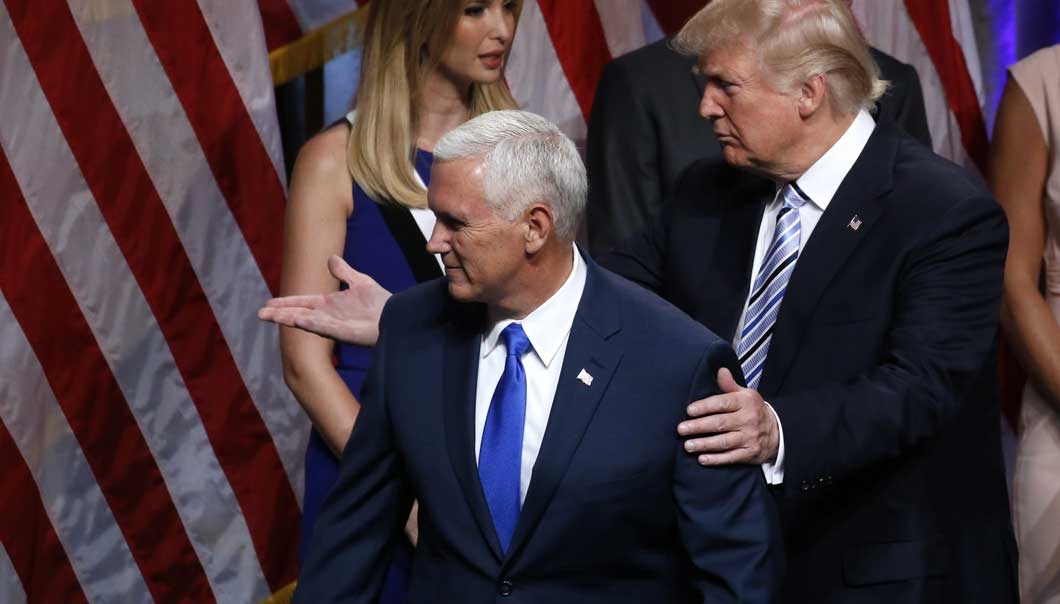 The Republican Party has formally nominated Donald Trump as its candidate for the presidency of the United States, capping a roller-coaster campaign that saw the billionaire tycoon defeat 16 White House rivals. Billionaire businessman Donald Trump has officially sealed the Republican candidate to fight for US presidency after months of acrimonious campaigning.
In fact, the billionaire had been expected to cruise past the 1,237 delegates needed on Tuesday to seal the deal on the first ballot. Trump was put over the top by his home state of New York. "It is something I'll never ever forget," Trump said on a video feed from New York. "Together we have achieved historic results with the largest vote total in the history of the Republican Party. This is a movement, but we have to go all the way." His son Donald Trump, Jr., cast the votes for the New York delegation that put the billionaire businessman over the top of the 1,237 delegates he needed to clinch the nomination, as any talk of disruptive protest votes or walkouts dissipated. Donald Trump Jr told delegates at the Republican National Convention, which erupted in cheers and applause. "Congratulations, Dad. We love you," he said. Now Trump will face Democratic candidate Hillary Clinton former foreign minister of USA and wife of former president Bill Clinton. Donald Jr. was tearing up when he told Bash that putting his father over the top was "one of the more surreal moments of my life other perhaps than the birth of my children. To be able to do that is historic, it's awesome." "It's pretty real."
Trump's Democratic rival, Hillary Clinton, was quick to respond after the vote with a challenge thrown to him: "Donald Trump just became the Republican nominee. Chip in now to make sure he never steps foot in the Oval Office".
The Republican candidate Donald Trump has appeared on screen at the Republican National Convention, telling delegates he is "so proud" to be their nominee for president and vowing to "go all the way" and win the White House in the November election. "This is a movement. But we have to go all the way. I am so proud to be your nominee for president," he told the delegates. The focus was the economy, with many calls for lower taxes and less government interference, as per the conservative way. However, there was again a clear anti-Clinton theme today, perhaps stronger than yesterday, with NJ governor Chris Christie going pretty hard on the Democratic nominee. He said she was guilty of messing up in her responses to various international incidents.
Trump promised to win the election in November, create jobs, strengthen the military, safeguard US borders and "restore law and order". The real estate mogul won a thumping victory in a series of state-wide party elections, garnering more than 13 million votes – the most of any Republican nominee ever. The conventions are designed to champion the party candidate, rally the grassroots, and propel the party towards November's presidential election. "Such a great honor to be the Republican Nominee for President of the United States. I will work hard and never let you down! America first!"
Donald Trump, the business magnet whose outsider campaign has both galvanized millions of voters and divided the Republican Party, is the 2016 GOP presidential nominee.
The New Yorker's embrace by the Republican National Convention marks a remarkable moment in US political history and validates a campaign that shattered precedent, defied experts and usurped the GOP establishment.
Anti-Trump forces on the floor held out for a final miracle on Tuesday after seeking to convince delegates that their votes were not bound and that they could vote their conscience, but it never came to fruition.
It has been a stunning rise for a man most thought would never make it this far. "After all the predications that he could never do it – the public wouldn't want someone with no legislative experience, no government experience – they've opted for a man who has made his name first of all in business and latterly as a reality TV show host," reported Al Jazeera. "He will now be on top of the Republican ticket come November."
An effort to place the name of Texas Sen. Ted Cruz for nomination fizzled late Tuesday afternoon. The effort had no chance of success since most of the delegates won by Trump in his GOP nominating victory were bound to vote for him in the roll call under the rules of the Republican primary process. Cruz's inner circle had adamantly opposed any attempt to involve him in last minute convention floor intrigue, a senior adviser to the Texas senator told CNN. A rebellion would have emphasized the divides in the GOP torn open by Trump's campaign, which was given little chance of success when he descended a golden escalator in Trump Tower with his wife Melania to set his sights on the White House last year.
An instrumental remix of Frank Sinatra's hit New York, New York boomed into the arena after the announcement, as delighted delegates swayed in time with the music and waved their arms in the air.
Trump praised his pick as an "incredible man" who would make "a great vice president".
The state-by-state vote to put forward Trump's nomination took place a day after opponents staged a failed attempt to force a vote opposing his candidacy and after a speech by his wife, Melania, drew accusations of plagiarism. "It's unbelievable. It's surreal. I'm so proud of my father. I'm so proud. We all are," Trump's eldest daughter and businesswoman Ivanka, often described as his secret weapon, told CNN.
Smooth vote
The conventions are designed to champion the party candidate, rally the grassroots, and propel the party towards November's presidential election.
Trump's name was put into the nomination by Alabama Sen. Jeff Sessions, an early supporter of the businessman, and was seconded by fellow early supporters New York Rep. Chris Collins and South Carolina Lt. Gov. Henry McMaster. "We have gotten off course and the American people know it," Sessions said in his speech, warning that crime is rising, terrorist attacks are proliferating, and Congress is deadlocked, arguing that Trump is the only answer. "The American voters heard his message and they rewarded his courage and his leadership with a huge victory in our primaries," Sessions said, drawing raucous cheers from Trump fans on the convention floor. "He loves his country and he is determined to see it be a winner again," Sessions said. "Donald Trump is the singular leader that can get this country back on track. He has the strength, the courage the will to get it done."
Trump's roll call will be followed by the nomination and vote for Indiana Gov. Mike Pence as the vice presidential nominee. Tuesday's vote passed more smoothly than events on the convention floor Monday when holdouts tried to embarrass Trump by initiating a fight over rules of the gathering.
Trump's team monitored delegates to quell any kind of rebellion, with a team of whips on the floor and eyes in the sky. The Trump delegate brain trust was holed up in a skybox inside the convention center where they tracked the movement of delegates as the roll was called. Trump whips wore neon green hats to make it easier for them to spot.
Trump carried 36 states and won 13.4 million votes on his way to the GOP nomination, but he took a smaller percentage of primary and caucus votes than Romney in 2012 or Sen. John McCain of Arizona in 2008. Yet for all Mr. Romney's business orientation and Mr. McCain's maverick streak, neither possessed the potential, ability or inclination to change the Republican Party.
Clinton under attack
A wealthy New York real estate developer and a reality TV celebrity, the 70-year-old was a long shot when he entered the race for the Republican nomination more than a year ago, having never been elected to office. He in fact clinched the nomination nearly two months ago. But relentless controversy over his campaign rhetoric and a simmering movement by anti-Trump delegates to deny him the nomination made it less than a foregone conclusion.
Nonetheless, speaker after speaker at the four-day convention in Cleveland took aim at his rival, Mrs. Clinton, presenting her as out of touch with the concerns of ordinary Americans and the inheritor of President Barack Obama's "oppressive" government pursuing arrogant foreign policy.
Republican delegates savaged Clinton at the convention, breaking into angry chants of "lock her up" and "guilty" as New Jersey Governor Chris Christie accused her of wrongdoing and numerous foreign policy failures, including on Libya, Syria, the Iran nuclear deal, and Boko Haram in Nigeria. Christie, himself a former federal prosecutor, told the convention as he laid out a case against Clinton and "her selfish, awful judgment…We are going to present the facts to you. You, tonight, sitting as a jury of her peers in this hall and in your living rooms around our nation," he said.
Outlining what he called "the facts", Christie slated Clinton's record as US secretary of state, accusing her of being responsible for chaos and violence engulfing the Middle East and elsewhere, and asking whether she is "guilty or not guilty?" "In Syria, imagine this, she called President Assad 'a reformer.' There are now 400,000 dead. Think about that: 400,000 dead. So we must ask this question: As an awful judge of the character of a dictator and butcher in the Middle East, is she guilty or not guilty?" "Guilty," the crowd chanted in reply. "America and the world are measurably less safe because of the Iran deal Hillary helped cut. An inept negotiator of the worst nuclear arms deal in American history, guilty or not guilty?" he bellowed. "Guilty," the crowd replied.
In short, Hillary Clinton does not have any positive opinion in the public. Her actions and rhetoric are unimpressive. Trump stands tall. Trump speaks of making America great and is in the process of remaking the GOP, possesses all three, and he takes them into a race essential for the Republican Party, which has been shut out of the White House for eight years.
Observation
After the presidential vote, the convention by voice vote nominated Indiana Governor Mike Pence, 57, Trump's choice for his vice presidential running mate.
Donald Trump, who has greater chance to be the next president of USA than his opponent Clinton, has secured the nomination of the Republican Party to become the next US president after months of controversial campaigning that has divided the American right of the political spectrum, leading to intense debate on future of US foreign policy. Trump was expected to formally accept the nomination in a speech on Thursday, before facing off against Democrat Hillary Clinton in the November 8 election battle. Mrs Clinton, 68, is due to be formally nominated at the Democratic convention next week in Philadelphia.
Many Americans oppose Trump's ascension in US politics, lambasting his controversial campaign statements, including calling Mexican immigrants rapists and drug dealers whom he would deport if elected president. He has also called for a ban on Muslims from entering the United States. Later he revised much of his harsh rhetoric meant essentially to garner the votes of those who hate Islam.
General scenario is that Donald J. Trump wins in November. But then the Tea Party hardliners would become stronger. If Trump becomes president, he may play the role of Franklin Roosevelt in 1932 and Ronald Reagan in 1980, both of whom transformed the demographic profile of their respective parties.
Donald J. Trump may be harsh, but he is being hailed as a remarkable, formidable and possibly transformative Republican presidential nominee. He has the potential to change everything — the presidency, the way aspiring nominees campaign for the job and the Republican Party itself, which this year is celebrating its 160th birthday. Many Republicans swear with Trump brand of politics, the party is going through creative change.
Establishment Republicans and Tea Party conservatives have little in common besides their contempt, part substantive and part stylistic, for Mr. Trump's brand of politics. Neither group has any affinity for former Secretary of State Hillary Rodham Clinton, but neither group has a stake in Trump prevailing.
While Trump is hawkish, Gov. Mike Pence of Indiana, Trump's running mate, is such a balm to the party. Trump partisans like him because their candidate covered him with stardust, the regulars because he has convent. The Pence selection is far more important for the internal politics of the Republican Party than for its external effect. Only one vice-presidential selection since 1988, Sen. Albert Gore of Tennessee, prompted as much as a third of the public to say it was more likely to support a party ticket.
A split personality, Trump is one of those rare presidential nominees who have the potential of winning the White House but also of being defeated decisively. A defeat would warn the Republicans away from nominating a candidate like Trump again. A victory would remold the party in . Trump's image — and the long-term effect of that cannot be predicted.
Democratic candidate Hillary is now facing a very serious and direct threat from Trump on whom she and her party and incumbent president Obama had high hopes because of his hawkish nature, arrogant character and faulty rhetoric. However, he, unlike Obama and "hopeful" Hillary, clearly said he would review the US-Israel relations and view issue from a neutral viewpoint. This has made a sea change in US policy.
Hillary Clinton is going pursue the same imperialist war agenda of Bush and Obama along with pro-Israel policy encouraging the Zionist criminal regime to advance its expansionist agenda inside Palestine along with genocides of Palestinians, besieged by Israel-Egyptian terror blockades , .
But Trump is likely to revise most, if not all, policies of both Bush and Obama. Thus in order to advance US interests globally if aggressively the republican president is better suited than Hillary Clinton. Unlike Obama, Trump may not obey the Neocons. He has his own ideas.
The Republican-Democratic battle for presidency is yet to begin, Will Trump let Clinton climb the sympathy ladder as a female presidential candidate as she fought the fellow democrat Sanders?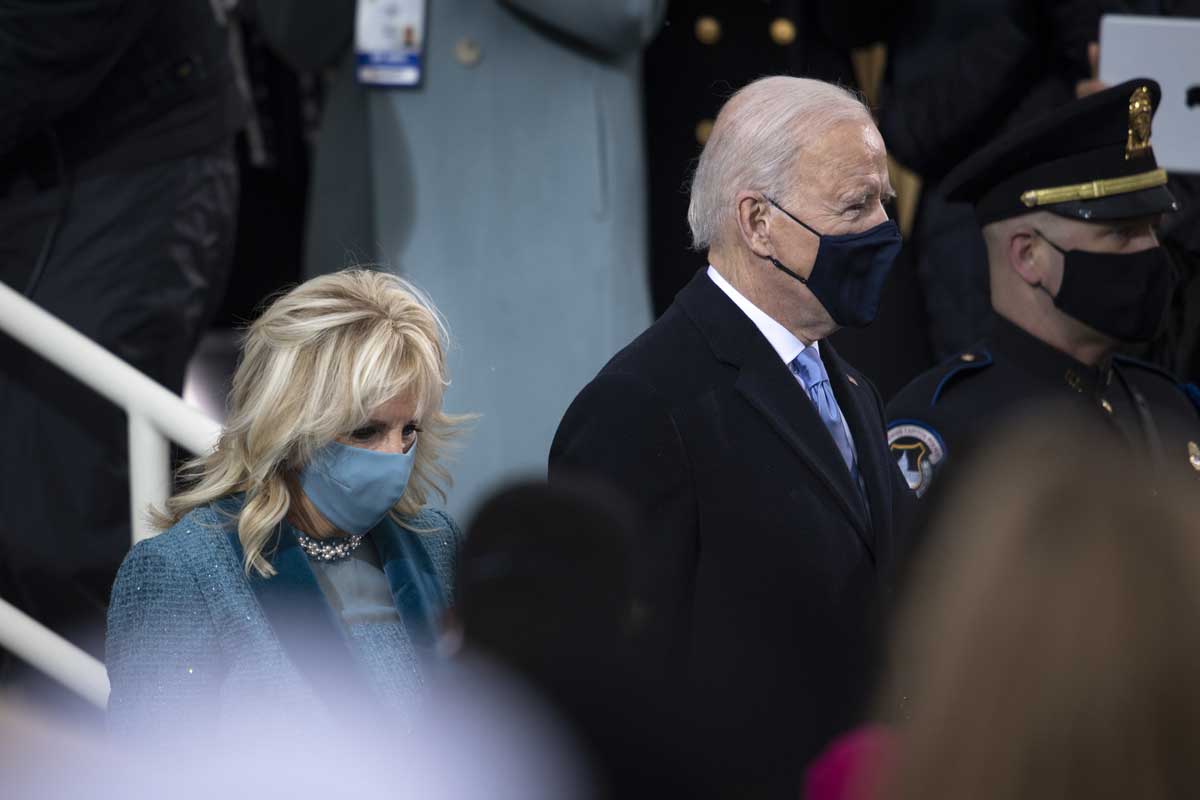 Sic transit gloria mundi — thus passes worldly glory, which seems an apt phrase for the peaceful transition of power from one administration to the next.
Joseph Robinette Biden, Jr. became the 46th president of the United States at noon on January 20th, and earlier Donald J. Trump departed the White House quietly for Florida — his last ride on Air Force One as president — leaving behind a generous and gracious letter for Biden. So it is described by Joe Biden himself. Trump did not attend the inauguration, the first president not to do so since Woodrow Wilson in 1921, who remained inside the Capitol building because of poor health while his successor Warren G. Harding was installed.
It was a most unusual inauguration this time. There were no crowds on the lawns outside; instead row upon row of American flags representing them. The official attendees all wore masks and included three former Presidents (Obama, the younger Bush and Clinton). President Carter, who is in his 90s and frail, sent his apologies.
The usual late breakfast before the ceremony and the lunch afterwards were also cancelled — one cannot eat with a mask in place! No evening inaugural balls either. These were sometimes so many that the new president and his lady could only spend a few minutes at each. In their stead, there was a virtual inaugural celebration hosted by Tom Hanks the actor. It consisted mostly of pop-singers who supported Biden plus a disappointing rendering of Amazing Grace by Yo-Yo Ma on his cello.
Biden's first act was to sign a series of executive orders to undo some of Trump's policies. He announced the U.S. would not leave the World Health Organization (WHO) and would continue to contribute to it. On climate change a complete policy reversal now means the U.S. will abide by the Paris climate accord.
Biden's other executive orders totalling 15 responded to the coronavirus crisis with the goal of giving 100 million vaccine shots by the end of April. He proposes to establish vaccine centers at stadiums and community facilities and also plans to speed up production of the supplies required for making vaccines.
The U.S. now has lost 406,000 lives (and counting) from COVID-19. That number is noted to be greater than U.S. deaths during WW2. The virus has so far infected 24.5 million people. However, the problem is more complicated than simply inoculating everyone.
Swedish authorities report that 23 people, mostly elderly and having other health issues, have died after being given the Pfizer vaccine. Its side effects apparently can be severe and mimic the disease itself. Thus given a choice, one would prefer the Moderna vaccine.
Old age is a poignant sight to behold. Biden the ex high school football star now having difficulty lifting his feet to walk. Very gamely, he even tried a jog or two to say a quick hello to bystanders during his short walk to the White House. We wish him well and hope for a successful presidential term. Thirty-six years as senator and eight years as vice-president certainly make him one of the most experienced to sit in the White House Oval Office. Good luck Mr. President!
Is Sino-Russian partnership posing a strategic threat to U.S. and democracy worldwide?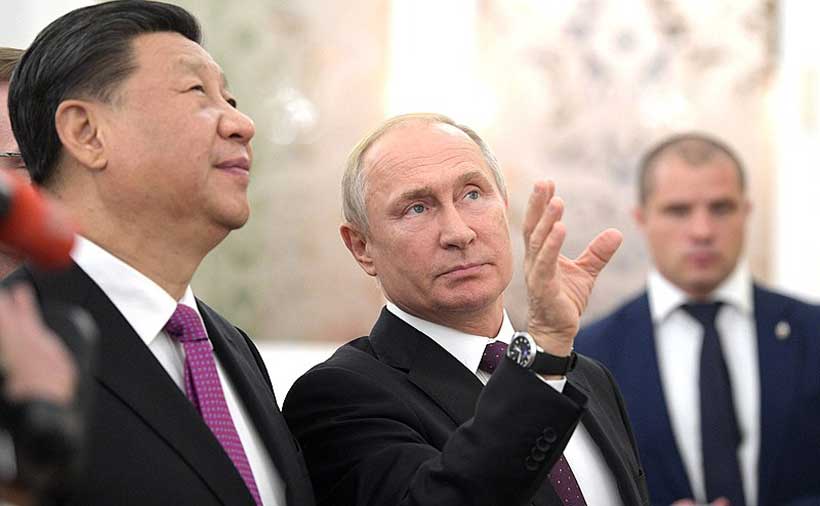 Despite significant divergence between China and Russia in both regional and international arenas, the countries have striven to expand their cooperation in several directions namely in diplomatic, political and defense realms. China and Russia consider the US as a challenge to the national security of both Beijing and Moscow. The countries are bearing in mind that alignment between Moscow and Beijing is thought to be the best possible measure to deter US hegemonic policy. Russia and China are working together to the fill the gaps of their military capability, accelerating their technological innovations, supplementing each other's defense competency to emasculate US global leadership, challenging US dominance in strategic regions as well.
Their joint naval drills are supposed to be projected as a counter-measure to minimize the US capability, and to defy US regional scenario. Furthermore, the countries accelerate their cooperation to erode US military advantages. In order to enhance their efforts, Russia provides China with advanced weapons to remove the US from their backyards. Their joint efforts have put America under immense pressure to reconsider its defense budget and its alleged commitments to advocate a free and open Indo-Pacific. The countries are doing their best to counter American Democratic measure in form of "color revolutions", substantiating each other to defend their interests in multidimensional environments, creating norms around cyber and internet sovereignty, and augmenting anti-American elements even radical Islamists to gain the power and expand their territorial control. They legitimize each other's conducts to persuade swing states to abandon the US.
Moscow and Beijing consolidating their efforts to inter to the new spaces more likely Artificial Intelligence, they strive to offer diverse digital system and other technologies. They also joined hands to disqualify American financial measures in the global economic arena especially bypass the US sanctions and minimize the US ability in financial realm as part of the US foreign policy objective.
They have long before tried to de-dollarize the world finical system, which will in turn curtail the US capability in the area of export control.
America's counter measures
Nonetheless, the US has launched counter measures to limit Sino-Russia cooperation and the threats they pose to Washington. In response to Sino-Russian partnership, the US stationed and installed vigilant technologies all around the countries to curb their liabilities. Additionally, in response to the Sino-Russian joint-partnership, the US adopted a new maritime strategy in December 2020 the three maritime services of the US military – the US Navy, Marine Corps and Coast Guard. The strategy elucidates both China and Russia as resolute adversaries, who pose a long-term strategic threat to the national security of the US in the global arena particularly in Indo-pacific domain. In comparison to the old strategies, the new strategy presses on the importance of sea control, which ascribes the possibility of armed conflict with at maritime level. Moreover, the strategy signifies the importance of Coastguard as a part of main element to deter multidimensional threats posed by Sino-Russia. The new strategy also implies and stress on building partnerships and cooperation with other countries to defend the US global perspective. It clarifies as well that current US defense capability is not sufficient. Thus, the maritime forces ought to be modernized in order to counter Sino-Russia maritime strategy. According to the new strategy, the size and shape will boldly change to answer the current and future challenges.
Are China and Russia strategically associated?
Even so, due to American Air, Land and sea superiority, in global level and particularly in Indo-pacific, Asian and African regions, which is considered as threat to the national security of China and Russia. Therefore, Moscow and Beijing agreed upon to build up partnership and cooperation along with filling each other's gaps in term of defense, aerial, sea and digital technologies, to rule out American Maritime strategic challenges. In addition, kick out the US military forces from their back yards. It is worthwhile to note Sino-Russian cooperation or partnership is not strategic, because is not built on natural basis, rather it instituted on a tactical measure to deter American aggression. It is very conventional term that the enemy of my enemy is my friend, which means Beijing and Moscow have a common enemy "the United States". Therefore, they disregard their border dispute for the time being, which will definitely be brushed up, when the US is out of the race in the global arena.
According to the management criteria, partnership or cooperation is based on three terms; short term, midterm and long term in other word operational, tactical and strategic, taking in to account the mentioned terminologies the Sino-Russia partnership is operational and tactical then to be strategic/long-term. While China has been shifting its soft strategic measures, the country tries to apply hard power in Central Asia "Russia's back yard". Beijing considers stationing military forces in the region to defend the country's Belt and Road initiative extended to the region. China wants to safeguard its geo-economic and geo-political objectives thru future military installations in Central Asia. Therefore, Beijing's motives are irreconcilable with the foreign policy objectives of Moocow for the region, because China pursues to advance trans-Eurasian transportation corridor in order to bypass Russia. Furthermore, China recently built an airport in Xining-Uyghur autonomous district close to Afghan and Tajikistan borders, which is the first airport of such kind in the mountainous area of Badakhshan. China's initiative in this form, offers Beijing enjoying upper hand to get hold on Natural resources of the disputed region. The country undertook to build extra 25 airports in the region in order to expand its military buildup. Hence, Russia reconsiders its partnership with China, because the balance between Beijing and Moscow is changing in the region.
In addition, Sino-Russian partnership is depended on China's commitment to full carbon neutrality by 2060. Beijing will reduce consumption of all fossil fuels, including natural gas, which will definitely play a significant role in future cooperation and partnership between Moscow and Beijing.
China has recently made public that the country will almost be carbon neutral in 40 years; means the country will reduce 65% of its oil consumption and 75% of its natural gas consumption. These assertions will disqualify forthcoming efforts to run a mega-pipeline "Power of Siberia-2" in order to pump Russian natural gas to China. In order to minimize its dependency on Russian Natural Gas, China has diversified its efforts to import natural gas from centrals Asian countries. China made a technological breakthrough in domestic natural gas production, which will in turn reduce Chinese dependency on Russia. In couple of decades, Russia will totally lose its fuel and gas advantages to leverage China. Between 2050.2060, China will independently handle its energy needs, and develop its defense, maritime and digital technology including artificial intelligence. China will increase its defense budget up to 1 trillion dollars. Until 2060, the US will completely be out as a major element of world order. So there would be no need for Sino-Russian cooperation, China alone would be in a position to police the world and Russia will become Beijing's number one geo-political enemy.
Sino-Russian rift
China and Russia enmity goes back to the Chinese Eastern Railway(CER) conflict took place in 1929 between Soviet Union and China, which was the bloodies conflict of its time. Joseph Stalin played a significant role to neutralize Chinese efforts to recapture the Railway. In order to attain its goals China used both conventional and asymmetric approaches to eliminate Soviet Union control over the Railway. Obtaining green signals from Japan, Stalin forcefully trespassed the region and pushed back Chinese armed forces, which was connoted as a sign of aggression, and ended up with border dispute. Throughout, the history both countries unsuccessfully endeavored to find a peaceful and acceptable solution to the border conflict. Consequently, in 2003 Russia and China signed an agreement to resolve the border dispute. In 2005, Moscow and Beijing finalized the border issue, nevertheless, Chinese leadership still claims that Vladivostok Russia's Fareast city is part of Chinese territory, besides Beijing asserts that Russia has annexed 350.000 square mile of Chinese territory.
Taking into account the above said facts, Sino-Russian partnership will break up some times in the future (2050-2060) and will change to armed conflict. Furthermore, Russia is not a solemn geopolitical adversary of the United States as China is. After the collapse of Soviet Union, both Russia and America were on the right path to normalize their relationship. Throughout, the different administrations no matter democrats or republicans leadership, Moscow and Washington achieved a lot to be aligned. For goodwill they even signed a new start to reduces their nuclear warheads and stop arm race. Due to the US eastward expansionism, Russia was driven into the arms of Beijing to establish partnership and cooperation.
Is Beijing or Moscow a national security threat?
The National Counterintelligence and Security Director Bill Evanina in his Fax News interview shed light on that no country poses a broader more severe threat to America than China. He added that Beijing's malign influence campaign against America would be one of the bigger challenge for Biden administration. He asserted from a threat perspective, Russia is a significant adversary particularly with regard to cyber intrusions, malign influence, and sowing discord in American democracy, but China poses a broader, more severe intelligence collection to the United States. According to Evanina, China continually engaged in highly sophisticated malign influence campaign against America, because America is a democracy, and democracy is bad for China. Evanina clarifies that challenge for Biden administration will be to understand the scope and scale of Chinese threats in the American landscape, domestically, and what is the best course to defeat that.
He added that part of China's malign influence has focused on politicians and elected officials, leveraging them to be engaged in promoting Beijing's scenario. Evanina signalizes that data theft by Beijing poses severe threat to the nationalized Americans. China can exploit the data for variety of nefarious purposes, and already has a significant record of exploitation of DNA for social control and surveillance of their Uyghur population at home. Evanina warned that China's collection of U.S. Genomic data is helping to fuel their precision medicine and artificial intelligence industries, which poses a long-term threat to the US biotech industry and medicine around the world at large. China continues to exploit American government and industry supply chain he said, Beijing uses American trusted suppliers and vendors against the US itself. He explained that supply chain attacks are insidious at most, because they violate the basic trust between a supplier and a consumer. Therefore, he said that it is a complicated set for the Biden administration to deal with.
A chance of reconsidering foreign policy objectives
Observing that Russia is not a significant threat to America at most, on the other, China poses, the most severe threat to the United States, so the Biden administration can give it a try to revise policies on Russia, and find out divergences and get them solved. In accordance with the US newly adopted maritime strategy, the American forces and vigilance instruments cannot be present everywhere and every time, therefore it stressed on to build and convene partnership and alliance with other countries. Unlike former strategies, the current strategy is more in favor of working together with allies. If Biden's administration tries to build trust amongst its allies, he needs to listen to his allies around the globe especially his European ones and give preference to their concerns. In European perspective, Russia is an inevitable potency in term of economic cooperation, counter insurgency, counter terrorism, and cyber security. Therefore, it is advisable that the policy towards Moscow requires to be given the kiss of life to crumble Sino-Russian partnership, and get it aligned with Washington. Most importantly, Russia is part of Europe; hence, a European orientated solution should be conveyed to motivate Russia to work together with European Union and America.
Is Mike Pompeo the worst Secretary of State in history?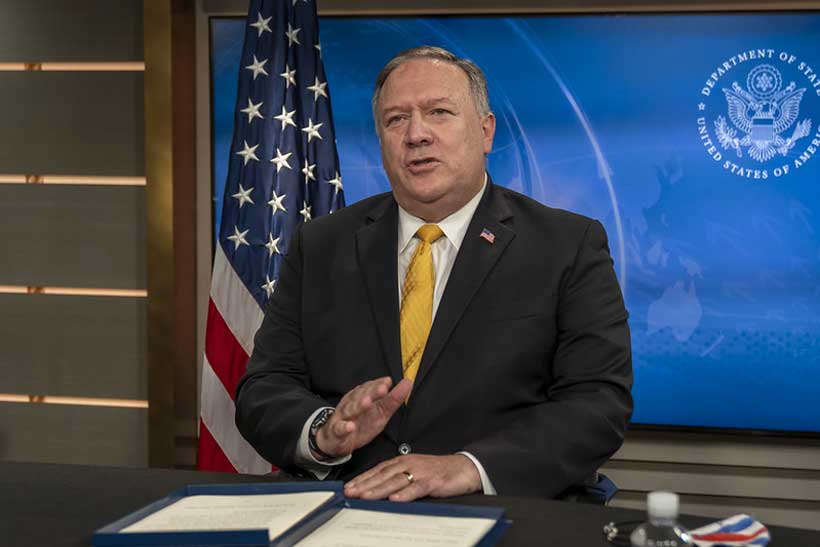 Trump may have a race for the worst presidential title, but Pompeo is in a class of his own. James Buchanan and Andrew Johnson remain formidable contenders for Donald Trump in the ranking of worst US presidents. However, there is no competition for Mike Pompeo, Trump's most passionate subordinate, in the worst Secretary of State ranking.
During his two years and nine months as the nation's top diplomat, Pompeo did nothing to improve the US administration's security, values, or even policies. His term ended in humiliation: humiliation from European allies, disgusted by the profanity he and Trump have committed over the past four years. On January 4, Pompeo announced he would travel to Europe and meet European Union leaders.
Two days later, after Trump-fueled riots on Capitol Hill, EU officials said they would not meet him. So Pompeo canceled his last chance to travel abroad. It's been a long season of humiliation for Pompeo. In August, he pressed the UN Security Council to pass a ban on the sale of conventional weapons to Iran. Only one of the council members, the Dominican Republic, joined the US in supporting the ban; Russia and China against it; others, all US allies, abstained.
The episode depicts, in extreme form, two of Pompeo's most distinct features: the obsession that foments regime change in Iran and the inability to bring it about or any other goal. Like Trump, Pompeo has been unceasingly opposed to the Iran nuclear deal. It's no coincidence that Trump pulled out of the deal and reimposed sanctions on the Islamic Republic on May 8, 2018, just 12 days after Pompeo was sworn in as Secretary of State. (His predecessor, Rex Tillerson, has advised Trump to stick to the deal.)
Pompeo claimed, with high confidence, the sanctions would force Tehran to return to negotiating a "better" nuclear deal, or perhaps force a regime collapse. Today: Iran's economy is in ruins, but the regime survives, its hardline faction is stronger than ever, and its reactors are more capable of producing atomic bombs than ever before. (President-elect Joe Biden wants to restart the nuclear deal, but Iran's technological advances and political hardening will make this more difficult to achieve.)
This week, he may realize his "maximum pressure" campaign has failed miserably. No wonder then that Pompeo changed course and claimed, in a speech to the National Press Club, that Iran was al-Qaeda's new "base" and declared, "The time is now for America and all countries free to destroy the al-Qaeda axis of Iran." The US intelligence official said there was not any evidence for this claim.
Pompeo's other big target is China, and he has called for regime change in Beijing as well, despite the goals that are clearly absurd. In fact, a large proportion of China's population supports the party that ruled the government, which lifted more than 850 million people out of poverty in record time. However, there is nothing "Marxist-Leninist" about President Xi Jinping's philosophy, which seeks expansion through mercantilist techniques, not ideological conformity.
While it is important to contain Chinese military presence in the South China Sea (something the US military has been doing for some time), it is very difficult to compare its scope or ambition to that of the Soviet Union, which once enjoyed a presence in a truly global world. Pompeo misunderstood the nature of China's challenge. As a result, he came up with half-baked ideas on how to deal with it.
There are also Pompeo's lies. He has claimed he and Trump have made NATO "stronger" than ever. In reality, those trans-Atlantic relations are strained as Trump continually rejects the alliance in general and the European Union in particular.
Pompeo has also been a corrupt foreign minister. By filming a speech in Jerusalem to be broadcast at the 2020 Republican National Convention, he was violating not only the law, but also the previously announced policy of barring department employees from attending political conventions.
He used security guards to carry out errands for himself, his wife, and his wife's mother. He also asked Trump to fire the inspector general who investigated the misuse of his government's resources. He threw a lavish dinner party inside the State Department, inviting donors who might contribute to some future political campaigns.
He tricked the Voice of America, which in recent decades had become a fairly objective global news service, into becoming a propaganda organ for Trump. He demoralized the foreign service even more thoroughly than Tillerson had done.
Pompeo paved his way to power by directing his every word to the pleasure of the boss, starting when he was director of the CIA (where he frequently omitted or distorted intelligence that contradicted Trump's hunches). He is a dishonest intermediary, reluctant to speak the truth to power, for fear that he will lose power in doing so.
To end it all, in his final days, Pompeo issued a no-discussion order that overturned existing policies: lifting restrictions on official contact with Taiwan, designating Cuba as a "state sponsor of terrorism," and declaring Iranian-backed Houthi fighters in Yemen an "organization. foreign terrorists ".
This movement will not have a long-term effect. The future Secretary of State, Anthony Blinken, can reverse this dictum, although it would be awkward to do so. It was an act of sheer mischief, like a teenager throwing a rotten egg at a new neighbor's front door.
Is Pompeo the worst Secretary of State ever? In modern times, John Foster Dulles (former Secretary of State) may be a rival for the crown, but, fortunately, President Dwight Eisenhower did not listen to Dulles' most dire advice.
Dulles was fanatical about pushing for the "backsliding" of Soviet communism, but Eisenhower, however, still adopted the "containment" policy of his predecessor, Harry Truman. Dulles also offered his French counterpart two tactical nuclear weapons to prevent the Viet Cong siege of Dien Bien Phu. However, Eisenhower was not interested in doing so. So, Mike Pompeo won the crown of worst US Secretary of State. Next week, he will fly back to Kansas, where he was a congressman and where he hopes to run for the Senate.