Re-building Peace through Educational Interventions: A Big Hope from "Youth in Kashmir"
It is a known fact that education has a great potential for bringing peace in conflict zones. Education can play a constructive role in development of peace building perspective and thereby promoting socioeconomic development and preventing the recurrence of violence. But unfortunately in the recent violence in Kashmir, when all the educational institutions are closed down, there is hardly any concrete plan or action undertaken to bring education back to track or strengthen stakeholder coordination or initiate, promote and implement educational initiatives in support of peacebuilding.
On the contrary newspapers carried angry reaction of the disturbed Director (School Education) Mr. Shah Faisal, who threatened to resign from his post. It is heart touching and seen by many as an emotional outburst of a vibrant Youth Icon, (first to qualify Indian Administrative Services) from the Valley. Being an academician I feel very sorry and deeply touched by the pain of this officer. I feel very regretful that we have failed miserably to motivate the brilliant brains. These young brains have potential to do wonders in their work area and thereby promote peace in conflict zones. Not going into who is responsible for this agony of Mr. Shah Faisal, I feel it is high time we all act responsibly and not hurt sentiments of people to the extent, that they lose their inner peace, as it is simply inhuman. Instead of including all levels of society in peace building and preparing a strategy for post conflict, it is regretting that the Director of Education is compelled to think about resigning from the post.
It is a fact that all stakeholders, from the department of education to the civil society have a role to play in building a lasting peace or at least make an effort towards it in Kashmir. Peace-building measures must target all aspects of the state structure and get a wide variety of agents for its implementation. Agents, who would advance peace-building efforts by addressing functional and emotional dimensions in specified target areas, by enhancing the capacity of citizens, especially youth, to think critically about the present and the past, so they can foresee and construct a better future. There is a growing body of Academic research giving evidence that the vast majority of young people can play active and valuable roles as agents of positive and constructive change. In fact, many in conflict zones already do, but their contribution goes unseen or is simply overlooked. However, the role of young people is critical in creating long-term stability and offering protection from future conflicts. What we need today are youth as agents who can facilitate and support peace building.
Also, variety of the community specialists, including lawyers, economists, scholars, educators, and teachers must be involved in contributing their expertise to help carry out peace building efforts. In case of Kashmir or any conflict zone, it is ultimately the internal actors who can play an integral role in building peace and rebuilding normalcy, because it is the internal actors who are vulnerable to conflict, and have in some way experienced the conflict and live with its consequences personally. Therefore an appropriate approach to building peace is to build a solid structure of relationships with the intervention of key political leaders, military officers, or religious leaders and to build a peace community. It is believed that the greatest resource for sustaining peace in the long term is always rooted in the local people and their culture. Building on cultural resources and utilizing local mechanisms for handling disputes can be quite effective in resolving conflicts and transforming relationships.
It is important to understand that where the opportunity of education has been lost due to conflict, it is not just a loss to the individual, but a loss of social capital and the capacity of a society to recover from the conflict. (Smith 2010). Only education can provide route other than violence. Education can help re-establish 'normality and schooling can help return a sense of normalcy to children's lives and restore faith in a state's ability to provide services for its citizens. Hence there is a dire need of educational interventions in the conflict zones to give young people a sense of direction and purpose for giving their contribution towards building a peaceful society. As education's influence can extend beyond the school to support broader transformation in the security, political, social and economic sectors and a change in relationships and behaviors from the negative to the positive. Thus, time has come that initiatives like; community peace projects in schools and villages, local peace commissions and problem-solving workshops, and a variety of other grassroots initiatives are undertaken by linking all the actors. As the issue of bringing peace through educational interventions in conflict zones is not the focus of any single agency or organization but it requires the contribution of all actors specially the youth, who are a hope for the society. In my personal interaction with youth of Kashmir, I have found them to be very vibrant and full of new ideas, very hardworking and dedicated towards their goals. Though they are very upset with the system but they must never forget that where there is a will there is always a way. They have potential to bring a very positive change in the society. So the young intelligent officers like Mr. Shah Faisal and many more must take the charge of initiating education and peacebuilding programs and make a peaceful impact on conflict dynamics. We have great hopes from you Mr. Shah Faisal and from many more young brains in Kashmir. Keep doing the good work.
The efficiency of German contribution in the Afghan peace process
Germany is heavily involved in the afghan affairs since 9.11.2001; the country has brought in to being the modern Afghanistan thru launching the international Bonn conference "Bonn 1" in December 2001, the said conference toke place right after the collapse of the barbaric regime of Taliban in Afghanistan. Furthermore, it paved the way to engage several rival groups to establish an interim administration under the leadership of pro-American figure "Hammed Karzai". Albeit the conference was a turning point in the Afghan modern history, but it encompassed numerous shortcomings because Taliban, Haqani Network and Hikmatyar band, who had been the main adversaries to the acting Government, were excluded from the process, which opened Pandora's Box. Moreover, the national interests and apprehensions of the regional countries were not taken serious, which in turn caused destabilization and gloominess in Afghanistan.
Consequently, Pakistan and Iran who have been pursuing strategic depth in Afghanistan began to regroup, fund, train and outfit the Afghan government antagonists, which unfortunately incited a proxy war in the country.
The second Bonn conference
Germany hosted the second Bonn conference in December the 5th 2011 to celebrate the 10th anniversary of the first Bonn conference, in order to renew the so-called mutual commitment to a table, democratic and prosperous future for Afghanistan.
In addition, the participants of the conference ought to shed lights on some issues such as governance, security, economic developments, regional cooperation, peace process and the way forward. The participants called for a political solution to achieve peace and security in Afghanistan, in order to ensure durable stability.
Additionally, it was discussed to promote capacity building in the country to uphold a political process, to endorse negotiation and reconciliation. Unfortunately, the conference primarily focused on economic developments and continuation of democratization in the country, so that the peace process was sidelined and the root-cause of the instability and insecurity was not identified. Which ended up with further destabilization and blood-shed in addition, sparked fears and violence in Afghanistan.
Doha conference
In July the 7th 2019 Germany and Qatar hosted a conference in Doha Qatar, which was labeled intra-afghan dialogue. The hosting countries endeavored to bring about a framework in order to support the peace process in Afghanistan. In accordance with the joint statement, that the country is at a central crossroad to snatch the chance to accomplish peace, so the shortest concord linking the afghan adversary groups could be one of the essential factors of any process leading to such an objective.
It was also expect, that the conference would contribute to confidence-building amid chief rivals to hold up peace and constancy in Afghanistan. Although the conference did not have a tangible agenda, but at the end a resolution was released calling for reducing violence, avoiding to assail public institution and bringing civilian causalities to "zero". Despite the efforts of the conference hosting countries, the conference comprised inadequacies; the Afghan government, which ought to be the main party, was excluded from the direct-intra-afghan-dialogue.
Not only the ceasefire, which has been the only wish of the Afghans, was not sincerely addressed, but also no-part of the outlined resolution has been implemented. Regrettably convening of the conference did not put into practice the expectations of the Afghan people, so that the security situation fundamentally deteriorated.
The third Bonn conference
Subsequent, to the walk out of the US president from the Afghan peace deal, Germany wants to jump in exerting its leverage to bring the Afghan rivalry bodies to the negotiation table. Germany is really concerned, if the US troops withdrawal will take place Kabul government would collapse and the positive developments have so far came about would be lost. Thus Markus Potzel Germany's special envoy for Afghanistan and Pakistan, since some times endeavors to hold meetings with the representatives of both Taliban and the Afghan government, in order to initiate another round of peace talks.
Consequently, If Germany genuinely put forth its efforts, it will help to avoid political vacuum in Kabul, let the democratization process to flourish, women rights to thrive and the economic prosperity to boom. Germany enjoys full-scale leverage in the entire region and beyond, because Germany stationed the second largest troops in Afghanistan, the country is one of the main initiator of the NATO Resolute Support Mission for Afghanistan and it is one of the top 10 contributors to the reconstruction process and humanitarian assistance in the country.
Germany has very good diplomatic relations with almost all of the surrounding countries of Afghanistan; it has influence on all of the gulf countries including Qatar, Saudi Arabia and UAE, which are supposed to be the major patrons of Taliban.
In addition, Germany leads the EU commission and it is the number one economy in Europe and number 4 economy in the world. If it will put in 2% of its GDP to the NATO annual budget, Germany would be the second leverage enjoyer within NATO following the United States of America. So Counter Narco-terrorism Alliance Germany (cnt-alliance) express the need for the initiation of the third Bonn conference, which should include all opponents to be brought to the negotiation table, in order to form a framework of lasting peace, continuation of the political process, stability, Good and lean governance, economic prosperity, revival of democratic norms and revamping of human and women rights as well as confidence building amongst regional countries.
Popularity-Graph of PM Imran Khan has not dropped down
Although the economy of Pakistan has deteriorated, price hike, increase in utility bills, food prices and consumer prices of daily used items has grown up, the job market has deteriorated. According to a survey, mostly people are complaining about price-hike and the unavailability of jobs. Some people are complaining about the bad practice of nepotism and especially targeting "hired electable and technocrats". It is a fact that the PTI government has failed to meet the expectations of its voters. PTI workers and supporters have been cornered and ignored.
What so ever the government is presenting economic parameters, to defend themselves. What so ever reasons or logic and explanation are provided by the Government to defend themselves? How much blame is put on previous governments, but the failure of the PTI government cannot be justified. The common man in Pakistan is a victim and suffering.
Yet, the popularity of Prime Minister Imran Khan has not deteriorated. According to a small scale survey, the public will vote for Imran Khan in the next general election. As per Survey, no one was willing to accept Maulana Fazl-u-Rehman, leader of JUI-F, as prime Minister of Pakistan. The popularity of PPP and PML-N has also deteriorated sharply.
Strange! It is really very strange, while people are complaining about the performance of PTI Government, but still, praise PM Imran Khan. Some people blame his team, while other analyses as the nature of issues inherited by the previous government are so complex that no one can manage quickly. It might take more time to reach any conclusion and favors that the PTI government should complete its term of 5 years and wait till 2023, for the general election.
Pakistan is a democratic country and the constitution of Pakistan protects the right of every citizen to protest, express his/her opinion, criticize the government and its policies, can organize any procession, demonstration or Dahrna – sit-in. "Azadi March" is permissible in our system and legal, and the government has not offered any resistance in it. The government will not disturb them as long as they stay within the law and peaceful.
Such agitations are part of the Pakistani political system and has a long history. Whenever some of the political parties lose in the election, they blame the winner party or ruling party for rigging and asks them to resign and dissolve assemblies. Even the currently ruling party PTI has been protesting the Government in 2014 and so on. But history has witnessed, no Prime Minister one prime Minister resigned or assemblies dissolved in past as a result of opposition pressure. It is expected, that this time also the PM will not resign, and not dissolve the assemblies.
However, the opposition always gains millage and concessions through negotiations and deals. This time is also no exception and it is guessed that some way out will be explored soon.
But there is a lesson for PM, to pay more attention to the issues of the common man in Pakistan. He has to give due importance to PTI workers and supporters. He must respect the merit and create opportunities for qualified people.
There are 1.5 million fresh graduates every year entering the job market, but the creation of jobs is not in accordance with it. As a result, youth are desperate and unfortunately may involve in negative activities. It is worth mentioning that the biggest vote bank and political force for PM Imran Khan were "Youth". Pakistan's demography consists of 70% of youth under the age of 40.
It is suggested that PM may take serious notice of the ground situation. Realize the problems of the common man in Pakistan. May initiate major structural changes and deep reforms in all dimensions.
Pakistan possesses huge potential for growth if enabling environments are provided and right policies are implemented, there is no reason that Pakistan's economy take-off rapidly.
Pakistan,a Victim of Vicious Circle: The Container Politics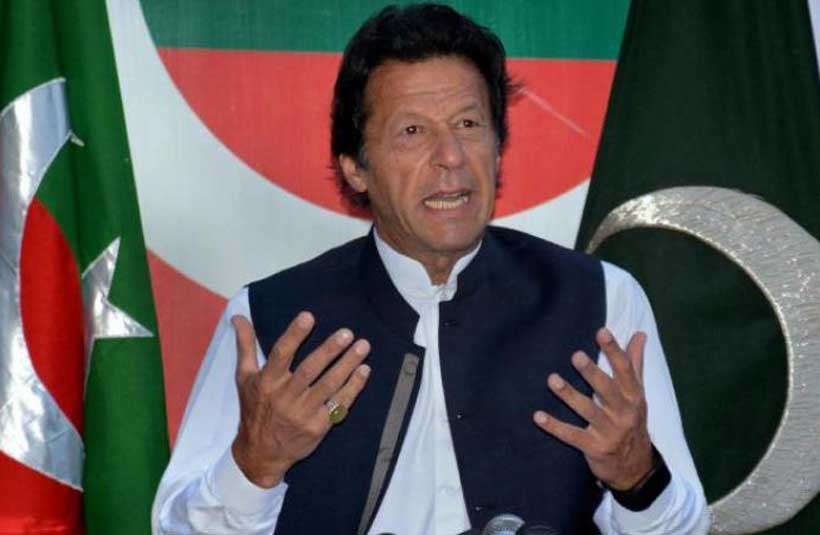 It's pretty tough to comprehend Pakistan's politics or the behavior of Pakistan's political leaders. The example of Pakistan's political system and politicians can be tacit with Robert Jervis's astounding words. "When you pick up one piece of this planet, you find that one way or another, it's attached to everything else-if you jiggle over here, something is going to wiggle over there… We need this sense of the continuing interconnectedness of the system as part of the common knowledge so that politicians feel it and believe it, and so that voters feel it and believe it, and so that kids feel it and believe it so that they'll grow up with an ethic."
Since 1947 Pakistan is trapped in a vicious circle, and it's hard to get rid of this wicked circle with the current political system. Immense tension with neighbor countries, internal political instability, high inflation rate, massive unemployment, poverty, discrimination, corruption, human rights violation, economic problem, low level of domestic and foreign direct investment, energy shortage, wrecked infrastructure, weak and self-centered political leader ruined the country. Now we are witnessing a massive number of lessening faiths on the institutions of almost all kinds. People don't trust the government; they don't believe any corporation and virtually no political leader — the reasons why people's trust is declining in government. The govern leaders do not fulfill their promises, they always raise different slogans spreading fake news to convince the voters for votes, but things are not still the same after elections; all the obligations remain broken. Thus, people certainly don't believe politicians.
After 71 years of a bumpy hard and tough journey, the people of Pakistan in 2018 elected a new prime minister with much new hope, to fight against corruption and other serious challenges. This hope was up to the greatest extent achieved when the supreme court of Pakistan took action against the corrupt leaders and imprisoned them. With such enormous weight, the oppositions are now vindicating a mean to get rid of the present administration; the adversaries have started a long march called Azadi-March, with the aim to takeover Khan's (Imran Khan Niazi current Prime minister of Pakistan) government. The majority of the people are against the so-called Azadi-March, as they are aware of situations. To sidetrack Imran Khan's consideration, these opposition leaders have started Azadi-March, where thousands of protestors are marching to the capital city Islamabad, calling on prime minister Khan over the weak and fragile economy and corruption.
Some religious groups organized the Azadi-March and political rivals, Jamiat Ulema-i-Islam-Fazal (JUI-F) party prearranged the protests, almost all parties have used the march to show their complaints throughout what they call the Azadi March (or Freedom March).The main aim of the Azadi-March, calling Imran Khan to resign, they believe that the current government ruined to satisfy their promises, and the administration is amateurish, inexpert, and doesn't distinguish how the state-run. While addressing the people, Fazal said all Pakistani, from Karachi to Islamabad, want that prime minister Imran Khan should resign, further stated that prime minister still has time to deferentially submit his resignation because the Pakistani will not give him also time to do so.
The purpose behind such Azadi-March isn't only that they want to overthrow the prime minister, but they want him to stop disparaging the adversaries. The opponents, according to most of the local people, are corrupt and crooked, and they are responsible for the country's weak institution and corruption. Since now, Khan is taking legal actions against the oppositions with the support of millions of Pakistani people, thus permit the opponents formed a coalition to stand against Khan. With the help of millions of people Khan isn't against their Azadi-March, but it's something everyone knows, the country is going through tough time, skirmishes with India and recently with Afghanistan, ongoing economic reforms, working to encourage tourists and foreign direct investment, and many other developmental projects, such actions or the so-called Azadi-March will ruin the hope of the current administration and people. The immediate adverse consequence of the Azadi-March is also on the recent Kashmir issue. Currently, the prime minister and his administration are working to find a solution for IOK,by voicing on a different medium, such domestic scuffle will not only hamper the objective but will instead encourage the neighbor states to take advantage of domestic unrest.
The time being Khan is dealing with massive problems, the oppositions should stand with Khan, instead of creating other domestic violence and discontent. The continues Azadi-March will do nothing more than internal turbulence and other dangerous predicaments that will hit the country with more severe difficulties. Democracy means the government of the people, by the people, for the people, which specify that the people of Pakistan elect the current government. Pakistan is a democratic country where people can choose any leader they trust. To make it more vibrant, Pakistan is not the legacy of some elites to govern all the time.
A country with more than 200 million people ought to decide their future; they should stand with Khan and support his campaign of fighting against corruption and corrupt people to bring peace, political stability, economic development, and employment opportunities. Fora very long time, we have experienced different government and their fake promises; they have tumble-down the state's institutions, nepotism, favoritism, and cronyism, all were the hidden agendas of the previous government. Thus, it is clear that the present government is fighting against all the above problems.
Finally, let us begin anew — recalling the current Azadi-March, which is not a sign of being active or reliable, but rather a sign of weakness. Sincerity is always subject to proof, and when you don't have a single proof, you are lucky enough to have needles in your chopsticks. Let us never negotiate with these political leaders who are involved in the march out of fear. But let us never fear to negotiate.